Our seller community has raised a few questions about the recent update to Amazon's buyer opt-out policy.
In March 2017, Amazon decided to allow U.S. buyers to opt out of unsolicited emails sent from third-party sellers. As of January  2018, the same policy has been extended to Amazon UK and Japan customers.
Here are some answers from the xSellco support team on how Amazon sellers can manage their customer messaging and request feedback
What is the Amazon buyer opt-out policy?
Amazon.com  has updated its policy for customers who have opted-out of receiving messages from sellers. In this update, Amazon is discouraging its marketplace sellers from contacting customers messages they considered 'non-critical'.
What messages does Amazon consider 'critical'?
Queries on product customization

Scheduling deliveries

Shipping address issues
What messages are 'non-critical' to opted-out buyers?
Requests for seller feedback or customer reviews

Order, shipment, or delivery confirmation

Proactive customer service eg. product manuals, tips for using the product, FAQs

Out-of-stock, or delay notifications

Offers for alternate products
What opportunity does buyer opt-out offer online sellers?
You can now connect with customers who are happy for you to contact them. These customers will be more open to giving you feedback—and more positive feedback at that. Customers using xSellco's feedback solicitation service receive over 200,000 5-star reviews every week by targeting the right customers at the right time. We can help you request feedback from the customers who are most likely to give you a great review of your most reliable products.
Does Amazon still encourage feedback requests?
Absolutely. Customer feedback is as beneficial to helping Amazon grow, as it is to your own business. Amazon encourages sellers to request feedback, so long as you don't offer incentives for the positive feedback.
How does eDesk help you to manage Amazon buyer opt-out
Our team has been working with Amazon to introduce a feature that assists eDesk customers with message bounce-back notifications from opt-out buyers. To ignore opt-out buyers in your feedback requests, you can simply follow the steps below.
Login to eDesk.

Select your Amazon channel in Settings > Channels

Click on the feedback tab

Here you can forward bounce-back notifications to eDesk, so that we can prevent you from sending feedback requests to opt-out buyers.
Alternatively, Amazon recently introduced a new option under Seller Central's Notification preferences. Once you're in Seller Central go to:
Login to Seller Central

Click into the Settings tab

Once you've get to Notification Preferences, click on the Messaging tab

The fourth option within this tab is Buyer Opt-out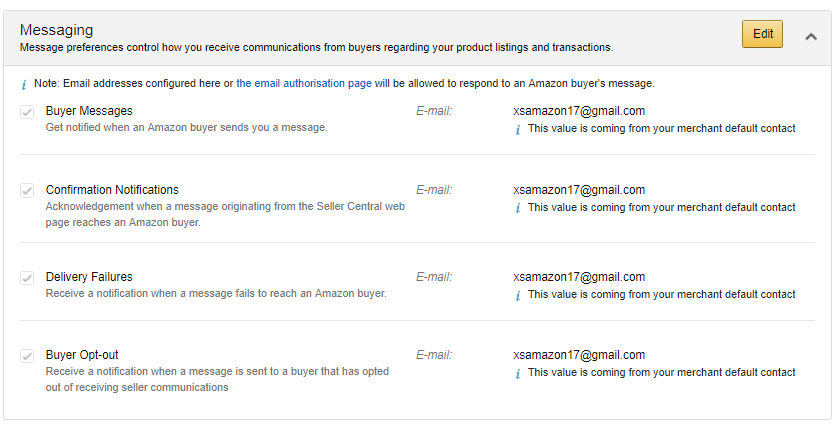 If you enter in your eDesk email address, we automatically block the customer from receiving anymore emails.
eDesk is the leading helpdesk for online sellers, purpose-built to address the precise demands of e-commerce. Sign up for a no-hassle, 14-day free trial right now.
Read More: How to Sell on Amazon-The Complete Guide
---