Our latest eCommerce market research has been published and it further underlines just how critical it is for online sellers to improve their positive reviews. 
The results are in from our recent Cross Country Report for Online Reviews, and there are some surprising findings.
Did you know that more Britons shop online weekly than those from the US? Perhaps that's the lockdown effect, but most analysts predict that the growing trend of online shopping is here to stay.
Interestingly, 97% of those asked said they want sellers to proactively contact them, while two-thirds of shoppers said they are more motivated to leave positive rather than negative reviews.
Importantly, the research shows that 87% of shoppers from America and 83% from the United Kingdom are more likely to give a review after a positive experience if an email is sent as a follow up.
View this post on Instagram
These statistics become even more significant when you consider that over 90% of shoppers from both nations will talk with a customer services team before leaving a negative review.
The vast majority of shoppers are more likely to leave a positive review if it is convenient for them to do so.


The majority of online shoppers look at reviews before purchase and search results increasingly prioritise sellers with glowing customer references over less well-regarded competitors. So, ensuring your brand delivers fantastic customer service – and follows up after – has never been more important to the longevity and growth of your eCommerce business.
When asked how online retailers can turn a negative customer experience into a positive one, shoppers were clear that satisfactorily dealing with their query, in a polite and prompt manner, were big factors.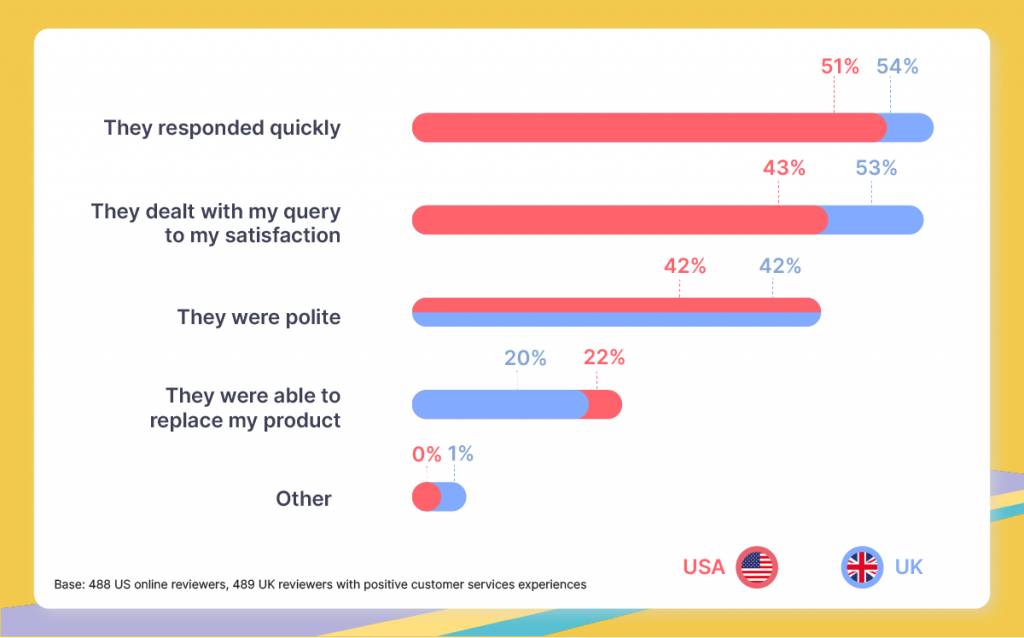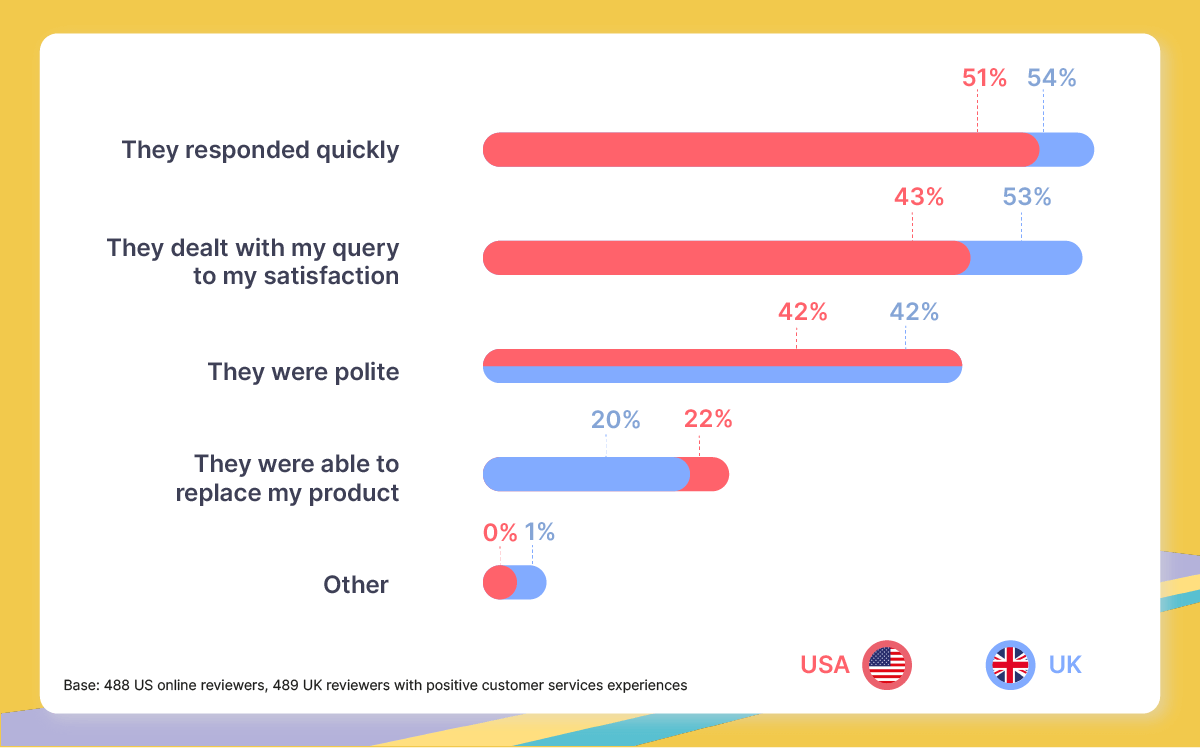 Customer service is clearly important to people wanting help, so what can online retailers do to ensure they maximise their positive reviews?
Politely achieving a speedy resolution to the satisfaction of all parties is key.
Alex Payne, CEO at eDesk, says: "'The importance of feedback and reviews as a business driver cannot be overstated. The research proves this but retailers shouldn't expect all customers to instantly provide feedback. They need a nudge. Between 83% to 87% of customers were more likely to provide feedback with a well timed email."
At eDesk, we believe that there are four critical factors to ensure Customer Support leads to the reviews and feedback your brand aspires to.
1. Consolidation
Dynamically capturing customer transaction information – from your webstores, marketplaces, inventory and fulfilment solutions, email, VOIP, chat and social media channels – in one place, and providing unified access to it, creates an end-to-end view of a buyer's journey. This ensures support agents can quickly access the information they need to ensure positive customer experiences, and fulfil service-level agreements.
To learn more on consolidation, check out this free eBook.
2. Automation
eCommerce retailers need customer support tools that enable them to perform smarter, not harder. By automating routine processes and template answers to common queries, support agents can efficiently reply to customer queries with pre-approved (polite) responses that maintain your brand's carefully curated tone of voice. In addition, AI tools can identify and automatically request reviews from customers that are likely to respond positively.
To learn more on automation, check out this free eBook.
3. Education
Publishing guidance about your brand's products and services, consistently, across multiple channels, ensures that customers can self-help and their expectations can be managed. When support agents have access to the same material as well as a single source of 'internal only' content, customer facing messaging remains constant, and consumer expectations can be met across the board.
To learn more on education, check out this free eBook.
4. Communication
Customer-centric brands should use real-time chat and VOIP technology to close the gap between consumer expectation and satisfaction. The ability to acknowledge buyers, answer questions and proactively ask, "how are we doing?", is a cost-effective way for online brands to remotely offer the human touch that is often missing from digital interactions. This helps online brands to avoid churn, identify happy customers, and solicit positive reviews from those likely to give them.
To learn more on communication, check out this free eBook.
So, by consolidating transaction data in one place, streamlining workflows to keep buyers informed, and automating feedback requests from happy customers, your brand can be sure to see an increase in the positive reviews essential to its continued success.
This is why we have integrated the widest range of review channels – from Amazon Request a Review and Google My Business to Trustpilot – with our Feedback product. For more information about how eDesk's eCommerce platform can support your business as it grows, check out our webinar on 'The Why, How, and Value of Great Customer Feedback' below.