With a focus on the future and a nod to the past, last week's IRX Engage Summit was a gift for multichannel sellers. The live agenda sessions were a great watch and they're now available on-demand.
To give you a taste of what you might have missed, here are the highlights from our session:
Accelerated D2C Opportunities to Serve the
New Post-Pandemic On-Line Customer
Speakers:
Richard McGuinness, CRO, eDesk
Tom Wallis, CMO, Gousto
Sarah Willcocks, CEO, Screen Pages
Moderator:
Kyle Monk, Insight Director, British Retail Consortium
Kyle Monk set the tone for the session by observing that due to the Covid pandemic, online sales have skyrocketed and the way consumers shop has fundamentally shifted in ways that will be sticky far into 2021 and beyond. He went on to ask the panel how brands and retailers are attracting and retaining the post pandemic consumer.
Tom Wallis agreed that Gousto had seen huge spikes in demand with people shifting to online shopping out of necessity and convenience. Wallis believes the trend will continue as customers see Gousto as a really sustainable way of shopping that avoids waste. Gousto is now focused on Customer Service, with their Net Promoter Score (NPS) as their star metric.
Sarah Willcocks said that her eCommerce agency's clients could vouch for the headline changes. Essentials, DIY, entertainment and automotive industries had all seen an uptick in online revenues, often to the point where people had needed to suspend services to fulfil existing orders. Willcocks stated that demand had shortened innovation lifecycles from months to weeks, with some Screen Pages B2B clients (for example those supplying restaurants) launching their own websites to better support their new D2C model. Overall, better understanding and investment in the end-to-end process of delighting and retaining eCommerce customers is essential for success.
eDesk's Richard McGuinness pointed out that many people were buying online for the first time, leading to an uptick in customer service tickets from 1 in 8 in 2019 to 1 in 6 in 2020. McGuinness advised online retailers to go where the customer is, to join conversations across multiple channels and nurture customers coming from traditional brick and mortar scenarios towards digital D2C environments.
Monk agreed with McGuinness that especially for the older generations buying online, that new habits are likely to be maintained. Wallis said this was why Gousto is using their NPS as a measure of the brand's health, so they know what to promote and where to improve. These insights led Gousto to scale up customer services using automation and self-service to respond to around 40% of queries.
Monk then asked about creating a data driven culture. Gousto's Wallis emphatically agreed with democratising access to information so brands can deliver customers better experiences, tailored to their personal preferences.
McGuinness highlighted that customers are also data-driven. With reviews, NPS scores and return policies being a major factor in the decision-making process of the 86% of consumers likely to try new companies, customer satisfaction and brand reputation are incredibly important and should be prioritised accordingly.
Willcocks concluded the discussion by stressing that consumers place more value in what their peers have to say about products and experiences, than in companies' claims and promises. For this reason, Willcocks urged retailers to understand the impact social media and user generated content can have on customer acquisition and retention and that reaching consumers where they're consuming content is incredibly important.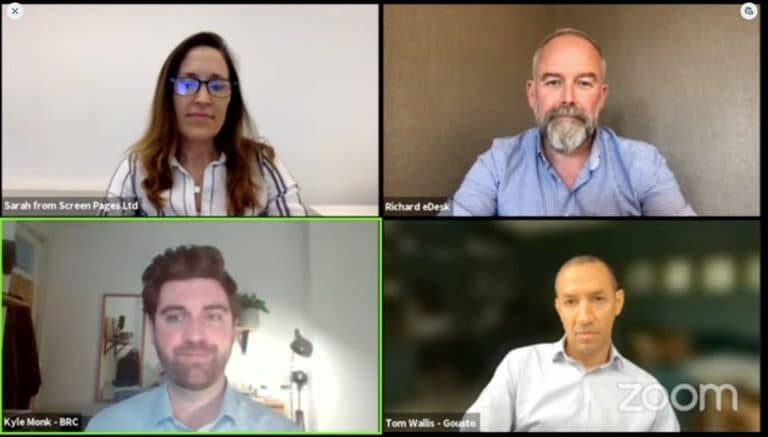 We're passionate about enabling eCommerce customer delight so to explore any of these themes in more detail, just get in touch. Or download our eBook to find out the key to amazing customer service and how you can apply it to your business.