Can you guess the main reason most online shoppers abandon their shopping carts at checkout?
If you guessed high shipping costs, you're correct. The statistics show that shipping speed and cost are major motivators for online shoppers. 
eCommerce shipping is a critical part of customer experience, and depending on your approach, it can either contribute to — or take away from — your store's bottom line.
In this guide, we'll walk you through how to develop the right eCommerce shipping strategy for your online store.
What Are Your eCommerce Shipping Objectives?
When starting out, many eCommerce sellers think of shipping as a basic logistical cost, and nothing more. But it's much more than that.
Related article: Are you Spending Too Much on Logistics?
With the right strategy, eCommerce shipping can be a great eCommerce marketing tool, cart booster, and revenue driver. It all depends on your shipping goals. Do you want to:
1. Improve your conversion rate?
Offer competitive shipping options that reduce customer hesitation, like free shipping, fast shipping, or both.
2. Increase your Average Order Value?
Set minimum order thresholds customers must meet in order to unlock free regular or expedited shipping.
3. Lower your costs?
Charge a flat rate for shipping. Alternately, consider different packaging options, or talk to your shipping providers. Many offer a range of shipping and fulfillment services that can lower your costs while ensuring your customers get their orders on time.
4. Expand your customer base?
Expand your shipping options with in-store pickup, local delivery, or international shipping. A third of shoppers have purchased from eCommerce stores located in other countries.
Related article: Selling Internationally: Five Critical Areas to Consider
Consider Different eCommerce Shipping Options
You can offer a number of eCommerce shipping options, or you can keep it simple and stick to one. Most e-retailers offer a variety to cater to the largest set of customers and capture more conversions.
Common eCommerce shipping methods include:
1. Free shipping
For 96 percent of online shoppers, free shipping "greatly" or "somewhat" impacts their ordering decision: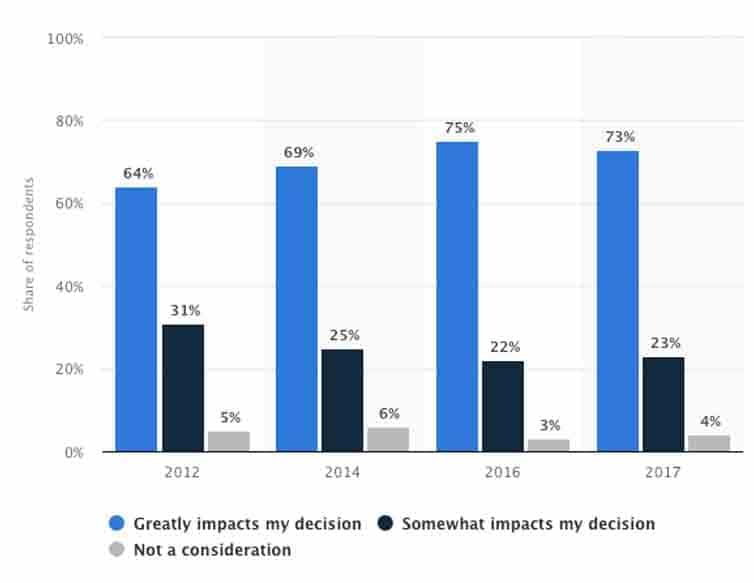 By offering free shipping, you remove one major hesitation that keeps shoppers from completing the checkout process.
However, you also have to figure out how you can offer free shipping, without negatively impacting your bottom line. eCommerce retailers have a number of strategies for this, including increasing product prices, offering only standard shipping for free, or requiring a minimum order amount to be met before the shopper can get free shipping.
2. Flat rate shipping
Flat rate shipping is arguably the most straightforward shipping option — at least from the seller's perspective.
You know how much you're going to receive from each order to pay for shipping. Sometimes that might be slightly lower than what you end up having to pay; sometimes it might be higher. Generally, it evens out if your product line is somewhat standardized, with similar weights, sizes, and packaging needs.
3. Real-time carrier rates
By integrating your eCommerce store directly with shipping providers, you can offer your customers live shipping rates. You give them full transparency into the cost and speed of various shipping options, and they have the freedom to choose.
Shopify is one eCommerce platform, among others, who offers this live pricing option.
4. Expedited shipping
Expedited shipping, including overnight shipping, allows you to serve customers who need their purchase fast. Increasingly, customers are coming to expect 2-day shipping as the "norm" when online shopping, thanks to Amazon Prime — although a significant number (40 percent) are still willing to pay for it.
It's smart to offer expedited shipping as an option, whether or not it's free. To stay competitive during the holidays, many e-retailers will offer expedited shipping for free.
5. Local and/or same-day delivery
With local delivery, you can minimize your shipping costs by delivering orders directly to customers who live within a certain radius or set of postal codes — either for free or for a minimal cost. Delivery appeals to eco-conscious consumers and those who like to support local businesses.
If you offer same-day delivery, you can charge a higher fee while delivering products faster. 41 percent of consumers are happy to pay a charge for same-day delivery.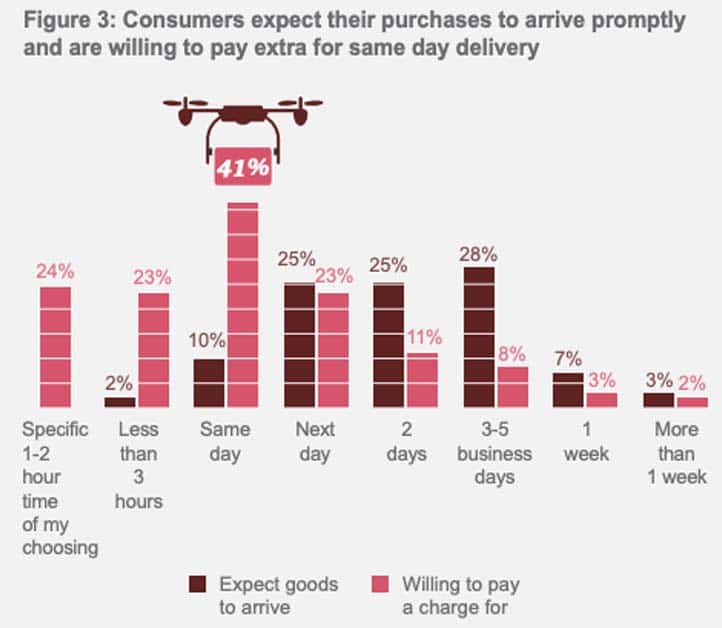 6. In-store pickup
In-store or curbside pickup is another favorite option for local shoppers. With this option, you don't have to pay anything extra for shipping, allowing you to maximize your revenue. Although, it only works for online sellers who have a brick-and-mortar presence.
Should You Offer Free Shipping?
According to the Baymard Institute, eCommerce shipping fees are the #1 reason for shopping cart abandonment.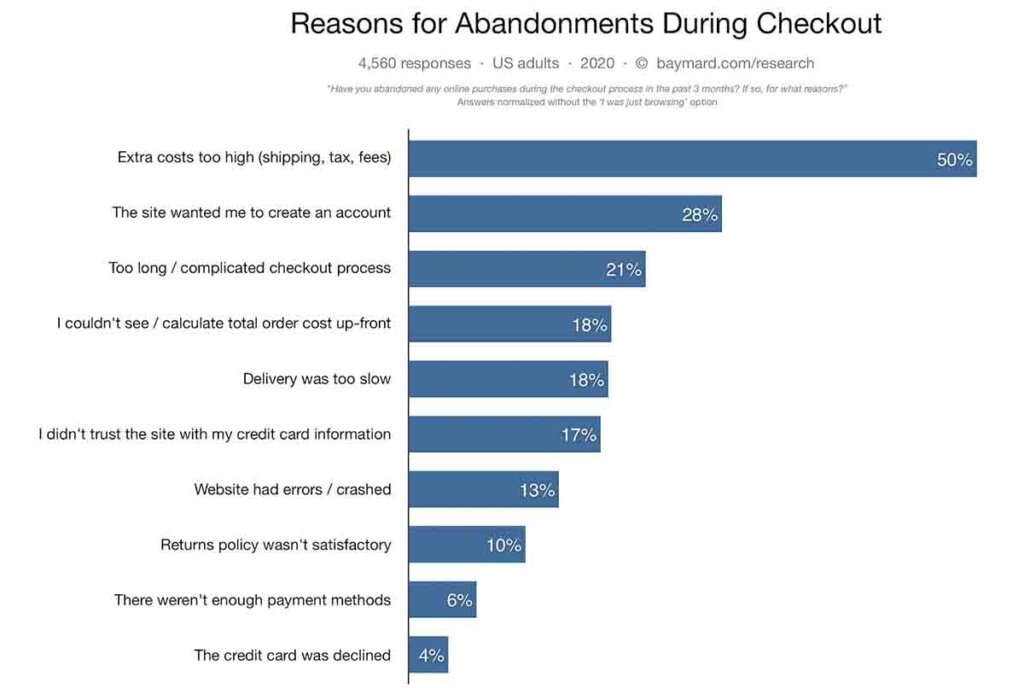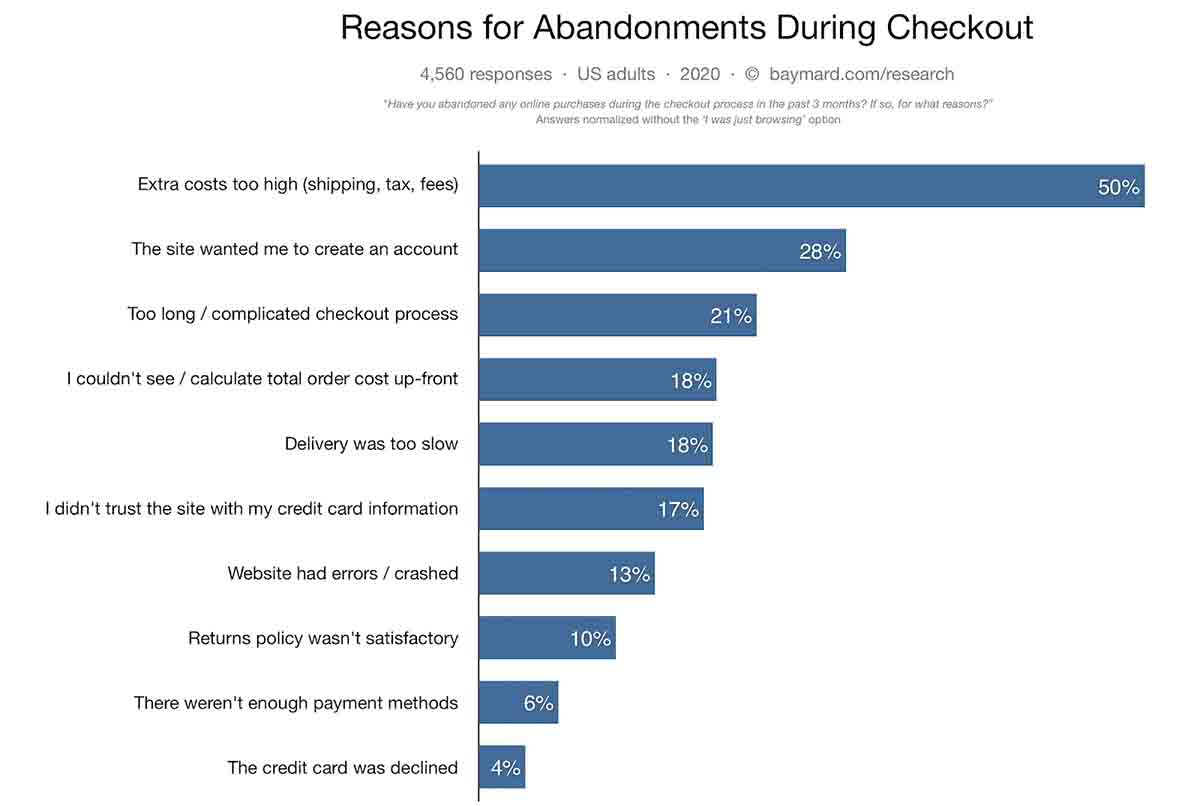 For many eCommerce sellers, offering free shipping is the right move — if you can afford it. As we discussed above, you can recoup the costs of covering shipping by:
Requiring shoppers to meet a minimum order threshold to unlock free shipping
Raising your product prices
Letting shoppers choose between fast shipping for a fee, or slower shipping for free
Another option that's growing in popularity is to include free shipping as part of your customer loyalty program. Joining the loyalty program can be free, or you can charge a membership fee like Amazon does with its Prime program. You can also offer free shipping as a "tier," available to shoppers once they've spent a certain amount or earned sufficient loyalty points.
The bottom line: Free shipping, in whatever way you can offer it, is very appealing to customers: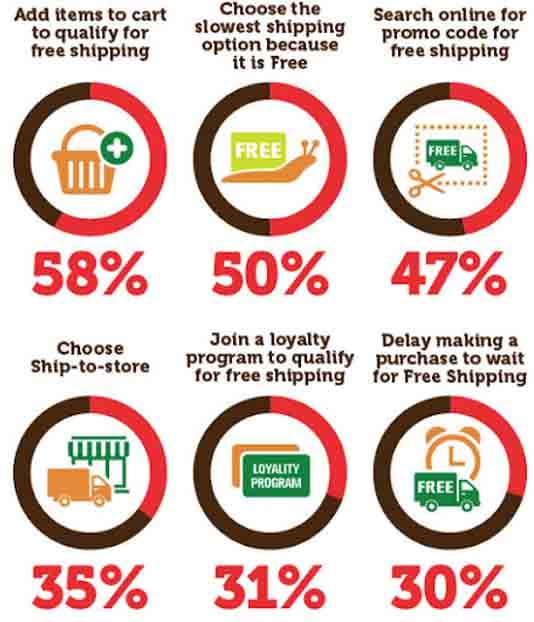 How to Calculate Shipping Costs
eCommerce shipping can be a major logistical expense. Here's what you need to do to calculate the optimal shipping costs for your online store: 
1. Tally up all the associated fees
eCommerce shipping costs depend on a number of factors, including the carrier, the selected service and speed, the origin and destination, and the weight and dimensions of your packages. 
Insurance and tracking are often offered together, and many carriers provide complimentary coverage up to $100 or so. Beyond that, you may need to purchase additional coverage. Insurance covers lost or damaged shipments. Generally, it's a good idea for any eCommerce store, but especially those selling high-value items.
For shoppers, shipment tracking is even more popular than free shipping. 97 percent of consumers expect to be able to track their orders and get notified at every step of the shipping process.
Finally, remember to account for the cost of your eCommerce packaging – not just your boxes, but everything else, including filler materials, labels, printing, tape, and more.
Related article: eCommerce Packaging: 13 Ways to Delight your Customers
2. Calculate whether you can afford your eCommerce shipping options
Once you've decided on a shipping option, determine how much of a "loss" you'd be taking with each shipment.
Start with the cost to produce the product. Then, add to that the cost for each of the following, where applicable:
Shipping costs
Packaging costs
Customs or duties, if you're covering them
Credit card processing fee
Once you have your final number, multiply it by your desired profit margin. Is the final number above, below, or in-line with your current product pricing?
3. Adjust and iterate
If the number you calculated in step 2 is below or in-line with your product pricing, good job: you can cover shipping.
If it's way above, you'll need to adjust your pricing, your shipping, or both, to maintain your current profit margins.
Chances are, you'll need to make some adjustments. Consider if there are cheaper eCommerce packaging alternatives you can use, or cheaper shipping carriers. Run the numbers again with these shipping calculators for the top providers:
It takes some trial and error to find the best eCommerce shipping solution for your store. Once you land on a shipping strategy, we recommend revisiting it on an annual basis. This way, you can keep up with changing consumer priorities and ensure maximum efficiency and profitability for your eCommerce store.