The classic metaphor of e-commerce companies standing like the small boy David facing the giant Goliath (Amazon) paints an accurate picture of what online retail looks like today. Many businesses feel outnumbered and defenseless against the competition that looms over them. And with some of Amazon's policies and strategies that Amazon uses today, it's easy to see why online companies struggle to hold onto customers.
Many online retailers are discouraged that they are losing more customers to Amazon each day. However, hope is not all lost. There are some strategies that smaller online businesses can use to keep their customers from crossing over to the other side. Let's talk about some of the big ones.
Go with a Customer-Centered Web Approach
One reason that many customers choose to purchase through Amazon is because of the design of their website. It is super easy to search through their inventory and find the exact product you need. Plus, the site also hand-picks product recommendations for relevant suggestions. The store is also very mobile-friendly and it's quite easy to shop and check out in just a few steps.
Creating a store website with an exceptional UX is one of the best ways that a smaller e-commerce store can stand out. Offering a superior website that is user-friendly is crucial for attracting customers and keeping them engaged. In fact, customers are even willing to pay up to 16% more when a company offers a better customer experience.
While you certainly don't need to copy every single one of Amazon's policies and website features, it is important to follow their lead by making your website customer-centric. Amazon's policy is to provide personalized product recommendations based on customer's past purchases and searches. While you may not be able to offer this customized experience on such a large scale, you can include some personalized touches by recommending similar products, providing upsells and cross-sells, or sending unique discounts and offers to customers.
You should also make mobile optimization of your site a top priority – as more and more customers are opting to buy from their phones. Don't skimp on the UX here; a bad mobile experience can send customers away. Be sure that your mobile version is simplistic and easy to use.
Make Retention a Top Priority
Building customer loyalty is essential for smaller brands that want to stay competitive against giants like Amazon. Most online retailers know that it costs far less to create a repeat customer than it does to convert a new one. Therefore, customer retention needs to be one of the main focuses of your marketing strategy.
In terms of loyalty and retention, social media can be one of your most powerful weapons. Focus on building up your Instagram following and Facebook audience by encouraging customers to join in on the brand community. When people feel like a brand really cares about them, their opinions, and their interests, it creates that important connection that leads to loyalty.
---
Related reading:
How you can retain more of your customers.
---
---
Incorporating user-generated content (UGC) is an extremely influential social strategy that brands all over the world have been using. UGC works to create an interactive community within your social following. Ask customers to share pictures, videos, and testimonials on your social channels or with a branded hashtag. Be sure you are sharing this kind of content regularly to show followers that customers are a top priority to your brand.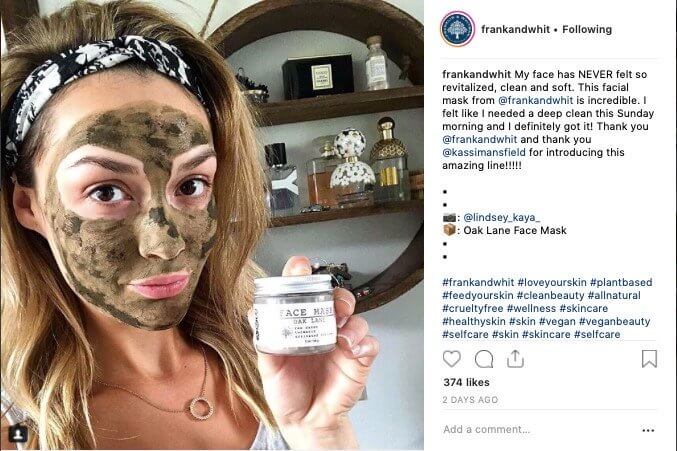 In terms of the online store itself, one reason that so many people buy from Amazon over and over again is because of how easy it is to repurchase items. You simply log into your account, find the item in your past orders and checkout. Make sure that your e-commerce site makes it just as simple by offering customer accounts through an integrated CRM or ERP for returning users. Simplicity = retention.
Use Reviews to Your Advantage
Although Amazon's reviews can be somewhat questionable at times, in general, most customers do base their purchase decision on the overall rating and feedback from past buyers. Again, Amazon knocks it out of the park here by displaying top reviews as well as summaries of the overall rating for quick appraisal of the item's quality.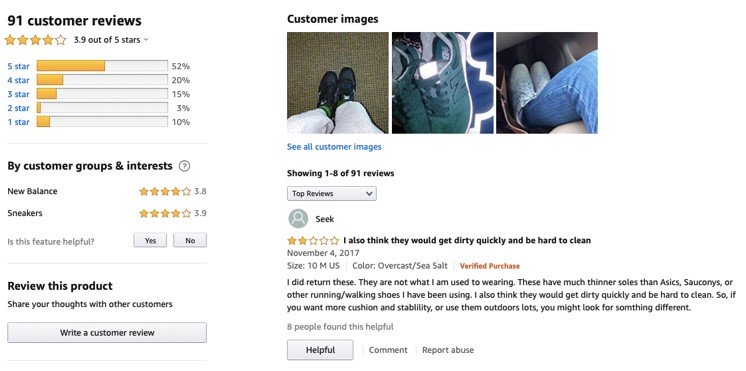 Most shoppers are going to be somewhat skeptical of your brand if they are unfamiliar with it. Consumers generally don't trust what a business says about itself or their products right off the bat. The best way to combat this mistrust is with customer reviews. People tend to trust people who are "just like them", so including consumer feedback throughout your website is a great way to give new customers a real idea of what they can expect.
---
Did you know?
eDesk comes with an in-built system for getting better feedback from your customer?
---
Customer reviews are critical to your e-commerce SEO strategy. Feedback is an excellent way to incorporate more keywords into your website, especially if they answer common queries. For instance, many customers will search for items using descriptive words like "best", "cheapest", "comfortable", and so on. Customer reviews will also often use the same sort of language when describing a product or service, meaning that it can boost your site's rankings on the SERPs.
---
Related reading:
How to get more customer reviews on eBay
---
Conclusion
It is absolutely possible for the small independent online sellers to compete with (and beat) Amazon's policies. However, the only way to do so is to provide your customers with something better than what Amazon has. This doesn't necessarily mean a better product or lower price point, although that obviously helps. Make sure that you focus on the details that matter most to your customers, like your website's UX, social interaction and connection, and relevant customer reviews that can sway them to purchase.
---
eDesk is the next-generation helpdesk, built for eCommerce from the ground up. eDesk integrates with all of the major marketplaces, and your own web store as well, allowing you to simplify and scale your customer support. Start your free trial today.