In the past, a product's price was the primary cost consideration. But in the world of eCommerce, consumers pay close attention to delivery as well. In fact, 52% of consumers surveyed in 2019 said cost-effective delivery was just as important as a product's price.
eBay combined shipping is a great way to lower costs for you and your buyers. It's also a smart way to reward multi-purchase customers. Sellers can offer it up front or upon request – whatever you decide, here's how to combine shipping on eBay.
What is eBay combined shipping?
When someone adds multiple products from your eBay store to their shopping cart, eBay combined shipping allows you to send all their purchases together in one package.
This makes life easier for you and your buyer. You can also reduce your shipping costs and pass on any reduction in fees to the customer.
Some sellers set up their eBay account so this discount takes place automatically within a shopper's cart. Others do it by manually creating and sending a new invoice with the combined costs of shipping.
If your account doesn't display combined shipping automatically, eBay shoppers can ask for a combined quote by clicking 'Request total from seller' in their cart. Alternatively, they may message a seller directly to request an updated quote.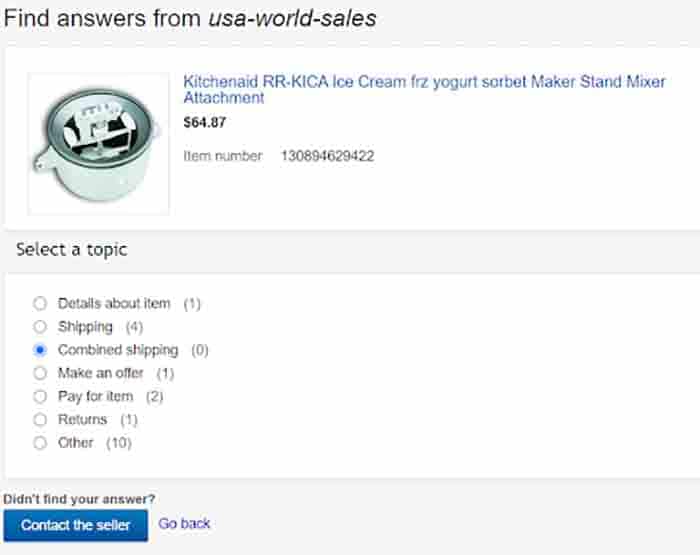 How to combine shipping on eBay
In the name of great customer service, we recommend setting up automatic combined shipping on eBay.
Once implemented, it requires less effort from both you and your customers. It may also reduce your store's chances of experiencing negative feedback and shopping cart abandonment.
Here's how to combine shipping on eBay in three simple steps!
Step 1: Enable combined payments
In the eBay Seller Hub, go to 'Combined payments and shipping discounts'.
Alternatively, you can access this page under the Account tab in My eBay, just click 'Site preferences' and then 'Shipping preferences'.
In order to offer customers combined shipping, you also need to offer them combined payments. So, under the 'Combined payments' section of this page, you need to click 'Edit'.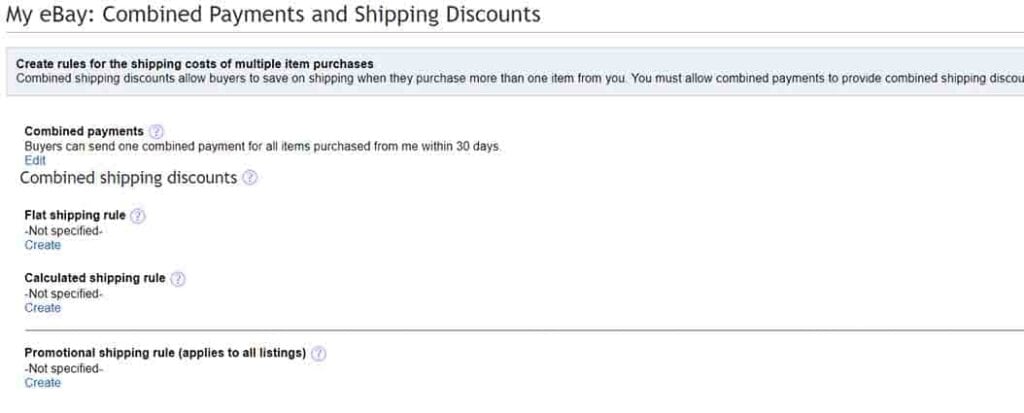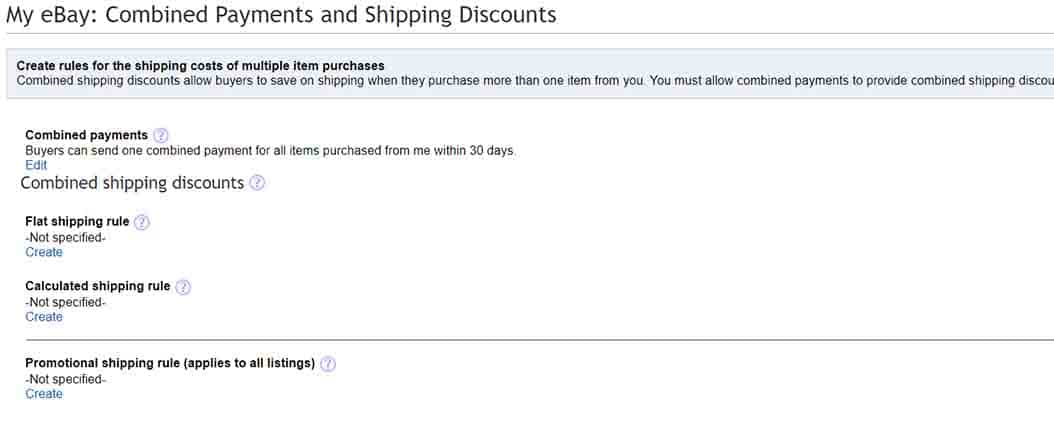 A pop-up display will then appear. Check the box which will 'Allow buyers to send one combined payment for all items purchased'.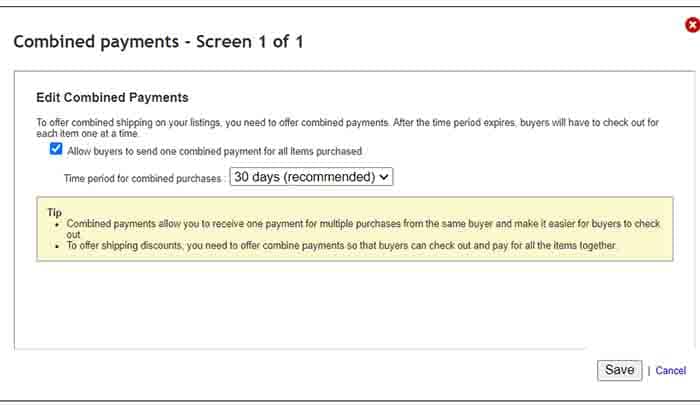 Step 2: Choose a time period for combined payments
In the same pop-up, you'll need to pick a time period for combined purchases. This is the number of days over which sales can be combined.
So for example, a three day setting will allow a customer to order an item today, tomorrow and the next day but have all the charges combined in one invoice and payment. After the third day, any additional purchases will come under a new invoice.
The options are 3 days, 5 days, 7 days, 14 days or 30 days. Whatever you choose, you can't expect payment any sooner. Once you have your choice selected, make sure to click 'Save'. The pop-up interface will then close.
Step 3: Create shipping rules
Back on the main page, under 'Combined shipping discounts', sellers can set rules which will automatically apply when more than one item from your store is added to a shopper's cart.
Two options are available:
Flat shipping rules
Calculated shipping rules
Simply click 'Create' under whichever suits you best and choose an option from the dropdown menu.
If you're working off a flat fee system with your shipping provider, you can set a base rate for the first item and then add a discount on shipping for every additional purchase.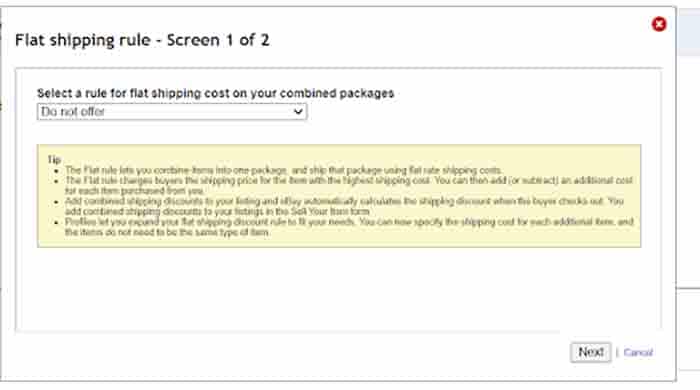 Alternatively, you can create calculated shipping rules based on a buyer's location and the weight of your products. You can simply charge for the combined weights, though some sellers will opt to combine the weight and offer a discount in order to drive multiple purchases.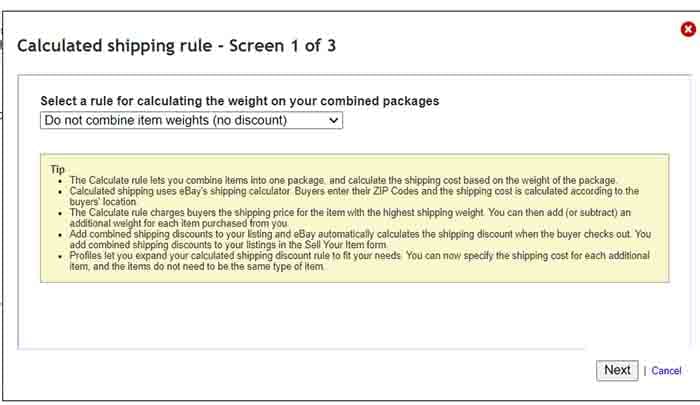 You can find out more about the full process and considerations of setting up these discounts here on eBay's site. It's worth noting that you can't set up these rules if you're already offering shoppers another type of shipping discount.
Once set up, customers will automatically see their combined shipping costs in their shopping cart.
How to manually combine shipping on eBay
Some sellers might not want to offer combined shipping automatically. Maybe your stock is located in several places. Or perhaps some delicate inventory isn't suitable for eBay combined shipping.
If you want to assess and price combined shipping on a case-by-case basis, you can manually issue invoices from the Seller Hub.
First, you'll need to allow combined payments within your eBay account – as shown in step 1 above.
Then, when the time comes to issue an invoice, you can go to the 'Sold' section of your orders. Select one of the items your customer has ordered and eBay will display all of their products.
Check the box beside the products you want to combine in one package and click 'Send invoice'. You can add your custom shipping charges to the bill, as well as accepted payment methods and an optional message to the buyer.
Finally, you can preview and send your invoice.
Why combine shipping on eBay?
As we noted above, shipping costs are a key consideration for modern consumers. If you want to stay competitive and get more sales, setting up eBay combined shipping makes complete sense.
If you set up shipping rules, the discounted rates will automatically appear on your store's product pages. This is displayed under the shipping section of your listings. It isn't hugely visible, but it could drive extra revenue for your eCommerce business by convincing value-seeking buyers to convert.
eBay combined shipping is a particularly good idea for sellers who specialize in a single eCommerce niche, because it can encourage buyers to make multiple purchases. If you can't offer free shipping, this is the next best thing.
Other advantages of eBay combined shipping
As well as driving conversions, offering eBay combined shipping offers a variety of other benefits to both sellers and buyers. Here are a few more reasons to consider the it for your store:
Convenience: Only one package has to be prepared and shipped by the seller. And only one package has to be signed for by the buyer. This saves both parties time.
Great customer service: Combined shipping can be confusing but it is a great way to make your customers happy, whether you offer it automatically or on request. This can lead to more repeat purchases, loyal customers and positive feedback.
Savings: Yes, customers save money when you pass on combined shipping discounts. But sellers also save on packaging and eBay fees. The smaller the final order amount is, the smaller your Final value fee to eBay is.
More visibility on eBay: Offering competitive shipping is a key way to boost visibility in search results and optimize your listings for eBay's 'Best Match' position.
Final thoughts
If you're unable to offer shoppers free shipping, eBay combined payments and shipping are a great alternative. They offer eBay shoppers value, while also helping you drive conversions.