Shopify themes have the potential to leave a lasting first impression that can make a huge difference to your eCommerce site. A website that's visually appealing and easy to navigate has been proven to positively affect conversion rates.
Here are some top Shopify themes for 2023 that can help you take your website to the next level — and best of all, they're free!
The importance of having the right theme
Customers can always tell when an online store is badly designed, and it reflects poorly on your brand. While there are plenty of eCommerce marketing strategies that will help your Shopify site get more traffic, the design is still the foundation everything rests upon; if you want customers, your website needs to be easy and intuitive to use.
Using a Shopify theme is a great way to access beautiful designs and intuitive functionality. And you don't need a premium theme to succeed – there are many free themes that rival their premium counterparts and will help attract clients with their intuitive, client-centric design.
Choosing the best free Shopify theme can be tricky. Not every free design template out there is up-to-date and some have better support options than others. So, we've put together a list of the top free Shopify themes you can download right now, so you can make your store uniquely yours.
What is a Shopify theme?
A Shopify theme is a template that you can use to give your online store a specific look and feel. While each theme comes in a different layout and style, you can customize it by changing things like fonts or colors to match your brand.
For example, if you're selling perfume, you might want your site to look elegant and stylish. Using a specific Shopify theme which invokes the right look and feel will help you achieve the brand association you're looking for.
Themes are also a great way to fine tune your site, as they let you modify it without knowing how to code. Currently, Shopify offers eight free eCommerce templates of their own, which you can find on their theme site.
How to choose the right Shopify theme
While it might be tempting to choose a theme for your site straight away, it's essential to think about customer experience first. Your Shopify theme should be in line with the customer experience you're after. Here are some key elements to nail down before you choose the appropriate Shopify theme:
Know your target audience
Great design feels personal. When picking a free Shopify theme, you need to start with your customers in mind: How old are they? How web savvy are they? What are their interests? Which devices will they use?
Conceptualize the type of experience you want to offer
You need to figure out the type of experience you want your customers to have when they browse your store. For instance, if you sell sports equipment, maybe you want people to feel motivated and energetic. If your store design is doing its job, it should make your target market feel at home, keep the focus on the products, and make it easy for the customers to buy.
Identify the website features you'll need to use
Perhaps you're prioritizing customer reviews or need to sell a large inventory. While it's good to have a broader goal in mind, you also want to keep it simple when starting out. As an online seller, your aim is to create a cohesive, organized, and intuitive layout that will make it as easy and inviting as possible for customers to complete their purchase journey.
What makes a good Shopify theme
Some things to consider when choosing a free Shopify theme for your site include:
It looks great and is highly customizable
Choosing free Shopify themes doesn't mean you need to settle with basic or plain designs.
Customizing available themes will align the design of your eCommerce store with your business goals, which in turn helps lead to improved sales results.
It loads fast on both mobile and desktop
On mobile, 53% of visits are likely to be abandoned if pages take longer than three seconds to load, according to Google Think. Taking site speed into consideration when deciding a theme will contribute to a reduced shopping cart abandonment rate.
It matches your company's brand
It's not just adapting your theme to your customers; a good theme also needs to represent your brand. Find the theme that best supports the look, feel and values of your brand. Again, this is where customization is important.
The best Shopify themes should be fully customizable for your brand, from your logo or fonts, to color schemes. This will ensure uniformity across your online presence and store, delivering a fully brand-owned experience for your customers.
Good customer support
When building your first eCommerce store you'll have plenty of questions. Imagine, for example, that you're stuck connecting Shopify to PayPal or Stripe to accept payments. Getting that fixed quickly is critical. When choosing a free Shopify theme, the ability to contact the developer for help is something to consider.
The best free Shopify themes for 2023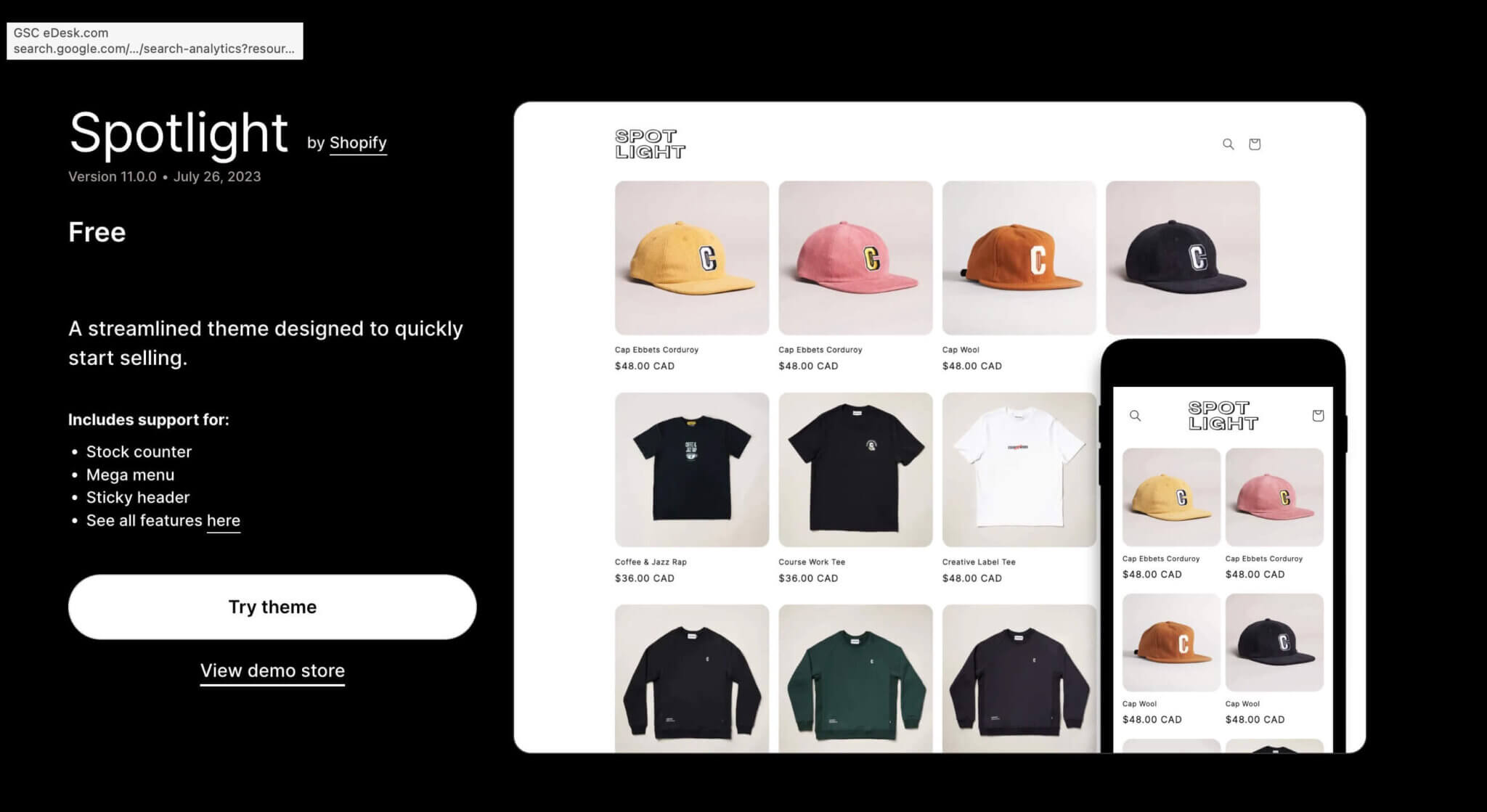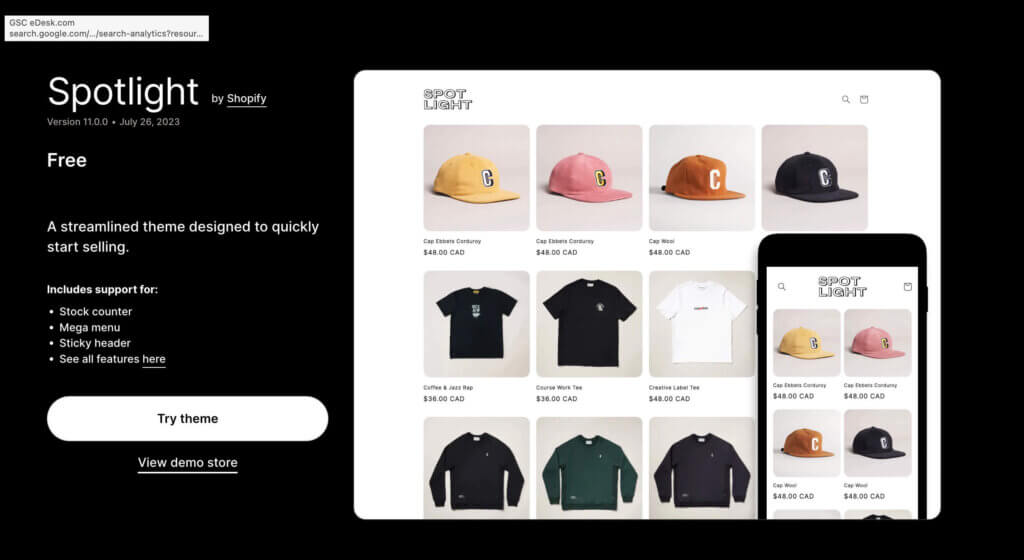 Looking to quickly set up your Shopify store with a clean and efficient design that's perfect for an easy user journey? You'll love Spotlight.
Specially designed to allow you to start selling quickly, this simple layout is already optimized for you. Simply publish a short brand description, upload your products, and you're good to go. If you want to play around with Spotlight's settings, the good news is it's fully customizable and super flexible.
You can have your Shopify store exactly how you like it without having to learn any code. Win!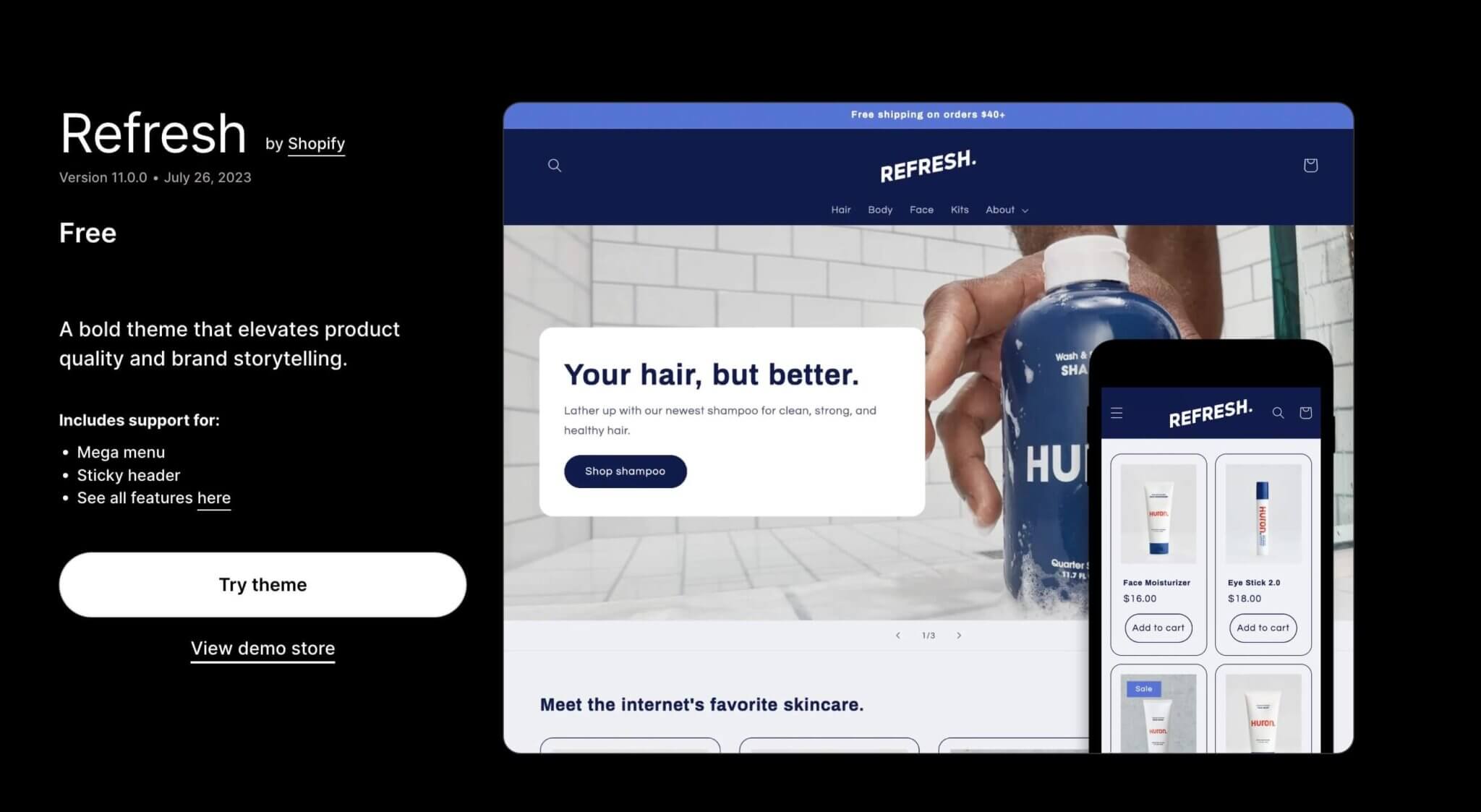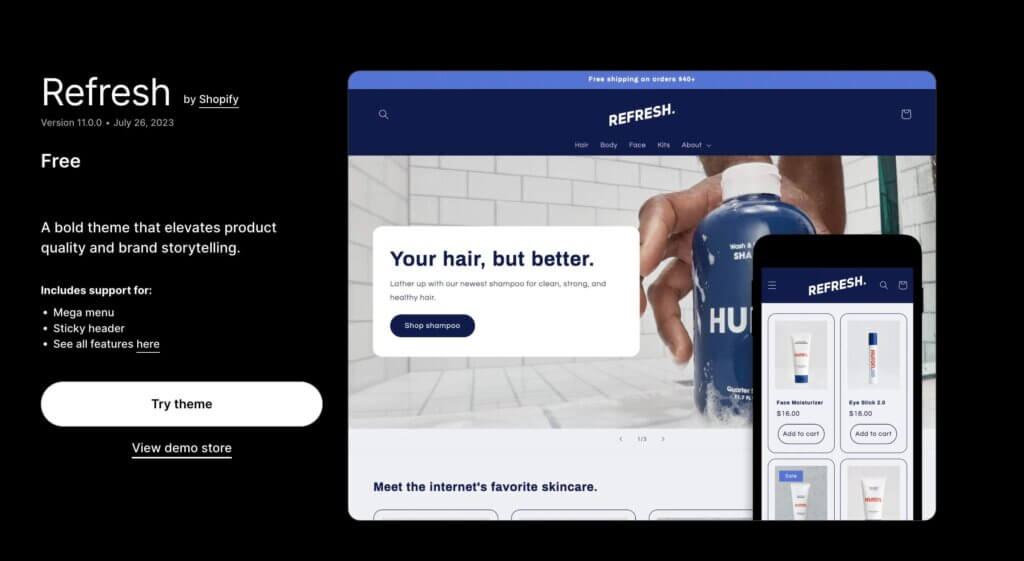 This bold theme boasts a clean and modern design with a minimalist color palette that allows you to put your branding front and center. Adaptive selection layouts are great for emphasizing product details, ultimately boosting your conversion rate.
Plus, with the flexible design and advanced customization detail, you can update the user experience to match your branding. Featuring tons of marketing and conversion features, this theme is ideal for eCommerce store owners looking to grow. It's also optimized for long-form text sections to let you tell your brand's story.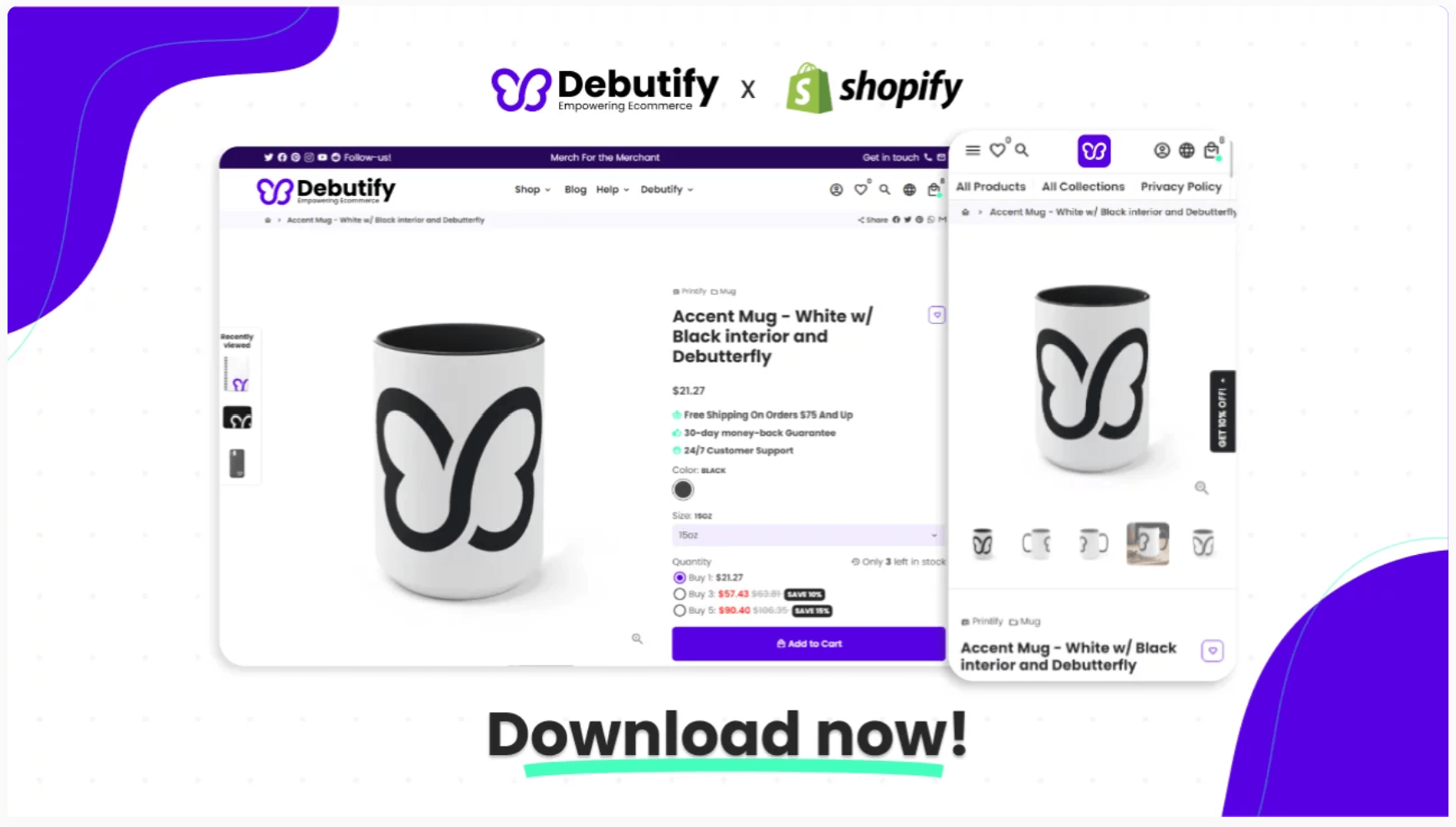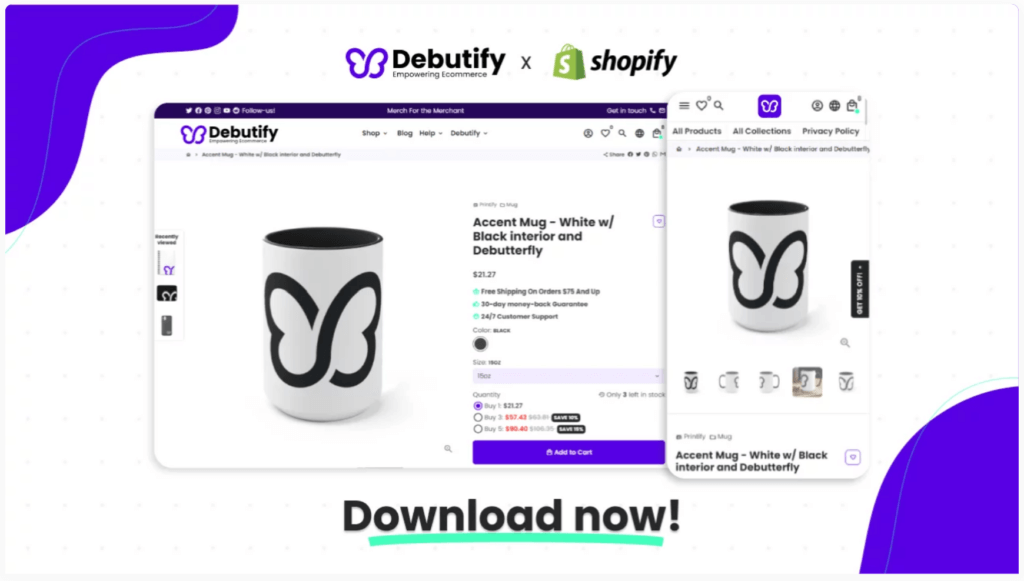 If you're looking for a solid alternative to Shopify-distributed themes, Debutify is a great option. The theme doesn't require coding and it has a fast page loading speed, which is an important way to reduce store abandonment.

Debutify comes with more advanced options, such as an option to add a customisable footer or product testimonials, as well as advanced product filters and featured image slider.
It also offers a currency converter for multi-currency checkout options with Shopify Payments — useful if you have a global customer base.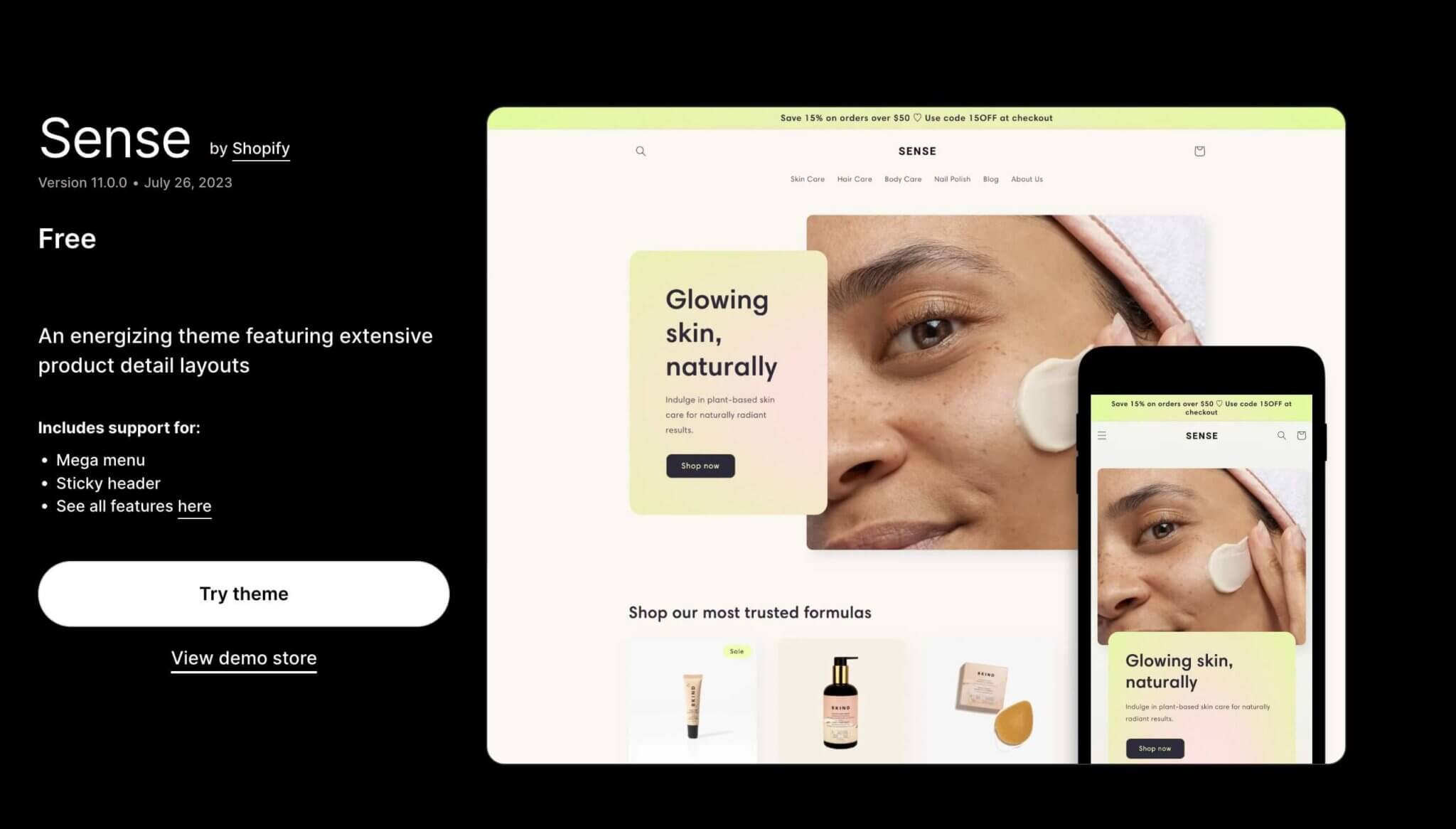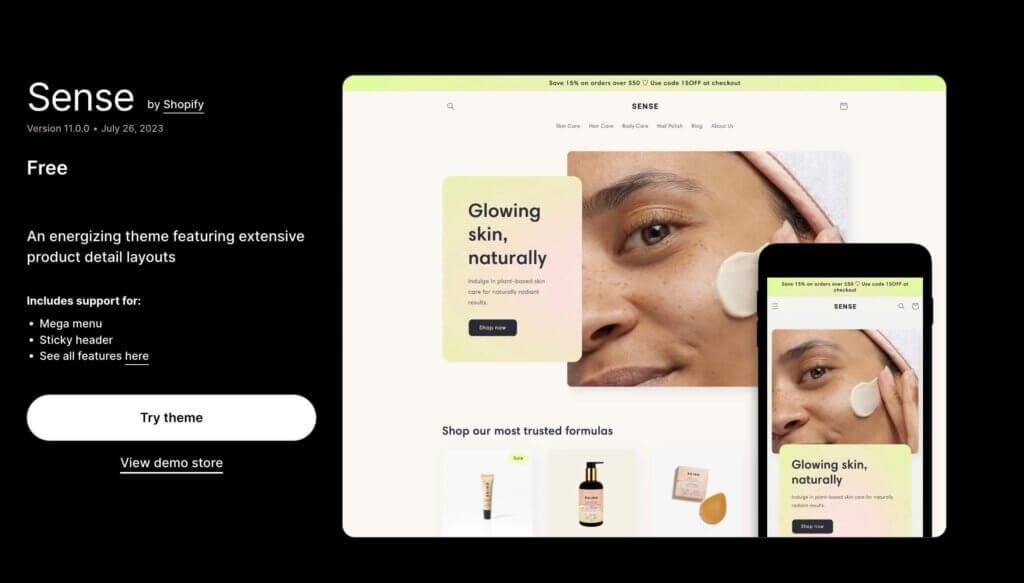 Featuring a fresh and bright design that's perfect for modern brands, this eye-catching theme will ensure your Shopify store gets all the attention it deserves. The fresh color palette and curved elements draw site visitors toward your products, while the ability to include testimonials and videos builds consumer trust.
This theme is designed to support visual storytelling thanks to its emphasis on putting images at the front and center. If you've got a story to tell, Sense will help you captivate your audience.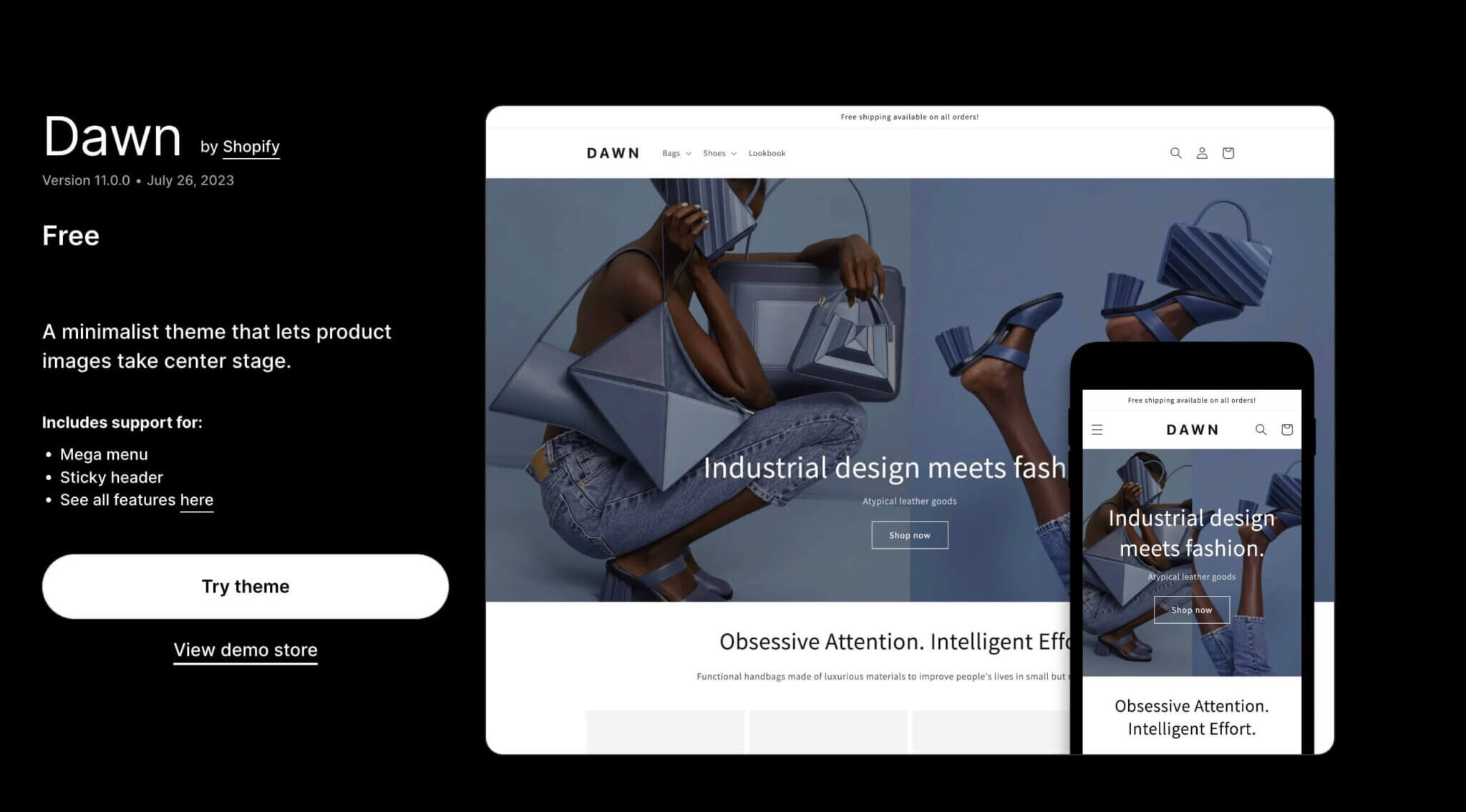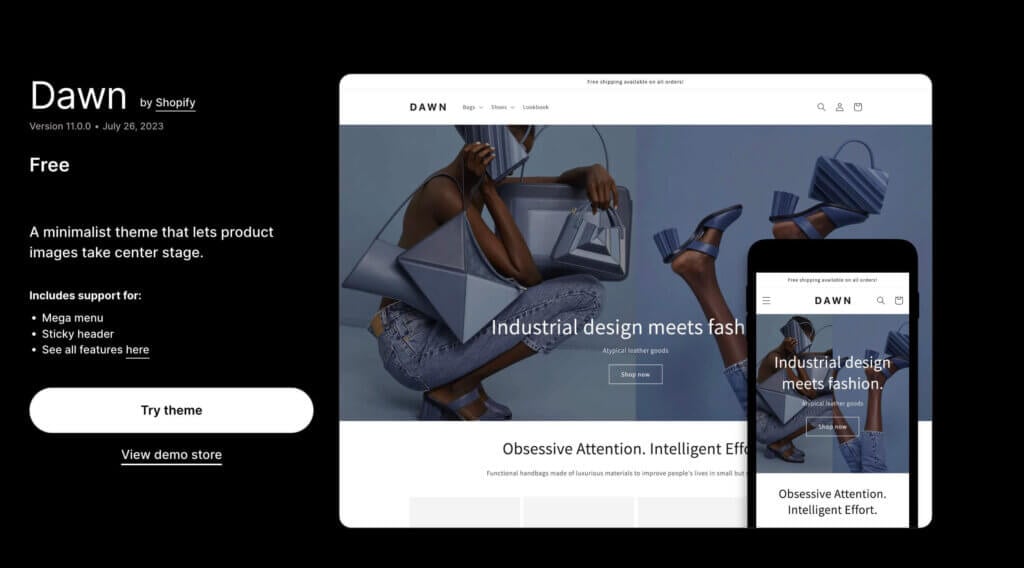 Featuring a minimalist design that lets your product be the main character, Dawn is an attractive theme with a media-forward product page that allows you to show off your images. If you've taken care to have high-quality product images, this is the theme you'll want to show them off.
It's quick to set up and its advanced customization options allow you to achieve your desired vision without knowing a single line of code. There are plenty of pages dedicated to marketing and merchandising as well as a speed that's Shopify-approved.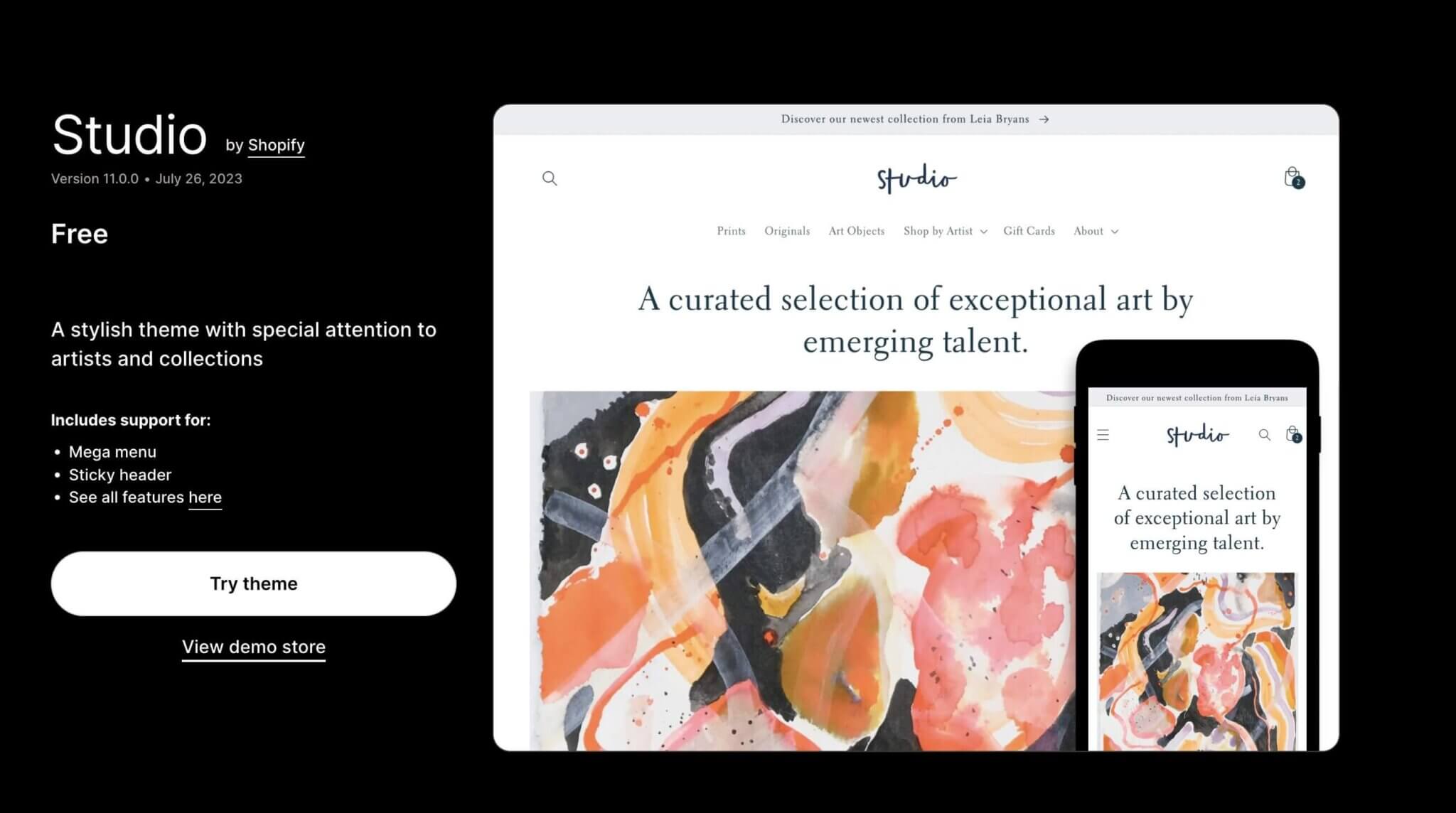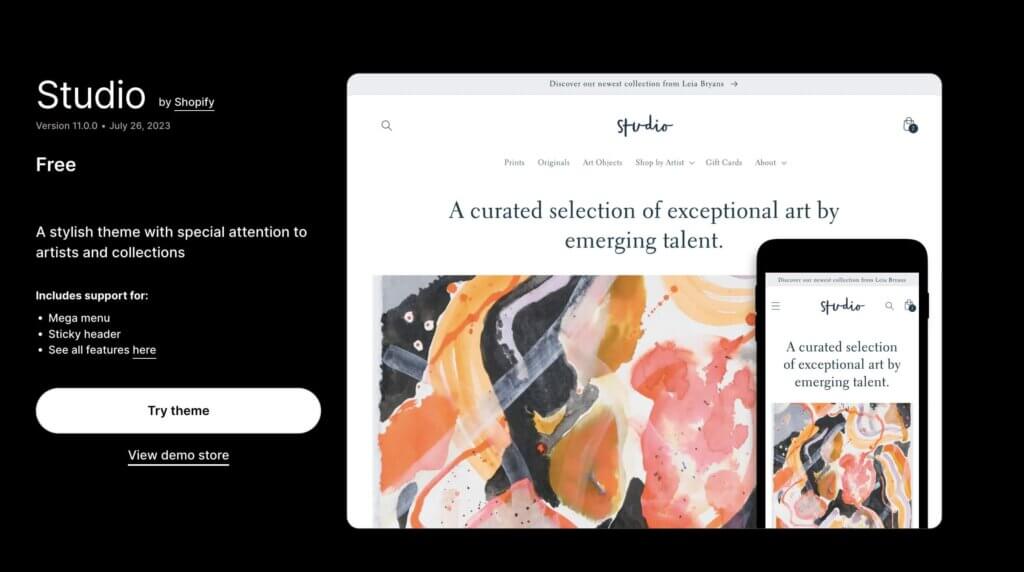 Specially designed for art collections and creatives, this Shopify theme is elegant and unique. If you're looking to stand out from the crowd and give your online store a more refined quality, Studio is your new go-to.
Featuring collect-based navigation, Studio is perfect for boutique stores and stores with a more creative flair. Thanks to the flexible design and easily customizable settings, you can adapt Studio to match your needs.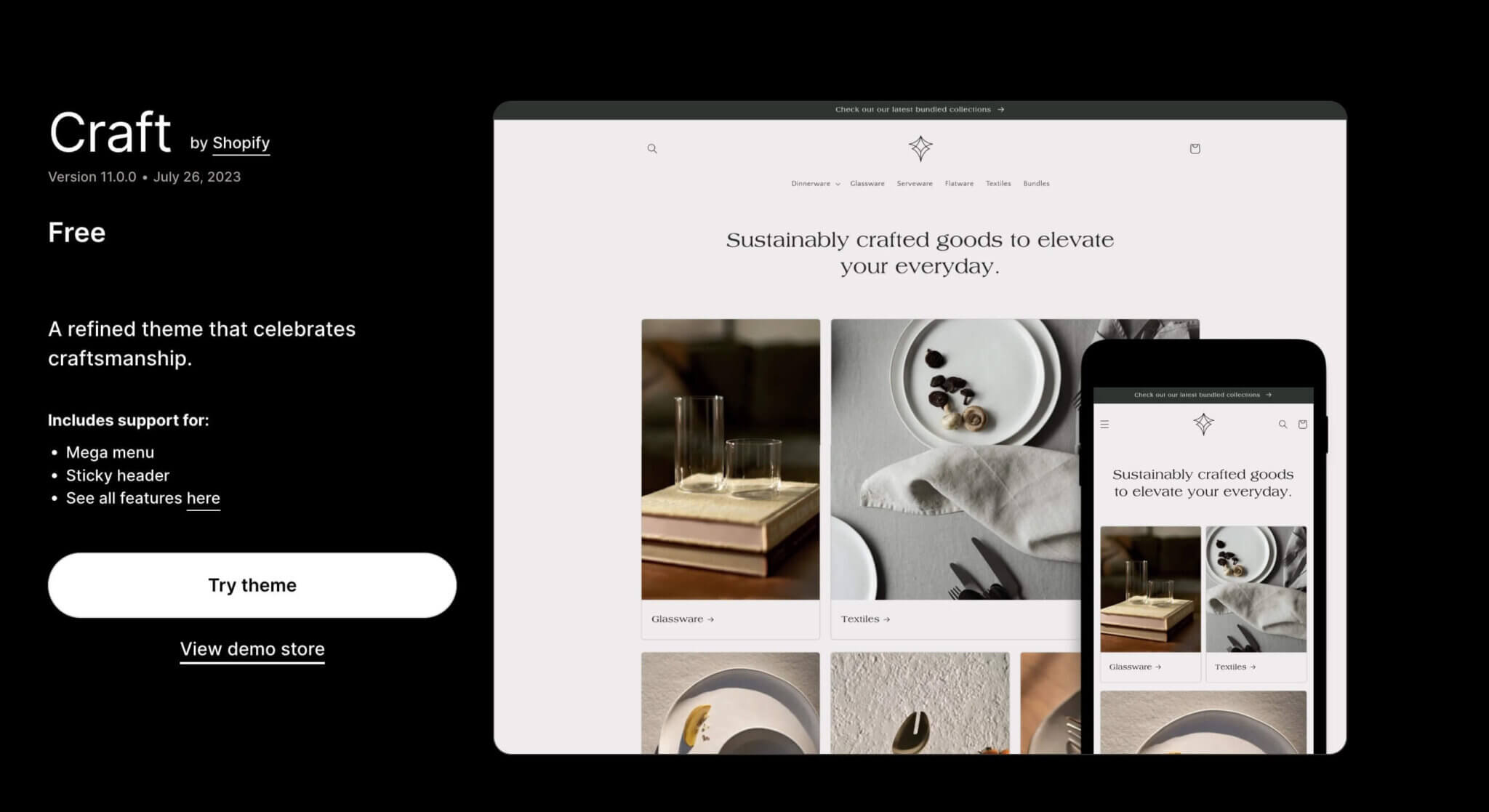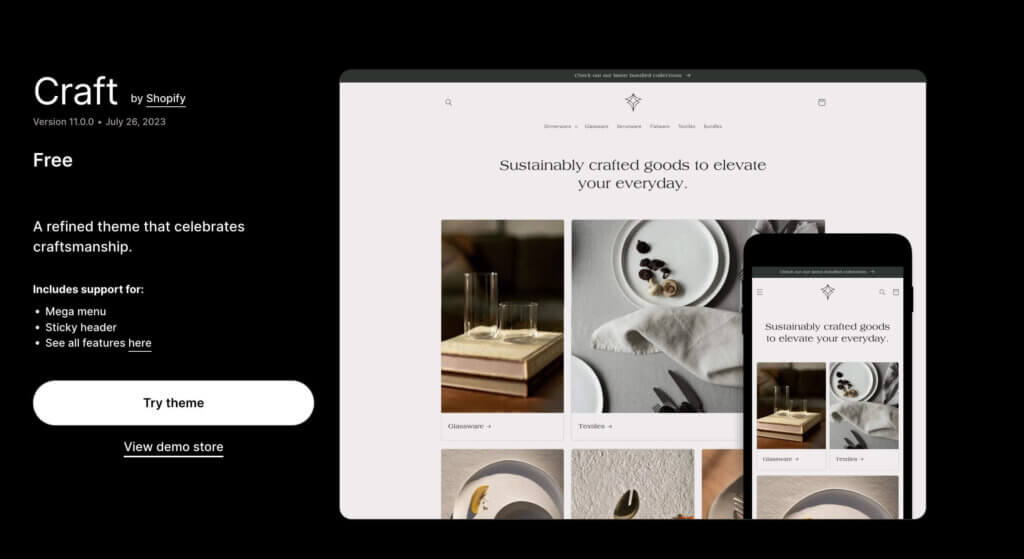 This elegant and authentic design is perfect for giving your online store that high-end feel. With minimalist typography and a focus on images, you can introduce your brand to consumers through visual storytelling. The theme's sections and templates are designed to display rich and detailed narratives.
Plus, Craft meets Shopify's performance standard, so you can rest assured you'll never lose customers because of a slow and unresponsive web page.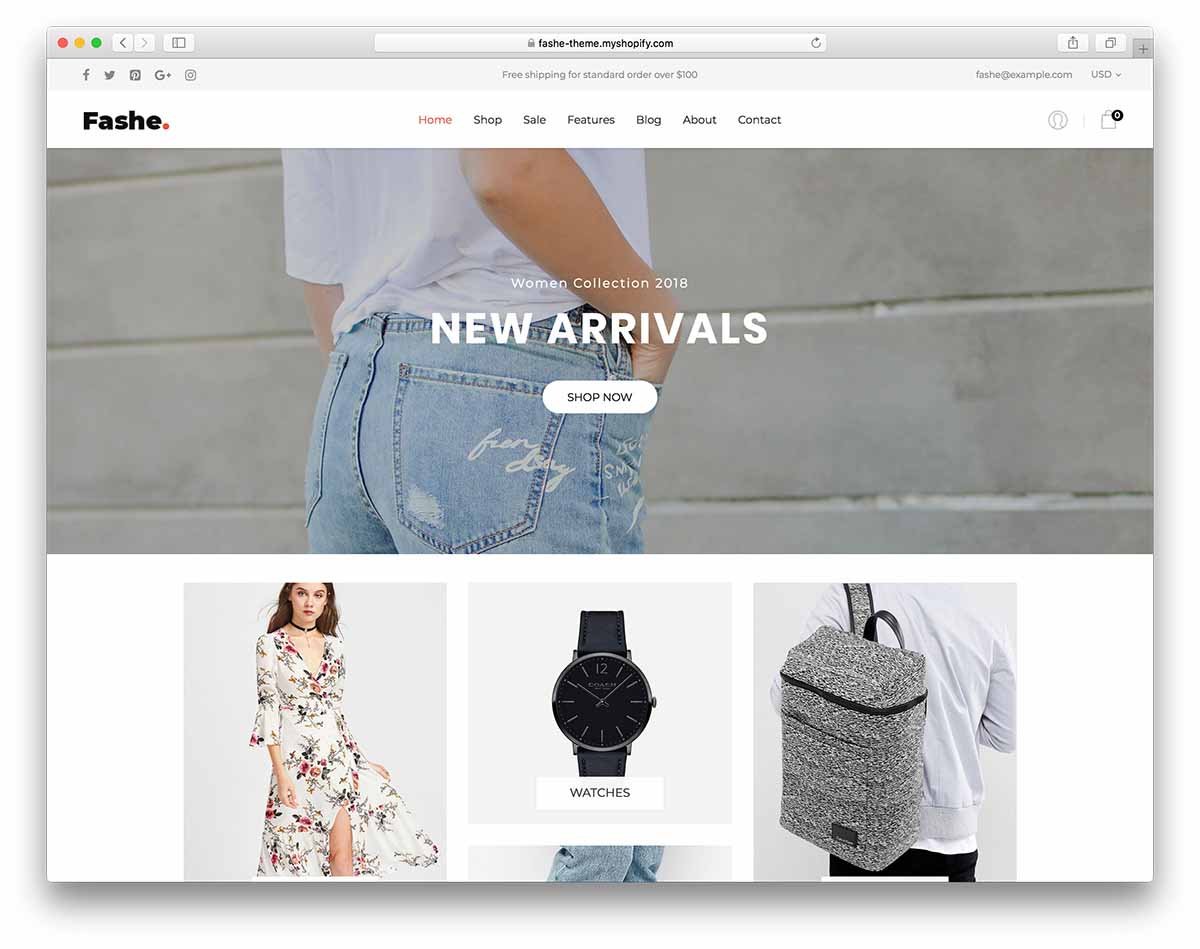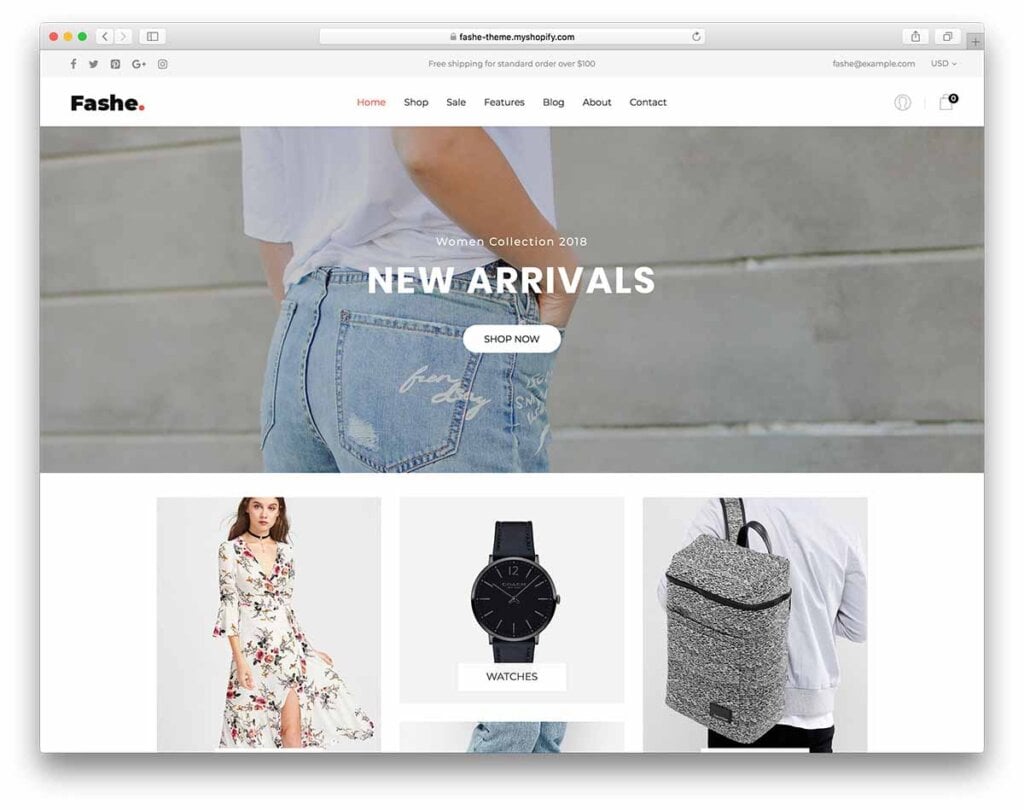 Fashe is a Shopify theme developed by Colorlib. It was actually developed initially as a premium template, before the company decided to offer it for free. This means that you'll find features you'd expect in a premium theme with Fashe – but without the cost.
The strength of the Fashe theme is its minimalist design, which works well for different categories, from bakery to electronics to fashion.
The downside of that is that it can seem a bit simplistic. However, if you customize it, you can end up with a great-looking eCommerce site without the price tag.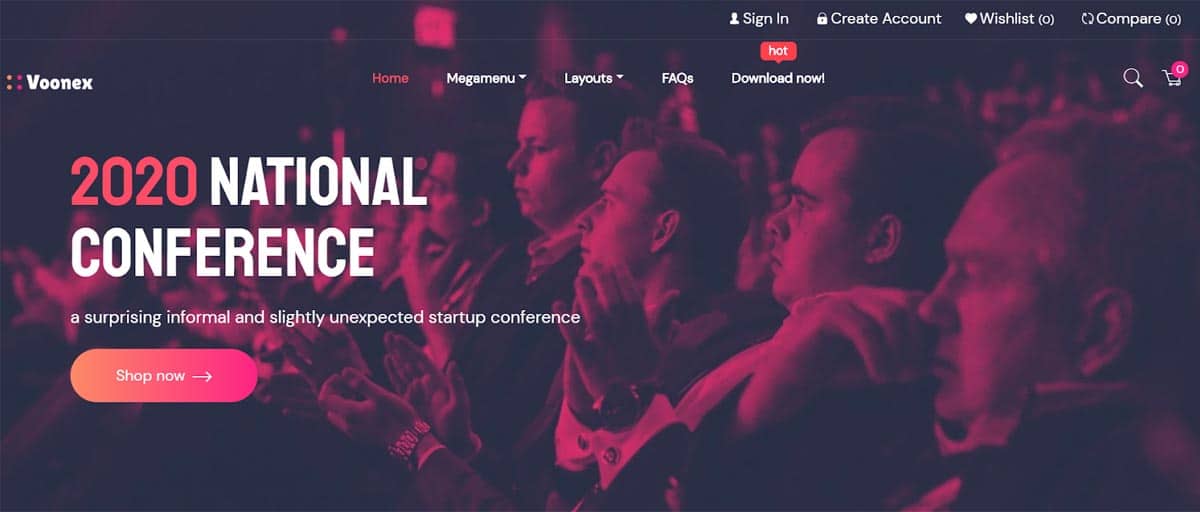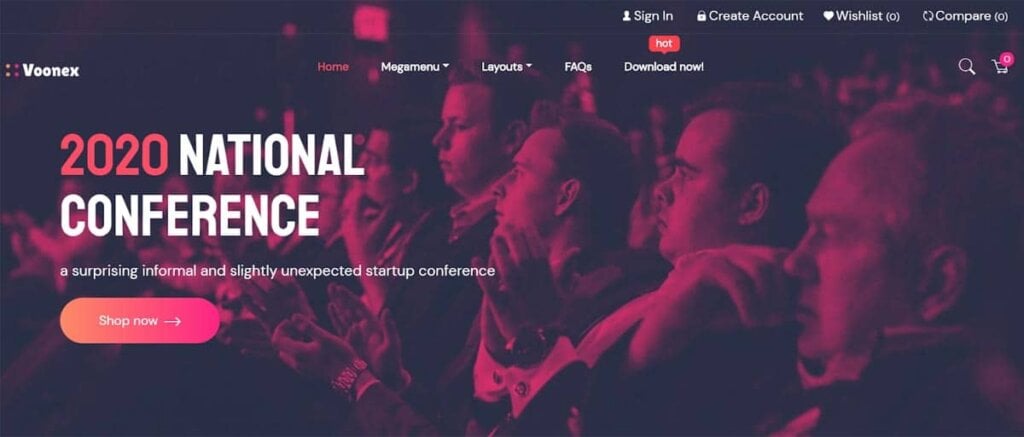 This free Shopify theme from Apollo Themes is specifically designed to fit an eCommerce website that trades in events and conferences.
This theme's special features includes pages such as Event Information, Speaker Profiles, Sponsors, Schedules, The Venue, and Event Blog, along with a structure that is tailor-made for attendees to access event information. Voonex makes site navigation easy.
This theme is free for its basic version which comes with limited features. If you want to upgrade to more sophisticated options, you'll have to pay for the Premium version (which costs USD $56).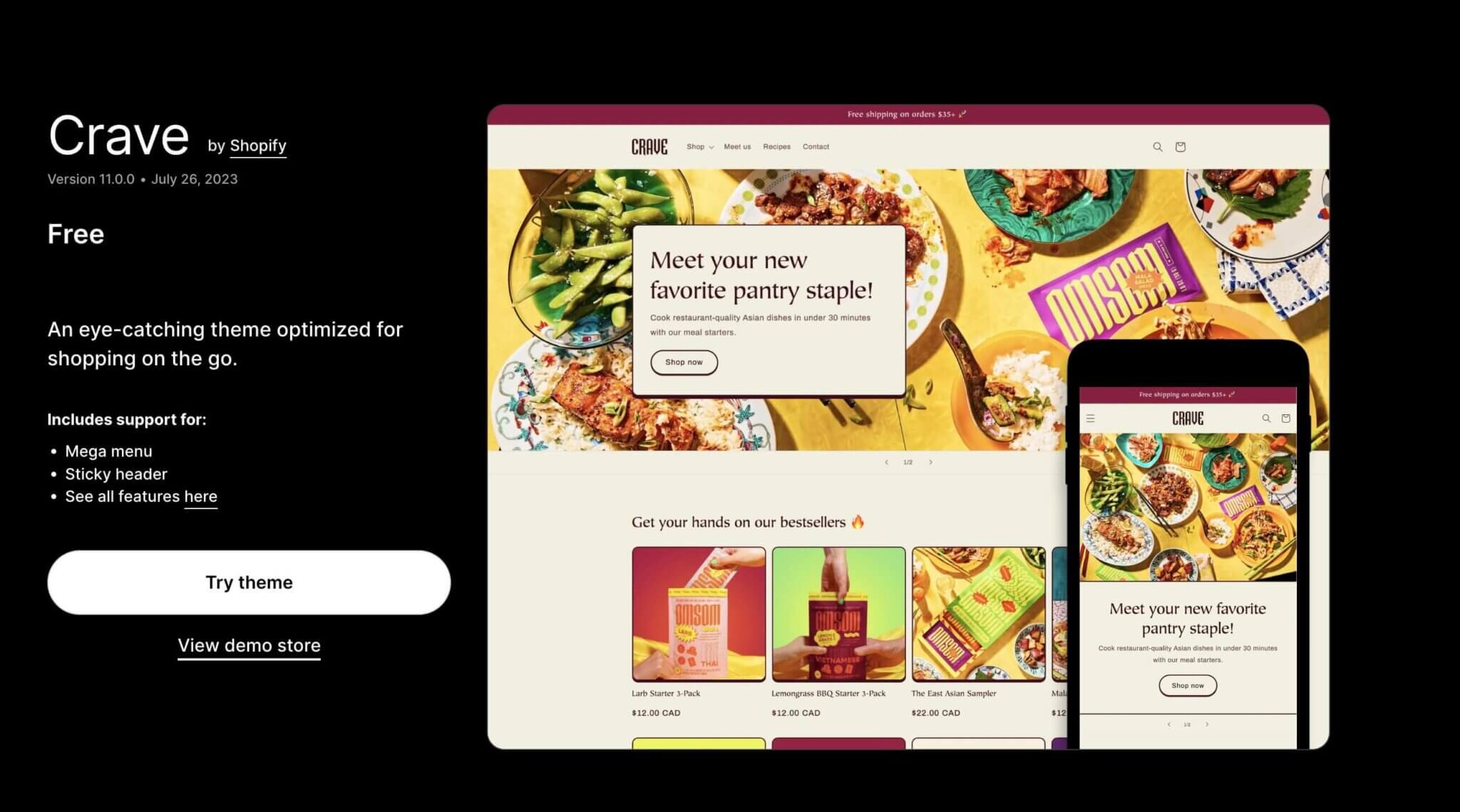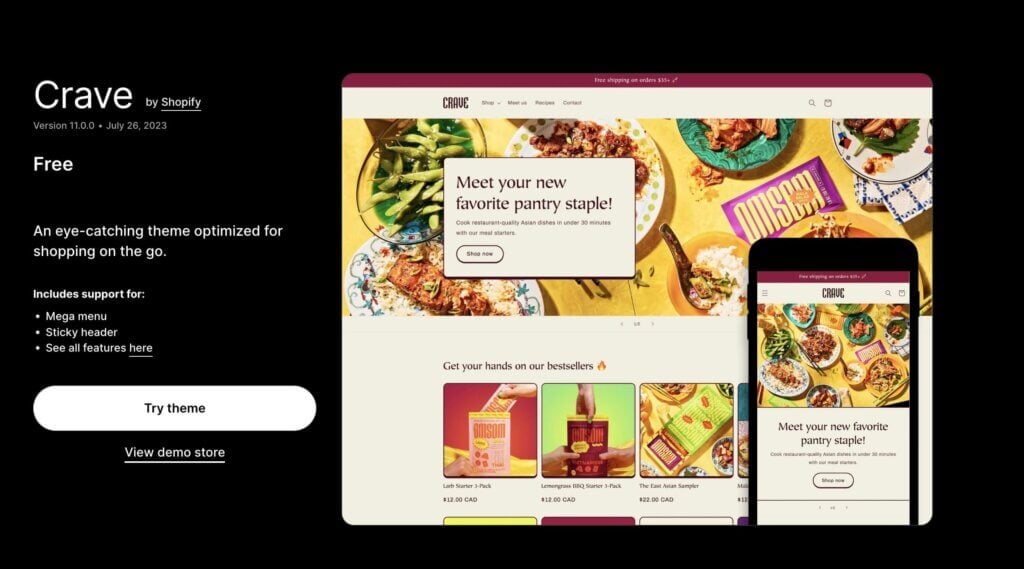 Crave is eye-catching without being in-your-face and bold without being brazen. This visually appealing theme is playful and fun, perfect for brands who want to market themselves as modern, forward-thinking, and lively.
The mobile-optimized layout and dynamic checkout options means you can meet your buyers where they are, whether they're shopping on their smartphone, desktop, or tablet. If you're keen to connect with consumers by showing off your brand's personality, Crave should be your theme of choice.
Purpose-built for fashion apparel stores, but can be applied successfully to other verticals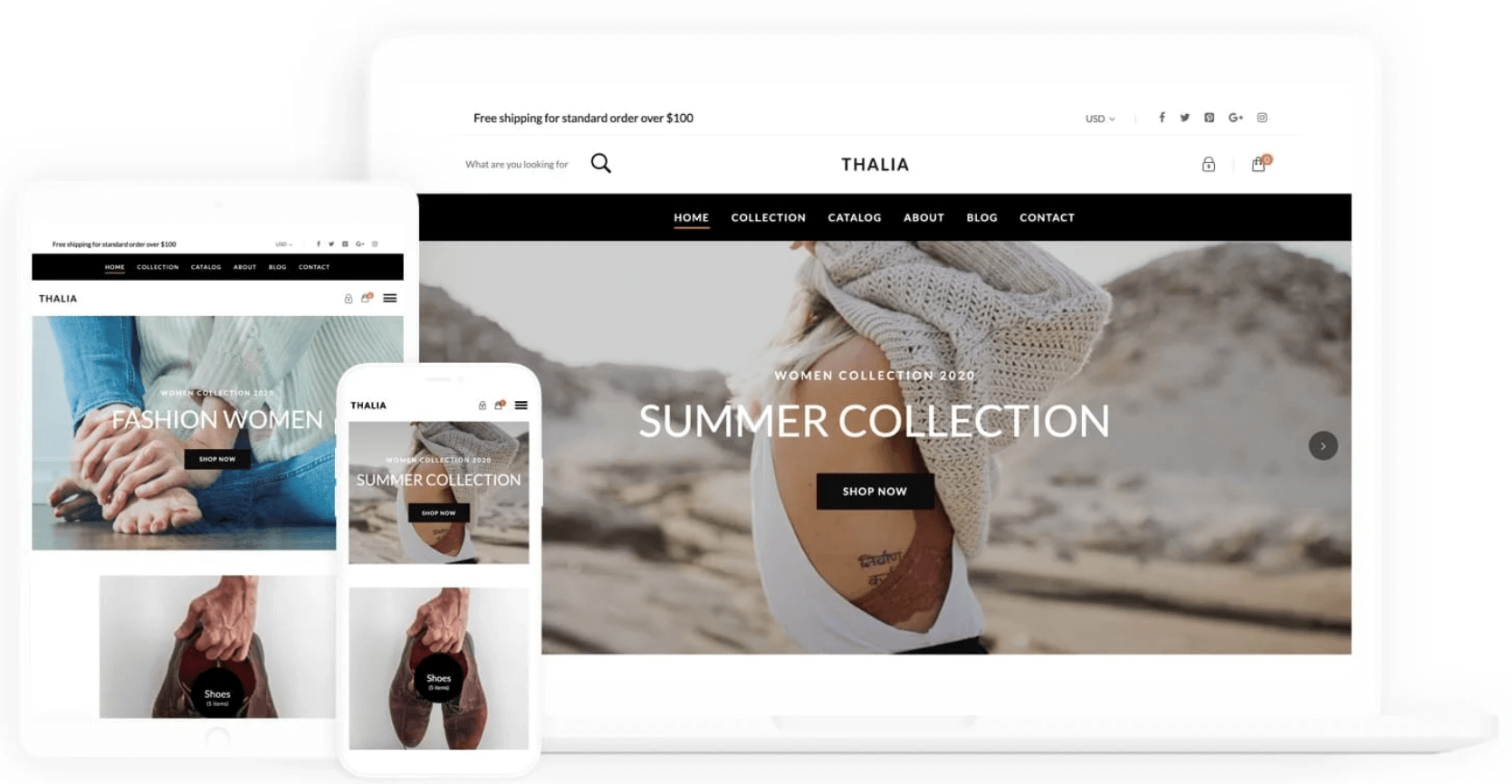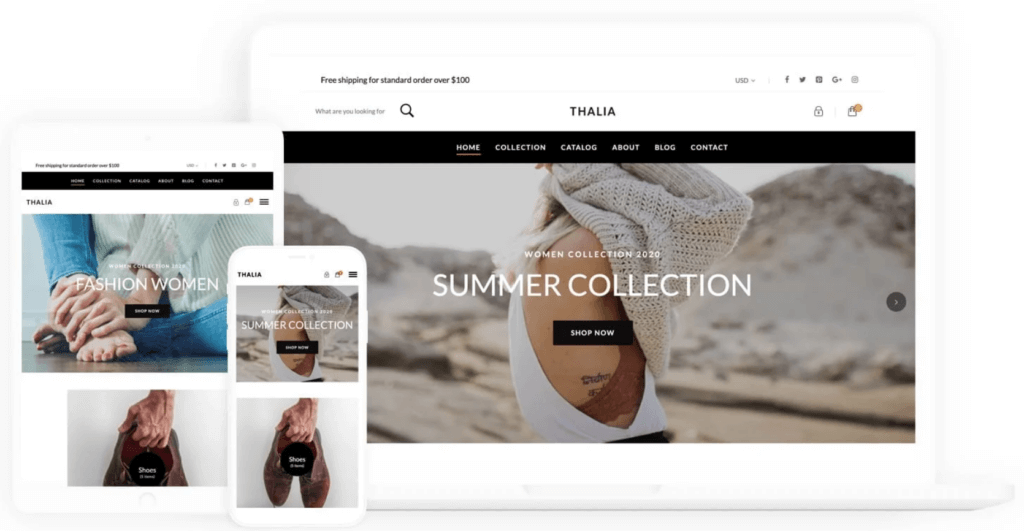 A clean and minimalistic theme that works well for fashion brands, Thalia was designed by aThemes. Its features include a responsive slideshow, advanced filters and swatches, and a slide-out (Ajax) cart.
Minimalistic and clean, this theme is perfect for showcasing and selling fashion, but flexible enough to work with a variety of different store types.
Thalia can be fully customized for color and typography and also offers editable About Us, Contact and FAQ page sections.
Purpose-built for fashion apparel stores, but can be applied successfully to other verticals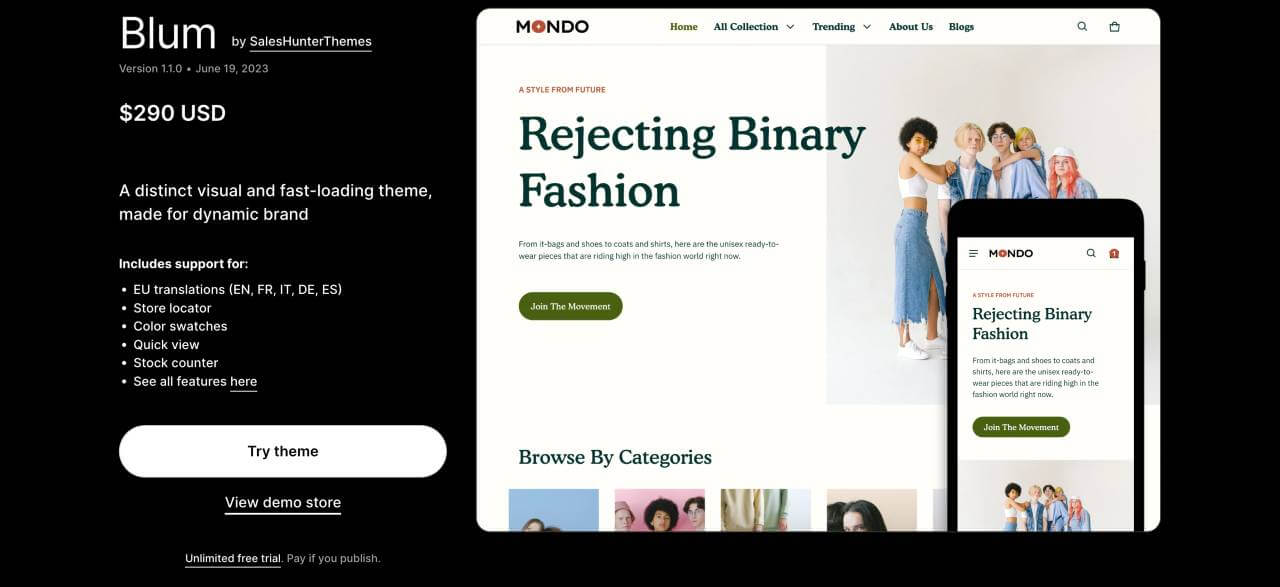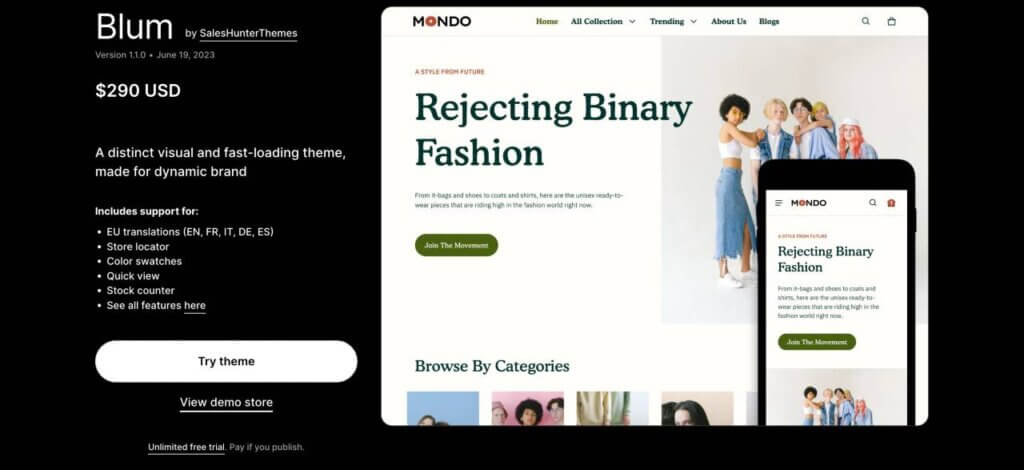 If you're in an aesthetic industry, like fashion or beauty, the Blum theme might be perfect for you. Created by SalesHunterThemes, Blum is touted as having been "made for fashion brands with high page speed and stunning mobile design." This theme offers rich image display options, great visual storytelling elements, mobile-first design, and three different customizable styles to choose from.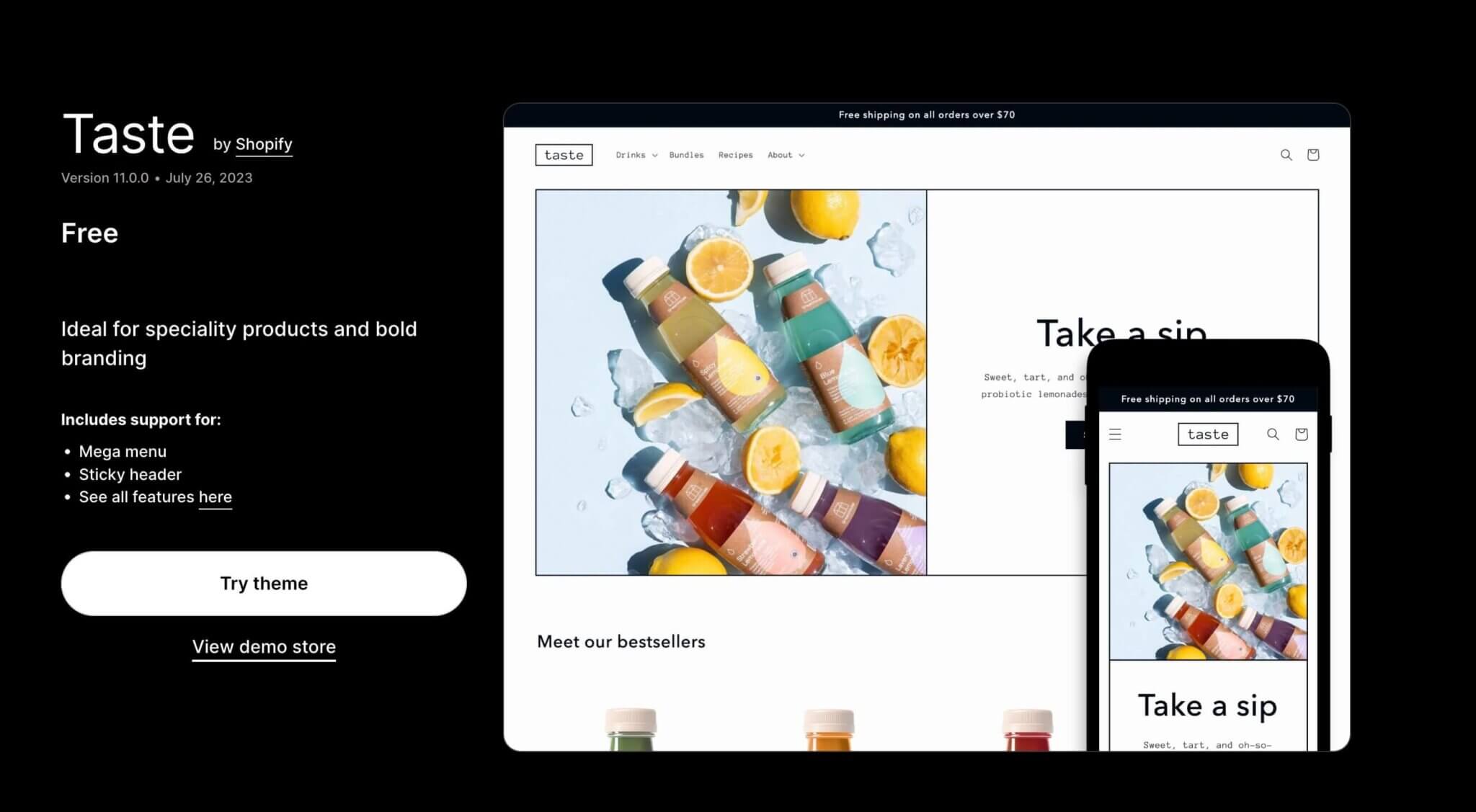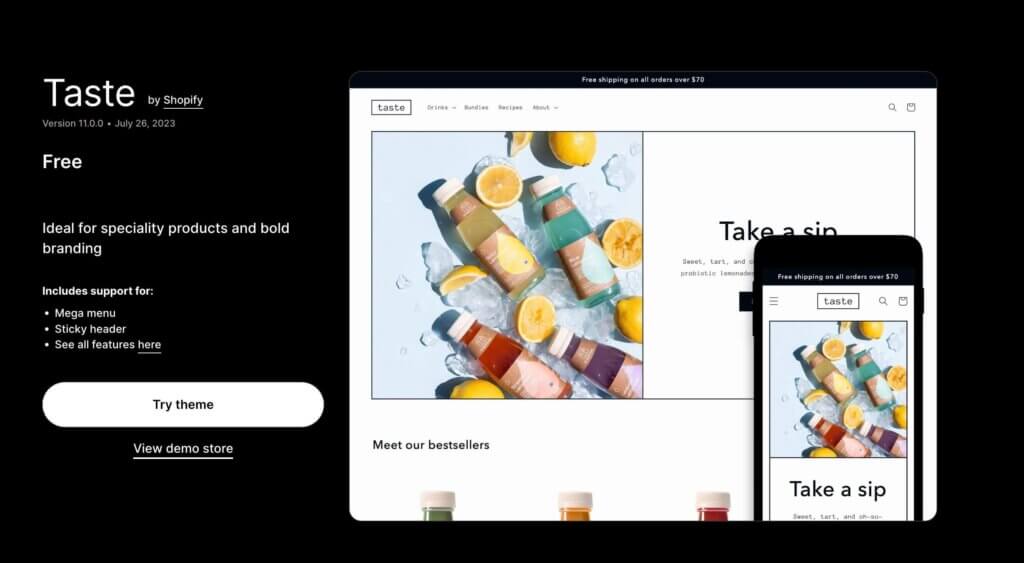 Does your store specialize in a particular niche? Taste is the go-to free Shopify theme for specialty products, with bold branding that shows off your products at their best.
The product sections offered by the Taste theme support larger product cards, bespoke FAQs, and specialty product highlights, allowing you to truly tell the story of how your products came to be. Thanks to the many customization options on offer, you can update your store to match your brand's vision.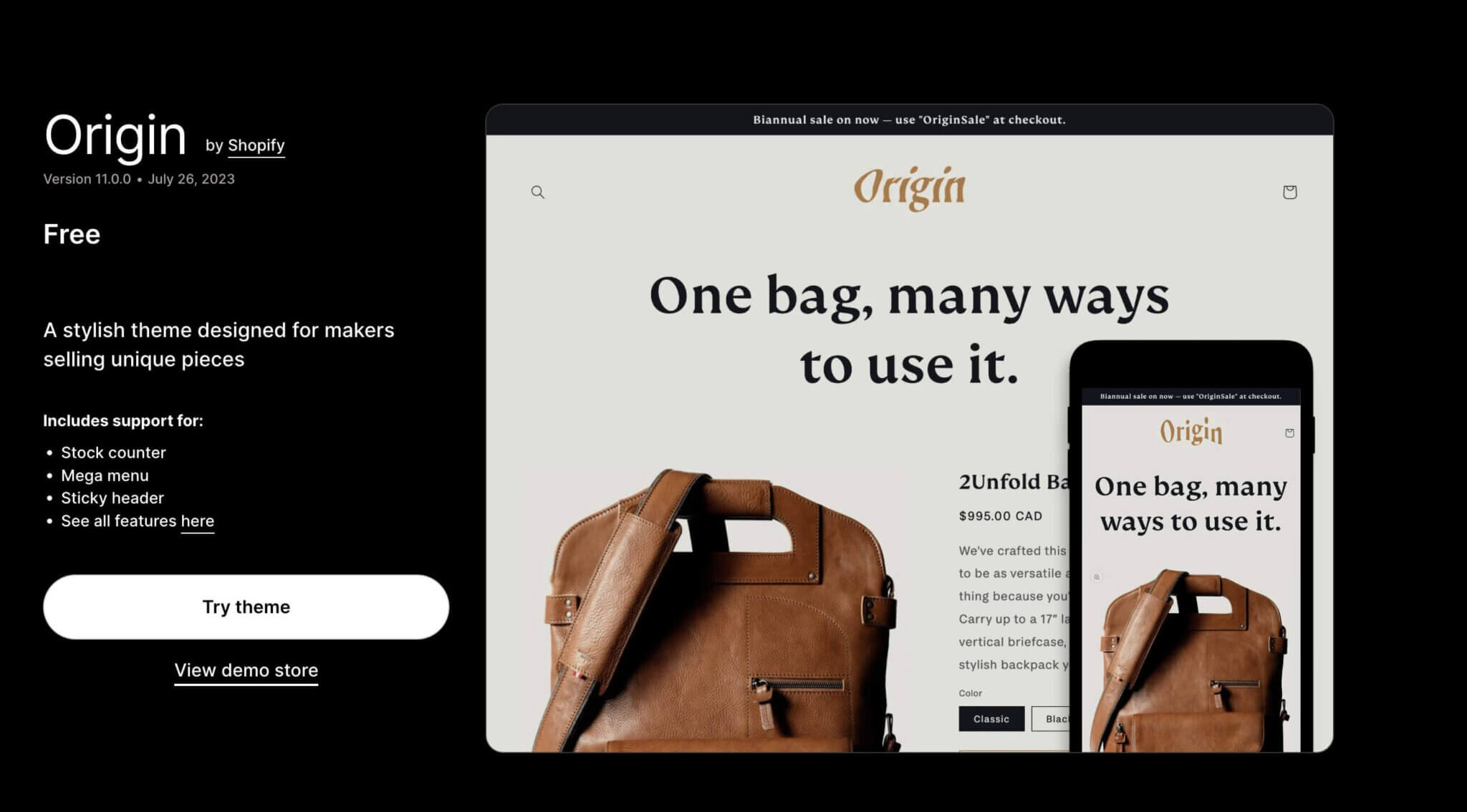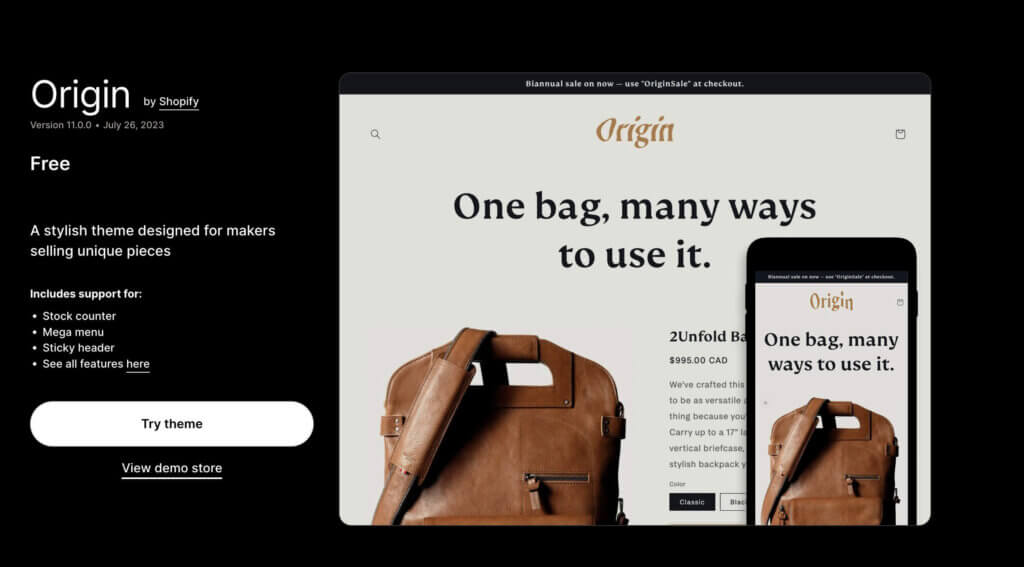 Designed for specialists who craft unique products in their niche, this elegant and stylish theme boasts a wide range of features to help you make your online store a success and boost that all-important conversion rate.
Structured layouts allow you to dig deep into your brand's narrative, with enough space for storytelling as well as buyer testimonials and reviews. The steps it takes to set up Origin are minimal, making it ideal if you're looking to hit the ground running as quickly as possible.
Use Shopify free themes to get your eCommerce store rolling
Great design is an essential factor to building and maintaining a successful eCommerce website. You can create a beautiful Shopify store thanks to a variety of both premium and free themes on offer.
While free themes can feel slightly limiting in terms of design and functionality, most Shopify free themes do offer good customization options to give your site the look and feel you need to connect with your customers and showcase your products.
A clear understanding of your audience, the experience you'd like to offer, and the features you need will help you find the best Shopify theme and tune it perfectly for your customers.
Leveraging Shopify's free themes makes it quick and easy to get your store up and running while optimizing your customers' experience.
Final thoughts
Together, Shopify's integration with eDesk provides a platform for online sellers to develop a multichannel strategy in minutes and improve customer service with its extensive features.
eDesk is the leading ecommerce helpdesk for online sellers, purpose-built to address the precise demands of eCommerce.