Looking to replace Freshdesk? You're not the only one.
Despite its popularity, Freshdesk has its drawbacks, including limited customization, inadequate reporting tools, high costs, disappointing customer support, no native auto translation, no native marketplace integrations & no Smart Inbox.
Thankfully, there's a whole world of Freshdesk competitors out there, and we've done the legwork to find the best Freshdesk alternatives for you.

9 best Freshdesk alternatives and competitors
Before we get started, we'll share how we came up with these Freshdesk alternatives, including:
Features: Platforms that offer the core features you'll also find when using Freshdesk.
Customer reviews: Pulling the best alternatives from sources like G2.
TLDR
Just want the straight-up list?
eDesk
Zendesk
Hubspot Service Hub
Zoho Desk
Front
HappyFox
ProProfs
Intercom
HelpScout
1. eDesk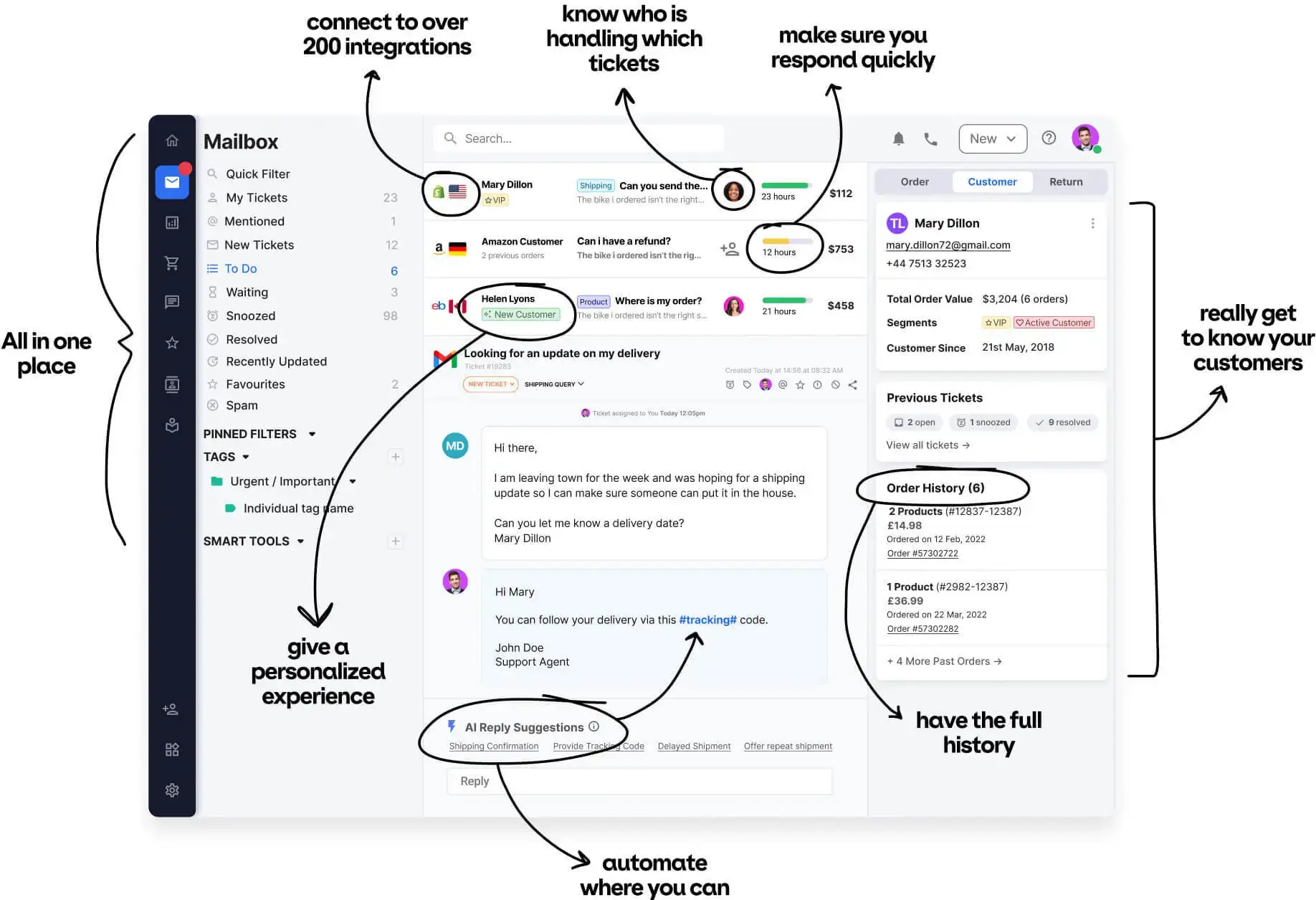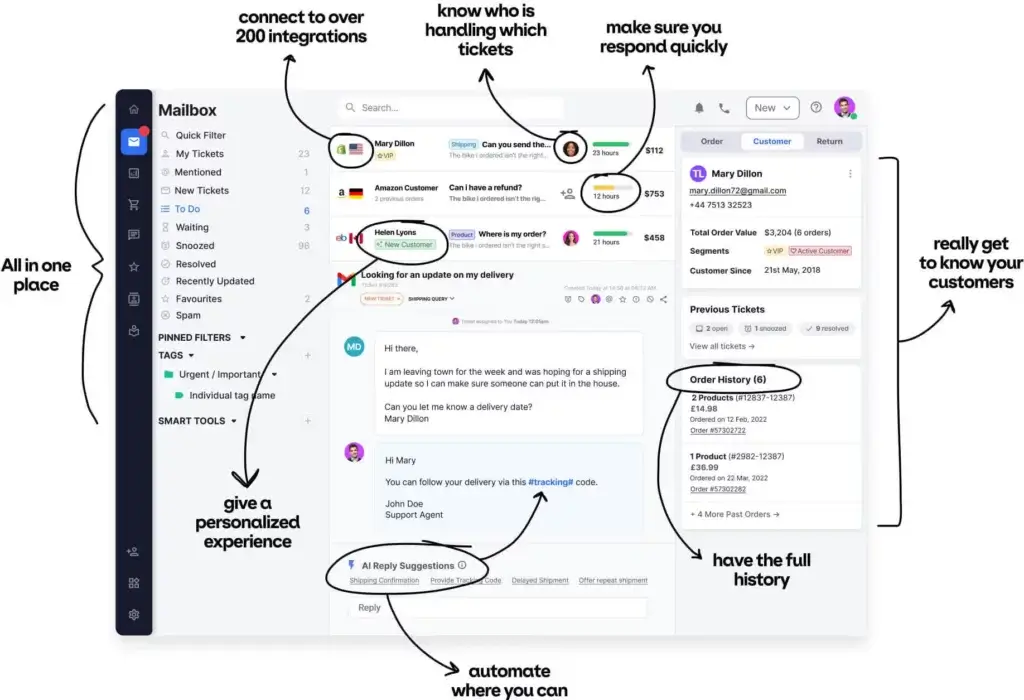 Best Freshdesk alternative for eCommerce sellers on Shopify, BigCommerce, Amazon and eBay, plus 200 more platforms.
eDesk is a complete eCommerce customer service helpdesk built exclusively for eCommerce sellers. It takes the pain out of trying to deliver consistent customer service across multiple channels by bringing all tickets, order/shipping data, customer data and metrics together in one place. Uniquely, eDesk can integrate with:
It even comes with live chat and review solicitation.
When you partner with eDesk, you get access to an eCommerce focused platform that combines AI, native eCommerce integrations, automations and metrics that help eCommerce support teams respond faster and increase sales.
Aside from the eCommerce focus. There are a few more areas where Freshdesk falls short.
Learn more about eDesk: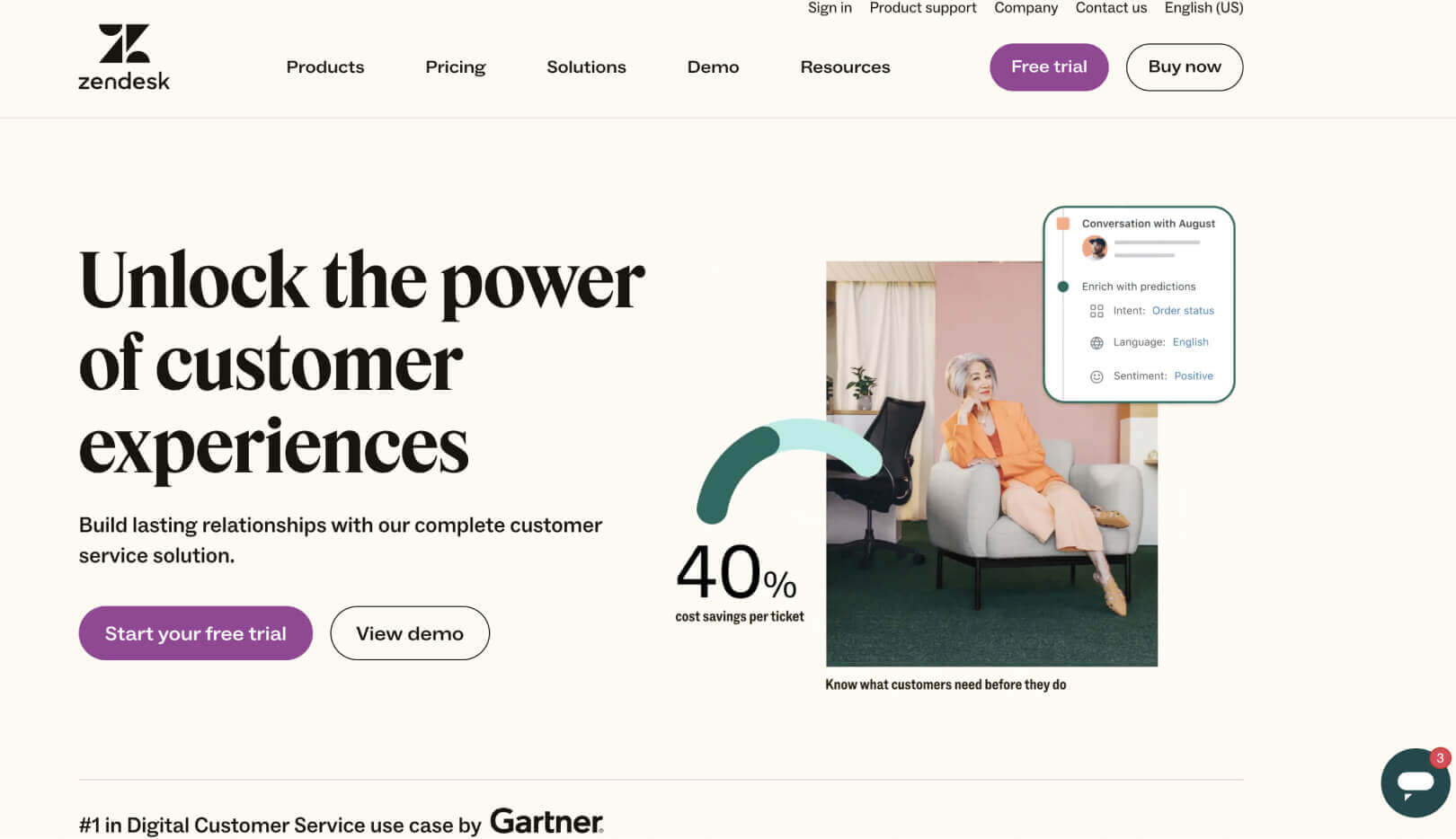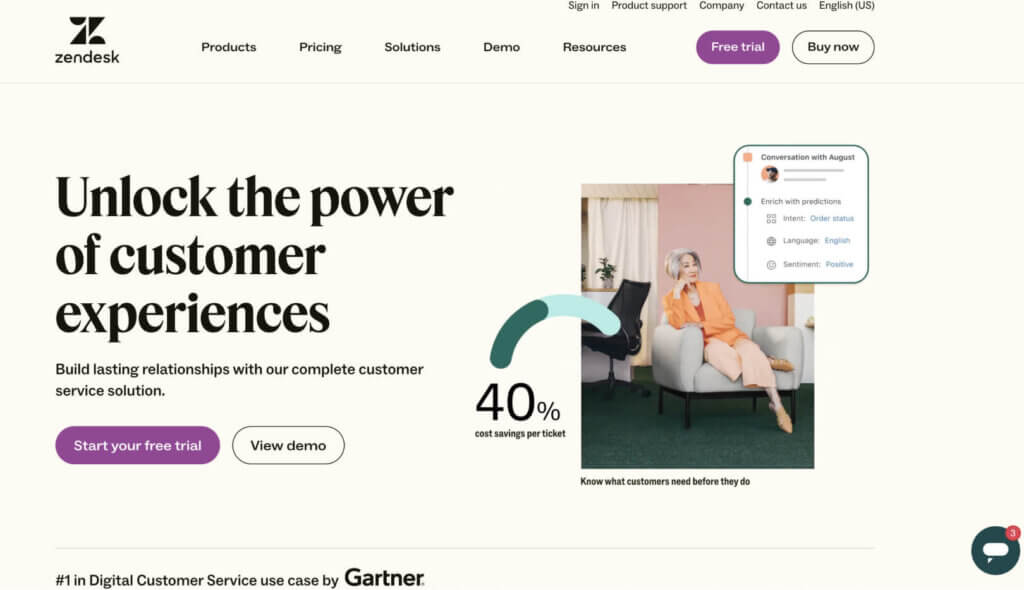 As a formidable alternative to Freshdesk, Zendesk delivers unparalleled support across diverse channels. Crafted to prioritize your customers, Zendesk provides your team with a cohesive workspace for consistently delivering customized support experiences. What sets Zendesk apart? The user-friendly platform scales effortlessly with your organization, no matter its size. Specifically, Zendesk is the preferred choice for large support teams requiring a robust set of features to remain at the top of their game that do not sell online.
What makes Zendesk stand out?
Ticketing system: A one-stop-shop for all your customer queries, concerns, and requests. It's like having a central command center for support!
Knowledge base: Empower your agents with an intelligent knowledge base, making self-service a breeze for everyone involved.
24/7 support: Automation (not on all plans) and AI(paid add-on) keep the personal touch going with customers around the clock because, let's face it, support never sleeps!
Data and analytics: Keep track of how your team is rocking customer experiences and pinpoint areas to level up even more.
Custom experiences: Tailor your mobile, web, or social apps to match your unique brand and style.
And guess what? Zendesk plays well with others! It easily integrates with popular tools and apps like Zoom, Microsoft Teams, Intercom, Monday.com, and Survey Monkey, so it fits right in with your existing workflow.
Pricing
A 30 day free trial of Zendesk is available upon signing up. Pricing starts at $19/per user billed annually and can go up to $165/per user billed annually.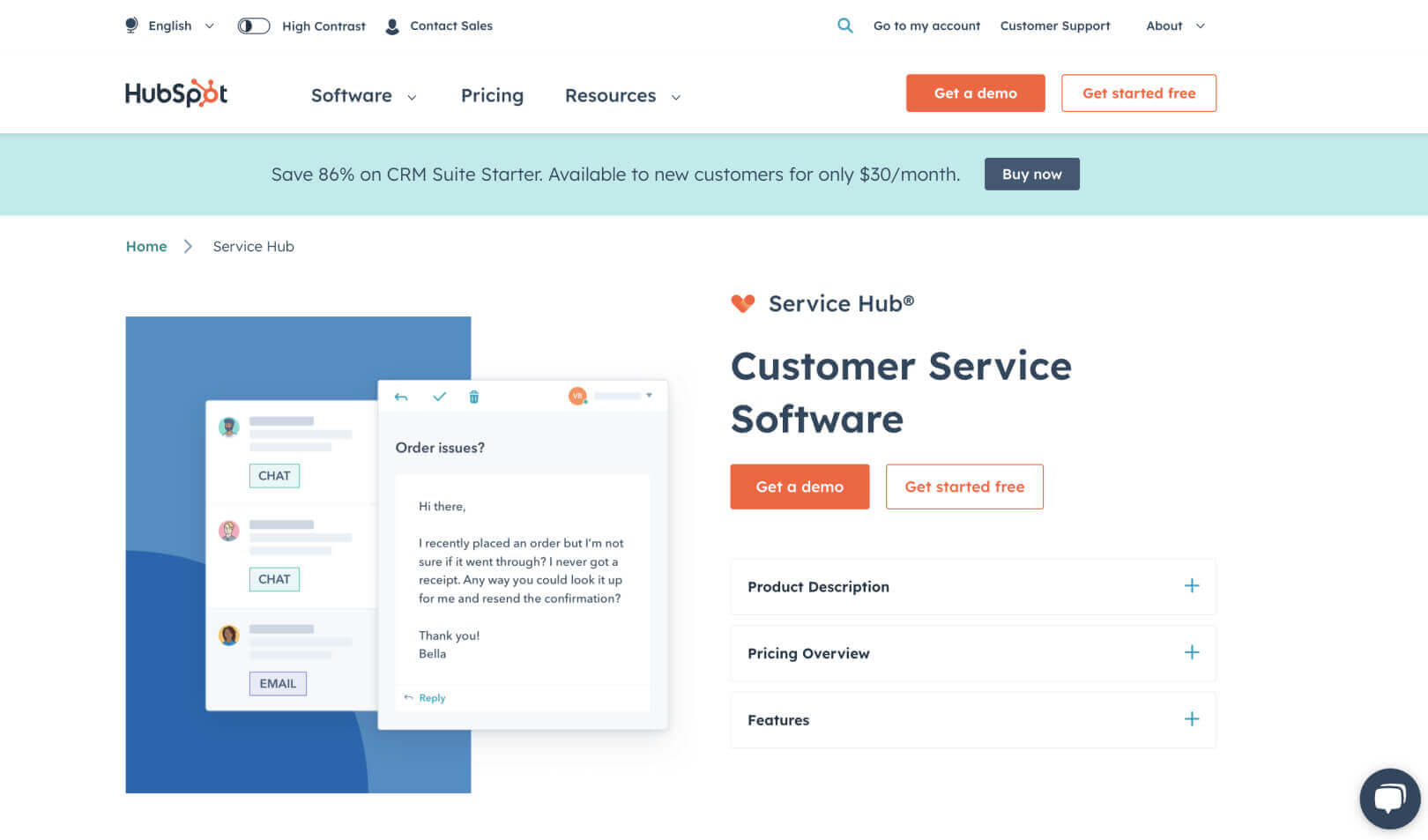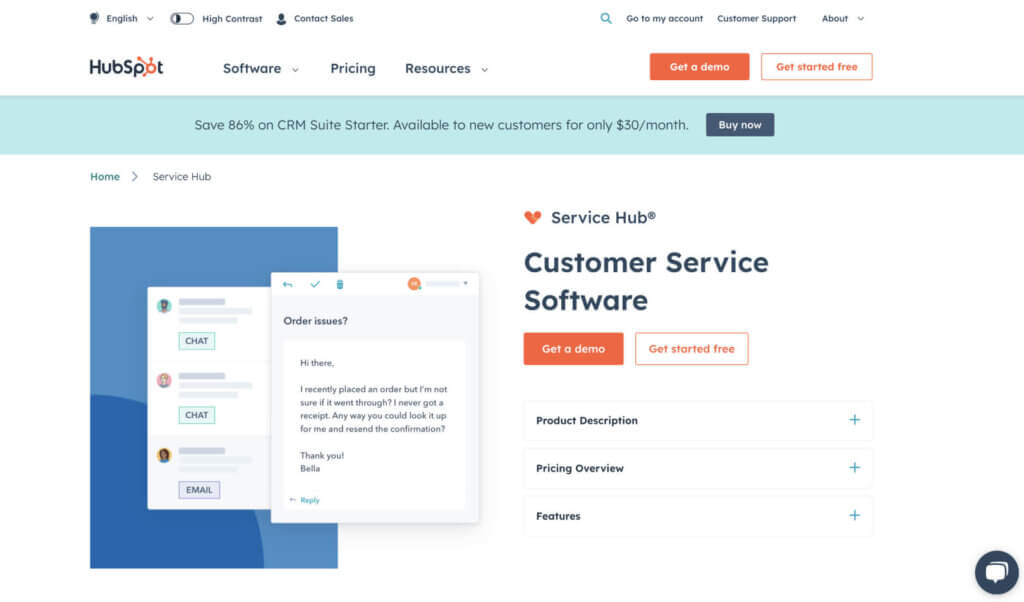 These days, customers expect resolutions in minutes and are personalized to their unique needs. HubSpot Service Hub makes this possible as it brings all customer service data and channels together and helps scale your support through automation and self-service. HubSpot Service Hub makes it possible for customer service teams to customize the support given to each customer to ensure retention for the long haul.
Key features
Regardless of how your team chooses to use HubSpot Service Hub, a long list of innovative features awaits, including:
Knowledge base
Social media management
Email tracking
Built-in analytics, reports, and dashboards
Live chat
Key integrations
The HubSpot Marketplace is full of integrations that effortlessly become streamlined with your other favorite apps and tools in your tech stack. Some include:
Zoom
Asana
Jira
Hootsuite
Pandadoc
Pricing
HubSpot Service Hub prices start at $25/agent per month.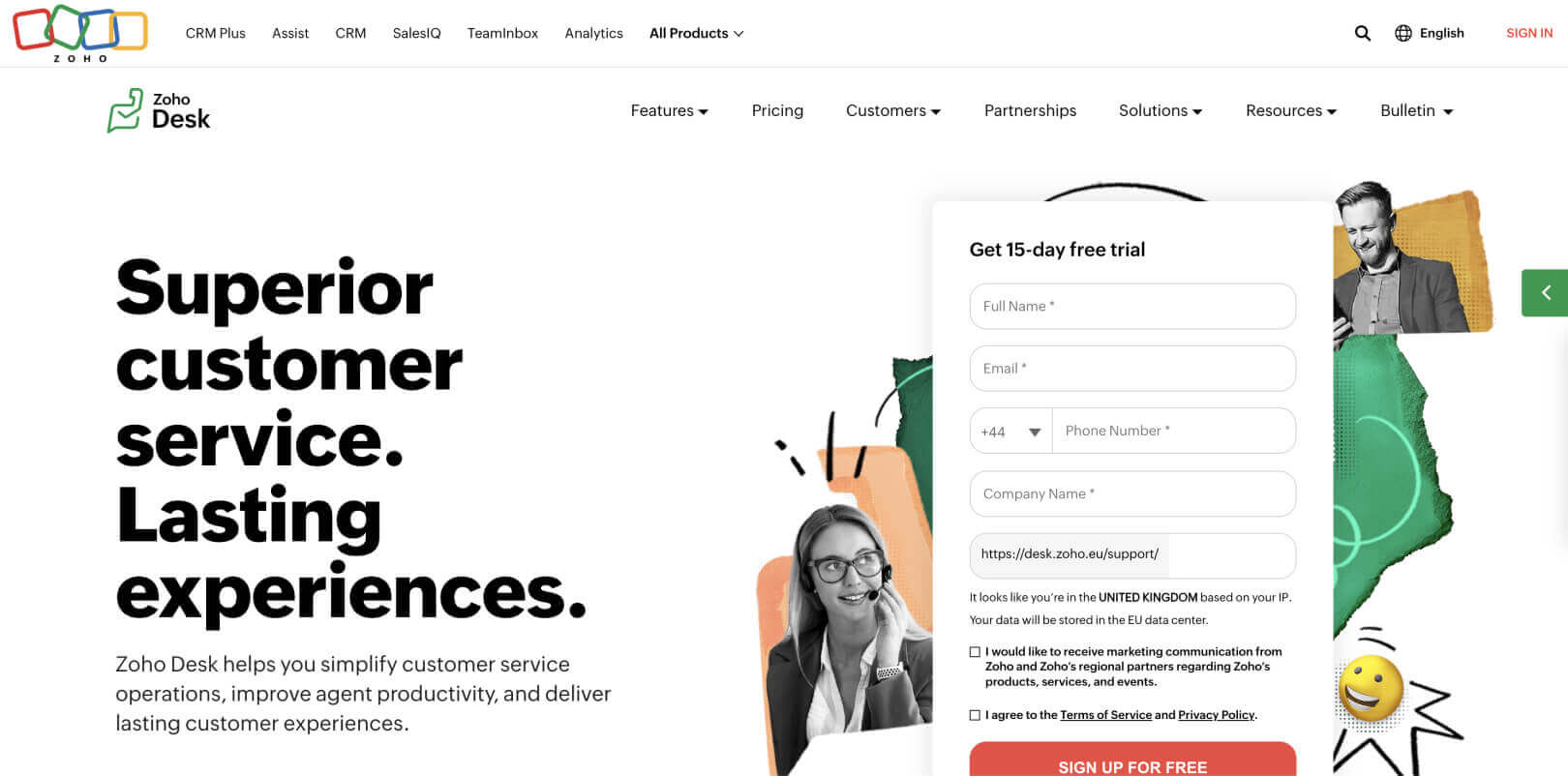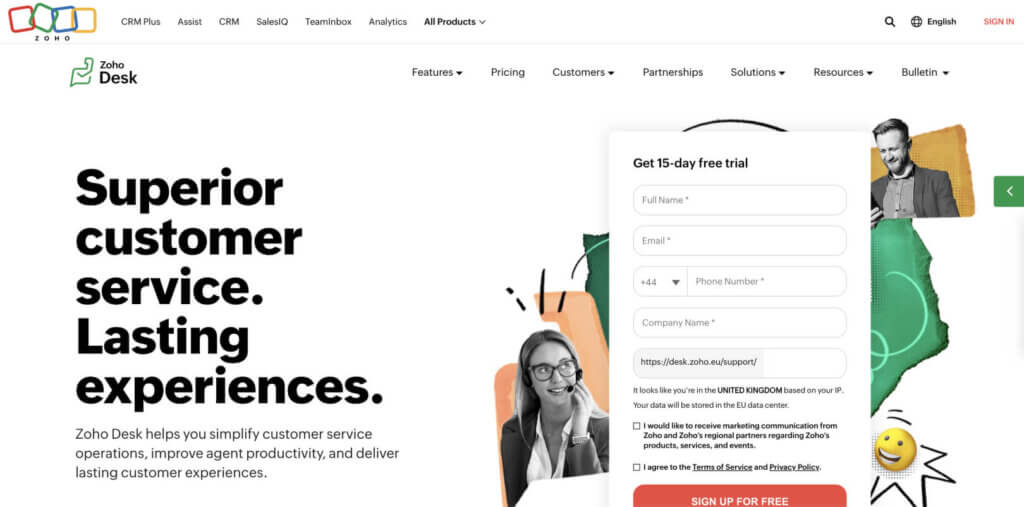 If you're looking to manage customer communication over the phone, email, live chat, SMS text, and social media, Zoho Desk makes it all possible! Users can seamlessly assign calls to agents based on their team or department, automatically route customer calls to the best agents for that specific request or problem, and allow users to maintain consistency of service to build meaningful relationships with their customers.
Key features
Zoho Desk offers users many features that come in handy everyday, including:
Multi-channel ticket management
Simple and straight-forward email communication
Customizable notification rules
Embedded customer self-service capabilities
Reports and dashboards
Key integrations
Zoho Desk can seamlessly integrate with some of your favorite apps and tools, including:
Salesforce
Trello
Asana
Marketplace
Screen Magic
Plus, Zoho Desk effortlessly pairs with other Zoho apps, like Zoho CRM, Bug Tracker, and Sales IQ.
Pricing
Pricing starts at $14/agent/month billed annually and can go up to $40/agent/month billed annually.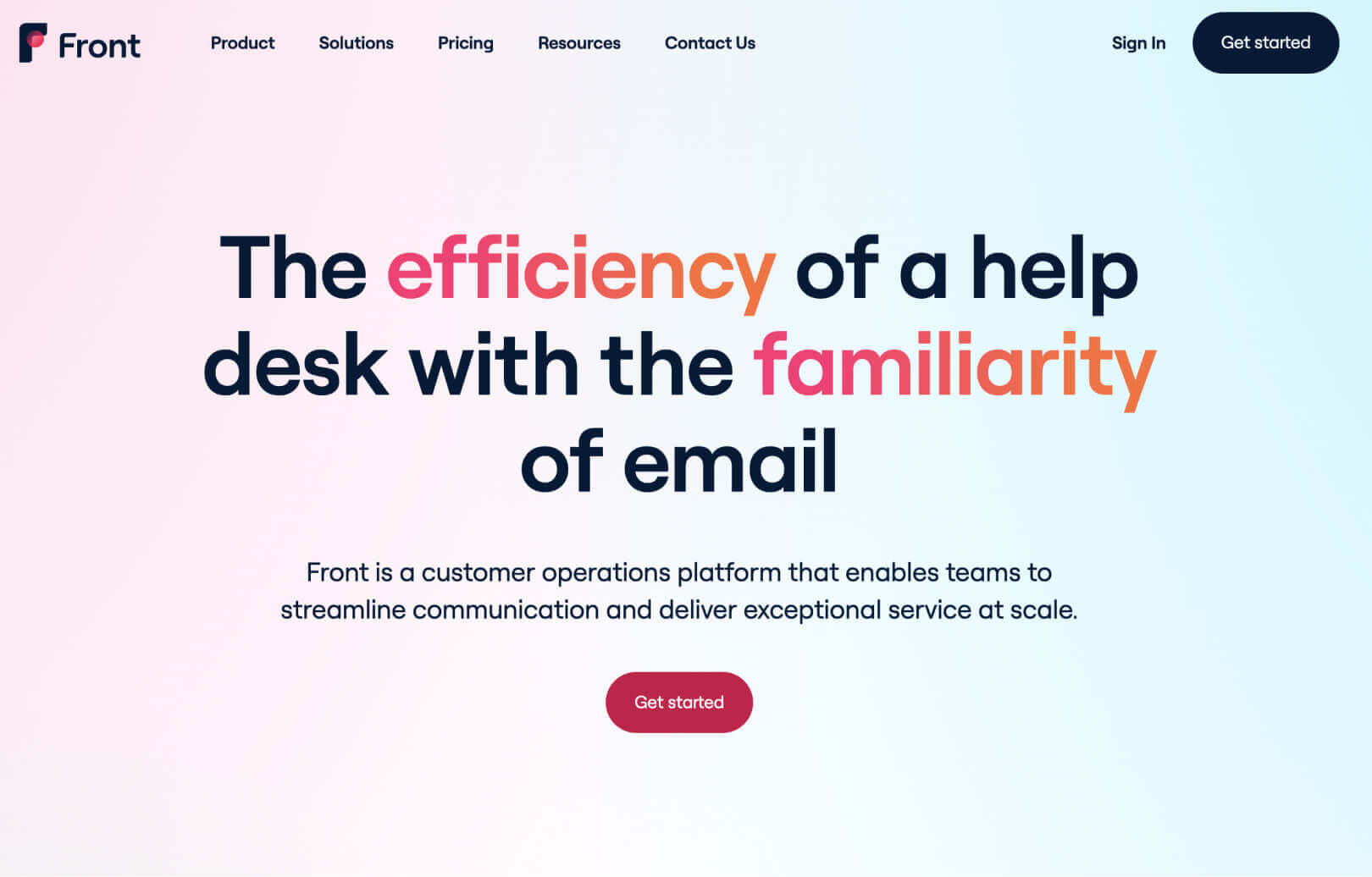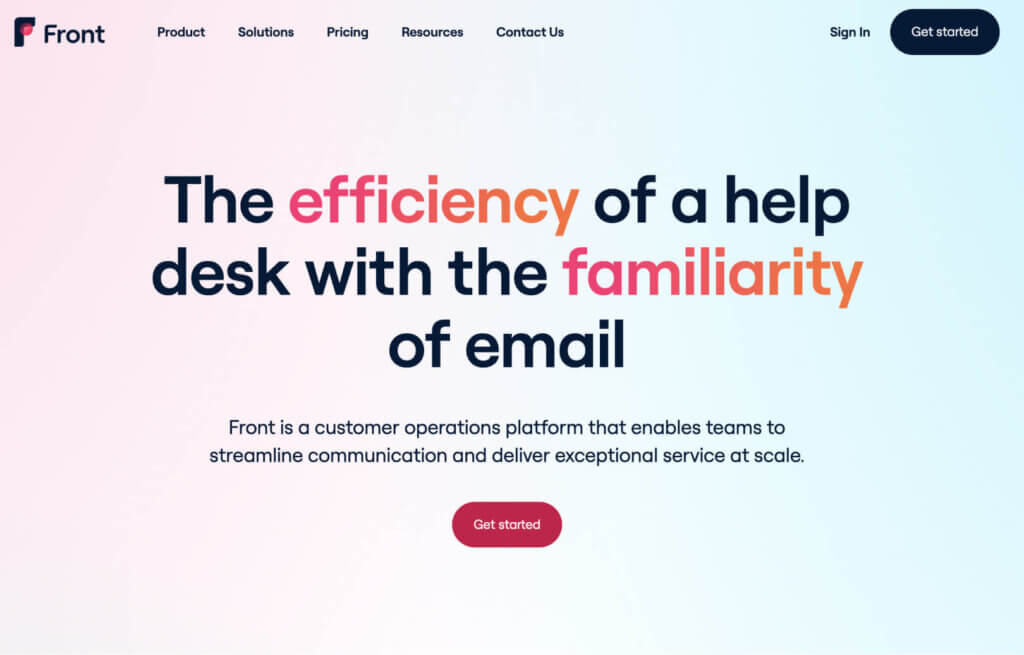 Front is a customer communication hub aimed at making information accessible and collaboration a breeze as your team focuses on building positive customer relationships. Whether you have a team of five or 5,000, Front makes it easy to improve team performance and put customers at the center of your support org.
Key features
Those using Front have numerous features they can take advantage, including:
Customized workflows
Real-time collaboration
Customer experience analytics
Enterprise-grade compliance, industry-standard encryption, and governance frameworks
Key integrations
While Front works great independently, it's even better when paired with some of your other favorite tools. Some integrations include:
Drift
Asana
GitHub
ClickUp
Scribe
Guru
Pricing
Pricing for Front starts at $19/month/user and can go up to $99/month/user.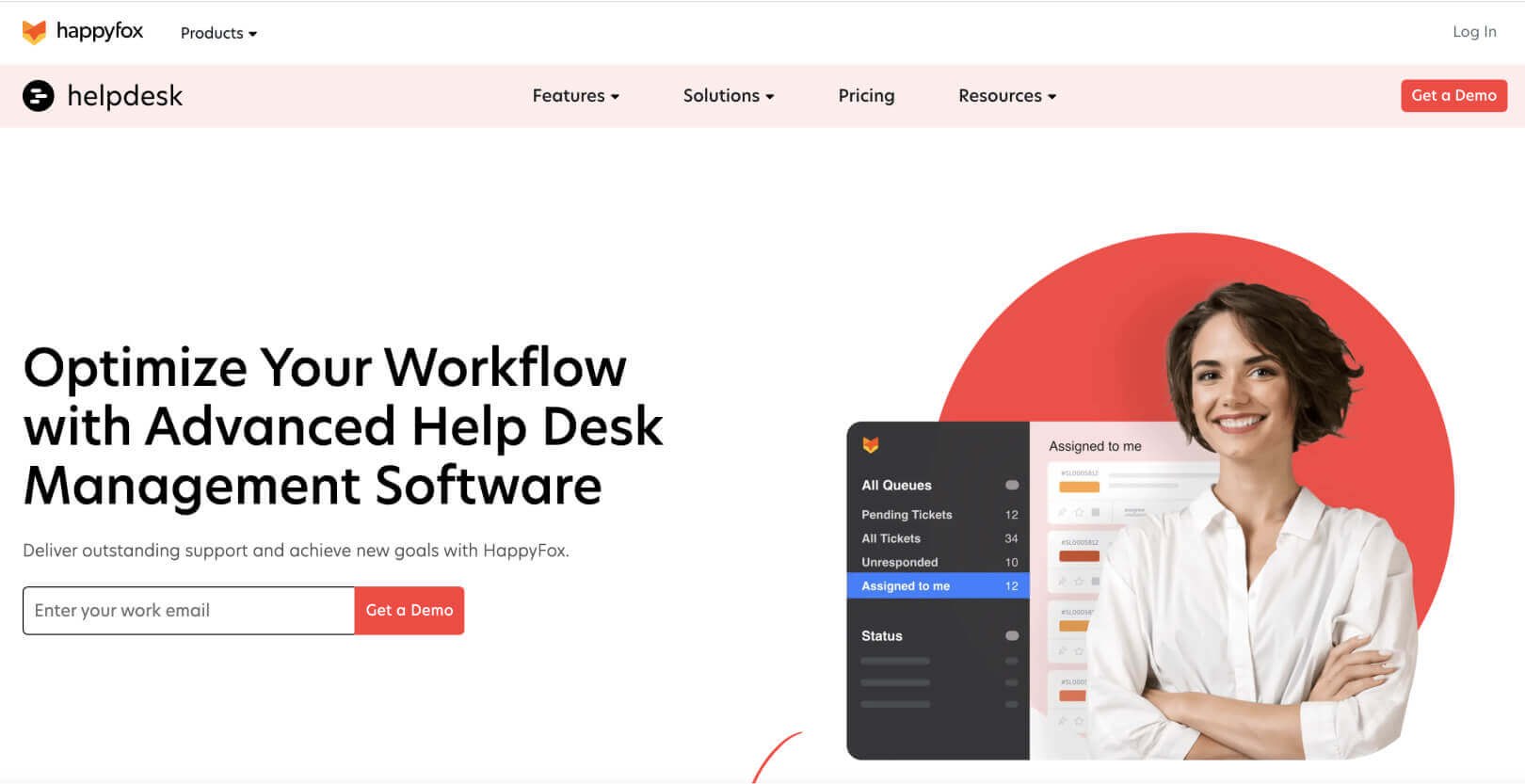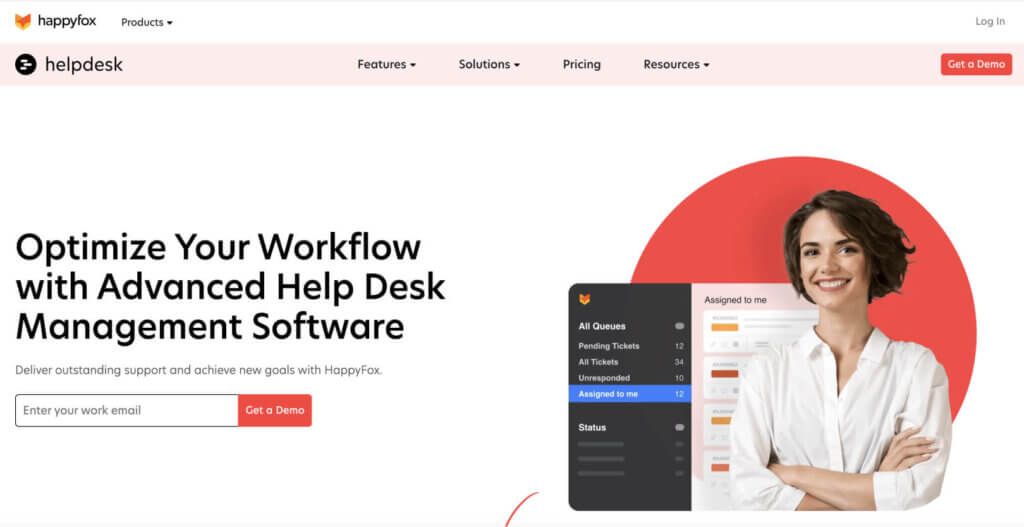 When you need a simple, easy, and fast live chat software solution, it's in your best interest to consider HappyFox. It helps teams of all shapes and sizes deliver personalized customer service like never before. Conversations can take place anywhere, anytime, and anyplace.
Key features
In addition to a simple and fast live chat, HappyFox serves up great features that will improve your support metrics, including:
Canned responses
Dashboards with analytics and reporting
Widget customizations
Intuitive Agent UI
Live Chat work hours
Key integrations
HappyFox has a ton of useful integrations available to its users. Some are:
Salesforce
Okta
GitLab
Shopify
Mailchimp
Pricing
Pricing for HappyFox starts at $29/month/user and can go up to $299/month/user.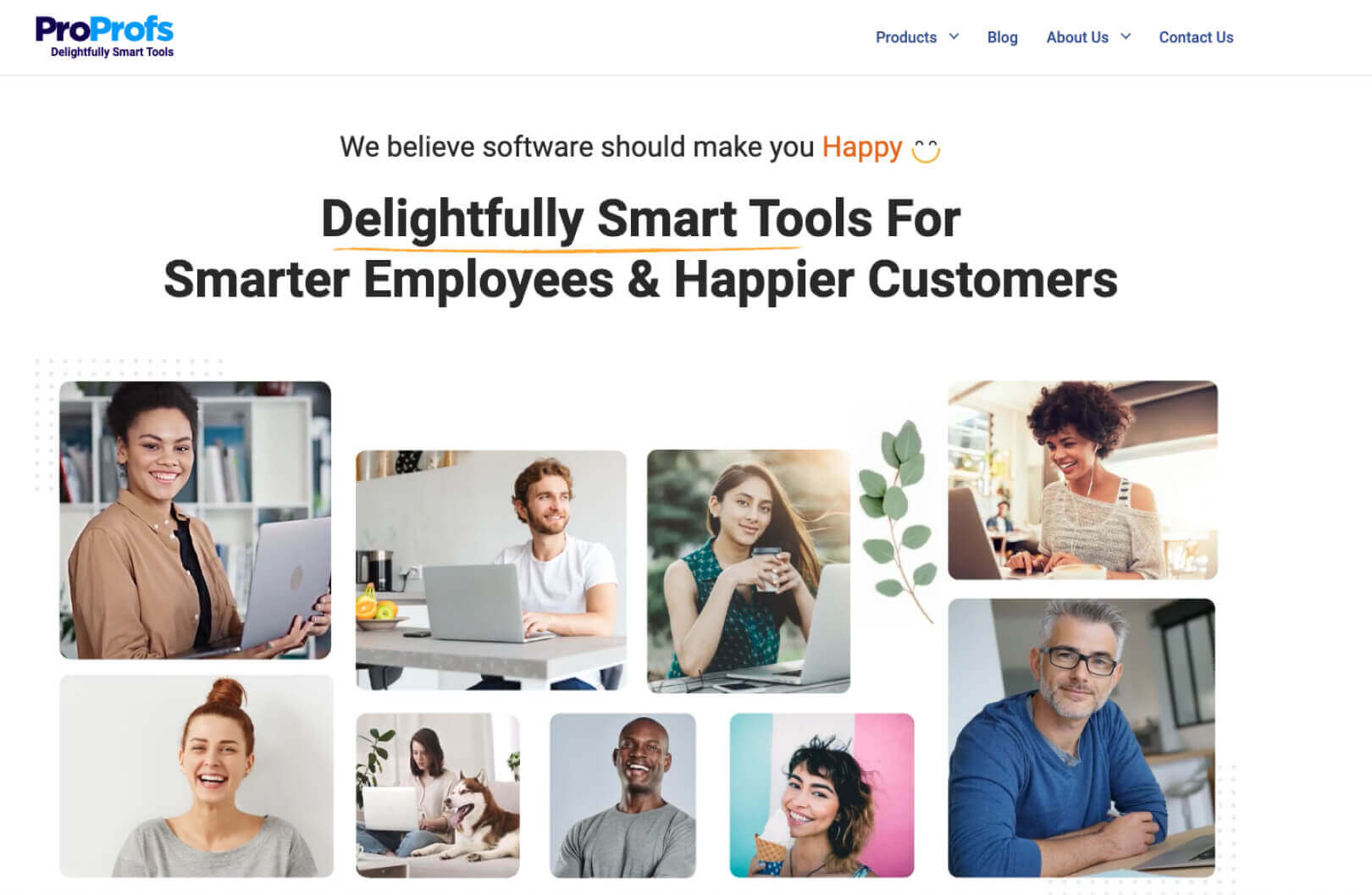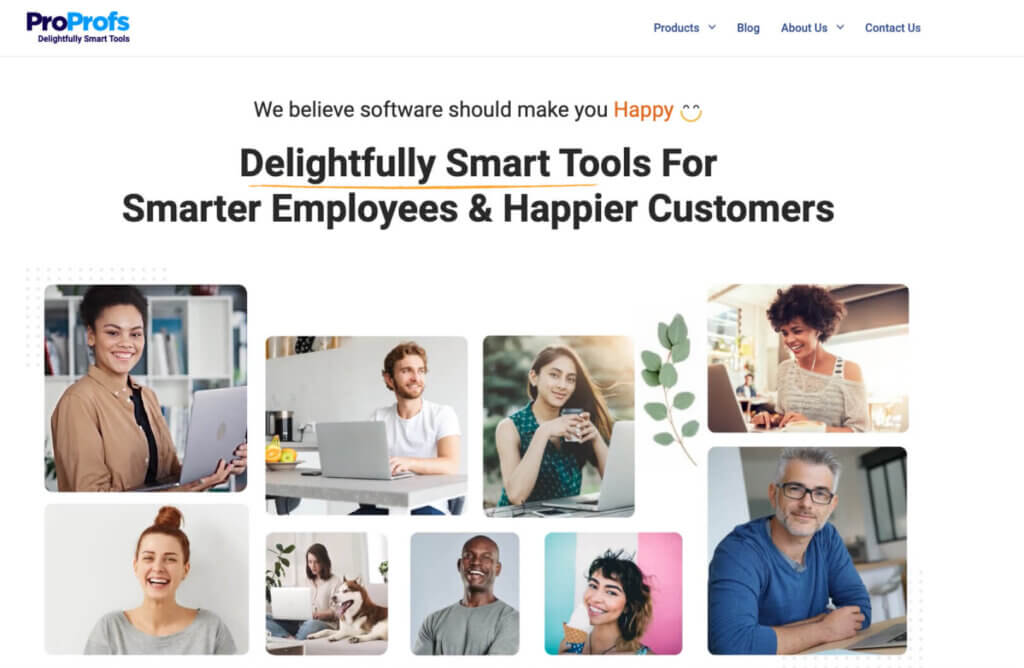 Users looking for live chat software to assist in getting in touch with daily visitors in real-time without any hassle should consider ProProfs. This tool is best for small businesses looking to provide world-class support to their customers. With a simple interface and various features, ProProfs is built for companies looking to enhance their customer experience.
Key features
ProProfs boasts features customer service teams need to do their job right. Some include:
Collaboration with shared inboxes
Automation for increased productivity
Customer service metrics and reports
Customizable workflows to suit how every team works
Key integrations
ProProfs offers integrations with Salesforce and Microsoft Dynamics CRM.
Pricing
Pricing for ProProfs starts at $15/month/user and can go up to $25/month/user.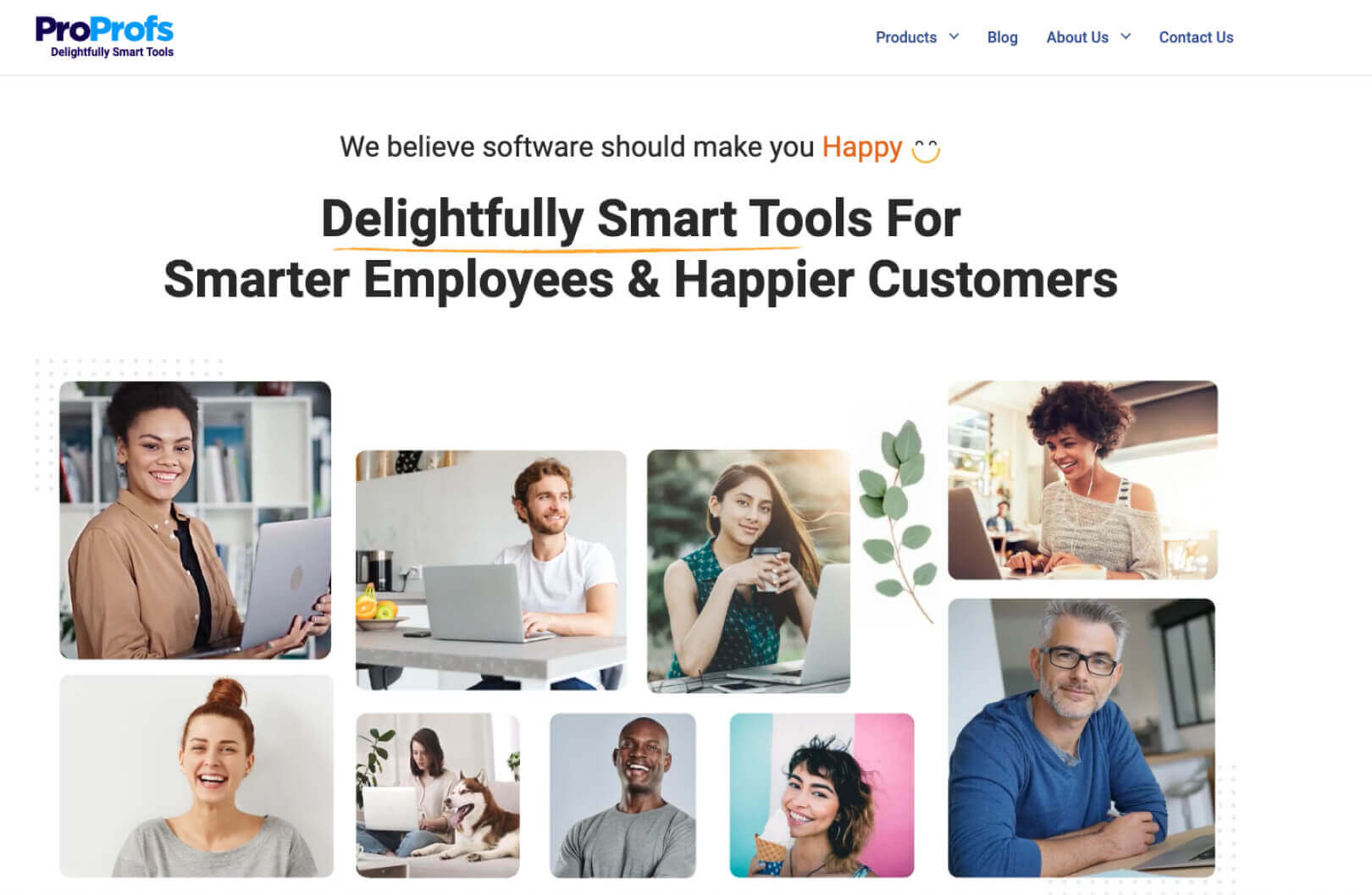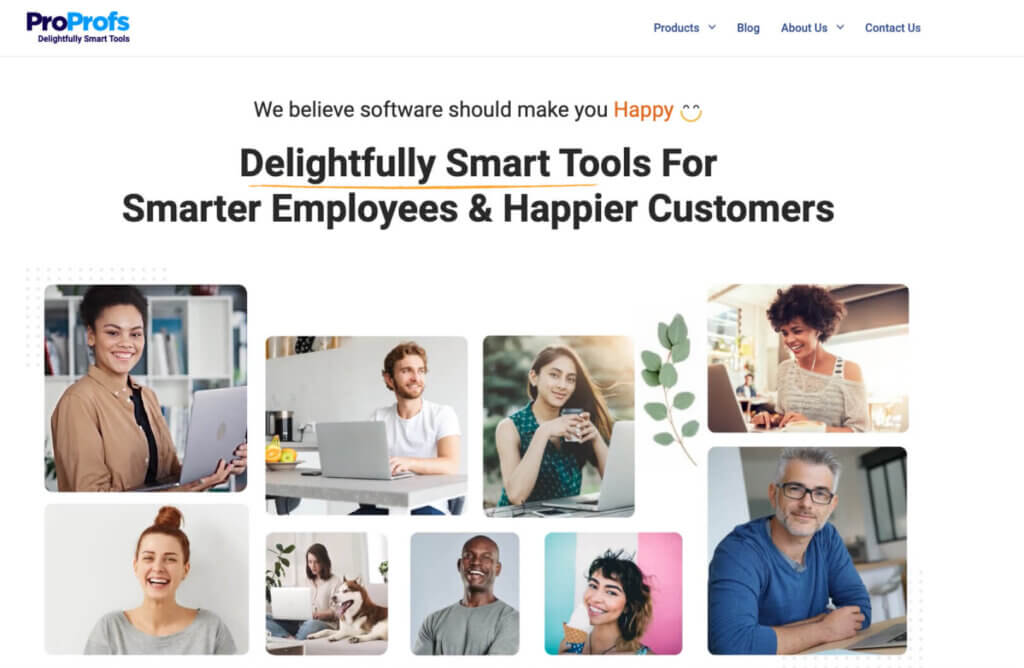 Intercom is a customer communications platform that unifies every aspect of the customer journey, from conversion to engagement all the way to support. It was created as a hub for sales, marketing, and support to collaborate better. As a result, cross-functional teams can work together to convert more customers, engage at every touchpoint, and support clients at scale.
Key features
Intercom brings a long list of features to your customer support team. Some include:
Real-time customer chat
Custom bots
Targeted messaging
A variety of reporting tools
Contextual customer surveys
Key integrations
Intercom offers APIs that make it easy to integrate with the core tools already in your tech stack. You can also explore Intercom integrations through their app store, including:
Google Analytics
Salesforce
Zapier
Jira Cloud
Calendly
Pricing
Intercom calculates its pricing by:
Seats, giving users access to different tools in Intercom
People reached, the number of unique people reached each month using outbound messaging
Intercom's starting price is roughly $67/agent/month.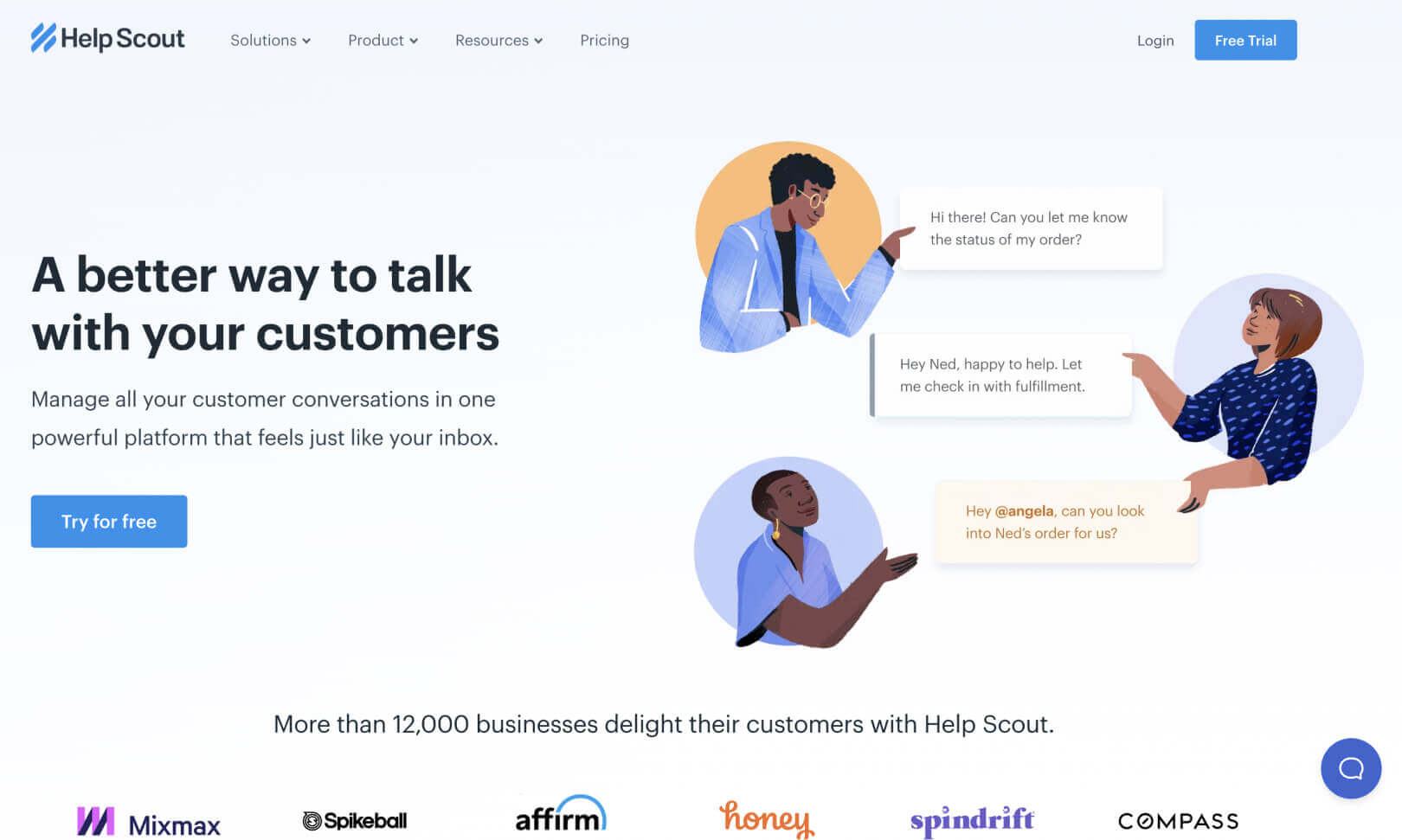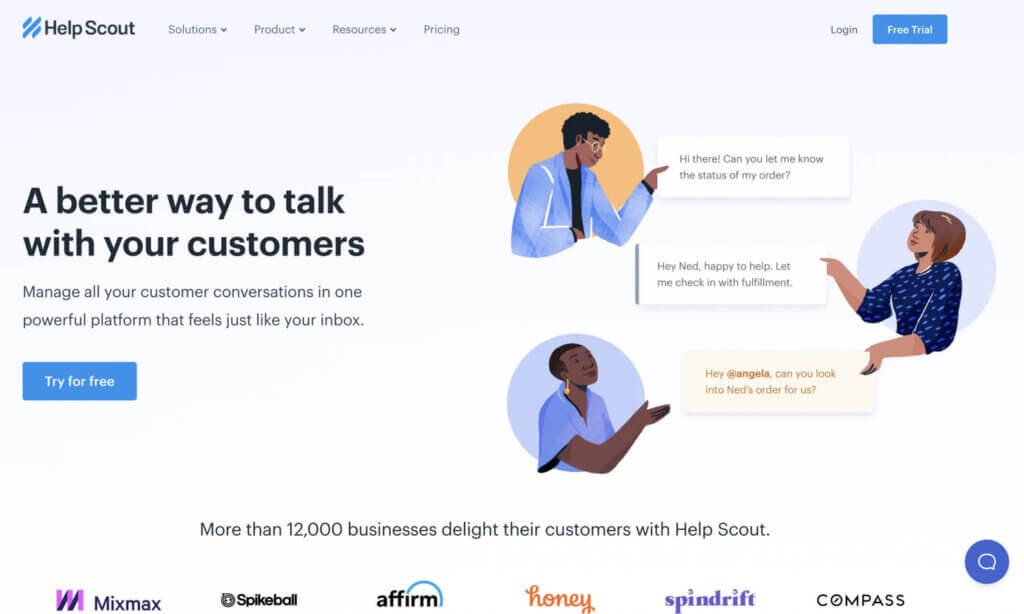 Help Scout allows organizations to be available everywhere their customers need help. It provides teams of all sizes the collaboration, organization, and automation tools needed to move faster by keeping things simple and focusing on delighting customers.
Key features
Help Scout boasts a long list of really exciting and useful features. Some that your team may enjoy are:
Conversations over tickets
Private notes
Saved replies
Customer self-service knowledge base
Key integrations
Help Scout perfectly pairs with the tools your team already knows and loves. Some integrations include:
Jira
Salesforce
Shopify
Mailchimp
Zapier
Pricing
Help Scout pricing starts at $20/user per month.
Which is the best Freshdesk alternative?
Ultimately, it depends on your team's needs and budgets. Based on our analysis, here are the best three Freshdesk alternatives:
Option A: eDesk
If you're an eCommerce business looking for an eCommerce focused solution, then eDesk is the clear winner.
Option B: Zendesk
When it comes to parity of features, Zendesk stands tall as a powerful alternative to Freshdesk. With its robust platform, you'll have access to a wide array of features that help streamline customer support and enhance the overall customer experience.
Option C: Help Scout
For startups, especially early-stage SaaS companies, Help Scout is a great option. They offer a generous 6-month free startup plan, making it an attractive choice for businesses looking to scale their support operations without a hefty price tag.
There are many options for customer service software on the market, so it's always a good idea to learn more about what else is out there for you to choose from! Customer support software has a significant impact on the happiness of support teams, with 90% of professionals saying that it measurably affects their satisfaction with their jobs.
Learn more about eDesk: