Looking for alternatives to Gorgias? We can relate.
In our experience, We have noticed a few issues with Gorgias. One, the learning curve can be quite steep with Gorgias. Two, when it comes to business insights, Gorgias does not provide much depth or detail. Moreover, it's worth mentioning that Gorgias mainly caters to small eCommerce businesses, so if you are a larger or more advanced seller, then they may not be a good fit. Three, Gorgias only offer ticket-based pricing with no agent pricing options. Their ticket-based plans have a limit of 5,000 tickets per month even on their most advanced plan.
There are plenty of Gorgias competitors out there but not all of them are worth it. Instead of going into what each platform has to offer, we want to show you why you should take a closer look at eDesk to help you delight your customers and maximize profits through world-class customer service.
The 8 most popular Gorgias Alternatives you should consider are:
eDesk
Richpanel
Freshdesk
Zendesk
Front
Helpscout
Kayako
Kustomer
Why Should You Pick eDesk Over Gorgias?
Gorgias is a decent choice for smaller Shopify & BigCommerce stores. But if you are looking for a helpdesk that gives you a smart unified inbox, time-saving templates & automations, full order history, customer lifetime value segmentation by ticket, live chat, knowledge base, unlimited AI responses summaries and classification. Then look no further than eDesk.
Learn more about eDesk:
What's the difference between eDesk and Gorgias?
Marketplaces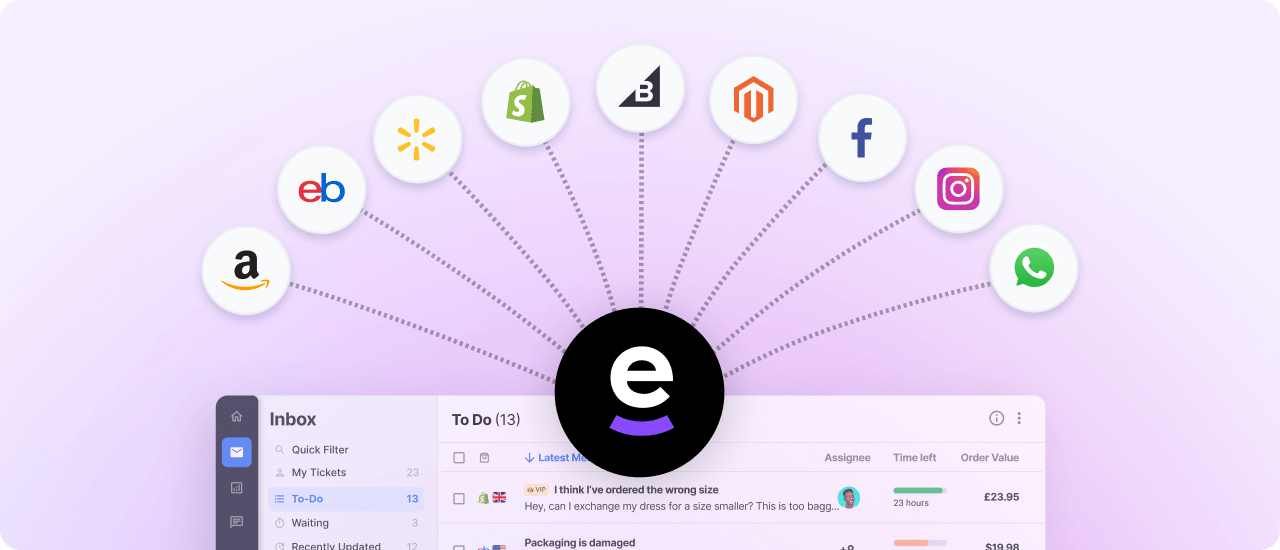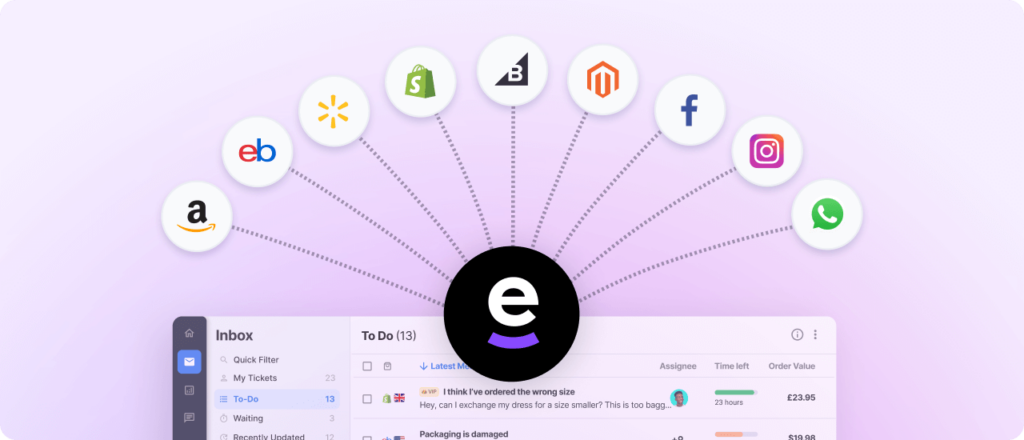 While Gorgias integrates with Shopify, Magento, and BigCommerce, it doesn't natively integrate with any eCommerce marketplaces. Instead, users have to rely on third-party apps and additional paid subscriptions to pull in messaging from multiple channels. eDesk, however, lets you centralize the customer service from all your marketplaces, selling channels, and communication platforms into one smart inbox, no add-ons needed. We offer native integrations with all major web stores and 200+ marketplaces, to create the best experiences for both you and your customers.
Ai powered automation features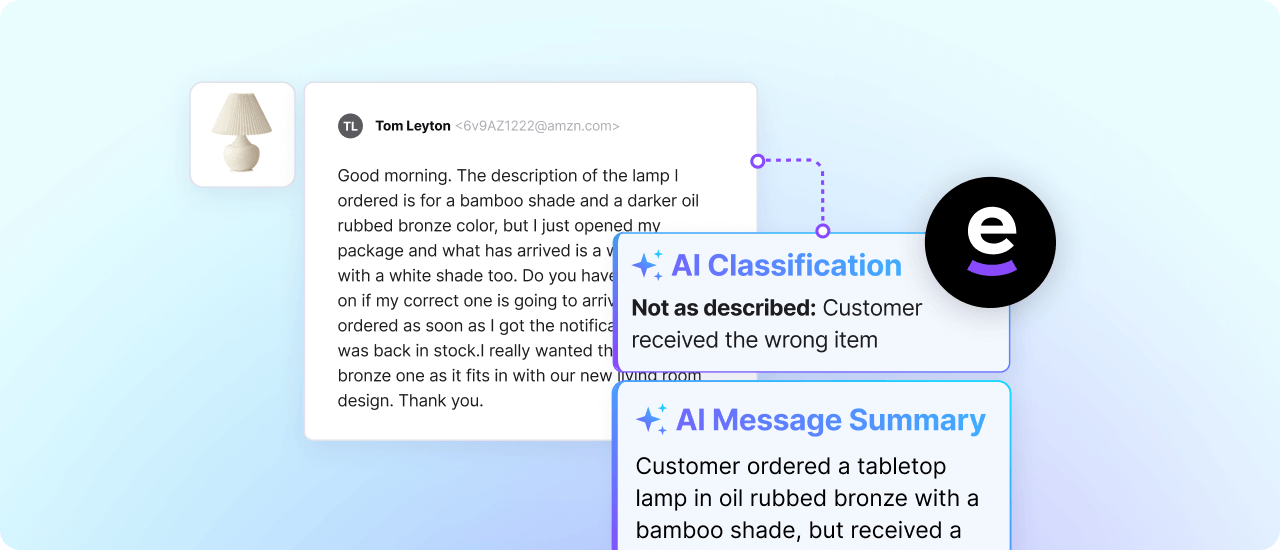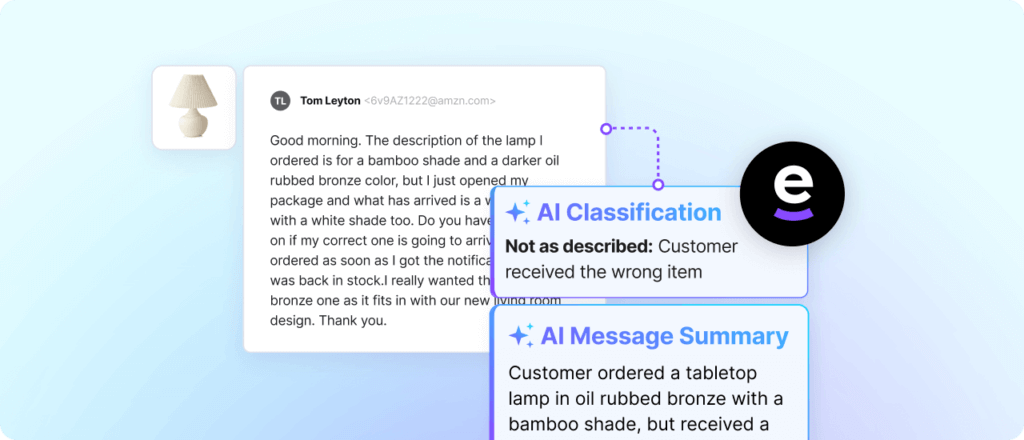 From AI-driven summaries and sentiment analysis, to AI-assisted replies and HandsFree auto responses, eDesk AI is revolutionizing customer support. Unlike Gorgias, eDesk comes standard with built-in auto-responders. This means you can exceed customer expectations by auto-responding quickly, even during peak support times and out-of-office hours.
Reduce the noise and simplify customer messages – automatically – with eDesk AI Classification and Summary.
With AI Agent Assist, agents can get suggested responses and can reply in just a few clicks without even opening a ticket
Our auto-prioritization technology allows your team to operate more effectively with tickets grouped in order of priority, based on business or marketplace SLA rules.
When a message comes into eDesk, we use advanced AI and years of eCommerce experience to classify it into one of 20+ categories that represent the most common questions asked by buyers – all with 95%+ accuracy.
AI Agent Assist helps suggest responses using pre-formatted templates that include personalization snippets like customer name, product details, shipping details, and more.
Respond to queries in two clicks with our customizable message templates and Snippets, which prompt agents with key transaction details, so they can quickly personalize replies.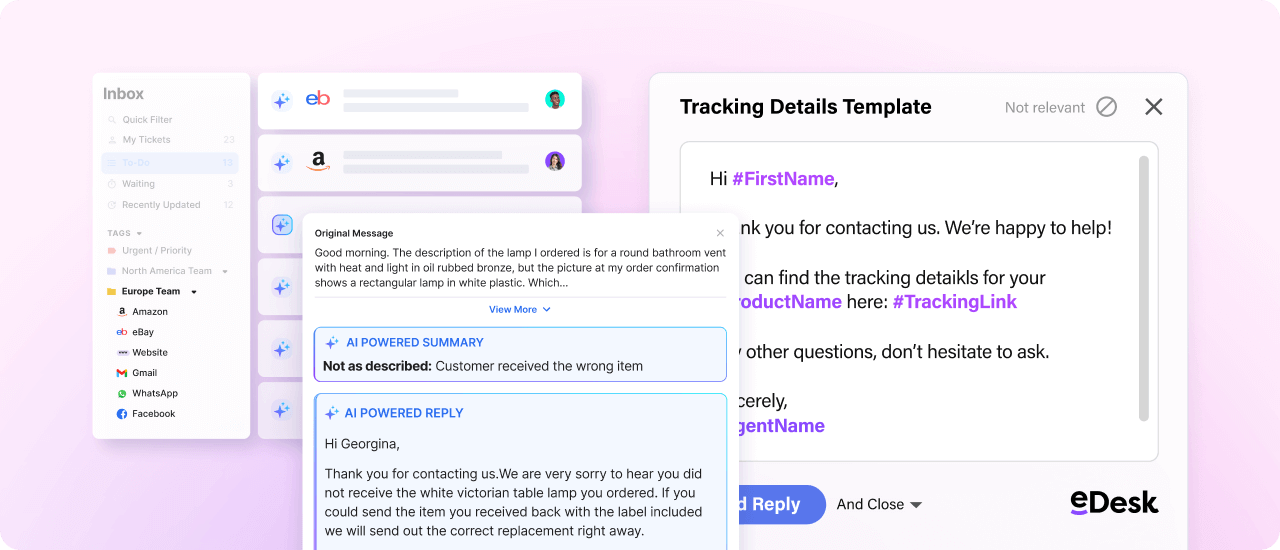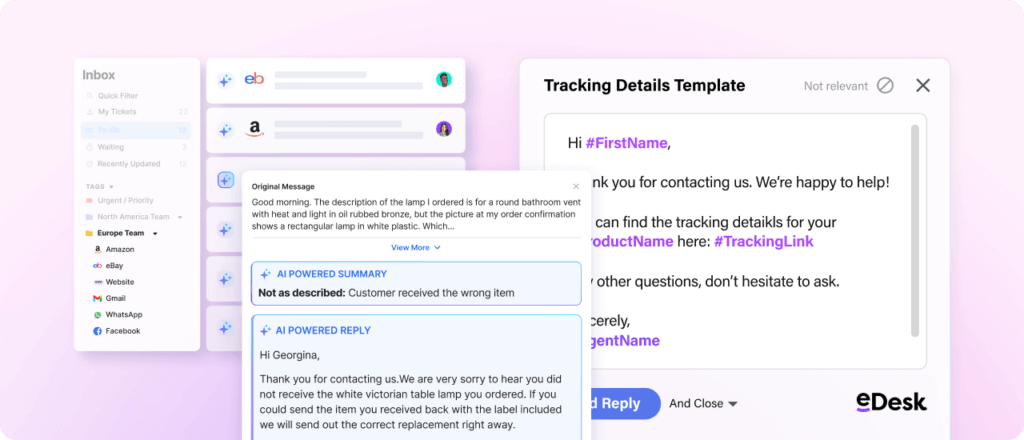 Customer view
With the full context of your shoppers' order and conversation history, your support agents can exceed expectations with communications uniquely tailored to their circumstances, in a fraction of the time.
Leverage full visibility of your customer data and personal approach as a growth enabler.
Offer the context and customer support intelligence that your agents need to turn every customer interaction into a growth opportunity.
Personalize your customer service with a 360° view of your buyers. With the full context of your shoppers' order and conversation history, your support agents can exceed expectations with communications uniquely tailored to their circumstances, in a fraction of the time.
Offer extraordinary customer service with buyer context. Quickly and easily offer the personalized service that fosters loyalty, with order and conversation history at your fingertips when handling customer queries.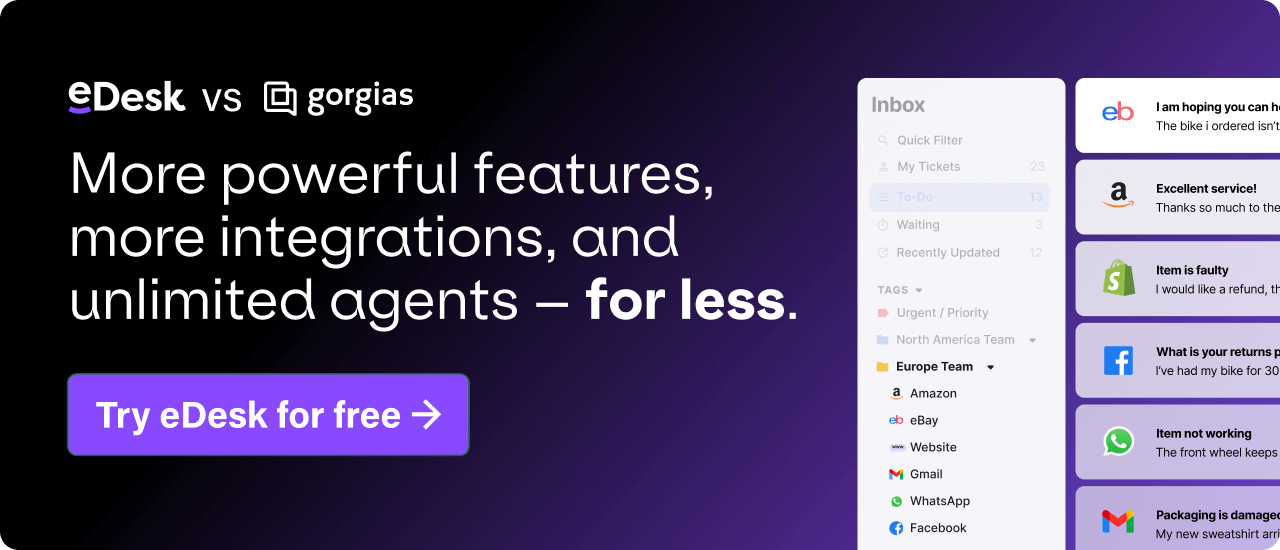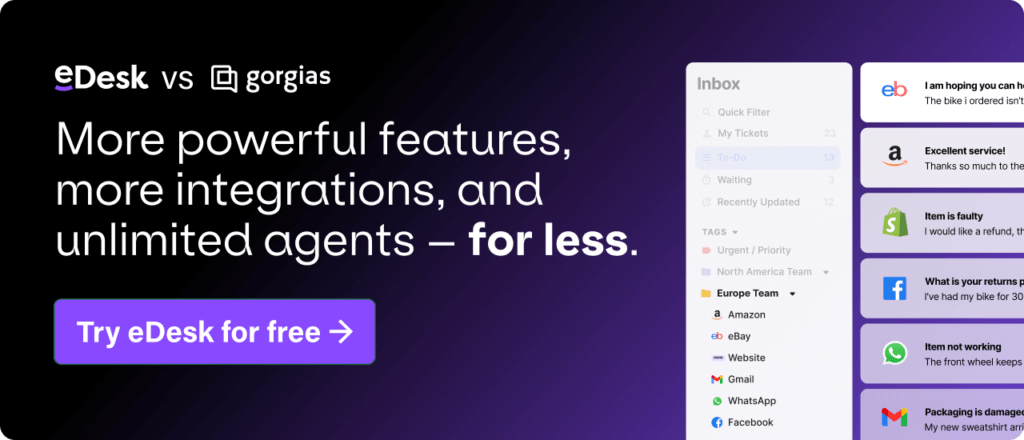 Live chat Included
Not only do all plans come with our award-winning helpdesk. But all come with our live chat tool (built specifically for ecommerce) at no extra charge! Online shoppers love instant answers to their questions, so Live Chat empowers support agents to quickly respond to queries.
With all the information they need at their fingertips, your support team can easily resolve issues, dramatically increasing the chances of making a sale. Even when your support agents are offline, a contact form will show, so you never miss a message.
24hr support
eDesk offers 24/7 customer support for e-commerce teams, unlike Gorgias, which is incredibly valuable. It ensures quick help regardless of time zones, leading to happier customers who stay loyal. Real-time problem-solving prevents issues from escalating and keeps your brand's reputation positive. This commitment sets eDesk apart in the e-commerce customer service industry. In a nutshell, eDesk's round-the-clock service strengthens customer relationships and drives long-term success.
Flexible pricing
Get pricing that scales with you, no matter your size.
When it comes to dealing with customer queries, eDesk won't stand in your way. Unlike Gorgias, which has a ticket limit of 5,000 per month even on their advanced plan, we offer plans that go from free for life with 30 tickets per month up to enterprise with unlimited tickets. eDesk also has a Shopify entrepreneur plan that starts at just $39 per month for 200 tickets.
With eDesk, you can focus on building relationships and serving your customers without worrying about exceeding your ticket limit. Get the perfect help desk for your business needs, while staying on budget and knowing exactly what you'll pay every month.
Reviews
In the bustling realm of eCommerce, where customer satisfaction reigns supreme, the quest for the perfect customer service solution has reached a pivotal juncture. Gorgias, a prominent player known for its help desk software tailored for Shopify, has garnered its fair share of attention. Boasting a rating that hovers between 4.0 to 4.4 stars on Shopify, G2, and Trustpilot, Gorgias has undoubtedly made its mark. However, a shift is underway in the market with more sellers switching from Gorgias to alternative solutions, including ourselves.
Our independent analysis delves into the heart of this, uncovering the reasons a growing number of eCommerce merchants are making a decisive switch away from Gorgias. Join us as we unveil the top 7 motivations driving sellers to seek alternatives to Gorgias in 2023. Hopefully we'll help you identify the most important things to watch out for when choosing your next eCommerce help desk.
Deep Dive -> Gorgias Reviews – Top 7 Reasons People Switch in 2023
eDesk vs Gorgias Feature Comparison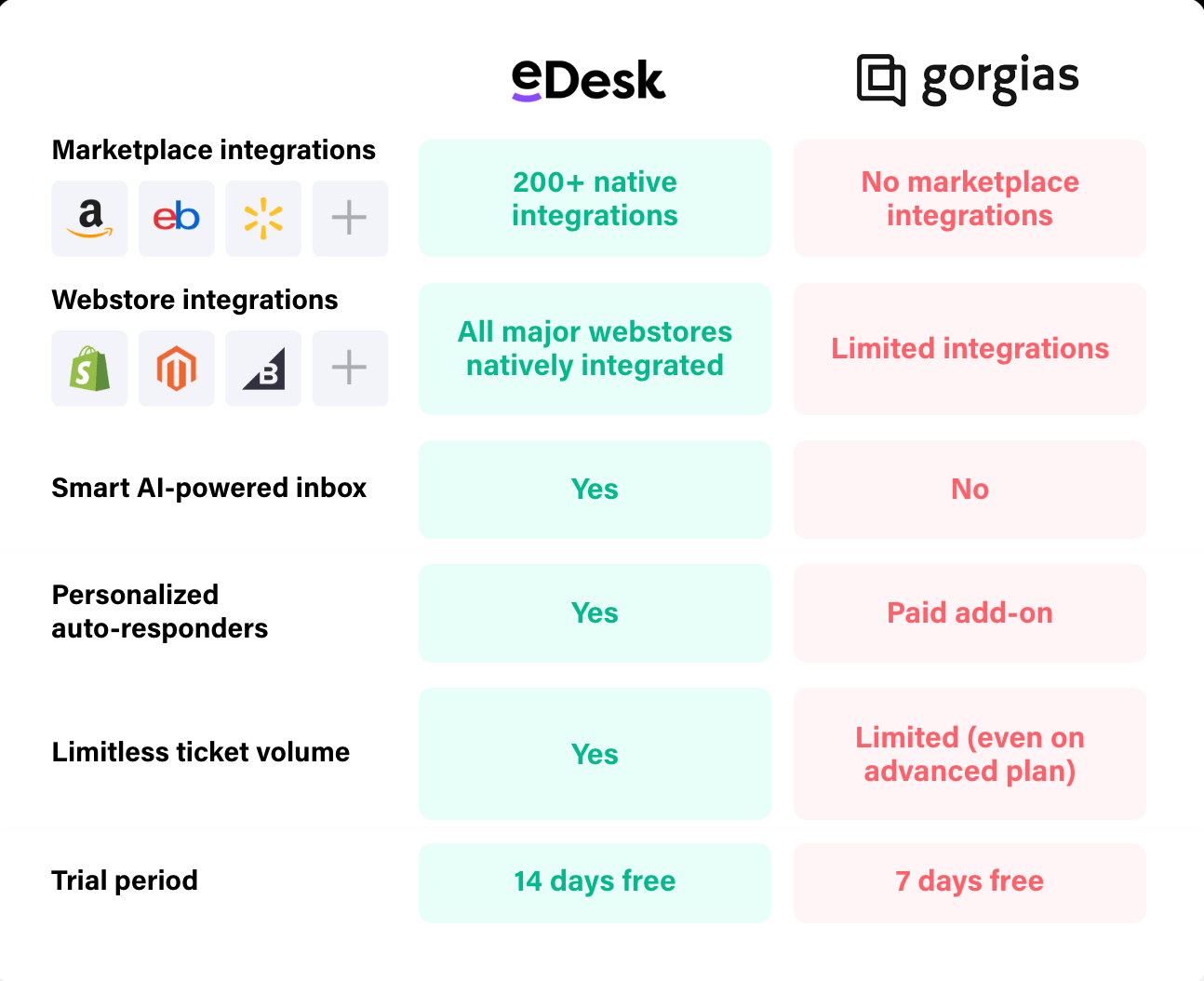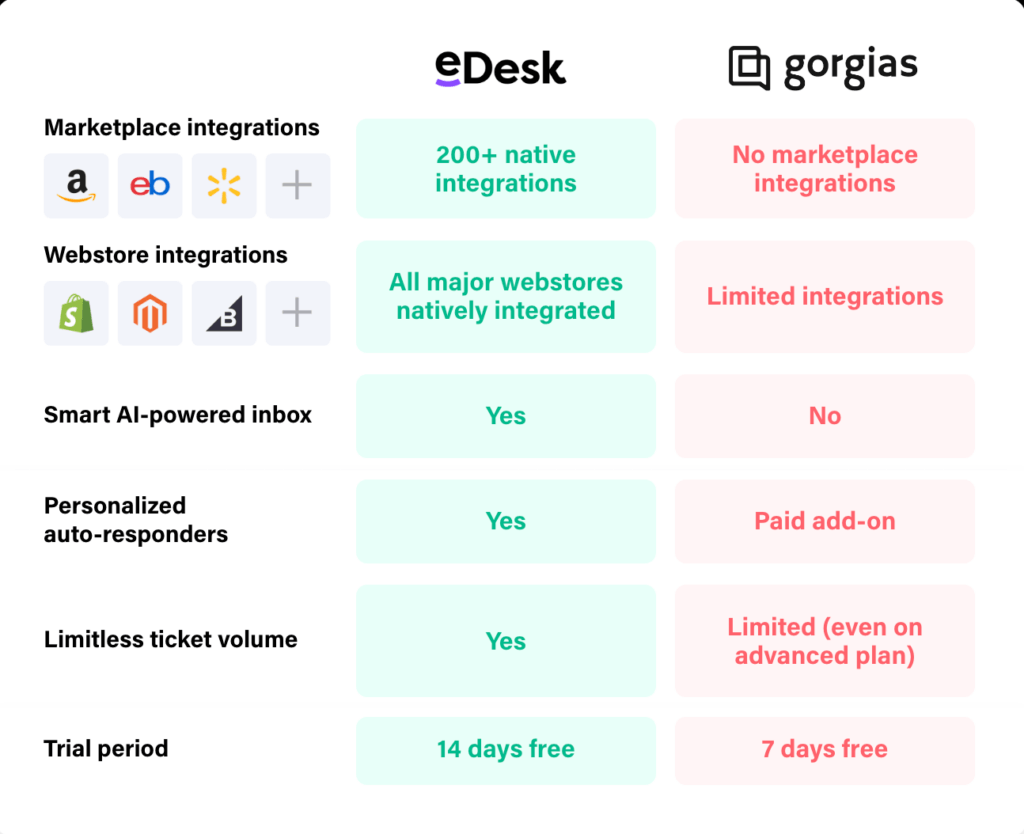 What our customers think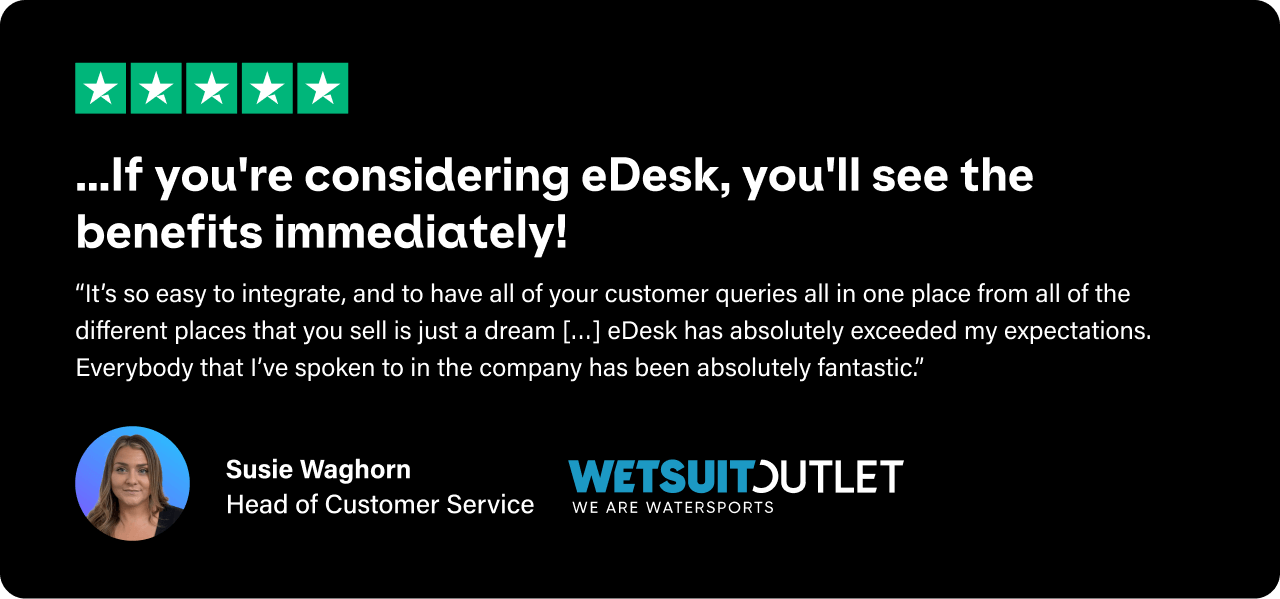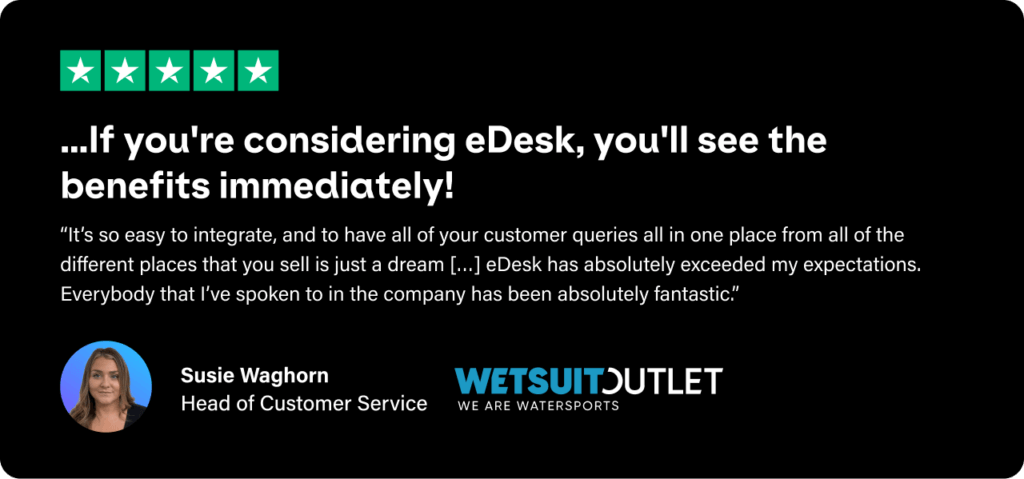 Learn more about eDesk: