When it comes to customer service platforms, Zendesk and Freshdesk are some of the most well-known helpdesk solutions on the market. Both have credible reputations for a good reason – their solutions are powerful and offer many benefits for businesses looking to seamlessly run their customer service operation.
Both platforms offer a comprehensive suite of tools aimed at helping companies scale their customer service offerings and are customisable and easy for customer service teams to use. Customers will be spoiled for choice between these two heavyweights, both of which have proven track records of powering customer service for some of the world's biggest brands.
However, for businesses looking to upgrade their customer service solution, the fact that both are strong contenders can make it challenging to choose the right one. While both platforms include many of the same core features – helpdesks boasting omnichannel ticketing, live chat, and call centre integration – they each have some key differences, including different features, customisations and price points that serve varying needs.
If you're in the market for new customer service software, you need to know the ins and outs of each leading software type, but as a busy business owner, you may be time-poor.
That's why we've created this simple guide that covers the pros and cons of each leading platform so that you can make the most informed decision without having to hunt through thousands of pages of information – and without the sales pitch!
A Comparison of Zendesk and Freshdesk
Zendesk and Freshdesk are both names you undoubtedly will have heard of if you're on the hunt for customer service software. Both are category leaders with plenty of satisfied customers worldwide, and Zendesk's customers include Airbnb, Tesco, Slack, Uber, Shopify and L'Oreal.

At a glance, Zendesk is one of the most well-known helpdesks on the market today. Its reliability has been proven since 2007, and it offers lots of unique features. It was designed to improve ticketing systems, but it has accomplished this and much more in the past decade.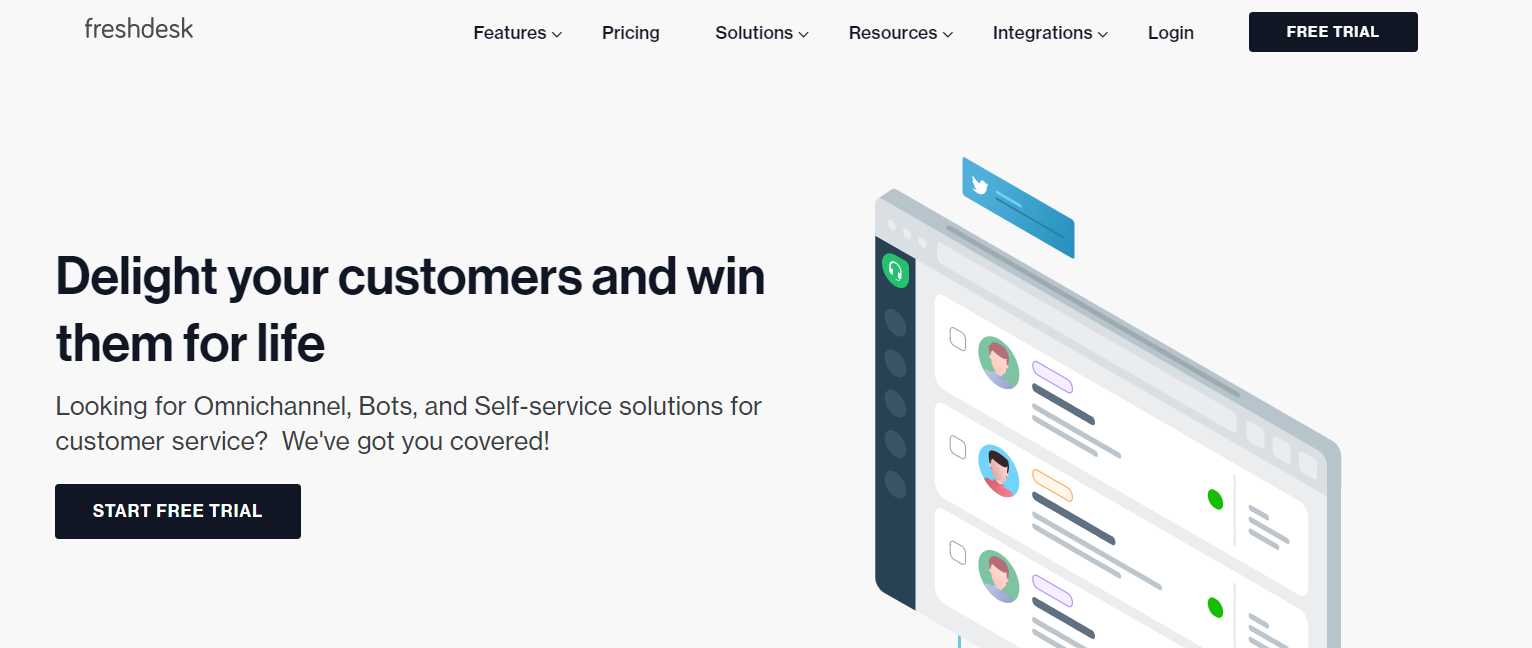 Meanwhile, Freshdesk, founded in 2010, is loved by its customers, who rate its many features and its lower price point. In fact, the reason that Freshdesk was founded was in response to Zendesk's 60-300% price increase. The CEO of Freshdesk felt the company could offer a similar product at a more competitive price. Like Zendesk, Freshdesk also serves many big-name brands; its customer list includes Hugo Boss, Honda, Toshiba, Goodreads, Unicef and Cisco.
Both platforms are built around helpdesk software that offers a wide range of additional products and features that help your business better navigate its customer service strategy and day-to-day operations.
But the one best suited for your business will depend on the features you require and the price point you're willing to pay. So, here, we go through each of these elements to help you.
What Zendesk and Freshdesk Have in Common
Zendesk and Freshdesk are similar in that they both provide sophisticated helpdesk software that will help your company manage its customer service ticketing system.
They were essentially both built upon helping businesses run their customer service ticketing systems more smoothly and now offer other features to help your business perform to its best when it comes to managing its customer service.
They both support mid-sized companies and enterprises, and in addition to the helpdesk dashboard, they both offer live chat, knowledge base support, team inbox and reporting systems.
What Makes Zendesk and Freshdesk Different?
Zendesk has a robust feature set and is great for providing customer support. It was designed with enterprise businesses in mind. Because its dashboard is so robust, however, it can be a bit more complicated to navigate and slower to load, which can be a challenge in faster-paced environments.
Freshdesk is a more budget-friendly customer service software that helps businesses of all sizes provide customer support. Many users have also found it to be more user-friendly.
However, most of its features are tailored for small to medium-sized businesses, meaning that if your business is a large organisation or has plans to scale, Freshdesk may not be best suited for it. That said, you can use third-party app integrations to pad out additional features that are needed as your business grows.
Comparing Zendesk and Freshdesk
Pricing
Freshdesk and Zendesk both have five pricing plans.
Freshdesk's pricing plans are:
Sprout
Blossom
Garden
Estate
Forest
Each plan varies by the number of features provided.
Zendesk's pricing plans are:
Essential
Team
Professional
Enterprise
Elite
Similarly, these different pricing plans scale up in terms of features.
Freshdesk has a plan that allows for an unlimited number of agents, whereas Zendesk does not offer this, and prices are per agent, per month, regardless of plan.
While Freshdesk's products and features come as one suite that you buy into, Zendesk offers a suite of various products, which can be purchased individually.
These are:
Support — a tool to manage tickets
Chat — a solution for a live chat
Guide — a knowledge base and community forum
Talk — a tool for a call centre
With Zendesk, businesses can buy each of its products separately or in a combined Zendesk Support Suite. Zendesk also offers an initial free plan with unlimited agents during the trial period, but its pricing subsequently moves on to a more traditional per-agent/per-month software fee.
On the other hand, Freshdesk unites all its features in one product and, unlike Zendesk, doesn't allow them to be purchased separately. Like Zendesk, it also prices based on the number of agents, and pricing can be set to monthly or annual payments.
Pricing: Who Wins?
If you compare the plans at their levels individually, Freshdesk comes out slightly cheaper. However, Zendesk allows you to buy each product separately, so you have more flexibility in terms of customising a pricing plan that works for you.
Both offer long trial periods, so you can take the time to try both out and see which features your business needs and which plan will offer the features at a cost that's most competitive for you. It's better to be guided by what your business truly needs rather than price alone.
Features
Zendesk and Freshdesk both offer comprehensive features that are built around tickets. In each platform, when a user contacts a customer via email, chat, social media or phone, the system converts their query into a unified ticket form.
Zendesk's ticket management system is packed full of features that offer many options. Zendesk is more than just a ticketing system; it also operates as an issue tracking system, offers comprehensive reports and automated ticket sharing that makes agents' lives easier.
Although some of its reporting can be difficult for smaller businesses to break down, big companies with multiple brands will appreciate the ability to handle and report on ticket sharing.
Freshdesk's ticketing system is less rich than Zendesk's but can automate routine tasks like setting priorities and task follow-ups, both of which help generate better response times.
Another helpful feature that Freshdesk offers is canned responses. This is helpful to agents in that it suggests standard responses to common queries, which can save agents time.
Both platforms offer integrations with email, Twitter and Facebook, phone integration, live chat integration, as well as integrations with Shopify and Mailchimp, eBay and Amazon marketplaces.
In terms of other app integrations, Zendesk offers over 700 integrations, while Freshdesk provides just over 330. Both allow for customisation and branding so that you can integrate the software into your company's existing look and feel.
If we look at each of their pro plans, we see that they offer slightly different features.
Freshdesk's pro plan ('Freshdesk Estate') offers:
Everything from previous plans
Ticket Assignment Automation
Custom Roles
Portal Customization
Enterprise-level reporting
Access to multiple SLAs & timezones
Zendesk's pro plan ('Zendesk Pro') offers:
Everything from previous plans
Support for multilingual content
Support for CSAT surveys
Zendesk Explore dashboards and report functionality
Live Chat System
Features: Who Wins?
While Freshdesk offers more premium functionality than Zendesk, Zendesk has a high-end system that offers unique features such as accessibility options, themes, and knowledge base tools.
Zendesk is also purpose-built for large organisations with more complex needs. For these reasons, there's no clear-cut winner in this category.
It's up to each business to assess their organisation's needs and see which set of features will support their growing business needs better on a case-by-case basis.
Customer Support
Freshdesk is known for its superior customer support, which includes 24/7 email support as a feature of all plan levels (yes, even the free plans!). It offers phone and chat support with all paid plans.
Its live chat support manages expectations around how quickly your query will be answered (e.g., 'current replies in under 10 minutes'). Overall, Freshdesk's quality of support is highly rated by its users.
Zendesk's customer support is also well-rated. It offers support via phone, email and live chat, known by its users to be speedy.
Both offer a knowledge base page that allows customers to access self-service help to troubleshoot common issues, get the most out of each product, and find new useful apps to connect with.
Customer Support: Who Wins?
The customer service afforded by both Zendesk and Freshdesk are highly rated and offer the same levels of service, so this one is a draw. You'll have confidence in knowing that regardless of which product you choose, you'll be well-supported by their own customer service and available resources.
Overall
Both Zendesk and Freshdesk are excellent products that very much live up to their reputations for offering top-notch customer service software solutions.
However, Zendesk, perhaps because of its rich features and the fact that it is aimed at enterprise businesses, is more complex and takes some time to understand and navigate. It does offer a comprehensive onboarding process to help you understand, navigate and get the most of its service, so you're not left on your own. However, the onboarding process can be lengthy and can take some time to truly understand and familiarise yourself with.
Freshdesk, being an equally high-quality software but aimed towards small and mid-sized businesses, is more suited to 'out of the box' use. Its dashboard is intuitive and easy to navigate, even for first-time helpdesk users. It offers its users a short introductory video that explains the basics of using Freshdesk, and indeed, this video delivers. It's really all you need to get started with Freshdesk.
Overall: Who Wins?
Overall, Freshdesk is the more straightforward option for small to medium-sized companies just starting out with helpdesk software. Its usability is excellent, and you can easily get started straight away.
Zendesk is sophisticated, but its onboarding process is typically longer and more involved. Broadly speaking, while it serves all levels of business, its product is purpose-built with enterprises in mind, so for smaller companies looking to ramp up quickly, it may not be the best choice in terms of immediate functionality and simplicity.
Combine this with pricing and features, and you can see why Freshdesk has been a successful challenger to the mighty behemoth that is Zendesk.
When to Choose Zendesk?
Zendesk could be the right choice for you if:
Your business is a large organisation with enterprise-grade needs. Zendesk's sweet spot is its enterprise capability and functionality. It's very popular with enterprise customers because it offers sophisticated features and services such as advanced reporting and comprehensive training, which are purpose-built for enterprise businesses.
Automation is a key consideration. Zendesk handles complex automation tasks. It boasts machine learning bots that analyse tickets and draw from relevant knowledge base pages to solve problems. In addition, it offers powerful rerouting tools that can transfer customer chats or tickets from bots to agents across various departments based on skill.
You benefit from comprehensive reporting and analytics. Zendesk's analytics product, Zendesk Explore, provides instant access to analytics that measure how customers interact with your brand across multiple channels. Dashboards are purpose-built to analyse team performance and customer experience. Zendesk's reports can be customised and shared with different teams and departments using its collaboration tools.
When to Choose Freshdesk?
Freshdesk is an excellent choice if your main goals are:
A single view of the customer in one easy place. If you want a unified view of the customer experience, all in one dashboard, Freshdesk is great for this. Freshdesk offers agents all of the information they need, without needing to ask customers to provide it again —  it's all in the dashboard, in one convenient place.
A solution you can use out of the box. Freshdesk's simplicity means that you can set it up and get started immediately, without formal onboarding. It is built to be incredibly usable and intuitive.
Budget considerations. If budget is a concern, Freshdesk is a good option, as it is a lower-cost alternative to Zendesk. Because it offers everything in one suite, it also means that, for the price you pay, you get a comprehensive solution that provides lots of features all in one place.
Final Thoughts
Ultimately, Zendesk and Freshdesk are both good, high-quality solutions for any business looking to overhaul and streamline how it does customer service.
We've pointed out the differences between the two, but the best way to get to know each of these products to determine which one is right for your business is by taking advantage of each of their free trials so that you can have a firsthand, practical understanding of how each platform could support your business. Once you've had hands-on experience with each, you'll be able to make a decision that will positively impact your business for years to come.
Unlike Zendesk and Freshdesk, eDesk was designed and built specifically for eCommerce businesses. It has everything you need to provide exceptional multichannel customer service including native integrations with Amazon, eBay, Shopify, Walmart, Facebook Messenger and loads more. Book a demo to learn more or start a free 14-day trial today (no credit card needed).