Onboarding.
It's a topic often covered online with information that's often either too vague to be useful, or too complex to be actionable. As a result, brands across the globe suffer with what is one of the key aspects in building a more successful workforce who feel more confident in their abilities.
Which is a fancy way of saying onboarding is key to improving employee effectiveness which then has a positive impact on your bottom line. Onboarding is an area of growing any brand that gets far too little attention. So today, we're going to run through everything you need to know to properly onboard your front-line employees on how to successfully deal with customer queries and complaints.
What is Onboarding?
Onboarding is the act of both training and integrating new members of staff into both your organization and the team they'll be working within. At its most basic level, it's about training them on the processes and procedures they need to understand in order to do their job. However, the best onboarding processes also give the employee an in-depth understanding of your products, how they work, and the potential solutions to any problems that users may experience.
Your onboarding can take many different forms. Traditionally it would be a day or two of training with a supervisor or colleague and some written materials to work through in your own time.
However, as technology has progressed, there's an increasingly wide number of methods brands can use to onboard new employees.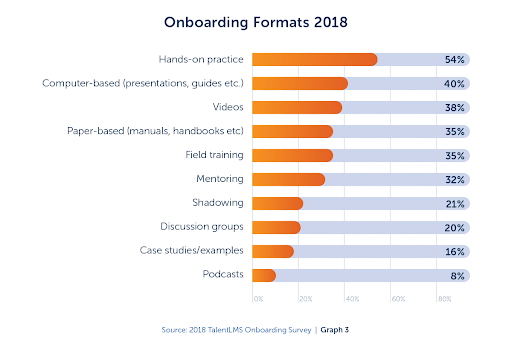 Despite having a wide range of delivery methods, the same study linked to above also indicates that 65% of employees believe their employee onboarding process helped them "somewhat" or "not at all".
Technology is only a small part of the equation with on-boarding. It's in your best interest to ensure that your employees are receiving the best information possible when joining your company.
Why Onboarding Your Customer Success Agents is Important
The statistic mentioned above should be reason enough. If 65% of the workforce feels underprepared then this is something that desperately needs your attention.
Especially when you consider that your customer success and support team are the front line of your business.
These are the people who have the most contact with your customers. They're representing your brand and, if their knowledge falls short in any way, it reflects badly on the business as a whole.
However, I've never thought approaching things from a negative perspective is the best method for growth and gain.
Rather than thinking about onboarding as a way to cut down on the negative feelings of your employees, you need to think about how it can increase their positive feelings and overall productivity.
In terms of employee satisfaction, a great onboarding process keeps your staff happier and with your brand for longer.

And when you've got happier employees who know their business inside out, there are other important gains your business will experience such as;
A 60% improvement in revenue year-on-year 

A 63% improvement in customer satisfaction year-on-year 

An improvement in company ROI by more than $79,000 per year

A proper onboarding programme for your brand is the key to a happier workforce and a more successful business.
But what steps can you take to ensure your onboarding is as perfectly optimized as possible?
The Secret to Successful Employee On-boarding
The overall goal is to hit three criteria with your onboarding. None of which are the generic tick lists for compliance training you might be aware of.
In fact, all elements of successful onboarding should be brought back to the employee and their upcoming day to day lives as your employee.
Those three criteria you need to hit are:
Giving them the confidence to do their job

Giving them the ability to use their tools well

Making them feel like a part of the brand and not just another worker
If you can hit these three areas, your onboarding should be a success. Here are the actionable steps to achieve this three goals.
1 – Deconstruct your products, offerings, and deals
When you look at the key areas of employee onboarding training, it's surprising to see product knowledge so far down the list.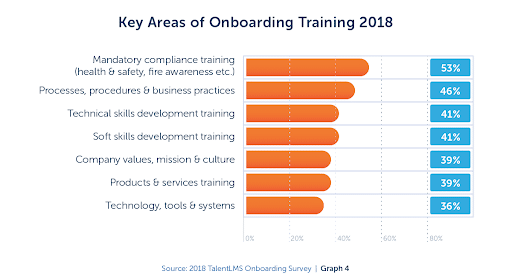 It's especially worrying for product-based brands. Without a good knowledge of the product, how are your success staff expected to help the consumer's who have questions?
There's no way they'd be able to.
Before you do anything, you should ensure that your success team all have an in-depth knowledge of the products you sell, your packaging processes, delivery times, deals/bundles, and anything else that might come up as an FAQ.
This is one of, if not the most important thing your success team should know.
2 – Focus on the tools they'll need
Once you've got your product knowledge sorted, you need to educate your users on the tool they'll be using daily.
If they don't understand how to use their tools, then there's no chance of them sticking to your business procedures.
You can make this task easier for your employees by cutting down on the tech stack they'll have to master.
For an e-commerce support team, the gold standard now is a help desk software that integrates all communication channels like live chat, email, and even social media into one manageable dashboard.
As most brands will be using a help desk solution, there shouldn't be too long a learning curve for the new employee.
However, there will be some differences and peculiarities particular to your tool. For example, with eDesk all of the queries across each of your channels and marketplaces are automatically handled from one central inbox. This makes training in new staff really easy as they only have to learn one system.
3 – A little culture goes a long way
New employees will feel like the odd one out at the start.
They'll not understand how they really fit into the hierarchy, how the business operates, or who is on their team and how they can help them.
Spending even a little bit of time explaining how their team fits together as individuals and into the wider organization can go a long way into making them feel like a part of the culture.
The sooner you can impart a part of your company culture to new hires, the better because 31% of people have quit within the first 6 months of a new job.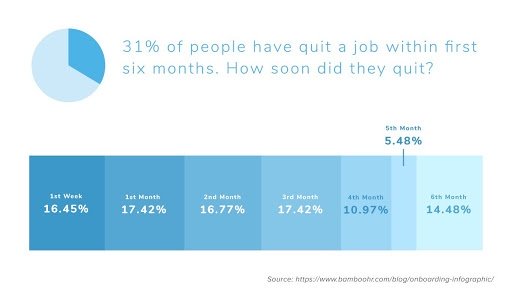 That cultural understanding is key to reducing the number of people who leave in those first six months. According to the University of Iowa, employees who feel like they fit into a work environment are happier, more productive, and stay longer.
4 – Processes and Etiquette
Once your support team grows beyond a single person there's the potential for toes to be stepped on and queries to be missed.
If your staff aren't aware of who is supposed to pick up specific tickets, what the etiquette is once a colleague has started and how to hand it over to a more qualified member of the team, and the follow-up process between shifts, you're going to find yourself in trouble.
It might seem basic, and perhaps even common knowledge, but a shortfall in this area can unravel everything else you've worked hard to impart to your new employee.
Ensure you spend at least a little time walking them through the processes and how things like your ticket assignment and routing work so they end up an asset, and not a liability to their team.
5 – Choose your channel wisely
Thanks to the growth in the software and technology space we're now almost spoilt for choice when it comes to onboarding training. Digital alone could take the form of drip-fed content via email, PDFs, videos, or even audio. Add more traditional pieces of training like in person, shadowing, print materials, mentoring and more into the mix and it's almost too many options. There's a relatively even split in the way brands are delivering their onboarding, but you have to think beyond what's easiest for you.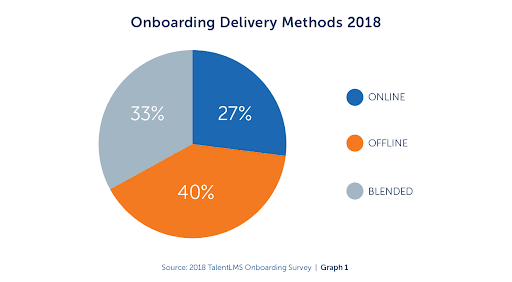 When devising your onboarding programme you have to consider
a couple of elements, including;
The complexity of the job role

The new staff's level of experience

The size of your team and their workload

The age of your new staff member (generally speaking younger people enjoy more technology-based training)
All of these things should be taken into consideration to devise the most efficient and informative onboarding program possible.
You may also have to tailor this to the individual as well to ensure the highest levels of success.
You Need to Spend More time Optimizing Your Onboarding
Your customer success agents are the most community-focused representatives of your brand.
If you're not giving them the tools and knowledge they need to excel at their job, it's the business that will suffer.
Taking steps to improve your onboarding will benefit everyone in the long term. But don't think it's only viable when a new staff member joins the business.
Every time a new process or change in department expectations comes up you should be run small workshops which should then be added to your onboarding processes.
Think of onboarding as ongoing education for your staff. And understand it's the most effective way to help them perform their duties well.
---
Further Reading: