If you're looking to sell online, then eBay is a great platform to try. It's easy to use and with a huge base of established customers, all across the world, you've got a great chance of finding buyers. It doesn't matter whether you're selling used books, sporting equipment or home-ware. If you hit on the right niche, eBay can really help you grow. Here's some of the basics of selling on eBay to get you started.
Why Sell On eBay?
With the emergence of the Amazon marketplace, eBay has become somewhat maligned by sellers in recent times. The majority of these sellers may be missing a trick though. Yes, eBay may not have the same number of visitors per month or the same level of turnover as Amazon. But eBay still has a customer base of over 175 million users – more than enough to be successful. Not only this, but eBay is present in more territories across the world and helps sellers to exploit that. Competition is also less fierce and the private label market is very much in its infancy. So, if anything, maybe the real opportunity does now lie on eBay. Especially, when you consider that there are now more UK-based eBay businesses with a yearly turnover of £1 million, or more, than at any point in eBay's history.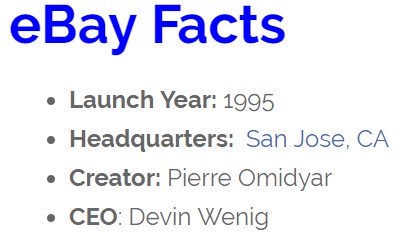 Product Selection
Regardless of where you're selling, the most important step is hitting on the right product. This not only means sourcing high-quality stock, but finding a product that customers want and that leaves you with a good margin. If you don't, you risk losing money, receiving large amounts of negative feedback or being stuck with stock that you can't move.
To make sure that your product sourcing stage hits the spot, it's a great idea to break it down into two phases, starting with market research. This could be done by searching completed eBay listings, visiting eBay shops that sell similar products or using specialist eBay market research software. When it comes to sourcing your products, there are a few different methods you could use. A common, but risky, practice among eBay sellers is to source their products online. More conventional methods include attending trade fairs and visiting factories, with China being a popular destination.
Your eBay listing
eBay is a listing-driven marketplace, so sellers have to create a listing for every product they wish to sell. This also means that there are numerous listings for the exact same product.  Now, eBay does have a product catalog but it is limited to certain categories (such as electrical  and sporting goods). So when you come to create your listing, it's very likely that you'll need to use the listing form.
The form asks for all of the standard product information, this includes item specifics, such as colour and size, product codes and the item's condition. You will also need to submit your listing text, which includes the title and product description, as well as several high quality images. There are also some more specific sections that you may not have encountered if you're new to eBay. A great example is the listing format. This gives you the choice to have an auction style listing or, the more popular option, of a fixed price listing. Other examples include listing duration and accepted payment methods.
Fulfilment Methods for selling on eBay
Unlike other marketplaces, eBay doesn't have its own fulfilment service. This leaves sellers with two options. The first, is to manage the whole fulfilment process yourself. Depending on your size, this could be fulfilling orders from your home, your bricks and mortar store, or your own warehouse. Taking this approach puts your firmly in control of the fulfilment process but can become time consuming. It can also be hard to scale if your business is growing rapidly.

There are many stages in the fulfilment process, but it can be simplified.
A second option is to use a 3PL. This is essentially like outsourcing. You send your stock to the 3PL's warehouse and then, when an order comes in, they pick, pack and ship orders on your behalf. This is a great option if you fulfilling orders is taking up too much of your time. But, you need to be aware of how the 3PL breaks down their costs, as otherwise they can creep up on you. If you're looking to expand internationally, it's worth noting that eBay does have a global fulfilment service. Through the Global Shipping Programme, you ship the product to a domestic warehouse and eBay deal with the international shipping. Sellers are responsible for any returns though.
Postage Options
When you've decided on your fulfilment method, you need to decide on postage options. This is a really important step. It lets the buyer know the delivery method, cost and when they can expect to receive their order. It also lets you build any postage costs into your margin, so you don't end up losing money. As part of this, you need to consider the following things:
Which postal service will you use? Will some products need a courier service?

If you use a postal service, which postage type will you use? The same applies for couriers.

Who is going to pay for postage? Offering free postage can make your listings more attractive to buyers.

If you make the buyer pay postage, will you use a flat rate for all orders, or will it depend on their location?
How long do you need to dispatch orders? This needs to be quick, but be realistic about your capabilities.
Deciding on these factors will help you to flesh out your postage options. You'll then have a clear idea of the costs that you might incur, and also be able to explain it clearly to buyers on your listing.
Customer Support and Feedback
Historically, eBay has been a person-to-person marketplace, as opposed to being dominated by business sellers. Even though this has changed over time, communicating well with your buyers and cultivating feedback is still really important.
The majority of this communication comes through your customer support. This starts with your  Q&A for buyers. eBay will automatically populate the answers from your listing information but be sure to manually add any questions that you feel have been missed. It then runs into how you answer product queries from potential customers and deal with any cases that are opened against you.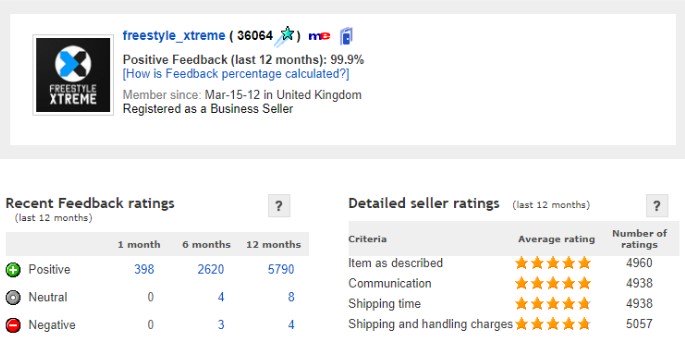 Freestyle Extreme is an example of an eBay seller with a great feedback strategy
When it comes to cultivating feedback, this can be a challenge. Only a small percentage of buyers leave feedback after making a purchase on eBay. So, to counteract this, many sellers use software to prompt their buyers to leave feedback. This can make a big difference to your business, without you having to sell more. Why? Because it enhances your reputation and may even give you a boost in eBay's search results.
Who is selling on eBay?
eBay's ease of use and huge base of loyal customers make it a breeding ground for successful businesses. Yes, it undoubtedly takes hard work, and a winning product. But, if you can hit on the winning combination, the rewards are there, as these businesses have proved. One particular category where a number of businesses have seen success on eBay, is books. Few have been quite as successful as World of Books though. Starting out in 2000 with their founders auctioning books on eBay, by 2009 the company was turning over more than £5 million-per-year. Their rapid growth has continued and, this year, they made it onto the Sunday Times International Track 200, which ranks international growth.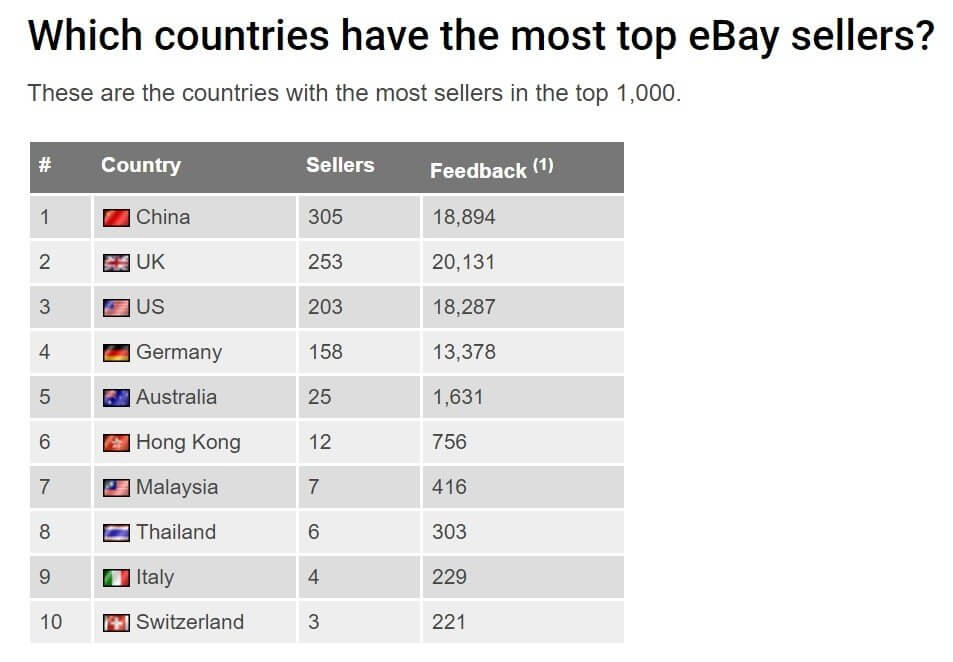 Information from webretailer.com
It's not just media items that can be successful on eBay though. In recent times, the home and garden category has become increasingly popular, as more customers are turning to eBay for high value items. This has certainly helped family-run business Compare the Bathroom. With more than 40 years in retail, they started selling on eBay in 2010 and saw their sales rocket. Their bathroom suites and accessories proved popular domestically and overseas, which helped them achieve turn over of £1 million last year.
Related Read: Calculating your net margin on eBay
The final word on selling on eBay
If you're looking to start selling online, eBay is a great option. It's easy to use and doesn't have the same amount of complex rules that other marketplaces do. There are also some exciting updates and changes planned for the coming year. These should help sellers become more professional and attract a wider pool of buyers. The real challenge with eBay is fulfilling orders. This can seem really daunting, especially when compared to selling on Amazon and using FBA. But if you can find a reliable 3PL or manage to run your own fulfillment, the rewards are certainly there.
---
eDesk is the only helpdesk purpose-built for e-commerce to meet the needs of online sellers.
---
Further reading