When it comes to selling on Amazon, reviews matter. According to a study by BrightLocal, 84% of us trust online reviews as much as personal recommendations and 92% of consumers read online reviews for local businesses. With statistics showing that a mere 5% of customers that make a purchase on Amazon leave feedback—having a process in place for collecting feedback and dealing with negative feedback is crucial for all sellers, particularly established ones.
Feedback on Amazon is ranked from 5-star (excellent) to 1-star (awful).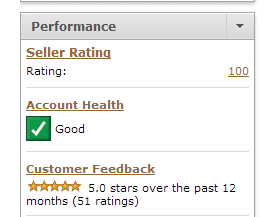 The Perfect Amazon Feedback Score
Customers can leave feedback on how you performed (seller feedback) or on the product they purchased (product feedback). If you're serious about selling on Amazon (and winning the Buy Box), you'll want to aim for a seller feedback rating of 95% and above.
Let's look at four ways to increase your Amazon feedback starting with…
1. Treat Neutral Feedback as Negative
3-star (fair) feedback is neutral but in Amazon's customer-centric eyes—it's not good enough and as such, you should treat this as you would a 1 or 2-star review. It's important sellers don't ignore neutral/negative feedback as removing just a handful of bad reviews can have a huge impact on your chances of getting a sale or winning the Buy Box.
Imagine, you're buying a product that is similarly priced, are you more likely to buy from a seller with 98% positive feedback or one with 92% positive feedback?
The vast majority of consumers will always go with the seller with the better feedback score, which is why collecting positive feedback and removing neutral/negative feedback quickly is so important. With that in mind, let's take a look at some strategies for collecting great feedback and eliminating negative reviews.
2. Strategies for Collecting Positive Feedback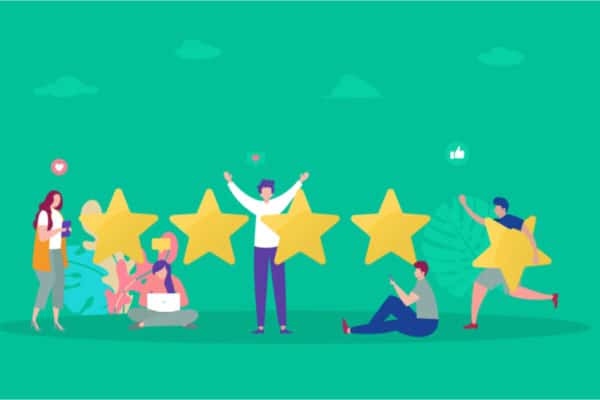 One of the most important factors when it comes to getting positive feedback is providing excellent customer service.
As Sam Walton said,
the goal as a company is to have customer service that is not just the best but legendary.
Buyers are more likely to leave feedback when you exceed their expectations and go the extra mile. And when it comes to positive feedback, the more, the merrier!
Here are our three easy tips to help you excel at customer service.
Ensure you ship orders on time (or preferably early).
Respond to any queries ASAP (or at least with 24 hours).
Personalize your communication with buyers.
One strategy that successful sellers use to improve feedback engagement is the inclusion of a simple, hand-written thank you note within packages.
Although Amazon encourages sellers to request feedback, it's against their terms of service to offer an incentive in return for leaving feedback.
Knowing how and when to ask customers for feedback is important. When you send a feedback request is down to you but one effective strategy could be to ask for feedback one day after delivery is confirmed.
Obviously, if delivery is late for whatever reason, you'll not want to send an email request. If no feedback is provided, you may want to ask again seven days later. And once feedback is received, you shouldn't send any further emails.
3. Strategies for Dealing with Negative Feedback
Negative feedback is a challenge but with the right course of action, it can be eliminated efficiently. When you first discover that you've received a negative feedback, don't panic or react rashly.
First, check if the feedback is against Amazon's guidelines. Amazon will remove feedback if,
The feedback includes personally identifiable information.
The entire feedback comment is a product review.
The entire feedback comment is regarding fulfilment or customer service for an order Fulfilled by Amazon (FBA).
Many sellers let negative and neutral feedback sit on their account that is against Amazon's policies. And, all it takes in most instances is a quick email to Amazon stating why it is against their guidelines.
Amazon will remove (strike-through) negative feedback on FBA orders where it accepts responsibility for what has gone wrong and add a comment like,
This item was fulfilled by Amazon, and we take responsibility for this fulfilment experience.
Also, if a customer leaves a product review on a seller feedback review, then Amazon will also remove this and it won't count against your feedback score.
And, once it's been removed you'll feel awesome…
4. Preventing Negative Feedback
As they say, prevention is better than a cure, so ensure you're being proactive and doing everything you can to prevent issues.
Here are our four main tips for preventing negative feedback.
Offer excellent customer service.
Pack and ship professionally.
Provide accurate product listings. Include photos, check size information and when it comes to condition, round down not up.
Respond to buyer messages as soon as possible.
Sellers who communicate efficiently with buyers get more positive feedback. So it's a good idea to personalize your communications and remind them that customer satisfaction is important to you. Many buyers don't realize they are buying from third-party sellers and not Amazon itself.
Communicate with unhappy customers and try to resolve any issues before they lead to a negative review. A buyer can remove feedback up to 60 days after the date they left it.
After the 60-day period, you may choose to respond to the negative feedback and give your side of the story to potential customers. Negative feedback will eventually fall off the first page in time and after 12 months won't count against your feedback rating.
Negative feedback doesn't always have to be a bad thing, it could identify an area of your business you can improve, leading to more sales.
As Bill Gates said,
your most unhappy customers are your greatest source of learning.
Why Do I Need a High Feedback Score on Amazon

It's no longer realistic to maintain an Amazon feedback score of 100% due to changes in Amazon's feedback policies and the increased difficulty in getting negative feedback removed.
You need to keep your Amazon seller feedback score high for these reasons.
A high feedback score means you'll win the Buy Box more often.
It will help you earn customer trust and more sales.
It helps protect your Amazon seller account.
Final Thoughts
With 80% of all sales going through the Buy Box, if you want to succeed as a seller on Amazon then winning the Buy Box is vital. One way to ensure you win more Buy Box is by maintaining or improving your feedback score. When Amazon sees that you are a quality seller with an amazing reputation, their Buy Box algorithm is more likely to include your inventory.
Putting a system in place (whether manually or automatically) to increase your positive feedback and product reviews, as well as a process for dealing with negative feedback, is vital to long-term sales and success.