You've decided on your eCommerce platform. You've built your website. Now you need to select a payment gateway.
PayPal and Stripe are the most popular payment gateways for eCommerce merchants, but which one is right for you?
Let's take a detailed look at the PayPal vs Stripe debate and uncover which one is best for your business.
What to consider: PayPal vs Stripe
When choosing a payment gateway, you need a trusted solution that's been proven to process payments quickly and securely. Both Paypal and Stripe satisfy that requirement. Beyond reliability, your choice comes down to several key factors, namely cost, compatibility, and ease of use.
Which one has a better fee structure for your eCommerce business model? Does it integrate with your website and point of sale (POS) systems? Does it accept the types of payment and currencies your customers use?
Keep these questions in mind as you review the following sections.
PayPal vs Stripe: fee comparison
Here's the good news: Both PayPal and Stripe let you set up a merchant account, create invoices, and transfer money into your bank (using standard delivery times) all for free.
Here's the bad news: For every transaction on your site, you will need to pay a fee, regardless of which payment processor you choose. At a minimum, both PayPal and Stripe charge 2.9% plus $0.30 on every transaction.
That's where their similarities end. For everything else, PayPal and Stripe charge different fees. Here's a quick side-by-side comparison:
| | | |
| --- | --- | --- |
| | Stripe | PayPal |
| Transaction fee | 2.9% +$0.30 | 2.9% + $0.30 |
| Nonprofit discount | 2.2% + $0.30 | 2.2% + $0.30 |
| International transactions | +1% for international cards, plus 1% for currency conversion | 4.4% per transaction, fixed fee based on currency |
| Invoicing | Free | Free |
| Recurring billing | 0.5% | Not available |
| Micropayment fees (for purchases <10%) | 2.9% + $0.30 | 5.0% to 6.5% + fixed currency fee |
| ACH direct debit, credit, or wire transfers for large transactions | 0.8% up to $5 | Requires braintree integration |
| ACH direct debit, credit, or wire transfers for large transactions | 0.8% up to $5 | Requires braintree integration |
| Instant payouts | 1% with $0.50 minimum | 1% up to $10.00 |
| Chargeback fees | Fixed fee per currency ($15 for U.S.) | Fixed fee per currency ($20 for U.S.) |
| Chargeback protection | 0.4% per transaction | Not available |
| Fraud protection | Free, or up to $0.07 depending on transaction | Not available |
| POS card processing | 2.7% + $0.05 per swipe + 1% for international cards + 1% for currency conversion | 2.7% per swipe in U.S., 4.2% per swipe outside U.S., 3.5% + $0.15 for manual transactions, 1.5% for cross-border transfers |
| Pre-certified card readers | $59 to $299 | Free to $79.99 |
Important note: These prices are subject to change. You can view the most up-to-date pricing for Stripe merchants here and PayPal merchants here.
Winner: It depends. The best option for you will depend on the types of transactions you typically have, and where you sell. PayPal's POS card processing is slightly better for U.S.-based PayPal merchants, while Stripe's is more competitive for international merchants. If you sell a large volume of products priced below $10, PayPal's lower micropayment fees may be particularly attractive. But if you're worried about chargebacks, Stripe has lower fees than PayPal. Plus, they offer Chargeback Protection at 0.4% per transaction.
It's also worth noting that both PayPal and Stripe offer enterprise volume discounts. Stripe's discounts begin at $80,000 monthly sales while PayPal's start at $3,000.
Ease of use
From a customer standpoint, PayPal and Stripe are equally easy to use. They both offer clean, intuitive interfaces and accept all the standard payment types, along with a variety of less common options.
From a merchant standpoint, Stripe is slightly more difficult to set up. But, that's also because you get much more customization with Stripe. You can create a custom checkout experience using Stripe Terminal SDK, for instance.
With PayPal, things are much more plug-and-play. You can even add PayPal buttons to your site with a simple copy-and-paste.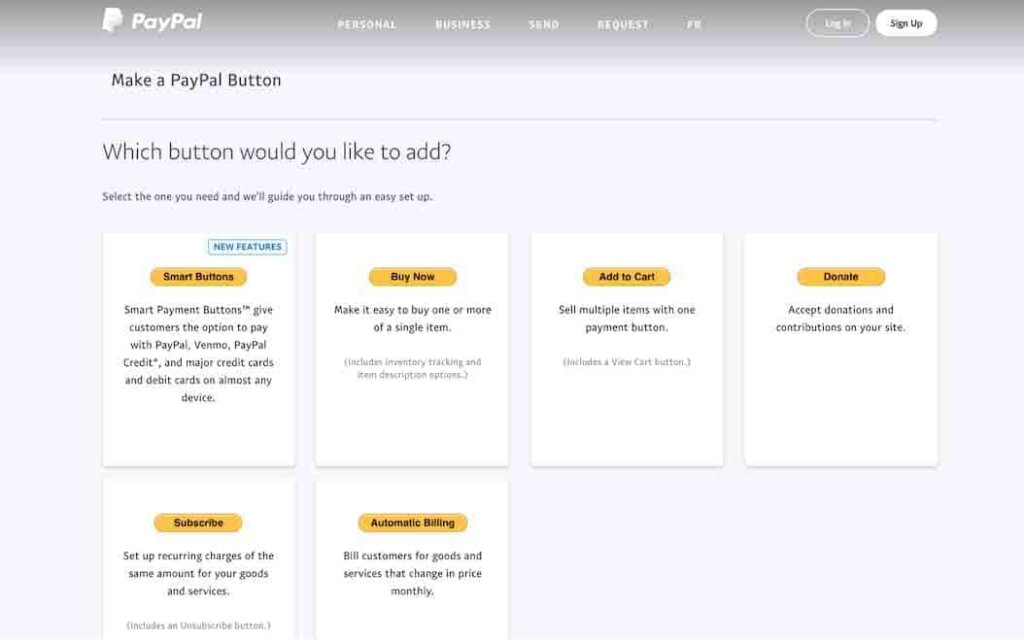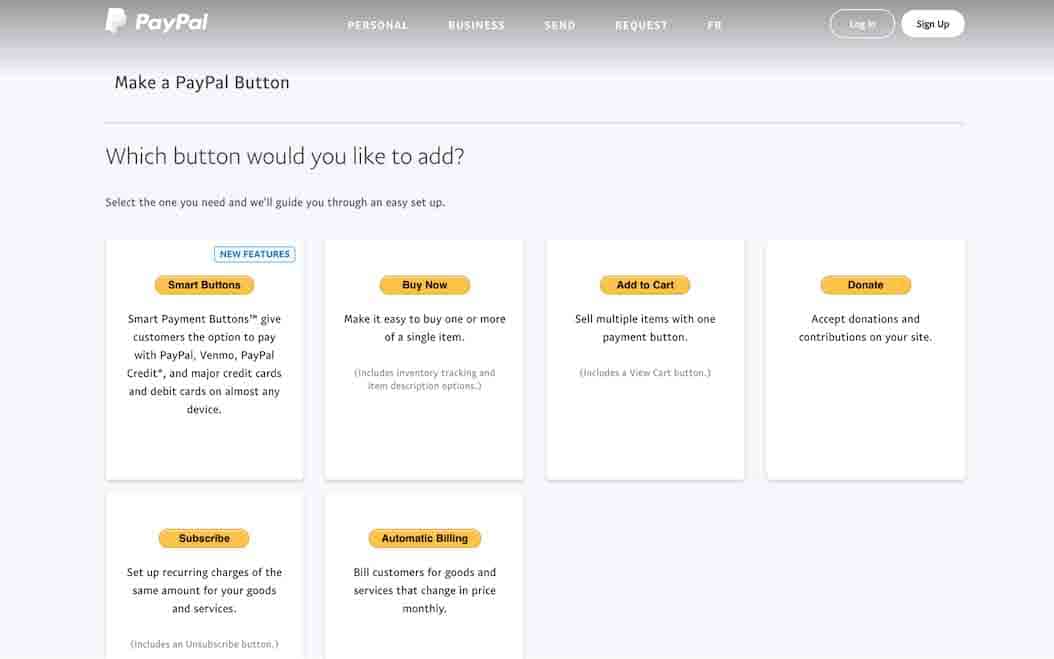 Winner: PayPal
Customer service
If you ever run into issues with your account, both PayPal and Stripe have taken pains to offer customer service across various channels, including social media, email, live chat, and phone support. Both have extensive documentation online. PayPal also has a community forum where you can get your questions answered by peers.


Both promise speedy response times, within 24 hours or less. However, Stripe beats out PayPal for offering 24/7 phone support, compared with PayPal's limited hours of 6AM to 6PM Pacific Time.
Winner: Stripe
Availability
At the time of writing, PayPal is available in over 200 countries and supports 25 currencies. Stripe, on the other hand, is only available in 39 countries, but it supports 135 currencies.
To make up for its smaller footprint, Stripe offers its Atlas service. For a one-time fee of $500, you can incorporate a U.S. business online to receive payments through Stripe, no matter where you actually operate.
Winner: PayPal. PayPal's been around much longer than Stripe. As a result, it's used in many more places and familiar to a wider range of customers and merchants alike. In fact, PayPal is the fifth most popular payment method among consumers, and it boasts having 22 million merchants using the platform, compared with Stripe's much smaller 1 million.
Security
Both PayPal and Stripe meet Payment Card Industry (PCI) compliance and secure both yours and your customers data by the web's highest standards.
However, Stripe offers additional security features for their merchants, such as Stripe Radar. This feature uses machine learning to analyze data across millions of transactions around the globe to suss out legitimate purchases from fraudulent ones. Even better, this fraud protection is included for free with all standard Stripe accounts (and available for $0.05 per transaction for those on custom pricing plans)
Stripe also has lower chargeback fees than PayPal, and you can opt into Stripe Chargeback Protection for just 0.4% per transaction. This program waives all dispute fees and Stripe covers the disputed amount.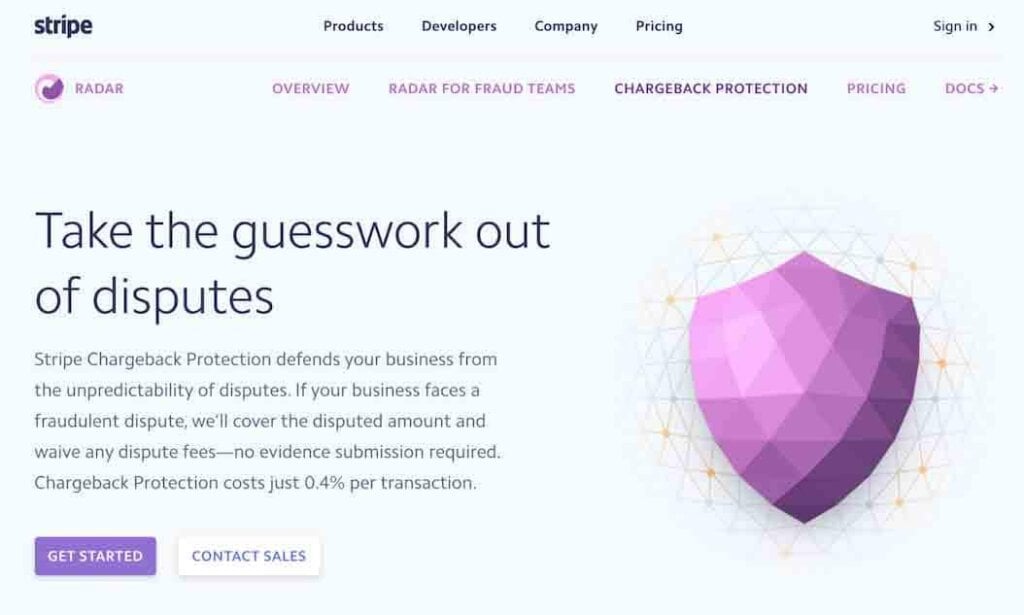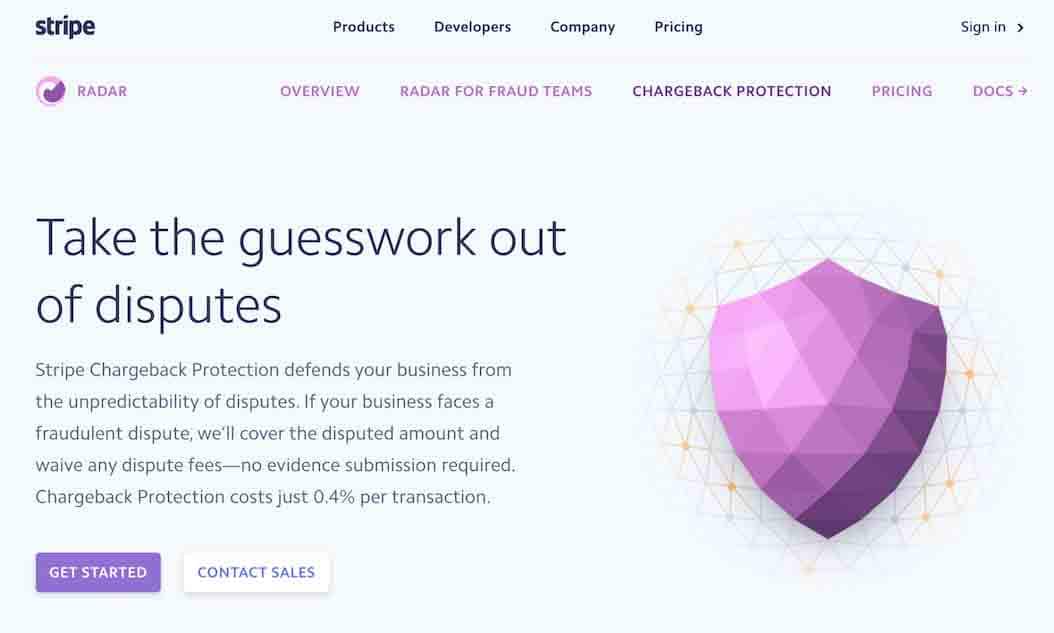 Winner: Stripe
Payment types accepted
Both PayPal and Stripe accept payment from:
Visa
MasterCard
American Express
Discover
JCB
Diner's Club
Google Pay
Additionally, Stripe accepts payments from China UnionPay, Maestro, and Apple Pay. You can also set up your Stripe API to accept payments from a wider range of global payment options, including Sofort, Giropay, and WeChat Pay.
Notably, while PayPal supports Google Play, it doesn't currently work with Apple Pay. Moreover, PayPal charges a separate 3.5% per transaction fee for payments made with American Express. These could be deal breakers for some eCommerce merchants, but before you make your decision, consider that PayPal alone accepts PayPal and PayPal Credit payments.
Winner: It depends. Stripe's support for Apple Pay is competitive, especially when compared with PayPal's separate fees for American Express. However, over 305 million people actively use PayPal. If you don't offer PayPal as an option at checkout, you could be losing customers.
Integrations
You can integrate PayPal into your website by embedding a button, integrating it with your existing shopping cart via a plugin, or developing your own custom API or HTML integration.
PayPal also integrates with most POS systems, and they offer multiple card readers for you to use (the most basic one of which is available completely for free).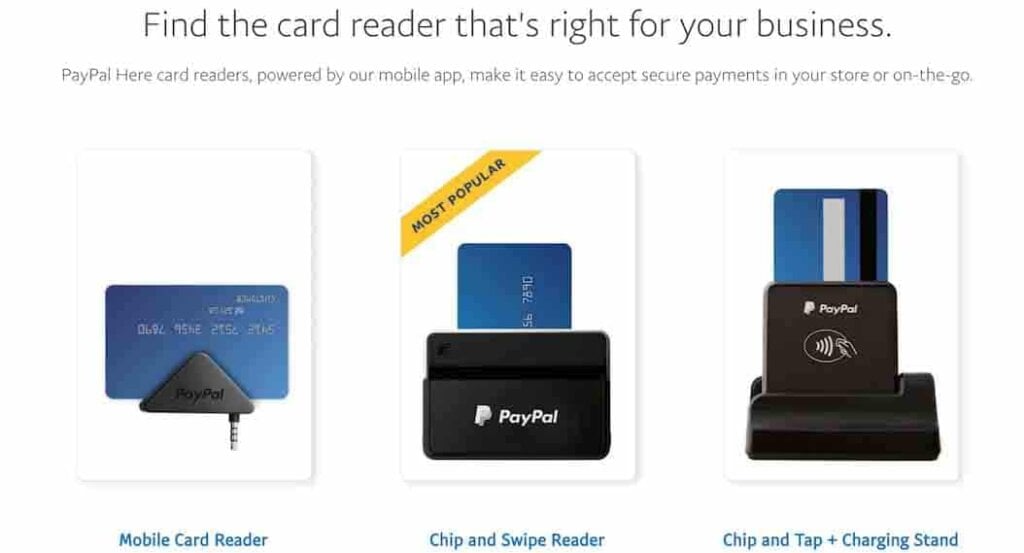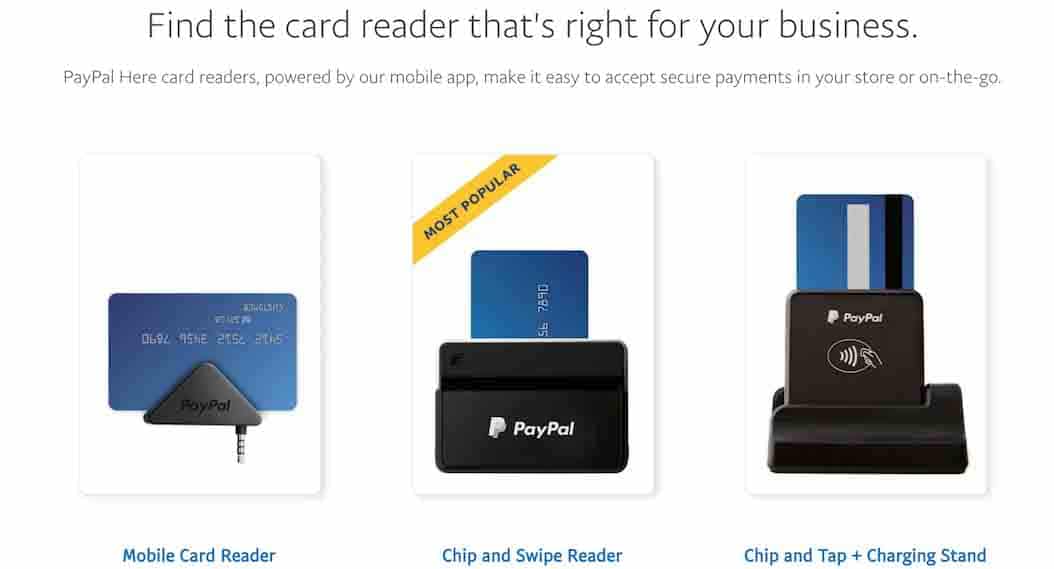 Stripe, on the other hand, does not currently offer a POS integration out of the box. With Stripe Terminal, you can make a checkout and POS experience all your own, but it requires development know-how and time. Stripe's card readers start at $59, and they don't have a free option like PayPal.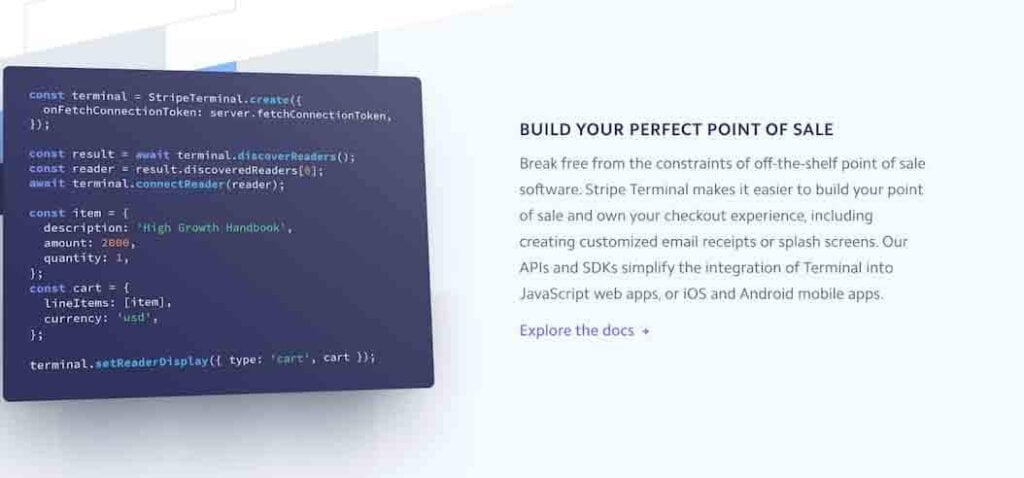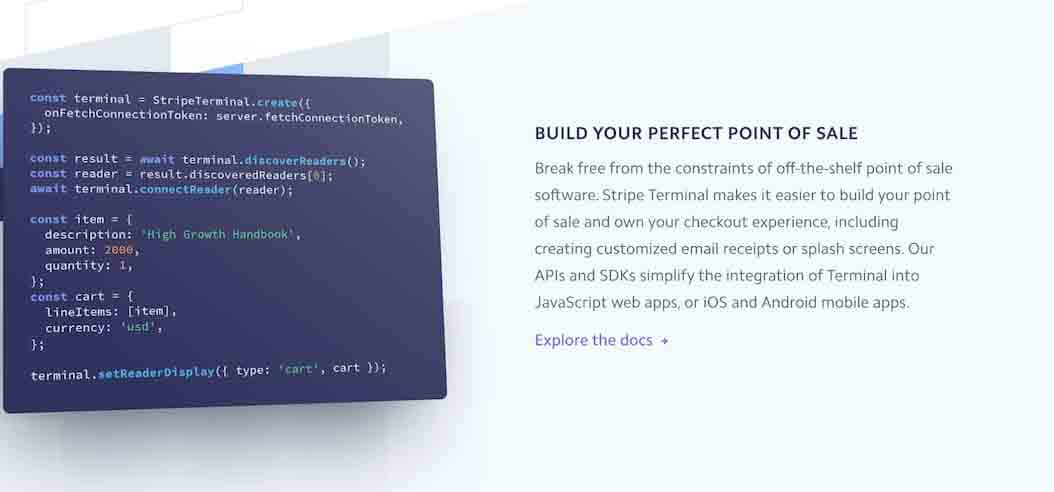 Winner: PayPal
Extra features
When it comes to extra features, there's a clear winner, and it's Stripe.
In addition to payment processing, Stripe offers several solutions for eCommerce merchants. Stripe's Sigma business data platform delivers SQL-based revenue reporting at $0.02 per charge. With Stripe Atlas, you can register your business as a LLC and open a U.S. bank account for a one-time fee of $500. Stripe Issuing lets you create your own virtual and physical business cards (fees vary). Finally, you can access premium support starting at $1,800.
Winner: Stripe
Final verdict: PayPal vs Stripe
By now, hopefully you have an idea of which payment gateway is best for you, PayPal or Stripe. For smaller sellers, PayPal can be the preferred option since volume discounts start as low as $3,000 in monthly sales, and they offer competitive fees for micropayments.
Larger merchants with their own development teams may prefer the customization options available with Stripe. Stripe's fees also become more attractive as your business grows.
Additionally, there may be other things that are particularly important to you — such as PayPal's easy POS integration or Stripe's enhanced fraud protection. If you're not sure, you can always test both for a short time before deciding.