Social media has been the fastest-growing driver of eCommerce referrals in recent years. Instagram's growing eCommerce influence has been a massive contributor to this.
Making followers leave the app to purchase items has always been a huge barrier to conversion on Instagram. But with in-app purchases now available, selling on Instagram has become much easier and is now an essential part of eCommerce marketing.
Why should selling on Instagram be a priority?
Currently, over one billion Instagram accounts are active worldwide and 90% of these follow a business, according to Instagram's internal data.
Delving deeper into user behavior, more than 80% of Instagram users say they use the app to discover new products and make purchase decisions. While another survey found that 77% of shoppers like to see customer photos when deciding what to buy.
Shoppable Instagram Posts
For a long time Instagram was about building loyalty, awareness and using word-of-mouth style marketing to boost a brand. It only allowed external links in bios and, later, in its stories feature. Nowadays Instagram has features that allow users to purchase items directly from the app – which is great news for sellers!
Selling on Instagram is takes place mainly with Shoppable Instagram posts. This relatively new feature allows businesses to add product names and prices to their Instagram photos and videos.
Instagram shoppable posts look just like organic posts. The only difference is that there is a small shopping bag icon or a 'Tap to view' option in the corner. When users tap this, the product details appear within the post. Instagram says over 130 million accounts tap to reveal product tags each month.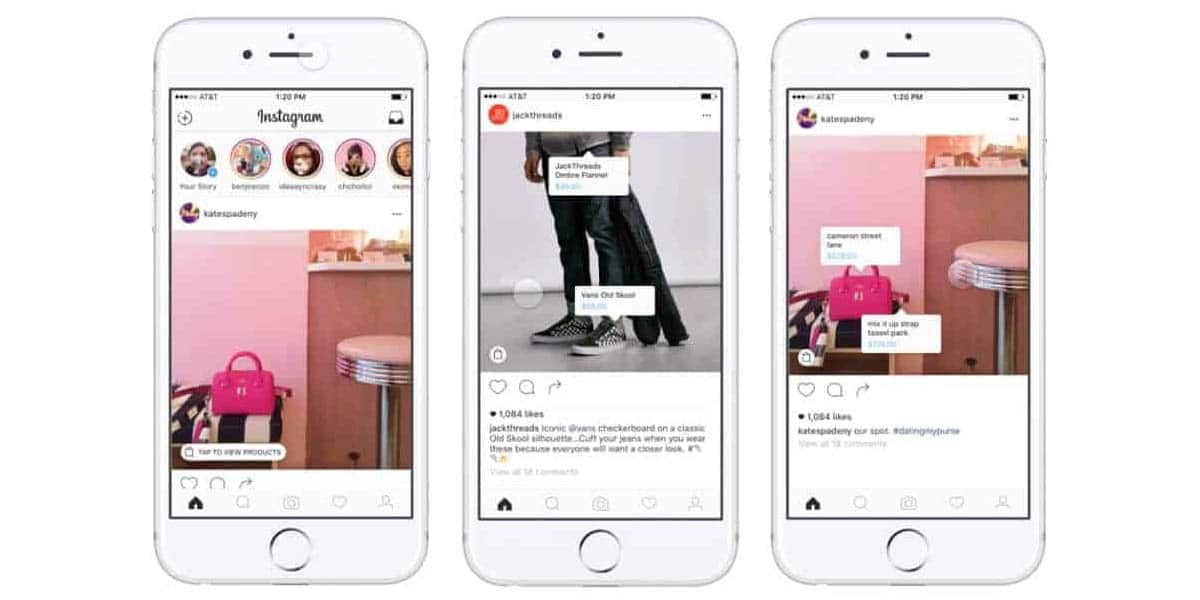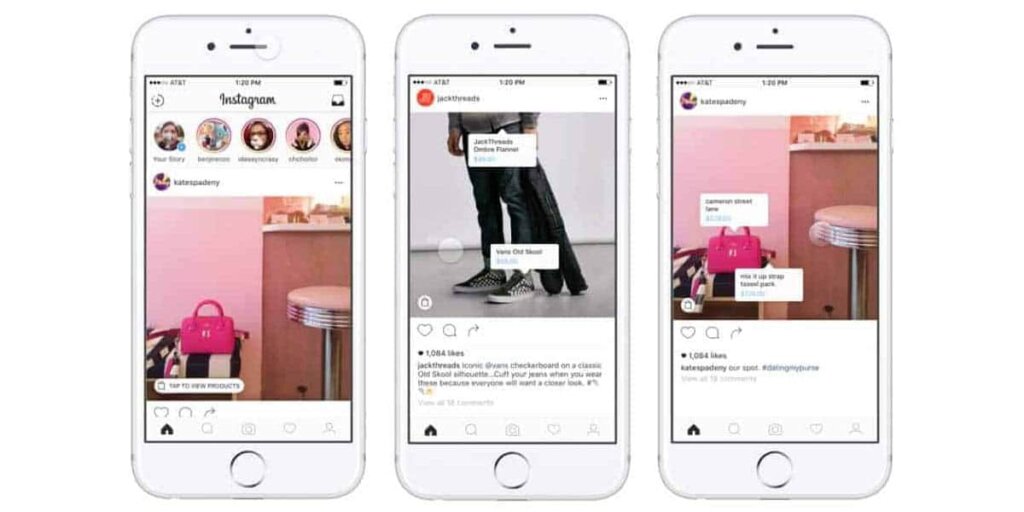 Check Out with Instagram
From here, users can click through to a page which describes the product in detail and features a CTA.
In 2019, Instagram added an in-app checkout for some US-based businesses. In return for a small cut of each sale, Instagram added a native shopping experience and removed a big barrier to conversion.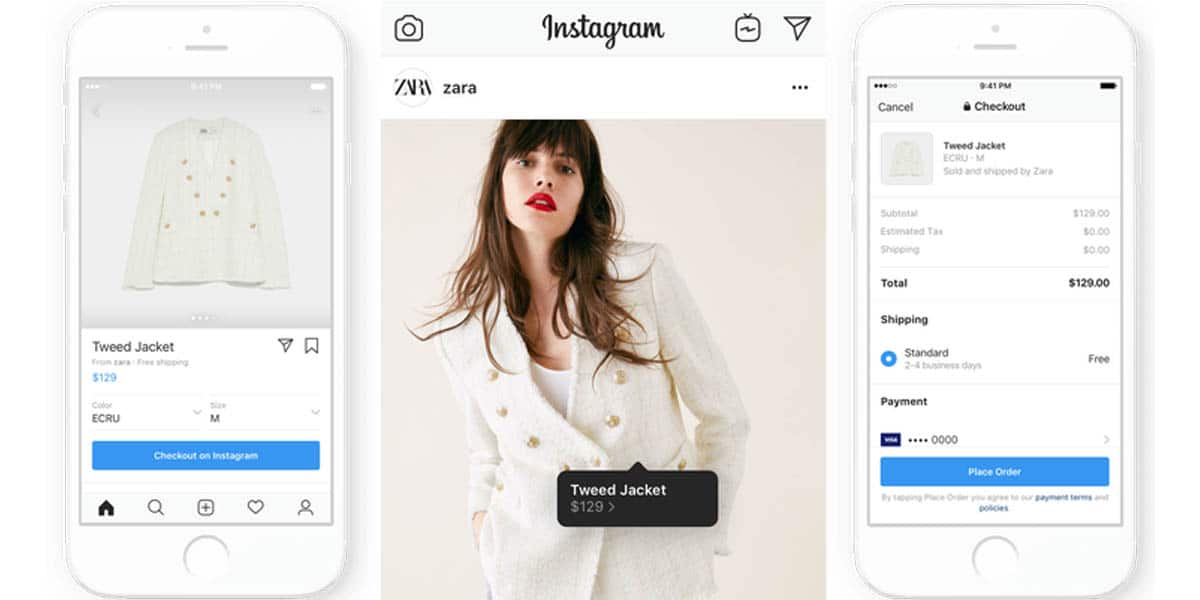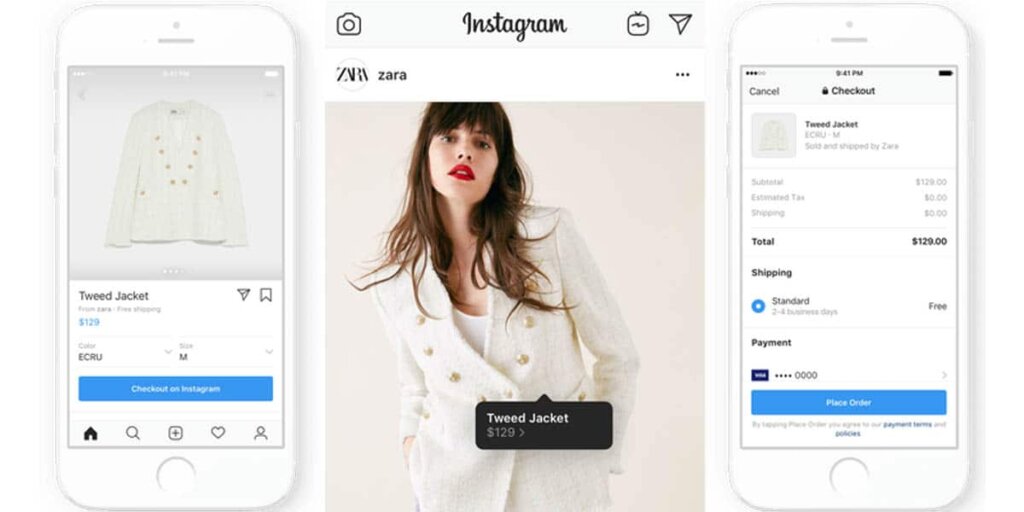 All users have to do to complete a purchase is select a color and size before going back to browse their feed. Instagram automatically remembers their delivery and payment details for each sale.
However, for users outside of the US, a shoppable Instagram is still an option. Instead of an in-app checkout, you can use product pages to drive followers to your website instead.
Requirements for selling on Instagram
Wherever you are in the world, these are the requirements you must meet to set up a shoppable Instagram.
You must be in one of the 60 countries where the feature is available – among them are the US, the UK and Canada
You need to have an Instagram Business Account
You need to download the latest version of app
You need to sell mostly physical goods – services won't cut it, though Instagram says it has plans to expand availability soon
You need to have a Facebook page to upload products
Your products need to comply with the Facebook's commerce policies and merchant agreement – the same ones you agreed to on Facebook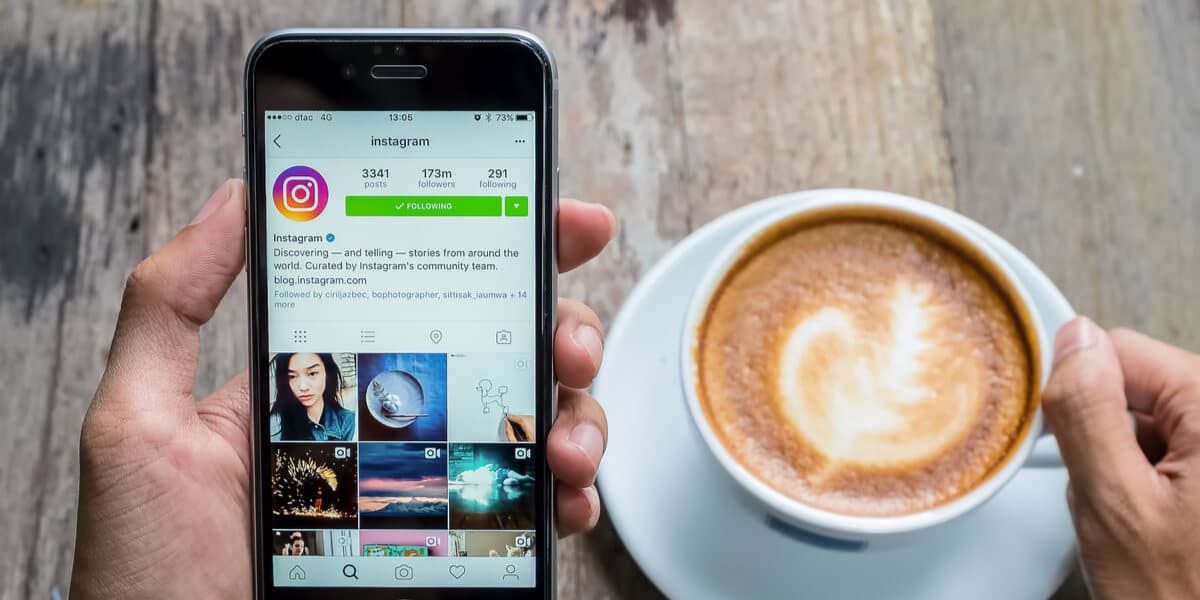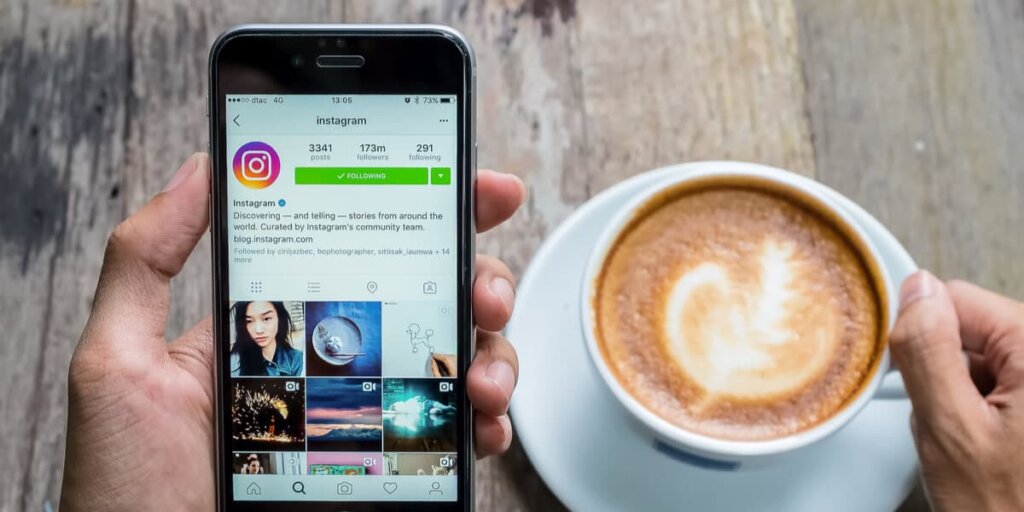 How to sell on Instagram
If you tick all the above boxes, you're ready to get started. There's a bit of back and forth between your Facebook and Instagram accounts, but it isn't too difficult.
1. Connect your Facebook and Instagram accounts
If you haven't already connected these two social accounts, you can go to 'edit profile' in Instagram and under your business information, you can choose or create a page to connect. Make sure you're an admin on the Facebook page you want to connect.
2. Connect a Facebook catalog
Using the catalog manager, you can create a new catalog for Instagram shopping or connect to an existing one.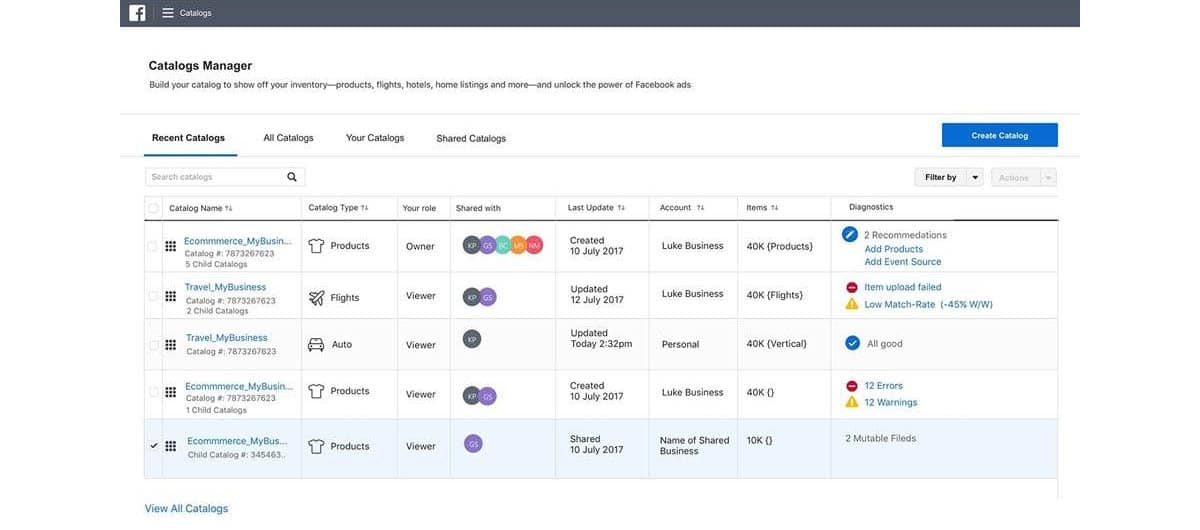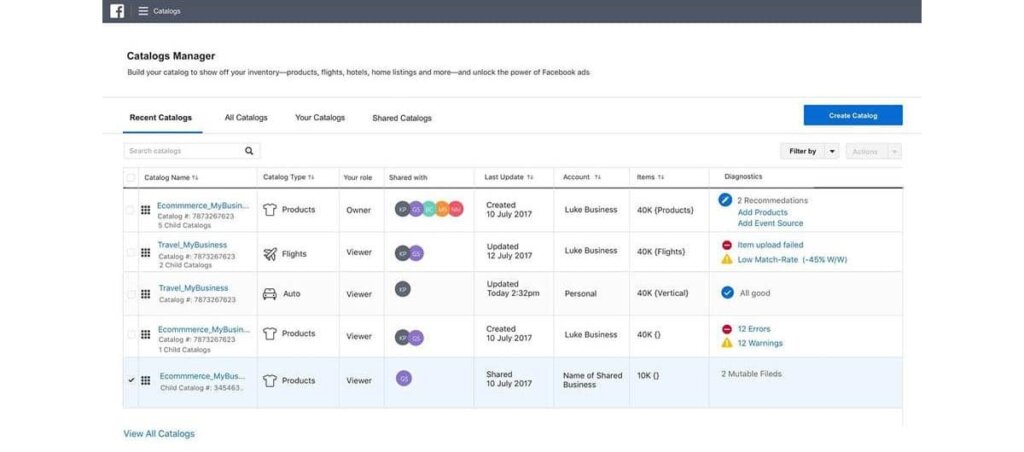 Make sure to connect an eCommerce catalog, otherwise you won't be able to tag products. If you're selling internationally, you should also choose a catalog with the language and currency most relevant to your audience on Instagram.
You can also facilitate your catalog using Shopify or BigCommerce integrations. This may be a handy option for current users.
If you're having trouble with this step, it could be because you don't actually meet the above requirements. It's also worth noting that Facebook Pages using a 'Message to Buy' payment option won't work with Instagram Shopping. You'd need to set up a new shop instead.
3. Sign up in the Instagram app
Now, you're ready to sign up for selling on Instagram. Just go to the business section of your Instagram settings and choose 'Shopping'. From here, you can follow the steps to submit your account for review. Then, all you have to do is wait.
Expect approval to take at least a few days, but sometimes it will take longer. When you're approved, you'll get a notification from Instagram. If it's taking a while, you can also go back to your setting and check your status in the Shopping section.
4. Turning Instagram Shopping on
Once approved, it's time to go to the business section of your Instagram settings again. This time when you click on 'Shopping', you'll be able to select the product catalog that you want to add to your account. Now you're ready to start converting Instagram followers into customers!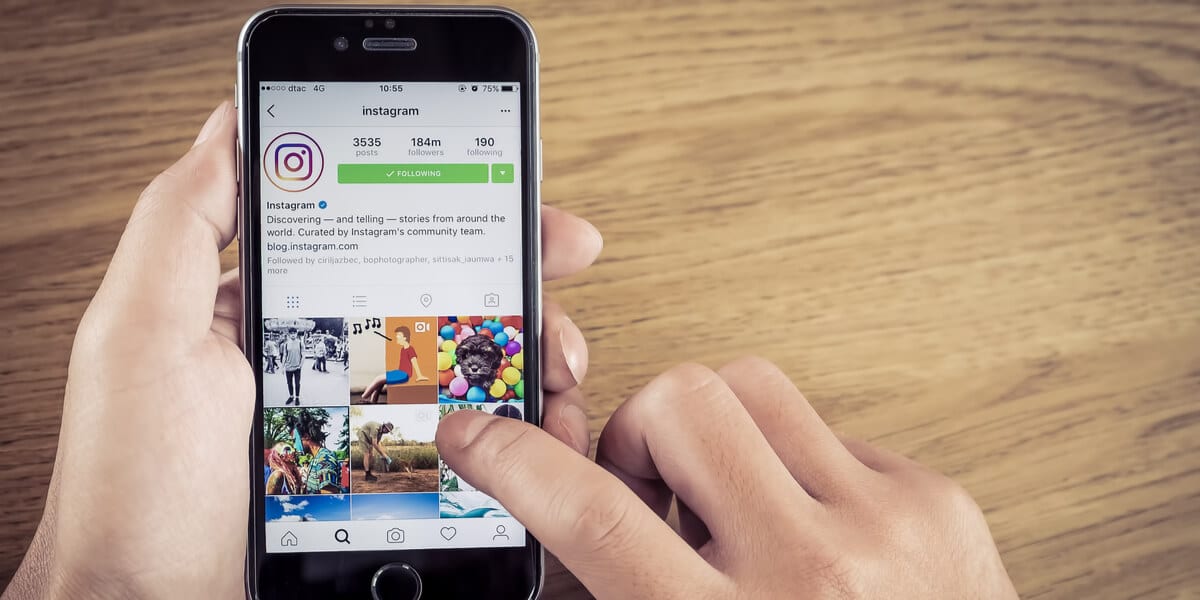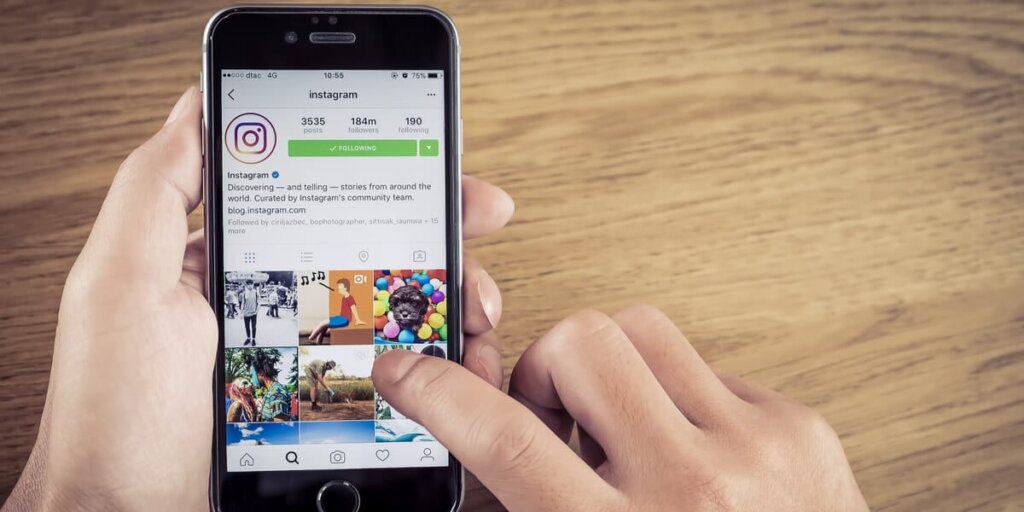 5. Start tagging
Now when you upload photos, you should be able to see the 'Tag products' option beneath the usual 'Tag people' button.
Tagging products works exactly the same way as tagging people. You just click to add a tag and then select the relevant product from your connected catalog. The details are then added automatically.
You can tag up to five products in any one image or 20 throughout a carousel. You can also go back and add product tags to any old posts that you'd like to optimize for conversion.
Businesses using Instagram stories can make use of product stickers. When uploading a video or photo to stories, you just choose a product sticker from the sticker tray and link it with a product from your catalog. Then, like any other sticker, it can be placed wherever you want it. You can add one in every story.
Other features of selling on Instagram
With a shoppable Instagram all set up, it's time to start boosting sales.
Set up a shopping feed
Once you've posted nine or more shoppable Instagram posts, you can add a shop feed to your Instagram account. This allows your followers to click a tab and be brought exclusively to product posts.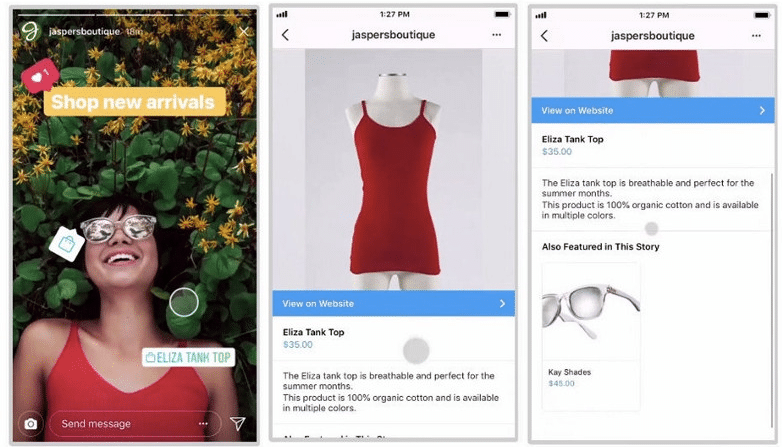 Optimize for Instagram Explore
Instagram Explore curates personalized feeds for users to help them discover new accounts and brands that they don't already follow – and it now features a shopping channel!
Getting featured here is a dream for extending your reach. So create highly visual content, tag your locations, add animated elements to still photos, create fun boomerangs and build as much buzz around your posts as you can.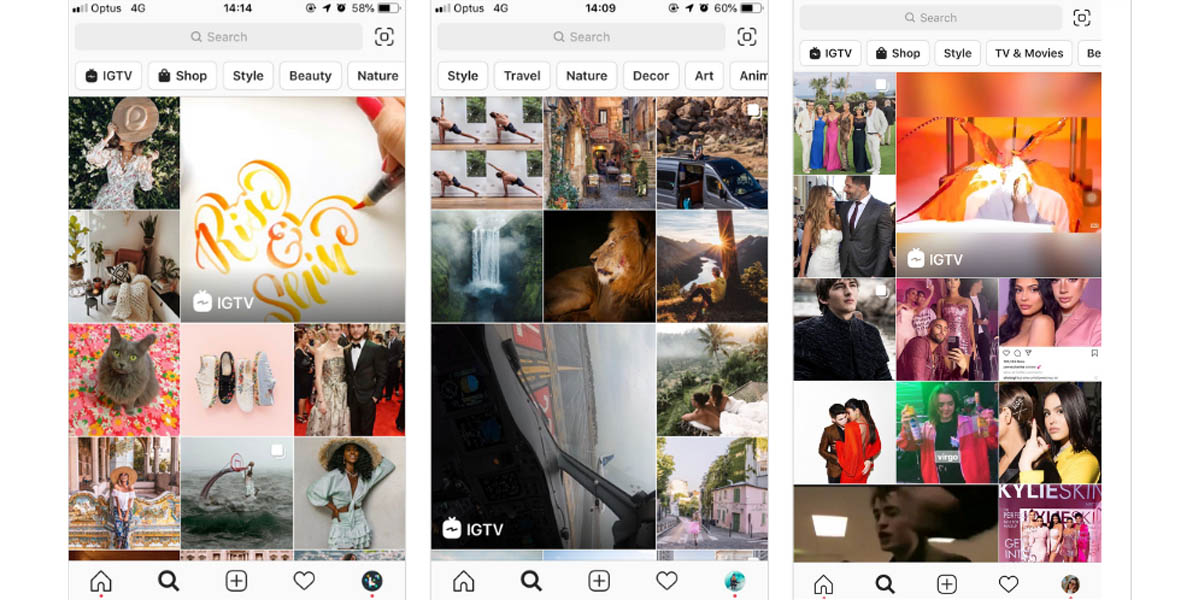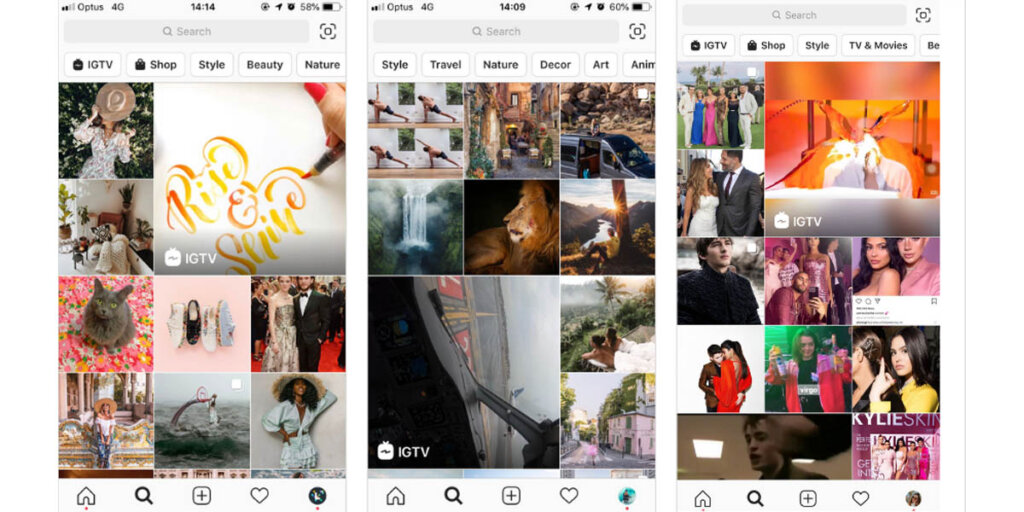 Advertising your Shoppable Instagram posts
Shoppable Instagram posts were recently added to the app's highly targeted advertising options. Targeting users by demographic, behavior and interests is a great way to get your products in front of potential new customers.
Final thoughts
Now that you know how to sell on Instagram, you should work to constantly improve your presence on the platform. Use Instagram Insights to gather data and improve your posts.
Make sure you stay on top of other elements of your business too – think social media customer support, inventory and logistics, because running a multichannel eCommerce business isn't easy.
Try a better way to support your customers. Sign up for a 14-day trial today. No credit card needed.