Customer support tickets. Maybe it's a phrase you've heard before, or perhaps you're already familiar with them and work with them daily. You may have also heard them referred to as support tickets, help desk tickets, or customer service ticketing. 
Whatever the turn of phrase, the customer service software industry generally uses the broad term 'ticketing' to describe the role of the help desk, which essentially turns each customer query into a 'ticket' to be actioned by a representative.
In business, 'ticketing' is a phrase that helps us view each customer query as its own separate action, moved through the help desk until it is resolved. And the customer service ticketing systems are the sophisticated, software-driven procedures devised to manage many customer support tickets at scale.
Ticketing systems can undoubtedly make customer support easier and more efficient. Support tickets and support ticket systems work together to ensure that customers' queries are resolved, and their needs are met.
Let's delve a little deeper into how ticketing systems work and how they can help your company manage and track its customer service so that it can be optimised over time.
Defining Customer Support Tickets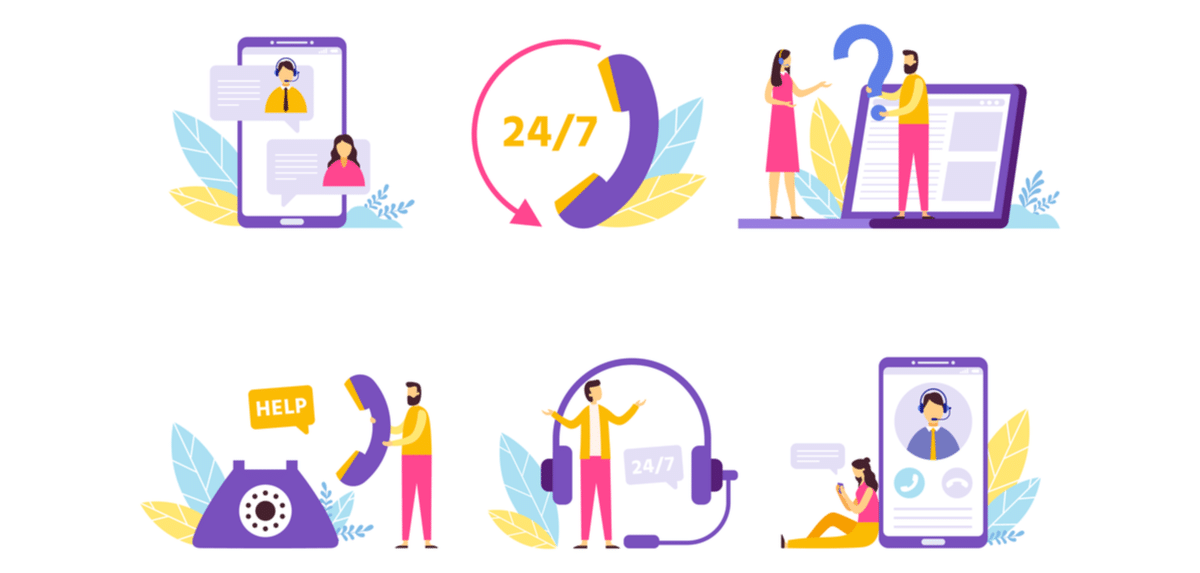 As mentioned above, customer support tickets are each a single itemisation of each customer's unique query. They exist as a single unit, a single problem to be solved. They provide an individualised way for representatives to connect with customers while also providing an accurate record of all touchpoints relating to a particular query.
Customer support tickets can inform a customer service representative of the customer's issue, what the customer's order history looks like, and any other interactions they've had about this issue with other customer service representatives. This can be extremely helpful in establishing history and ensuring that the representative has the most up-to-date information to solve the customer's issue.
The record on a customer support ticket can be especially useful in situations where a query is complex and requires several different customer service representatives to deal with it. The ticket can hold historical information about previous customer service interactions that can be shared amongst reps, so no detail gets lost along the way.
With customer service reps working with multiple customers each day, it is imperative that a company has a ticketing system in place that helps with support queries and makes processes like updating customer information easy and accessible.
More broadly, tickets provide each company with a useful record of the problems that have been solved, the methods of solving them, and which reps solved which problems. All of this data can be analysed to see where improvements can be made.
For example, are there certain individuals or teams that require additional support or training in some areas? Or are certain teams doing a particularly excellent job at processing customer support tickets quickly and to a satisfactory standard? This is the type of feedback that ticketing data can provide, which helps the business optimise its customer service offering.
Importantly, the data from customer support tickets can also be communicated to product managers, providing them with valuable feedback about customers' experiences with products or services. For example, if the tickets show that a specific problem repeatedly occurs with a particular product, it may mean that the product team should look at making an update or improvement to subsequent models.
So, tickets can go beyond supporting customer service, providing value to other departments and to the business as a whole.
Where Customer Support Tickets Come From
Before we discuss ticketing systems, it's important to touch on the fact that customer support tickets come from several different channels.
Tickets can come from:
Customer queries made over social media
Emails from customers
Chat via your website
The beauty of an ecommerce help desk is that it collates all queries from all of the different channels and creates tickets that exist all in one place. This is very important for today's omnichannel businesses.
Even better, the help desk does this without the need for human input, meaning that your teams don't need to log into different messaging systems to receive tickets. Instead, they automatically appear in one central location within the help desk dashboard.
eDesk uses native integrations, meaning you don't need to worry about apps or plugins. Everything you need is already there.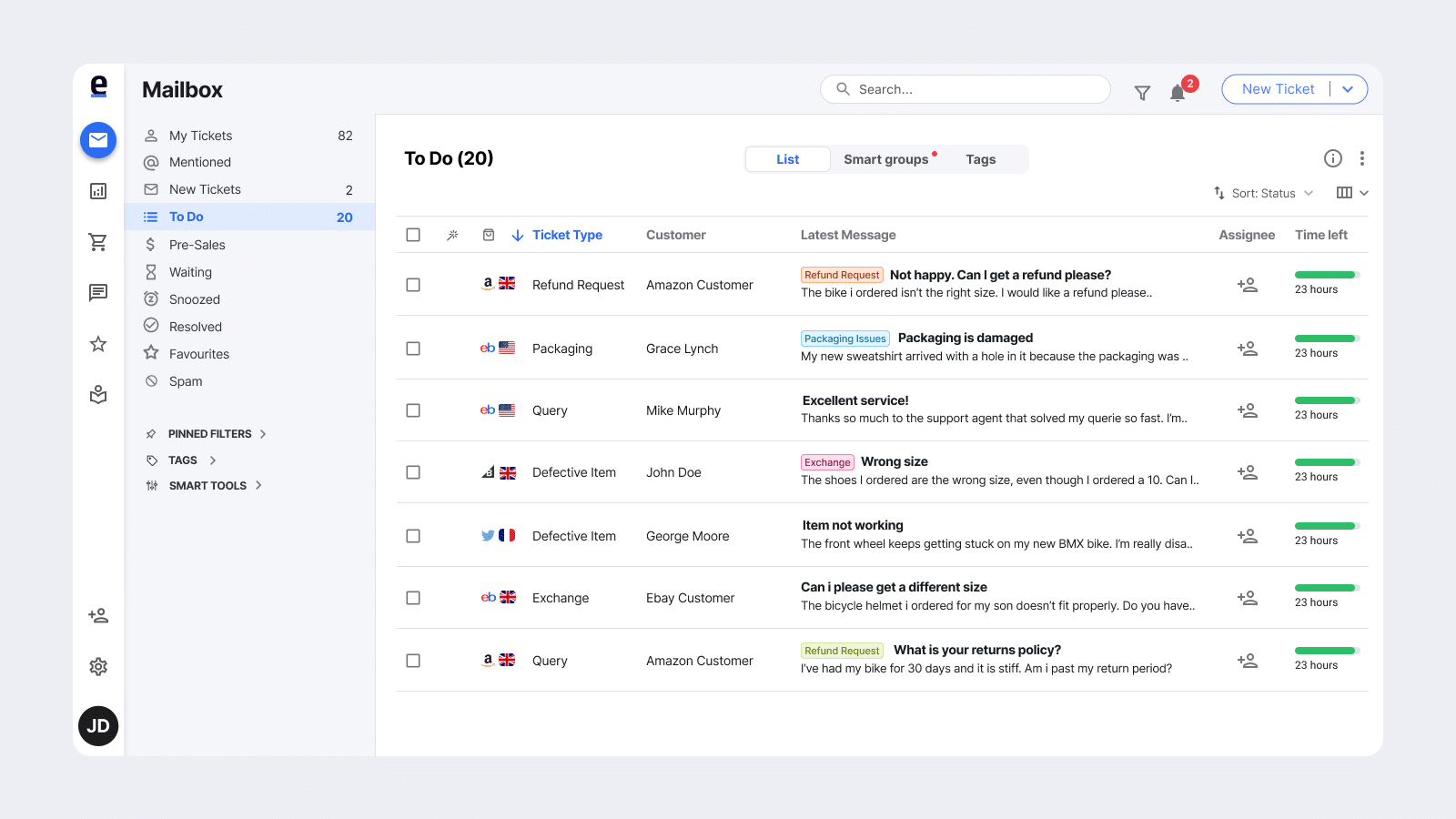 eDesk's centralised shared inbox makes it easy for support teams to respond faster.
Most customer support software will label incoming tickets by the channel they came in from. So while they're all centralised, the social media tickets will be labelled as such, and so on. This is important for your team in being able to track where tickets originated, so they can best respond to them.
It's also helpful in terms of looking at your analytics and insights so that you can run a report on which channel the majority of your tickets come from.
If there's one channel that sees more volume than the others in the omnichannel mix, perhaps that's an indicator that you need to pay that channel a bit more attention. Or maybe it means you may want to make your customers aware of other channels by which they can reach your company.
What you do with the data is highly dependent on your business, but having access to these insights is always going to be beneficial.
Different Types of Support Tickets
We've defined support tickets and where they might come from, but it's also useful to look at the different possible types of support tickets.
In fact, they're not always even called tickets. Some companies call their support tickets 'conversations', whereas others call them 'chats'. This can be done to define tickets on an emotional level, in line with a company's brand, so that customer service teams remember that ultimately, their role is that of facilitating communication.
Still, support tickets can also vary in that they may have extra features applied to them. For example, some may even look like chats, where reps can actually talk to the customer inside the ticket and update information in real-time within the chat/ticket itself.
Other companies may have a Service Level Agreement (SLA) system attached to each ticket. This feature means that each ticket reminds the agent that they must respond to a customer if a promise was made to do so.
Regardless of their name and different features, generally, we can refer to them as 'support tickets' when we discuss them as an industry whole. It is important to understand that they may differ though, and features will vary.
Understanding Customer Support Ticketing Systems
Now that we've defined what tickets are, where they come from, and their different types, let's talk about customer support ticketing systems. These are the framework within which the tickets exist. These systems are built to maximise the efficiency of the tickets themselves, making sure they are processed in a way that moves through each query in a timely manner and is easy for the customer service team to cope with.
As companies grow, so will their volume of customer support tickets. This is why having a solid ticketing system in place is crucial to ensuring that your company stays on top of its customer service game and is well-placed to grow.
The support ticket system will allow businesses to store, organise and manage their customer service queries all in one centralised place. Tickets may come in from all of those various sources already mentioned, including social media, email, and phone calls, but with the ticketing system, they'll all be stored centrally for easy access and reference.
Ticketing systems allow reps to manage multiple tickets at once, even sharing tickets amongst each other, while prioritising and logging their individual contributions all in one centralised place. Ticketing systems are typically managed by help desks, sophisticated digital dashboards that manage tickets, their systems and provide features like tagging, sorting, and prioritising, making the customer service team's job easier and more efficient.
Having a solid ticketing system implemented within your organisation can serve as the 'backbone of your customer service programme because it's the engine that keeps the tickets well-organised and moving along to ensure customer satisfaction. Achieving this without a ticketing system is near impossible, but having a ticketing system in itself isn't enough, you must ensure that you choose the right ticketing system for your business!
Related: How Right Deals UK Respond to Customer Messages Five Times Faster
What Type of Business Needs a Support Ticket System?
All business types, from SMBs to enterprise organisations, will be well served by a support ticket system. This is because managing customer tickets without one, as we've mentioned, is impossible for all but micro-businesses.
For any growing, thriving business, having a logical, organised framework to base your customer service interactions around will allow you to ensure that no customer queries fall through the cracks.
Creating procedures like ensuring that an initial response is sent within six hours of the receipt of a query and prioritising tickets by urgency are essential elements of building a support ticket system that delivers for your team and your customers.
It's useful to start a ticketing system even when the company is in its initial stages. As volume ramps up and the company begins to grow, having a ticketing system in place already means you'll be prepared to grow with your customers. Investing in technology to build the right ticketing system is also important.
Because every business is different, your ticketing system's customisation will depend on your unique needs. The technology you choose to manage your ticketing system should be one that grows with your business, offering improved and more sophisticated options as your needs increase.
Related: 7 Steps to Improve Your Customer Support Strategy
Support Ticketing Systems Features
Different support ticketing systems offer different features, so it's useful to look at the options available on the market to choose one that is right for you.
Here are some pointers:
Most solutions that support customer service allow you to manage multiple customer tickets simultaneously, combining the various channels of communication centrally.
They should be able to centralise per customer, meaning that if the same customer contacts your company by tweeting and then sends an email, the two conversations will be consolidated into one handy digital customer 'file' that provides the rep with useful background on the customer's various queries. This modern omnichannel approach is ideal for solving customer issues effectively.
Some ticketing systems also offer a means of creating a knowledge base of common issues that your users experience. This self-service tool can be a great reference both internally and externally, allowing customer service reps to use it for reference and a customer-facing version that lets customers find the answers to common questions on their own.
Ticketing systems can also provide automation services, meaning that certain frequent tasks can be automated to save your customer service team time. For example, when a customer query involves a frequently asked question, this can be automated to direct the customer to self-service channels, the knowledge base, or a specialised representative specialising in dealing with that particular issue.
While different support ticket systems may provide slightly different features, the key thing they all have in common is that they are designed to help you scale your customer service programme by providing better, more streamlined customer service processes.
Final Thoughts
Whether you're a small business just getting started or a larger business growing quickly, having the right customer support ticketing system in place can make the difference to your success. Getting the correct support ticketing system will enable your business to better serve its customers.
We all know that efficient, positive customer service is the lifeblood of any business, especially in this fast-paced, digital age of instant responses. Having the right ticketing system in place will help your company drive superior customer service, directly supporting your company's growth.
eDesk's eCommerce helpdesk helps thousands of online retailers manage all their multichannel support tickets in one place. Book a demo to learn more or try it free for 14 days, no credit card needed.