Over the past few years, Instagram has been steadily growing as a place for brands to target their customers. There are now more than 25 million brand accounts using Instagram, and over 80% of Instagram users follow at least one brand account.
Did you know that 80% of customers engage with brands on social media?
Market research also reveals that 54% of social browsers use social media to research products, meaning that replying to your customers on social media plays a huge role in the customer journey.
Furthermore, 60% of customers say bad customer service is a concern when making purchases online. Clearly, if you're not responding to your customers, you're not only failing to build customer loyalty, but you're also missing out on a huge number of potential sales!
Providing a good customer experience on Instagram will help your brand build better customer loyalty. Connecting with your customers by responding to questions and comments on Instagram helps your brand strengthen its relationships with its followers, increase sales and ultimately grow your reach and reputation.
Fortunately for you, we've done the research so that we can provide a handy checklist of the top ten tips that your business can put into practice right now to improve your customer service on Instagram.
We're sharing our proven and practical techniques so that you can wow your customers and increase your sales on this visual social network.
Why Instagram is a Useful Platform for Brands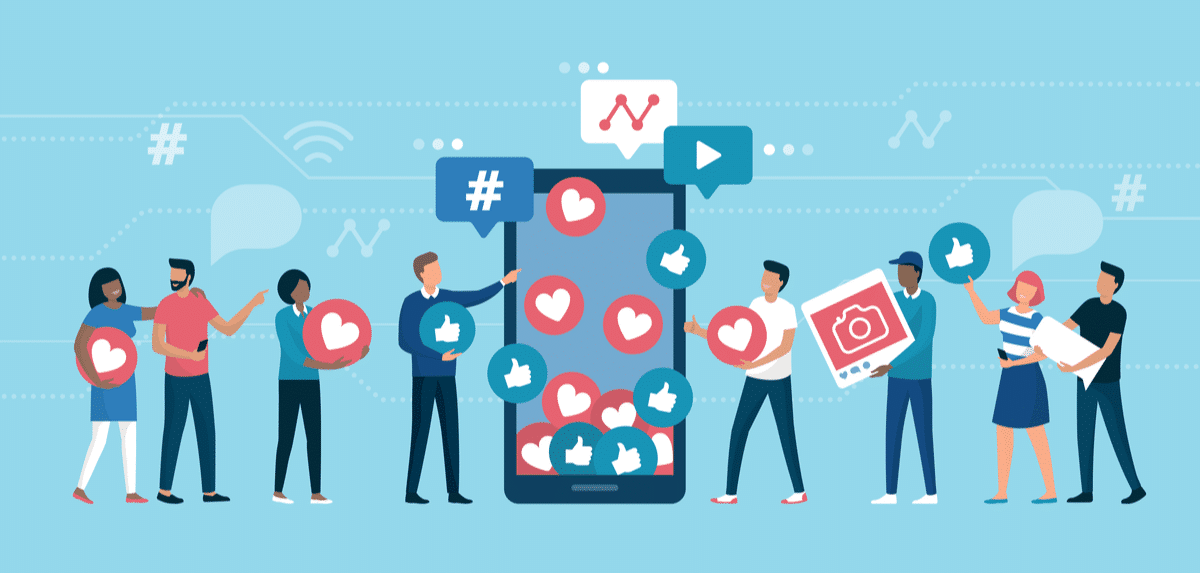 Before we launch into the tips checklist itself, here's why your brand needs to be on Instagram.
There are a lot of social networks out there at the moment, with the number seemingly growing every few months. While fads may come and go, Instagram remains in the top four social networks globally, ranked by the number of users. It continues to grow and drive traffic with its innovative filters, content creation tools, video and reel options. It is a platform where the world's top celebrities and influencers can provide entertaining and impressive content to users worldwide.
But more than just being a platform for entertainment, Instagram has successfully integrated businesses and brands into the heart of its content throughout the years. In addition to celebrities, (which are brands in their own right), consumer brands and businesses also feature on Instagram. Almost any household brand has an Instagram account, as well as up and coming small businesses looking to get in front of a wide audience of customers.
Instagram is a useful social network for brands because it allows them to share branded content such as posts, stories and reels. Because it's a visual platform, Instagram can be an ideal social media network to reach your target audience. It provides the opportunity to visually showcase your product or service so that customers can get a firsthand look at what's on offer.
Connecting With Your Target Audience on Instagram
Knowing your audience is one of the most important parts of running a business.  Who is the target audience for your product or service? What other things do they like to do, look at or read about?
Such audience insights are key for any business trying to work out who to target and where. Reaching customers on Instagram is no different.
One of the best parts about using Instagram as a business is its tools in terms of audience segmentation, analytics, and insights. Using Instagram for business, you can define your customer personas and target your IG ads, follows and hashtags to the types of audiences that are right for your business.
This way, you can start focusing on the audiences that are your potential customers, ensuring that your content –  whether paid (ads) or organic (posts/stories/reels) –  reach the right people.
All of this is what makes Instagram a great platform for building a connection with your customers. But for brands using Instagram, it also means that they must cultivate their audience, paying attention and responding to comments, questions and direct messages.
That's where our top tips for customer service on Instagram come in.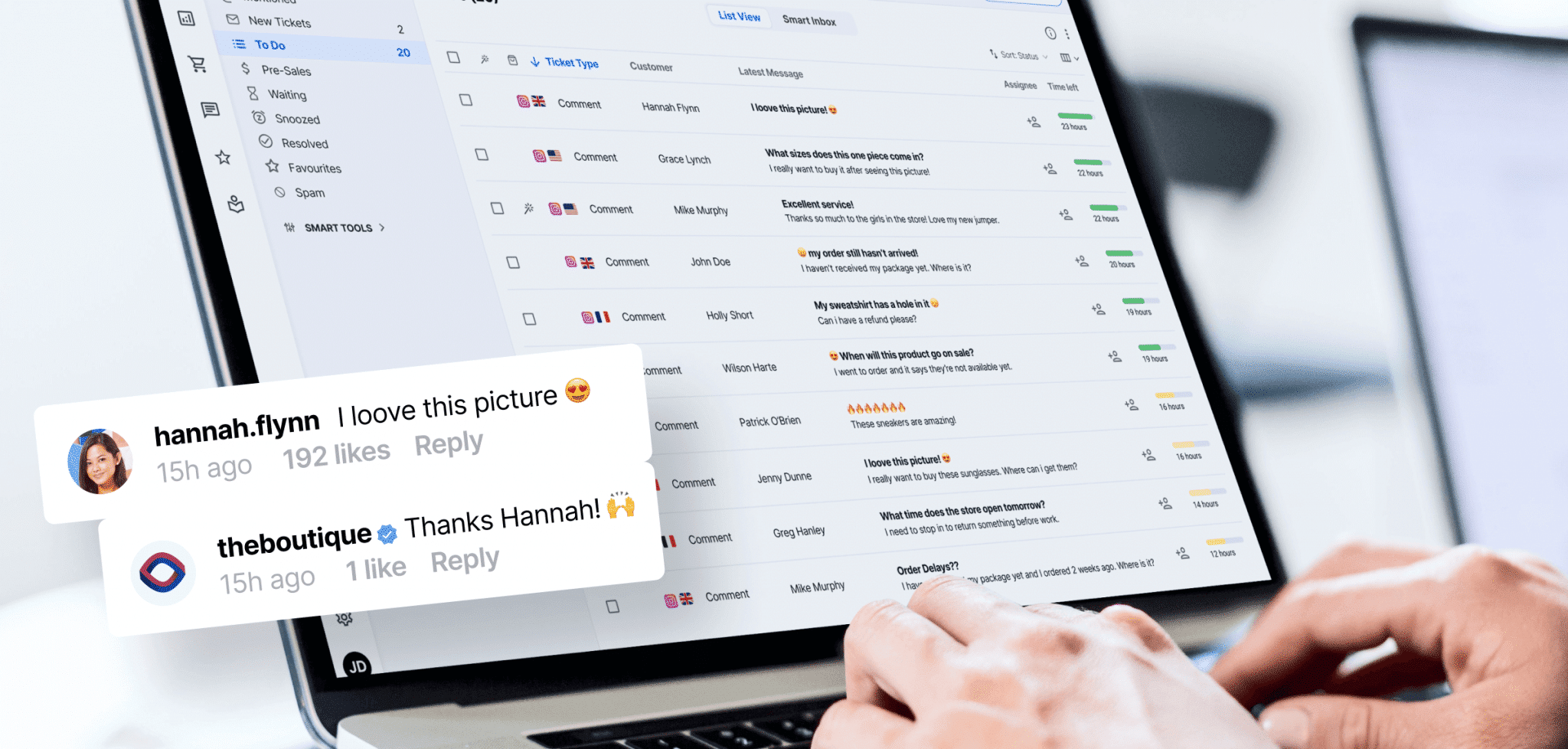 Instagram is just one of 70+ native integrations within eDesk's eCommerce helpdesk software.
10 Top Tips for Customer Service on Instagram
1. Stay on Top of Your Comments, Mentions and DMs
This is possibly the most basic of tips, but it's the most important one! Failing to reply to a customer can be the difference between making and losing a sale.
When your customers leave a comment, mention you in a post or send your business a direct message (DM), they want to be heard! Make sure that you reply to them in a timely fashion or risk losing their business or (even worse) receiving a negative review.
What's timely, you ask? 79% of customers expect a reply on social media within 24 hours, and 39% expect one within 60 minutes! The average business response time is about 5 hours, so you'll want to make sure you're somewhere in the middle –  but definitely no later than 24 hours.
2. Establish an Engagement Protocol
Organising a team and a system of how that team will work to respond to the customer messages you receive on Instagram is important. You need to have expectations that are manageable and a protocol that's consistent. You'll want to consider factors such as:
Reply time frame. How long should it take for a team member to respond to a comment on a post? What about a direct message? When you decide upon a time frame (either 12 or 24 hours, at the latest), be sure you stick to it!
Ensuring your brand has a specific 'voice' on social media. Is your brand serious? Irreverent? Playful? Every brand has a unique tone of voice, and you'll want to ensure that your social media team is trained in your specific brand voice so that replies to customers are consistent and in the spirit of the brand.
Are there any questions you won't address? Some issues can be sensitive for brands or open up tricky legal issues. If this is the case for your brand, be sure you identify the types of questions that are better left unanswered ahead of time. Or, if there are sensitive issues that warrant an answer (e.g., animal testing for cosmetics brands is a common one), make sure your team has a script to work from that has been approved by your legal department.
Encouraging positive engagement. You want your customers to be engaged with your content in a positive, meaningful way. How can your team go about this? Providing them with tips such as asking open-ended questions (e.g., 'What's your favourite holiday spot?' or 'Tell us which colour you like the best for this product') can help increase audience engagement in a positive way.
How to respond to abusive comments or trolls. Like it or not, there will always be people on social media who cause trouble or leave negative comments. You need to decide as a brand how you want your team to respond to these (or whether to respond at all) and what your user ban policy will be. It's inauthentic to ban users simply for critiquing your brand (as long as they do so honestly), but obviously, you may need to ban users who use offensive or abusive language.
3. Make Your Customer Service Contact Info Clear
Your Instagram bio is the space where you can write about your brand and include relevant web links and information about how to contact your business. By adding your customer service email, phone number and inviting messages via DM, you're letting your customers know right up front that you're ready to help them with their enquiries, whether it's a question about a product or service or to walk them through making a purchase.
Inviting your customers to contact your business in the place where they're most likely to view first, your bio will show them that you're all ears and ready to help.
4. Use Instagram Quick Replies for Direct Messages
Instagram has a 'quick replies' feature that allows business accounts to set up automatic replies to direct messages. This can be especially useful if you receive many of the same questions again and again. Using quick replies, you can create several stock replies that you can use to quickly get back to your customers when they have common questions.
You should note that quick replies aren't a chatbot, meaning that your team will still need to reply to each message, just that they can do so faster by using the pre-prepared responses that suit each question.
Using quick replies ensures that your customers get the answers they need quickly, without your team having to write out full answers to the same questions again and again. You save time, and everyone gets what they need.
5. Move Public Customer Service Enquiries to Direct Messages
As a business account on Instagram, you'll often get customer service enquiries shared in the comments sections of your photo posts. It's poor etiquette to start a customer service conversation right there in the 'public' sphere of a comments section, especially when a customer might need to share personal information to resolve their enquiry.
Therefore, make it a best practice that your team always asks customers to move customer service enquiries from the comments section to direct message (DM).
You can do this by having your team ask customers to DM the business account instead, or simply have one of your team directly DM the customer and respond to the public comment to let them know they've been contacted via DM to have their issues resolved.
6. Collect Data on FAQs, Topics and Themes
As you start providing customer service through Instagram, you'll start to notice similar patterns emerging. These will include frequently asked questions, issues or themes that come up during specific times of the year or during product launch times.
To be the most effective at providing customer service, it's a good idea to aggregate these commonly occurring items into internal documents for your social customer support team to reference. Not only will this give you better insight into your customers, but it'll also provide insight into any recurring pain points with your products or services.
This will help you track data to better understand your customer base and their needs so that you can act upon it as you improve and evolve your products and services over time.
7. Create an Instagram Highlight FAQ
A helpful way of putting everything your customers need to know in one, easy-to-access and easy-to-view place is by creating an Instagram Highlight called 'FAQs' and sharing it to your profile.
This way, when customers visit your Instagram profile, they'll immediately see and be able to click on the highlight to view all of your FAQ topics and troubleshooting tips, all in one place. Of course, you can also direct customers to the highlight as well if they come to you with questions.
Highlights are useful because they archive important information, but also because they are visual, you can use them to show how to work a product, for example, or use them to include videos explaining benefits or features.
You can get creative and make engaging FAQ content that will not only be informative but also entertaining for your customers to access.
8. Use a Customer Support Tool
As your business grows, the number of comments, likes, mentions and DMs your Instagram business page gets will increase. Sometimes this increase can be a deluge and, all of a sudden you have more than you can handle!
While rising popularity and an increase in followers engaging with your content is absolutely a great thing, not being on top of it can really hurt your business. This is where a customer support tool like eDesk can come in handy.
Customer support tools made specifically to incorporate social media enquiries can help bring everything together in one easy-to-use platform, making your customer support team's job that much easier.
A customer support tool can increase productivity while ensuring that you respond to every single customer mention, message and enquiry – on time, every time. If you're a growing business, it's well worth considering whether employing a customer support tool to help with your multichannel customer service strategy can help achieve better outcomes for your customers and your team.
9. Use Social Listening Tools
In addition to using customer support tools, a social listening tool will help you stay on top of all of the mentions of your business or brand and across all trends and relevant industry issues.
You can set up a social listening tool to capture all mentions of your brand, as well as competitors' brands and hashtags that are relevant to your business. This way, you always know what your customers are talking about online, what's hot, and the latest trends.
10. Share Insights from Instagram Customer Support Across Your Business
When your team works directly with customers on Instagram to answer their questions, see their comments and mentions, it gives them a unique insight into what customers need and want from your business. It's good to not only pay attention to these things but also to report on them regularly.
By gathering insights from your social customer support team, you can share up-to-date information about your customer base with the rest of the business, including demographic information, frequently asked questions, frequent issues, what they like and don't like, and any product improvement requests. Sharing data widely within the organisation can help you evolve and grow your business.
Final Thoughts
Stepping up your customer service approach on Instagram is vital! If you're a brand using Instagram for business, customer service should be a top priority for growing your business. The platform offers a unique opportunity to connect with your customers directly, help them, delight them, entertain them, and win their loyalty for the long term.
With a little bit of leg work and some attention to detail, as outlined in the above tips, you should be well on your way to growing your business and creating loyal, satisfied customers that will connect with your brand and come back for repeat business.
Instagram (including Instagram DMs) is just one of 70+ native integrations within eDesk's eCommerce helpdesk software. Book a demo to learn more or try it free for 14 days, no credit card needed.