If you're not using Shopify customer service apps for your online store, you're missing out.
There are several factors that help determine your eCommerce store's success – such as products, branding, and your marketing strategy. But one aspect of your eCommerce strategy that's all too commonly overlooked is customer service.
When it comes to consumer experiences, news travels fast, and a few poor reviews can tarnish your reputation in the long term.
One of the easiest ways to keep your Shopify store customers happy is to take advantage of the game-changing customer service apps you can integrate with your business.
But what exactly do these apps do? What's the benefit of using customer service apps for Shopify? And which apps are the most effective?
Let's find out.
TL;DR
Providing an excellent customer service experience is at the heart of retaining existing customers and attracting new ones.
Shopify customer service apps can help you improve your customer service offering with help from automation features, live chat, and omnichannel communication.
Opting for a customer service help desk, like eDesk, allows you to enjoy multiple customer service tools in one solution.
What are Shopify Customer Service Apps?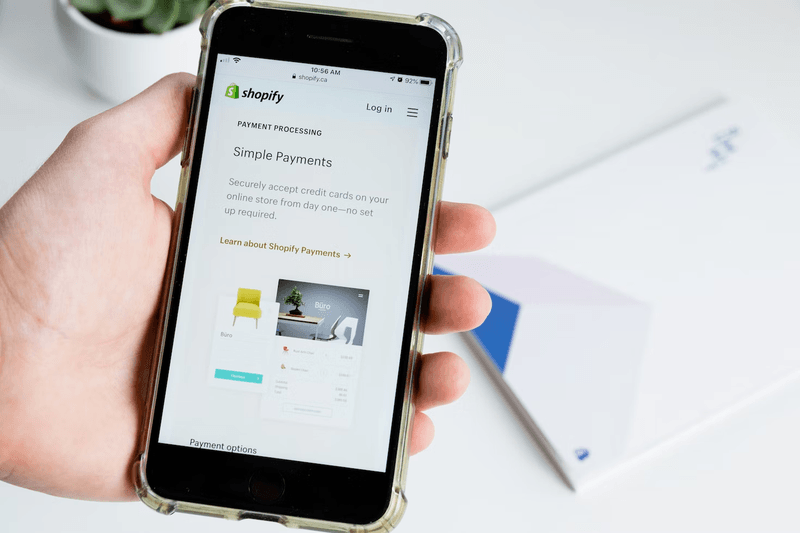 Shopify is a hosted eCommerce platform that allows you to create an online store and sell products or services. One of the biggest advantages that come with using Shopify is access to apps and integrations that add extra functionality and features. If you want to include pop-ups on your site, for example, there are apps that allow you to do it.
Similarly, Shopify offers a huge range of customer service apps that allow you to up your customer service game, with features such as live chat and help centers. These apps can be seamlessly integrated into your eCommerce store, where they'll reduce customer pain points and take your customer satisfaction to the next level.
Why use a Shopify Customer Support App?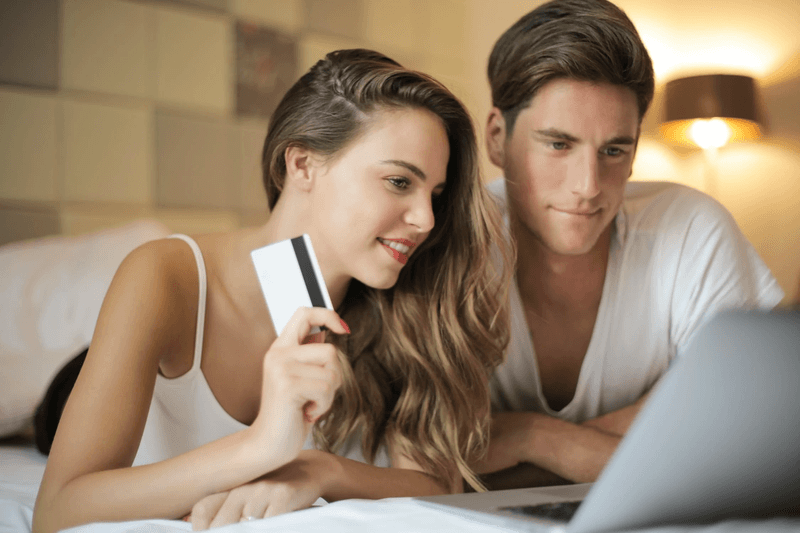 Do you want better feedback, positive reviews, and a higher conversion rate?
Customer support apps could be the secret weapon you're looking for.
Here are just some of the benefits of using Shopify customer support apps for your eCommerce business.
Reduces customer wait time
As anybody who's ever dealt with an impatient customer knows, a long response time is an automatic no-no for customers. You might as well write the 1-star review yourself.
If customers experience delays on real-time communication channels such as WhatsApp or live chat, it's a recipe for cart abandonment.
This phenomenon has increased in recent years as consumers come into contact with services that get quicker and quicker, such as same-day delivery and faster download speeds. A 1-minute response time, on the other hand, can increase conversions by 391%.
Businesses like eDesk user, Hickies, make the most of help desks for Shopify by reducing their response time to keep customers happy. By working with a solution that allows for an omnichannel experience, you can keep track of interactions across multiple platforms, allowing you to answer customer inquiries in record time.
The best customer service apps allow you to create templates for frequently asked questions, access detailed customer information at the click of a button, and see all previous interaction data.
Decreases manual workload
How many repetitive tickets do you respond to daily? How much time do you spend hunting around for order information before you can respond to a customer's ticket? And how many hours do you waste going back and forth between colleagues discussing how a previous interaction with a customer went?
The best customer service apps put a stop to all of these manual tasks.
Many customer service solutions offer self-service options that help customers access information quickly without having to submit a ticket for a simple question.
Automation features like chatbots, easy access to customer order information, and a clear view of previous interactions allow you to skip time-consuming tasks and focus on what's important.
Plus, customer support apps with a smart inbox automatically prioritize and assign tickets based on rules. That means no more scrambling to decide who looks after what – simply load up your dashboard and find your automated workload.
The best part? The less time you spend on repetitive, manual tasks, the more time you'll have to focus on tasks that generate income, so your bottom line will benefit.
Increases profits
Although it might sound counterintuitive, investing in customer service software actually saves you money. For a start, your IT team won't have to spend valuable time building your own solution. Plus, with the automation on offer, you won't have to hire as many staff members for your customer support team.
As well as helping you shave valuable dollars off your budget, customer support software offers a simple way to increase your conversion rate.
The better your customer satisfaction, the better your customer loyalty, meaning your existing customers are likely to stick with you in exchange for exceptional service.
When Trainz.com implemented eDesk's customer support app, the ease of the dashboard view and clear oversight of ticket handling allowed the eCommerce store to triple its revenue. The store also managed to provide great customer service at all times, with an impressive 95% of customer queries receiving a response within 24 hours.
Adds a personal touch
These days, everything is personalized. From a perfectly curated Instagram feed to product recommendations tailored down to a tee, customers not only want, but expect personalized service.
But don't be fooled – this desire for personalization doesn't mean that automation isn't on the cards. Customer support apps that use automation can easily pull customer data in to personalize responses, while personalized suggestions can increase both your conversion rate and average order value.
Providing this personal touch can help you better connect with your customers. You never know, the friendly approach might be just the edge you need over your competitors.
Best helpdesk apps
eDesk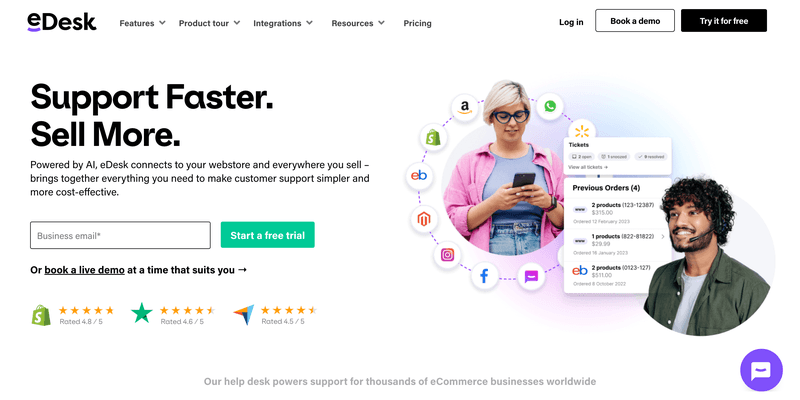 eDesk is the ultimate all-in-one solution for eCommerce store owners looking to streamline their customer support into one, easy-to-use dashboard. From automation features that save you time to a handy live chat feature that allows for real-time responses, you can reduce your manual workload and increase profits with the help of one single platform.
Who is eDesk for?
eDesk is for any Shopify store, big or small, that wants to take its customer service offering to the next level. This helpdesk software giant is suitable both for companies just starting to grow and companies with an established following and income.
Have stores on other platforms, too? No problem. eDesk has integrations with other eCommerce giants like Amazon, eBay, and WooCommerce, so you'll be able to consolidate the customer service system for all your stores into one solution.
Pricing
Standard plans start at just $69 per month, with most of the features that make eDesk such an effective customer support tool. For larger companies with a huge number of customer queries, Enterprise level plans start at $149 per month.
Main features
Smart inbox which uses automation to group, assign, and prioritize tickets.
Live chat with real-time responses.
Automatic outreach to convert excellent service into reviews.
Insights that allow you to analyze your eCommerce store in detail.
Automation tools to streamline customer support.
Voice support options.
Consolidates all customer integrations into one view.
Knowledge base for self-service support.
Freshdesk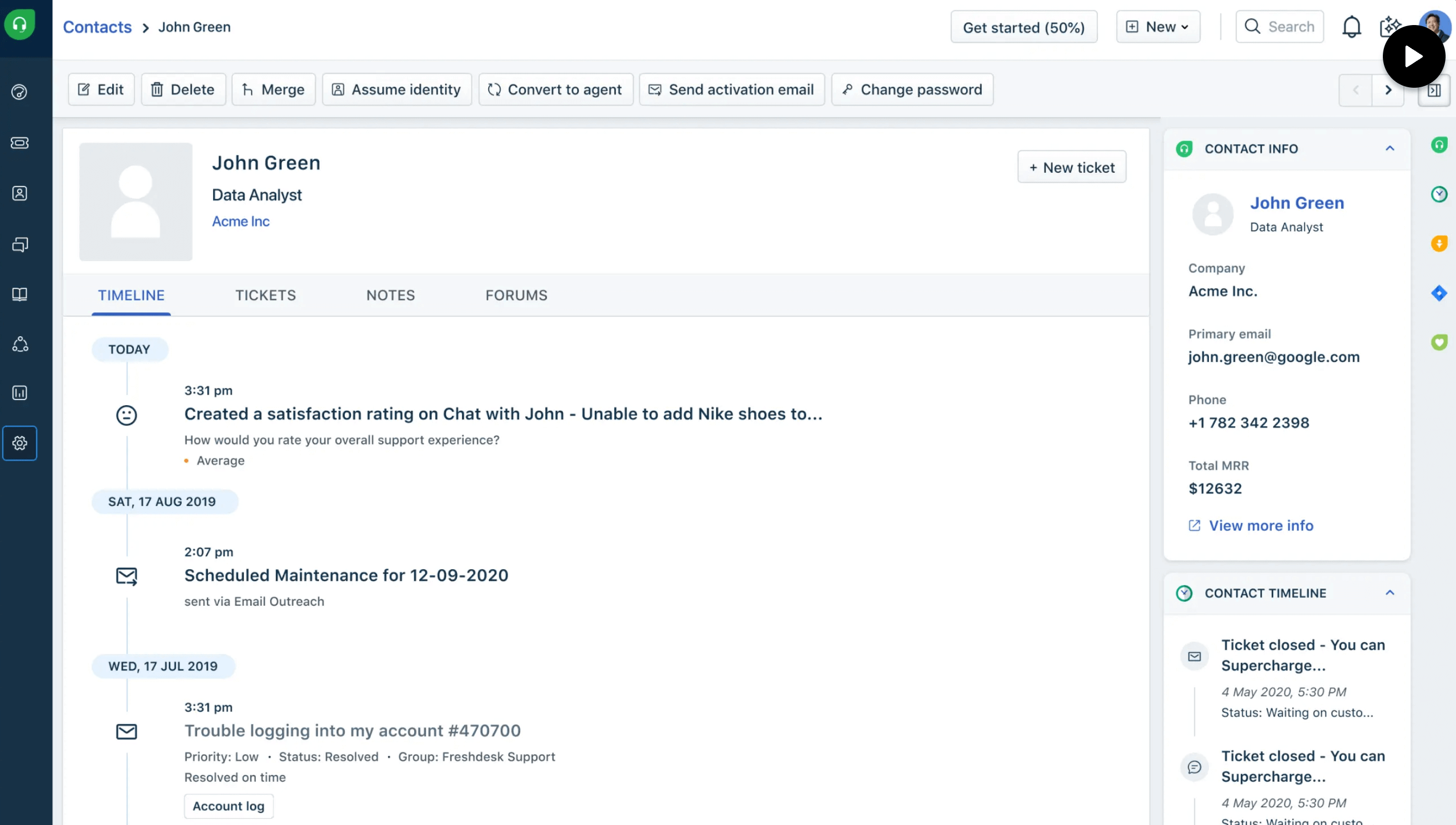 Freshdesk is a customer support software aimed at helping teams shave hours off their customer response times and manual tasks. You can choose from regular pricing plans and omnichannel support plans, with the latter giving you the opportunity to provide support across multiple channels.
Who is Freshdesk for?
Freshdesk is aimed at online store owners using eCommerce platforms such as Shopify. Freshdesk suits large established businesses looking to make their customer service easier to manage.
Pricing
You can try Freshdesk for free initially, after which point pricing plans start at $15 per month. For omnichannel support, however, you'll pay more – upwards of $49 per month.
Main Features
Omnichannel support.
Customizable analytics and reports.
Advanced automation rules
Zendesk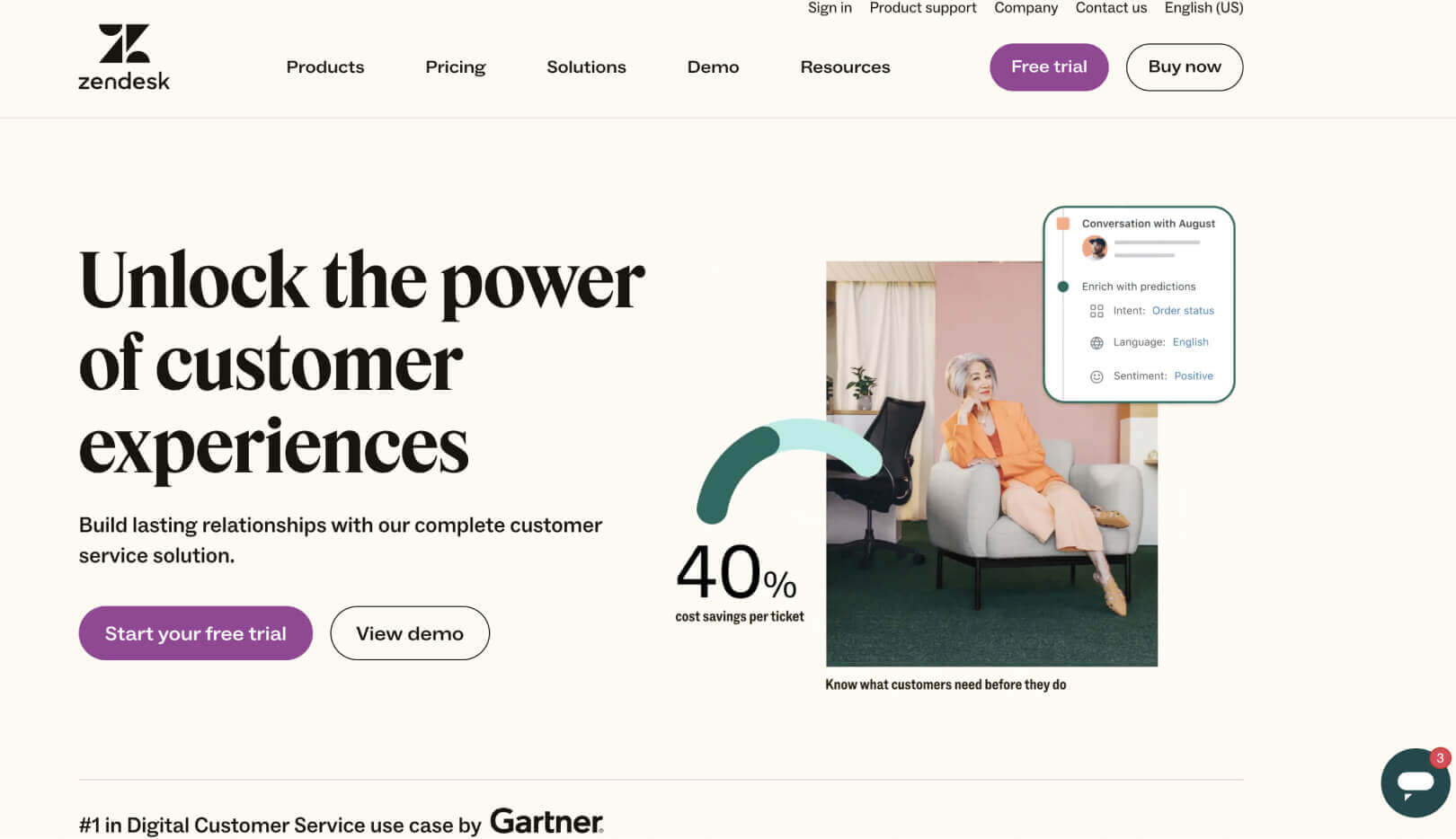 Zendesk is a customer support tool that also offers a sales solution, so you can work to increase your conversion rate from two angles. Offering omnichannel options and the ability to build a help center and community forum, Zendesk is a great all-in-one option for customer service.
Who is Zendesk for?
Zendesk is built to scale and grow as your business does, so there's no particular type or size or business it's best suited to. If you're looking for a sales solution to run alongside your customer support tool, Zendesk is a good option since it provides both.
Pricing
Zendesk's cheapest plans start at $49 per month for basic features, with their most expensive standard pricing plan reaching $79 per month. Enterprise businesses can expect to pay upward of $150 per month.
Features
Artificial intelligence and chatbots.
Omnichannel messaging.
Self-service support options.
Best live chat apps
eDesk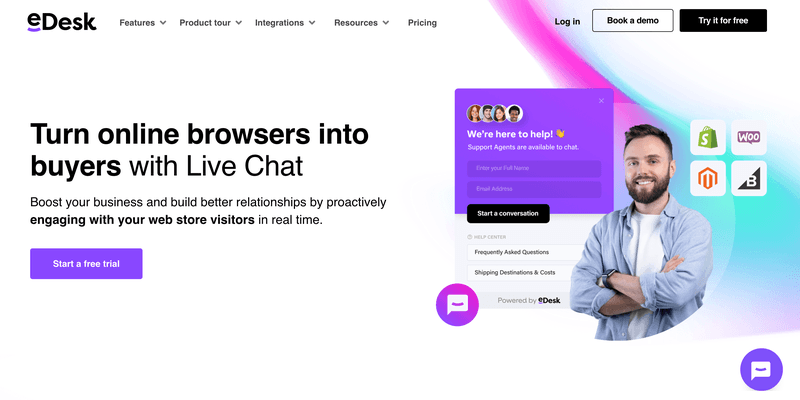 One of eDesk's most popular features is its live chat, which speeds up response times, automated responses to repetitive questions, and even auto-translates from other languages. That's right – you won't have to learn Mandarin to successfully interact with customers in China.
Who is eDesk for?
Anyone and everyone with an eCommerce business. There's no type or size of business that eDesk works best for – it's perfectly suited to any organization looking to level up its customer service.
Pricing
eDesk's live chat comes as part of a package deal along with other customer service-boosting features such as automation, insights, and the revolutionary smart inbox. Prices start at $69 per month.
Features
Send automated messages at the peak of your users' journey with chat prompts.
Highlight special offers and seasonal promotions.
Personalized and branded chat box.
Automatic context when you start a new conversation.
Jivochat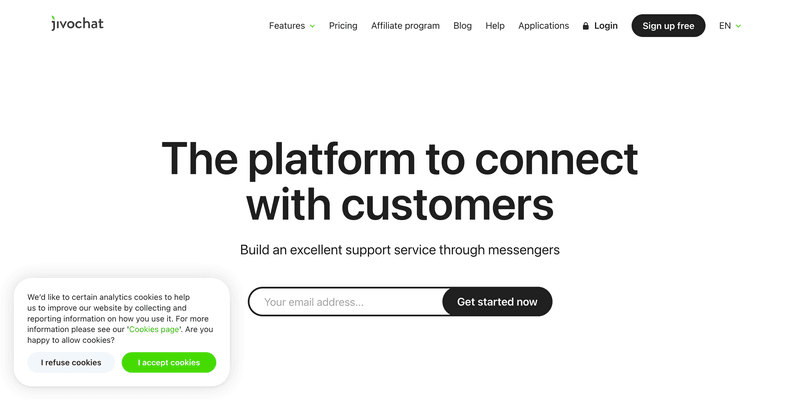 Jivochat is an omnichannel customer support system that allows you to answer customer queries across social media, instant messaging services, and phone calls.
Who is Jivochat for?
Jivochat is perfect for businesses that interact with their customers over multiple platforms.
Pricing
There's a basic plan that's entirely free, with paid plans starting at $19 per month, and the Enterprise costing from $38 per month.
Main Features
Chatbots.
WhatsApp Business.
Live chat that works on any device.
Tidio Live Chat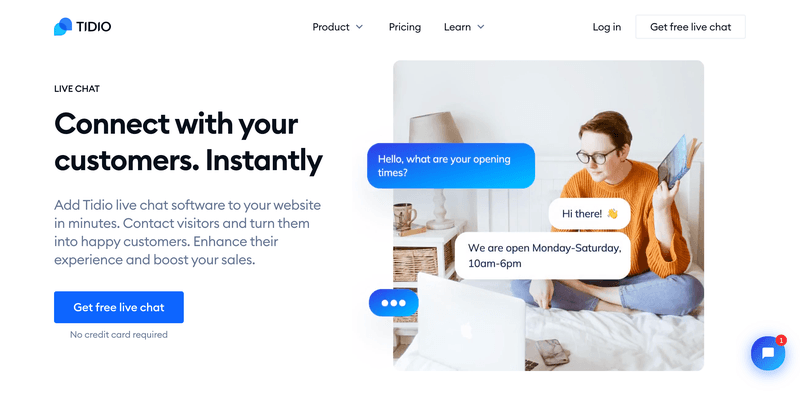 With excellent live chat features and the option to personalize discounts and offers, Tidio is one of the go-to choices for live chat customers.
Who is Tidio Live Chat for?
Tidio is aimed at small to medium businesses.
Pricing
You can try Tidio for free for seven days. The cheapest plan starts at €19 per month, while personalized plans cost upward of €289 per month.
Main Features
Chatbot.
Live chat customized to suit your brand.
Automate chats with AI.
Live visitors list.
Best Product Review Apps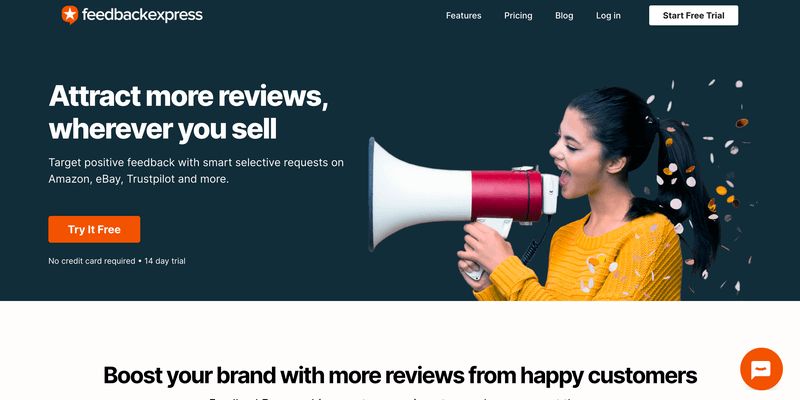 Reviews are crucial to building trust with customers, boosting awareness of your brand, and cultivating a strong brand reputation. With Feedback Express, you can attract more reviews to your store without having to increase your manual workload.
Who is Feedback Express for?
Feedback Express is best suited to business owners who need to collect more social proof but lack the time. to put into sourcing it. Because of the price point, Feedback Express might not be suitable for businesses just getting started in eCommerce.
Pricing
Pricing plans start from $79per month per channel. Every extra channel costs $79.
Main Features
Customized emails.
Personalized tags.
A/B testing for the most effective messaging.
Automate personalized thank you messages.
Fera Product Reviews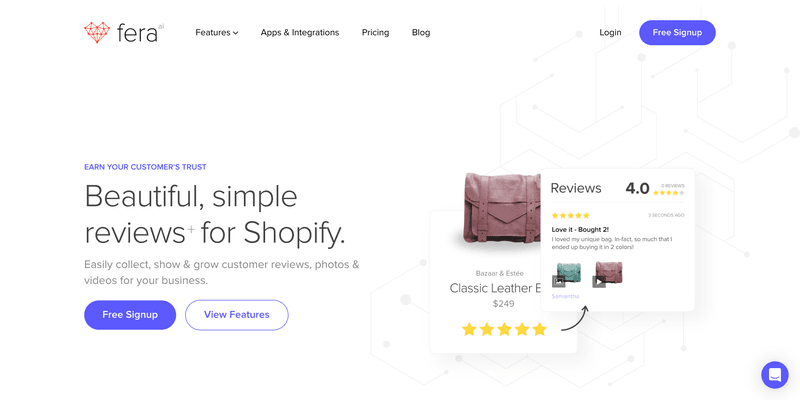 This product review app makes it easier than ever to collect social proof for your Shopify store. Rated 5 out of 5 by thousands of customers, Fera allows you to import existing reviews from multiple channels, including social media platforms and Google.
Who is Fera for?
Fera suits all types of businesses, but it's particularly useful for small to medium businesses that need to build trust with their new customer base through social proof.
Pricing
Fera has a very basic plan that you can access for free and the cheapest plan starts at only $7 per month.
Main Features
Easily manage all your reviews in one place.
Automatically request reviews, photos, and videos.
Display your best reviews with an eye-catching widget.
ShippingEasy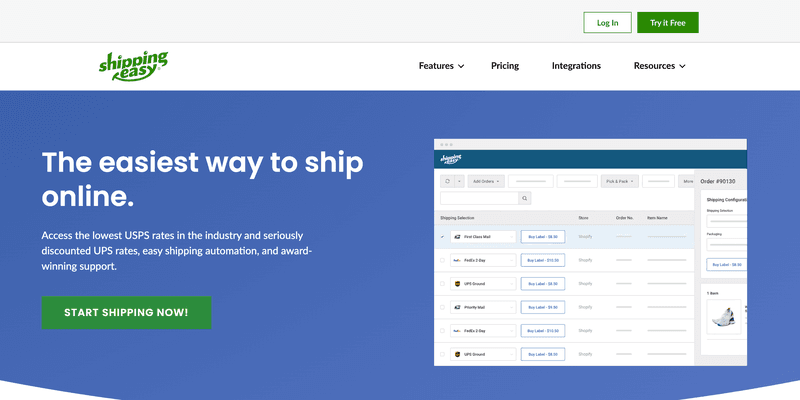 Shipping Easy does what it says on the tin – makes shipping easy. This popular Shopify app gives you access to some of the cheapest courier rates on the market and automates parts of the shipping process to reduce your manual workload.
Who is ShippingEasy for?
This well-known shipping app is ideal for eCommerce businesses that ship a high volume of products.
Pricing
You can try ShippingEasy free for 30 days, after which you'll pay upward of $19.99 per month to use it. You pay more depending on your typical monthly payments.
Main Features
Discounted shipping rates.
Fast label printing.
Automated workflows.
Aftership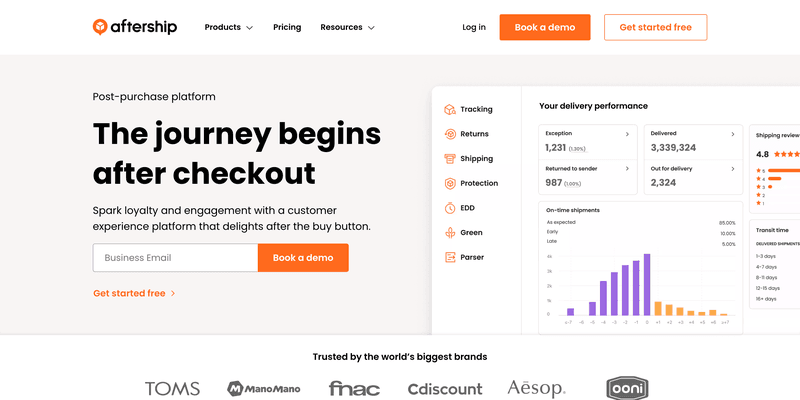 Aftership is the ultimate post-purchase experience app. After all, your customer's journey doesn't end once they check out.
You can choose from a whole suite of Aftership features, such as tracking, returns, and shipping, and measures to make your shipping process more eco-friendly.
Who is Aftership for?
AfterShip is suitable for eCommerce stores. of all sizes and categories.
Pricing
Aftership's pricing plans start with the Essentials plan, for which you can expect to pay $11 per month. The Premium plan costs $239 per month, and Enterprise clients can request a custom quote directly from Aftership's sales team.
Main Features
Shipment tracking software.
Estimated delivery date for customers.
Carbon footprint accounting software.
Returns management software.
Best voice/phone apps
eDesk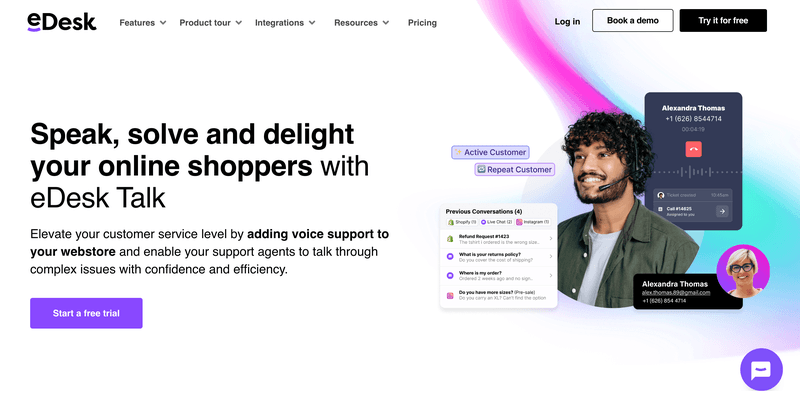 eDesk now offers a brand-new feature – voice support. Next time more complex issues or queries come in from customers, allow your customer support team to talk them through it with confidence and efficiency.
Who is eDesk for?
eDesk suits eCommerce stores of all sizes, at every stage of their growth journey.
Pricing
Pricing plans start at $69 per month.
Main Features
Easy-access purchase history, ticket details, and customer details.
Consolidate your phone support with all other channels.
Shared call inbox.
Voicemail box.
Local and international numbers.
EasyCall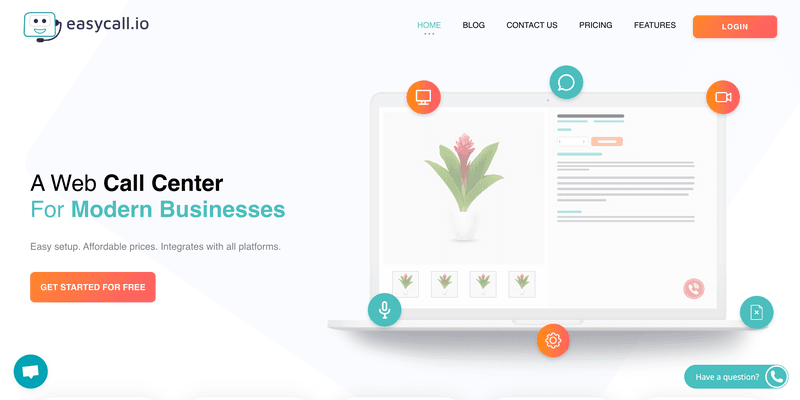 EasyCall allows you to create an effective web call center for your eCommerce store that integrates with all the main eCommerce platforms. You can add a click-to-call widget to your site to make phone contact easier than ever, while international web calls allow you to contact global customers without the fees.
Who is EasyCall for?
EasyCall is for companies that want to prioritize phone support as part of their customer service offering.
pricing
There's a free plan which doesn't provide any discount on calls, then paid pricing plans (with discounted calls) start from $20 per month.
Main features
Integrates with your CRM.
International web calls.
Easy team collaboration.
Best Shopify apps to build loyalty and social proof
Smile Rewards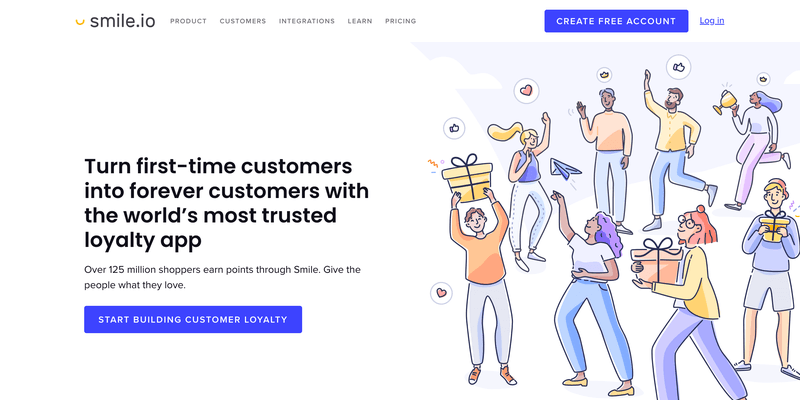 Smile offers a loyalty program that encourages customers to spread the word about your brand via follows and shares on social media. In return, they enjoy rewards from a wide variety of rewards partners.
Who is Smile for?
Smile is perfect for small businesses.
Pricing
For Shopify users, plans start at $49 per month, with the Pro plan costing $599 per month.
Main Features
Customized rewards program to match your brand.
Easy to manage admin dashboard.
VIP program for your most loyal customers.
Referral Candy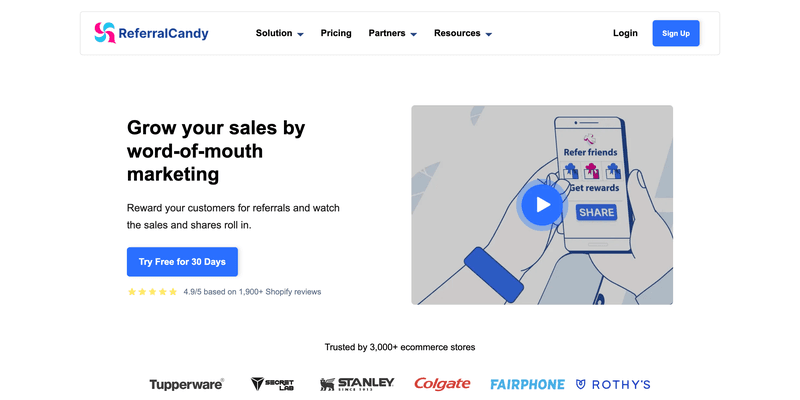 Referral Candy rewards your customers for referring your product or service to others. Once set up the program runs itself, meaning no extra pressure on your manual workload.
Who is Referral Candy for?
Referral Candy suits every type of business, but it's specifically aimed at those looking to increase their customer base through trustworthy, word-of-mouth marketing.
Pricing
The cheapest price plan starts at $47 per month, and you pay a 3.5% commission to Referral Candy. The Plus plan costs $239 per month and 1.5% commission and Enterprise plans are available upon request from the team.
Main Features
Simple email integration.
Referral tracking.
Data-driven insights to inform your future strategy,
The Customer Service App That Gets Results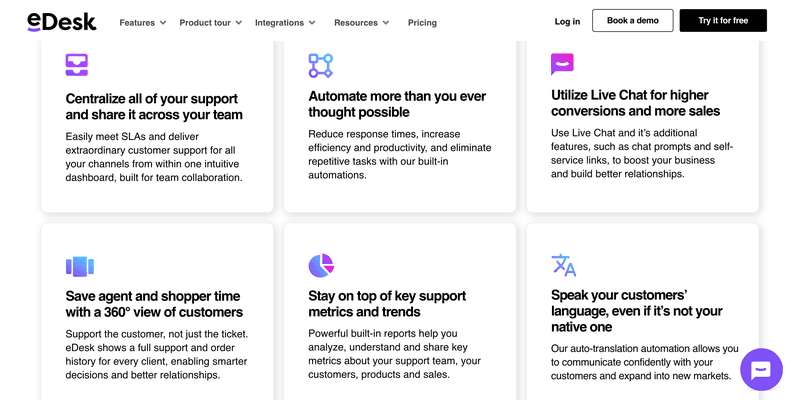 Customer service can be a deal-breaker for your customers. Failing to invest in a proper customer service system and strategy to match leaves your Shopify store vulnerable to abandoned carts, poor feedback, and bad reviews.
Luckily, customer service support apps provide a solution. Instead of leaving your feedback to chance, take a proactive approach to your customer service strategy with the help of eDesk.
Rather than stretching your budget across multiple different apps, choose eDesk for an all-in-one solution that ticks every box. From automation to live chat, we've got every aspect of your customer service strategy covered. All you need to do is sit back and reap the rewards.