For whatever reason, the eBay marketplace might not appeal to you. Maybe they're too big or too competitive or too expensive. Whatever your reason, that's totally okay and eDesk has these eBay alternatives that you can start selling on instead.
1. Amazon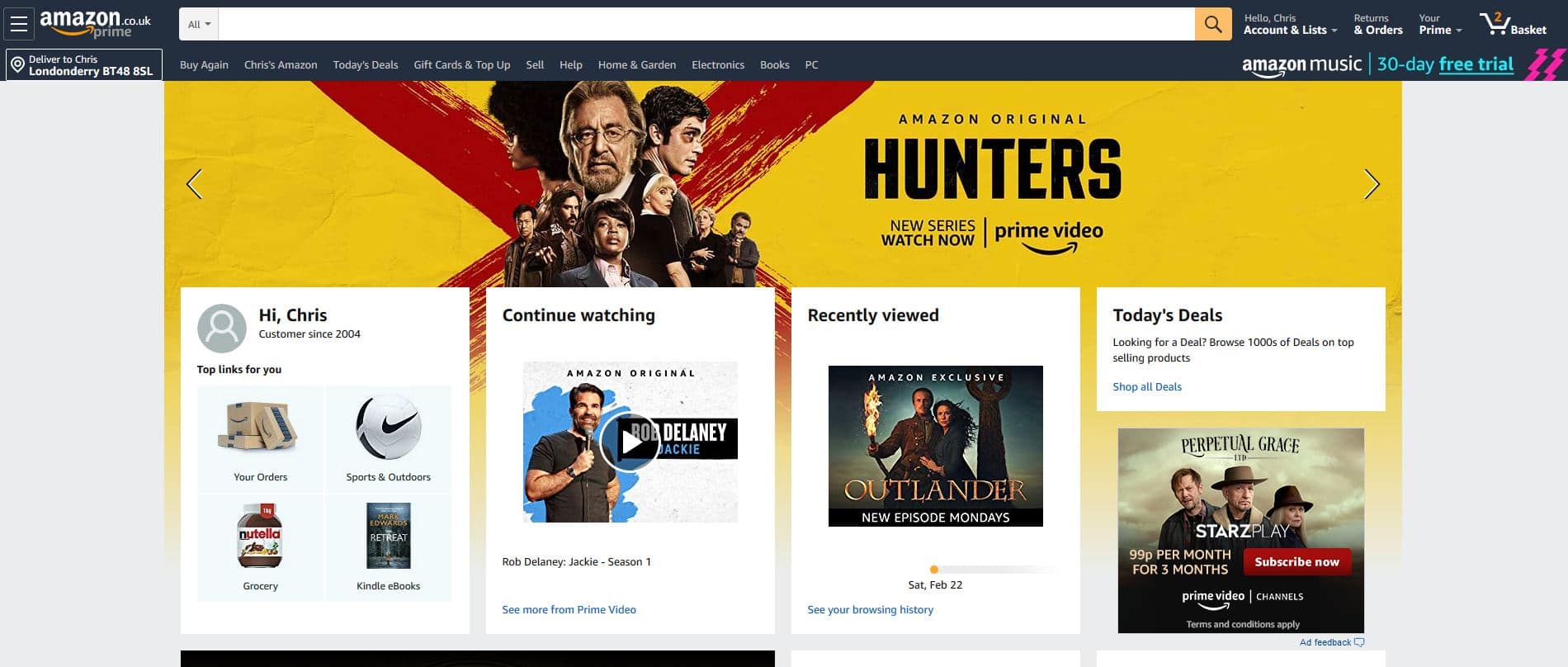 When it comes to eBay alternatives, Amazon is the boss. Once upon a time, Jeff Bezos' company only sold books and it has since become one of the world's most popular websites offering a wide range of products and services.
The marketplace continues to grow globally and according to Marketplace Pulse has more than 2.5 million sellers worldwide. Amazon is similar to eBay but is more traditional when it comes to pricing.
To be successful on the marketplace you need to use the best Amazon software for sellers.
2. Zalando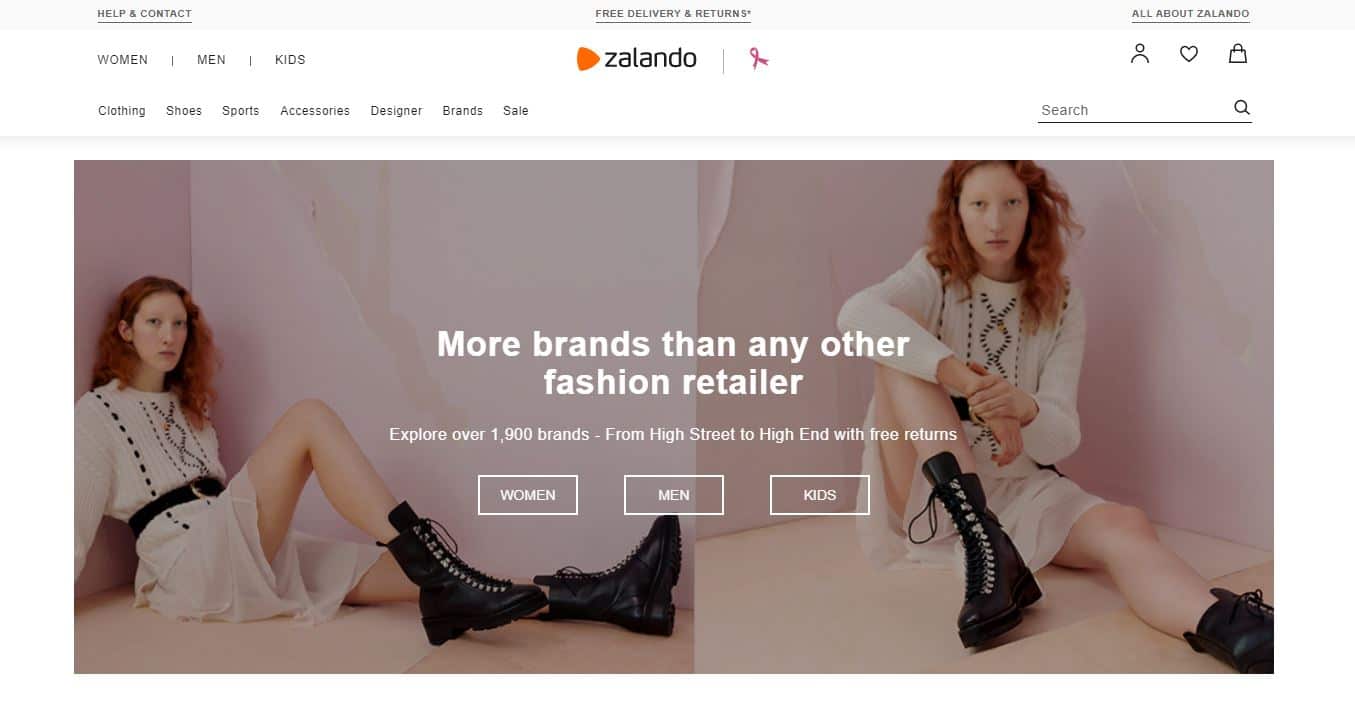 Zalando has grown fast since they first opened up shop in 2008. In the 11 years since, the Berlin-based company, dealing in fashion and footwear for men, women and children, now has satellite hubs in Dublin, Helsinki and Lisbon and is the largest online-only fashion retailer in Europe.
They have an audience of over 20 million, so if you want to tap into that, get a registered office in Germany and a valid business license, then make sure you meet Zalando's tight selling requirements.
3. Spartoo
Sticking in France, your next option is Spartoo, a fashion and footwear company and marketplace. They're much younger than the previous French company, having been founded in 2006 and establishing an online presence in 2013.
But that's not to say they haven't grown quickly or widely, as their reach extends to 30 countries, hundreds of merchants, a dozen languages and millions of visits a month. If you have a minimum of 250 SKUs that appeal to pre-middle-aged women, this can be an excellent choice. There's a monthly subscription fee and commission fees, but nothing beyond that.
4. Rakuten PriceMinister
If the name sounds kind of familiar, it's because Rakuten Group bought PriceMinister in 2010 and rebranded it to Rakuten PriceMinister in 2018. The Japanese giant threw a lot of its weight behind the smaller company, resulting in a wide variety of products that appeal to tens of millions of monthly visitors.
Diversity is one the best things about this marketplace, as there are plenty of categories to sell in with brands that run the gamut from everyday to high-end. A neat distinguishing feature with this marketplace is their own cryptocurrency called Rakuten Coins.
5. Fnac
Back to France again! The FNAC marketplace launched in 2008 and specializes in electronics and entertainment products, selling many top well-known brands like Samsung, Canon, HP and more. They also offer fashion, sports and home goods products, but these are newer, and therefore smaller additions.
If you opt for this marketplace, you'll be introduced to a strong, loyal and high-buying client base. Selling requires a monthly subscription fee and variable commission fees, but no listing fees. You'll also need to ensure your listings and customer support are offered en français.
6. Cdiscount
There must be something in the French water because Cdiscount is another hugely popular marketplace choice for sellers. They've got the speed of growth and history on their side, having gotten started in 1998 and since grown to one of the largest eCommerce sites in the country.
Signing up is fairly seller-friendly, with dozens of categories and millions of active buyers. This marketplace is best known for discounted items, but you'll have to have a company registration number, be registered with the appropriate tax and social security companies, have product data readily on hand, and be able to offer listings and customer support in French.
7. Bol.com
Let's go a bit northeast to the Benelux region with Bol.com, the largest marketplace in Belgium-Netherlands-Luxembourg. When we say it's the largest online retailer in the region, we mean that: it has more sales in that area than Amazon!
You can sell products in various categories, like baby items, books, electronics, health and lifestyle, jewelry, sports and leisure, toys and more. Getting started necessitates a pre-qualifying process with legal products and a license for them. But once you're in, you only have to deal with commission fees. Plus, the really neat thing about this marketplace is if you have a Global Trade Item Number (GTIN), they'll automatically translate your listings for you.
8. Real.de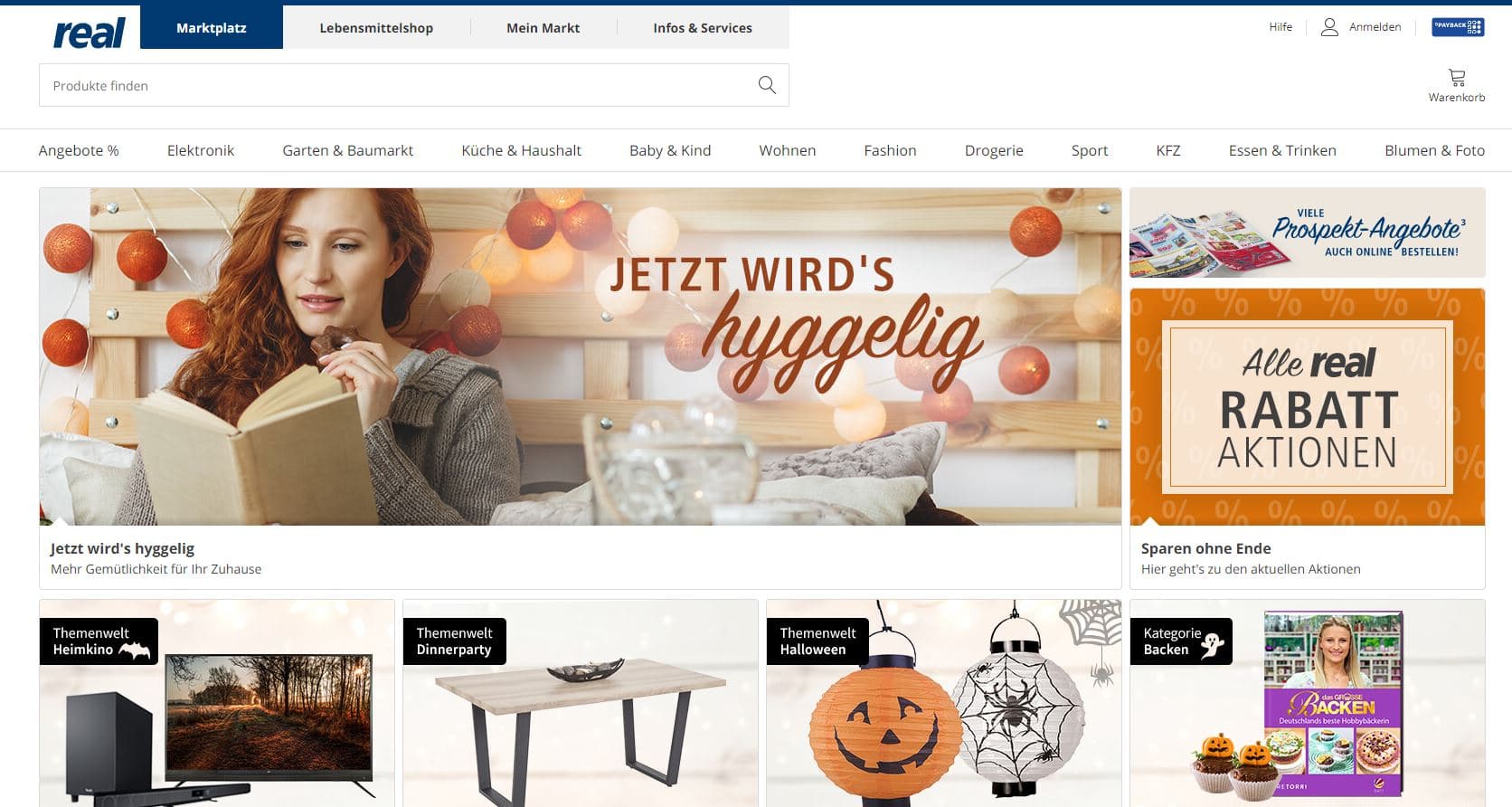 You might have once known them as Hitmeister back in the day, but they relaunched as Real.de in 2017. To say they have a sizable presence is a bit of an understatement: there are tens of millions of products being sold in thousands of categories and shipped to 30 countries.
Once you pay the monthly subscription fee and fee to connect to your online store, you can upload an unlimited number of listings. And if you decide the customer base of 10 million monthly visitors and more than half that in customers isn't for you, there are no fees to cancel.
9. Otto
Otto is an interesting figure in the European marketplace landscape. They're only behind Amazon in Germany in terms of the number of goods sold, with millions of products being sold across thousands and thousands of brands. Although they only launched in 2016, they've established themselves in more than 20 countries across Europe and appeal to 7 million active customers that span the age and affordability range.
The interesting part is their one-time registration fee of €10,000. Apart from commission fees on sold products, the rest of the money stays in your pocket. This marketplace is better for bigger sellers, as you'll need enough for the registration fee, previous experience selling online, a minimum of 100 products, and the ability to translate listings into German.
10. La Redoute
You'll have to go all the way back to 1837 (!!) to find La Redoute's start date. The French company has been around seemingly forever and is a household name in France by this point. They're one of the top online sellers of women's apparel, with women making up the vast majority of buyers (keep this in mind when developing a marketing strategy.
What's neat about selling on this marketplace is you simply pay a monthly subscription fee and commission on sold items, and that's it. There are no listing fees or other one-off fees to worry about. If you're a brand owner or authorized brand seller that fits their selling requirements, your next step is to register a VAT in France (if your sales exceed €35,000/year in France).
11. Allegro
Our last European marketplace alternative is Allegro, which is the marketplace to sell on if you're trying to capture the Eastern European audience. They're the fifth-biggest marketplace in Europe and an absolute monster in Eastern Europe, and definitely the top choice in its native Poland. With an active customer base of 14 million and growing every day, it's easy to see the appeal of this marketplace.
The top categories tend to be clothing, baby items, sports equipment, home goods and kitchenware, but really, with eCommerce in Poland growing in the double digits each year, each category has a strong presence. Just make sure you have a translator to get your listings and support into Polish.
Final Thoughts
Amazon and eBay are far from your only choices when it comes to marketplaces in Europe, especially if you want to try something new or reach a more dedicated audience. Each one fits different seller profiles, so take some time and explore each alternative before getting started.