People are calling B2B eCommerce the next frontier of eCommerce and they're not wrong! Experts estimate the value of the global B2B eCommerce market at US$12.2 trillion. That's over six times the value of the B2C market.
Whether you're looking to expand your B2C store into a B2B/B2C hybrid, or you want to scale your current eCommerce B2B business, you need a B2B eCommerce platform you can rely on.
What is B2B eCommerce platform?
Simply put, a B2B eCommerce platform, is an eCommerce platform that enables wholesale eCommerce between business customers, as opposed to between a business and a private customer (B2C)
The benefits of B2B eCommerce platforms offers many distinct benefits to sellers, such as the ability to reach a whole new subset of customers (businesses), streamline your sales processes to make your business more efficient and more profitable, and leverage big data.
Best B2B eCommerce platforms
We've reviewed the best B2B eCommerce platforms available today. Below, we share the top 16 options with you.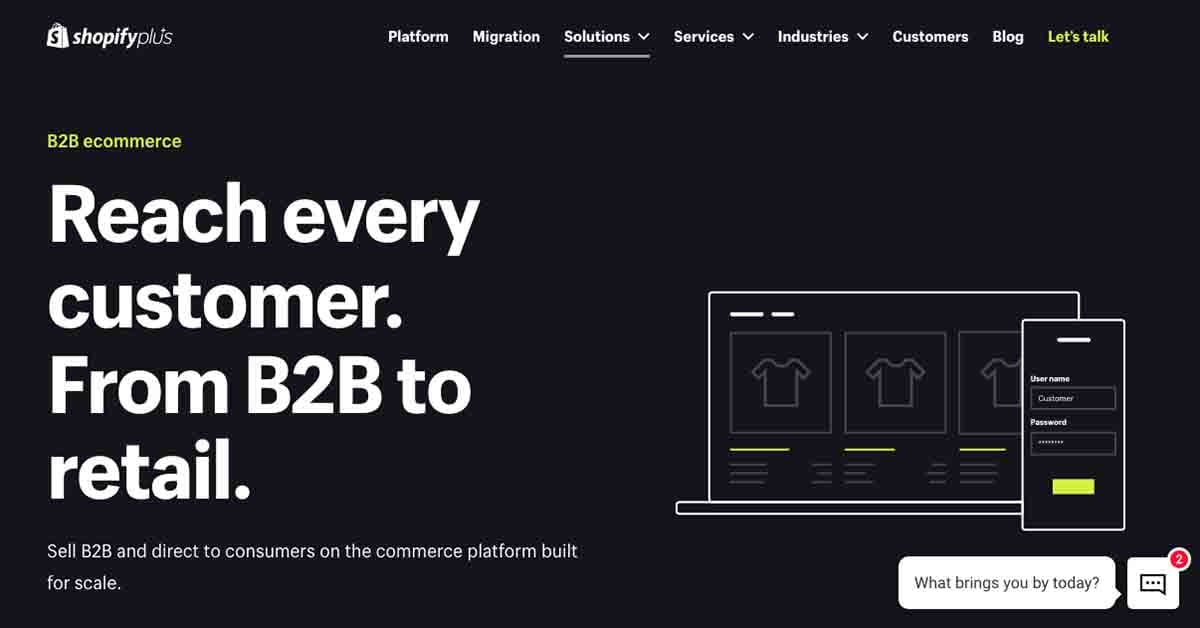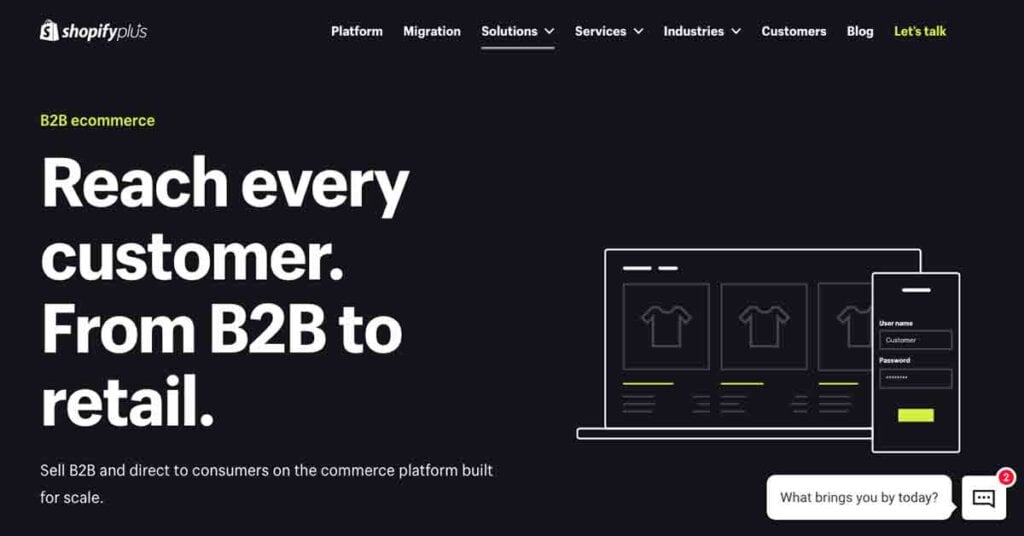 Who: Shopify Plus is a dedicated B2B eCommerce platform offering from Shopify, one of the world's most prominent eCommerce platforms, with over 1 million eCommerce websites.
What: With Shopify Plus, merchants can manage both B2B and B2C sales from the same platform. Standout features include ERP and CRM integrations, over 100 payment providers, and conversion optimization and personalization capabilities.
When: 2014
Where: Shopify Plus is available worldwide and supports all international currencies and languages.
How much: Pricing ranges from $2,000 to $40,000 per month, depending on your revenue. Once merchants start making $800,000, pricing changes from a subscription fee to revenue-based fee of 0.25% of monthly revenue. 
Customer profile: Over 7,000 B2B eCommerce brands use Shopify Plus, including Nestle, Leese, Pepsi, and Bombas.
Recent updates: Shopify Flow is an app that allows store owners set up powerful automations. Like sending a welcome email or delisting a sold-out product.
FAQ:
Is Shopify a B2B platform?
Shopify plus is an ecommerce platform designed for B2B transactions that enables you to accept B2B payment methods without the need to create a new store. With B2B Checkout, your business customers can easily access company-specific information such as payment terms, preferred payment method, and wholesale discounts every time they place an order.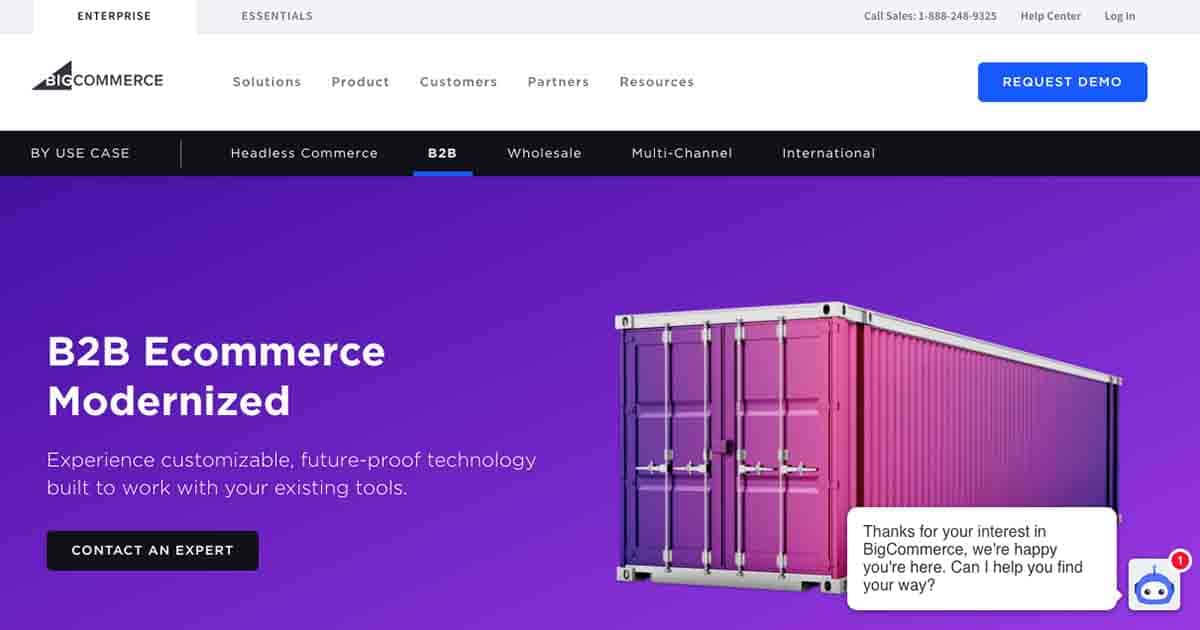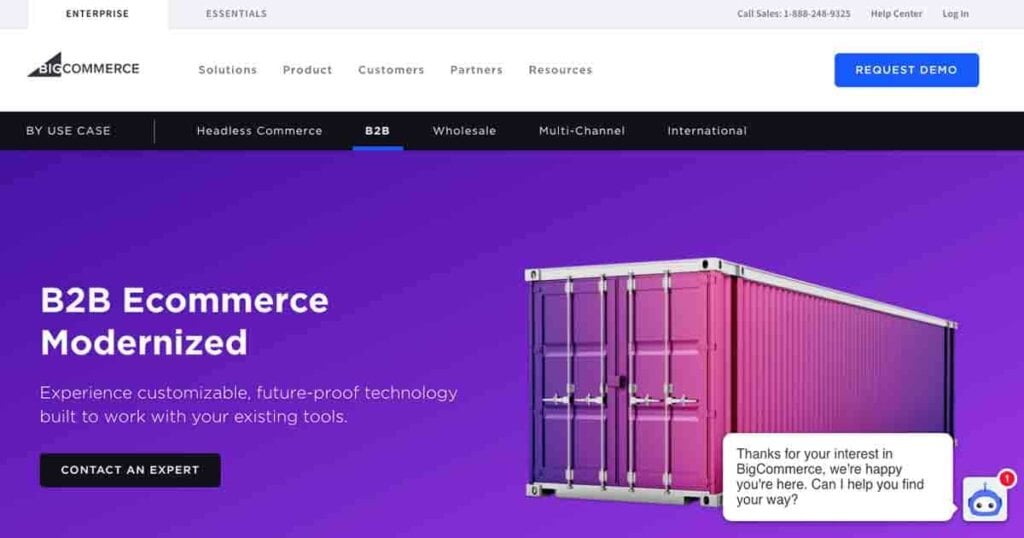 Who: BigCommerce B2B eCommerce platform is popular among sellers who want an integration-friendly solution. That's one of BigCommerce's key selling points, with integrations with ShipperHQ, BrightPearl, and others. 
What: Merchants can create custom shipping rates for B2B buyers, and sync data across their CRM, ERP, OMS, and other platforms. Shoppers can replicate the one-click ease of Amazon with immediate reordering and quote generation tools. 
When: 2019
Where: Available worldwide
How much: Pricing available upon request.
Customer profile: The B2B offering is relatively new, so customer numbers aren't available yet. However, over 60,000 brands use BigCommerce for their B2C eCommerce websites, including Avery Dennison, Toyota, and The Real Yellow Pages.
Recent updates: In their most recent update, BigCommerce announced 3 new features.
Multi-Storefront.
Modernized Buyer Portal.
Headless functionality (Beta).
-> Need help with BigCommerce customer service? Try eDesk free for 14 days <-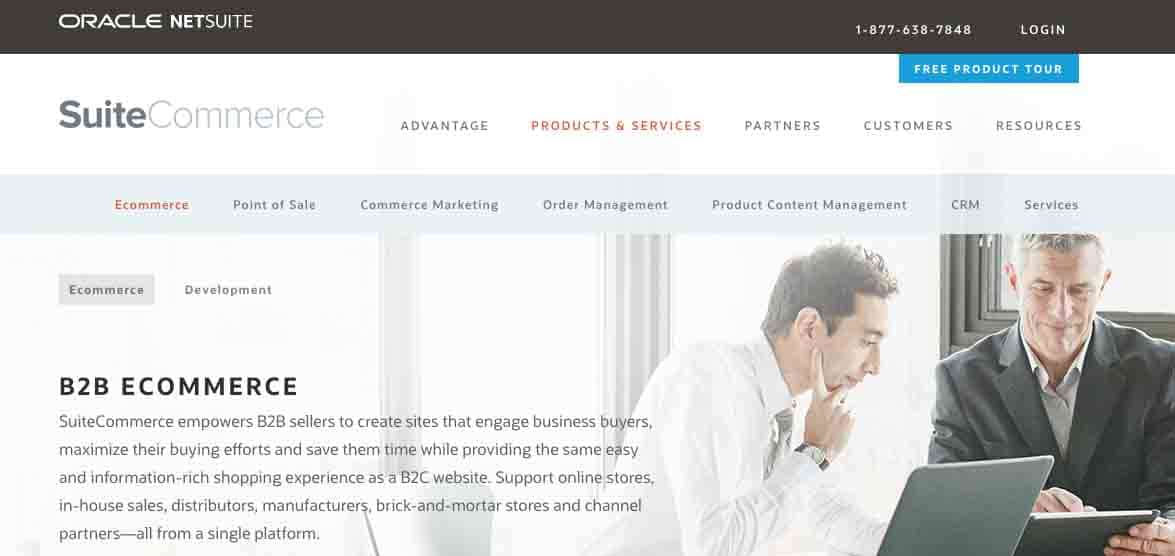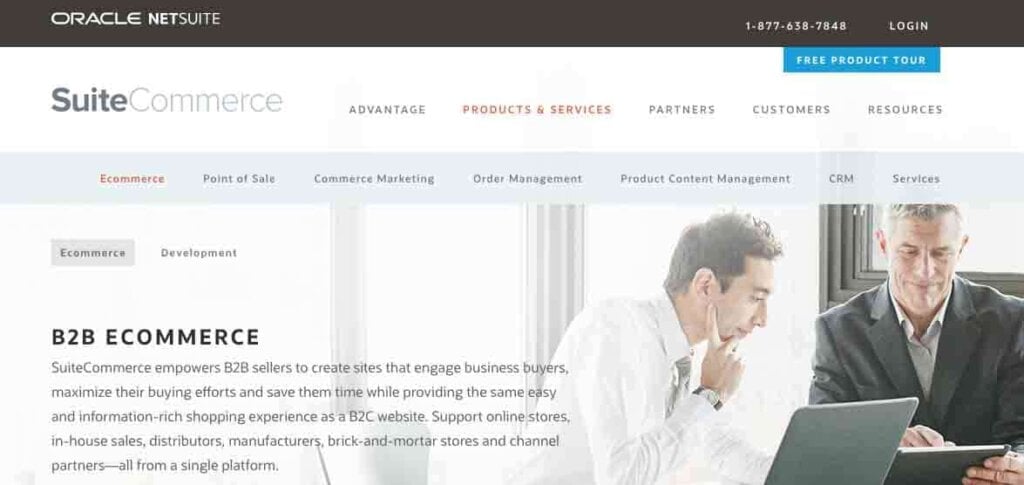 Who: Part of the Oracle NetSuite family, SuiteCommerce has been recognized by Forrester as a leading B2B eCommerce platform for mid-size organizations.
What: SuiteCommerce offers a comprehensive suite of tools to streamline purchasing, billing, and support for B2B customers. Merchants can manage both B2B and B2C from the same cloud-based eCommerce platform.
When: 2015
Where: While most popular among U.S. merchants, SuiteCommerce is available worldwide.
How much: Starts at $2,500/month.
Customer profile: 3,000 brands use SuiteCommerce, including Lovesac and The Noerr Programs.
Recent updates: New SuiteCommerce extensions support integrations with Google Analytics, live chat software, Google Shopping, and Facebook Dynamic Ads.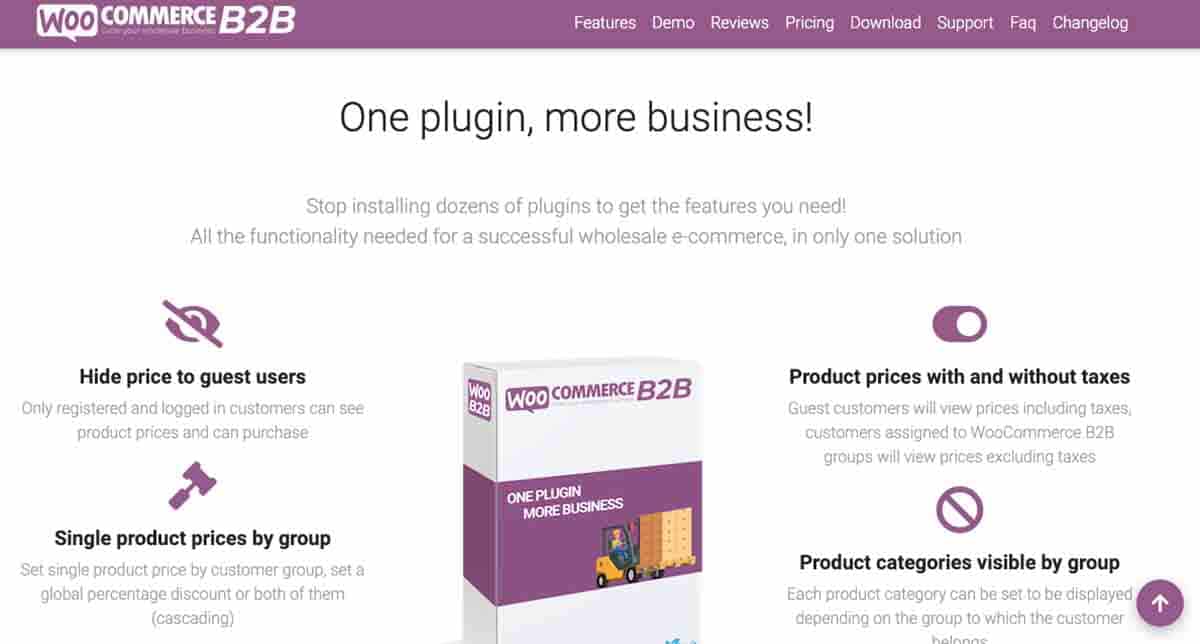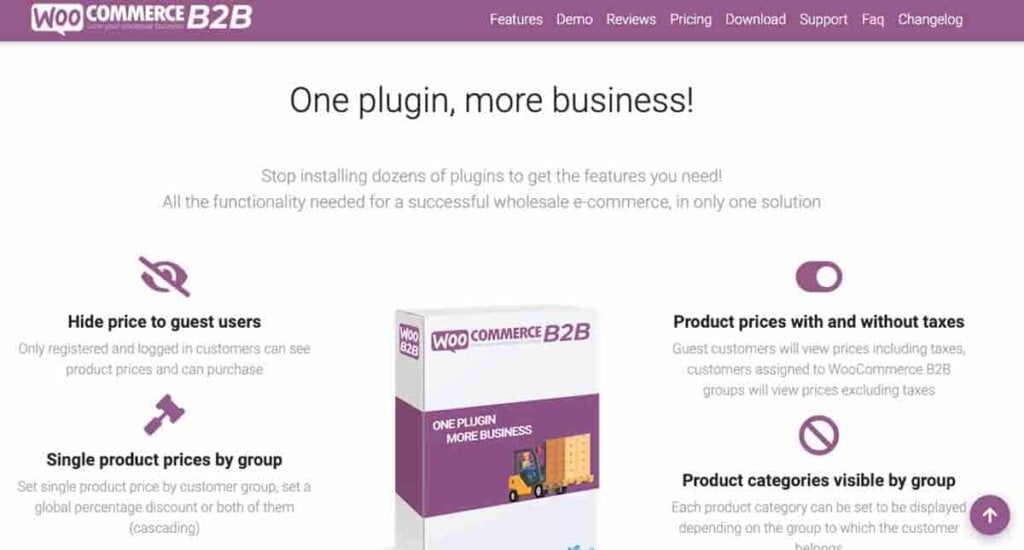 Who: WooCommerce is the official eCommerce plugin for WordPress-based websites.
What: This open-source eCommerce plugin designed for merchants of all sizes. It offers an extensive plugin library that allows store owners to customize their online shop. 
When: 2011
Where: Available worldwide
How much: WooCommerce is free. Additional plugins may have their own costs.
Customer profile: WooCommerce powers 26% of all eCommerce sites, with clients like Weber, Ghostbed, and AeroPRess.
Recent updates: Instead of installing separate plugins from WooCommerce, B2B merchants can get all the functionality they need in one plugin, like the WooCommerce B2B plugin pictured above. B2B WooCommerce plugins include essential features, such as the ability to hide prices and/or products from non-members, provide discounts by customer group, and exclude taxes.
-> Need help with WooCommerce customer service? Try eDesk free for 14 days <-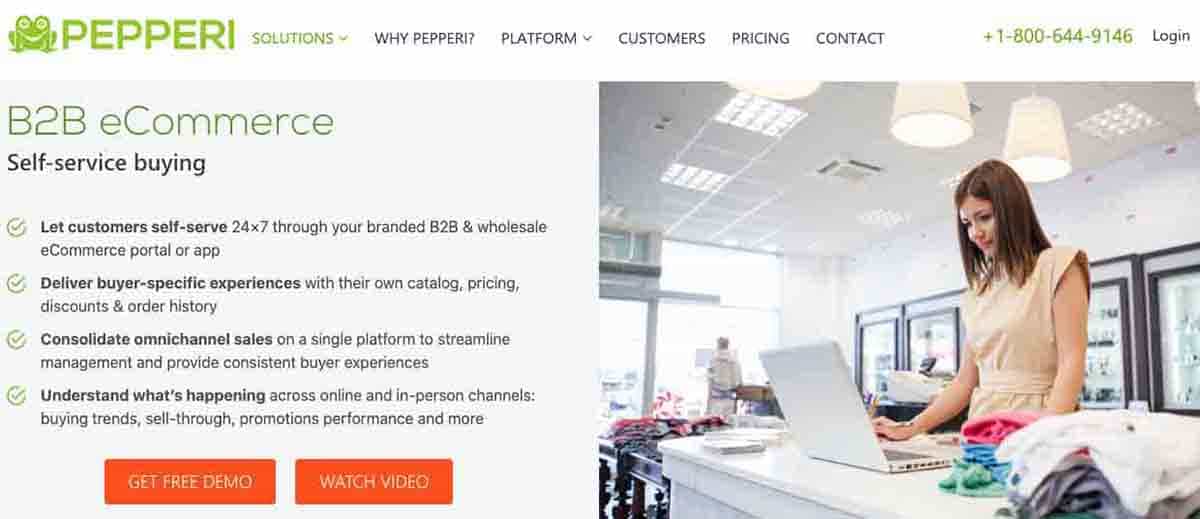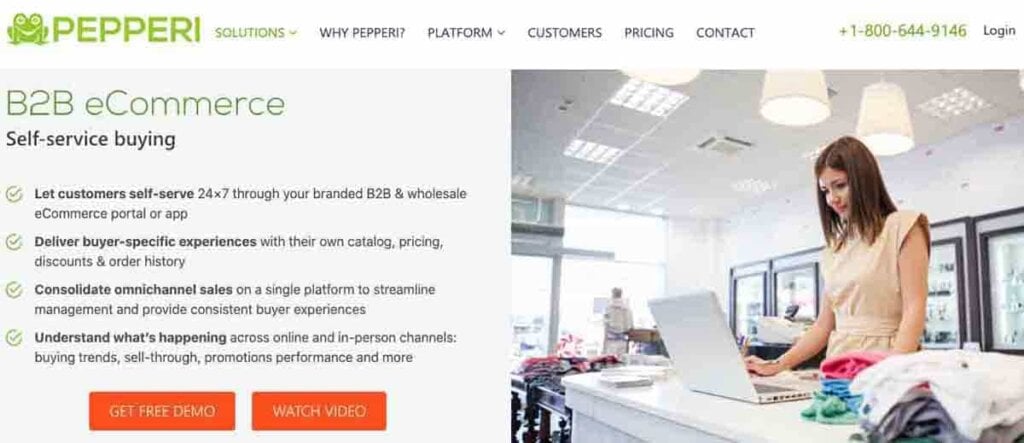 Who: Pepperi was designed from the ground up as a B2B eCommerce platform that you can manage anywhere, whether on your desktop computer or their eCommerce mobile app.
What: The highlight of Pepperi is its user-friendliness for your B2B customers. They can shop from your website or a mobile app, using a storefront personalized for their client profile. Pepperi also integrates with a massive number of third-party vendors for shipping, payment, email marketing, and more.
When: 2012
Where: Available worldwide
How much: Starts at $500/month.
Customer profile: Pepperi's 1,000+ customers include Kimberly-Clark, Sodastream, Dermalogica, and Hallmark.
Recent updates: Pepperi has received numerous awards for its B2B eCommerce solution, most recently having been selected for the 2020 Gartner Digital Commerce Vendor Guide.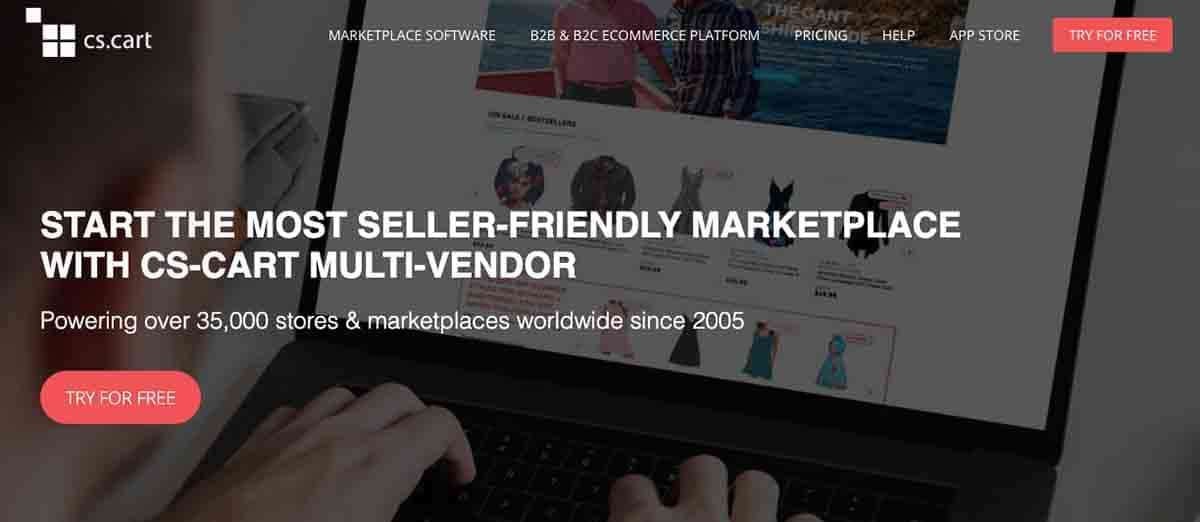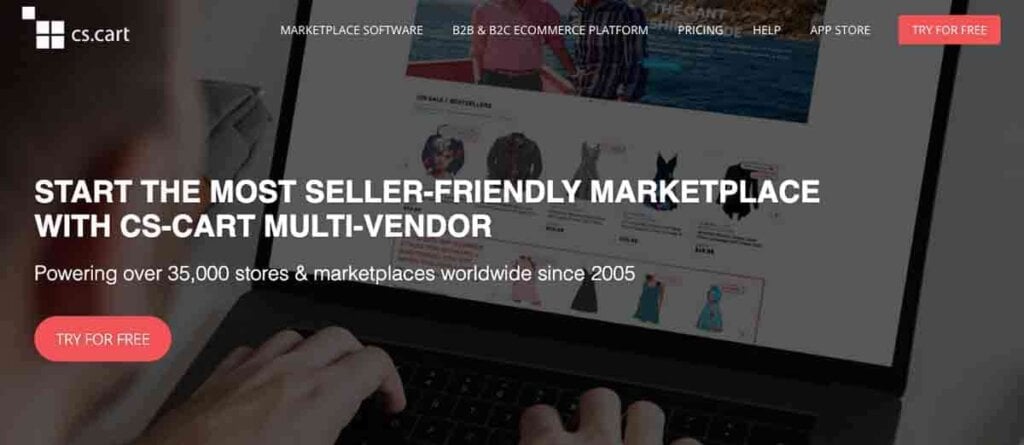 Who: CS-Cart is a multi-vendor eCommerce platform built to make things easy for sellers, whether you're B2C, B2B, or both.
What: CS-Cart boasts over 500 features, including drag-and-drop design templates and fully-customizable source code, so you can make your store truly your own.
When: 2005
Where: Available worldwide
How much: Pricing starts at $2,450 for B2B businesses, with a 15-day free demo.
Customer profile: CS-Cart is the eCommerce platform bethind 35,000+ stores, including over 1,300 virtual malls like ShopClues.com.
Recent updates: The CS-Cart B2B&B2C plan now offers the ability to manage multiple storefronts.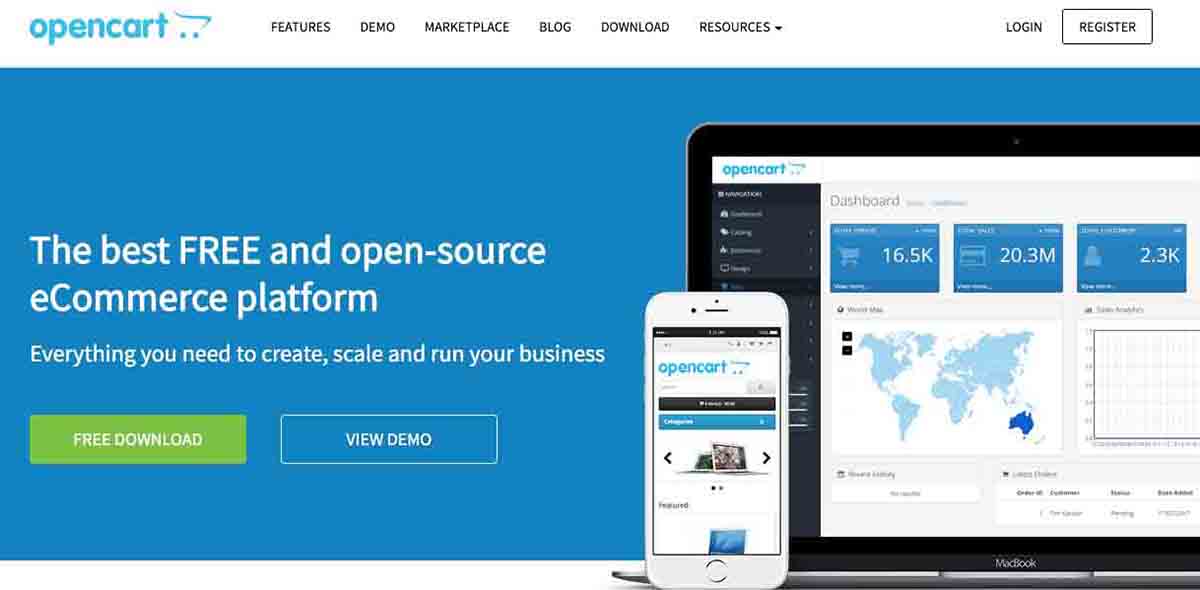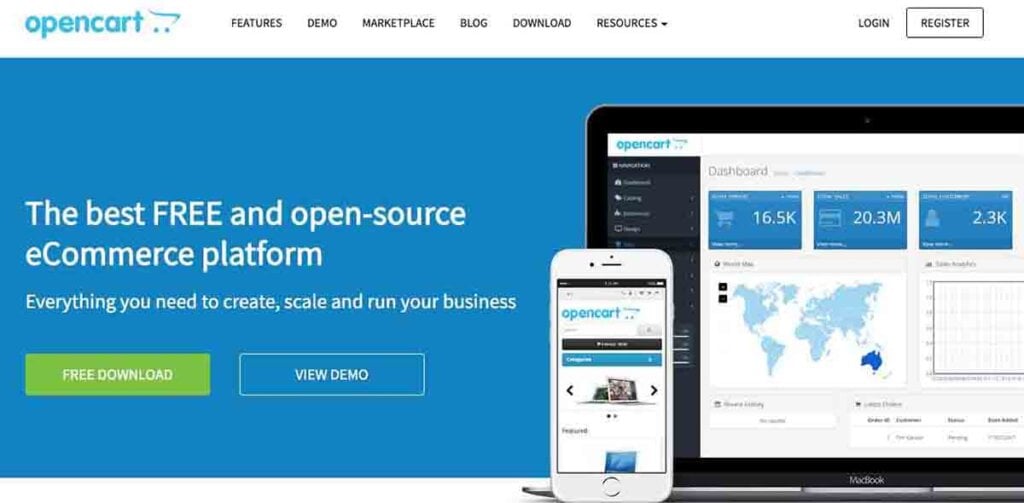 Who: As you may guess from its name, OpenCart's B2B eCommerce platform is open-source and completely free to use, making it a popular alternative to Shopify Plus. 
What: OpenCart includes built-in SEO, product management, promo codes, and more. Merchants can expand their store functionality by choosing among 13,000+ modules and themes.
When: 2010
Where: Available to sellers worldwide
How much: OpenCart is completely free to use, with zero monthly fees. Extensions and themes may include fees.
Customer profile: 342,000 eCommerce brands use OpenCart, including the British Red Cross, Ace, Volvo, and FX Creations.
Recent updates: OpenCart 3.0 saw the release of multilingual SEO URLs, improved reporting, and a new admin panel.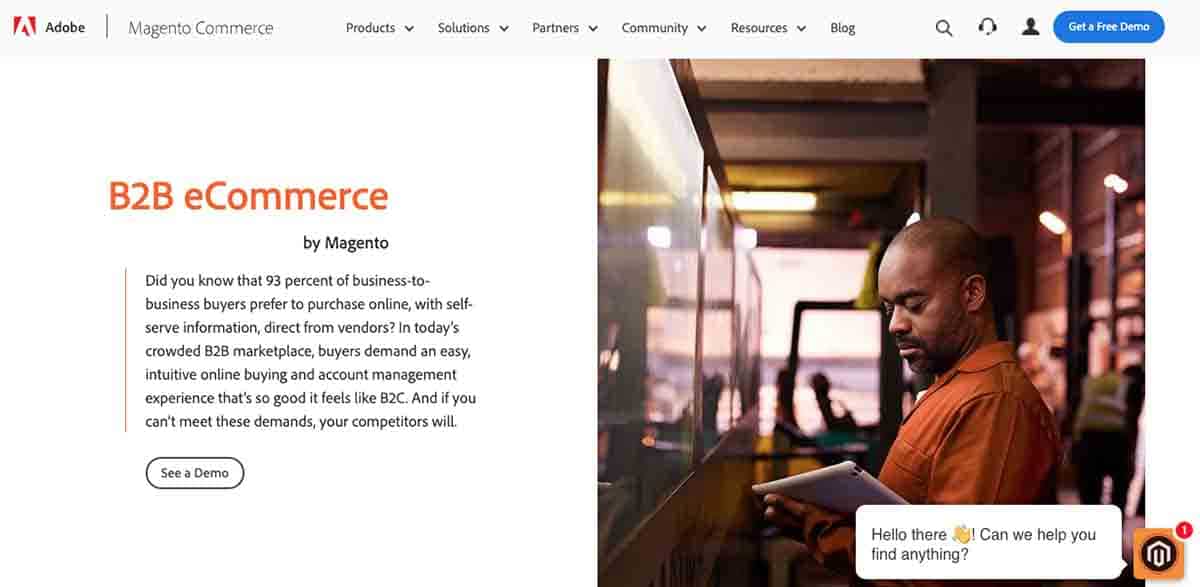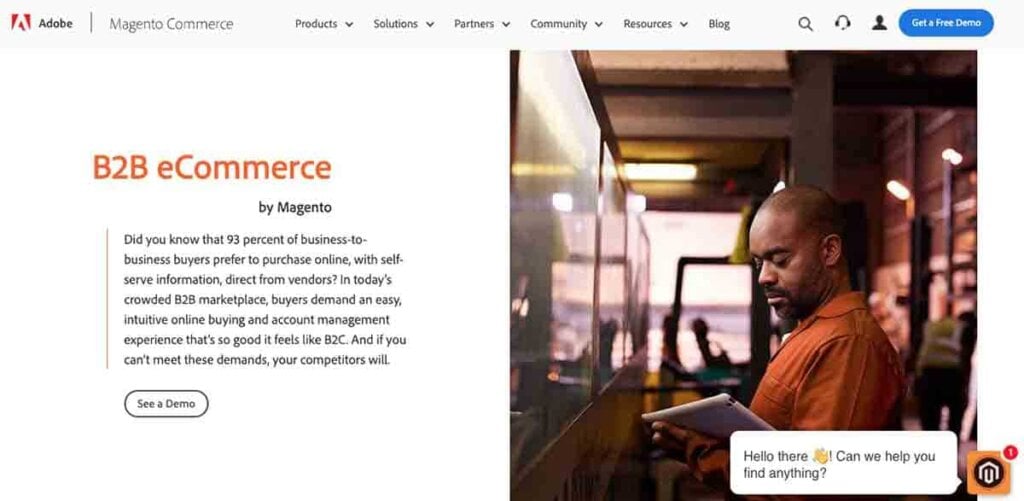 Who: Magento B2B Commerce is another popular open-source B2B eCommerce platform which offers countless integrations and a large extensions library.
What: Magento B2B Commerce includes all the key functionalities of Magento's B2C commerce platform, with additional features for B2B sellers managing multiple brands and partner accounts. For example, B2B buyers can enter SKUs or upload CSVs to quickly place orders with your store.
When: 2008
Where: Available worldwide
How much: Pricing starts at $3,000.
Customer profile: 260,000 merchants use MAgento B2B Commerce, including 3M and Procter & Gamble.
Recent updates: With the release of Magento 2.2, B2B buyers can submit quote requests directly to merchants from their shopping carts, and merchants can respond with discount offers, price changes, and upsells—all within the platform.
-> Need help with Magento customer service? Try eDesk free for 14 days <-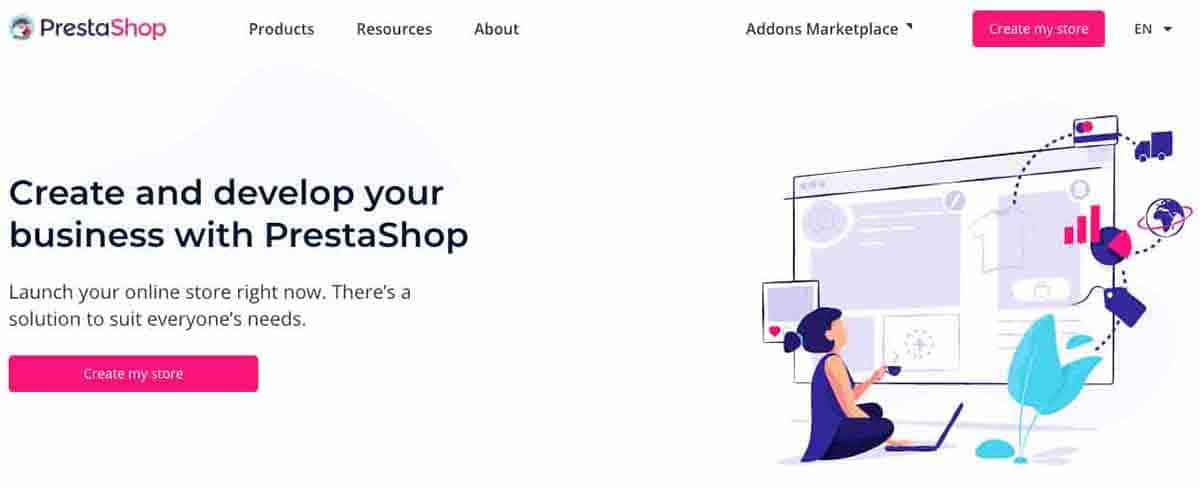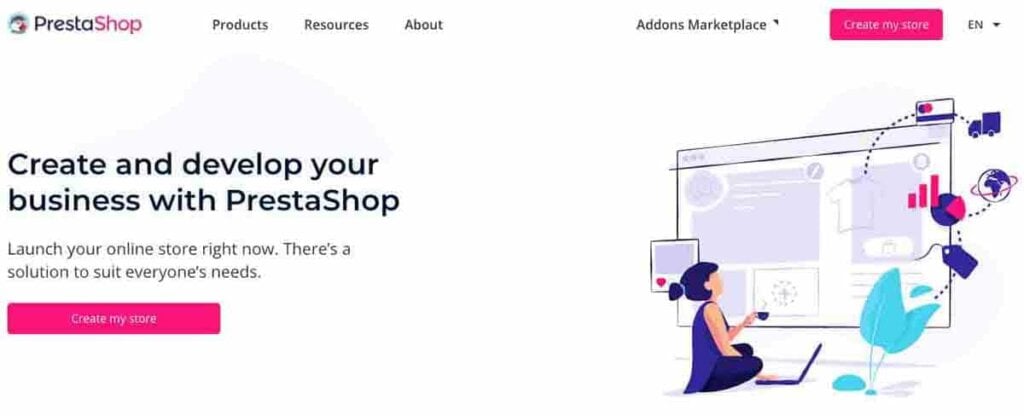 Who: PrestaShop is a 100% free eCommerce platform that makes building an online store affordable for small to mid-sized merchants.
What: PrestaShop is a B2C eCommerce platform first and foremost, offering robust capabilities for online stores. To turn your store from B2C to B2B, you must turn on B2B mode, which adjusts your customer profiles to include company information, manually generate invoices, and only show prices to customers when logged in.
When: 2008
Where: PrestaShop merchants can sell worldwide, thanks to over 195 free language translations and 60 payment modules.
How much: PrestaShop is completely free, with no fees or commissions. However, themes and modules may include fees.
Customer profile: 300,000 global customers, with a majority of customers based in Spain, France, and the U.S.
Recent updates: Because it's free, there's a lot more DIY involved with PrestaShop Fortunately, the PrestaShop community includes over 1,000 contributors and 250 agency partners who are available to answer questions and help you with your store. The community recently reached 1 million members total.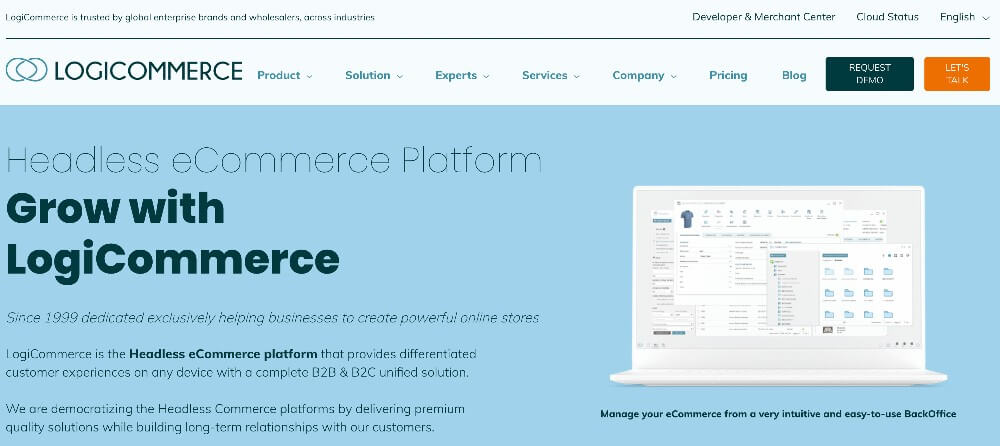 Who: LogiCommerce is a Headless eCommerce software for medium to large companies with a fully B2B & B2C unified solution.
What: LogiCommerce is a Headless platform with a JAVA Core and an open source front-end. The most amazing feature above any other solution, is its BackOffice, which is very intuitive, fast, and very easy to use. Being Headless, it has several APIs where it allows seamless integrations with ERPs, CRMs or any other application. Moreover, it comes with  200+ native features for B2B and B2C. Multi-currency, multi-invoicing company, multi-pricing policy, targeted pricing, repetitive order processing, sales agent management, targeted customer catalogs, Inventory and warehouse management and a real-time business dashboard, are only a few high-end functionalities among many others for  B2B eCommerce websites.
When: 1999 
Where: Available worldwide thanks to the Headless architecture and the several hostings they offer.
How much: Starting at €99 per month and it allows you to add advanced features at a very affordable price. They are democratizing the eCommerce software industry through their transparent pricing policy; no hidden costs or transaction fees.
Customer profile: World renowned brands like VW, GAP, Audi, eseOese, Munich, Nestlé, IMC Toys use LogiCommerce. 
Recent updates: LogiCommerce is constantly improving and releasing new features, as well as integrating with new external plug-ins. They have recently launched the Omni-Channel and Multi-Channel integration for real-time management with all channels, both online (marketplaces) and offline (brick-and-mortar stores).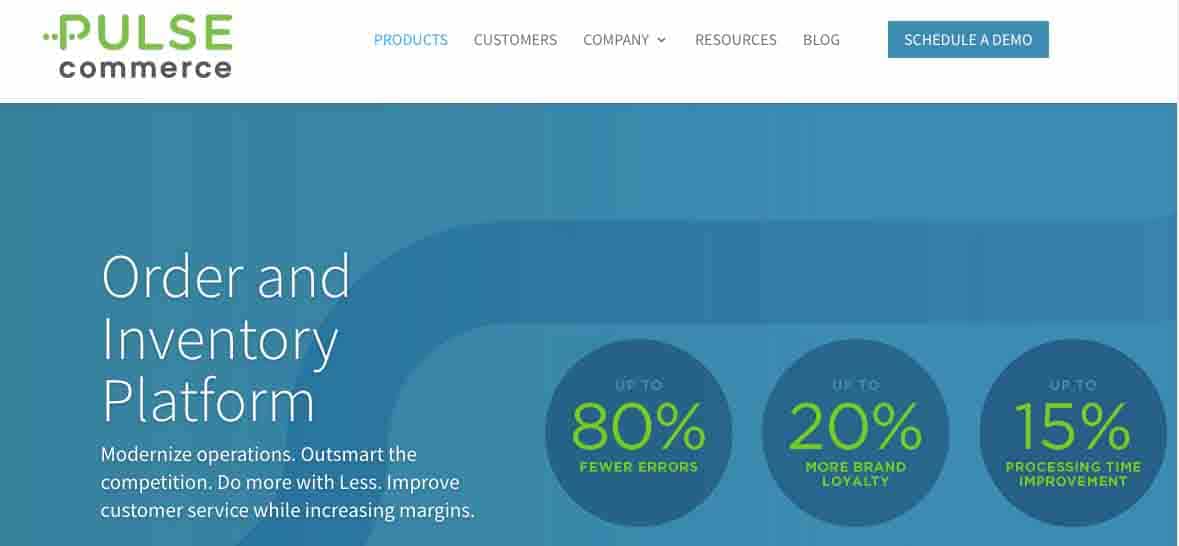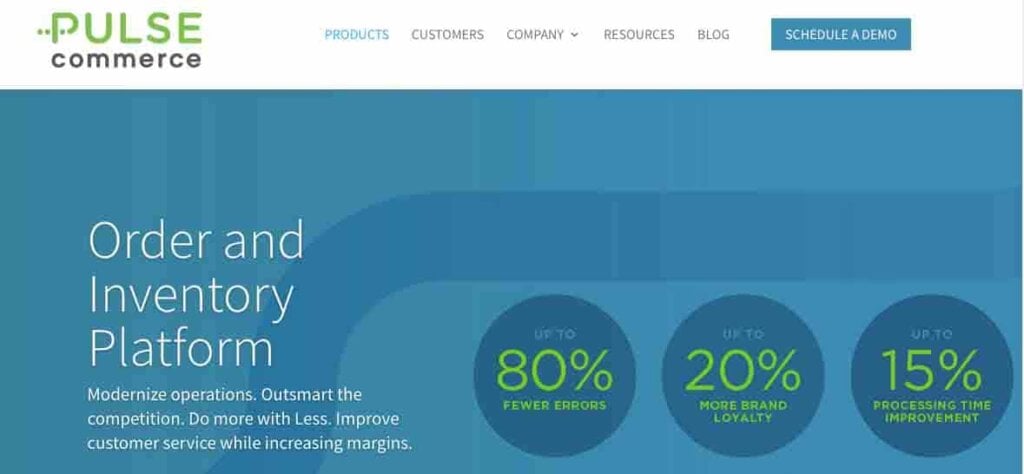 Who: Formerly known as GoECart, Pulse Commerce is designed for multichannel eCommerce, with capabilities for B2B, B2C, and multi-brand eCommerce websites.
What: The turnkey eCommerce platform integrates with Pule Commerce's ordering and inventory management tools. The ECommerce platform supports multi-brands, sites, and languages, and comes with SEO, personalization, and advanced search functionality built-in.
When: Rebranded in 2017
Where: Available worldwide
How much: Pricing available upon request.
Customer profile: Total customer counts are not available, but include Badgley Mischka, Goode Co., and SoocerPro.com.
Recent updates: Pulse Commerce's Order & Inventory platform is also available as a mobile eCommerce app for Magento, Shopify, and BigCommerce.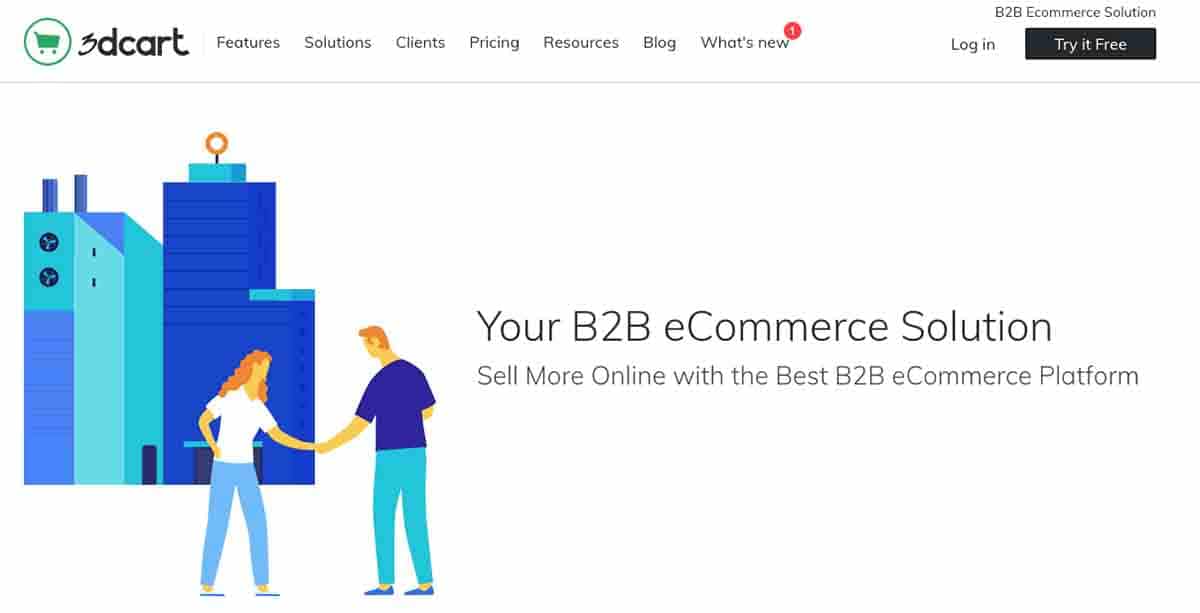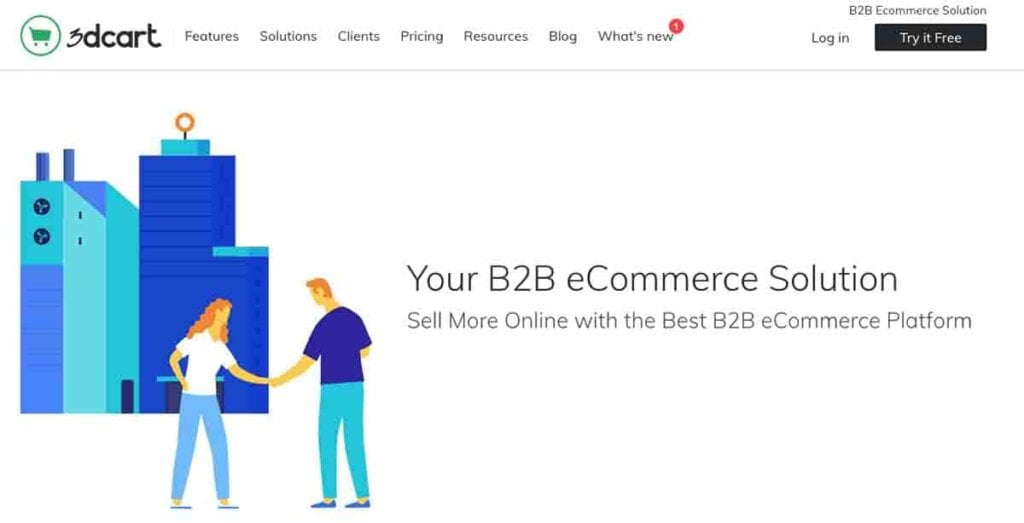 Who: 3dcart's B2B eCommerce platform comes with all the eCommerce marketing features B2B merchants need, including tools for SEO optimization, social media, email, affiliate tracking, and more. 
What: Merchants can choose from hundreds of pre-designed store templates 3dcart supports over 160 payment providers and B2B financing. More B2B features include sales tax management, global shipping, customer groups, and a sales rep module for those focused on account-based marketing and commission management.
When: 2001
Where: Available worldwide
How much: Starts at $379/month.
Customer profile: Over 3,000 merchants use 3DCart, with wholesale customers representing their second largest industry vertical.
Recent updates: New features with the 9.1 release include a Tax Code CSV Import/Export function, multi-store login, and expanded FedEx delivery options, including Hold at Location.
13. InsiteCommerce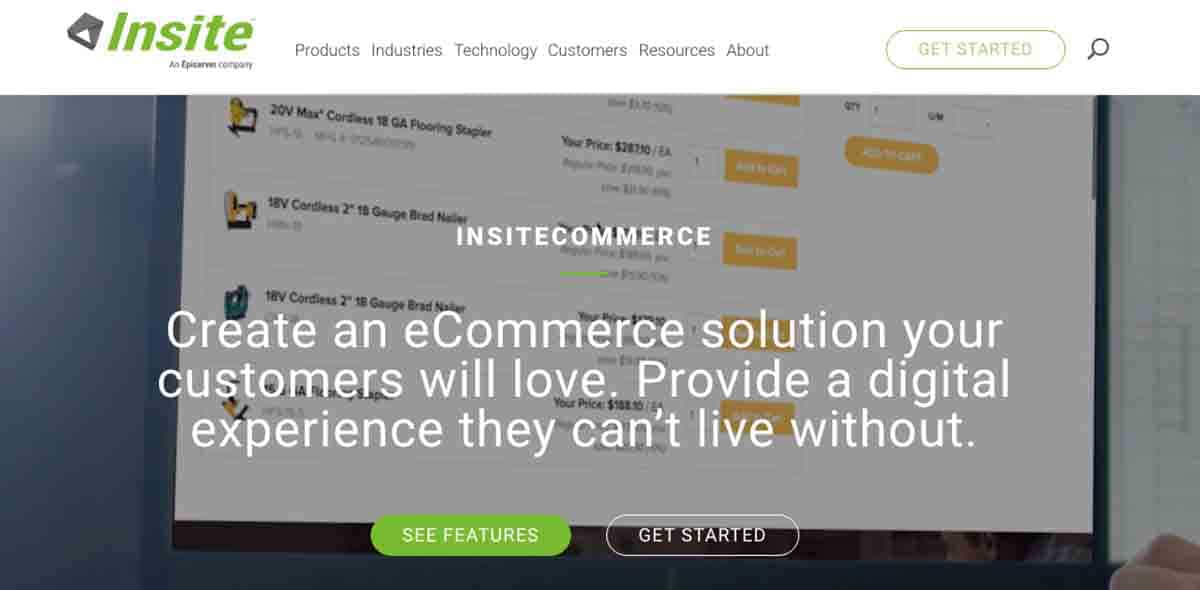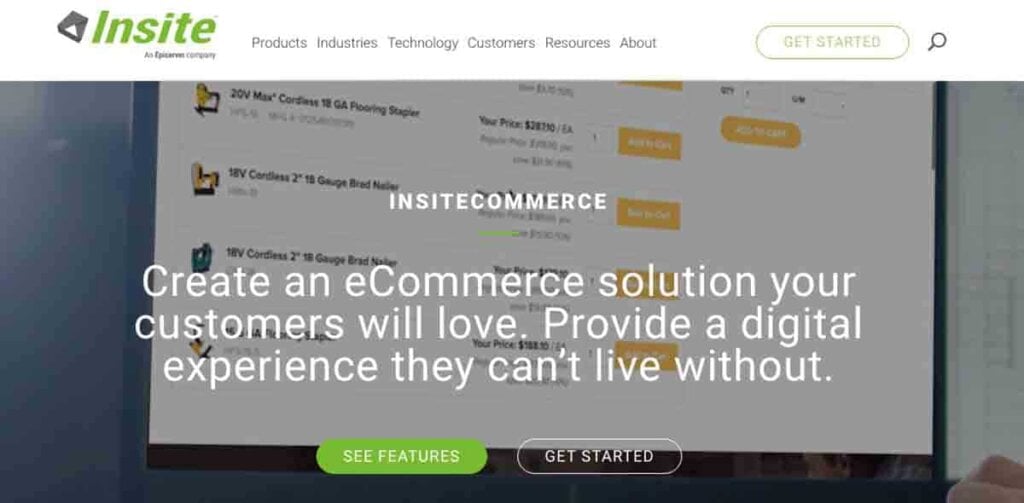 Who: InsiteCommerce is a B2B eCommerce platform that's built to support integrations with your ERP and PIM, allowing merchants to bring all their eCommerce operations into a single platform.
What: Since its inception, InsiteCommerce has focused on serving manufacturers and distributors. InsiteCommerce is their cloud-based solution for B2B eCommerce. Merchants can build their eCommerce ecosystem with additional tools for PIM, analytics, sales enablement, and even a branded mobile app.
When: 2004
Where: Available worldwide. The InsiteCommerce globalization management system supports multiple currencies, language, calendars, taxes, and more.
How much: Pricing available upon request.
Customer profile: Notable customers include Royal Canin, Morsco, and Buyers Products.
Recent updates: The most recent release of InsiteCommerce includes new features like data-driven recommendations, A/B testing, and will-call checkout options for warehouses. The company was acquired by Episerver in late 2019.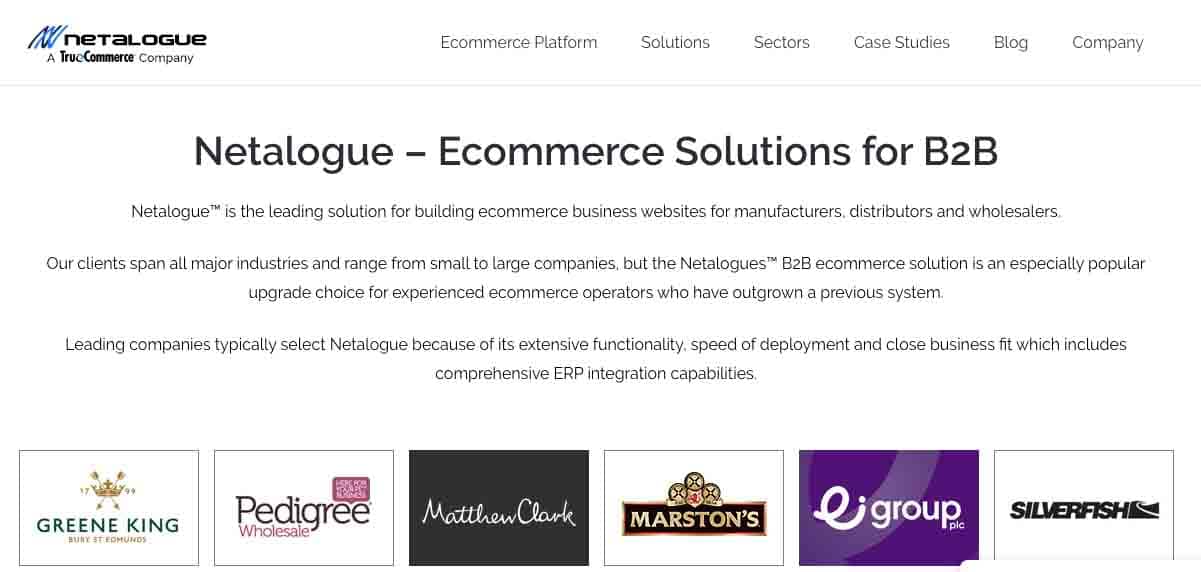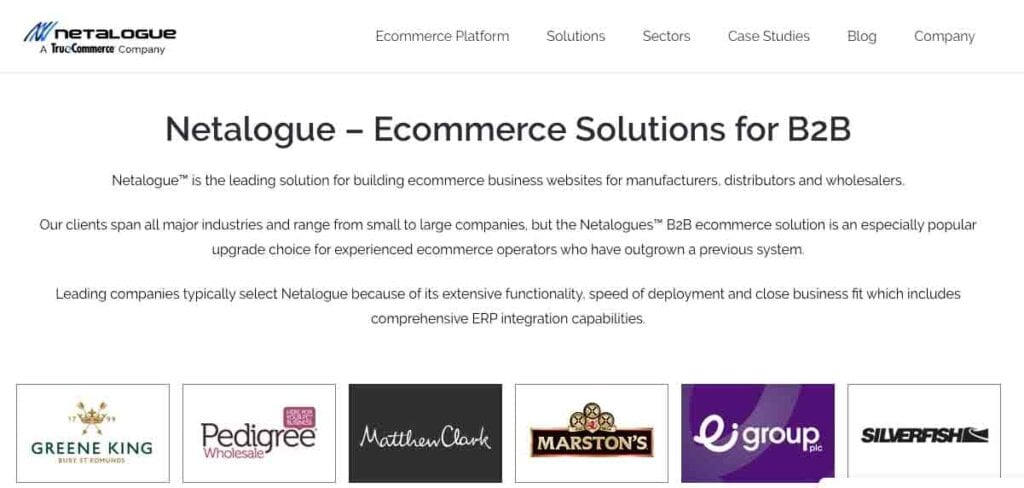 Who: Netalogue's B2B ecommerce platform is designed to serve experienced B2B eCommerce sellers who have outgrown more basic systems. 
What: What makes Netalogue unique among other B2B eCommerce platforms is its support for different sectors, including pharmaceuticals, industrial, automotive parts, apparel, food and beverage, and more.
When: 2001
Where: Available worldwide.
How much: Pricing available upon request.
Customer profile: Netalogue client sales range from £5m to £5bn, including companies like Pedigree Wholesale, Transport for London, and Matthew Clark.
Recent updates: Netalogue was recently acquired by TrueCommerce to serve their B2B eCommerce customers.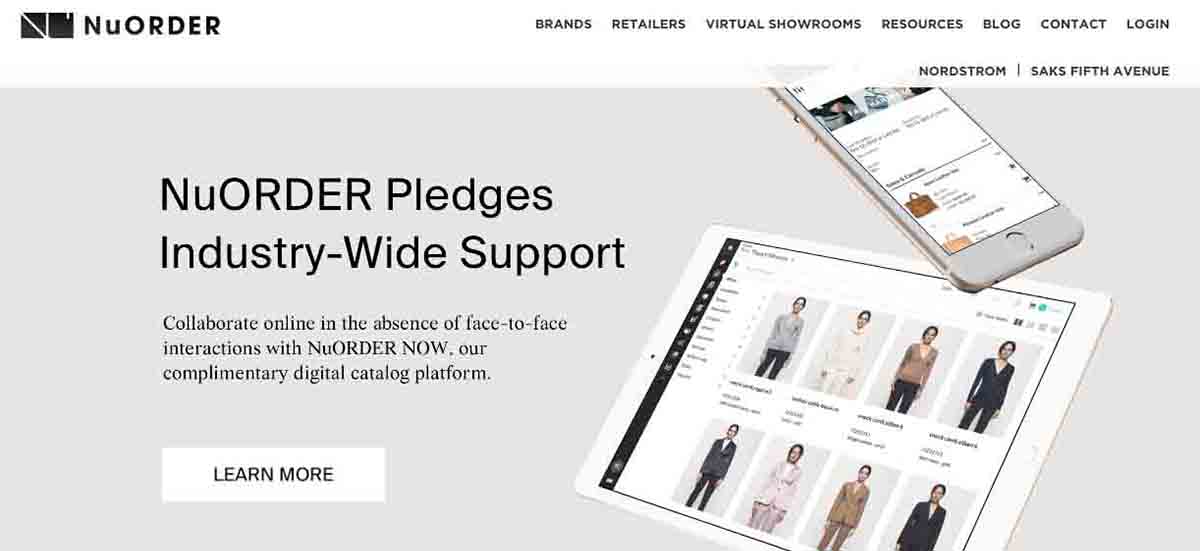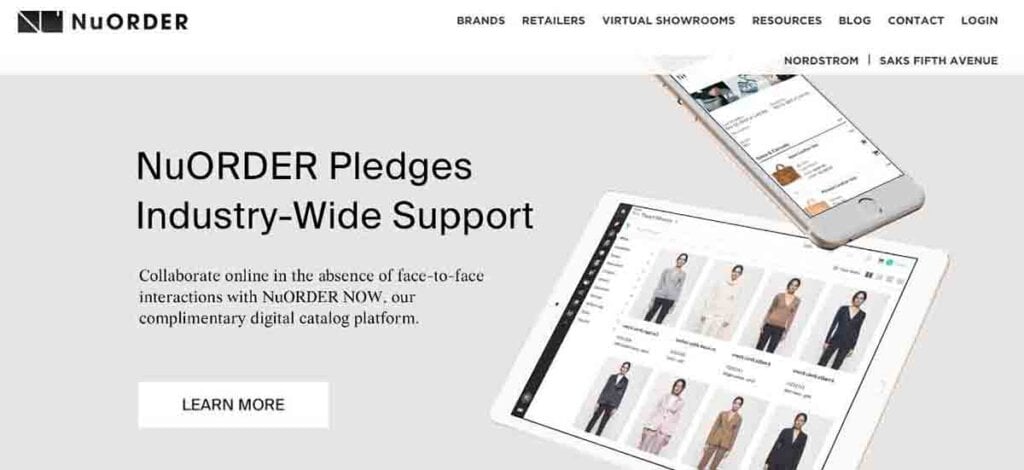 Who: With its B2B eCommerce platform, NuOrder promises a collaborative wholesale experience that makes things faster, more beautiful, and more profitable for B2B merchants and buyers alike.
What: The B2B eCommerce platform creates a glossy digital catalog that enables 24/7 two-way ordering between buyers and sellers. Merchants can save with digital linesheets, manage their catalog on the web or via iPad, and grow their business by approaching new buyers through the NuOrder marketplace directory.
When: 2011
Where: Available worldwide
How much: Pricing ranges from $7,000 to over $100,000, charged annually.
Customer profile: NuOrder supports more than 2,000 brands and 500,000 retailers, including Rag & Bone, Lacoste, and more.
Recent updates: To support B2B eCommerce brands through the COVID-19 crisis, NuOrder has made a complimentary version of their eCommerce platform available.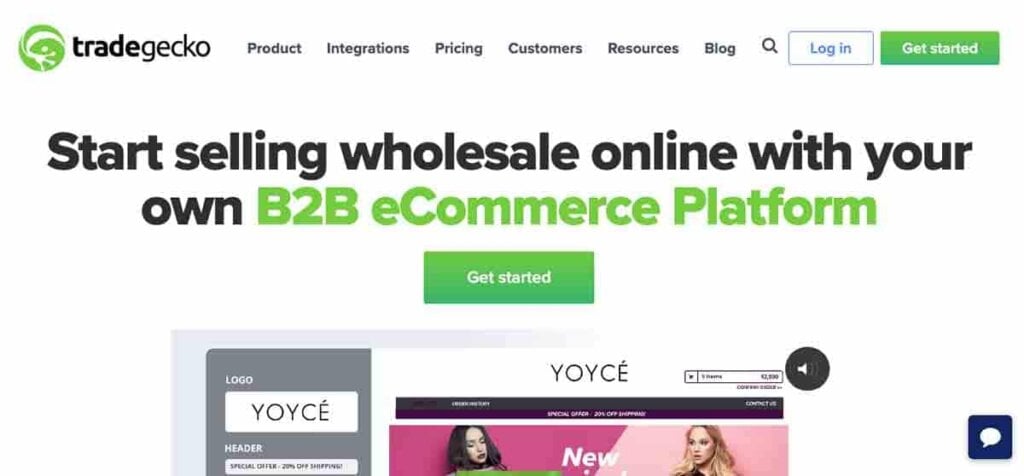 Who: With their B2B eCommerce platform, TradeGecko aims to simplify everything about the process of selling wholesale online.
What: With TradeGecko, merchants can create custom discounts, order quantities, and catalogs for their B2B buyers, and give them invite-only access to their private store, accessible online or via branded mobile app. TradeGecko also supports one-click payments.
When: 2012
Where: Available worldwide
How much: Pricing ranges from $39 to $599, depending on order volume and warehouse locations, with a 14-day free trial.
Customer profile: TradeGecko customers represent over 100 countries and a range of industries.
Recent updates: New features leverage TradeGecko Intelligence to create new insights and reports. Similarly, the Demand Forecasting feature helps B2B merchants anticipate demand so they can keep their warehouses stocked.