Are you searching for the perfect BigCommerce theme to sell your products online?
If you want to sell products or services online, using a robust and dynamic online platform is essential.
BigCommerce themes have got you covered. They offer a solution to create fully dynamic online stores and websites.
There are several themes for you to pick from, and finding the right one is important to ensure your website attracts customers to convert.
This article will discuss some of the best BigCommerce themes you can use in 2023
.
Ensure you connect your BigCommerce account to eDesk to check all your messages, orders, and order information in one place. Learn more about how eDesk can help your business today.
This article will cover:
What BigCommerce Themes are
The Benefits of BigCommerce Themes
Best BigCommerce Themes in 2023
What are BigCommerce themes?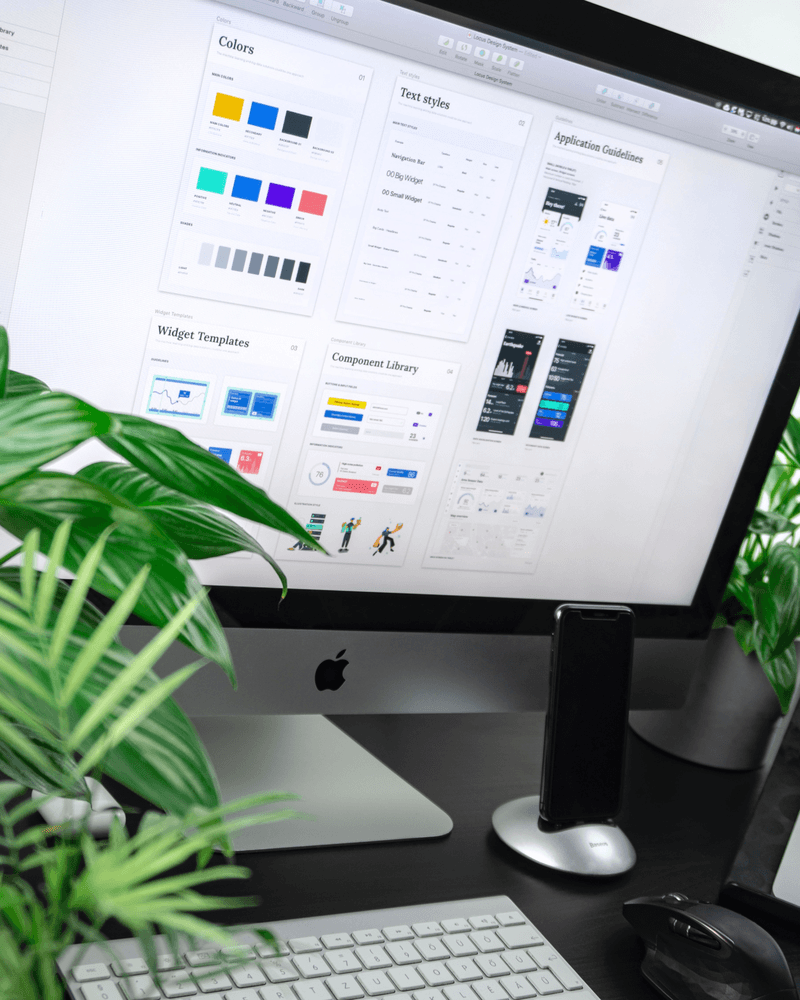 Choosing the right theme for your online store is not an easy task. Selecting the wrong theme can have serious negative impacts on your brand and make it difficult to grow and adapt your business in the future.
To ensure you don't make this mistake, selecting a BigCommerce theme is a great option for anyone who wants to build a dynamic website with a modern look and feel.
BigCommerce themes allow you to customize your website to suit your brand and easily capture your company's values.
You can view a demo or preview each BigCommerce theme, to see which one will work the best for your brand.
Once you are happy with your choice, you can purchase the theme, and start to customize it to meet your brand design.
Unfortunately, BigCommerce themes do have some limitations in what you can and can't do, but overall they offer a fantastic option, mainly because you do not need any web development skills to create an excellent BigCommerce website.
As the name would suggest, BigCommerce is a fantastic platform to use to create an eCommerce website that perfectly suits the requirements of your company.
They provide users with hundreds of website templates, known as BigCommerce themes, which you can use to edit and customize to create your perfect website.
When you are selecting the right theme for your business, be wary of the different customization options on offer, and check the theme you want to use has all the customization choices and possible features you need to bring your vision to life.
We've all had experiences where the online shopping experience is not streamlined or looks unprofessional, and this can have a significant impact on potential conversions and brand growth.
Overall, BigCommerce themes are a fantastic option for any eCommerce brand to help them take their business to the next level or make a splash in their chosen industry.
BigCommerce vs. Shopify: Which Should You Use?
The benefits of using a BigCommerce theme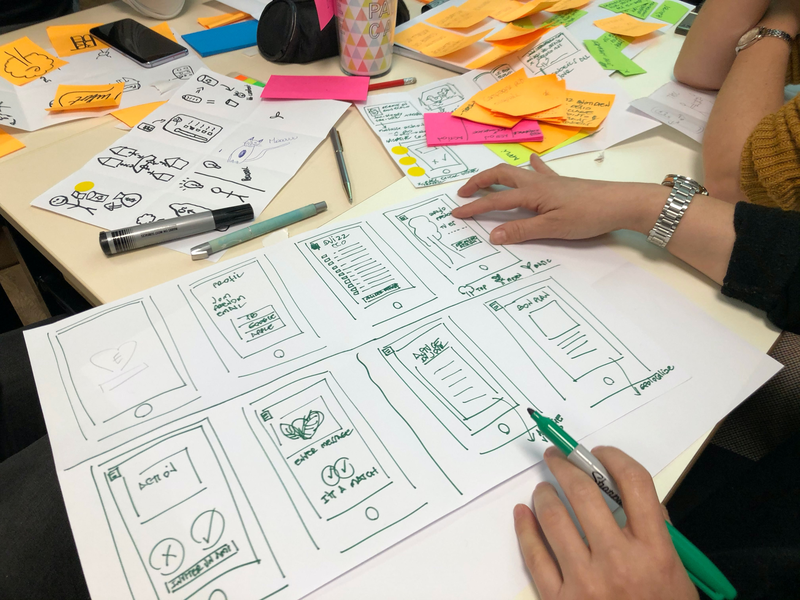 If you have been running your brand for a while now, you will know how difficult it is to find a platform that accommodates your company's growth or one that makes it easy for you to rebrand your business when necessary.
Selecting the best and most flexible platform might not seem essential when you are starting your business, but it can make a significant difference down the line as technology advances, more options become available, and your business continues to thrive and grow.
When your company is experiencing growth or is crying out for a refreshed look and feel, it can be extremely frustrating if the theme and platform you have used are not quick and easy to use.
To ensure you don't miss out on your company's growth, you must use a platform that can keep up with all of the most recent innovations that customers require and expect.
That is why BigCommerce is an essential option for your brand. It has an open API, hundreds of apps you can integrate, and more than 100 themes you can pick from, giving you many options to make your website look and feel unique to your brand.
With so many apps and new features getting added regularly, BigCommerce themes make it easy to scale and tweak your website when the time comes.
Here are a few other great advantages of BigCommerce themes.
Quick and simple to use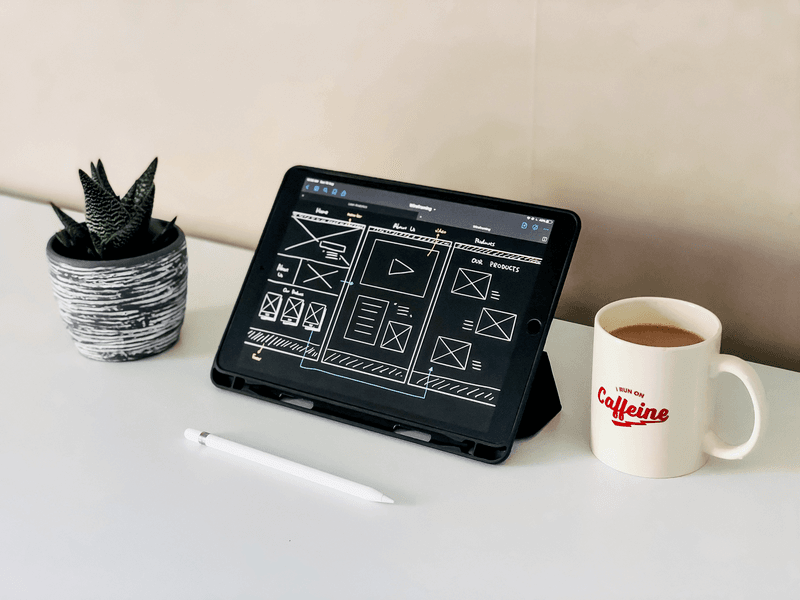 One of the main benefits of using a BigCommerce theme is that they are incredibly simple for anyone to use for an online store, regardless of how much tech knowledge you have.
You don't require a coder to use BigCommerce eCommerce themes, even if you choose a premium theme.
Almost every app integrates with them with a single click, and you can use the drag-and-drop system to easily customize a free BigCommerce theme. This can save you thousands of dollars on development and designer fees, which you can use in other vital aspects of your business.
Templates that work on all devices
Those that choose to implement a free or premium BigCommerce theme have the benefit of knowing that their eCommerce platform will work on any device.
Almost all the apps you have on offer integrate with a single click, and each theme offers drag-and-drop capabilities rather than having to use coding skills.
This option will save you plenty of money, rather than paying for in-house designers or web developers.
Shopify Plus vs. BigCommerce Enterprise (2023 Comparison)
Create dynamic websites with no coding experience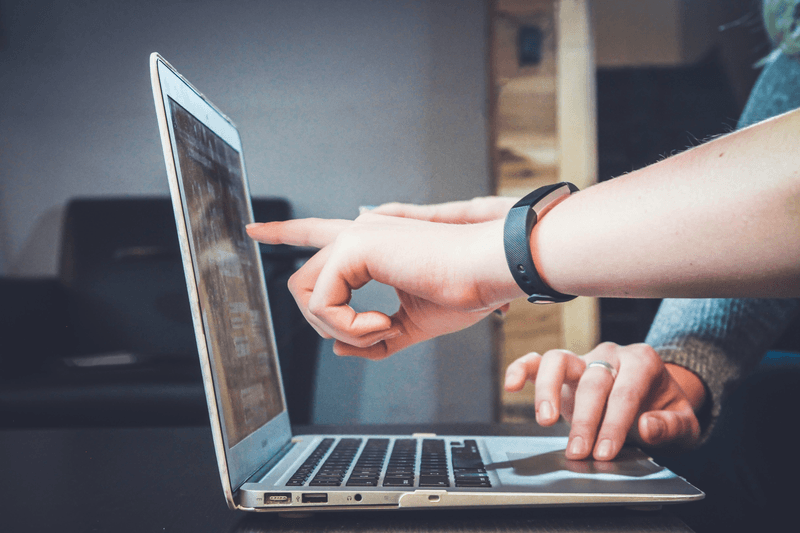 One of the biggest innovations that BigCommerce has brought to the table in recent years is the introduction of the Stencil Theme platform.
This piece of web development has changed the game regarding the range of design options available to users, even if they have no coding experience.
The Stencil Theme Platform editor allows users to amend store features and design structures without needing to implement any backend coding. This feature allows anyone to add custom colors to their website, change the fonts on the website, amend how many items are on display, and so many other features that were not available beforehand.
It allows users to have much more control over the look and feel of their website without having to employ a coding expert to help their visions come to life.
Each BigCommerce theme is fully responsive and implements Browsersync, which allows you to preview all amends made on desktop, tablet, and mobile before you press Publish.
For many users with minimal design experience, this is a fantastic feature, as often it takes a few tries before their website looks professional and they can get their ideas onto the page.
A minimalist website also makes it much easier to add customer support features, such as a clear FAQ section, or custom-built live chat features.
It will be much better for businesses if you can check and amend these blunders before the website goes live, rather than customers experiencing it and not coming back to the website in the future.
Perfect for mobile viewing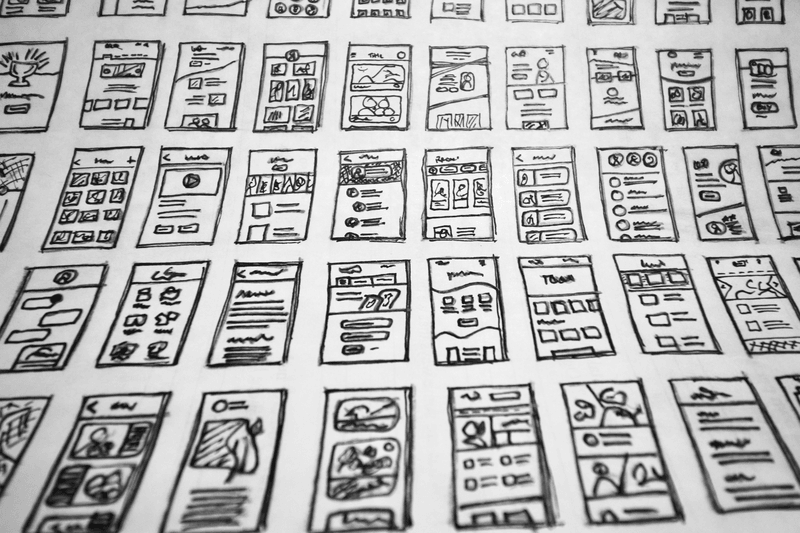 One of the great benefits of BigCommerce themes is that they are mobile-compatible, which is essential for online store conversions.
As more users begin purchasing on mobile, selecting a theme that works perfectly on the go is essential.
A range of unique design options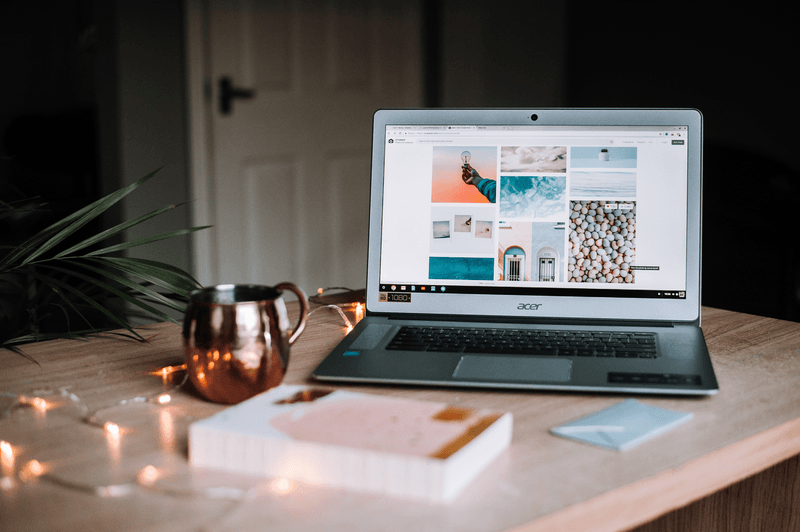 One of the best aspects of using a BigCommerce theme is that you have the power to swap it for another one.
You can customize whatever theme you choose, to make a template that perfectly suits your brand.
You don't have to do this, as coding skill is not essential for a BigCommerce brand, but if you have those skills, this is a nice bonus.
More BigCommerce theme benefits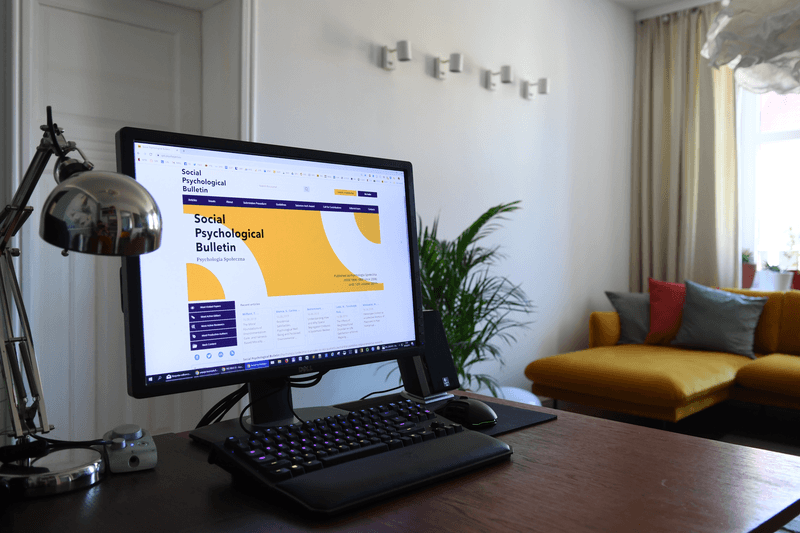 Every BigCommerce theme template also integrates marketing and sales tools you can use to take your eCommerce brand to the next level.
Inventory management
BigCommerce paid, and free themes allow you to set rules for each product you list.
You can establish a stock level that activates an email that informs you when stock is running low.
Abandoned cart analytics
BigCommerce themes allow you to send customized automated emails to any customers who didn't convert into paying customers.
This tool is fantastic for converting more customers and making more sales.
Coupon codes
BigCommerce themes allow you to create custom coupons to make sales. You can control everything from your dashboard, including shipping, geotargeting, and other aspects.
You may also like BigCommerce vs. Shopify Plus vs. Magento
Why choose a BigCommerce theme that costs more than $200?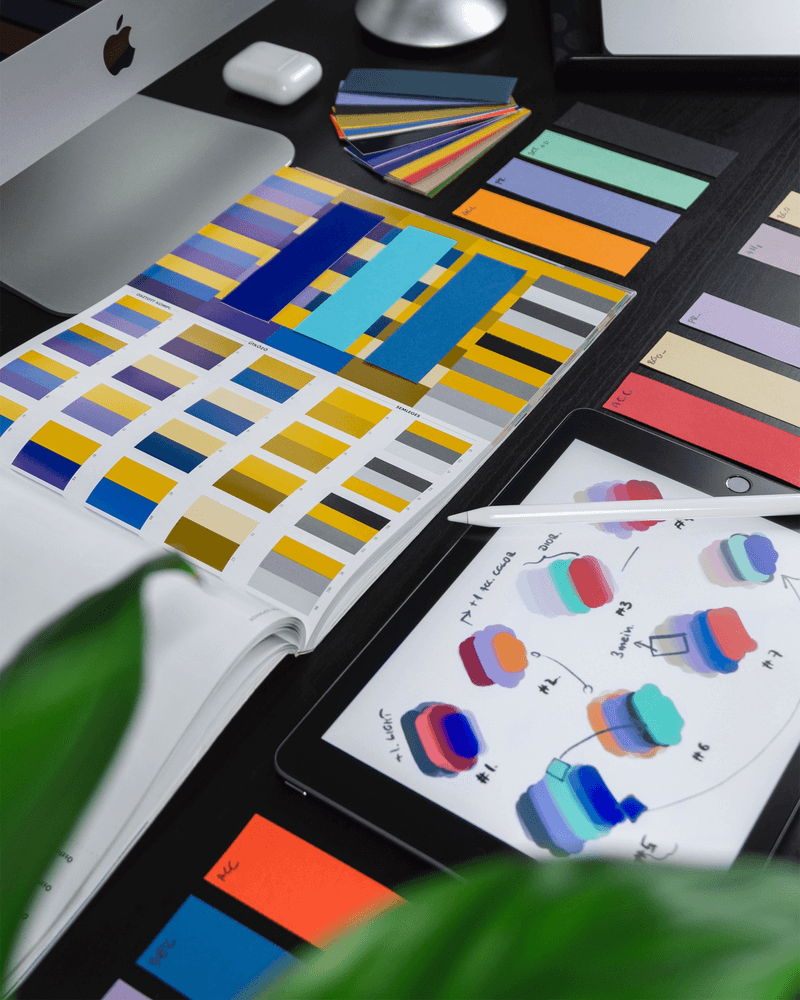 Before we discuss the best BigCommerce themes you can purchase for more than $200, it is important that we address why you should pay more than $200 for your website theme.
After all, $200 is not a small amount of money, so before you spend it on a website theme, it is important you understand why this is a worthwhile investment for your business.
It is worth evaluating your business finances before you select one of these themes, though. It goes without saying that one of these themes would be a great option for almost any brand, but if purchasing one is going to cost you most of your marketing budget, then you might want to consider a slightly cheaper theme for your brand.
That said, if you do have the budget available, then spending more than $200 on a theme for your company website is a brilliant investment.
You should view this as an investment in your brand and an act that proves you are serious about making your business a success.
BigCommerce offers a range of themes for you to choose from, some of which are cheaper than $200 and some that are more. As you would hope for the higher price tag, you get a much more professional look and feel when you spend more on your BigCommerce theme, which is essential for any company's website, regardless of their industry.
Your website is often the first thing that potential customers see when they start interacting with your brand, which is why it is essential to have a top-quality website theme that makes a great first impression.
If your website looks unprofessional and a potential customer comes to your store, they might be skeptical of how legitimate your business is.
In an era where nearly all brands have a professional and top-quality website, providing a professional and stylish design for your customers is non-negotiable for any brand that wants to be successful in 2023.
With that in mind, let's take a look at the best BigCommerce themes you can choose from to create an incredible experience for your customers and ensure your conversion rate goes through the roof!
Best BigCommerce themes in 2023 that cost over $200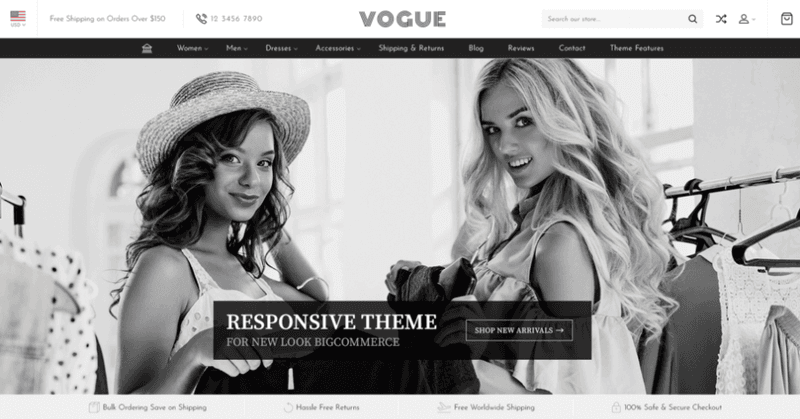 As you would expect from the name, Vogue Fashion is an excellent theme you can implement if you plan on selling fashion products.
The Vogue Fashion theme is fantastic for fashion, as it allows you to show off product collections, swatches, and other details that customers require when looking at fashion products.
Top Features:
Product comparison table
Popular payment methods, including PayPal
Product filtering
Single page checkout.
Cost: $297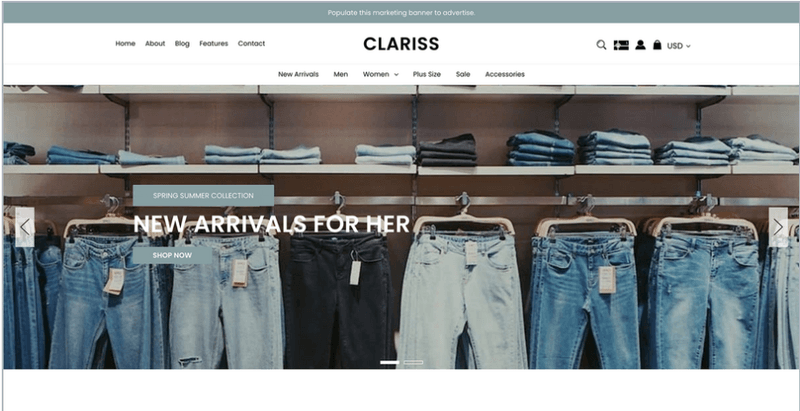 The Clariss Fashion theme is a fantastic option for any brand that wants to highlight the products they sell with big, bold imagery. It is an excellent theme for any fashion brand that wants to show off its products visually, where the aesthetic is much more important to promote than the price.
Clariss Fashion is fantastic as it is customizable with BigCommerce, and you can easily integrate apps and drag-and-drop different features onto each page of your website.
Top features:
Unique customized checkout page
Homepage carousel
Product comparison table
Cost: $299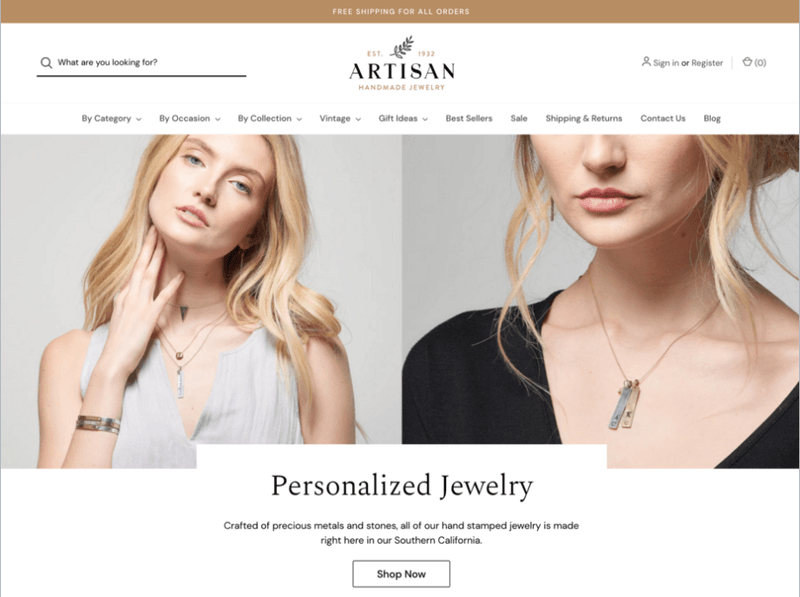 If your brand consists of various catalogs that are different sizes and contain different products, Artisan Original is a fantastic BigCommerce theme for you.
One excellent feature within the Artisan Original theme is the search bar at the top of the homepage. It allows shoppers to quickly discover the products they are searching for and makes it less likely for them to navigate away from your brand.
If you like the Artisan Original theme but do not need the search bar, you can turn this feature off.
Top features:
Detailed search filtering
Customized checkout page
Fast add-to-cart options, perfect for fashion stores
Cost: $245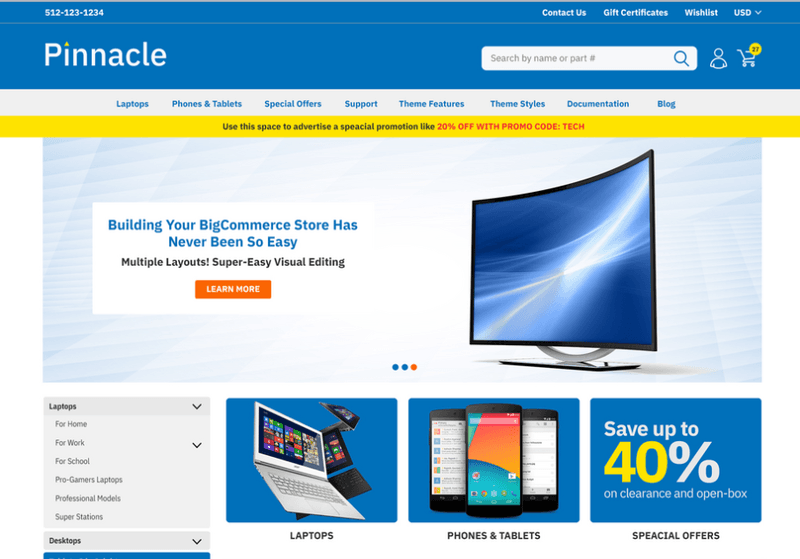 If you run a business that sells products across numerous categories, such as a home decor brand that also sells fashion clothing, Pinnacle is a fantastic option for you.
Pinnacle has a standard navigation bar, which makes browsing various products quick and easy for customers, ensuring they stay on your website for longer.
You have four theme choices from the Pinnacle section: Euro, Impact, Tech, and Sport.
Top Features:
Fully responsive theme
Integrated product videos
Free customer support
Cost: $225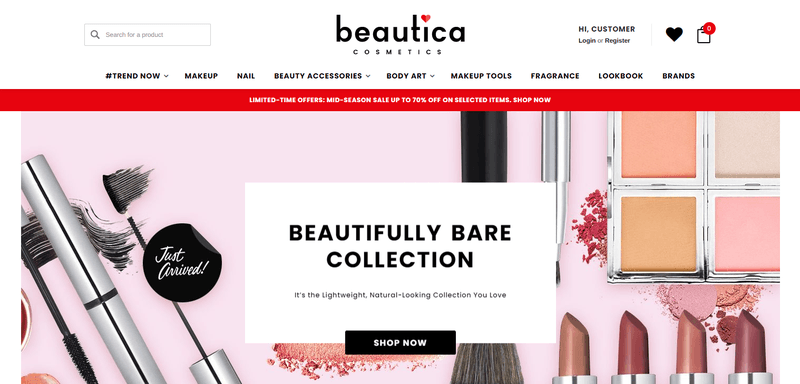 One of the reasons the Beautica theme is so popular with many BigCommerce users is that it utilizes bold headers and modular elements, which lets you include a lot of information on your home page without it seeming overwhelming or hard to read for customers.
The Beautica theme also works with Google fonts and has a great menu for easy navigation and shopping. Integrating with Google is only going to help your brand's SEO score.
Top Features:
Easy-to-use lookbook page
Excellent and extensive menu
Stylish product pages
Cost: $239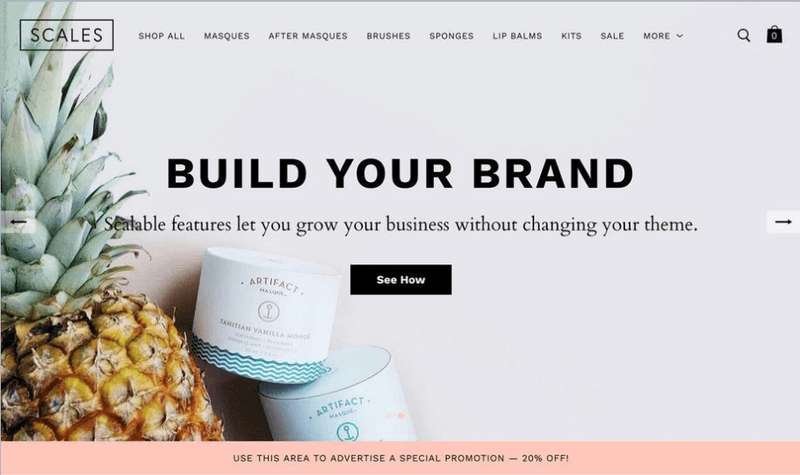 The Scales theme is another fantastic option for any brand that wants to create a website for its products with large imagery and bold statements.
The Scales theme uses lots of striking features to help users create a website that stands out from the crowd and could be the difference-maker between your brand and its competitors.
The theme utilizes a color-block foundation and grid to create standout product visuals.
In total, you can select from four different Scales theme styles: Chich, Modern, Pop, and Minimal.
Top features:
Filtering features
Single page checkout
Fast add-to-cart
Cost: $175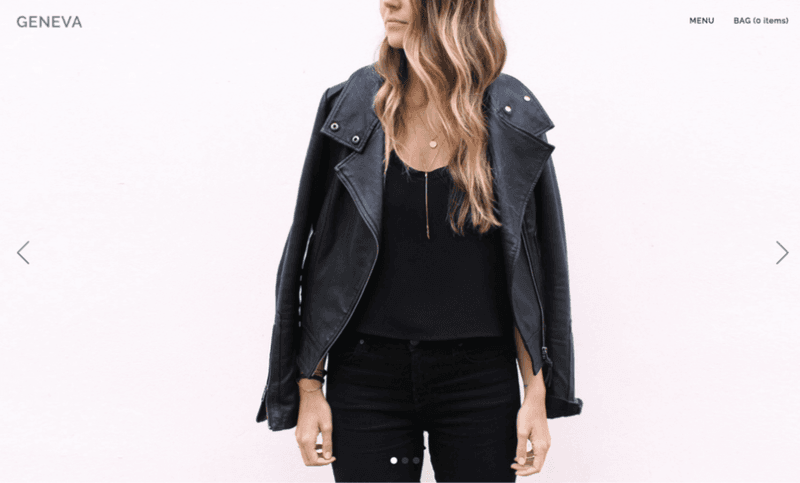 For many brands, it is essential to have a website that has a modern theme. For high-end products, showing potential customers that your products are worth the price tag is crucial.
If this type of website sounds like it would suit your needs, the Geneva theme is a fantastic option for you. In this theme, you can utilize minimalistic text with several image sizes to provide a modern, minimalistic look with several key features.
It also contains a condensed menu, ideal when promoting only a few high-quality products. The Geneva theme comes in four styles: Colorful, Pastel, Bold, and Grey.
Top features:
Fully responsive website features
Google Analytics Enhanced Ecommerce
Easy-to-use cart
Cost: $175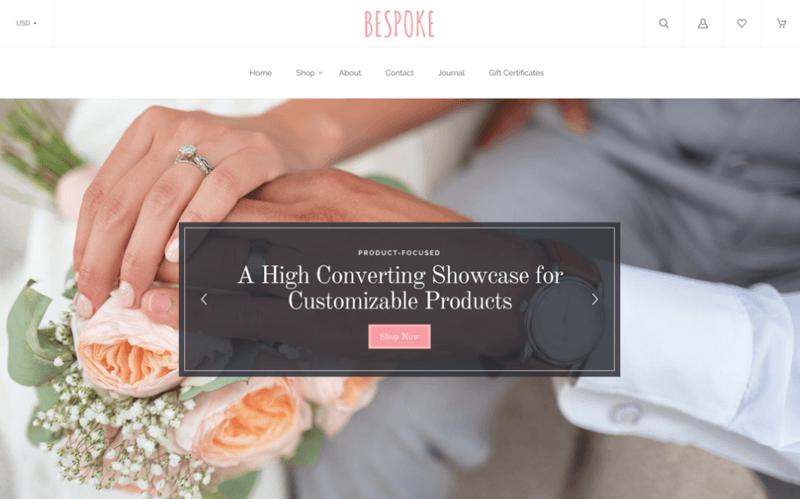 Not all products are easy to promote on just any old webpage. If you sell customizable products, you need a theme that offers customization options to allow your customers to build their perfect product before checking out.
Without these features, customers will find it hard to purchase customized products from you. The Bespoke theme is fantastic for companies like this, with a customizable product selector and easy ways to guide customers through the customization process with large, clear imagery and text boxes.
With the Bespoke theme, users have four options; Classic, Neon, Cool, and Warm.
Top features:
Homepage carousel
Single page checkout
Product videos and showcase
Cost: $175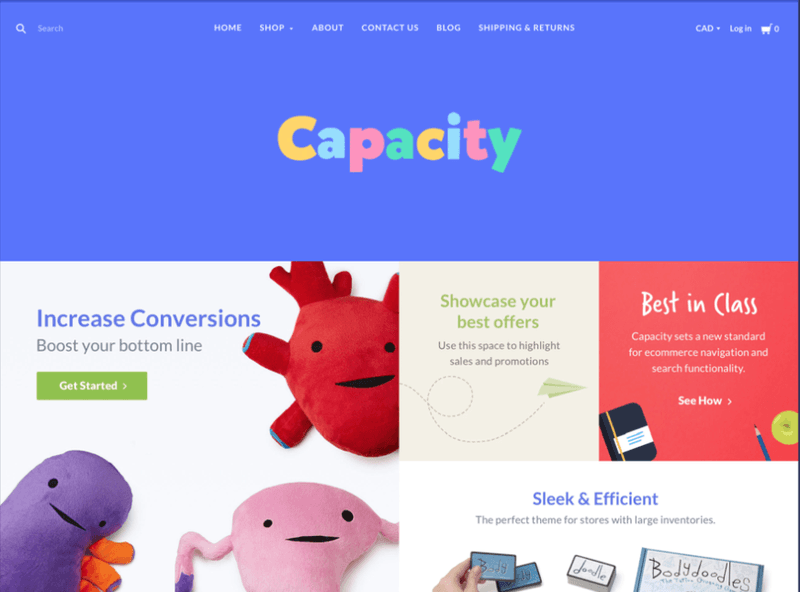 Capacity is a great theme for anyone with large product catalogs and offers a versatile option that can easily be adapted to any brand imagery and fonts.
The Capacity theme contains several crisp layouts, detailed navigation options, and striking color blocks. The design is perfect for implementing a stunning website that is also extremely functional and easy to use for you and your customers. Four variations of the Capacity Theme include the Clean, Cool, Bright, and Warm themes.
Top features:
Storefront protection
Homepage carousel
Saved payment options
Cost: $225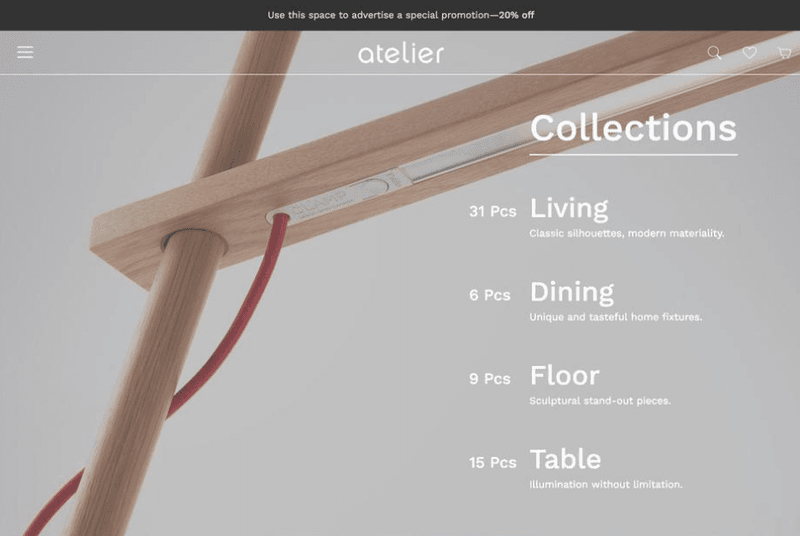 Sometimes brands want to make a statement with their website. They want customers that reach their website to stop and take notice and immediately want to know more about the brand.
If that sounds like what you are looking for, you might want to consider using the Atelier theme. This show-stopping design offers fantastic functionality for its users and allows them to create eye-catching designs that draw in new customers.
With the Atelier theme, you can implement the responsive scroll-over menu, unique navigation options, and collage-style collection pages, which help users create a fantastic shopping experience.
There are four different forms of Atelier that you can pick from, including Classic, Bright, Minimal, or Modern.
Top features:
Interactive mouse-over merchandising
Product Showcase
Single page checkout
Cost: $225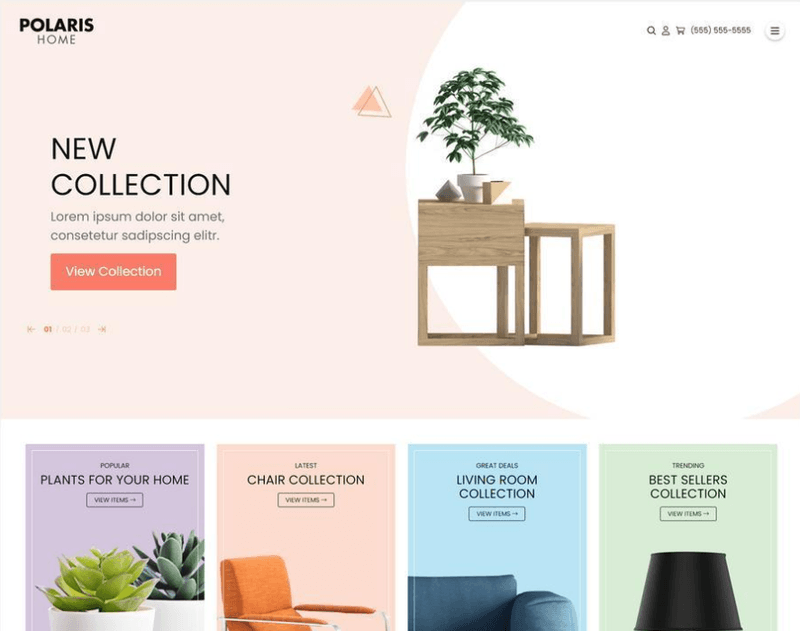 The Polaris theme is excellent for you if you prefer a BigCommerce theme that looks and feels simple while also being extremely responsive.
It offers a balanced structure laid out in a grid-like shape, and you can integrate responsive design features, such as a product carousel or hover product zoon.
You can select different Polaris themes, such as Fashion, Home, Beauty, or Hemp.
Top Features:
Basket suggested products
Advanced sidebar menu
Simplistic view
Cost: $300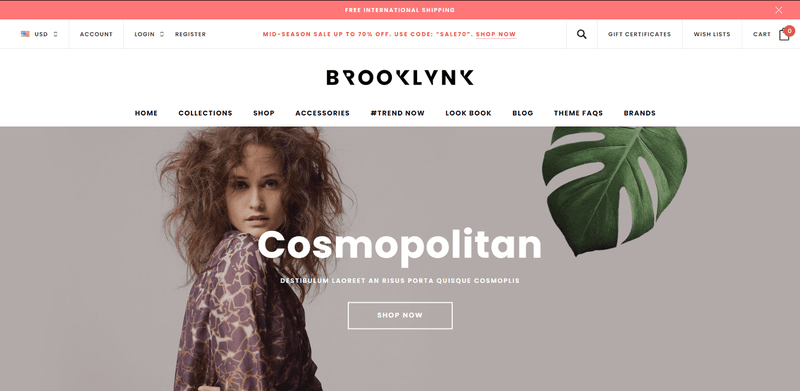 If you want a dynamic theme designed for apparel brands but can also be implemented for other niches, you might want to test out the Brooklynk theme.
This theme is a fantastic option if you need a responsive BigCommerce theme. It offers users a large menu option where you can include links to different menus, images, and even videos.
Top features:
Detailed menu
Popout size chart
Dropdown shipping basket
Useful product hover feature
Cost: $210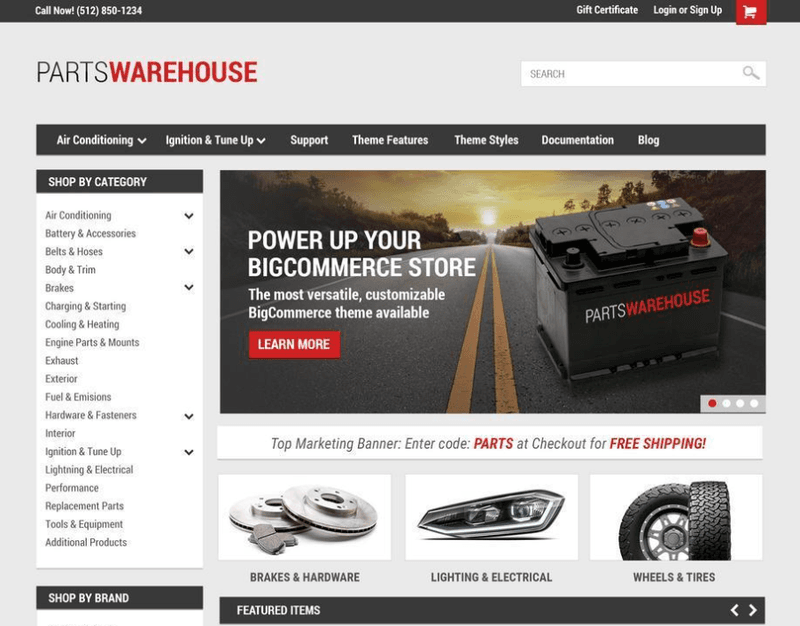 The final theme on this list might be last, but it certainly shouldn't be overlooked. Parts Warehouse is a fantastic theme if you want a classic-looking website for your brand.
It provides users with a standard navigation menu at the top of your webpage and includes a categorized menu on the left. Customers of particular industries are very used to this style, which will help them seamlessly start shopping on your page.
One of the best options for this theme is any brand with large product catalogs. The Parts Warehouse theme comes in four styles: Dark, Light, Classic, and Champion.
Top features:
Product filtering and showcase
Customizable product selector
Stored payment methods
Cost: $195
Conclusion
Now you can choose from a range of templates for your eCommerce brand. Whichever one you choose will depend on your personal preferences and the products you intend to sell.
Whether you choose a paid or free theme, ensure you pick one that will suit your needs and offer the dynamic options you can use to scale your business when needed.
Whichever theme you choose, don't forget to connect it to eDesk to see all of your orders, messages, and order information in one place. Learn more about how eDesk can help your business today.