Help desk apps for BigCommerce – do you really need one?
If you want to improve your customer service, save time, and drive more sales, the answer's yes.
Whether you're looking to free up the time you spend on manual tasks or boost your customer satisfaction rates, having a help desk for your eCommerce store is a must for new and established eCommerce stores alike.
Luckily, there are plenty of BigCommerce help desk integrations on the market to choose from. Read on to explore some of the most popular, their pros, and cons, and how much they cost.
TL;DR
Help desk apps for BigCommerce add extra customer service features and functionality to this eCommerce platform.
A help desk app can help you improve your customer service offering, free up your time, and drive more sales.
Some of the best help desk apps on the market include eDesk, Freshdesk, Zendesk, and Tidio Live Chat.
eDesk's BigCommerce help desk app has already helped customers just like you to boost customer satisfaction rates and raise their profits, with incredible automation, live chat, and insightful reporting.
What's a help desk app for BigCommerce?
BigCommerce is an eCommerce solution provider that allows you to create an online store to sell your products and services. While BigCommerce already comes with plenty of the features you'd want from an eCommerce platform, help desk software allows you to provide great customer service and answer customer queries in record time, with features such as live chat and an all-in-one dashboard.
Some of these help desk apps are connected using an API or third-party integration, while others use a native integration.
Why use a BigCommerce help desk app?
You might be wondering why it's necessary to use help desk software if BigCommerce is already one of the best platforms on the market and it's a fair question. But no platform is perfect, and BigCommerce's apps and integrations exist to allow you to add features and functionality to your favorite eCommerce platform.
Plus, thanks to its open-source solution, BigCommerce is made to be adjusted by users to fit their specific requirements.
Here are just some of the reasons you might want to use a BigCommerce help desk app as part of your customer service strategy to increase customer satisfaction and maximize sales.
Scale your business more quickly
There comes a point in every small business's lifespan when it wants to grow. Whether that's through increasing profits or hiring a bigger team, scaling up can be difficult when your customer service isn't on point.
In the case of QParts24, the team received a constant stream of questions from customers, but inefficient customer support threatened the company's ability to grow rapidly. Without access to the big picture, customer service agents struggled to keep up with queries in a timely manner, meaning that ultimately the business couldn't grow.
With eDesk, QParts24 transformed its customer service strategy, speeding up responses and leaving customers satisfied with responses. So effective was the use of eDesk help desk, in fact, that the team achieved 24-hour response SLAs. You can enjoy the same results with the support of a ground-breaking help desk that frees up time, allowing you to focus on growth.
Read the full Qparts24 customer story → How eDesk helped Q-Parts24 to drive and scale their business
Improve customer response times
A whopping 90% of consumers rate an immediate response as either 'essential' or 'very important'. That means, if you're failing to respond rapidly to your customers, you run the risk of them shopping elsewhere. After all, quick response times ensure your customer base feels valued and looked after.
Wetsuit Outlet faced this very problem, when all customer service channels were managed independently, which meant slow response times for the team's unhappy customers. By implementing the help desk app, eDesk, into the company's strategy, Wetsuit Outlet was able to increase response times by a whopping 38%.
Improve your response times by 38% like Wetsuit Outlet thanks to eDesk for BigCommerce.
Personalize interactions
In a world where automation and AI are king, consumers now expect personalized interactions. From their Instagram feed to their Amazon suggestions, personalization is everywhere, and their interactions with customer service teams should be no exception.
With the right help desk, you can have all the relevant customer data at your fingertips, from their customer order history to their previous interactions. As a result, you're able to provide a more personalized experience from one customer to the next.
The result? A customer base that feels like you really care.
Save time
Be honest, how long do your customer support agents spend per day responding to queries? And how many of those queries appear over and over again?
Using a help desk with automation features and a dashboard that displays all customer data in one place frees up the time you spend manually responding to messages across multiple platforms. You can use that time to scale up your business, boost your profits, or even just enjoy more downtime.
Build customer loyalty
59% of American consumers say that once they're loyal to a brand, they're loyal to it for life. The long and short of it – customer loyalty shouldn't be underestimated. In fact, cultivating a loyal customer base should be at the top of your priority list.
By answering customer queries promptly and providing a friendly, personalized response, you'll create a connection with your customers that keeps them coming back time and time again. After all, customers are much more likely to trust your brand if you show that you respect their time and opinions.
The best part? Your most engaged customers will spread the word about your top-tier customer service to their friends and family members, acting as a form of free marketing for your online business.
Top 7 Help desk apps for BigCommerce
eDesk
Freshdesk
Zendesk
Tidio
LiveHelpNow
Replyco
Gladly
eDesk is a complete customer service help desk app built exclusively for eCommerce sellers. It takes the pain out of trying to deliver consistent customer service across multiple channels by bringing all tickets, order/shipping data, customer data and metrics together in one place. Uniquely, eDesk can integrate with:
Leading eCommerce platforms such as BigCommerce, Magento, and Shopify
Leading marketplaces such as Amazon and eBay
Major social channels such as Facebook, Instagram, and WhatsApp
And just in launched in 2023… Klaviyo!
When you trial eDesk, you get access to an eCommerce-focused platform that combines AI, native eCommerce integrations, automations, and metrics that help eCommerce support teams respond faster and increase sales.
eDesk brings all your multichannel messages, order details and customer information together in one place.
Smart inbox automatically groups, prioritizes and assigns incoming tickets, so your team doesn't have to. Features such as SLA management ensure you always respond according to internal targets or within marketplace SLAs. Real-time collision detection helps agents avoid working or responding to the same customer tickets at the same time.
AI responses make answering common queries an absolute cinch. Meanwhile, eCommerce-focused workflows powered by sentiment analysis, order, shipping and customer information, can assign conversations to the right team or agent at the right time.
Team collaboration features allow you to loop in a supplier or @mention a colleague for a second opinion. This helps ensure tickets are resolved quickly and accurately.
Live chat for higher sales conversions
With Live Chat, you can turn your website visitors into buyers by proactively engaging with them in real time. Chat prompts allow you to target visitors to specific pages or products, and deliver highly personalized messages or offers to increase website conversions. You'll even have analytics built-in to see what tactics are working and where you can make improvements.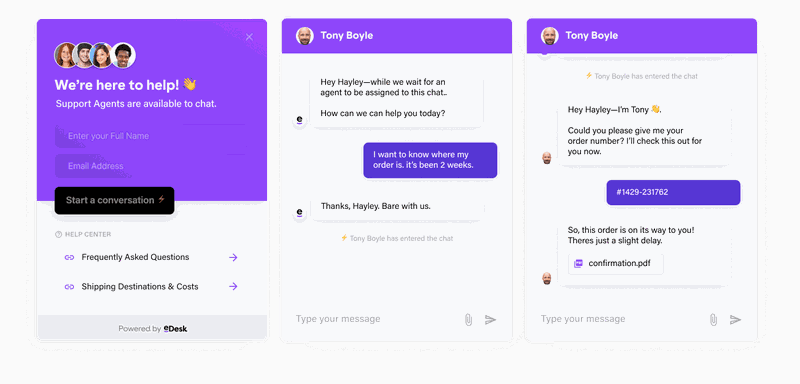 A 360-degree customer view for highly-personalized support
Every customer deserves exceptional customer service. With Customer View, your agents always have the full context of a shopper's order and conversation history, so they can deliver uniquely personal and accurate responses in a fraction of the time.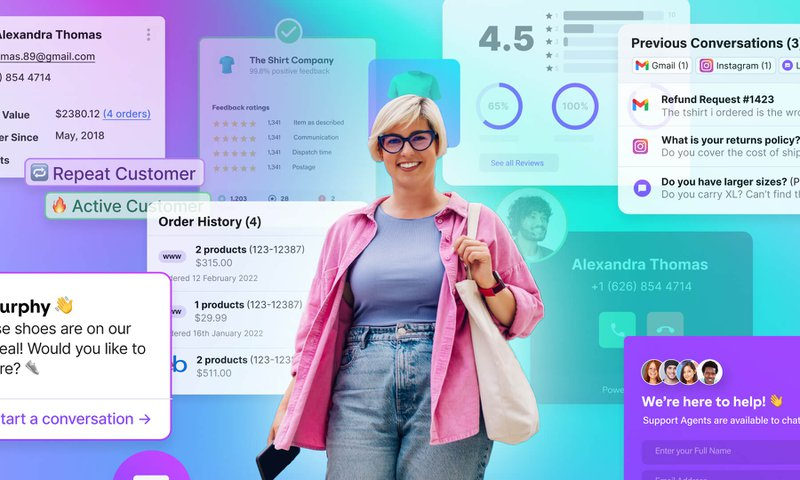 Segments are automatically created for VIP and first-time customers to help you prioritize customers and refine workflows, by identifying and grouping customers based on buyer behavior and your business criteria. You can even push this powerful information back into your CRM or other systems in your eCommerce stack.
Knowledge base for self-service support
Online shoppers are more than happy to find answers themselves—if it's easy! In fact, you can reduce customer queries by up to 30% by using Knowledge Base to publish help articles to your website, so customers can self-serve everywhere you sell.
What's more, your knowledge base can become a single source of truth for support agents, so they can respond to customer inquiries faster and ensure that customers always receive consistent information. Knowledge Base is searchable, so agents can easily add a link or insert article content into their customer responses.
Use personalization to retain more customers
How can personalization help your eCommerce business retain customers? With eDesk you can use personalization to tailor a customer's journey based on context from their previous behavior and their segmentation into categories such as new customer, repeat customer, VIP, etc.
Generate reviews automatically
No matter where you sell, positive reviews increase conversions and generate more sales. eDesk Feedback makes it super simple to generate these using smart, selective feedback requests that resonate with your happy customers. All on autopilot.
Of course, not all feedback is positive in eCommerce, but Feedback can help dramatically turn negative experiences to your advantage. When negative sentiment is detected, it will block the sending of a review request or allow agents to do so. If you receive negative feedback, Feedback will immediately notify the right agents directly, so you can reach out and resolve issues like any other support query.
Pricing
The cheapest plan starts free (the free forever plan) and has unlimited agents & 30 tickets per month. To obtain a quote for enterprise businesses, get in touch with eDesk directly.
Main features
Smart inbox
Live chat
AI-powered features
Automation
Insights into your performance
A centralized support dashboard
Learn more about eDesk:
Freshdesk promises to help you scale your customer support without scaling costs. The features help your ticketing system to function better, with SLAs that keep your team on track and agent collision detection to ensure that agents don't accidentally double up on customer inquiries.
Many of the AI and automation features on Freshdesk are built to save you time and allow you to respond to queries more quickly. Plus, you can view and manage your BigCommerce orders from the Freshdesk integration. Bear in mind that the BigCommerce integration is not a native one, so you might require some API expertise to get it set up.
Who is Freshdesk for?
Freshdesk is for businesses of all sizes but works especially well for businesses that use a ticketing system. Some users do report that Freshdesk can be a bit of a learning curve, so it's probably not ideal for users without tech experience. Plus, with no native auto-translation, it's not as ideal for international eCommerce stores.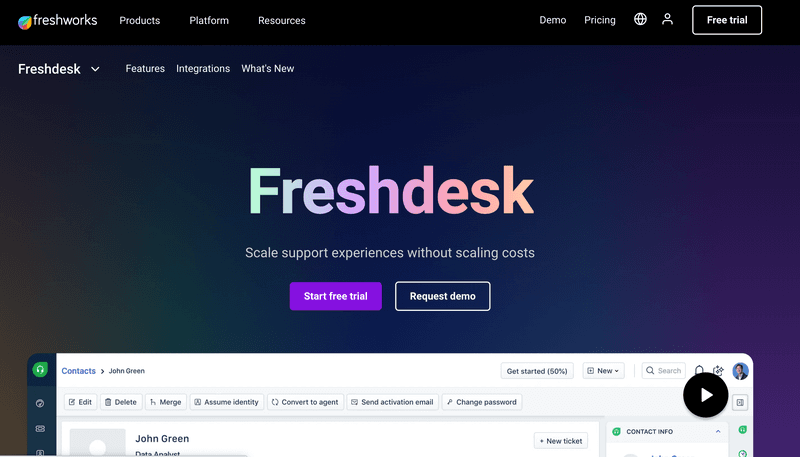 Pricing
Up to 10 agents can get started for free with very limited functionality. After that, this live chat app charges $15 per agent per month for a basic plan, and omnichannel packages start from $29 per agent per month.
Main features
Event-triggered automation
Live chat
Scenario automation
SLA management
Custom ticket statuses
Zendesk is a help desk that focuses on building connections with your customers by personalizing experience. It integrates seamlessly with your BigCommerce account to add extra customer service features and functionality to your online store. While it doesn't have a native integration (which does make the process slightly more challenging), there is a BigCommerce app, created by Agnostack.
As with most of the best help desk apps, Zendesk has made the most of new features such as AI and automation to create software that's easy to use. There's the option for voice chat as well as live chat, so you can jump on a call with a particularly disgruntled customer if and when necessary. It does lack a smart inbox, however, so bear this in mind if it's one of your must-haves for your help desk software of choice.
Who is Zendesk for?
Zendesk has plans for start-ups, medium-sized businesses, and enterprises, so you can integrate with this BigCommerce help desk app no matter which stage of your business you're at.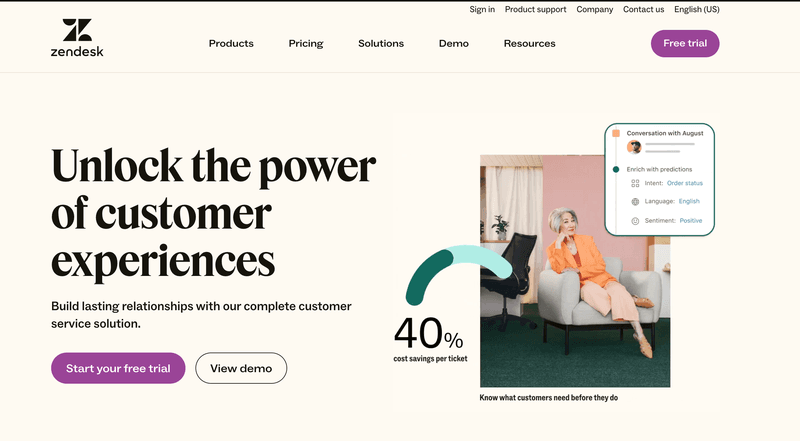 Pricing
The most basic Zendesk plan starts at $55 per agent per month. As the number of features and functionality improves, you pay more for the service. The Suite Professional will set you back $115 per month. For a quote for the Enterprise plan, you'll need to contact the team directly.
Main features
Voice call
Live chat
Analytics and reporting
A help center.
Recommended reading
Rather than being an all-in-one help desk app with multiple features in one place, Tidio Live Chat focuses mainly on live chat and chatbot. There is, however, a Tidio help desk, too, which offers typical features, such as automation, an intuitive ticketing system, and the ability to automatically assign tickets to the best agent for the job. But all of these features don't come with the BigCommerce integration.
Who is Tidio for?
Tidio Live Chat might not be suitable for enterprise-sized businesses that are looking for a platform that has it all. Instead, Tidio is better suited to Big Commerce stores that are just starting out and want to trial a live chat feature rather than committing to an entire help desk.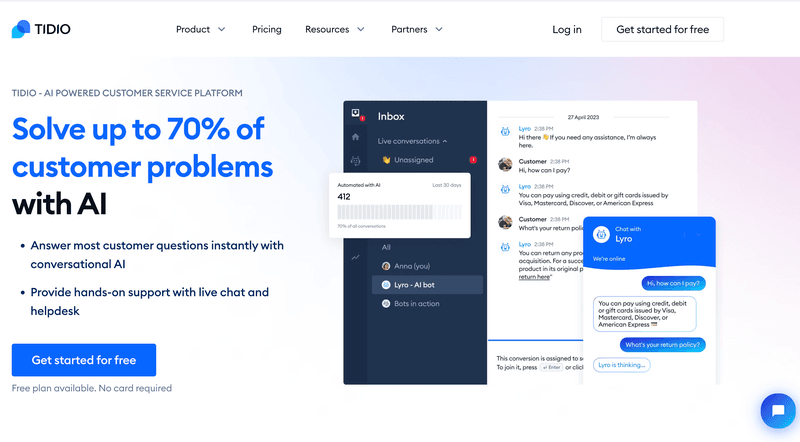 Pricing
You can download and get started on Tidio entirely free of charge. After that, if you want to upgrade your plan, you can expect to pay $29 per month for the Starter plan. A personalized plan jumps up in price to $394+ per month.
Main features
Live chat
Chatbot
Automatic ticket assignment
Performance analytics.
LiveHelpNow offers a range of customer service tools aimed to improve the customer satisfaction rate of businesses of all sizes. This useful help desk app for BigCommerce allows customers to communicate through a channel of their preference, while support agents manage all customer information and interactions from one dashboard.
The AI chatbot is great for freeing up time, while the insights and analytics allow you to peek into the minds of your customers and see where you can improve.
Who is LiveHelpNow for?
LiveHelpNow can be used by businesses of all sizes, but it's particularly useful for smaller businesses that can pay only for the features they need if they're on a tight budget.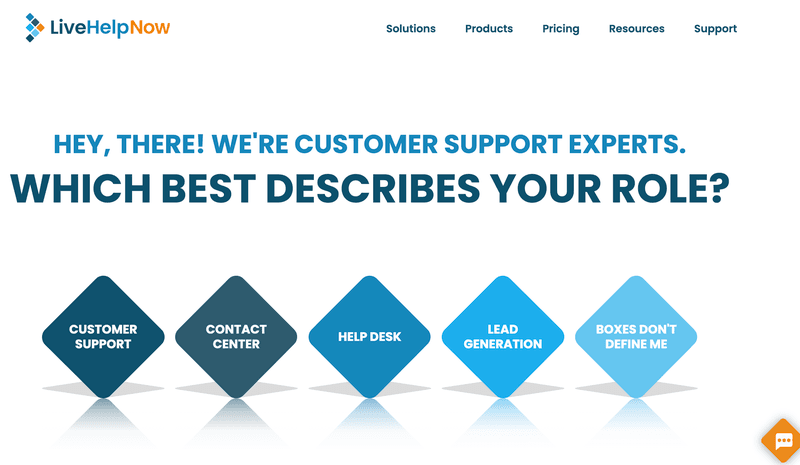 Pricing
LiveHelpNow's pricing is a little more complicated since you pay per feature per agent. Live chat and texting, ticket management, and a knowledge base each cost $21 per agent, while call management costs just $9 per agent per month. There's currently no free plan.
Main features
AI chatbot
Omnichannel communication
Conversion tracking
Insights and analytics.
This eCommerce help desk platform centralizes all customer messages into one inbox, making it easier for customer support teams to keep track of customer requests and reply quickly. With Replyco, you can automate tasks, reducing your manual workload and allowing you to deliver exceptional customer support.
Replyco allows you to use a single log-in for all stores and marketplaces and even access team reporting and analytics. With its BigCommerce integration, you can access buyer data and messages directly through the Replyco inbox.
Who is Replyco for?
Replyco is a little more basic than some other help desk software, but its pricing allows for multiple users in one pricing plan without paying extra per user, so it's great for small teams. There's also a 7-day free trial, but no permanent free plan. Bear in mind that Replyco doesn't offer voice support, so it's more suitable for those seeking live chat features.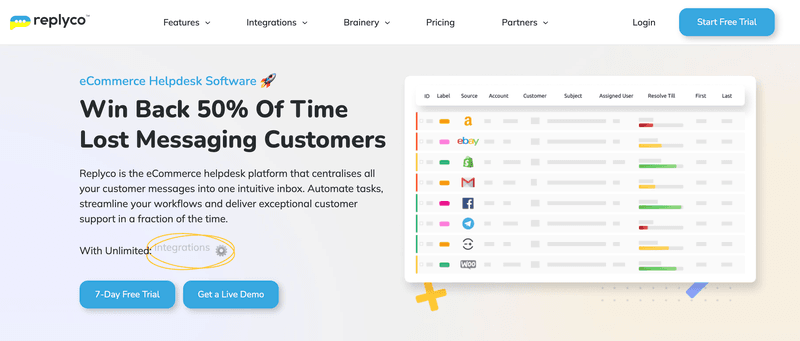 Pricing
The basic pricing plan is $70 per month, but you can have unlimited users. The most expensive plan, the Business plan, is $315 per month, and you can get in touch with the team for the custom Enterprise plan if you're a larger business.
Main features
Email automation
Centralized messaging
Live chat and instant messaging
Performance reporting.
The Gladly BigCommerce integration promises to help agents handle refunds and cancellations, and view key customer data from their BigCommerce store all within Gladly. Since customer support agents can see the customer interaction and website chat alongside their data such as previous orders and conversations, there's no longer a need to flick between tabs to find the right information to detect customer intent.
It's an out-of-the-box integration, too, making it straightforward to set up.
Who is Gladly for?

Gladly doesn't offer the most comprehensive suite of features, so it's probably better suited to smaller businesses that are just getting started.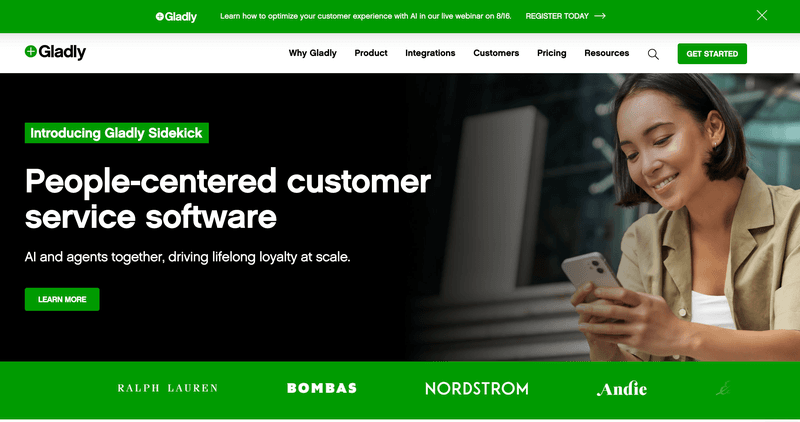 Pricing
Gladly is one of the more expensive platforms, with the cheapest plan setting you back $150 per support agent per month. You can expect to pay $180 per month for the Super Hero plan.
Main features
Omnichannel support
Customer data and messages all in one place
Voice support.
Drive sales and outperform competitors with the ultimate help desk for BigCommerce
Here at eDesk, our state-of-the-art help desk integrates seamlessly with BigCommerce, giving you all the features you need to make your customers' lives easier.
Our BigCommerce help desk software contains all the tools you need to go above and beyond for your customers (with less work required from you!) in one place. Our customer view gives you all the context you need for previous customer conversations, allowing you to personalize chats, while automation tools make your workload smaller and your response times quicker.