There's plenty to consider when starting an online retail brand. One of the most important decisions is what platform you'll run your business on – and how much it will cost.
In this connected era of internet shopping and the mandatory blogs, websites, and social media accounts all tying into your business, you'll need a professional platform to help you manage your business and your customers all at the same time.
Fortunately, there are plenty of well-reviewed eCommerce platforms to consider when your business starts to take off. The three platforms we'll discuss and compare today are BigCommerce Enterprise vs Shopify Plus vs Magento.
TL;DR
All three eCommerce platforms are well-reviewed, well-established, well-known, and very powerful. Each has plenty of features and software that your online store needs.
Shopify Plus is a SaaS platform, meaning that you rely on the platform to release new features and keep the software up to date. It's better for artistic brands, like clothing and fashion, and hosts many high-profile clients and brands. Shopify Plus is also very easy to use. It has a healthy ecosystem of integrations, global reach, and good proof of performance. Shopify Plus is better for small to medium-sized businesses.
BigCommerce Enterprise is, roughly speaking, the cheapest eCommerce platform out of the three- although it doesn't sacrifice value, power, and quality of service. It focuses mainly on the SMB market -but not exclusively- and is growing very fast. BigCommerce is the best value out of the three and is best for medium-sized brands. It doesn't have the global reach of Shopify Plus and is the youngest platform out of the three brands.
Magento Enterprise is the best platform for large businesses. It's a very efficient platform with a lot of built-in features, and easily outstrips BigCommerce and Shopify. The drawback is that it's much more expensive, with prices ranging up to $125k per month. Most small to medium-sized businesses wouldn't need something to the magnitude of Magento Enterprise.
In this article, we'll compare all three of these major eCommerce platforms and assess their performance in a few key areas:
SEO and marketing
Ease of use
Price
Automation
Customer reviews
For an in-depth review of BigCommerce Enterprise, Shopify Plus, and Magento Enterprise, read on.
What is BigCommerce Enterprise?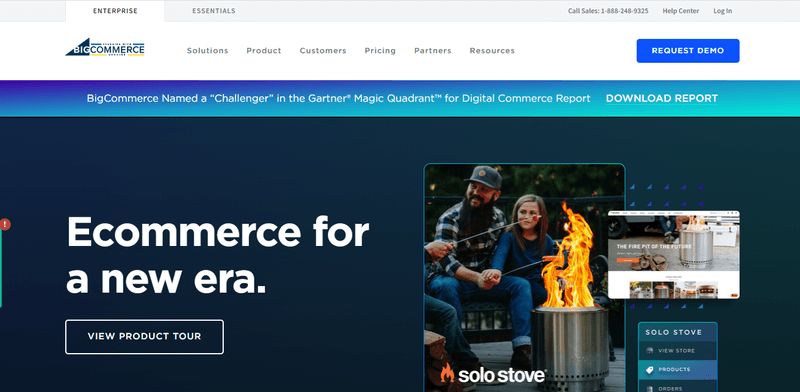 BigCommerce Enterprise is a branch of the larger parent company, BigCommerce. It has been around for several years and is well-established as a useful, trustworthy platform.
BigCommerce Enterprise is well spoken of in the eCommerce world, although it has lagged behind Shopify Plus for a number of years, notably in the global marketplace and in its customizations.
Naturally, BigCommerce has its strengths – while it tends to focus on the SMB market and isn't quite the global powerhouse of platforms like Shopify, it has a lot of resources (apps, third-party solutions, etc) and is known as a powerful platform.
The platform is also growing fast and making a lot of changes. This means that we could see a totally different BigCommerce in just a few years.
However, the basic BigCommerce package may not be complex and powerful enough for large or complicated businesses. In that case, you might want to consider BigCommerce Enterprise, which was designed to handle larger businesses.
What to know about BigCommerce Enterprise
We'll discuss BigCommerce Enterprise's features at length later, but for now, here's what you need to know:
Power
BigCommerce Enterprise is designed as an eCommerce platform for larger, more complex traders. BigCommerce is good for traders who like to have a lot of control over their eCommerce platform. If your online business needs quick results and the ability to write your own code, then BigCommerce Enterprise is probably for you.
Rapid changes and updates
In the past, BigCommerce has fallen behind platforms like Shopify in terms of integrations and international influence. However, it's rapidly catching up. Regardless of its features and services, an eCommerce platform should be constantly updating and show its willingness to make changes reasonably quickly. The world of online selling is constantly changing, and it's up to eCommerce platforms to keep up.
A good reputation
What's the first thing that most of us do before investing money in anything? Check the user reviews. This is where you'll find out about the quality and durability of a product, as well as any known flaws in the product or the service. An eCommerce platform is no different. BigCommerce Enterprise has a good reputation in the eCommerce world, and that gives us plenty of confidence in its brand and services.
The history of BigCommerce Enterprise
Established in 2009, BigCommerce was created by Eddie Machaalani and Mitchell Harper.
They initially created BigCommerce to deal with small to medium-sized businesses. This meant that larger traders went elsewhere, or struggled to manage their business with inadequate resources.
In 2015, a new branch of BigCommerce was founded, designed to be a more powerful, premium tool for traders with large and complicated businesses.
This branch was called BigCommerce Enterprise and continues to be a popular choice for medium to large businesses.
What is Shopify Plus?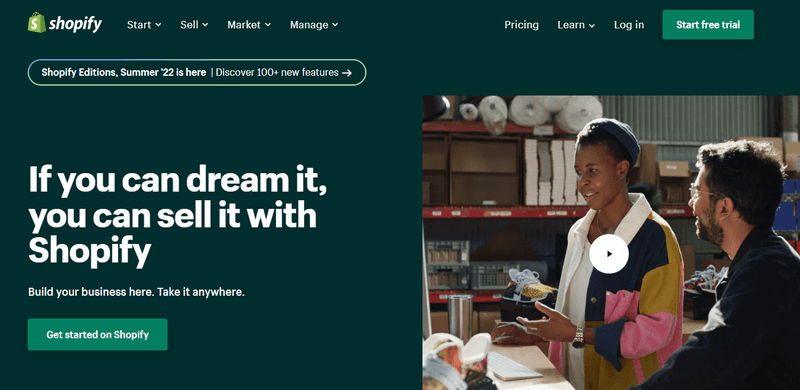 The longer an eCommerce platform has been around, the better it is. Generally speaking, of course. Shopify has been around for a little longer than both BigCommerce and Magento and is well-known for its global marketplace and high-profile clients.
Like BigCommerce Enterprise, Shopify Plus is an offshoot of the main Shopify platform, designed to cater to more complex brands and offer more resources.
Containing plenty of free themes, Shopify is also known as a platform for more artistic users, such as fashion and makeup brands.
What to know about Shopify Plus
We'll take a more comprehensive look at what Shopify Plus can offer you later on in the article, but for now, let's sum up a few of Shopify's main selling points.
An international marketplace
The majority of Shopify Plus clients are in the UK, North America, and Australia. Thanks to its unique offering (at the time) and clever marketing, the Shopify brand has built an impressively global reach. If you're looking to take your business overseas, you'll need an eCommerce platform that can support you in that.
Better options for artistic brands
If you're running a business that sells fashion, jewelry, makeup, graphic design, or any other artistic trades, you'll need a platform that stands out and works with you to create and establish your brand. Shopify Plus has plenty of resources and customizable options to make sure that your brand stands out a mile.
A well-established reputation and history
Time doesn't necessarily equal quality, but Shopify's lengthy stay as a well-known eCommerce platform is definitely a good sign. Its high-profile clients also show new prospective customers what Shopify Plus can do, providing proof of performance and quality.
The history of Shopify Plus
In 2006, Tobias Lütke realized that the current eCommerce platforms simply weren't cutting it. He decided to create his own platform: Shopify.
At first, Shopify was initially designed to only handle small, simple businesses. As the platform became more and more popular, it became clear that Shopify needed more resources and more power to handle larger clients. So, in 2014, Shopify Plus was launched.
What is Magento?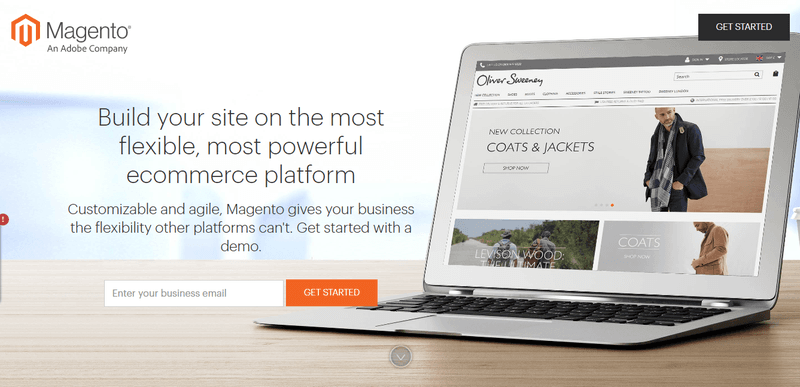 Magento is a powerful eCommerce platform designed to handle large businesses – and its price reflects that.
We're all looking for ways to save money and make our eCommerce business more profitable. Generally speaking, Magento is the most expensive platform out of the three, unless you use the open-source platform. However, it has more features than others. There are two Magento apps to consider:
Magento Open Source or Magento Community Edition
Magento Open Source is free software. You'll struggle to use this platform to manage your business unless you know what you're doing (and have significant capital and know-how behind you) as most of the features you'll need to open an online store need to be paid for.
Magento Commerce or Magento Enterprise
Previously called Magento Enterprise Edition, Magento Commerce is designed for large enterprises and businesses, ideally ones with developers at the ready.
What to know about Magento Enterprise
We'll compare Magento with Shopify Plus and BigCommerce Enterprise later, but for now, here are some key features you'll find in Magento Commerce:
Powerful features (and a price tag to match)
When it comes to power and features, Magento Enterprise easily blows away its competition. Unfortunately, so does its price tag. Magento offers a very expensive service, and while it does deliver on quality and power, it might be a bit of an overkill for small and medium-sized businesses.
Adjustability
You can adjust just about everything on Magento Enterprise, including your security protection, the features you use, and more. Magento has the most built-in features out of all three of the platforms we'll discuss today.
Ideal for large and complex businesses
Too many eCis a crucial part of an online store, and not one to be overlooked. From payment gateways, receipt emails, updates, and much more, automation keep you and your customer informed on where their product is and what's happening next, as well as increase efficiencych better to invest in a more expensive but more powerful platform, like Magento.
The history of Magento
Magento was developed in 2007 by a company named Varien.
Varien already owned and created osCommerce, and Magento was initially supposed to be part of that. However, Varien decided to make Magento its own eCommerce platform, designed for large businesses with complex needs.
In the first few years of its release, Magento was a popular platform, winning both software and open source awards. In 2018, Magento was bought by Adobe.
A history of competition: comparing the three platforms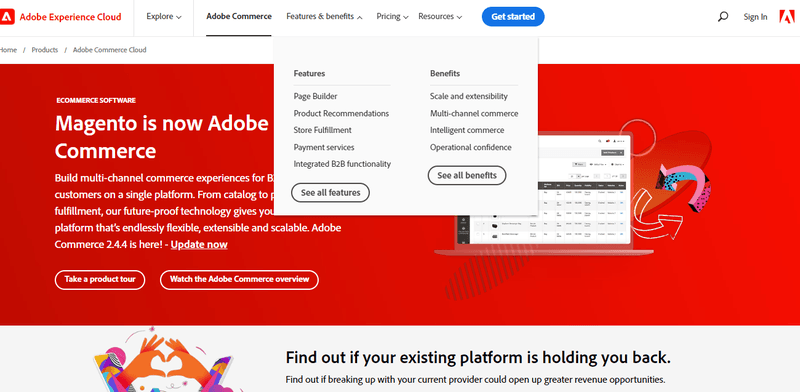 When it comes to competition, it's easier to compare Shopify Plus and BigCommerce Enterprise.
Magento is designed for much larger businesses, so its pricing and complexity tend to scare away small and medium-sized businesses, leaving Shopify and BigCommerce to jostle for the remaining customers.
All three platforms are much more than just software to create an online store, and provide good results and impressive conversion rates. They also offer customer service tools, like live chat and surveys.
We can compare the three by briefly overviewing their selling points:
Shopify Plus selling points
Shopify has an excellent SMB base, excellent artistic choices for graphic brands, more clients, and a good app marketplace. It also has a foothold in the global marketplace.
BigCommerce Enterprise selling points
BigCommerce Enterprise can handle more complex traders, allowing for more customization when it comes to product catalogs and analytics tools.
While they aren't as internationally established as Shopify Plus, they can attract larger clients.
Magento Enterprise selling points
Magento Enterprise offers all the apps, integrations, and features that a brand would need. It can handle large and complex clients and support very large businesses.
However, Magento Enterprise is more difficult to use than the other two eCommerce platforms and is much more expensive.
Services comparison: a brief look
So, how do these platforms compare? Setting up an online business involves much more than just creating an online store.
Before investing in any eCommerce platform – even a well-known, powerful platform – you should do some research to make sure that it's a good fit.
You might not need to use every feature in your platform, but there's no point in paying more for a platform that doesn't have your need. Perhaps your focus is on catalog management or integrations.
You wouldn't buy an ill-fitting coat, would you? You'd find one that fitted you properly, preferably in a color you liked – at an affordable price. Shop for your eCommerce platform just as carefully.
So, let's take a look at what each of these platforms offers when it comes to features.
SEO and marketing
Without proper SEO features, you might as well be wasting your money.
There are a lot of online stores around, and if you want to attract a customer's attention to your eCommerce store, you need to know how to work the algorithms.
This means SEO.
Shopify Plus SEO and marketing
Shopify Plus has a collection of simple, modest SEO features. The platform allows you to optimize inventory and product pages for in-depth optimization. This means that you can work with the search engines, not against them. However, Shopify Plus is self-hosted, which does mean that there will be limitations when it comes to SEO flexibility.
BigCommerce Enterprise SEO and marketing
BigCommerce provides simple but useful SEO features, including keyword optimization and other basic features. Like Shopify Plus, it provides standard SEO flexibility, but not total control.
Magento SEO and marketing
Magento, of course, provides hugely powerful SEO tools and plenty of optimization choices.
Magento allows you to customize URLs and offers SEO prompts as well as other functions.
Product and catalog management
Managing and organizing your products is key to a well-run eCommerce store. Optimizing your listings makes customers more likely to buy from you instead of your competitors.
It also means that you can view your statistics more easily, and keep track of your stock and inventory.
However, more complex products may struggle to work with SEO and catalogs on small to medium-sized platforms. Poor catalog management means that customers can't find the items they're looking for – and possibly neither can you. This means that even if your products are trending, they may not be getting the attention they deserve.
Shopify Plus product and catalog management
Shopify Plus gives you the basics when it comes to managing your products and catalogs. Setting up your products is simple – you use a basic interface to create the product description, and you can also integrate apps and third parties to your product. However, there are limits as to how complex your products can be on Shopify. So, if you have a complex product to sell, you may struggle to create a listing and a catalog.
BigCommerce Enterprise product and catalog management
BigCommerce Enterprise offers more complex product listings. It can handle more complex products than Shopify Plus, making it a better choice for medium-sized businesses. There are more editing features available, and it's overall easier to navigate your catalogs.
Magento product and catalog management
Naturally, Magento blows both Shopify Plus and BigCommerce away when it comes to product listings. It can handle huge catalogs and highly complex products. You can work with your SEO features to make sure that your products are reaching the right eyes and ears, and there are more features to unlock, depending on your business plan.
Ease of use
It doesn't matter how good your eCommerce platform is. If you don't know how to use it, it's wasted.
So, how easy are these platforms to use? Let's use a simple rating system to check, ranging from easy to difficult.
Shopify Plus: Easy to use
Shopify Plus is known to be a very intuitive design. Assuming that you aren't too demanding with your customizations, the platform should be very easy to use. However, complex features, new integrations, and new third-party apps can make the platform more complicated to use, especially if you want to intrinsically change the platform from the standard.
Shopify Plus uses a lot of third-party apps and custom scripts, which can get more confusing and difficult to use when you introduce your own themes and integrations. If you stick to the standard Shopify Plus design, the platform is very easy to use.
BigCommerce Enterprise: somewhat easy to use
When it comes to ease of use, BigCommerce Enterprise sits somewhere between Magento and Shopify – more complex than Shopify Plus, but much more manageable than Magento.
BigCommerce's strengths come from the building. It allows you to use some advanced product and customer features, customize your own themes and architecture, and design your online store the way you want. While the platform will get more complicated as you add more features, it still has some of the intuitiveness which makes Shopify Plus so appealing.
Magento: difficult to use
Using the Magento Enterprise platform is not for the inexperienced. BigCommerce Enterprise and Shopify Plus can be used by individuals or groups running a business, whereas Magento is designed to be used by developers or people with extensive technical knowledge.
Since Magento caters to large businesses, it can support complex road maps, custom features, and more. It requires a lot of resources and plenty of know-how.
Growth and extensions
Third-party extensions are a must for a growing business. It's also crucial that an eCommerce platform moves with the times and follows the latest trends.
Without growth, the platform will die – along with most of its clients. This can be avoided by staying up to date with current eCommerce.
Shopify Plus growth and extensions
Shopify Plus has seen some amazing leaps and bounds in growth over the past decade. It continues to keep up with its competitors and stay abreast of the world of eCommerce.
Its global marketplace and high-profile clients help to keep Shopify relevant and useful. Shopify Plus offers basic extensions, depending on your plan and what you want for your business.
BigCommerce Enterprise growth and extensions
In the past, BigCommerce Enterprise has lagged behind other platforms like Shopify Plus. However, BigCommerce had shown a lot of growth over the past few years, rapidly expanding into the global marketplace.
BigCommerce Enterprise isn't going anywhere, and it can offer more extensions and features than Shopify. However, many of the customizable options are limited when it comes to themes and the look of your online store. This means that if you need to stand out, BigCommerce might not let you shine.
Magento growth and extensions
Naturally, Magento beats both of the other platforms when it comes to extensions. You can edit the source code, which allows for endless customization.
When it comes to variety and diversity of extensions, Magento definitely wins. However, due to its size and the size of its clients, Magento tends to implement changes very slowly.
Overhauling a huge enterprise is not easy. Think of Shopify Plus and BigCommerce Enterprise as little boats, easily turning around. Magento is more of an oil tanker – it's going to take quite a while to turn around.
Automation
Automation is a crucial part of an online store, and not one to be overlooked. From payment gateways, receipt emails, updates, and much more, automation keep you and your customer informed on where their product is and what's happening next, as well as increase efficiency.
Even a medium-sized business could go through countless online tasks every day – and you rely on your automation features to make sure it happens and to snag your sales.
Shopify Plus automation
Shopify Plus has an edge when it comes to automation. Shopify Plus uses Shopify Flow, which allows you to automate notifications and workflows, as well as help to manage fraud, orders, products, security, and much more. Shopify Flows allows integration and allows you to use Shop Pay, a one-click payment service, not unlike Amazon's single-click buying process.
BigCommerce Enterprise automation
BigCommerce Enterprise allows for plenty of automation and customization. However, it doesn't quite beat Shopify Plus on this one.
Magento automation
Due to its size and the size of its customers, Magento's automation is a must, not a feature. When it comes to managing a large business, it's essential to keep your site properly automated and working properly. However, since Magento is aimed at large enterprises with developers and software specialists, managing automation should be relatively easy.
Integration
Integrations are a must for an online store, especially if you also run social media accounts (for instance, Instagram and TikTok marketing is extremely profitable at the moment).
Of course, integrations involve more than just social media or combining apps. The number of integrations you can manage will depend on your platform.
Shopify Plus integration
Shopify Plus offers a fantastic range of integrations. For starters, you can use AMS (Automated Manifest System), POS (Point of Sale), and OMS (Order Management Software) with Shopify Plus. Shopify Plus has a larger and more diverse integration ecosystem than BigCommerce, giving its users more options and more freedom.
BigCommerce Enterprise integration
BigCommerce Enterprise can't currently compete with Shopify Plus when it comes to integrations, but it is catching up, so watch this space.
Magento integration
Magento also offers a healthy array of integrations, and more new updates are coming all the time. Large businesses need more of everything – more time, more products, more features, more innovation – and integrations are no exception.
User Reviews
So, what do the customers say? Let's find out. For reference, all user reviews were taken from Capterra.
Shopify Plus reviews
Shopify Plus gained a whopping 4.8 stars. Users complimented its ease of use, low cost, and how well it helped growing businesses.
BigCommerce Enterprise reviews
BigCommerce was rated 4.4 stars. Users claimed that it's one of the best eCommerce solutions around, and is good for rapid growth.
Magento reviews
Magento received 4.1 stars. While it had fewer reviews than the other platforms, it seemed to be well received. However, this is something a prospective user might consider when researching a future platform.
Cost of use
Now for the big question – how much does it cost?
While you shouldn't use a tool like an eCommerce platform based solely on price, it's still something that you should consider.
So, while we'll discuss pricing in detail later, let's take a brief look at which platform is going to cost you more.
Shopify Plus: the midrange platform for costs
Shopify Plus is more expensive than BigCommerce, but it's certainly cheaper than Magento. You still get value for money, but there's still a hefty monthly payment to consider.
BigCommerce Enterprise: the cheapest option
BigCommerce Enterprise is the cheapest out of the three platforms, depending on what options you choose. Remember, pricing isn't standard – your fee will be tailored to your business. Despite being the cheaper option, BigCommerce offers fantastic features and quality.
Magento: expensive and highly powered
Magento is definitely the most expensive option here. However, you will certainly get what you pay for. Magento is highly powered, diverse, and able to handle large and complex businesses.
Which one does better?
There's no "one size fits all" option when it comes to eCommerce tools. All three of these platforms provide good services, have plenty of features, and work well. Whether they suit you and your business will depend on what you're looking for in an eCommerce tool.
Let's review some of the basic features and selling points.
Bigcommerce features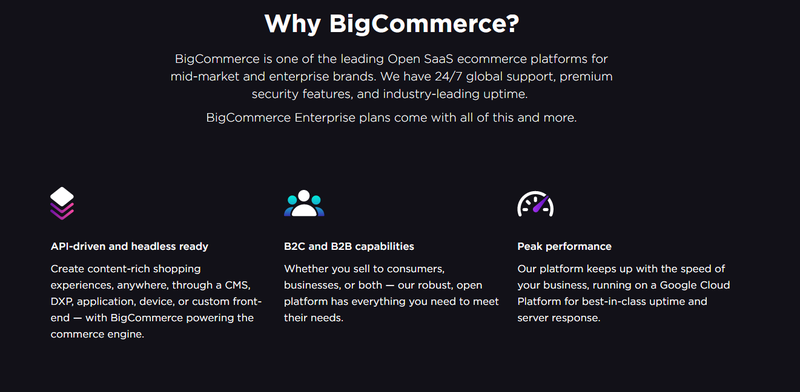 BigCommerce offers value for money and powerful tools and is leading the way when it comes to headless architecture. It has plenty of features and can hold its own among more expensive and well-established platforms.
BigCommerce Enterprise is ideal for small to mid-range businesses and wholesalers that are growing fast.
Shopify Plus features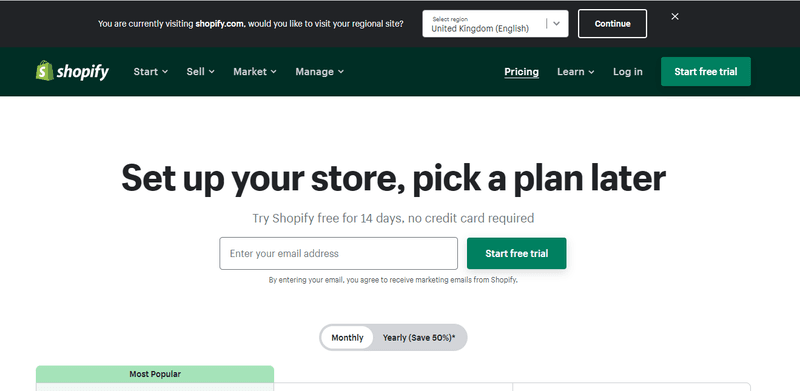 Shopify Plus is known for its unique customizations and artistic freedom. It's not great for users who want a lot of control or prefer to write their own coding.
However, if you're a new user, Shopify Plus offers lots of features that aren't too complex to use. Shopify Plus is better for small to mid-range artistic brands who want to keep their online store simple but unique.
Magento features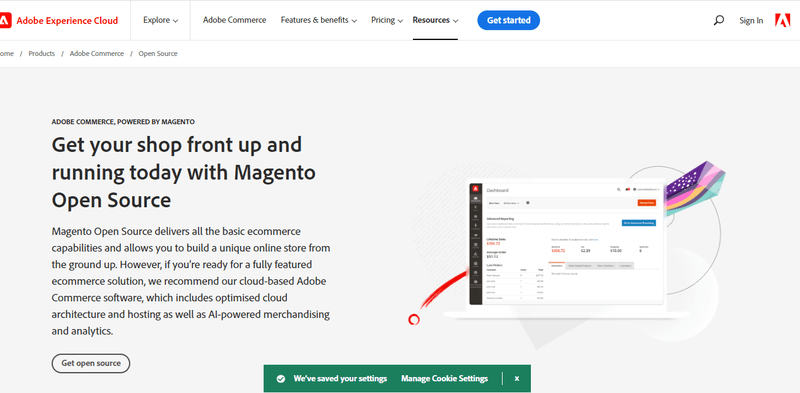 Magento is designed for large businesses. If you have the technical know-how, you can use their free open-source software to get your business going. While Magento is much more expensive than some other eCommerce tools and platforms, it certainly delivers in terms of quality, power, and features.
Magento is best for large businesses and enterprises, preferably with technical knowledge or professional developers available.
Pricing
It's important to remember that all the pricing on these platforms is customized. That means you'll need to reach out and discuss your business and what you want out of your platform before a price is agreed upon.
However, we can get a rough idea of how much your average monthly costs will be. Let's take a look.
How much is BigCommerce Enterprise?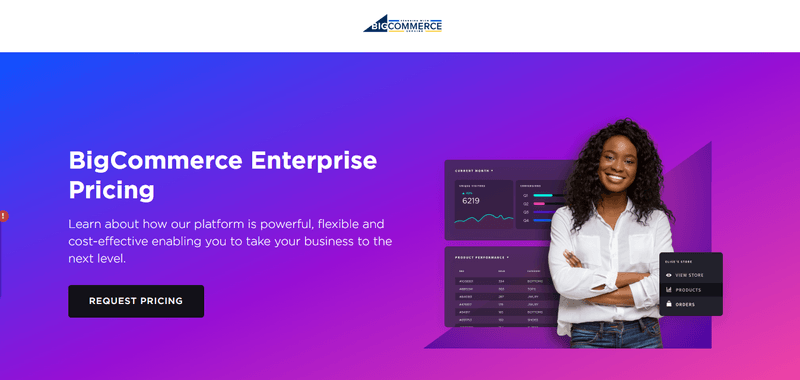 For the basic BigCommerce platform, you'll be looking at anywhere between $29.95 to $299.95. However, for BigCommerce Enterprise, you'll need to reach out and get a quote tailor-made for your company.
How much is Shopify Plus?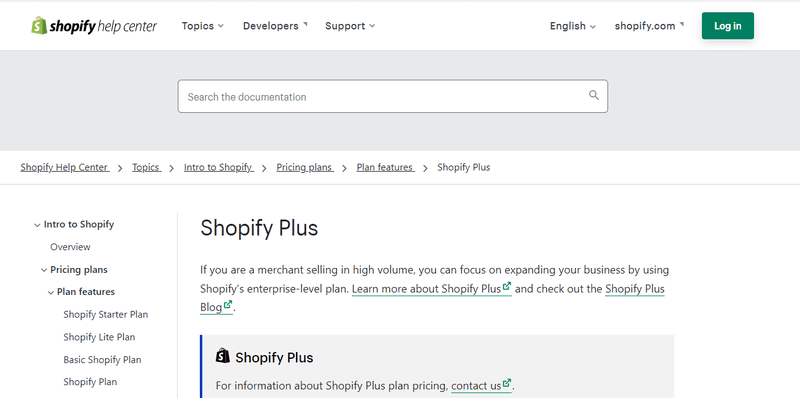 In its basic form, Shopify costs between $29 and $299. For a customized version of Shopify Plus, you could pay up to $2000 a month.
How much does Magento cost?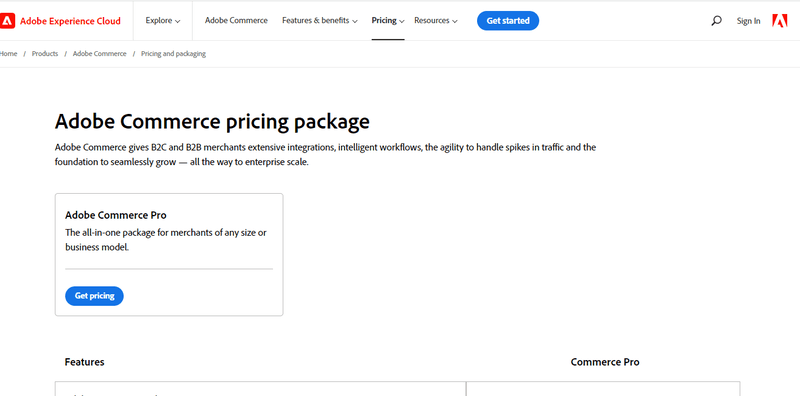 Magento Open Source is free. However, most online traders and business owners won't have the know-how to use it. For Magento Enterprise, you could pay anywhere between $22000 to $125000 a month.
The pros and cons: an overview
Is all of this information making you dizzy? There's no denying that there's a lot to consider before investing in any one eCommerce tool or platform.
Let's briefly sum up the pros and cons of each platform.
Shopify Plus: the pros and cons
Pros
Lots of artistic freedom, and great for B2B users
Easy to use
Lots of partners and compatible apps, a diverse ecosystem of integrations
A good reputation and a well-established business
Cons
Not good for multiple stores or large businesses
Less complexity and fewer customizations options
BigCommerce Enterprise: the pros and cons
Pros
Value for money (cheaper than some competitors, without sacrificing quality)
Lots of customizations are available
Able to manage multiple stores (also able to manage larger and more complex stores than Shopify Plus)
Faster API speeds and more resources available
Cons
A smaller app marketplace
More difficult to use
Magento: the pros and cons
Pros
Very powerful tools, far outstripping both Shopify Plus and Bigcommerce
Complete control and flexibility are available
Able to maintain very large and complex businesses, and also run multiple stores
Countless integrations, features, and resources are available
Cons
Magento is extremely expensive, at least 2ok a month, possibly up to 125k monthly
Very difficult to use, to the extent that professional developers must be used to run the site
Conclusion: which platform is best?
So, which is the best eCommerce platform for you?
As you've probably already figured out, this isn't such a simple question. All three of these platforms are powerful, intuitive, and good for business. However, they aren't suitable for just every seller.
For example, if you're a boutique brand just taking off, run by an individual seller who has limited technical knowledge, you shouldn't use Magento. Not only does it have features that you won't use, but it's also too expensive, too complicated, and generally just way more than you need. Shopify Plus would be a better choice.
If you're a huge enterprise business with several stores, lots of employees, and inventory, and you're already making a huge profit, going with a platform like Shopify Plus or BigCommerce is a waste of time – your business is too large. You need Magento.
Feel free to reach out to each platform for an individual quote and more information. The beauty of a tailor-made deal is that it can fit in with your business perfectly. You can prioritize the features you want, as well as pay the right amount.
Never rush into investing in eCommerce tools. Online businesses rise and fall on these platforms. Think of it as an investment. Like an investment, you might see fantastic results- but you might also lose a lot of money if you make the wrong choice.
Investing in a good set of eCommerce tools can bring your business to life – in which case, it's money very well spent. Take some time to review the features, prices, and software of each platform before you make a decision. Which ever eCommerce platform you choose, and no matter how many channels you sell on, our customer support tools can help your business to grow with confidence.