Over the last few months, the eDesk Product team has been working hard on making our eCommerce helpdesk and feedback platform even better.
Check out what's new including an updated Mailbox and Etsy integration, plus what's next including Smart Groups and an updated mobile app in our first product update of 2021.
What's New
Improved Mailbox
We've listened to your feedback and worked closely with a range of eDesk users in our Research Community to create a Mailbox that has a clean modern look, is easier to navigate and helps agents find the information they need quicker.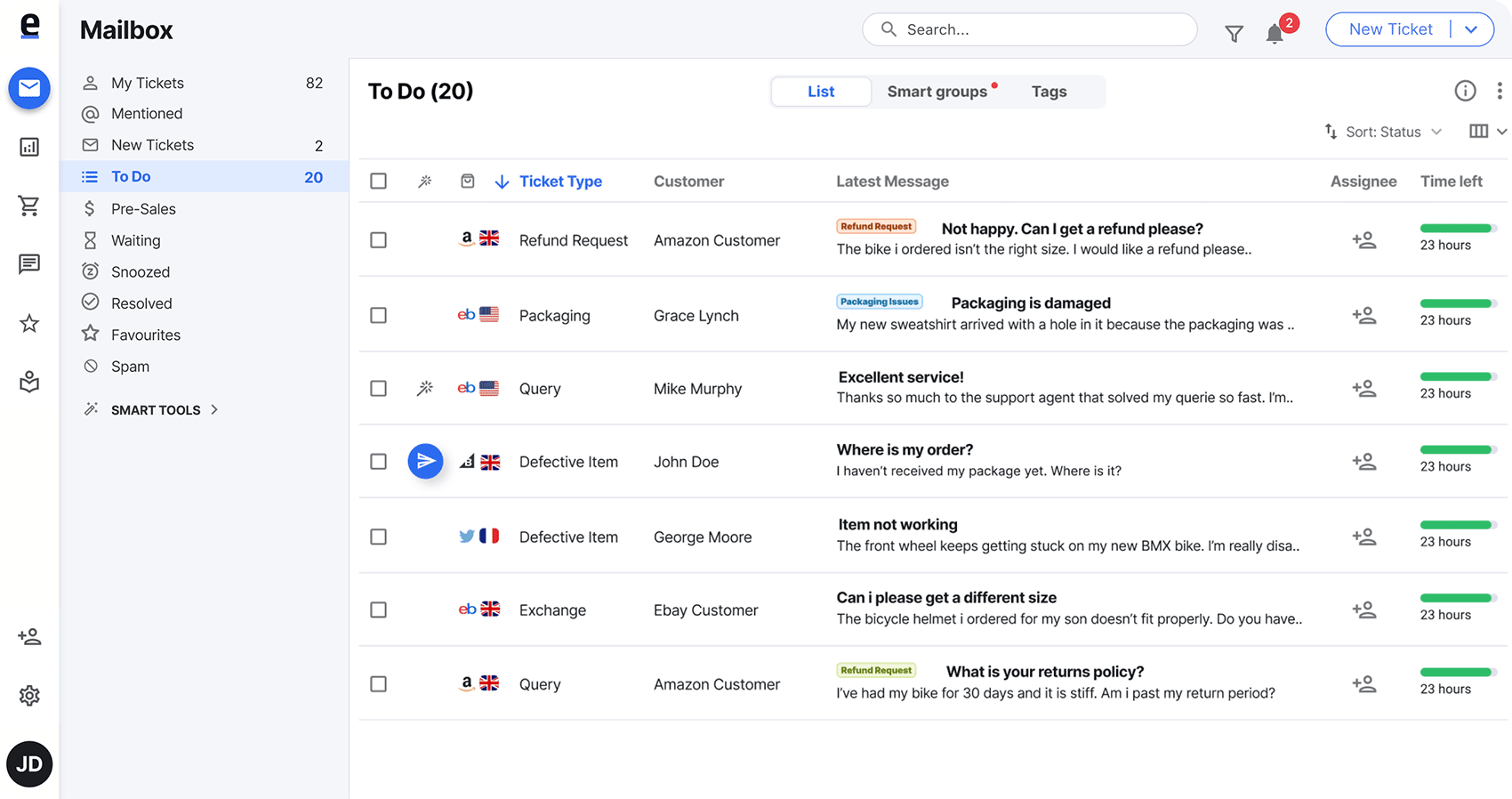 We've kept the main navigation items that you regularly use so it should only take a few minutes to get used to the new Mailbox. If it's not for you, you can switch back to the previous version with one click.
Existing eDesk users can switch to the new Mailbox using the Settings menu on the top right of the software and clicking 'Try the new-look eDesk'. Learn more.
Etsy Integration
Our most requested feature in 2020 is now available to use. Etsy sellers can now manage all customer support queries within eDesk's eCommerce helpdesk software.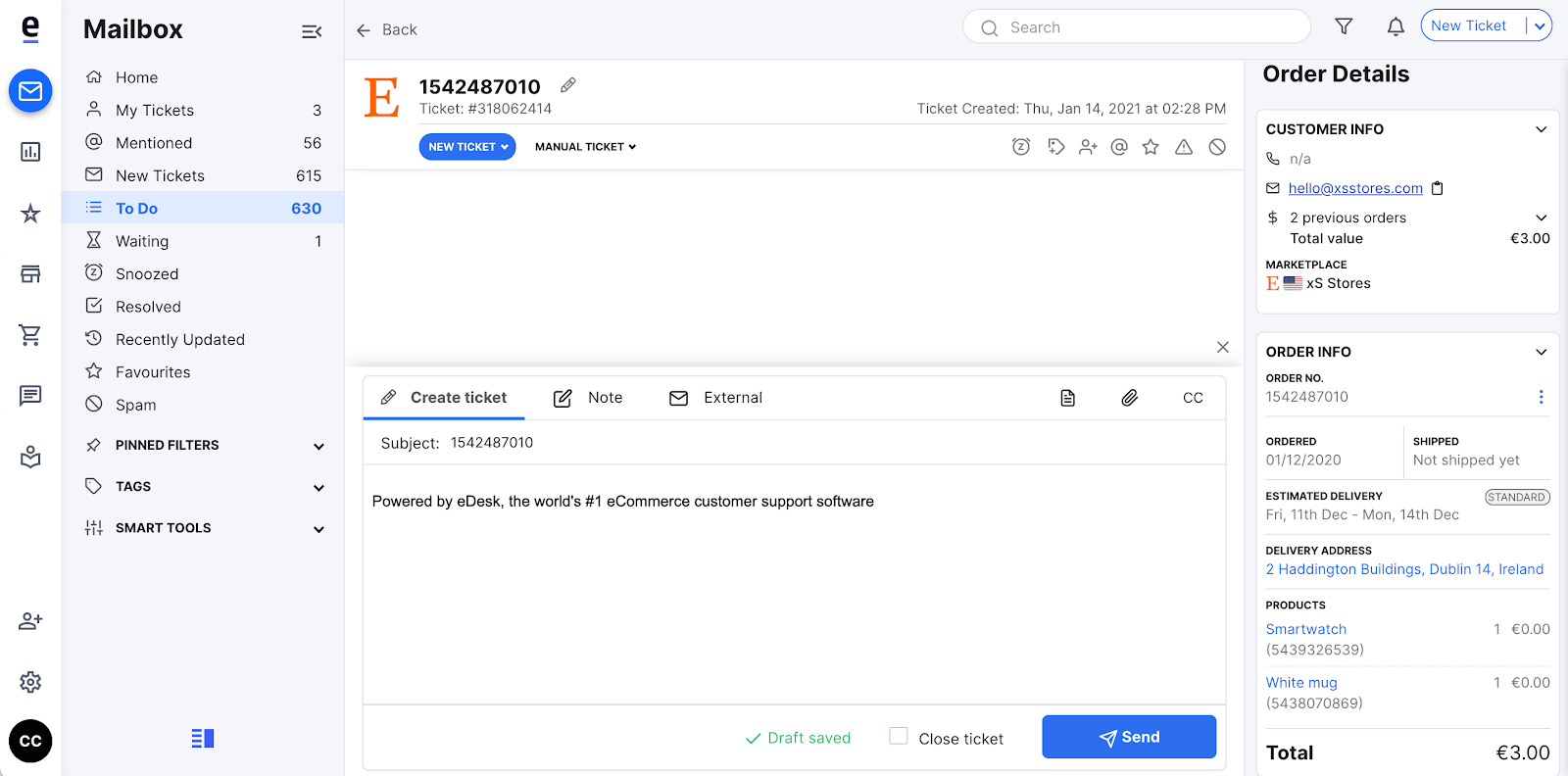 Using the latest eDesk integration, users can view their Etsy messages, orders and order information within eDesk's centralised inbox. The integration is easy to set up, simple to use and helps support teams respond faster. Learn more.
Amazon VAT Calculation Service
Did you know that you can generate branded invoices for Amazon orders within eDesk? Amazon recommends that third-party sellers maintain an Invoice Defect Rate (IDR) below 5%.
Using the eDesk Amazon VAT Calculation Service integration, you can automatically generate invoices for customers within 24 hours of the order being placed and ensure that your IDR remains below 5%. Invoices can be generated for VAT orders within the EU, using the tax and order information received directly from Amazon. Learn more.
Related: How to Maintain a Flawless Amazon Invoice Defect Rate
ChannelEngine Integration
ChannelEngine is a marketplace integration solution that supports 150+ marketplaces and third-party sales channels.
When managing multiple marketplaces, it allows you to synchronise stock and price changes while automatically importing and updating product information. Connecting your ChannelEngine account will allow your messages, orders and order information to flow directly into eDesk. Learn more.
Amazon Poland
eDesk is now integrated with Amazon Poland, bringing our total number of Amazon integrations to 18. Here is the full list of eDesk Amazon integrations: Australia, Brazil, Canada, France, Germany, Italy, India, Japan, Mexico, Netherlands, Poland, Singapore, Spain, Sweden, Turkey, UAE, UK and US. How many do you sell on?
What's Next
Here's a look at some of the things we are currently working on that will be released in the upcoming months. 
Smart Inbox – Coming March
With our upcoming Smart Inbox feature, we've taken away the pain of configuring your ticket types by intelligently categorising them into groups which allows support teams to quickly focus on high priority tickets.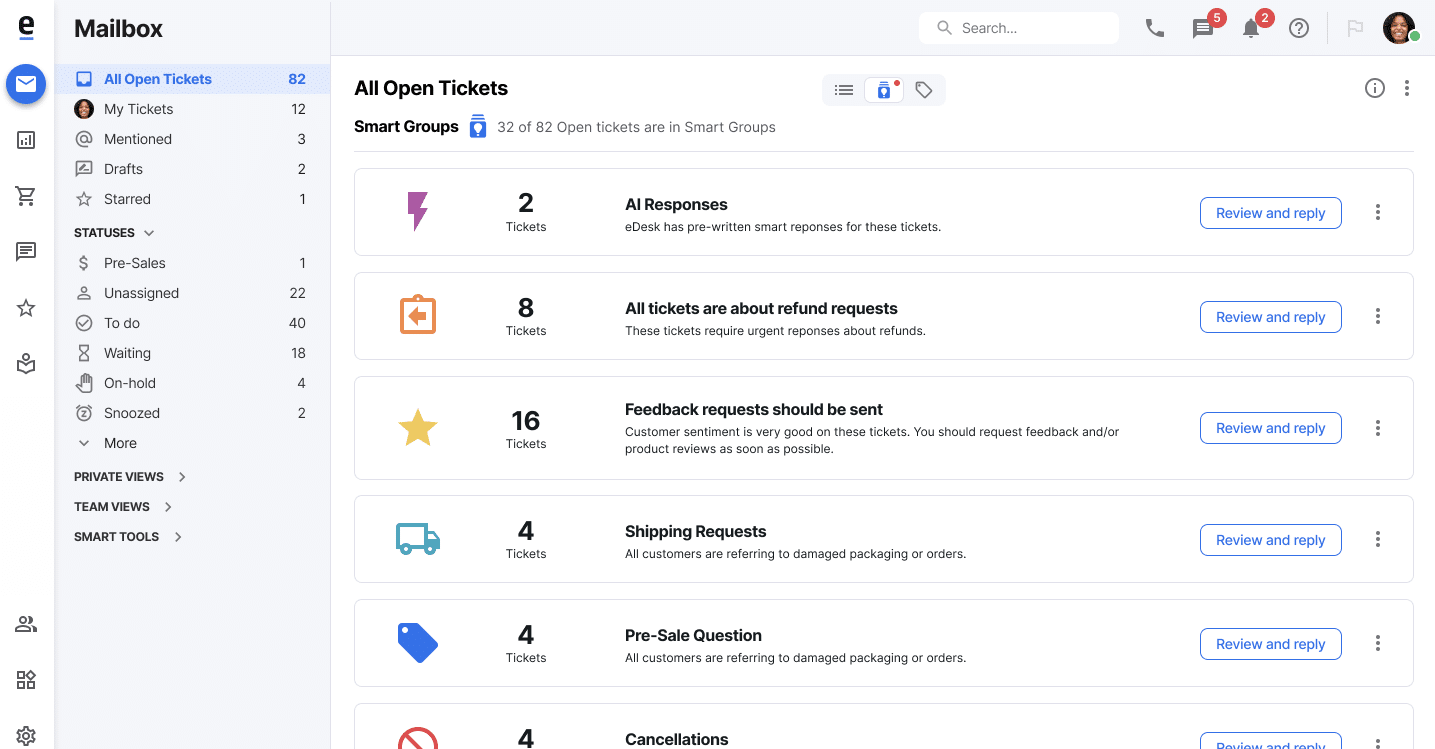 Request a Review
Our upcoming Request a Review feature lets you create a rule that triggers the Amazon 'Request a review' functionality within eDesk's Feedback module. This feedback solicitation message is created by Amazon itself so you can be guaranteed that you are following Amazon's review guidelines.
In Seller Central, the feature is used on a per order basis, but within eDesk, you'll be able to request reviews based on specific conditions including selected products or whether you have an open ticket with the customer.
Updated Mobile App
We're close to releasing our new and improved mobile app for iOS and Android. Using the eDesk Insights mobile app, merchants can track their Amazon and eBay sales and orders in real-time including daily and monthly dashboards and get insights into sales performance.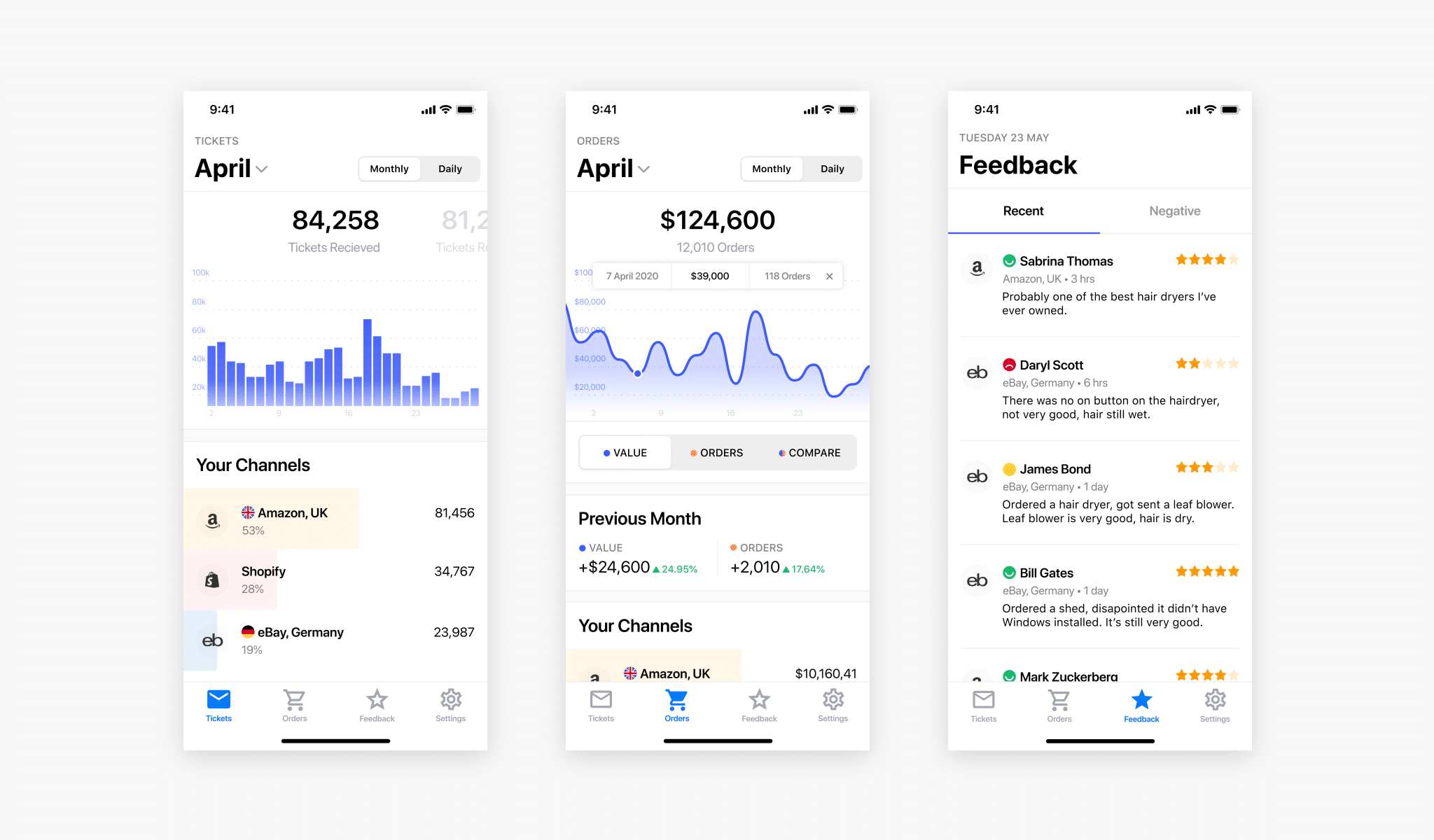 Features
View your key figures in one comprehensive eCommerce sales dashboard
Check your overall sales total and number of orders
See how your sales are split across each channel
Compare the figures for the current and previous month or day
View ticket volume, query types, and tickets tags by day and month – eDesk users only
See recent negative feedback on Amazon – eDesk Feedback users only
See recent eBay positive and negative feedback – eDesk Feedback users only
Book a Demo or Try for Free
If you would like to see our latest and existing features in action, you can book a one-to-one demo with one of our eCommerce experts at a time convenient to you. Or if you're a self-starter, you can check out eDesk free for 14 days, no credit card needed.