The holiday season is undoubtedly the most important time of year for eCommerce merchants. Sales from Cyber 5 (the five days between Thanksgiving to Cyber Monday) grow steadily year over year, with Cyber Monday 2020 breaking records to become the biggest online shopping day ever, up 20% from the year before.
In the context of a pandemic and global lockdown, experts predict holiday spending this year will be even higher. People are spending record amounts of time online and 50% of adults in the United States already admitted to increasing their online shopping. 
Will the COVID-19 lockdown make this holiday season the biggest one ever for eCommerce? Absolutely. Let's take a look in a bit more detail.
Black Friday is already here
For many online sellers, it may already feel like Black Friday. eCommerce websites surpassed Black Friday traffic levels every single day in April 2021. Overall, the month more than doubled the last year's average. The unprecedented surge in spring shopping led many to dub it "Black Friday in April."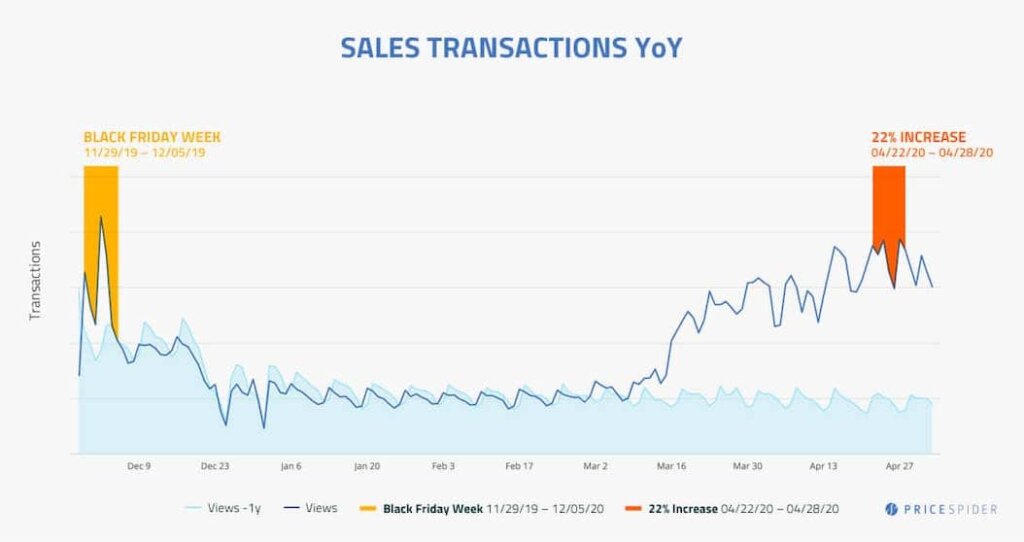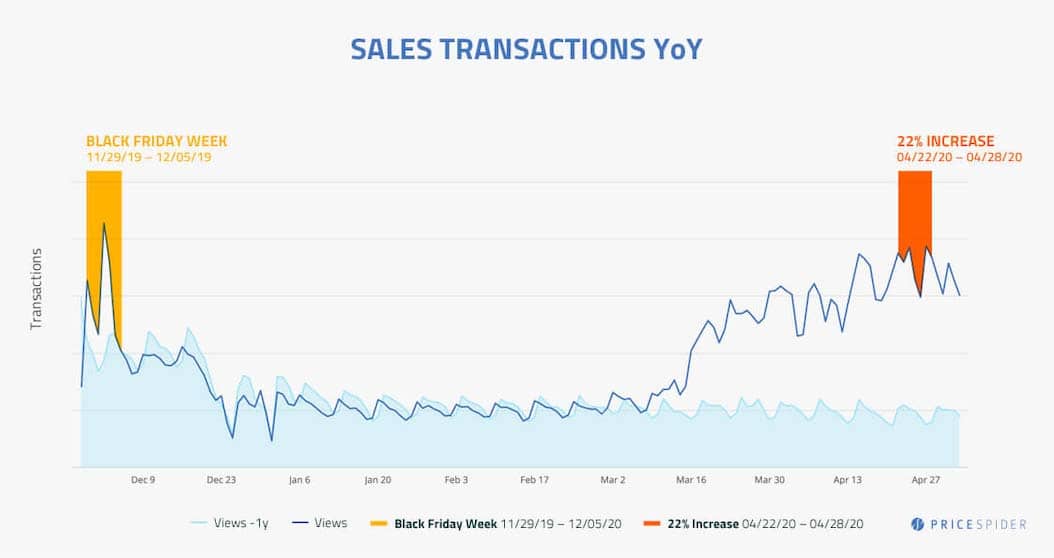 Discounts are still a good idea
Here's the best news of all. Shoppers didn't appear to be motivated by discounts. Of course, that doesn't mean you should forego them in the holiday season. 
Discounts and promotions consistently remain at the top of shoppers' holiday wish lists. 42% of 2019's holiday shoppers made their purchases based on price, and 24% never pay full price online.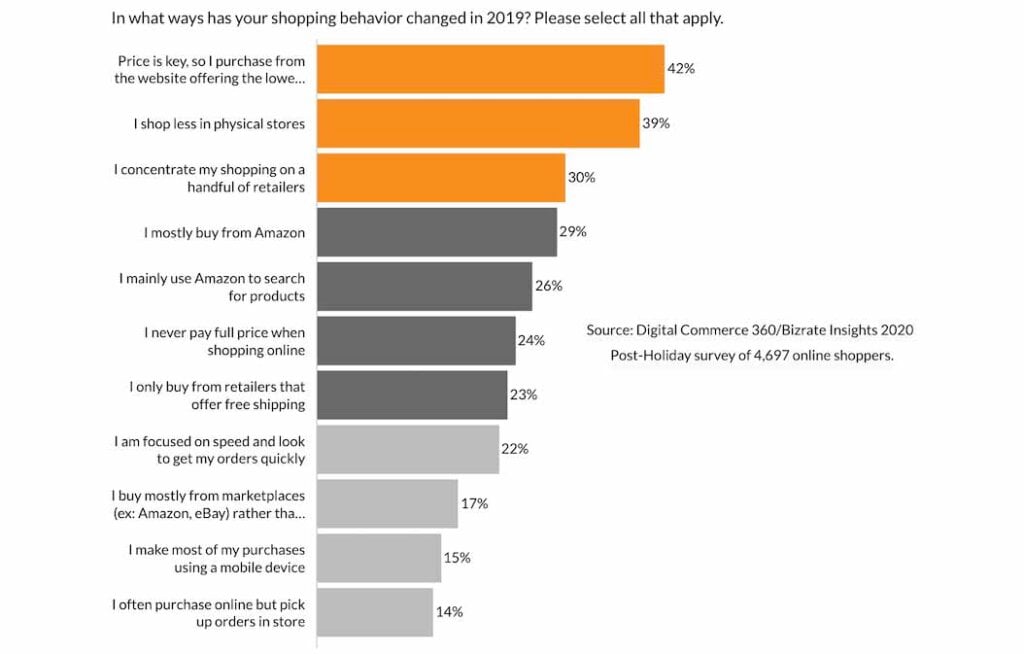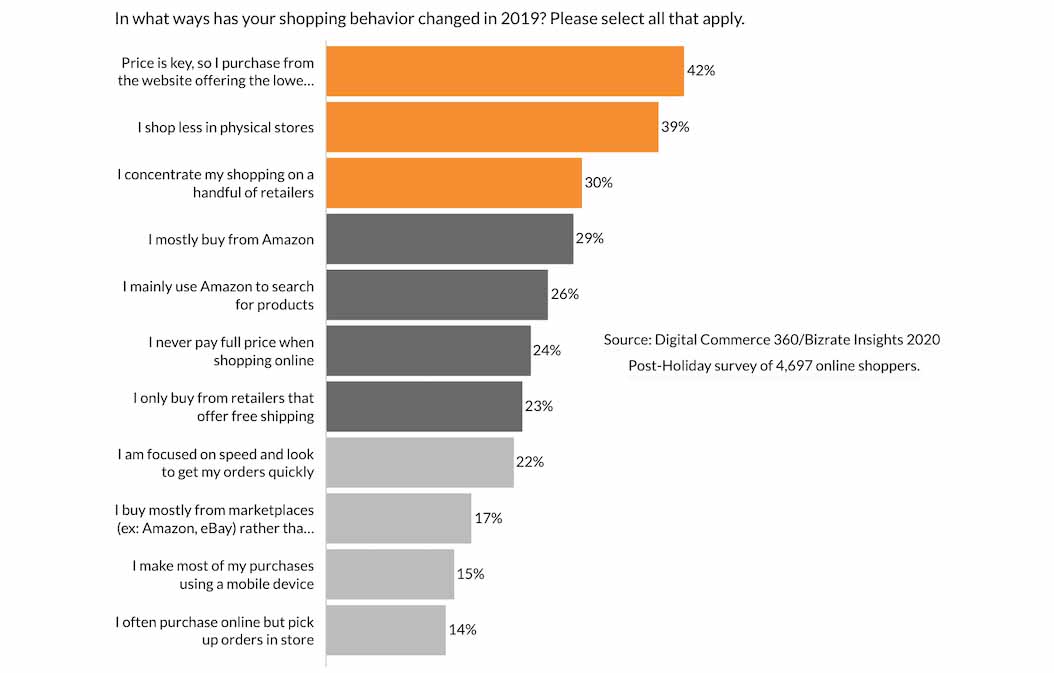 With unemployment at an all-time high, 2020 likely won't be any different. Actually, shoppers may be even more price-sensitive this year.  
Online merchants can cater to these customers by discounting their best-selling items. For those who sell on Amazon, an automatic repricing tool like Repricer.com will ensure your pricing is always set at the optimal level to win the the Buy Box and sell more while maintaining maximum profitability.
Shoppers shift from brick-and-mortar to online
When the pandemic first began to spread, shoppers flocked to online stores and that behavior continued as social distancing became the new normal.
eCommerce traffic and sales continued growing into Q2 of 2020, with eCommerce global revenues up 71% year over year. 
What's particularly exciting about the data, is that brick-and-mortars began opening up during the same time period — yet it didn't appear to make a dent in eCommerce sales. In fact, the majority of consumers report shopping less in brick-and-mortar stores, and spending more time shopping online. 
And they plan to keep doing so, too. More than half of Generation Z shoppers plan to spend the same, or more, on 2020 holiday shopping than they did in 2019: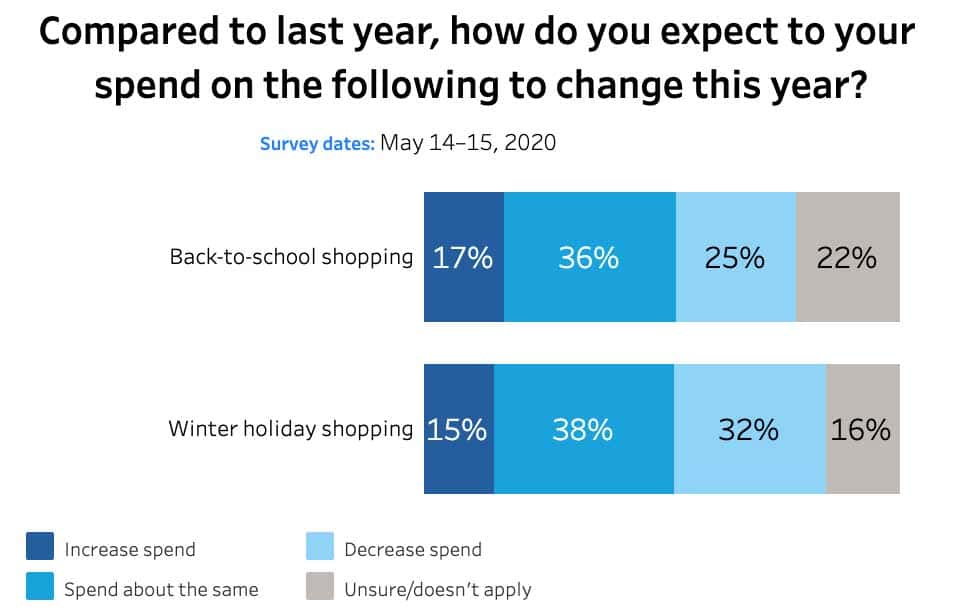 Certain products are experiencing explosive growth!
Clearly, 2020's eCommerce holiday season is going to be busy. It's also going to look very different. The most notable difference will be in what products sell best. 
Essentials have stayed popular throughout the pandemic, including products that shoppers previously preferred to buy in-person, such as food and beverage items. Household goods, healthcare, pet supplies, and electronics are all reliably hot product categories right now. 
While interest in "must-haves" has certainly grown during the pandemic, that's not to say shoppers aren't still looking for "nice-to-haves." Shoppers are also looking for products that make staying at home more enjoyable. That includes products like trampolines, apparel, furniture, and more.
When preparing your store for the holiday season, consider how you expand your product lines, or adjust your marketing spend towards the products most likely to be top-sellers this holiday season. For example, if you sell online apparel, invest in your fitness and loungewear vs. office clothing (sales of pajamas jumped 143%, while pants dropped 13%). Think about how your products can enhance the work-at-home and life-at-home experience for your shoppers and their gift recipients.
No time to pivot your product line? No problem. According to research from  Bazaarvoice, nearly every product category has enjoyed the eCommerce lift from COVID-19. The only exception is travel goods.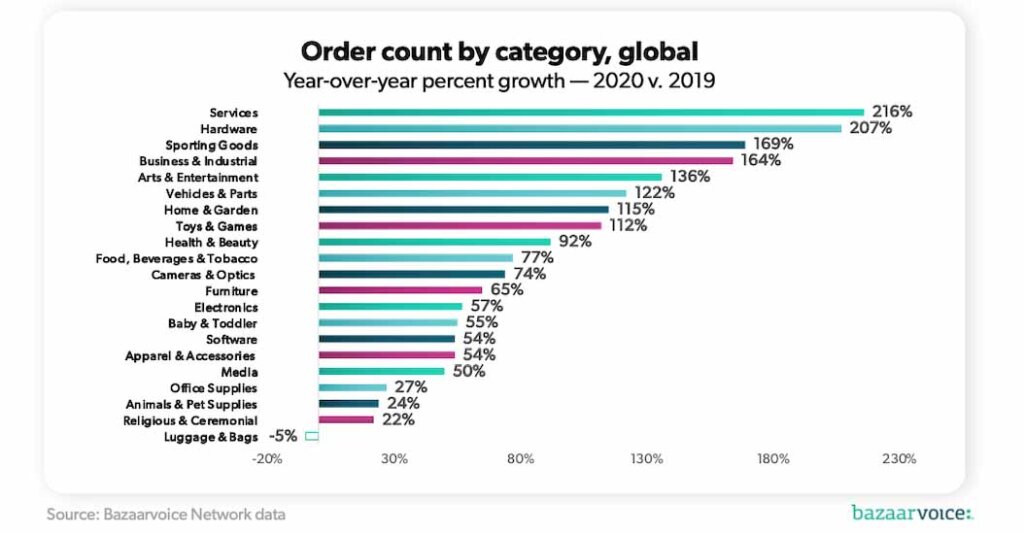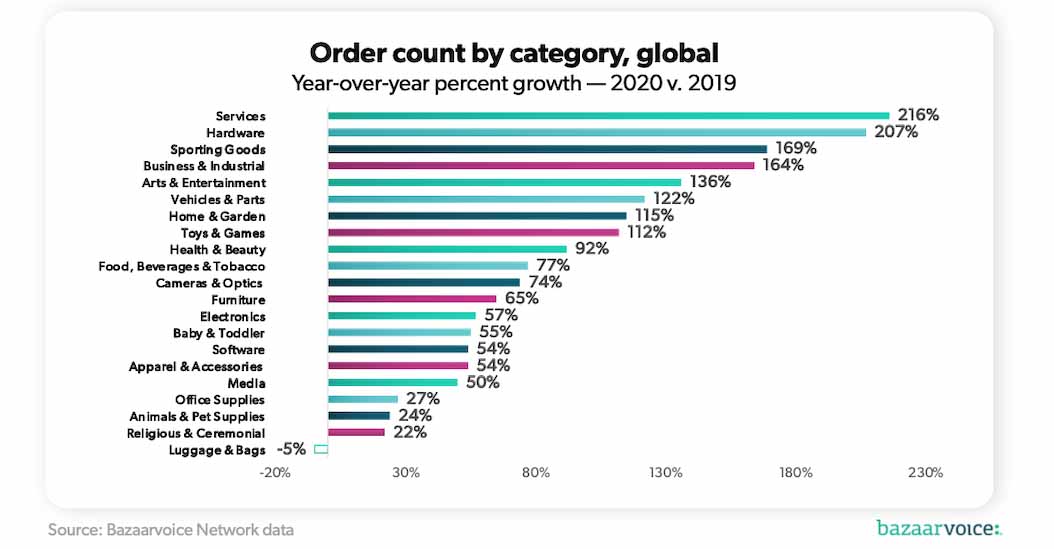 Gift-giving goes traditional
Happily for eCommerce merchants, the trend of gifting experiences, like travel and entertainment, has declined during the pandemic. 
Instead, people will return to traditional, physical gifts, predicts Natalie Kotlyar, head of the retail practice at consulting firm BDO. "In the past couple of years we've seen a significant shift to gifting experiences: sporting events, trips, concerts. This year we're going to be moving away from that, back to more traditional gifts like electronics and toys."
Being unable to physically see their loved ones may also contribute to an overall increase in gift-giving, even if families just send small gifts to each other.
For e-retailers, that means more orders for your store, whether you sell stocking stuffers or big-ticket items.
Holiday sales can happen anywhere
Shoppers are spending more time online, browsing the internet, shopping, and engaging on social media.
The more time they spend online, the more places they'll be shopping online. People will be buying on your website, on Amazon, and on social media. 61% of retailers expect higher engagement and sales through social media channels in 2021, as a result of COVID-19.
Salesforce predicts 10% of mobile orders this holiday season will occur through social channels, reaching as high as 15% on peak days. 66% of Gen Z already reports purchasing something through social media during the pandemic. 
Plus, people have started planning for the holidays earlier, too. New data from Pinterest reveals searches for "Christmas gift ideas" jumped 77% in spring 2021.
This year's holidays start in October
The biggest reason the holiday season will be the busiest for eCommerce ever is surprisingly straightforward. It will be the longest one yet.
Typically, the Cyber 5 weekend makes up a major portion of holiday eCommerce sales, with additional sales healthily trickling in through the rest of December and Boxing Day. 
In an effort to avoid shipping delays and dreaded out-of-stock notifications, many retailers are starting their holiday sales much earlier. Retailers like Target are "stretching out the savings" and offering holiday discounts as early as October. 
How can sellers sustain demand during an extended holiday season? By changing up their promotions on a regular basis, retail managing director Marie Driscoll told The Washington Post. "The deals will start in October, and retailers will re-up week after week — they'll have one limited edition on week one, and week two it'll be something else so they can get consumers to keep buying."
Final thoughts
2021 is going to be a bumper year for eCommerce holiday sales. The sooner you're ready, the better. Stock up on products, coordinate with your carriers, and ensure you're set up for success with the best eCommerce help desk software.