Great customer service is the foundation of every successful business and this even more pronounced in eCommerce. Get it right and you'll receive five-star ratings and positive reviews. These are rocket fuel for the visibility of your listings on Amazon and eBay.
What is Help Desk Software?
Help desk software simplifies your customer service by providing a single location for all your incoming customer communications.
With features designed to maximize teamwork and collaboration, it's used by every agent in the customer service team.
Managers can easily track and analyze customer service metrics to monitor performance and discover ways to improve it.
Generic Helpdesks vs Specialized Helpdesks
There are different types of help desk software in the market, from generic ones that offer a one-size-fits all approach, to specialized help desks with features built for a certain industry.
With a huge array of different marketplaces and demanding Service Level Agreements (SLAs), eCommerce is an industry in which you need a specialized help desk.
Top Features of an eCommerce Help Desk
How does eCommerce help desk software provide added value? Simply put, every feature is designed to help you resolve customer queries faster, from whatever marketplace or channel you sell on.
This has an exponential effect as your eCommerce business grows. Online sellers receive, on average, one query for every eight sales. If your sales are increasing but you're aren't able to keep up with incoming tickets, you're in trouble.
Let's take a look at the specific features that make an eCommerce help desk software so indispensable.
A suite of native eCommerce integrations
Integrations enable your help desk software to connect with the marketplaces you sell on, channels you communicate on and software you use to fulfill orders. They are how your help desk software achieves the single, centralized location for your customer service.
With a generic help desk, you're forced to pay for separate apps to enable these integrations if the app is available at all.
eCommerce help desk software such as eDesk uses native integrations, meaning you don't need to worry about apps or plugins. Everything you need is already there.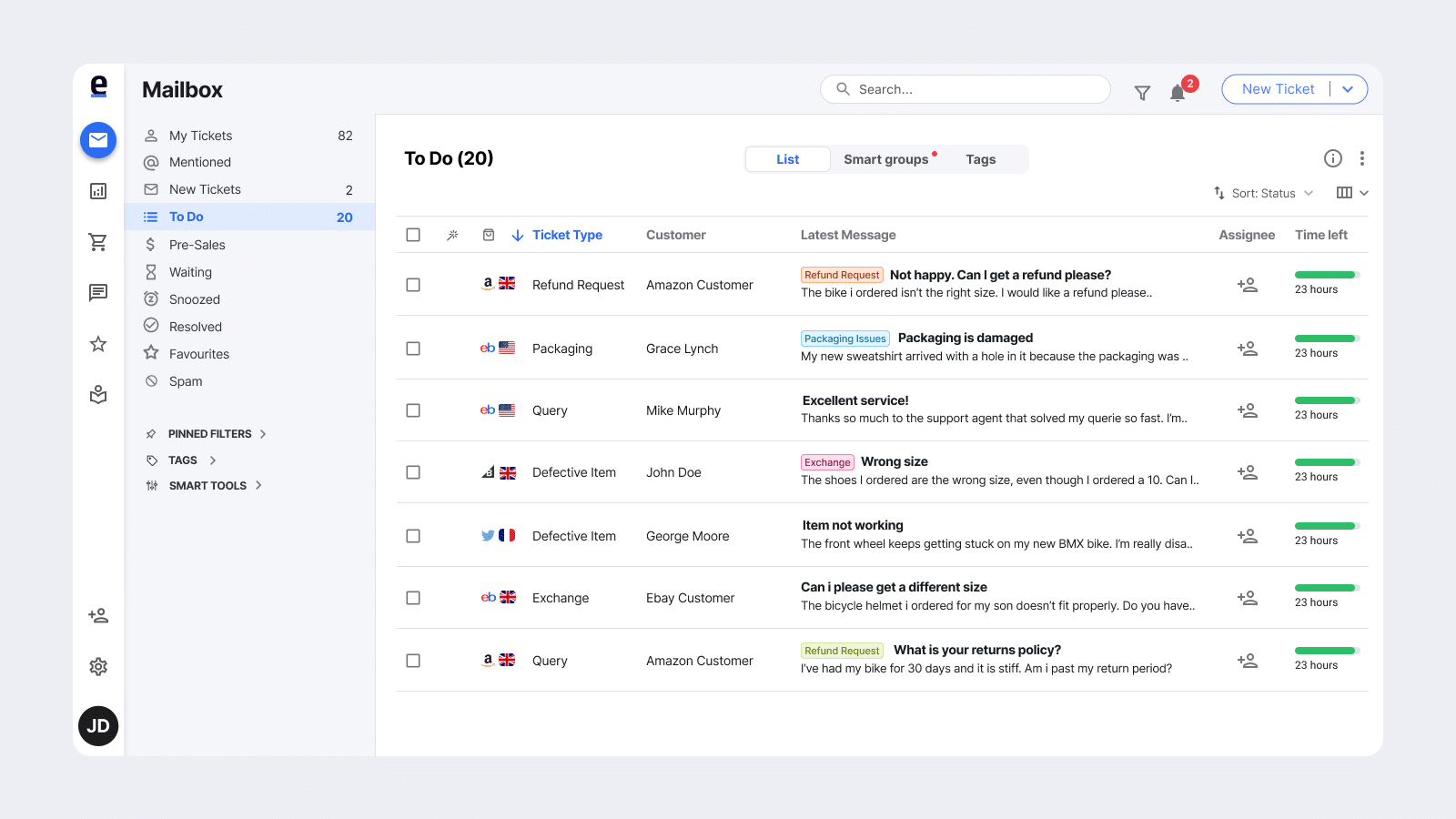 Marketplace integrations
eDesk has integrations with every major online marketplace in the world. Let's say you're an eBay and Amazon seller and you want to start selling on Allegro, for example. Simply connect it to eDesk and all communications from your Allegro customers will be directed to your eDesk inbox.
If you're using Zendesk on the other hand, connecting to Allegro simply isn't an option. You'll be forced to use multiple programs again, which defeats the point of using help desk software in the first place!
Communication channel integrations
Not every customer uses the same channels to communicate. Some might send an email, others will ping over a message on Amazon. You could have a customer that decides to let the whole world know on Twitter!
eCommerce help desk software is able to bring all online communications, including social media messages, into a single inbox. This means your agents won't miss incoming messages and are able to respond with ease.
eDesk was the first help desk to add Facebook and Instagram to its list of integrations, so you're able to respond to Instagram comments from your eDesk inbox now as well.
eCommerce management integration
In the majority of cases, customer service agents will need to refer to order details in order to resolve a query. Perhaps they need to know the estimated delivery time, the address of the recipient, or simply the order number of the item.
eDesk has integrations with inventory management and fulfillment programs including Linnwords, Skubana and Brightpearl. This means you have full customer and order details on the same screen as the support ticket. Rather than logging in to different programs to resolve a ticket — everything is right there in front of you.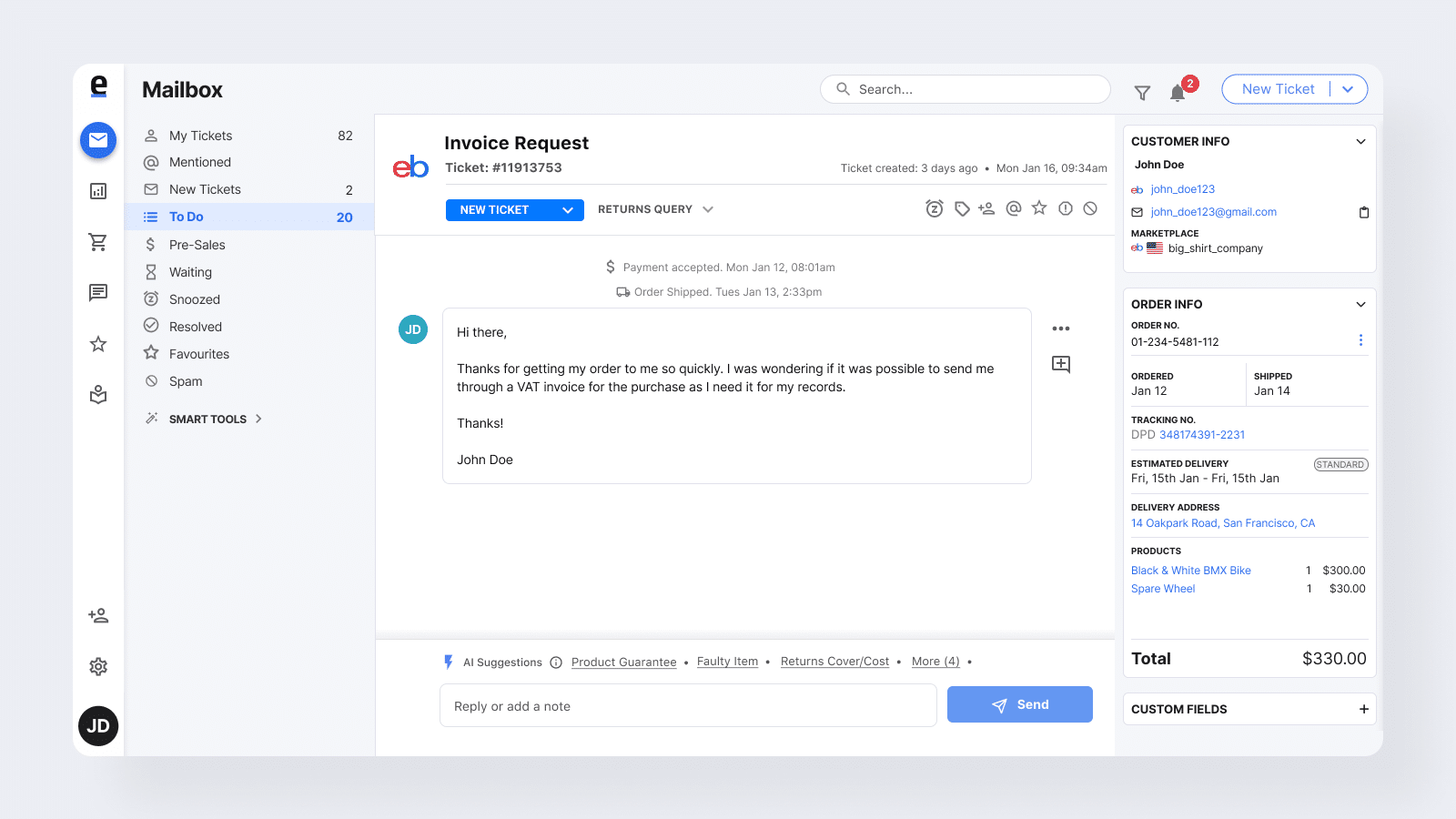 Time-Saving Features of eCommerce Help Desk Software
A full suite of native integrations enables a single, centralized location for your customer support. But a high-performance eCommerce help desk provides much more than that.
Here are some of the most useful time-saving features of an eCommerce help desk:
Snippets
Snippets are a really handy way to speed up the personalization of your messages. You use them to automatically pull in key information such as customer name, order details and delivery address. Simply type in a hashtag and choose which snippet you'd like to use.
You can even create your own snippets to include your frequently used phrases, speeding up your responses even further!
The Magic Wand
eDesk handles millions of incoming tickets from online shoppers every day. Using artificial intelligence to analyze this vast amount of customer communications, we can learn when certain types of responses are used.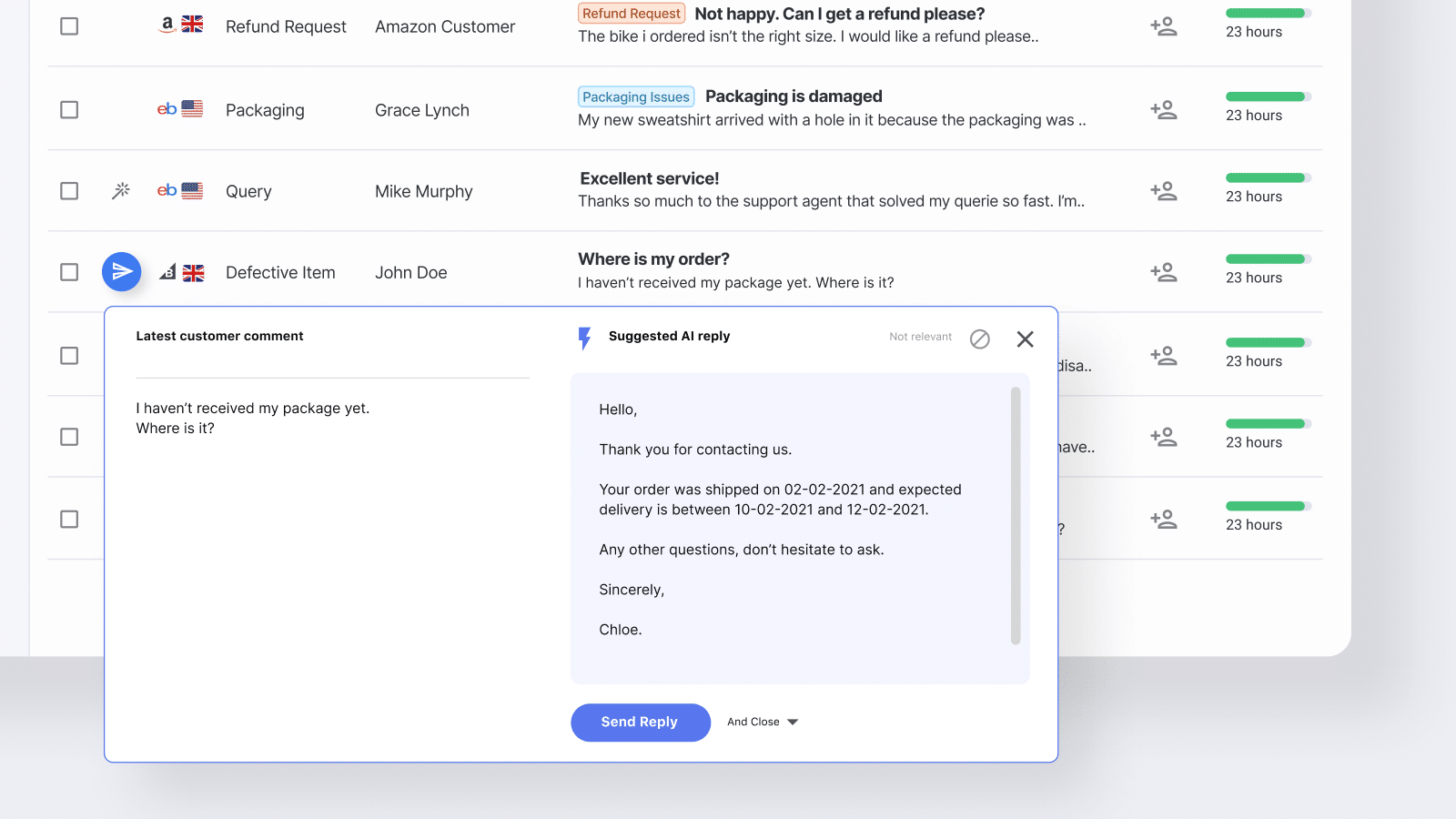 eDesk uses this insight to generate a suggested response to an incoming ticket. All the relevant customer information is automatically populated in the message using snippets (mentioned above), so the agent can send an answer with the click of a button.
The feature enabling this lightning-fast response is known as the magic wand!
Templates
The magic wand is great for lightning-fast responses, but sometimes you need to personalize the full message. Perhaps you're receiving lots of similar questions about a certain line of products and your response needs to be very carefully phrased. For this, saved templates are a great option. Simply write out the message, save it in your templates and you'll be able to generate it with a couple of clicks.
Pre-sales queries
Something that generic help desk software certainly won't offer is the prioritization of pre-sales queries. For online sellers, a question asked before purchasing the product is super important. Why? Because they're probably on the fence, considering whether or not to add it to their cart. Hesitate a moment too long and they'll be off.
With eDesk, pre-sales queries are allocated a special folder, enabling the agent to identify these as the top priority. When the query is less than 12 hours old they're given a flame symbol, to really get the agent moving!
Prioritization
Regular customer support queries are prioritized as well. The closer to the required SLA (in Amazon's case this is 24 hours) the higher they will be on an agent's to-do list. They're also given an SLA timer to ensure a support agent doesn't inadvertently leave it too long.
Auto-translate
Like expanding into new online marketplaces, selling internationally is a natural growth route for eCommerce businesses. If you're using eDesk, every incoming message can be automatically translated along with your response.
This makes it possible to start selling overseas without the need to hire multilingual support agents.
Collaboration features
As mentioned at the beginning of the article, help desk software is designed for the full customer service team to use. eDesk is designed to maximize collaboration and to encourage teamwork. You can set rules which automatically assign certain tickets to specific agents. Agents can also 'tag' in a colleague if they need a hand.
Dashboard
The dashboard is an incredibly useful resource for online sellers. With eDesk, you're able to access a host of reports specifically designed to give valuable insights for online sellers.
The dashboard is a central hub, containing reports on a variety of different metrics. You're able to see a detailed breakdown of sales by channel, with a heatmap to demonstrate your peak times for orders.
You can also monitor response times, to check how quickly your support tickets are being answered.
These metrics can be broken down further to show the performance of individual agents. This particular report is very useful for a customer service manager looking for a deep dive into team performance.
One-click invoices
Up to 5% of ecommerce customer support incoming tickets relate to an invoice request. While this might not seem like much, they're often annoying and time-consuming to generate. With its one-click invoicing feature, eDesk is able to automatically generate one in seconds.
Auto responses
Sometimes an agent might not always be able to respond to a query. Rather than ignoring the customer and waiting till Monday morning, you're able to set an auto-responder to let them know you received their message and will look into it as soon as possible.
How an eCommerce Help Desk Can Slash Support Costs
The phrase "time is money" is very apt in the world of eCommerce customer service. Sellers simply can't compromise on good service, or they'll face negative reviews, falling ratings and a drop in sales. So how do you maintain a high level of customer service while growing your sales?
You have two options. The first is to hire more support staff; an option that could lead to ballooning headcount and eye-watering overheads.
Your second option is to use eCommerce help desk software to streamline your processes and solve support tickets faster. This makes life easier for your agents and helps them to solve a greater volume of tickets quickly and effectively.