Returns. The dreaded word of every eCommerce seller. As well as the costs involved, there are the logistics of each return, which shaves important hours off the important time spent growing your online store. Plus, there's the worry of returns going badly and resulting in a poor review for your online store.
Here's the good news. While some returns are and always will be inevitable, there are some easy steps you can take to reduce the number and frequency of returns you have to process. And when you do have to process returns, you can make the experience as pleasant as possible for you and your customers alike. Let's get into it.
TLDR;
Returns can damage your business by costing you money and taking time away from your core competencies.
Customers return items for several reasons including buying the wrong size, the item not meeting expectations, or purposefully buying multiple items with the intention of returning some.
While returns are a somewhat inevitable part of running an online store, you can reduce how many returns you have to process.
Good customer service is a crucial part of any strategy to reduce eCommerce returns. Providing excellent customer service starts with an eCommerce desk like a help desk, which allows you to centralize all messages and tickets in a smart inbox and automate the customer service tasks that take up your time.
How big a problem are returns for eCommerce companies?
Returns are a big eCommerce issue—much worse for online sellers than brick-and-mortar sellers. Around 30% of all eCommerce sales are returned, and that percentage increases during big events like Black Friday and Cyber Monday.
In 2022 alone, retailers lost a whopping $816 billion in lost sales, with eCommerce rates tending to be 2-3x higher than those of brick-and-mortar stores.
So why exactly are returns so problematic? Well, to start with, they're costly. If you offer free returns (which is recommended as a way to win customer loyalty), you'll be spending out of your profits to ensure the item gets back to you.
They're a logistical challenge, too. Processing returns takes valuable time out of your day—time that could be spent growing your business through marketing or simply getting on with your core competencies.
If you want to ensure that you don't spend too much time or money on the hassle of returns, you'll need to consider some ways to reduce them (that's where we come in!).
Looking for more eCommerce statistics? → 60 Mind-Blowing Ecommerce Statistics for 2023
Main reasons for eCommerce returns
Understanding why your customers return items can help you reduce returns. Let's take a look at some key reasons.
The item doesn't fit. This one is particular to clothes retailers and, according to Shopify, accounts for around 75% of returns for clothing stores. This problem is more common with eCommerce stores than in-person shopping because consumers don't have any way of trying items on.
The item doesn't match the description. Customers return items when they don't feel like the item they were promised adequately matches the item.
Don't like items. Occasionally, the item fits, and it matches the description. The issue is that the customer simply doesn't like the item once it has arrived.
The item arrived too late. If a customer orders an item in time for a particular event or occasion and it doesn't arrive, they may no longer have a need for what they're ordered.
Ordered multiple items, colors, or sizes. One issue that many online retailers face is that customers will order an item in multiple sizes or styles intending to only keep one that fits and looks the best. This can be seriously costly for online sellers.
By prioritizing timely delivery, offering a size guide, providing detailed product descriptions, and taking steps to tackle 'wardrobing', you can mitigate some common reasons consumers return clothes.
Impact of Black Friday on returns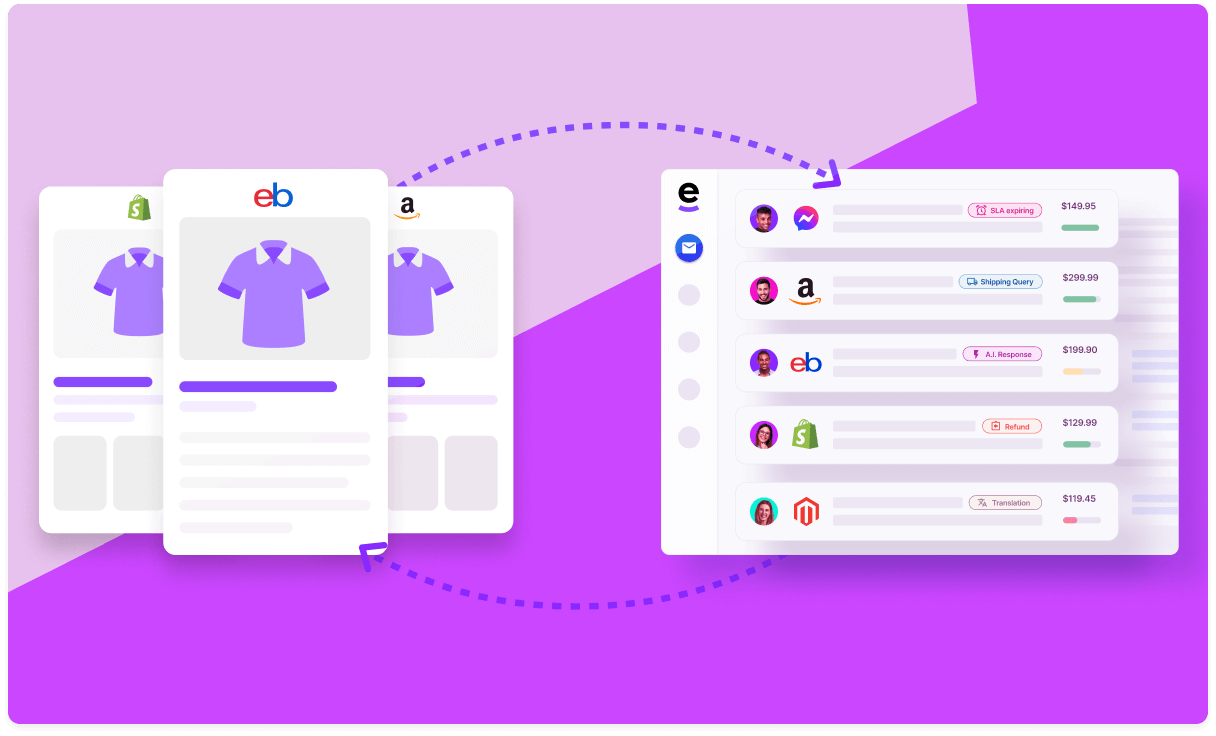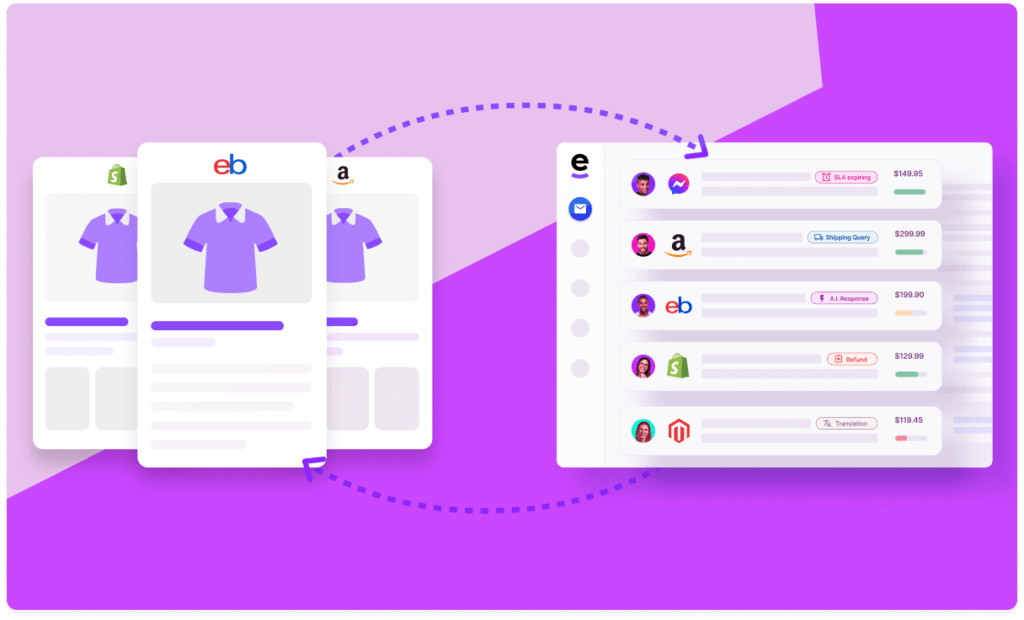 At least 1 in every 3 shoppers return what they buy on Black Friday. Tempted by the discounted prices, many shoppers bulk buy on purpose with no intention of keeping all the products, but instead intending to keep the ones they like most/the best size.
Alternatively, some shoppers make impulse purchases on Black Friday when they're tempted by low costs, only to realize later down the line that they probably don't need what they bought.
While Black Friday can be an opportunity for you to significantly boost your sales and introduce a whole new set of customers to your products, you should also be wary of excessive returns threatening your profits.
Impact of Prime Day on returns for Amazon sellers
Likewise, there's a similar effect on Prime Day for Amazon sellers. While Prime Day sees sellers' profits soar, with many hopeful buyers looking to clinch deals on their favorite products, there's often a surge in purchases, many of which end up being returned in the month following Prime Day.
Deep dive → Customer service best practices for Prime Day
What does this mean for sellers?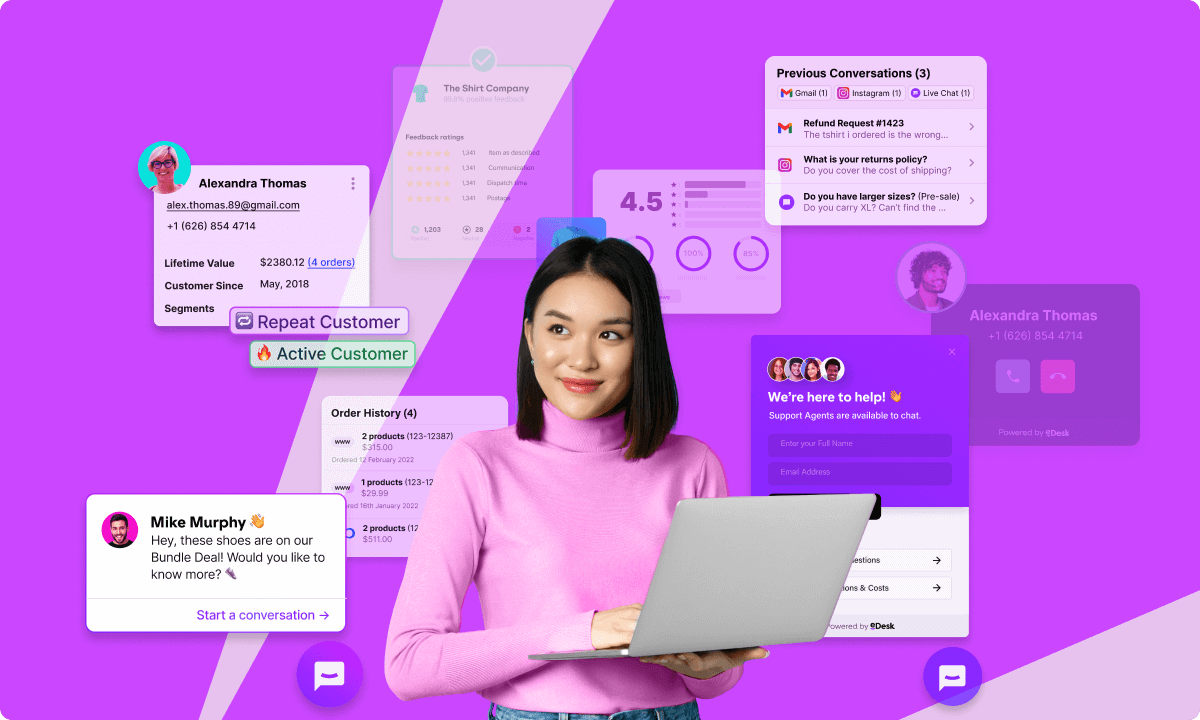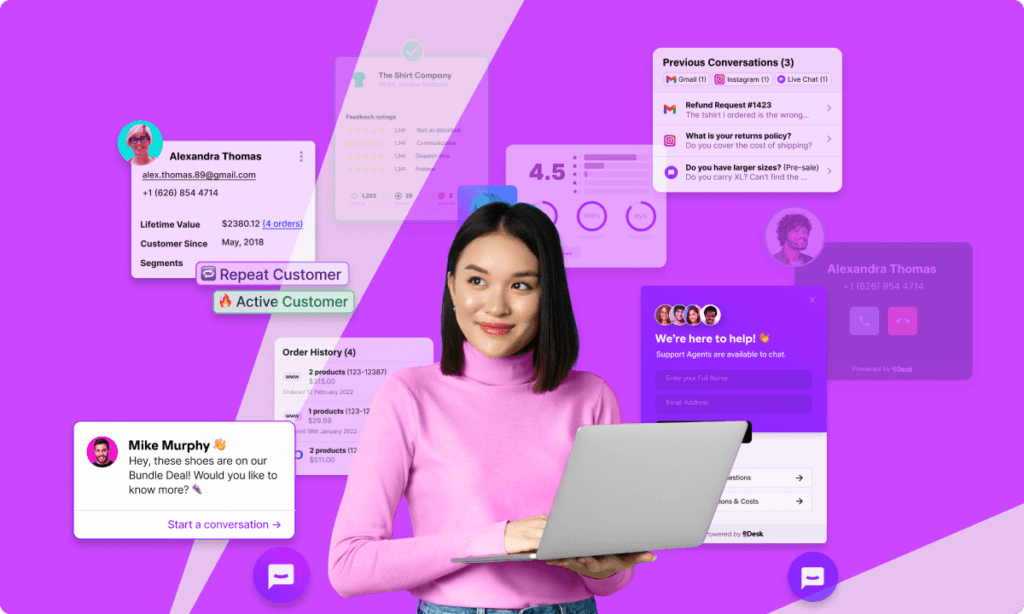 Naturally, organizing returns costs you money and time, so it's something you'll want to avoid as much as possible.
As well as proving logistically difficult, returns can negatively impact customer retention and loyalty. When customers feel unsatisfied with products, they're likely to leave negative reviews, and may even be deterred from visiting your store again. 84% of respondents said a positive return experience encourages them to shop with a company again. The percentage of shoppers that are put off by a negative experience is similarly high.
Customer expectations around returns can negatively impact your store, too. Nowadays, customers expect most of their favorite retailers to offer free returns and for these returns (and the associated refund) to be processed as quickly as possible. Mess up your returns, and you'll set your customer satisfaction back.
eBay and Amazon sellers in particular are impacted by negative feedback, which is clearly displayed on their marketplace profile and influences the decisions of potential customers. Amazon sellers in particular can miss out on winning the buy box, which is one of the key goals of most Amazon stores.
5 top tips for handling and reducing eCommerce returns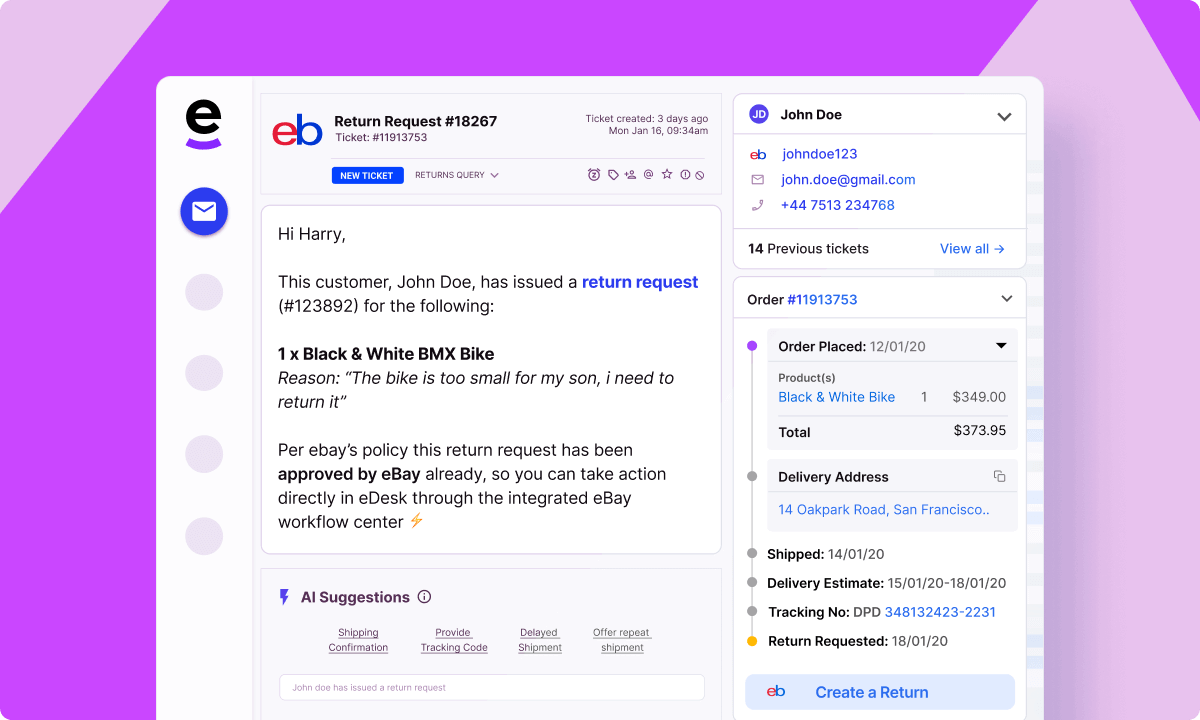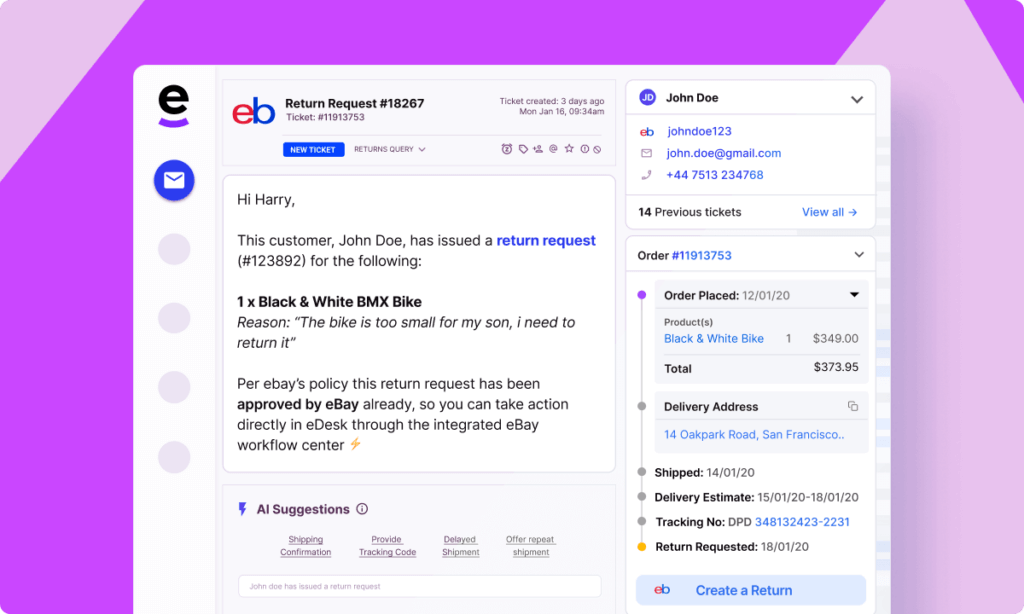 Luckily, it's not all doom and gloom. You can use these techniques to reduce the number of returns sent in by customers, including during significant events in the retail calendar, such as Prime Day or Black Friday.
1. Communication is key
If there's one thing customers hate, it's poor communication. From the start of their purchasing journey with you to the minute their refund is processed, they should be updated whenever there's a change to their account.
Opt for a courier that provides live tracking information—this should apply to your deliveries as well as your returns. That way, customers can track their returns and don't have to rely on updates from you (which frees up your time from keeping on top of replies).
Likewise, keep them up to date with a communication method of their choice, whether that is SMS, email, or even Facebook Messenger. Once the return's process is complete, send a feedback request to your customers. That way, you'll stay ahead of the competition with unique insights from customers that help you craft your future strategy.
The reality is, that you can never reduce your returns to zero, so best practice involves making sure those returns are as successful as possible. With a help desk like eDesk, you can collect feedback automatically from happy customers as well as get ahead of any order delays with transparent comms.
Take a look at our guide to eCommerce customer service
2. Mitigate against return fraud
One way to reduce the number of returns you process is to ensure you're not accidentally processing fraudulent returns and losing out on money as a result.
Shopify has introduced a tool called Shopify Flow to help mitigate against return fraud, but if you use another eCommerce platform or marketplace, there are plenty of other options to ensure you're not processing fraudulent returns.
Start by choosing a delivery carrier that supplies proof of delivery, such as a photo of a customer receiving the package. That way, if you have customers falsely claiming that your items never reached them, you'll have proof to contest it.
Set in place strict rules about which returns will or won't be accepted. You could, for instance, refuse to process returns that don't come with a receipt or proof of purchase. That way, you'll avoid refunding stolen merchandise. Likewise, refusing to accept returned items of clothing without the original tag will prevent wardrobing – when shoppers buy an outfit to wear once and then return.
According to drapers online, a whopping 1 in 5 shoppers buy clothes they plan on returning, so it's a good idea to clamp down on wardrobing to save some serious cash.
Offer exchanges or store credit instead of cash refunds in the first instance. You can decide to offer a cash refund at your discretion if you're worried about punishing loyal customers, but you may find fraudsters less easy to do this if they won't get a refund.
3. Improve product information
The more information you give your customers about your products, the less likely they are to find that something doesn't meet their expectations.
If you're vague in your product description and fail to provide accurate pictures, customers can rightfully claim that what you've sold them doesn't match what was promised. To mitigate the risk of customers returning items that don't match up to expectations, upload detailed product videos and photos, as well as extremely detailed descriptions in which you outline what the product does.
Include information such as weight and dimensions, materials used to make the product, the color of the product (especially if it appears different in images), a size guide, and, of course, your all-important returns' policy.
That way, if a customer falsely tries to claim your information was inaccurate, you've got the proof to correct them. As well as properly advertising products with up-to-date information, tightly and securely pack them for shipping. That way, you avoid any damage happening during their journey.
4. Provide an efficient and cost-effective returns process
From start to finish, your returns process should be as easy as possible, not just for your customers, but for you, too! After all, if you include unnecessary complications, you'll take up more of your time and energy than you need to.
Make sure your inventory management is efficiently aligned with your returns. Customer returns affect digital inventory systems as well as accounting, which impact the items your store should display. Falsely displaying more or fewer items than you have will lead to disappointed customers.
Choosing the right returns partner is important, too. Look for a courier with excellent reviews that provides tracking information so both you and the customer can stay up to date with the status of the return. Keep an eye on prices, too, though—if you process plenty of returns they can quickly add up so look for a delivery service with affordable prices. If you intend to offer international returns, find the right international courier to make the process as simple as possible.
5. Prioritize your returns policy
We get it. Compared to that all-important killer marketing strategy or your delivery provider, your return's policy feels boring.
But the more in-depth you make your return's policy (and the more you push it to the forefront of your site), the better. Many of the bad reviews that come from a poor return experience happen when the customer had an expectation that didn't align with reality.
If you're clear about your return's policy from the start, you'll avoid accruing negative reviews as a result of customers not understanding what is and isn't expected of them. Plus, if you set in place robust rules about what can and cannot be returned and are transparent about any costs, you can reduce the likelihood of users buying more products than they need with the intention of returning some.
For full transparency and avoidance of doubt, put your return's policy front and center on your sight, and reiterate it throughout the checkout process.
Reduce eCommerce returns with killer customer service
Customer service goes a long way toward reducing that challenging returns rate for eCommerce stores. The clearer your policies, the less likely customers are to misunderstand them.
Being available to reply to customer queries helps, too. If a customer is eager to know more information about a product before they buy, they'll expect speedy replies from a live chat or even a self-service option to find information on their own.
Without access to quick, easy information about a product, you leave yourself open to returns, when customers receive the item without having their concerns addressed first. Luckily, you can make communication with your customers quicker and easier than ever with a help desk that provides all the features for an exceptional customer experience in one place.
eDesk features a smart inbox and live chat, that combine to ensure you can see all your tickets and interactions in one place. Automation features free up your time by automating manual tasks and responses, while auto-translate features help you speak your customer's language.
Learn more about eDesk: