Choosing the best shopping cart software for your business will depend on a number of factors, from company size and goals, to the level of technical know-how on your team. When setting up an ecommerce store, this is one of the most important decisions you'll make. Carefully consider your needs, capabilities and future plans. You should choose a platform that grows with you.
What is shopping cart software?
Shopping cart software is an essential ecommerce tool for online sellers. It enables purchases, accepts payments and passes the order information to the seller and payment processor. It is the cornerstone of your online business and must be reliable, secure, quick and integrate seamlessly with your website.
Types of shopping cart software
There are three types of shopping cart software to choose from:
● Built in-house solutions
● A hosted shopping cart
● An open-source shopping cart
Building an in-house solution is only an option if you have a skilled team of software engineers. Even then, it requires a lot of resources. It gives control over every design detail, but you must consider if what you build would be better than the shopping cart software that's readily available.
On the other end of the spectrum, hosted shopping cart software requires the least technical knowledge. Your customization choices are limited, but hosted services are easy to set up. The cart is run and maintained for you, rather than by you.
Open-source shopping cart software lands in between these two options. It requires some technical know-how to set up the integration, providing customization without the need to build everything in-house.
Which is the best shopping cart software for your company?
If your team has the technical know-how and wants to customize, while keeping costs down, opt for an open-source shopping cart.
Alternatively, if you're a start-up with no development skills, a hosted shopping cart will better suit your needs. However, if you decide to move to another platform later on, it won't be easy.
When it comes to choosing a shopping cart software, it can be difficult to know where to put your trust. Whether you're looking for open-source or hosted software, here are our recommendations to help you decide:
Type: Hosted
Price: From $29 per month
This out-of-the-box solution reliably takes care of the technical side of your store, including the hosting, speed and security.
Shopify offers many benefits, including integration with 100 payment providers. Setting up payment gateways is straightforward and, despite being a hosted shopping cart, it enables customization of its templates with an easy-to-use theme editor.
Beyond shopping cart features, Shopify offers marketing tools for Search Engine Optimization (SEO) to help you get more traffic, ads, coupons, blogging and landing pages. It also allows users to sell across various platforms and social media.
However, Shopify's blog feature isn't great and you can rack up additional costs for transaction fees and third-party apps. Make sure you do some calculations before signing up.
Shopify is ideal for startups who are more focused on marketing than the technical side of running an eCommerce store.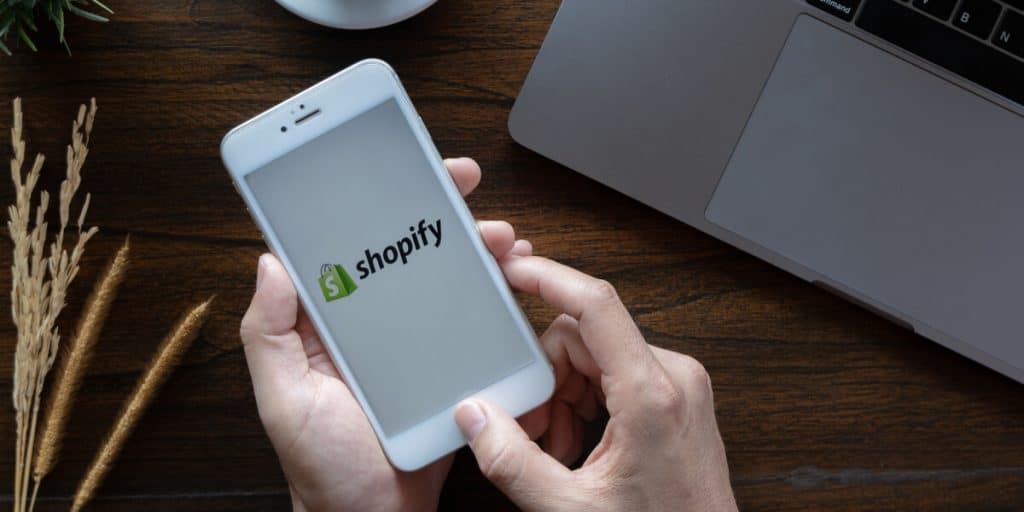 Shopify is great shopping cart software for online sellers that are looking for an easy to use, out-of-the-box type solution,
Type: Hosted
Pricing: From $29.95 per month
Another well-established shopping cart software tool, BigCommerce is very like Shopify. It features multi-channel selling, SEO features and coupons. It also allows for customization, but this will require tweaking HTML and CSS.
It's less user-friendly than Shopify and the basic plan doesn't include an abandoned cart recovery feature. However, its basic plan does include reporting, gift cards and real-time shipping quotes. It also offers unlimited staff accounts; Shopify only allows two.
BigCommerce has 40 payment gateways available, which is less than Shopify but more than others. It also boasts the most in-built seller tools, so your costs won't be increased by using third-party apps.
Being tricky to navigate, BigCommerce isn't ideal for beginners. But it's well-suited to larger ecommerce teams looking for value.
Related: BigCommerce vs Shopify: Which Should You Use?
Type: Open-source
Pricing: From free
Open-source software is released with an open license, allowing any developer to access and edit the source code. For this reason, it's customizable and scale-able – once you have coders on your team.
Like most open-source shopping cart software, PrestaShop is free. However, you'll be responsible for installing, hosting and updating it. With over 300,000 users, PrestaShop is particularly popular because it's intuitive and user-friendly. You can also add extra features, like payment modules, many of which are free.
If you encounter problems with open-source software, it can be difficult to find help. You rely on the community for answers. PrestaShop does offer support, but prices start from €249.
Brands looking for an open-source option should consider PrestaShop.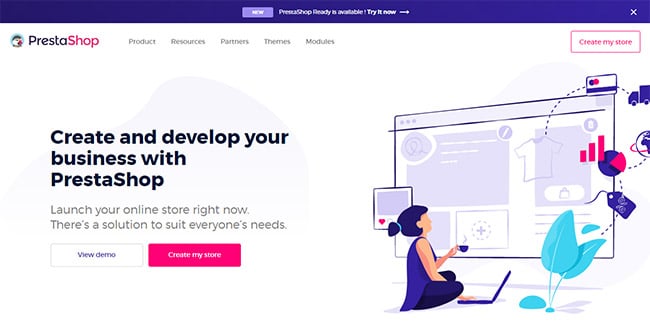 If you're looking for open source shopping cart software, Prestashop is a fantastic option.
Type: Open-source
Pricing: From free
WooCommerce can only be used with WordPress. Downloaded as a free plug-in, it seamlessly integrates with WordPress and is easy to manage. Most WooCommerce plug-ins and widgets are free; though some of the best require payment or monthly fees. A selection of free and paid payment gateway extensions are readily available too.
Customizing WooCommerce requires a developer, but it is mobile-friendly and scale-able. WooCommerce is highly recommended for WordPress users.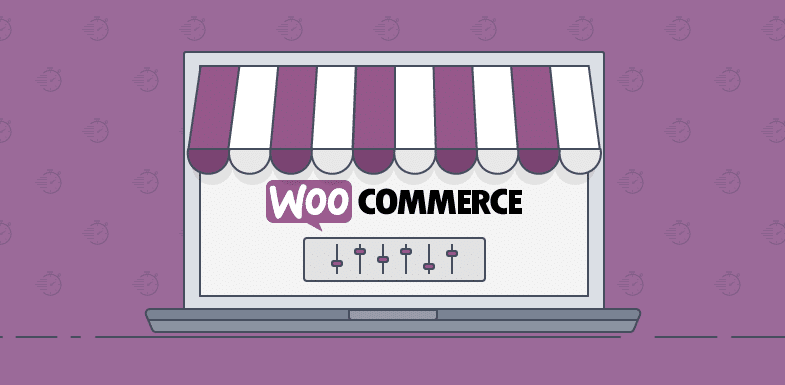 Another open source option is Woo Commerce. Going with Woo Commerce will provide more flexibility, but also requires more developer work.
Type: Open source
Pricing: $1988.00 per month
Magento has an extensive list of capabilities that include shopping cart software, but goes way beyond that as well. Designed primarily for medium to large eCommerce companies, Magento has the flexibility of open source software combined with features for marketing, customer service and customer relationship management.
Magento is not designed for beginners and should be set-up by someone with web development experience.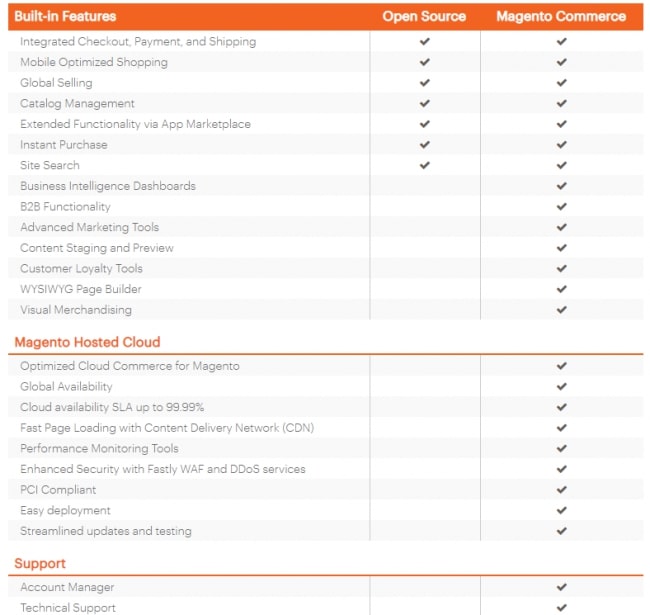 While Magento is quite expensive, it comes with an unmatched array of ecommerce features.
Do you have the right customer support software?
Once you've selected the best shopping cart software for your business, you need a customer support solution that will integrate with it. This will enable you to deal with incoming queries without logging in to multiple programs to resolve an issue.
eDesk natively integrates with every major shopping cart software and online marketplace, as well as every social channel you use to communicate with your customers. It's custom-built for online sellers, meaning every feature has been designed to simplify and accelerate the process of customer support, enabling you to deal with tickets in half the time.