Logistics is the backbone of every online seller's success.
Thanks to the ever-increasing logistical expectations set by eCommerce beasts like Amazon and UPS, you must run an extremely slick operation to keep your customers happy in these demanding times.
Amazon sellers who fulfill their own orders have to meet a number of strict criteria, including delivery requirements. Amazon Prime and Seller-Fulfilled Prime accounts must ship 99% of orders within two days. This sets customer expectations for delivery services at a very high level in 2020.
But are you spending too much in an effort to keep up with maintaining a high-powered shipping machine?
What percentage of sales should you spend on logistics?
Every seller wants to ship products as quickly and as efficiently as possible, but at what point do you stop profits for speed? Free shipping is a powerful marketing tactic, but can you afford it?
In 2019, the average logistics costs accounted for 11% of sales. This figure has been pushed upwards in recent years as a result of ever-increasing demand.
| Selected Information | 2017 | 2018 | 2019 |
| --- | --- | --- | --- |
| Total Logistics Expenditures as a Percentage of Sales Revenues | 10% | 11% | 11% |
| Percent of Total Logistics Expenditures Directed to Outsourcing | 50% | 50% | 53% |
| Percent of Transportation Spend Managed by Third Parties | 53% | 55% | 50% |
| Percent of Warehouse Operations Spend Managed by Third Parties | 40% | 39% | 34% |
Rising consumer expectations brought about by the highly efficient Fulfilled by Amazon service has created a demand for ever more specific delivery times.
For sellers this adds a level of complexity to the 'last mile' of the logistics operation. Again this is an upward pressure on the cost of logistics for online sellers.
Breakdown of Logistics Costs
Transport and inventory (capital costs, warehousing, depreciation, insurance, taxation, and obsolescence) account for 72.1% of all logistics spend.
Here's how the logistical costs break down on average for companies in 2020:

Generally, smaller companies tend to have higher relative logistics costs.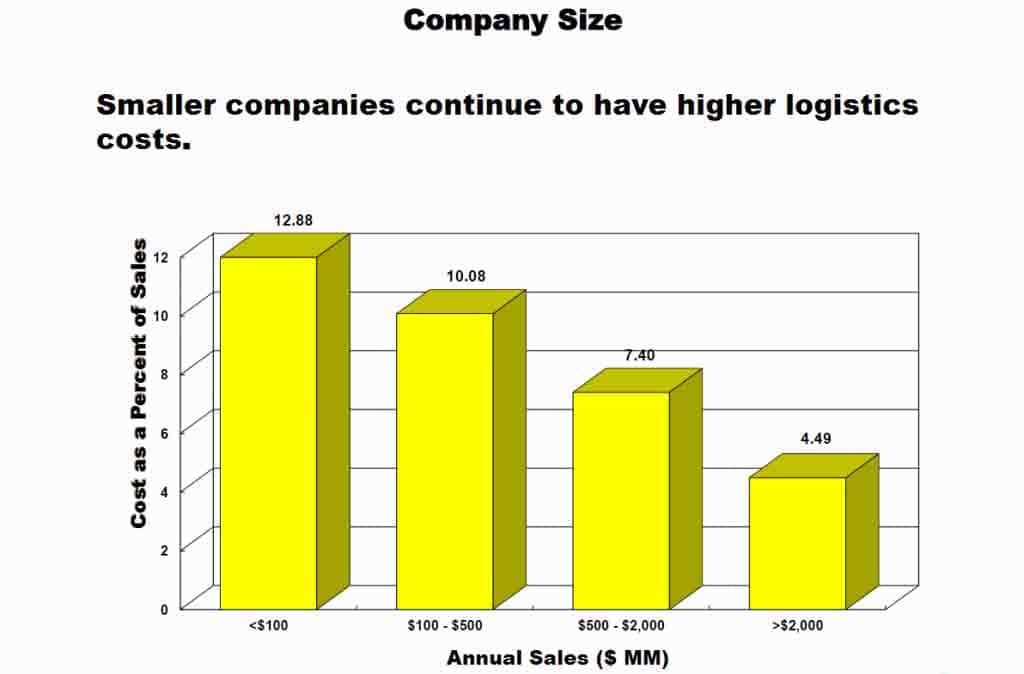 Companies selling higher value products have lower logistics costs. This is due to the ability to command a higher profit margin against the same logistical cost as lower value items.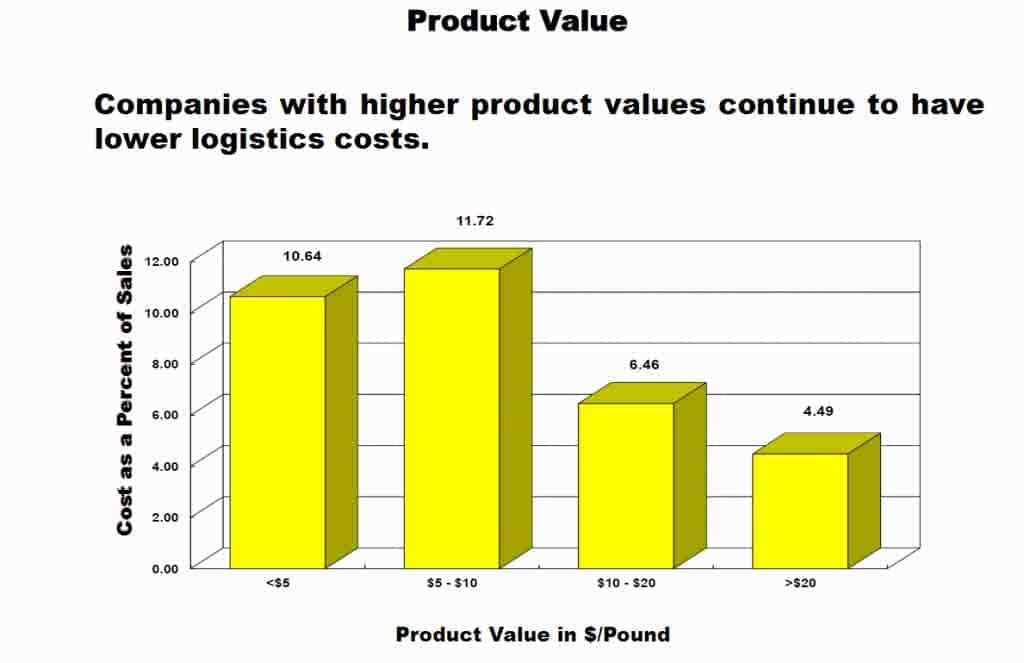 This is also in line with the cost breakdown of Fulfillment by Amazon sellers. Sellers of small, lightweight products get the best value for money when using Amazon to fulfill their orders. For those selling large and heavy items, storage and shipping costs can quickly stack up.
How to reduce your logistics costs
PwC predicts that company collaboration, as well as the use of technology and data will be big disruptors in the future of logistics. Consulting firm Establish also highlights these two opportunities as a way for companies to improve their global logistics and reduce costs.
Establish's report suggests investment in support systems as a way to boost efficiency. Multichannel eCommerce software like Linnworks, BrightPearl, and TradeGecko allows sellers to do this by providing oversight and automated management of all stock and orders.
If you use a dedicated eCommerce helpdesk, such as eDesk, you can integrate your inventory management software. This enables visibility of order data alongside customer data, streamlining your customer service process and contributing to a reduction of operating costs throughout your business.
Establish's report also suggests working with other businesses to combine inventory volumes. This will then give you maximum leverage when dealing with any kind of logistics service provider, where they're involved in shipping or storage.
If you haven't already, it's worth checking the FBA calculator to see how much it would cost you to use Amazon's efficient fulfillment services. If your current costs are similar or higher, it's time to haggle with your current suppliers.
Alternatively, you should consider using the eCommerce giant to ship your orders. Its staff picks, packs and ships orders quickly, while also taking care of customer service and returns. With its third-party fulfillment services, its logistics are open to all eCommerce platforms – not just Amazon.
Things you can do to reduce transport costs:
Mitigate increases in carrier costs by renegotiating your agreements in advance.
Renegotiate transport modes and routes – or even changing carriers
Consider using multiple shipping partners
Ship by rail instead of truck
Separate embedded transport costs from landed costs so you can evaluate and control overall transport costs
Things you can to do reduce inventory costs:
Redesign your warehouse to maximize storage capacity and improve efficiency

Get rid of obsolete inventory

Reduce your safety stock requirements
5 Key Takeaways
When the economy is contracting, it's time to renegotiate and lower logistics costs.
Even when costs are increasing, technology will help find efficiencies and savings.
Take preemptive action to reduce costs.
Get granular to improve the efficiency of transport, inventory and eCommerce warehousing.
Look at selling higher value items to offset the cost of logistics.
Try a better way to support your customers. Sign up for a 14-day trial today. No credit card needed.