If you're an online retailer, you know that customer satisfaction is everything. Failing to provide good customer service can have a significant impact on your company's bottom line. That's why finding the best eCommerce help desk software is essential.
In fact, research has found that 68% of consumers say they are willing to pay more for products and services from a brand known to offer good customer service. In contrast, just one negative experience will cause 51% of customers to never do business with a company again. When it comes to good customer service, it's clear that the stakes are high!
However, it can be a struggle for many online sellers to maintain high customer satisfaction levels when volume is high, and resource optimisation is at a premium. Fortunately, customer service software known as "help desks" exist to help you manage your customer service issues.
Help desk software is a highly sophisticated business tool that typically integrates with various customer service touchpoints to provide customer service across numerous channels and all in one place.
Finding the right eCommerce help desk software can help your business improve its productivity, optimise resources, and save costs while providing your customers with a high level of satisfaction.
How does eCommerce help desk software work?
Customers have a number of different ways through which they can contact your business for help and questions, such as phone, email, live chat and social media. For any high-growth business, having a strategy to deal with these different customer communication channels is the cornerstone of an effective omnichannel customer service programme.
That's where help desk solutions come in. eCommerce customer service software gives your customer service a boost by automating the process and streamlining the many channels your customers use to contact your company into one organised ticketing system.
Implementing the right tools will empower your internal team to do their job more efficiently and effectively while also providing the best solution to capture and analyse external queries from your customers. By doing so, you facilitate a win-win situation on both sides.
But, with so many customer service tools on the market, it can be challenging to know where to start when trying to find the one that's right for your business, your customer service team and your customers. 
Whether customers reach your company via phone, email, social media or live chat, help desk software makes providing customer service across various channels run smoothly by integrating them all into one place. Customer service software takes the pressure off your customer service team by making it easy to respond all in one place. It's also more cost-effective for your business.
At its core, eCommerce help desk software helps your company's customer service function, driven by technology and optimised for efficiency.
What makes a good customer service tool?
Depending on your type of business and its stage of growth, the definition of what makes a good customer service tool may vary. That's why we've included a comprehensive list of different tools below. There's something for every business here!
Broadly speaking though, any customer service tool worth its salt will have a few factors in common:
They're easy to use.

Today's time-strapped business owners don't have time to fuss with products that are cumbersome, unintuitive and require experts to run. The top customer service tools on the market are intuitive, easy to set up and simple for customer service agents to understand and adopt as part of their workflow.

They're effective.

You wouldn't buy any other product that doesn't achieve the goals it purports to, and customer service tools are no different. Each business has specific goals with regard to the problems they're trying to solve, and the right customer service tool will be able to solve your exact problems with the least amount of hassle.

They provide a clear return on investment (ROI).

For any tool to be effective, your team and broader business must identify a clear value from its use. The right customer service tool will save your business time and money, paying for itself over time.
Choosing the best help desk software for your business
There are many excellent help desk software solutions available on the market today, but they often specialise in different areas and cater to varying types of businesses, so it's essential to know which one is right for your business.
Different types of businesses have unique needs, and the right customer service tool is one that will help you manage your customer service both internally and externally. When it comes to help desk software, there are differences in the following:
 

Software type

 Integration points

Type of customer support

Volume capabilities

Ease of onboarding

User interfaces

Cost
These are all crucial factors to consider when choosing the right help desk software for your business.
It's worth remembering that there is no one-size-fits-all solution. A help desk software that rates highly with a competitor may not be the right solution for your business.
With this in mind, you may find it helpful to take advantage of the free trials that most help desk software companies offer so that you can be sure to make the right decision based on your own, hands-on experience.
Things to consider when choosing a help desk software
When evaluating all the help desk solutions available, you need to make sure you've assessed the customer service pain points and specific needs of your business.
Depending on whether you are a small business looking to scale in the coming year, or are already a large enterprise in need of a better solution than you're currently using, the first step to finding the right software is to identify your specific customer service needs.
Once you've audited your customer service needs and got to the bottom of where you need the most help with your customer service, you'll be well placed to weigh up each software against your specific business needs. Some factors to consider include:
Business Size:

Are you a small business just starting off or a seasoned enterprise struggling with a high volume of transactions? This will influence the type of help desk software necessary for your business.

Sales Goals for 2023/24:

Do you have big plans to scale your business in the coming year? If so, you'll want to make sure that your help desk software can grow with your business.

Type of Support Needed:

Is call center help your primary pain point? Or do you struggle with ticketing? Or live chat and messaging? Or perhaps you need help desk software that can handle all of these seamlessly via a mobile app that your customer service team can use? Figure out which are the areas where your customer service needs improvement.
Looking at the options
Once you've asked yourself these questions and identified which customer service issues your business needs to improve upon, then we can begin the fun part – looking at features.
Taking a look at the different features of helpdesk software, start writing down your must-haves. Perhaps your assessment led you to identify that offering multichannel customer service support is key for your customers. In that case, a helpdesk tool that can streamline multiple channels into place might be the right solution for your business.
Essential eCommerce helpdesk features to look for
Each helpdesk software will offer different features. While these vary in type, generally, the features you'll need as an eCommerce seller include:
1. Issue tracking and SLA management
Every customer query should be logged as a 'ticket' that can be tracked in the dashboard by all team members throughout its entire lifecycle. This way, there is full transparency between all agents around the status of each customer issue, ensuring that it is actioned every step of the way until it is fully resolved. 
The time you'll have to respond to a customer's query will be directly imposed by marketplace SLAs or an internal benchmark. Whatever the timeframe for a speedy response, your team should always be aware of how long they have to respond to a ticket to keep support metrics healthy.
2. Automation and AI
Automating repetitive tasks for your support team can lead to greater efficiency and productivity. A modern eCommerce helpdesk should offer automatic categorization of incoming tickets, sentiment analysis, automated workflows and responses that can be pre-populated with order, shipping and customer information. AI embedded into your helpdesk should provide one-click answers to a large number of common queries. AI in eCommerce customer service is moving extremely fast so it's important to understand what is hype and what can be used right now today, to improve the customer experience for your customers.
3. Collaboration
Team collaboration is often required to resolve tickets quickly and efficiently. From being able to loop in a supplier to @mentioning a colleague for a second opinion—your help desk should allow for easy collaboration across multiple teams, departments and suppliers to ensure tickets are resolved quickly.
4. Live Chat
Any eCommerce business not using Live Chat is leaving money on the table. An eCommerce Live Chat tool allows customers to have their problems addressed in real-time by customer service agents and artificial intelligence (AI) bots that provide answers to frequently asked questions. It will also allow you to prompt web store visitors on specific pages, to proactively engage with them and offer related offers.
Live Chat helps you quickly answer customer queries, build credibility, and foster personal relationships, dramatically increasing your chances of making a sale. 
5. Integrations
Many help desks will offer integrations via paid plug-ins or third-party tools, however, if you're in the eCommerce space, it's simpler and more preferable to choose a solution that offers native integrations with:
Online marketplaces such as Amazon and eBay
Web store platforms such as Shopify and Bigcommerce
Social channels such as Facebook, Instagram and WhatsApp
And common e-commerce tools, including order and inventory management, CRM, and payments platforms.
6. Knowledge base
Nearly every help desk has a feature that enables you to create a knowledge base composed of FAQs, videos and how-to articles. These can be extremely useful to customers seeking immediate help at any hour of the day and help cut down on the volume of repetitive customer service queries, thus freeing up your team's time for other valuable tasks.
7. Templates
Many help desk software solutions allow you to create and use templates within the dashboard, which are pre-prepared statements to common questions and issues. Templates are great because they help your team work more quickly by removing the repetition associated with having to type out the same reply over and over to multiple customers.
8. Reporting and analytics
One of the most important parts of helpdesk software is providing the reports you need to see how your customer service strategy is paying off. Useful reports can be customised to show you the information you need to know. For example, how quickly it takes your team to resolve customer issues on average or days when the volume of tickets is highest. Having access to incredibly useful insights will help you better plan and strategize just how your business does customer service.
9. CRM and customer view
Nothing empowers your customer support team more than having a 360-degree view of your buyers so that they can personalize responses and understand their circumstances. Having such valuable customer data at your fingertips lays the foundations for a simple eCommerce CRM that is centred around a buyer's purchasing history and sentiment. And if you have an eCommerce API capable of connecting that data to an existing CRM or email marketing solution, your customer support key metrics can drive better decisions and enrich other parts of your business.
10. Reviews generation and reputation management
If you are truly delivering exceptional customer service to your customers, then it's vital to convert that into 5-star reviews consistently. Whether you sell on your own Shopify store, on Amazon or eBay, or via social channels, positive reviews increase conversions and generate more sales. By seeking an eCommerce help desk that can automatically generate review requests from positive customer experiences, and alert you to negative feedback, you'll have the ability to really drive a return on investment from your customer service efforts. All on auto-pilot.
With these factors in mind, let's have a look at the top eCommerce help desk software available on the market this year.
eCommerce help desk software comparison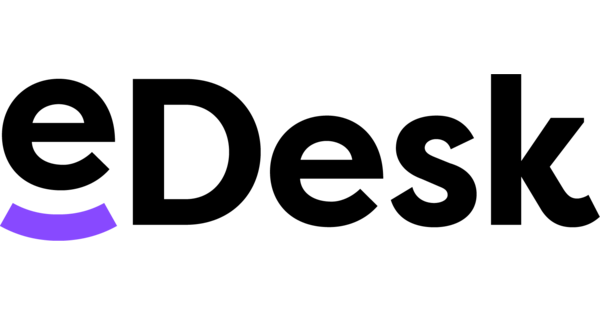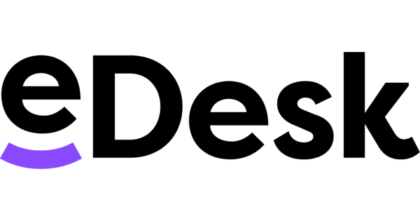 eDesk centralises your support into one manageable location. Built specifically to provide eCommerce customer support across many different channels, it integrates with over 75 marketplaces and webstore platforms, including Amazon, eBay and Shopify.  
eDesk's powerful helpdesk solution gathers customer interactions from your website, marketplaces and all your social channels into a simple dashboard that makes it easy for your customer service team to navigate.
eDesk also features customisable rules, making it possible to assign incoming tickets to the customer service agents that are best suited to deal with a particular issue. It uses artificial intelligence and auto-translate to suggest the best responses in local language.
In addition to English, eDesk supports German, Italian, French and Spanish languages.
Free trial: 14 days, no credit card needed.
Pricing: Four options are available at different levels of support: Starting with Performance+ up to Enterprise. Full pricing available on the pricing page 
Speed up your search for the right help desk with an interactive walkthrough of our product
Get a feel for how it all works at your own pace.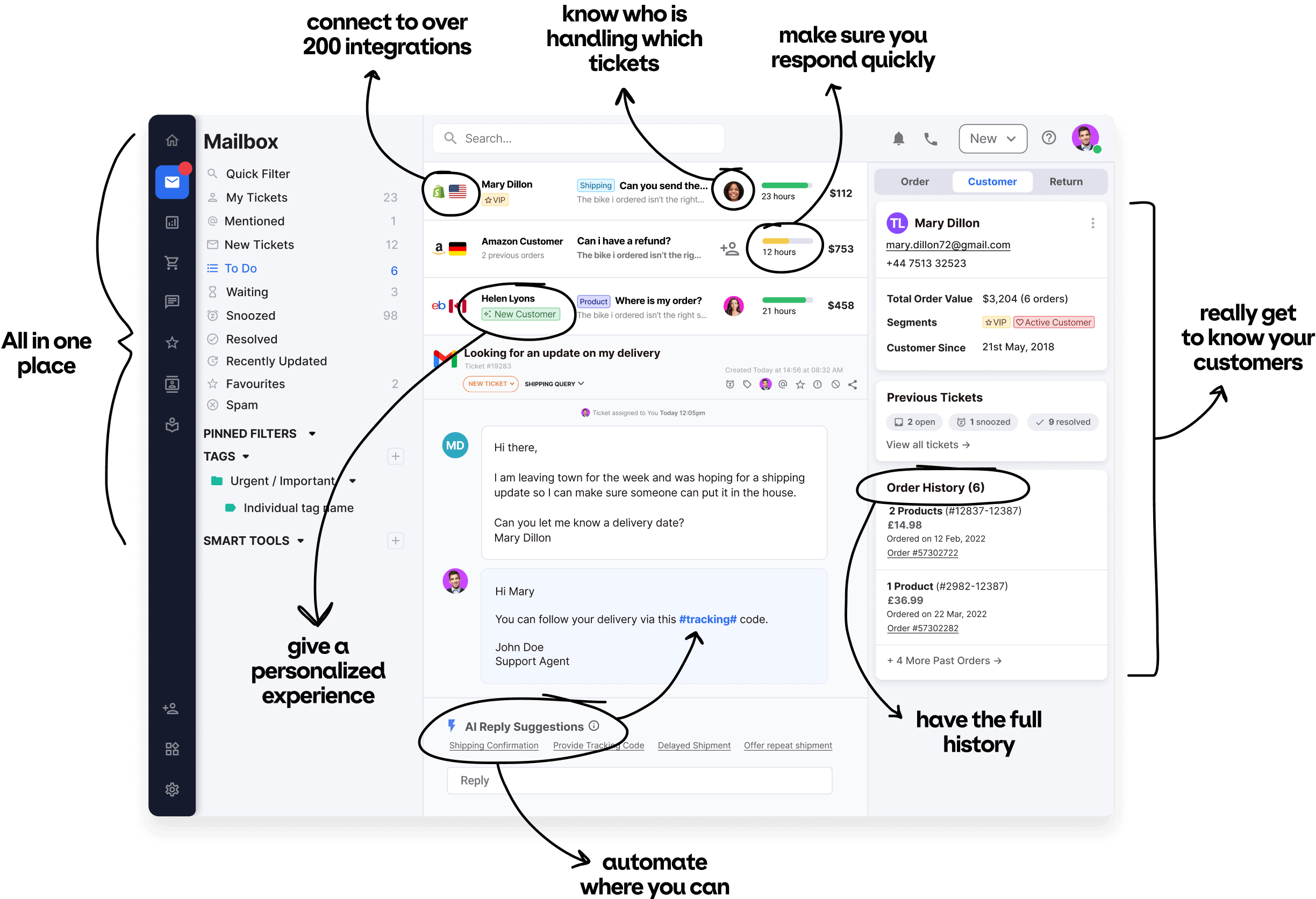 2. Zendesk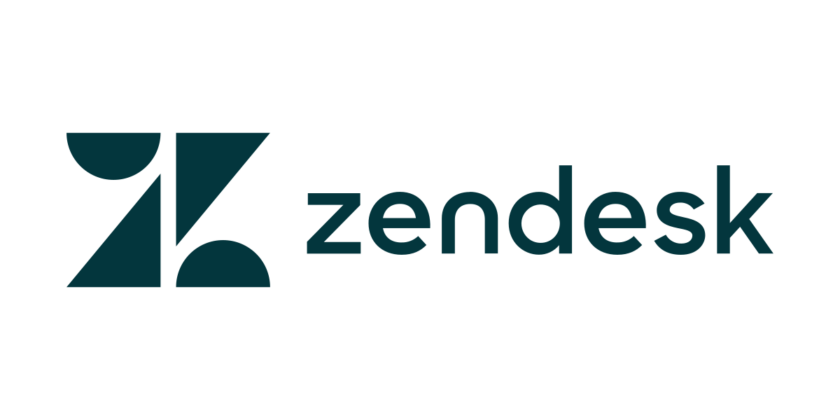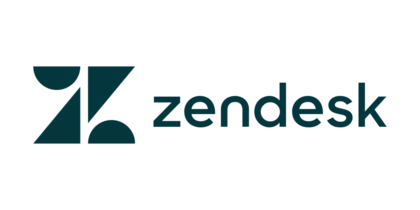 Zendesk's Support Suite provides customer support across channels in one seamless package. It enables conversations with customers across any channel, including email, voice, and social messaging apps such as Facebook Messenger and WhatsApp, while keeping all conversations in one place for easy access by customer service agents.
In addition to English, Zendesk supports more than 30 different languages.
Free trial: Available
Pricing: Varies depending on the level of support. Starting from £14 (USD 19) per agent, per month to £79 (USD 99) per agent, per month for the advanced package.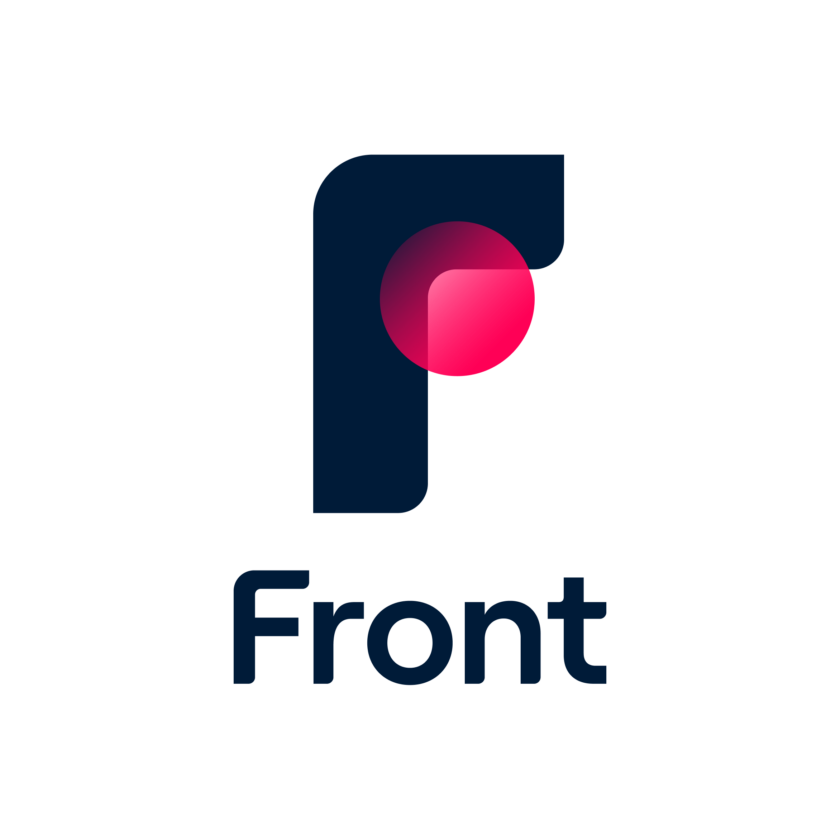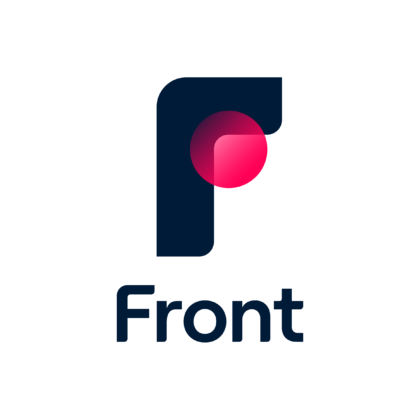 Front bills itself as the "#1 shared inbox for teams." Indeed, its service brings email and apps together around a centralised communication platform, providing a help desk support platform that manages all your tickets, emails and live-chats in one inbox.
To drive personalisation, Front sets reminders and offers draft messages so that customer service agents can respond to customers with a personalised reply each time.
Front integrates with customer relationship management (CRM) software such as Salesforce to provide convenient access to customer data. It also includes analytics that gives you insights into your team's performance, as well as recording responses and gathering customer service surveys.
Free trial: Available
Pricing: Begins at £15 (USD 19) per user, per month and increases by service level to enterprise level, which is priced at £79 (USD 99) per user, per month.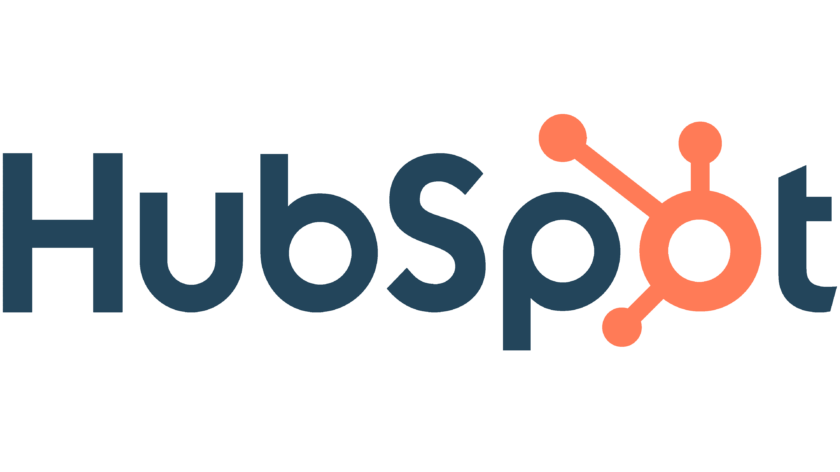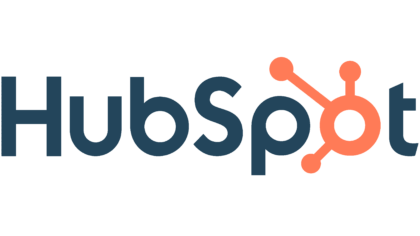 HubSpot Service Hub is help desk software that makes it easy to manage and connect with customers. It offers tools to help build your ideal customer experience, create self-service solutions, and drive growth using customer feedback.
It offers live chats and conversational bots, which help customers through direct conversation. It has a reputation as an ideal help desk for startups but offers service packages all the way up to the enterprise level.
In addition to English, Hubspot Service Hub supports German, English, French, Japanese, Portuguese, and Spanish languages.
Free trial: Available
Pricing: Hubspot Service Hub offers a freemium service with limited features, moving up to £37 (USD 50) per month for its entry-level service, and offers an enterprise tier of support priced at £880 (USD 1,200) per month.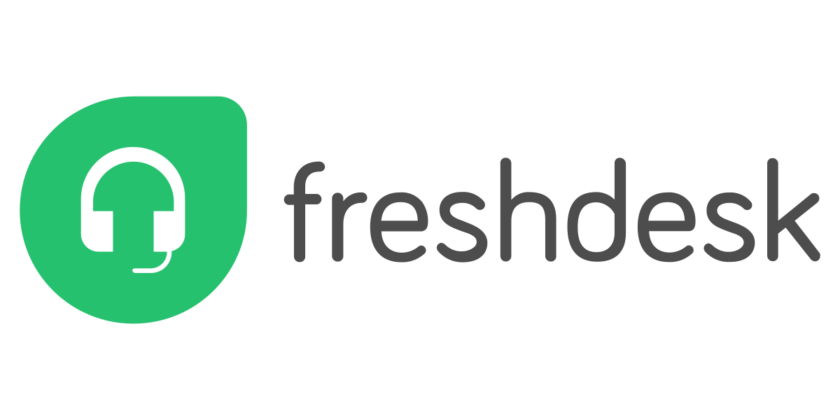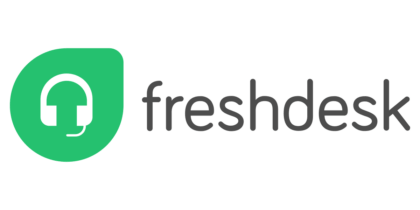 Freshdesk compiles all of your customer enquiries that come in via email, web, phone, chat, and social into tickets, and unifies the tickets across channels into one place. It also allows you to automate workflows, provide self-service options to customers, manage SLAs, and measure metrics to improve customer service.
Freshdesk's popular features include its AI-powered support chatbot, predictive support capabilities, and field service management.
In addition to English, Freshdesk supports over 20 different languages.
Free trial: Available
Pricing: Freshdesk offers a freemium plan to start, with the next level priced at £11 (USD 15) per agent, per month, up to £79 (USD 99) per agent, per month for its most advanced level of features.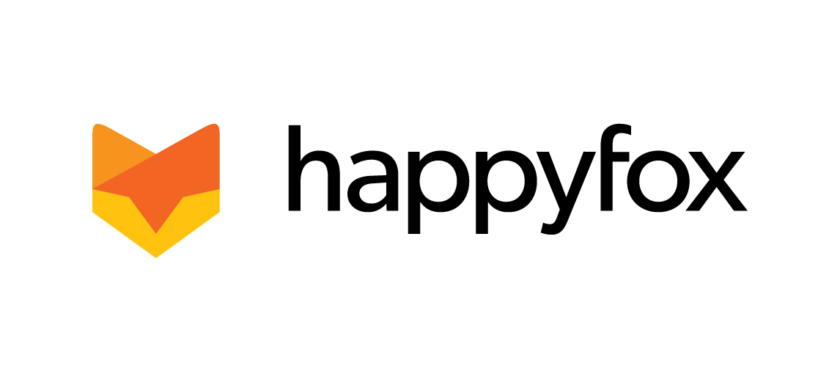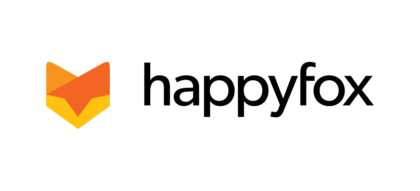 HappyFox is a help desk software that unites customer requests coming from email, web, phone and social media. It integrates with various business software used for accounting, customer feedback, customer relationship management (CRM) and commerce.
It also offers a mobile app available on both iOS and Android, allowing business owners and their customer service teams to provide customer support through smartphones and tablets.
In addition to English, HappyFox supports over 20 different languages.
Free trial: Available
Pricing: HappyFox pricing packages start at £22 (USD 29) per agent, per month, with an enterprise plan at £65 (USD 89) per agent, per month. Alternatively, business owners can opt for its most premium pricing plan, which supports unlimited agents, at £1,099 (USD 1,499) per month.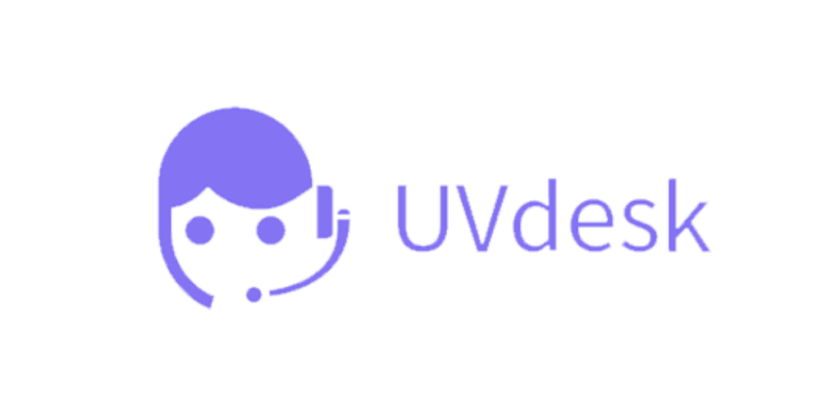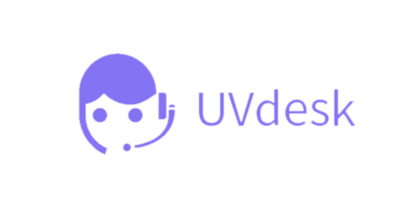 UVdesk is a help desk system that supports eCommerce, marketplace and multichannel sales. It offers mailboxes, an information centre, and form builders. Its software is also open-source, meaning UVdesk provides customisable options for personalisation within your business
UVdesk allows you to create tickets automatically from your customers' emails, allowing customer service agents to manage and control workflow for optimum response times.
In addition to English, UVdesk supports Arabic, French, German and Italian languages.
Free trial: Available
Pricing: UVdesk offers custom quotes depending on your unique business needs.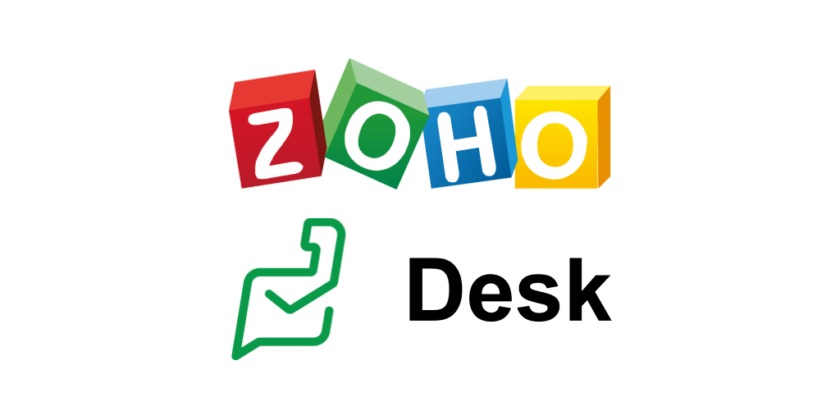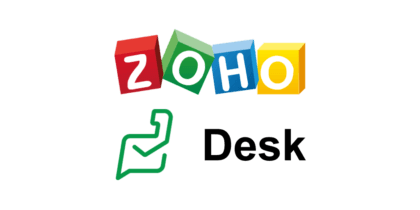 Zoho Desk is a customer service help desk platform that combines phone, email, live chat, SMS, social media and more —  all in one place. 
It also assigns calls to your customer service agents based on department or team, routing calls to agents that the customer is familiar with in order to build lasting customer relationships. Its features include options to customise configuration, as well as specified reporting options. 
Zoho Desk supports over 10 languages, including English, French, German, Japanese, Hindi and Chinese. 
Free trial: Zoho Desk offers a 15-day free trial. 
Pricing: Zoho Desk offers a freemium plan that supports up to three agents. Its 'Standard' plan costs £11 (USD 14), with pricing options up to the 'Enterprise' level at £32 (USD 40).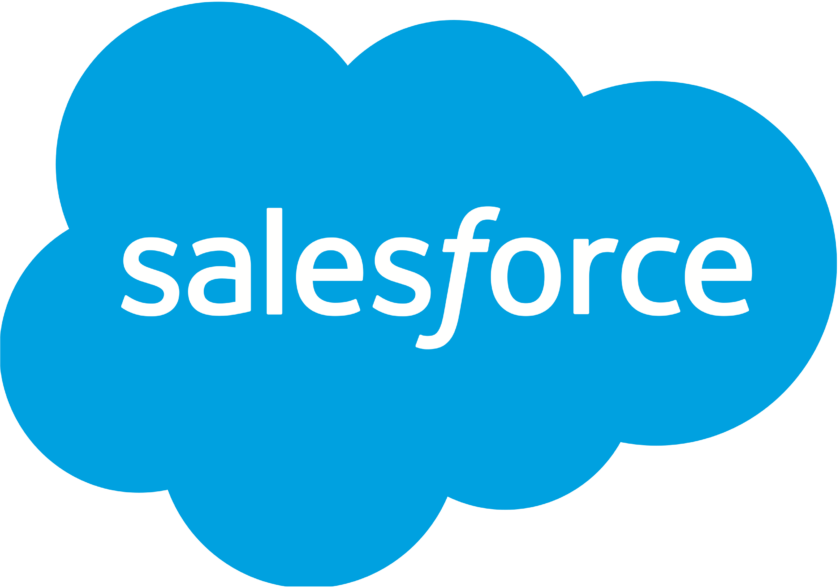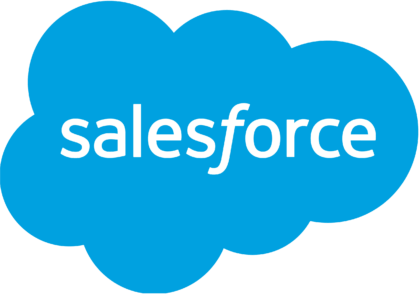 Salesforce Service Cloud is a help desk solution built on the company's renowned Salesforce Customer 360. It combines customer service, field service, and employee service together on one platform, using AI and automation to engage customers across multiple channels, allowing for more personalised customer experiences.
Salesforce Service Cloud does not support languages other than English. 
Free trial: Available.
Pricing: Salesforce Service Cloud begins its pricing at the 'Essentials' level for £20 (USD 25) per user, per month. Its highest pricing tier is the 'Unlimited' level, which offers its broadest range of features at £240 (USD 300) per user, per month. 
Final Thoughts
Deciding to implement help desk software is a big deal. That's why you want to make sure you take all the steps necessary to get it right.
It may take some time and a few free trials (eDesk offers a 14-day one), but finding the right eCommerce help desk software can be worth its weight in gold.
With a bit of research, a great eCommerce customer service help desk software can combine all of your customer communication channels into one easily managed place.
Onboarding help desk software is an investment with many benefits, including time saved, a more productive customer service team, and a better experience for your customers. All of those factors can add up to pay dividends when it comes to securing your company's bottom line.
Book a demo to learn more about how eDesk's help desk solution can help your eCommerce business deliver an excellent customer experience every time.