We're thrilled to kick off our first monthly product updates with a bang.
Over the past month, our team has been hard at work, bringing to life a suite of game-changing features and integrations aimed at revolutionizing your customer support and skyrocketing your eCommerce success.
Imagine a world where external ticket sharing seamlessly transforms the way you handle customer inquiries, or where a cutting-edge integration with Klaviyo opens doors to a treasure trove of marketing opportunities. Picture Shopify merchants rejoicing with enhanced functionality, while developers cheer for the improved capabilities of our API.
It's here! So, fasten your seatbelts and get ready for an exclusive glimpse of what's been brewing behind the scenes.
Hot Off the Keyboard
Check out the top new features developed in eDesk this month!
Did you know that cross-functional collaboration can supercharge decision-making speed by up to 15%? And here's the best part: eDesk enables you to collaborate seamlessly with external partners, even if they don't have an eDesk account!
Introducing the game-changing external ticket share feature – your ticket collaboration solution. Safely share ticket conversations with verified collaborators, such as suppliers or third-party services, without any hassle. This means you can easily provide context to your partners, empowering them to address customer requests efficiently.
Imagine receiving a customer ticket related to an issue your supplier is responsible for. With eDesk's Share feature, collaborating with suppliers directly becomes a breeze, allowing swift resolution of customer issues and delivering top-notch support.
Worried about data protection? Fear not! The Share feature automatically excludes customer and order information, ensuring data privacy remains intact.
Here's how it works: Your agent simply crafts a message to the supplier using the share tab within the eDesk ticket's reply box. In no time, the supplier receives a secure link to view the message and respond. The best part? Your agents can seamlessly provide prompt customer support without ever leaving the eDesk platform. It's that effortless!
Check out our support article.

Introducing eDesk's dynamic integration with Klaviyo, a game-changer that empowers your outbound marketing campaigns like never before. Now, you can enrich your marketing communications with invaluable customer support data from eDesk – such as purchase history, order value, customer sentiment, ticket status, and more – to create timely and highly relevant messages that convert
Here's the magic behind it: By setting up custom rules in eDesk for Klaviyo, you instruct eDesk to automatically send events to Klaviyo when a ticket meets the criteria of your custom rule. The result? Your customer communications become laser-focused, targeting the right audience with the right message at precisely the perfect time.
Say goodbye to the fear of sending promotional messages to customers currently facing issues. With eDesk and Klaviyo, you're in full control. Just create a rule to exclude users with open tickets from specific messaging flows and campaigns in Klaviyo. The flexibility and possibilities are boundless!
Check out our support article.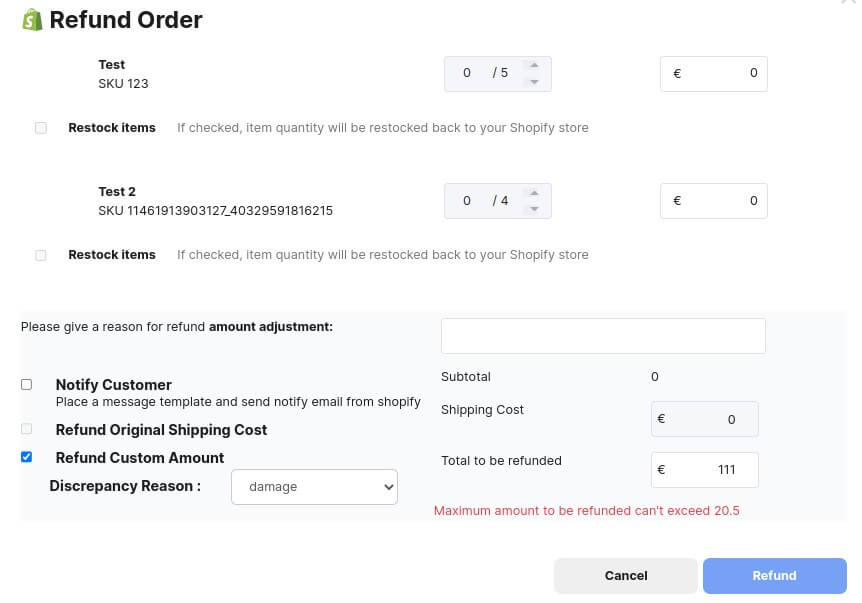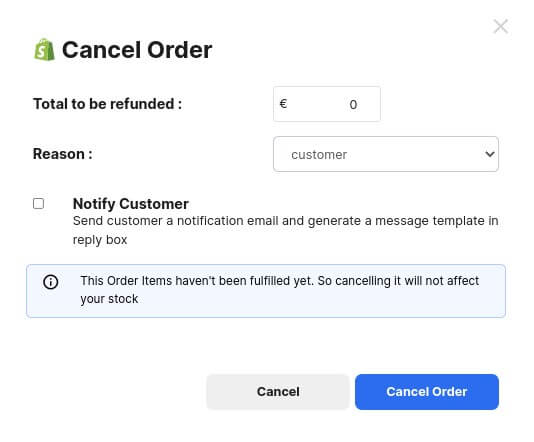 You can now issue refunds or cancel Shopify orders directly from within your eDesk tickets. Not only that, but you can also trigger an automatic order update to the customer via email or SMS with just a few clicks. Say goodbye to the hassle of constantly switching browser tabs between eDesk and Shopify – it's time to optimize your workflow and focus on delighting your customers like never before!
Here's the magic behind it: When a customer requests an update to their Shopify order in eDesk, the process couldn't be simpler. Just click on the 'refund order' or 'cancel order' button conveniently located in the right sidebar of the ticket, and complete the form. The refund or cancellation seamlessly reflects in your Shopify store, saving you valuable time and effort.
Our feature allows you to take action on refunds at the item level. Yes, that's right! You have the freedom to refund single items from an order instead of the entire purchase – it's all about providing you with ultimate control and flexibility.
Check out our support article.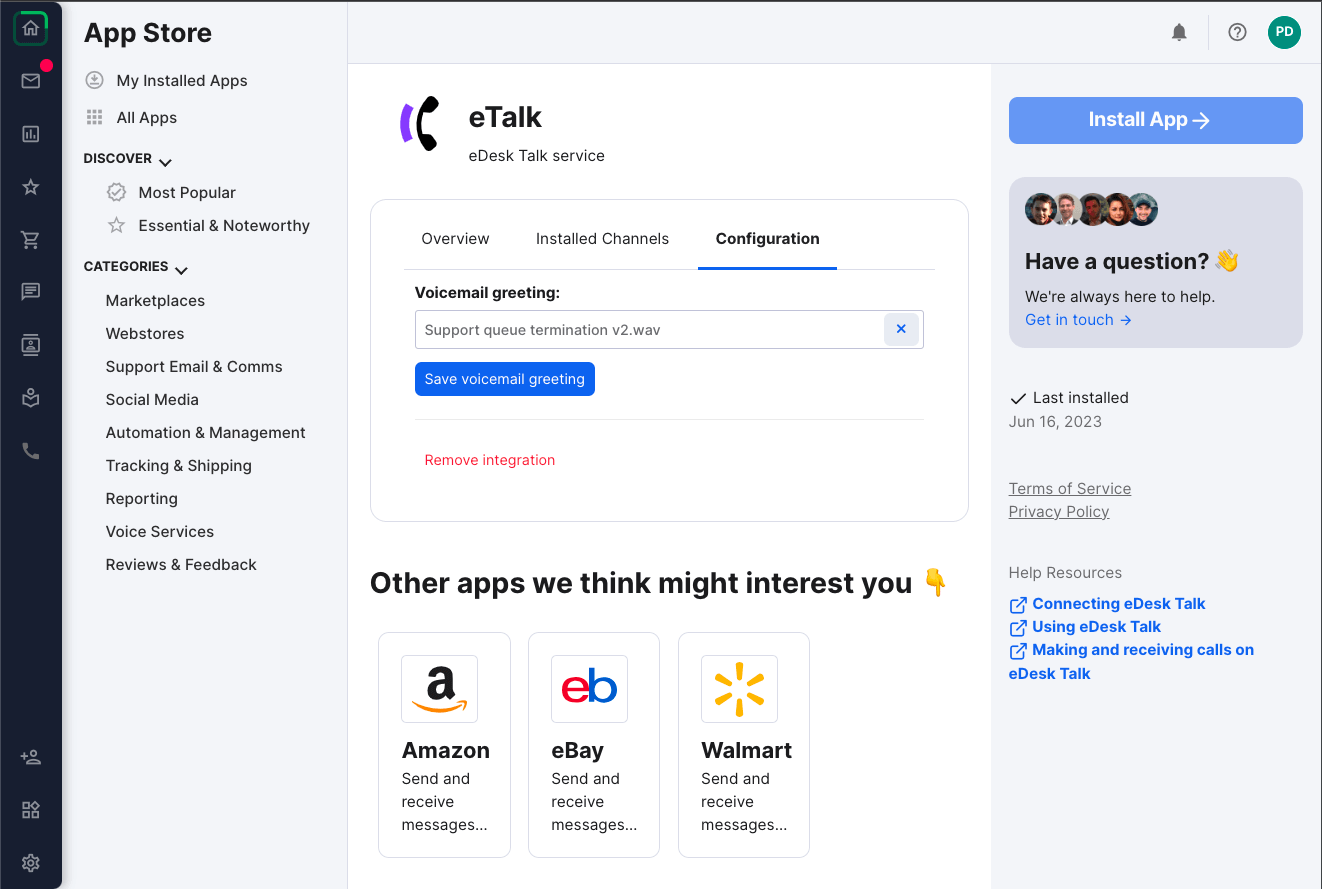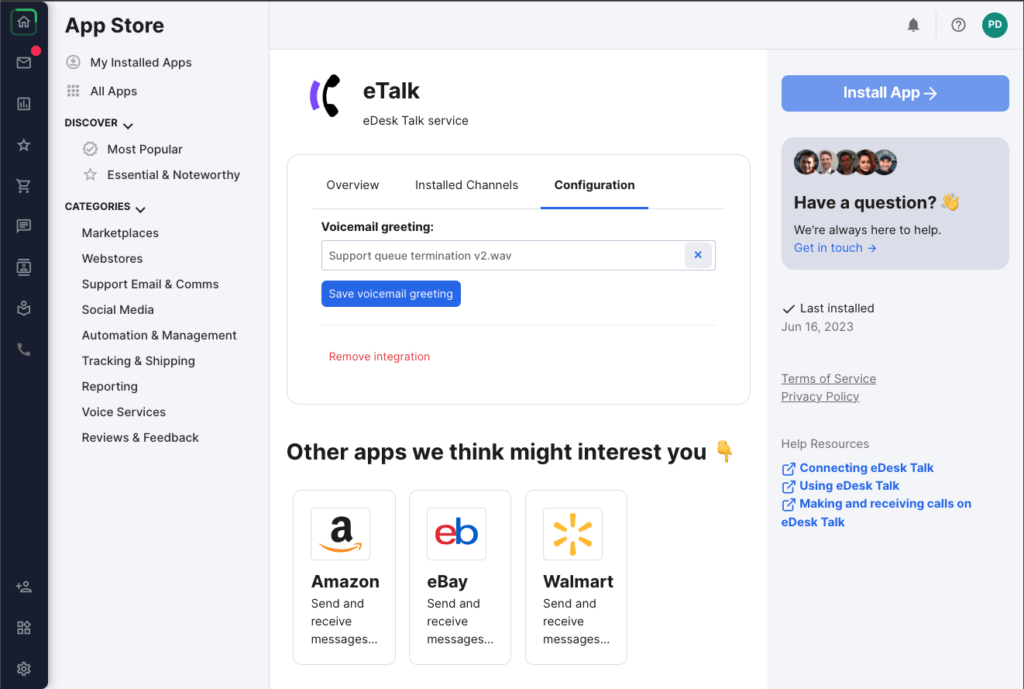 When it comes to providing exceptional phone support, eDesk Talk has always been a crucial feature. But now, it's even better!
Say farewell to generic voicemail greetings. With eDesk Talk, you can create personalized pre-recorded voicemail messages that invite your customers to leave essential information. These voice messages are logged and then added to a ticket in your Mailbox, ensuring you have all the necessary details at your fingertips.
Missed a call? No problem! The personalized voicemail greeting allows you to request specific information from the customer, ensuring a smooth and efficient follow-up to resolve their queries effectively.
And setting up your voicemail greeting is a breeze.
Check out our support article.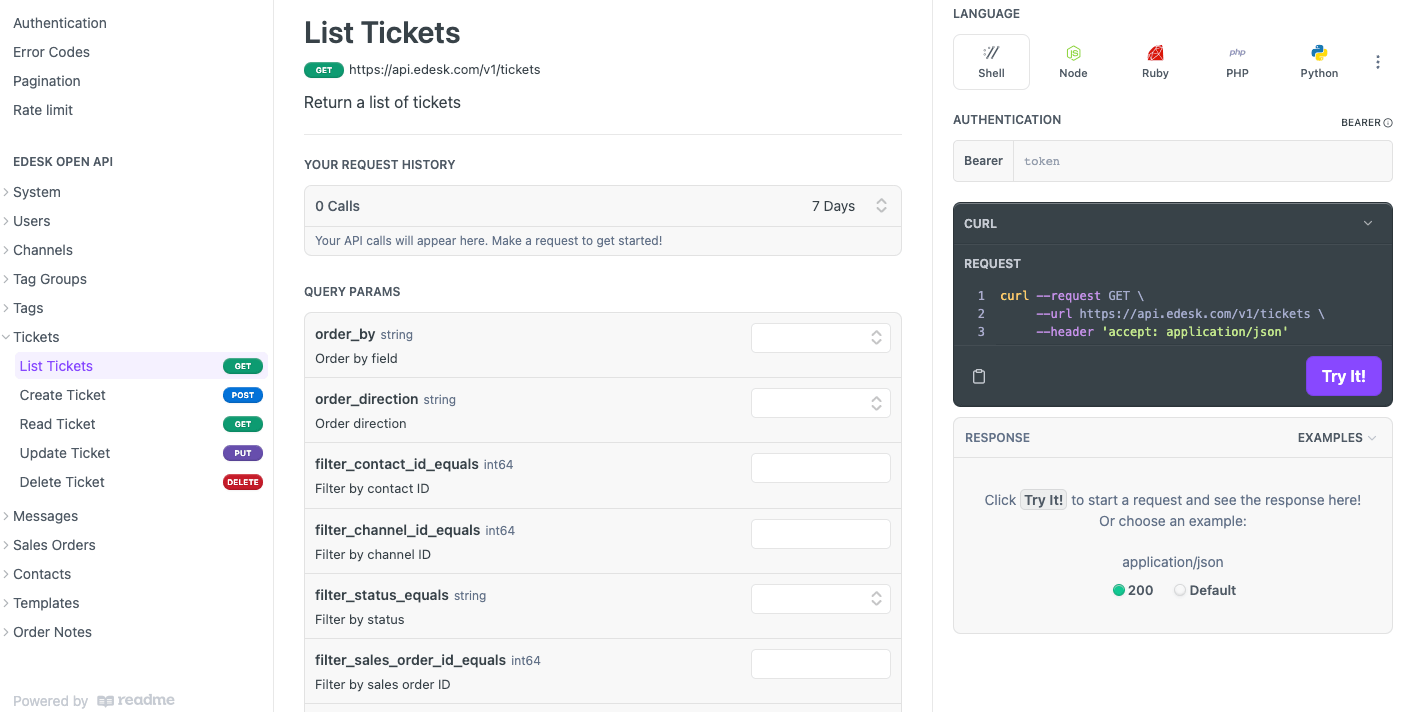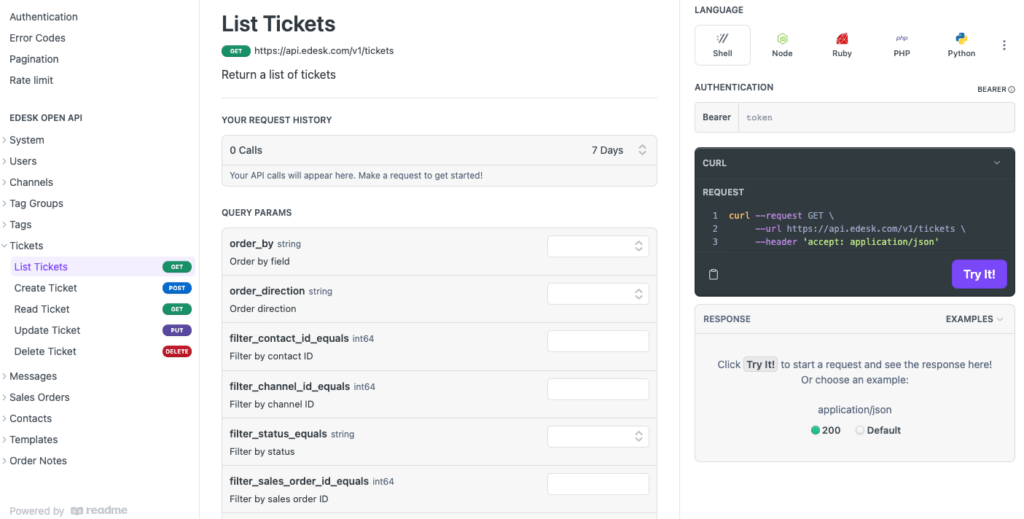 Tired of hitting your API rate limit while adding valuable information to eDesk tickets? Our latest update brings you a seamless and efficient way to enrich your tickets with external data via our API.
Introducing eDesk API 'List Ticket' filters, tailor-made to simplify your ticket targeting process. Now, with just a few clicks, you can effortlessly select the exact tickets you wish to enrich with new data.
Here's the magic behind it: By filtering your 'List Ticket' API calls based on contact ID, channel ID, status, sales order ID, date created, or owner, you gain the power to run scripts at regular intervals without unnecessary API calls, giving you a significant boost in speed and efficiency.
Fine-Tuned Features
You spoke, and we listened! Check out some of the improvements we've made to eDesk this month based on your feedback.
We've made improvements to the Reply box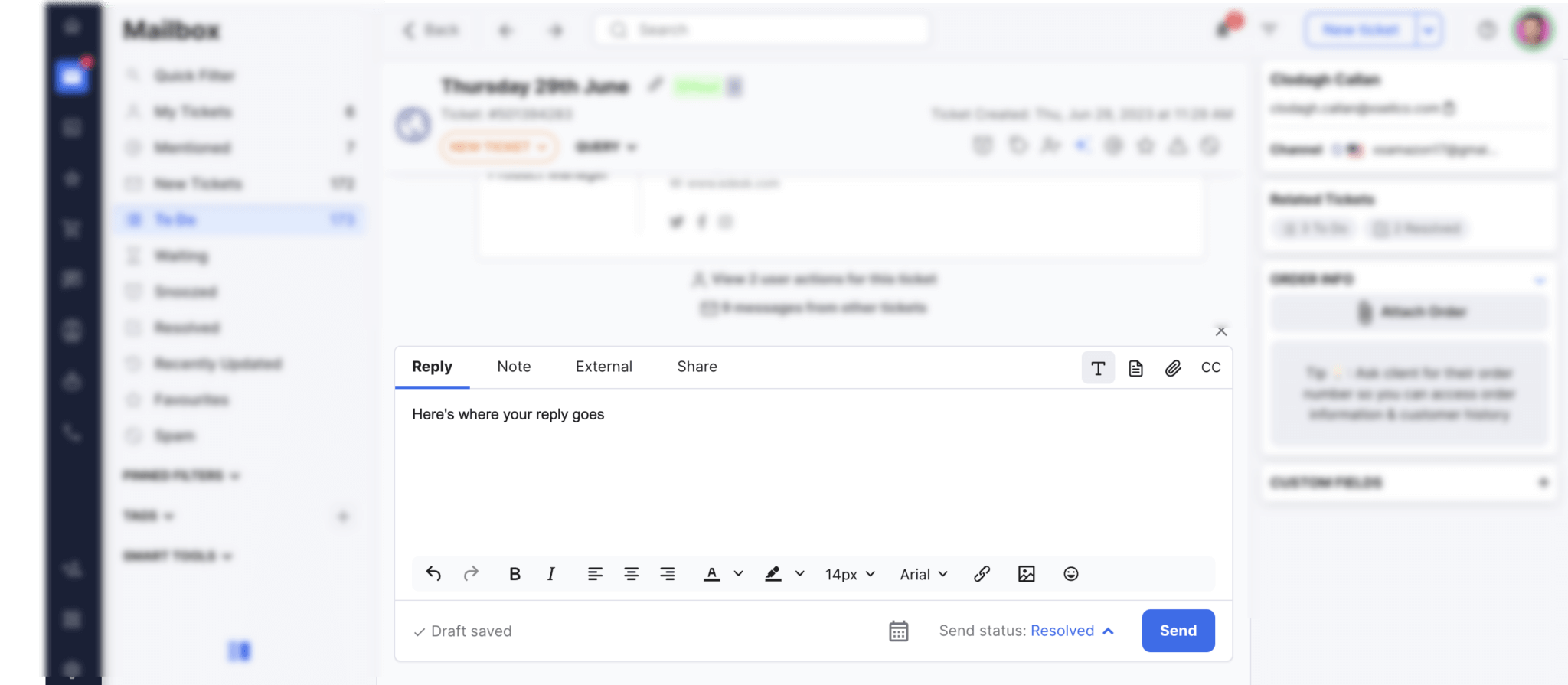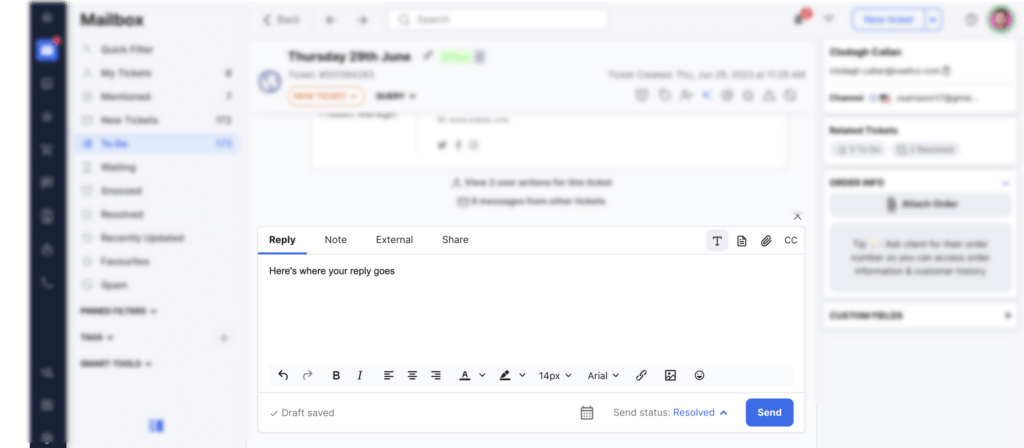 We've rolled out some improvements to the Reply box experience:
We removed the icons from Reply, Note etc (so it's less busy)
We've tidied up the formatting, template, attachment and CC options
The reply box will now automatically expand for longer messages
We've moved the formatting bar to the bottom of the message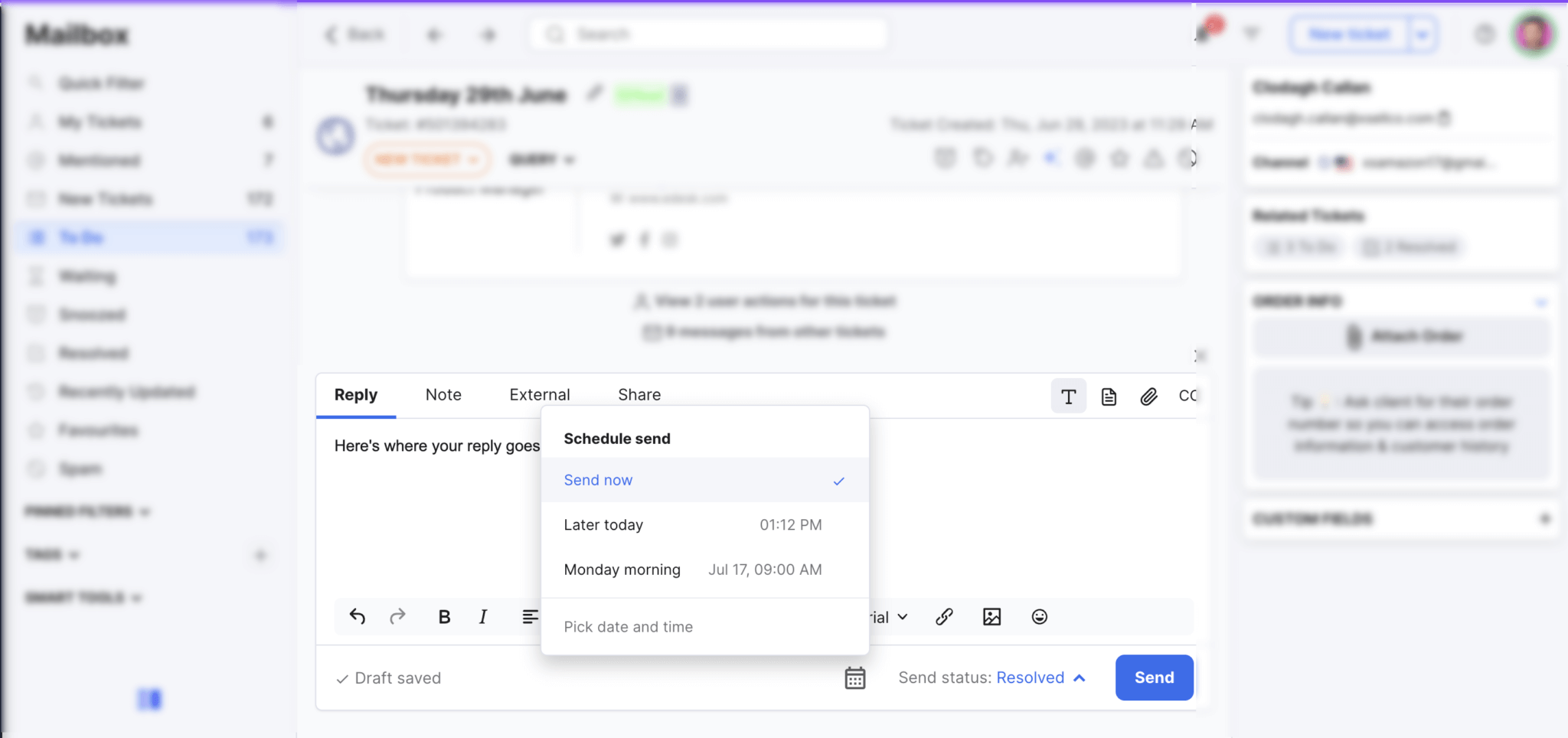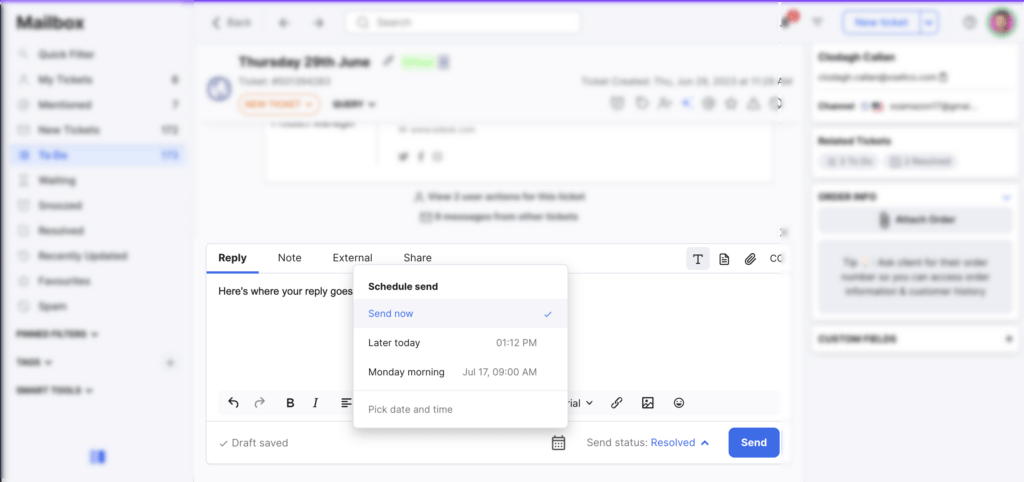 We've also improved the options for scheduling when your reply is sent and whether, upon sending, to change the status of the ticket. With the scheduled reply option you can pick quick options such as "Send now" (which is the default), "Later today", the next morning or a specific date and time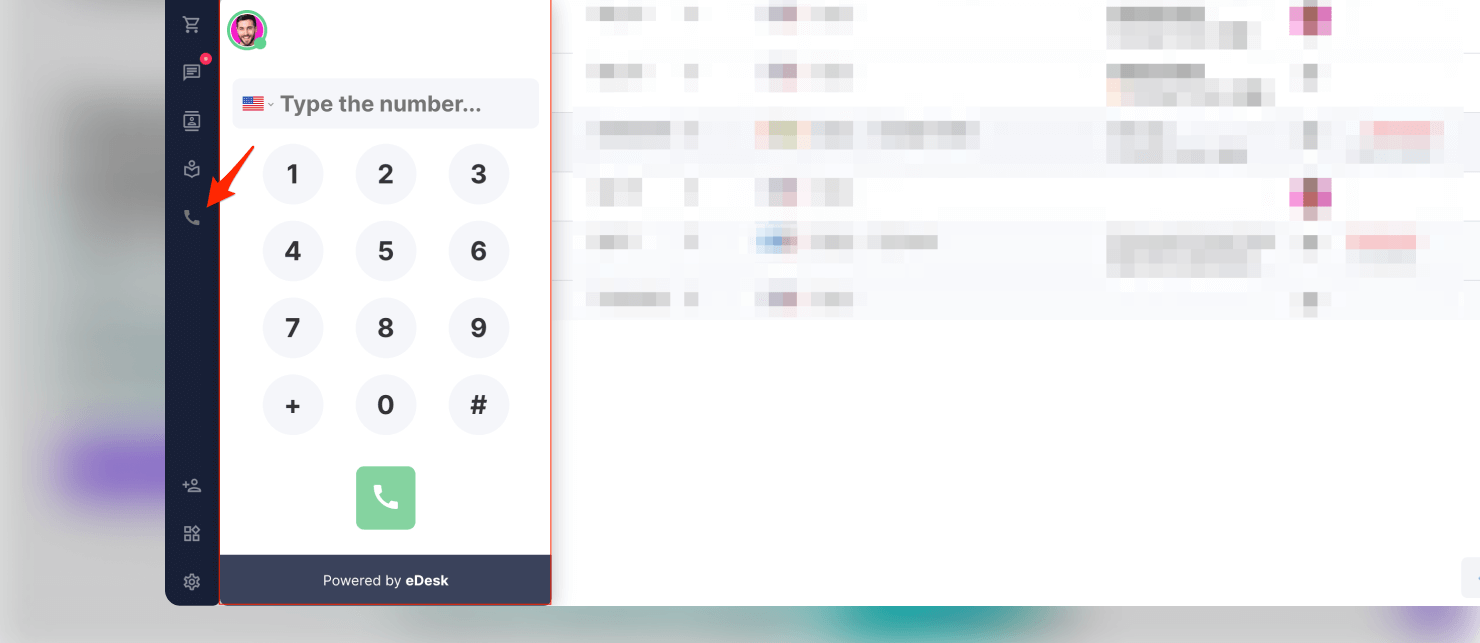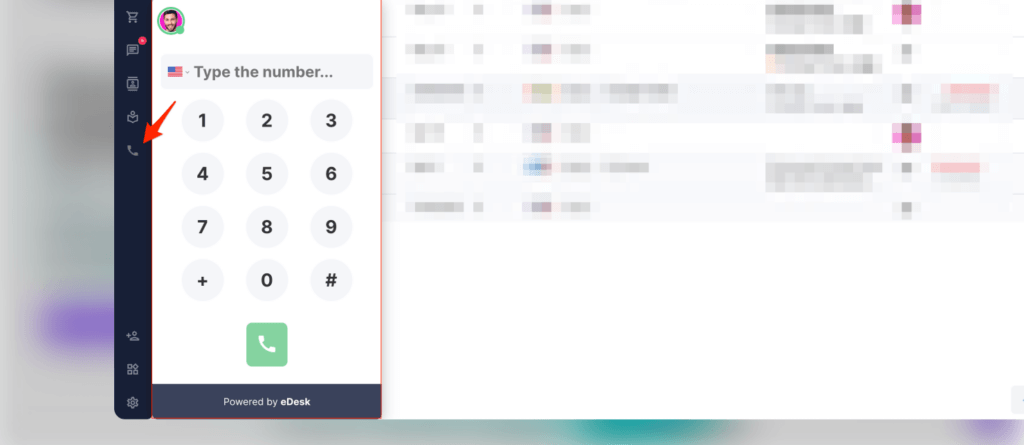 We have embedded the dialer to the left-hand navigation bar in the product, ensuring greater stability and usability for you. The dialer will now open in the same window rather than a separate one upon clicking on the phone icon. This change will make it much easier for you to accept incoming calls.
Pssst…Get a Sneak Peak
At eDesk, innovation is at the heart of everything we do. Take a sneak peak at some of the exciting projects we have in the works!
As we continue to prioritize the advancement of eDesk's AI functionality, we're thrilled to share two cool new features currently in progress. First up is the AI composer, an empowering tool that equips customer support agents with advanced capabilities. Imagine changing tones, rephrasing, and expanding text within the reply box for enhanced message composition.
That's not all; Our eDesk AI multi-language capabilities are also underway, promising AI summaries, classifications, and message templates in a multitude of languages. We're dedicated to improving localization on ticket summaries and the chat widget for a seamless experience.
But wait, there's more! Automation takes center stage as we introduce chatbot capability for your customers in eDesk Chat.
Excited yet? Dive into our product roadmap to explore all the upcoming projects.
Using WhatsApp for customer service? eDesk's WhatsApp integration allows you to manage your WhatApp conversations directly within your eDesk mailbox. Once you've connected your WhatsApp business account, all your Whatsapp messages will flow into eDesk where your team can reply to them.
Prepare to save valuable time with our smart workflows for WhatsApp messages. Utilize templates to address frequently asked questions, automatically group messages, and assign them to specific agents, and so much more. With our ingenious automation tools, repetitive customer support tasks become a thing of the past.
Our WhatsApp integration empowers eCommerce brands to scale their sales and support internationally, no need for multilingual agents. Embrace our cutting-edge auto-translation feature, allowing your customer service reps to communicate confidently on WhatsApp Business in any language.
Check out our support article.
July was a month of incredible progress at eDesk. Our commitment to continuous improvement propels us to redefine customer engagement, empowering businesses to save time, enhance efficiency, and reach new heights of customer satisfaction. Stay tuned for more exciting updates as we continue to push boundaries and innovate to help you support your customers better!
Useful Links
💻Get the latest product updates