In this article, we'll go through step-by-step how to sell on the Walmart marketplace. Walmart has always been known as a world-leading store among the American people, and now they have taken their reputation to a global scale for the rest of the world to enjoy. It is therefore not only wise but expected for the rest of the world to jump at this opportunity.
TL;DR
Should you sell on Walmart marketplace? Not anyone can just sign up, so if you do manage to get on their platform, then you definitely should.
How much does it cost to sell on the Walmart marketplace? Walmart charges commission only for products sold, which means no monthly fees… only pay for what you sell.
In-depth details on how you can go about applying to sell on the Walmart marketplace and additional information and tips you'll need along the way
The benefits of selling on the Walmart marketplace
Key differences in selling on Walmart and selling on Amazon
Should you sell on Walmart marketplace?
If you had the opportunity to be a part of one of the biggest retailers in the world, you would surely not turn such an opportunity down. So why not join their eCommerce platform and finally be a part of this international retail giant?
Walmart also offers you as the seller other helpful features such as no setup or additional fees, no SKU minimums, access to Walmart's two-day delivery program, the option for buyers to return products to their nearest Walmart store.
How much does it cost to become a Walmart marketplace seller?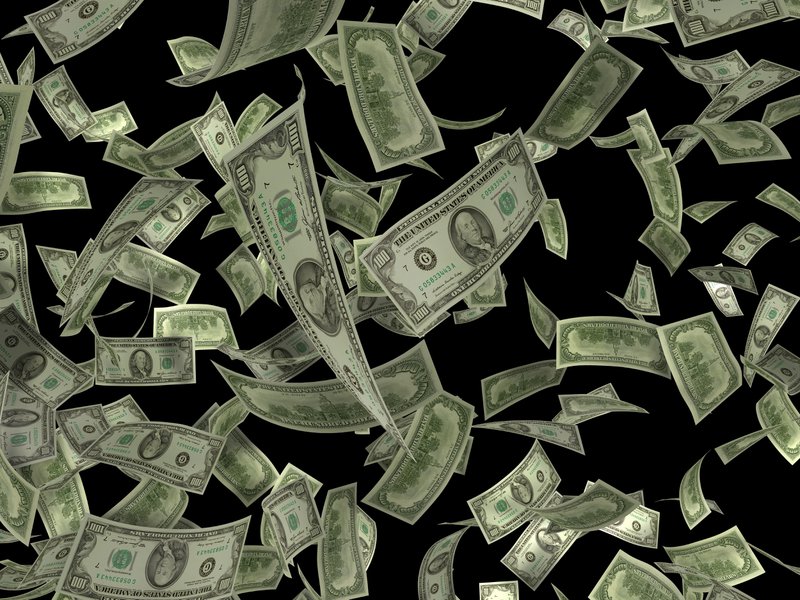 As mentioned before, there are no setup or fixed monthly fees… you only need to pay for what you sell. These commission rates range from 3% up to 20%, depending on the category and price of the item sold.
Details on how to sell on Walmart marketplace and any additional information you will need
The application process
The first thing you'll need to do is to get approval from Walmart before you're able to start selling on their marketplace. The application process shouldn't take too long if you have all the information on hand that they require. This list is rather cumbersome and includes things like :
US business tax id (they can't accept an SSN)
A verification letter from the US department of treasury that verifies you have a US business address or place of physical operations
A planned integration method for your product catalog, Primary product categories, the size of your catalog, and any other information related to your categories. Your catalog can also not include any products from Walmart's prohibited products policy
A history of marketplaces you've joined and which were successful.
Dealing with this application process can be cumbersome, and your time could be better spent elsewhere. Reach out to Mirakl, who will do all the nitty gritty application stuff for you, so you're able to spend your time on your business.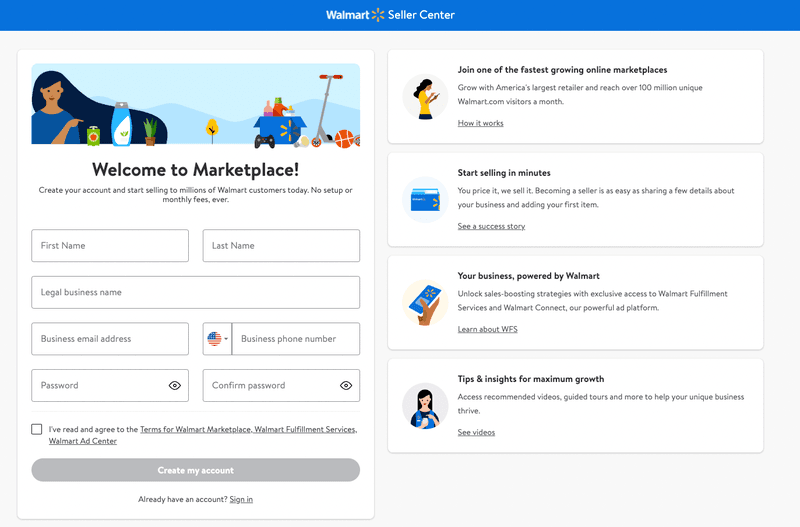 The registration process
If you have decided to go apply to sell on Walmart marketplace the traditional way and not go through Mirakl, the next step you'll need to follow is the registration process. Only once Walmart has approved you to sell on their marketplace (you'll need to be a reputable retailer with experience selling on marketplaces before they'll even consider you) then you need to finish up the process by completing the following steps
Create an account – All you'll need to do here is just create an account on the Walmart platform. You'll receive all the necessary information to do so once your application process has been approved
Accept the Walmart retailer agreement – This is just your standard legal stuff to ensure that you and the giants at Walmart are on the same page when it comes to selling on their marketplace.
Company registration – Once you have registered your account, you'll need to register your company on the Walmart marketplace. To do this, Walmart will need your company's display name (the name that pops up when customers are perusing your product line), and your company's corporate address.
Tax forms – Walmart is not the only party that needs forms filled out. Remember to complete a W-9 form for Uncle Sam. Make sure this form includes your name, address, and your TIN (taxpayer identification number)
Payment information – When it comes down to everyone's favorite day of the month, payday, Walmart will gladly give you your cut through their registered payment providers (Payoneer or Hyperwallet). You'll need to make sure you have an account with either party if you expect that payday from Walmart.
Shipping info – There's no point in your customers spending hours shopping at your store if they find out when it comes to checking out, that your business cannot actually ship out to their region. It is therefore very important that you stipulate where you can actually ship to and which shipping methods you can offer, for example, express delivery or standard.
The testing process
Once all the application has been approved and the registration process has been completed, it is then time for the testing phase. Before Walmart marketplace will actually allow you to go live, they need to protect their reputation and ensure that your process is streamlined and that customers won't have any issues when buying from you.
This stage of onboarding means listing your catalog and testing orders. Your items will only go live on the Walmart marketplace once all the testing is complete and Walmart is happy. Remember not to call these items "test items" because as soon as the testing is over, this product will immediately go live and it's never a good thing if your customers see "test item" on the product they're thinking of purchasing.
If you come across an item from your catalog belonging to more than one category, then add a few items from each of those categories for the initial setup round. All items that are successfully added will then move on to the "stage" status and will not show up as for sale until you've gone live.
The testing process does not need to include shipping, obviously, but will need to check the following boxes. Order acknowledgment, order cancellation, order shipping, and order refund. Once 2 – 3 of these test runs prove successful, Walmart will do their last-minute checks, complete a final review process, and then finally release your account to go live so you can start selling. As soon as this is done, your items will become transactable in a few hours and searchable within 24-48 hours.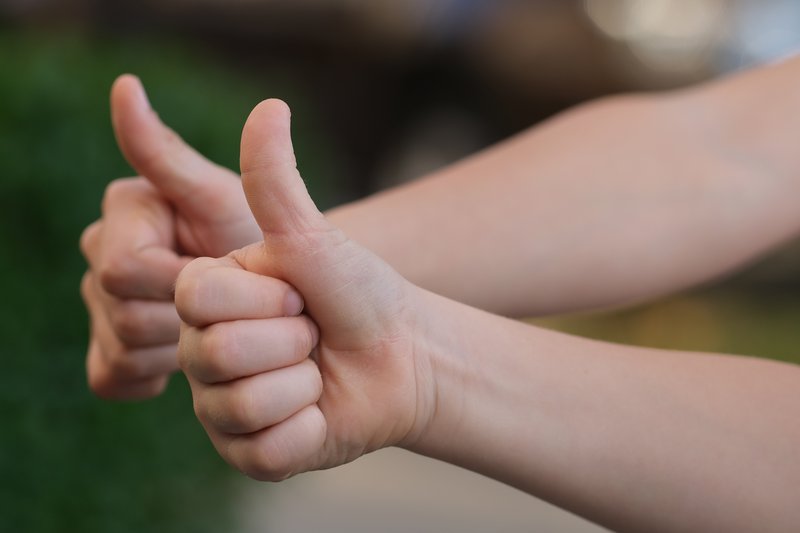 The upsides to selling on Walmart marketplace
No monthly fees – As mentioned before, there are no monthly fees… you only pay a commission on each item you sell
Unlimited inventory – there is no limit to how many different SKUs you can sell on the Walmart marketplace, from over 35 different categories. Just make sure none of these items show up on their list of prohibited products.
Exposure – Associating yourself with a giant such as Walmart, means a lot more exposure and better visibility for your brand.
Trust and confidence – Because Walmart is such a reliable brand, customers are more likely to shop on a platform they know and trust, which means a higher influx of customers to your online store.
A speedy checkout – Because Walmart is such a giant in the retail industry, they have managed to perfect the checkout process on their marketplace. The Walmart marketplace provides users with a fast and safe method of checking out when they are done with their shopping.
Walmart analytics – Walmart offers a performance tool that you can use to track and monitor your progress on your Walmart seller account. This information can prove to be extremely useful in monitoring and improving your weakest points.
Customer support – While selling on the Walmart marketplace, you don't need to fret too much about customer support. Walmart already has a team of qualified individuals that will take care of any issues customers may encounter on their marketplace. The only thing you need to worry about is your product.
How can I make sure that I will be a good fit to sell on the Walmart marketplace?
As mentioned before, Walmart is an extremely reputable company and they won't just allow anyone to become a Walmart seller. The following are the main points that the guys at Walmart will take a look at before considering onboarding you as a Walmart seller.
ECommerce experience
The first thing is your previous eCommerce experience. Walmart has spent years building up a reputation and has therefore ensured that their marketplace sellers are not just anyone, but experienced marketplace sellers. During the onboarding process, Walmart will ask you where you have sold before and for how long. They will then go ahead and do their homework to analyze how well you did on these other platforms. They check how satisfied your previous customers are, the level of your customer service, and how well your products flew off the shelves.
Organization
The second thing these guys will notice is how organized you are, so make sure all company documents are in place and organized. We have mentioned previously in this article what forms are needed (things like your business tax ID), so make sure you have them on hand and completed before beginning with the onboarding application.
History of service
History of exceptional service. The third thing Walmart will look at is how quickly and reliable your services are to the customers. Those who have their own warehouse and are able to self-fulfill are usually a strong candidate for such applications. Dropshippers are not out of the picture yet though, just as long as they can maintain a similar level of efficient business systems.
Walmart-friendly product catalog
Ensuring the products you have in your product catalog, are in fact Walmart-friendly. When we say this, we don't just mean that you shouldn't sell what is on their prohibited list but take a closer look at what you want to sell there. For example, you're not going to attract their attention by selling kitchen dish towels as they surely have a lot of options in that regard and do not need anymore. You'll also need to ensure that your prices are adept and are more or less in line with the rest of the products on the Walmart marketplace.
Having the right tools to keep your quality of customer service at a prestige level
As spiderman's uncle once said, with great power comes great responsibility. Well in this case, with more sales comes more responsibility to ensure customer satisfaction. eDesk has all the tools you need to make sure your quality customer service doesn't take a hit when business booms.
How many people are selling on the Walmart marketplace?
Over the past few years, sellers on the Walmart marketplace have been doubling. With 50 000 members owning a Walmart seller account in 2020, that number doubled to 100 000 in 2021. Now, in 2022, Walmart boasts 150 000 retailers on the website and it just keeps growing.
Walmart marketplace seller reviews
Selling online through Walmart is more than just sales. Walmart has a system in place where Walmart customers can submit reviews of all the marketplace sellers. Keep in mind, that these reviews are not product reviews but rather a performance review of your marketplace on the Walmart portal. Customers are encouraged to focus on their experience with the seller, including your delivery time, shipping methods, and level of service. They are also asked to be descriptive about their experience and mention exactly what they did like and what they didn't like.
Walmart marketplace customer service
As mentioned earlier on in the article, Walmart does offer its own line of customer support so you don't need to. You do need to, however, ensure that your service to the customer is on point. Alongside marketplace seller reviews, customers also have the option to contact Walmart customer support and you don't want a negative complaint about your services finding their way to the big bosses of Walmart, never mind already having upset a customer.
Typically, just keep your nose clean and services at the top-level service you usually do, and you should be fine. Using eDesk's powerful customer service tools is a great way to do such a thing. These tools include things that can help you with feedback, knowledgebase, and a smart inbox.
The key differences between selling on Walmart and selling on Amazon
Amazon vs Walmart, the battle of the 2 giants in the retail industry. It's been neck and neck between these 2 superpowers for quite some time now as they continue to fight for first place in being the best marketplace for people to sell on. Below is a list of key differences between the two, and the reasons why you'll need a photo finish at the winning line between the two.
Ecommerce and retail market share
Ecommerce and retail market share. While Amazon has had a $20 billion retail presence in grocery sales, Walmart was able to reach a staggering $270 billion. However, with Walmart still building its register of marketplace sellers (now sitting at 150 000) Amazon had over 493 000 sellers when Walmart was operating at 50 000.
Selling fess
Selling fees. As you already now know, Walmart is purely commission based and you therefore only fork out what you sell. Amazon, however, has a few more service fees to add to their register. On top of commission rates as high as 20% (similar to Walmart), you'll need to get onto one of their selling plans. The individual plan charges you $0.99 for every item sold and the professional plan costs a flat rate of $39.99. Amazon has a few other fees that you'll need to watch out for. One such fee, however, is their FBA fulfillment fee and that's used to help sellers outsource shipping straight to Amazon themselves.
Onboarding and listing
Onboard and listing products. As far as onboarding goes between the two marketplaces, it is a lot easier to get onto the Amazon marketplace. You just need to decide on which selling plan and set up your seller center, you can move straight onto listing your products. Uploading your product catalog is easy and can be done by adding them individually (a great option for those with not too many different products), using an Amazon template to list items in bulk, or using an integration partner to automate and do all the grunt work for you.
Walmart on the other hand is a little more complicated. We've already gone through the Walmart onboarding and listing process in this article, so we won't dive deep into that again. The point being, however, is that it's safe to assume that Amazon takes first place in this leg of the race.
Pricing and the buy box competition
Pricing and Buy box competition. Amazon sellers typically need an automatic re-pricer on their store to keep up with a competitive advantage and to win the buy box. The buy box is the "winning sale" when a customer checks out their order without specifying which retailer they'd like to buy from.
The Walmart buy box, on the other hand, works a little differently. Repricing can only be done once a day, and there are strict rules to follow when it comes to pricing your products. The two biggest pricing rules are Walmart's price parity and price leadership.
Price parity states that 'if one of your products can be bought from a competing store at a lower price, your product will be delisted from your Walmart retail store.'
Price leadership states 'If one of your products can be purchased from any seller on Walmart.com or any other competing site at a drastically lower price (with shipping included), then your product will be delisted'. So just ensure that you keep tabs on that when doing your price adjustments.
Shipping and fulfillment
As we already know, amazing has the option to join their FBA services for sellers on the marketplace to easily distribute their product. This can be counter-intuitive as sellers are relying solely on one logistics company to handle all their shipping, and we all know that it's not the best idea to put all one's eggs in one basket. This proven when Amazon stopped shipping non-essential items in the wake of the coronavirus pandemic of 2020, compromising a lot of sellers on their marketplace.
It's for this reason, that many more sellers are opting for a more hybrid approach to shipping and having a few baskets for different eggs. They are using 3rd party shipping companies for some of their products and Amazon's FBA services for others.
Walmart has introduced its loyalty program called Walmart+ to compete against Amazon's Prime, with focusing on fast shipping as a critical benefit. Walmart offers unlimited free same-day shipping on all of their grocery items and free two-day shipping for all orders over $35. Luckily, there is no need to sign up for any membership to enjoy this benefit.
By partaking in the two-day shipping program, you can get your product higher up on the search results and give you a better chance of winning the buy box.
There are 3 ways you can qualify for two-day shipping tags on the Walmart platform.
Self-fulfill – You must have been selling for at least 90 days and meet strict performance standards before applying
Deliverr – The official shipping partner of Walmart. Outsourcing to them, gets you pre-approved for Walmart's fast shipping tags.
Walmart fulfillment services – A service only available to established market sellers, however, you are able to submit an application if Walmart decides to grow this division.
Performance standards
Amazon tracks and determines your performance by administering the following 3 observations.
Maintaining an order defect rate of under 1% tacked over 60 days.
Keeping cancellation rate at a maximum of 2.5% over 7 days
Keeping your late shipment rate at or below 4% over both 10-day and 30-day periods.
These requirements are rendered invalid if you do decide to use the Amazon FBA program, as Amazon will then take responsibility for any shipping issues. Self-fulfillment will get you a warning from Amazon and the chance to submit a plan of action to Amazon before suspension occurs.
As for Walmart, you need to follow 3 slightly different metrics to keep up to par with performance standards.
Keep 90-day order defect rates below 2%.
Keep your on-time shipment rate higher than 99%
Maintain a tracking record of over 99%
Need help keeping up with SLA's?
Branding and advertising opportunities
78% percent of Amazon searches are unbranded, meaning more and more people are now beginning to shop for the product and not the brand name. It is therefore important, now more than ever, to create as much brand awareness as you can and convince people to look for your specific brand when shopping online.
Amazon has systems in place to help you maintain your brand and protect against counterfeits being purchased. Keeping your brand name good and well-known.
Walmart works a little differently. Walmart sees itself as a brand, and rightfully so. Less than 1.6% of Walmart's sellers actually advertise.
So to wrap up, is selling on the Walmart marketplace worth it?
Getting your store on the Walmart marketplace is no easy feat, but will definitely pay off once you're on. Its subscription is a pay-as-you-sell methodology, so bad months mean you don't need to break the bank on fees. The marketplace is rapidly growing by essentially doubling its market sellers every year, which is great to get your business out there and get yourself some of that wonderful brand visibility. Lastly, you even get to enjoy their free 2-day shipping program to upsell to potential and existing customers even more.