As a paid advertising service, eBay Promoted Listings is an opportunity to get your inventory in front of more potential customers. If used effectively it could give your sales figures a great boost.
eBay Promoted Listings are eligible to appear more often in prominent locations – similar to paid search engine ads.
Judging by the success of Amazon Sponsored Products which half of all sellers are estimated to use, eBay's paid service could certainly help sellers make a big splash.
Since eBay sponsored listings were first introduced in 2015, they have grown hugely popular. More recently, its 2019 updates have helped drive new momentum.
What are eBay Promoted Listings?
In Q1 of 2020, eBay promoted listings generating $137 million in revenue – up 109% on the same period in 2019. More than 1.2 million sellers promoted over 310 million listings. Here's what they were paying for.
An eBay sponsored listing looks just like a regular listing. But it includes the word 'SPONSORED' and appears at the top of search results.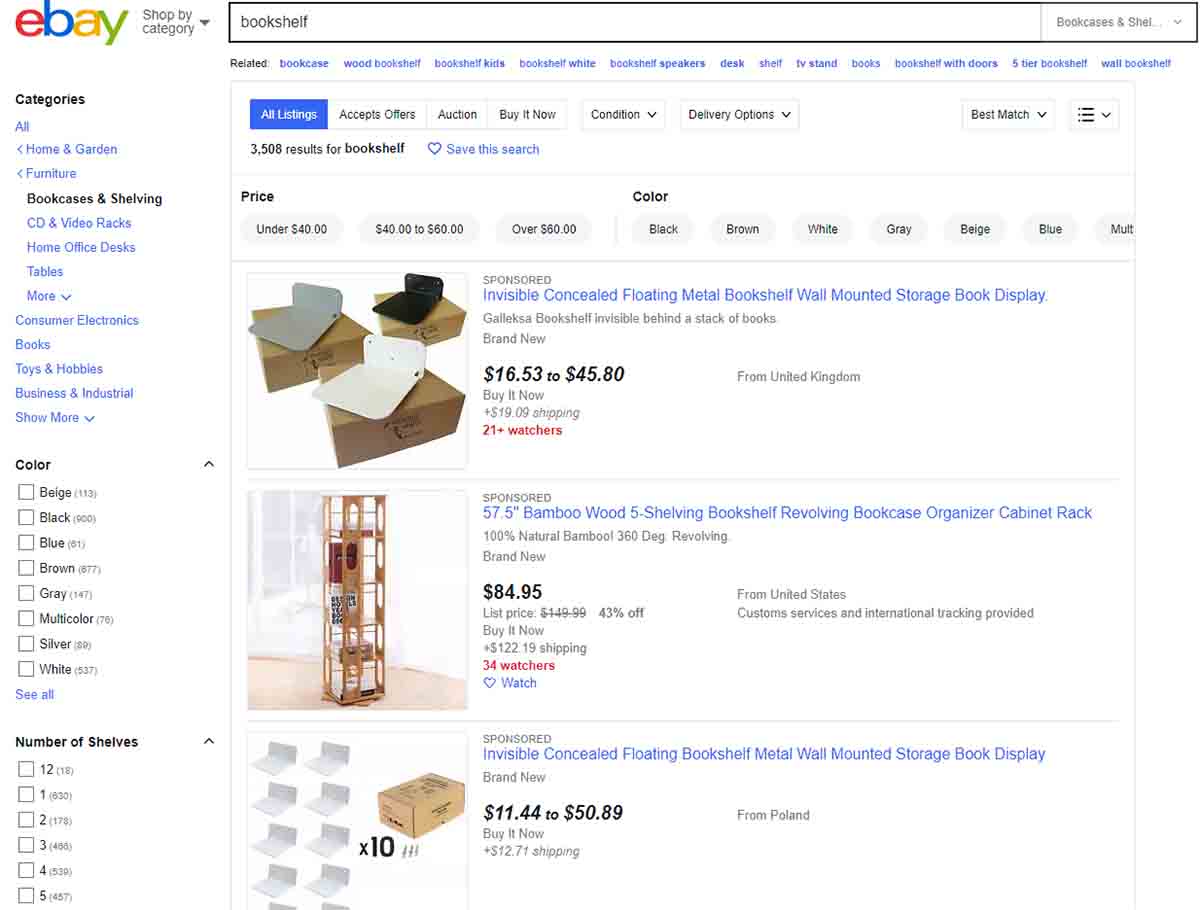 eBay promoted listings also appear prominently at the bottom of product pages as suggested and related items.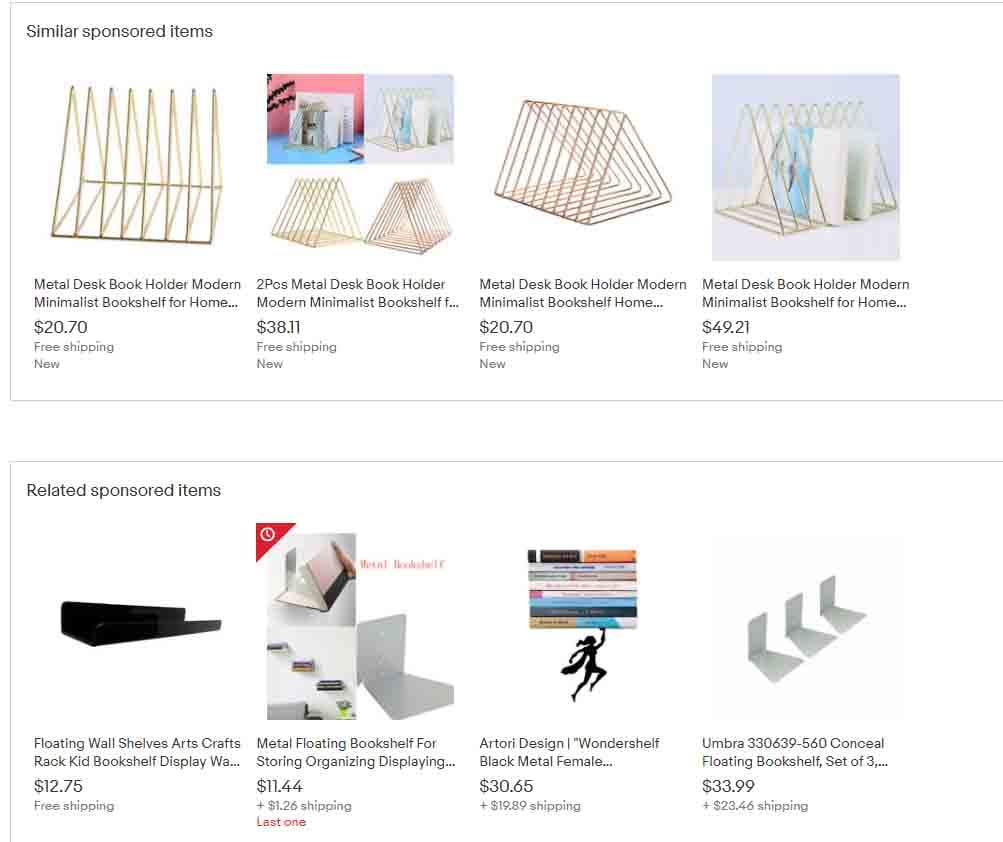 And then there's some more underneath those!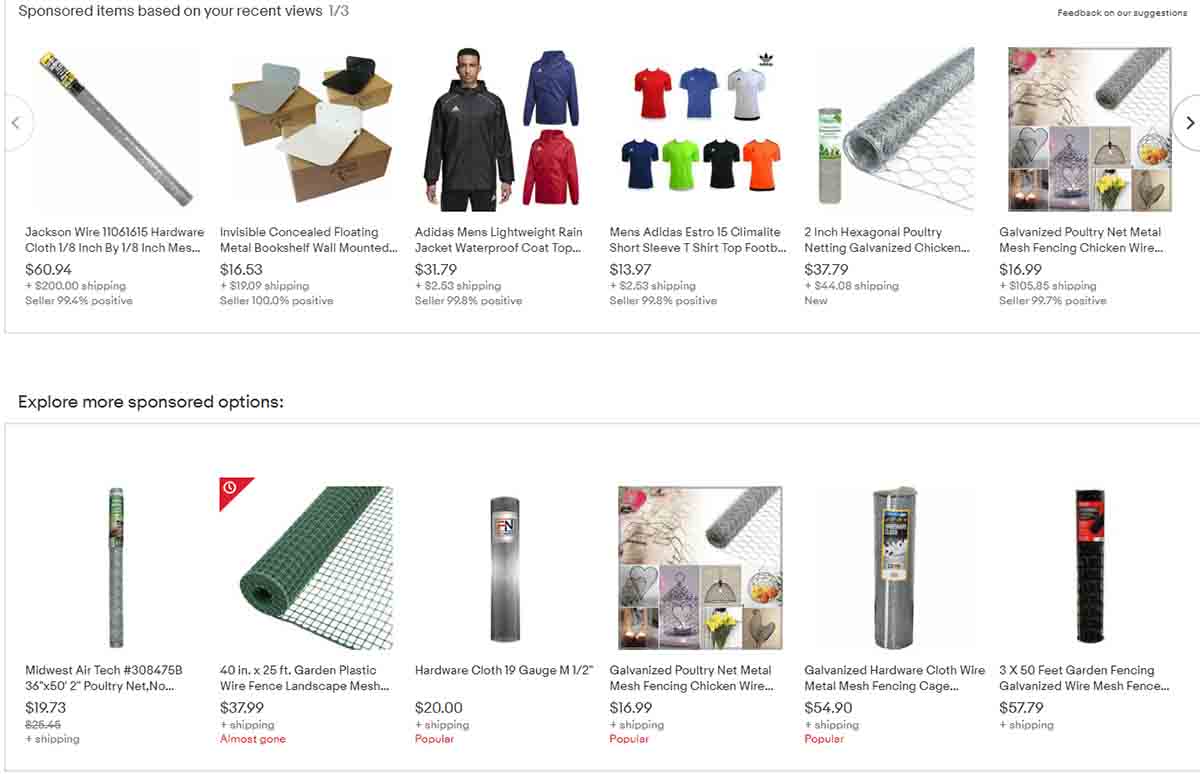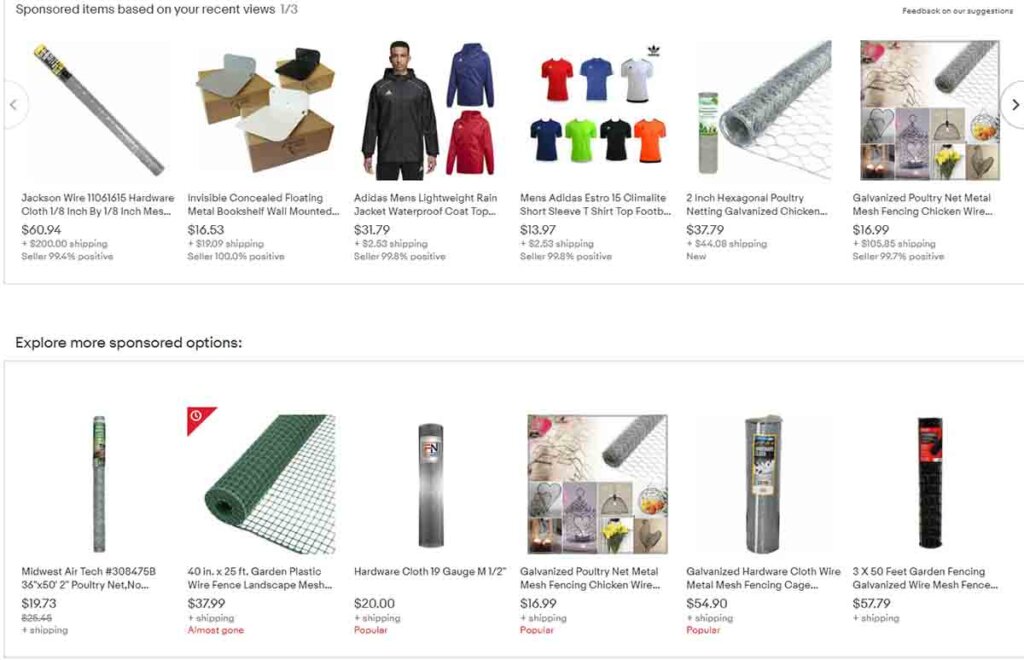 eBay has even started to publish some sponsored ads on their homepage. This demonstrates how much focus it now places on ads.


So if you want more sales, this is definitely a proactive approach. Read the five key advantages of eBay Promoted Listings for sellers below.
Read the five key advantages of eBay Promoted Listings for sellers below.
1. More eyes on your products
Promoted listings are a great way to boost a product's visibility to more buyers and increase eBay sales.
According to eBay, in the US, promoted listings receive 36% more views than organic listings. That number is huge, but that's based on stats from 2018 – since then, eBay has taken significant steps to make sponsored listings even more visible.
Since Autumn 2019, an eBay sponsored listing can appear at the top of search results. Previously, they could only take up position four and five. Now, it isn't unusual for promoted listings on eBay to take up all top five positions.
As sponsored listings gain visibility, organic ones are losing it. So it's likely that promoted listings on eBay will grow in importance.
It's also worth noting that the 2019 update means that if you run an eBay sponsored listing, your organic listing won't appear in the same results. Questions have been raised about how this impacts visibility among buyers using ad blockers. But according to eBay's data, less than 2% of visitors have these listings blocked.
Higher demand items with better selling prospects can be promoted to more potential buyers. Sales made with promoted listings should also favorably impact your 'best match' listings by driving more traffic to them. It's less effective for unique items like antiques and collectibles, where best match search terms are very specific, and there's far less competition.
At present, the only types of items excluded are those with "Auction" or "Auction Buy It Now" listings.
2. No sale, no fee
You specify a rate for each promoted item, ranging from 1% to 20% of final sale price. The specified percentage of the final sale price, plus selling and listing fees goes to eBay. You're only charged when a customer clicks on your promoted ad and goes on to purchase the item within 30 days. The amount you pay is based on the rate you'd set at the time the buyer first clicked your ad.
If the item is returned or the buyer doesn't pay, you're eligible for free ad credits. If the item doesn't sell, you don't pay.
eBay constantly updates its average fees, with a clear breakdown by category. You can find those rates in the Seller Hub or within your eBay promoted listings campaign manager.
You can also see some trending ad rate data for specific items too. Watching these trends will help you set competitive rates to ensure your ads are displayed.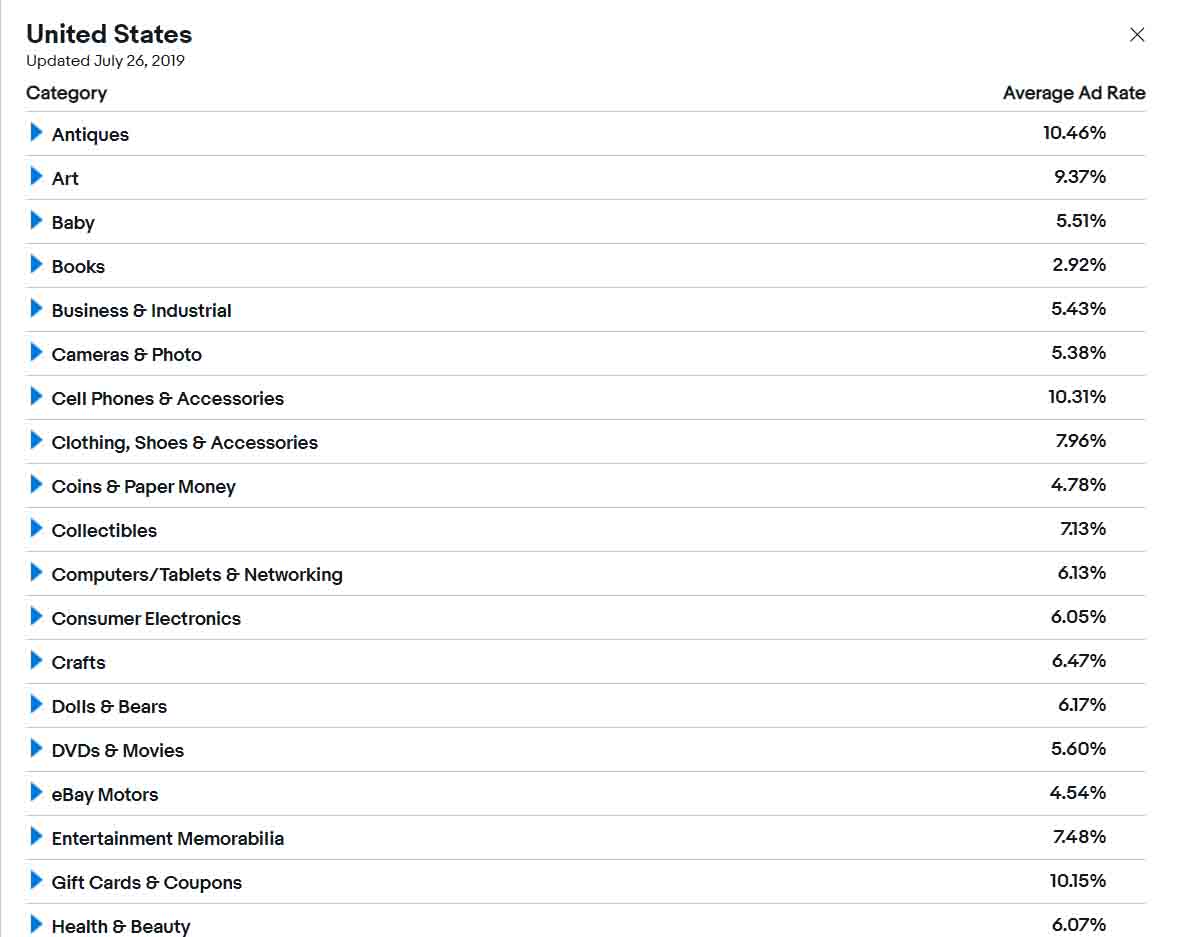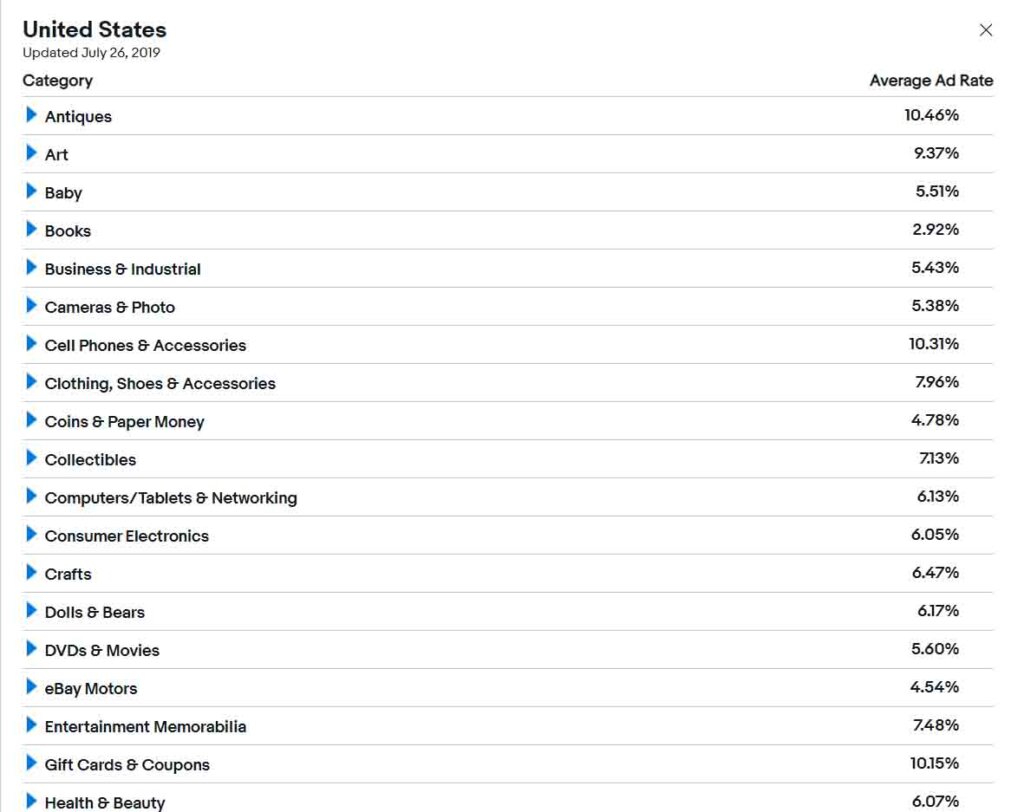 3. Super easy setup
The price, image and product description for your advert are pulled from your original eBay listing. In that sense, it's actually a very simple process, provided all of the correct pieces are in place to begin with.
You don't need to worry about writing new copy or running photo shoots – and if you update your listings, your ads change automatically too.
Promoted listings on eBay are available to all sellers with 'good standing' and recent sales. You no longer need to run an eBay store.
This eligibility criteria may seem vague, but if you have great customer service metrics and maintain a good eBay feedback score, you should be fine. Otherwise, you can check out your seller standards dashboard to see what needs improvement. It's updated on the 20th of each month.
Once eligible, sellers of every size can benefit from promoted listings. The simple set-up won't require a marketing team.
4. Targeted campaigns
The factors that dictate where and when an ad is seen are ad rate, listing quality and relevancy. The more you invest in an ad the more visible it is. Competing on popular, high value items in highly competitive categories means bidding more.
If you sell products that are seasonal, event-based, or likely to sell on public holidays, give them more exposure with campaigns that you set up in advance. Using promoted listings on eBay can help you build momentum quickly and avoid a warehouse full of stock when the season comes to an end.
Setting up a seasonal campaign well in advance can also help build awareness of your products – and it won't necessarily cost you much. Remember, you're only charged if the person converts within 30 days, so try to catch people who are researching Christmas presents in October.
eBay actually suggests using Promoted Listings to further push your best-selling items. The idea here is that these items are optimized in terms of conversions (images, pricing etc) so although you'd be giving up a percentage of the sale, you should in theory be selling a much greater volume of units and ultimately making a better amount of profit overall.
It's potentially a risk, but certainly worth trialing initially to see if works for you.
Don't necessarily take eBay's advice as the final word on the matter, however. Many sellers have reported success using Promoted Listings to encourage sales of slower-moving items.
Promoted listings on eBay can also be good for:
New listings – promoting new items can help you quickly establish its sales history which, in turn, can help improve your Best Match rankings.
Older products – if you have too much stock and want to reduce warehouse costs, it might be worth choosing a higher ad rate.
Low traffic listings with high conversion rates – this is the ideal combination for an eBay sponsored listing.
Again, it's about trying things out to see what best works for your business. Luckily eBay empowers sellers to track their progress…
5. Detailed reporting
Detailed performance data is readily available to optimize your campaign strategies. Your seller dashboard contains:
The number of impressions your promoted ads have generated
Clicks from potential buyers on your ads
The total number of promoted ads that led to a sale
The ad rate for every item and fee you'll be charged
Total items sold and amount earned
You should closely monitor these metrics when experimenting to perfect your campaigns. Start by setting your ad rates low and then increase them one percent at a time. Even the minimum 1% bid can increase eBay sales.
Later on, if you think you're paying too much for an eBay sponsored listing, go down one percent to see what happens.
You can tailor your campaigns to suit your personal business objectives. Just remember to think in terms of 30 day windows.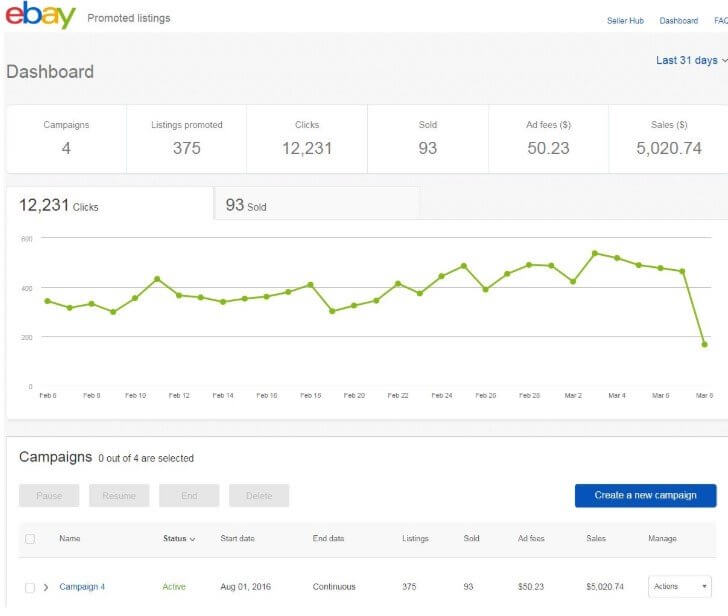 Anything that increases product visibility, improves sales and adds to the bottom line has to be a good thing. In that respect, Promoted Listings can be rewarding for sellers who know how to use it smartly.
There are three ways to run an eBay sponsored listing:
In the Seller Hub
On your active listing page, choose the 'sell it faster' option for a product. Simply tick the box, choose your ad rate and add your listing to a campaign.
This works on a case-by-case basis and focuses on the performance of individual products.

Through the campaign manager
This is for setting up more thought-out campaigns. Here, you select multiple listings, choose an ad rate and launch your campaign. Easy!
Bulk uploads
Finally, if using promoted listings on eBay really works for you, it's possible to upload them in bulk using a CSV file.
eBay promoted listings are easier than Google or Amazon ads. There's no complicated rules and, unlike CPC methods, you only pay if you make a sale.
eBay also offers a handy 'Recommended items' feature in its campaign manager. This highlights which listings are most likely to benefit from promotion. If an ad is doing well, you can even promote it internationally. Sellers can advertise on any eBay marketplace that they deliver to.
You also have complete control over the length of your campaigns. Stop or start your ads whenever you want.
It's still crucial that your listings themselves are optimized for conversions. Otherwise, your Promoted Listings are not going to see a return.
Related: 16 Essential Hacks to Increase eBay Sales in 2021
Ultimately, like every decision in e-commerce, it has to be cost-effective. Only you can be the judge of how suitable Promotional Listings are for your business.