Trust is the bedrock of eCommerce. Providing a reliable service keeps customers coming back, but how does eBay make sure everyone is playing by the rules? The system of eBay selling limits gives you an opportunity to show your credibility, without reducing opportunities to sell. Let's learn more.
What are eBay selling limits?
eBay selling limits, sometimes called selling allowances, are restrictions placed by eBay on the number of listings some sellers, particularly new ones, are allowed to post. This is to protect customers from the possibility of fraud, or being sold fake or stolen goods.
For new eBay sellers, the limit begins at 10 items per month, with a total value of $500. More established sellers who demonstrate credibility can apply to have their eBay selling limits raised.
You demonstrate this credibility not just by selling more items, but by delivering on time and providing good customer service to gather positive feedback.
What types of eBay selling limits are there?
eBay has a sophisticated system in place to keep an eye on possible scams while still providing an open, welcoming marketplace for sellers and customers. This involves three types of selling limits:
Account-based selling limits which are placed on you, the seller
Category-based selling limits, placed on certain types (categories) of product
Item-based selling limits, placed on specific items
Account-based selling limits
Account-based selling limits let eBay check your account and confirm personal information to be sure you are who you say you are. Certain product categories have their own limits and aren't affected by account-based limits, including:
Property
Business, office, and industrial
Cars, motorcycles, and vehicles
It's easy to see why these three aren't subject to account-based limits. Any sale of property, for example, is likely to fall above that $500 introductory threshold.
For everything else, the specific limits applied to each account can vary from seller to seller. The Sell Your Item form will show your account's limits whenever you post a listing.
How do account-based eBay selling limits work?
eBay limits the number of sold and active items allowed on your account each month. Items officially count towards the limit when they're sold; an unsold listing which expires does not count towards the monthly allowance.
So for example, say you open a brand-new account with a limit of 10 items. You list five and successfully sell three, the other two expire. You're left with seven listings to use up for the rest of that month.
eBay may end listings which push you over your limit. Good 'Til Cancelled limits, for example, won't auto-renew if you find yourself over your account-based selling limit.
eBay selling limits are there to incentivize sellers to provide a good experience for customers. Not only can your account's selling limit be relaxed if you deliver that experience, it can be tightened if you fail to meet eBay's performance standards.
You can review any additional restrictions on your account from your Seller Dashboard.
Category-based selling limits
Even if you've been successfully selling for a while, eBay selling limits may be placed on your account if you branch out to a new category of product. This is to give you time to manage inventory and learn the nuances of this new area.
Category-based selling limits may be applied to you if:
You're still within 90 days of your first successful sale
You're new to selling items in this category
It's been over a year since you sold an item in this category
More than 3% of your transactions over the past year have resulted in cases being opened against you
Item-based selling limits
It's a sad fact of eCommerce life that some items are simply more prone to fakes or unauthorized replicas than others. Designer handbags and watches, for example. If you start selling specific items with a high risk of counterfeit, you may have additional restrictions imposed for a time.
This is connected to eBay's Verified Rights Owner (VeRO) program. eBay is committed to supporting everyone on the platform, whether shoppers, sellers, or those holding the intellectual property rights to products.
Item-based selling limits ensure everyone plays fair, and contribute to eBay's status as one of the most trusted marketplaces on Earth for buying and selling luxury goods.
How to find your selling limit
When you post a new listing, any eBay selling limits on your account will be shown on screen. There are also two ways to check any limits without trying to post a new listing:
Click My eBay in the page header
Sign in
Go to Sell or Selling Manager on the left-hand side of the page
Or:
Go to your Seller Hub
Navigate to the Overview section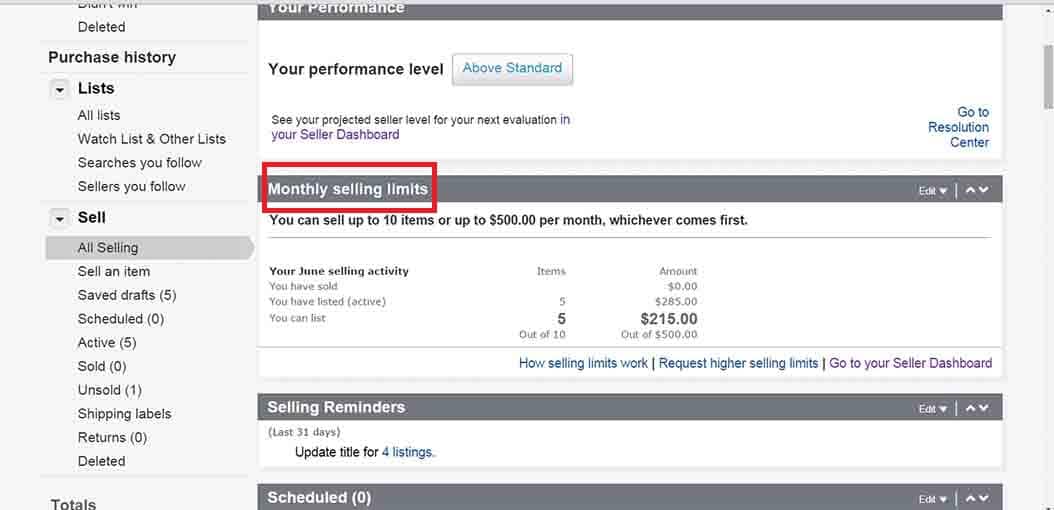 How do you increase your selling limits?
Since eBay selling limits of all types are there to protect customers from unreliable sellers, many limits get lifted automatically once you've proven you're the real deal. Selling reliably and gaining good feedback for 90 days or more can lead to restrictions being lifted without you needing to request a review.
Requesting a review of eBay selling limits
eBay proactively prompts sellers when they're approaching their monthly selling limit, as well as when they've reached it. In most cases, these prompts will come with the option to request a review of your account activity. If you've been providing a good service for long enough, your selling limits might be loosened.
You can also find a link to request a review of your account's limits by:
Clicking on My eBay in the page header
Going to the All Selling section
Navigating to Monthly Allowances
Or:
Going to your Seller Hub
Selecting Overview
eBay might also contact you occasionally to verify your personal information, contact details, and information about your business. Providing and confirming this information can lead to restrictions being loosened on your account.
Selling limits on multiple eBay accounts
It's possible you might use different accounts to sell on eBay. Linking a more established seller account to a newer one might mean fewer limits. For this to happen, the older account must have:
No unresolved cases
Detailed seller ratings of 4.8 or higher in all areas
Feedback from a successful sale from at least 90 days ago
If these criteria are met, you can request higher selling allowances.
Selling limits for established sellers
If you've been selling on eBay for a long period of time and providing a good service, you're far less likely to face restrictive selling limits. You can request a review at any time, and it helps to have:
Positive feedback from customers
No unresolved cases
An established, active selling history of at least 90 days
No questions over your product's authenticity
PayPal verification
A good track record of playing by eBay's rules
What if my request for higher eBay selling limits gets denied?
If you apply for looser eBay selling limits, but you don't currently meet the criteria, don't worry. You can re-apply later once you've built up the good standing of your account. You can also simply wait and post more items next month when the limit refreshes.
Remember also that restrictions might apply to some items but not others. If you've just branched out into a new line of products, category-based limits might apply only to those products, leaving the rest of your stock unaffected.
Final thoughts
eBay has done a great job of protecting customers from eCommerce villains, without creating an environment that unfairly punishes honest sellers like you. Most are in this game for the long term, so that 90-day initial limit passes in no time. Going forward, it gets even easier. Customer feedback is critical, so the best way to increase your selling limits on eBay is to provide excellent customer service at all times.