49% of consumers say that not being able to touch a product is one of the worst parts of shopping online. This means online retailers need to find other ways to bring shoppers as close to the product as possible. eCommerce product videos are a fantastic way to do this!
Why eCommerce product videos are so important
Humans process visual data much faster than text, so product videos are a great way to help prospects experience a product before buying.
As well as being easier to digest than a big chunk of text, eCommerce product videos offer a well-rounded perspective on the product by showing it in action and from a wide range of angles.
eCommerce videos aren't only about converting browsers on your product pages, however. They drive awareness of your product, boost SEO and are great for sharing on social media.
If you create an inventive video that captures the imagination of your target market, it can be shared widely and become an important element of your eCommerce marketing plan.
Putting together an eCommerce product video strategy
Good planning is vital to minimize costs and maximize output. When setting out an eCommerce product video strategy, ask yourself:
Who is this video for?
Where will they watch it?
Where will it be published?
Do I need content in multiple languages?
What action do I want viewers to take after watching?
Answering these questions will help you create content targeted specifically at your audience.
It will also prevent unnecessary work. Instead of creating videos for a product page and then filming again a few days later for social media, it makes sense to consolidate this work into one shooting session.
Knowing who and what your video is for will help inform its length, style and content. In most cases, the same core steps are required to make a great eCommerce product video.
How to make an eCommerce product video
In order to build trust and confidence among your audience, each eCommerce product video needs to look as professional as possible. Your products should always be presented in the best light possible, so here's some steps to follow.
Step 1: Preparation
You'll need to invest in some equipment, including:
A high quality camera (this now includes cutting edge smart-phones!)
A tripod
A microphone
Lights
Video editing software
Depending on the style of video you choose to record, you may also need people to feature in your video and a set to shoot in. But it's possible to create great DIY videos without them too.
If you're enlisting the help of a production team – or even a freelancer – they might have this equipment to hand. But if you're doing the work by yourself, you'll need all of the above.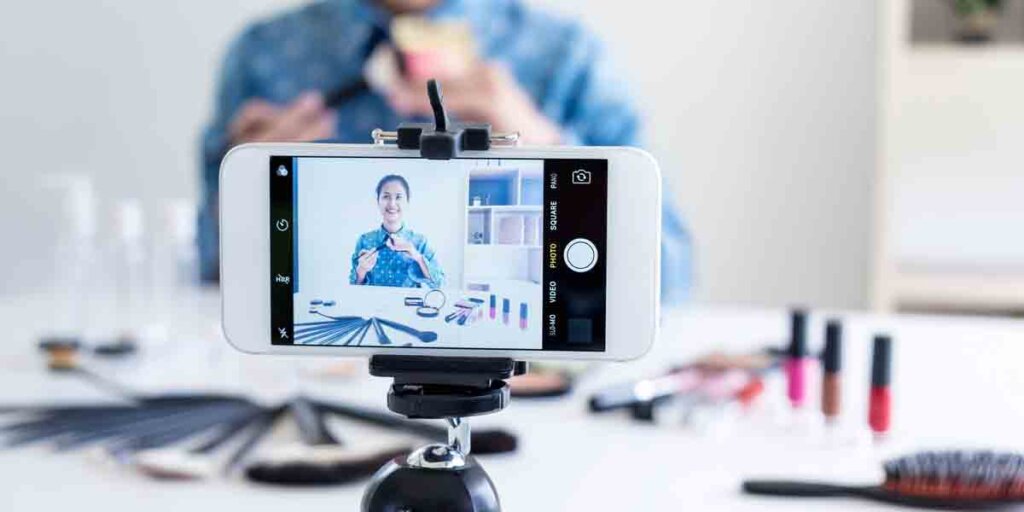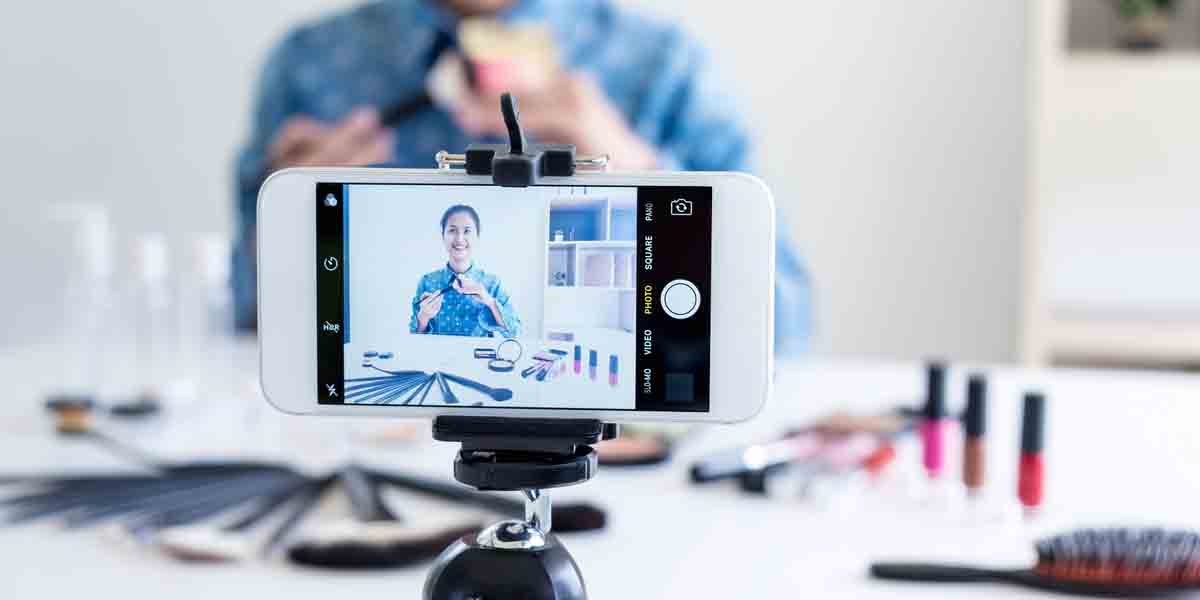 Step 2: Choosing effective formats
Depending on what you plan to use your videos for, you may want to choose one or several of the following formats to showcase your products.
Product close-ups
Ideal for product pages, these shots show off detailed, visually appealing items. If the product's aesthetic is key to making a sale, you'll want to feature a 360-degree close-up view. Ask yourself, what would customers examine if they were shopping in-store?
How-tos
Ideal for showing off complex and practical items, these eCommerce product videos explain how an item works. Use them to highlight special features and multiple uses so consumers fully understand the value of your product. These are great for product pages, but also double as useful content for your blog and social channels.
Product demos
Similar to a how-to, product demonstrations are about highlighting how your product is used. But unlike how-tos, they show your products in action, often in real-life scenarios. This helps consumers picture the product in their hands. It's a useful format for everything from clothing through to household goods.
Installation guides
Uncertainty around product installation can be a huge barrier to conversion. A clear and concise video can reassure buyers that they'll be able to install your products hassle-free. Useful pre and post purchase, this style of video is ideal for any product which needs to be built or set up.
Product unboxings
People love to see a delivery being unwrapped. In fact, the best paid YouTube star of 2019 is an eight-year-old who specializes in unboxing videos. So, if your products come in sleek packaging, show it off and let people know exactly what they'll receive when they order your product. This one's particularly useful for tech items.
Check out the video below for an example of a product unboxing video.
Story-style videos
Does your product's unique selling point stem from a unique design, quality components or the manufacturer's experience? If so, let people know through a story-style video which explains how and why your product is made.
Step 3: Create a script
When creating a script or storyboard, you'll want to focus on a product's most impressive benefits, as well as crucial information. So make sure to include:
Key features
Common FAQs
Product variation details
Your Unique Selling Point
Plan out the shots and remember, with eCommerce product videos, you should strive to show – not tell. If you have a trusted name or a compelling brand story, think about how you can bring it in.
Many sellers follow a simple narrative which highlights a problem and then presents their product as the hero. This approach is super easy to get right! Just compare life before and after your product saves the day.
Depending on where you plan to share your product video, you may need to create script variations. For example, the video audio of Facebook ads doesn't play automatically, so you may decide to scale back your voice-overs to facilitate closed captions. On the other hand, YouTube, videos are generally longer and you may want a longer voice-over – or even someone on camera.
Step 4: Taking stock
Before you start recording, take note of all the assets you already have to hand. These could include:
Branding, (your logo)
Logos from awarding bodies and product certificates etc.
Past photos or videos
Customer reviews
User-generated content
It's always good to know what's at your disposal before filming. For example, if you decide to include your logo, you may want to adjust the frame to suit.
Step 5: Action!
Products are easier to work with than a cast – but making them look great can be difficult.
Lighting and angles are always the biggest challenge when recording an eCommerce product video. You'll want two off-camera lights – one at a 45-degree angle behind the product, the other in front of the product at the opposite side. Make the backlight a little bit brighter to help your product stand out.
Products look best on a plain black or white background. The more professional your product videos look, the more viewers will trust you as a seller.
Step 6: Post production
Filming may be finished, but there's still plenty to do! Now it's time to edit your clips together and adjust them to suit the requirements of individual platforms.
Amazon's product video policy, for example, doesn't allow any pricing to feature. While Instagram limits video to a maximum of 60 seconds. You'll find guidance on video size, length and file formats for social media here.
Keep your target audiences in mind during editing too. Videos for retargeting ads should be quite different to those created for broad ad campaigns. So be intentional – it's not about deleting the bad bits, it's about carefully selecting the best shots and transitions.
Things to remember
When creating an eCommerce product video, some small tweaks can make a big difference to the success of your campaign. Here are some simple tips which should drive conversions.
Stay on brand: The use of your logo and brand colors is enough to keep your brand to the fore.
Always include a CTA: Do this through a title card, the voice-over or using a platform's in-built feature. You can add video CTAs within YouTube, Instagram and Facebook. If you want viewers to take action, CTAs are essential. 
Use social proof: Whether it's an endorsement from a famous face or a glowing review on Amazon, using real testimonials in your videos can boost sales.
Normalize the audio: Always keep your audio within industry standard volumes. Somewhere between -10db and -20db should work.
Consider adding closed captions: This is a great way to connect with your audience when their audio is off. Plus, adding multilingual captions is a cost-effective way to reach viewers in other countries.
Final thoughts
All online retailers are very aware that communicating and showcasing your products effectively can make or break a sale. A positive improvement at any stage in the buyer journey can have a big impact on your bottom line.
It's also clear that many consumers prefer to learn about products with video and this trend is increasing over time. So investing in high-quality eCommerce product videos should be a no brainer! Give your target market what they want and watch your sales rise!