With more than 2.5 billion active monthly users of every age and demographic, Facebook can help you reach relevant consumers all over the world.
Whether you need to attract new prospects or drive return visitors to your online store, Facebook ads offer a great return on investment for eCommerce. That's why over 7 million advertisers regularly used Facebook in 2019.
Whether you sell on Walmart, eBay, Amazon, or simply want to get more traffic to your Shopify store, Facebook ads for eCommerce is one of the best marketing tools out there.
Facebook ads are great for eCommerce!
Facebook continues to be dominant among social networks with 61% of marketers saying it is their most important platform.
According to a recent report by Social Media Examiner, 59% of marketers plan to increase their use of Facebook ads into 2020.
For eCommerce merchants, Facebook's ability to target relevant consumers is unrivaled. It provides the ability to reach a precise audience based on their location, age, interests, online behavior and, even, their past interactions with your business.
Although Facebook ads can be highly targeted, campaigns are surprisingly easy to set up, manage and optimize. With 69% of US adults across all demographics using the platform, Facebook ads should be an important element of your eCommerce marketing mix.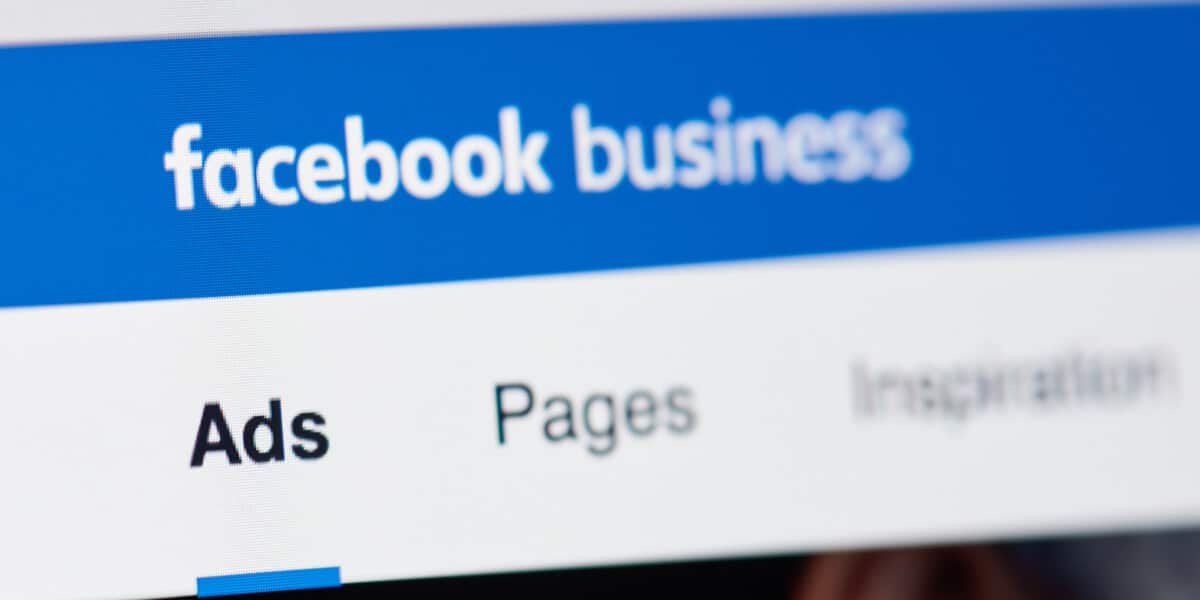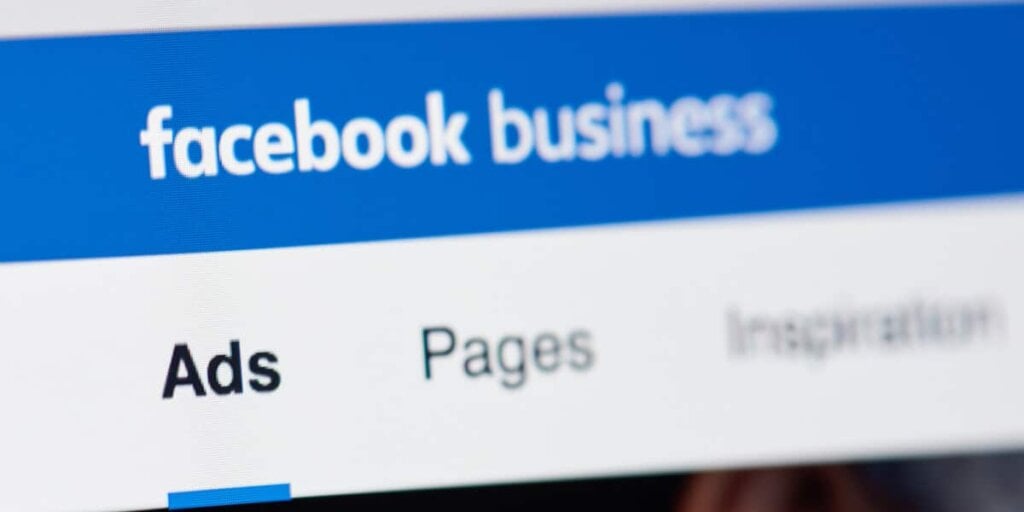 8 top tips for eCommerce Facebook ads
Facebook ads are extremely customizable and flexible depending on your needs. They come in many forms depending on your goals and how much time you want to invest in managing them. Here are eight top tips to get the most our of Facebook ads for eCommerce.
1. Utilize Facebook video ads
Facebook's algorithm prioritizes quality video content – and it usually stands out in newsfeeds too. So both your visibility and appeal increase when using video content.
Videos are particularly useful for boosting brand awareness, so they're ideal for sellers who want to grow their business or simply engage more consumers in the early stages of the eCommerce funnel.
Boost exposure and build engagement by creating an eye-catching video which shows your products in action. It will begin to play the instant users see it.
If you haven't got any videos ready to go yet, try creating an attractive slideshow for prospective customers instead.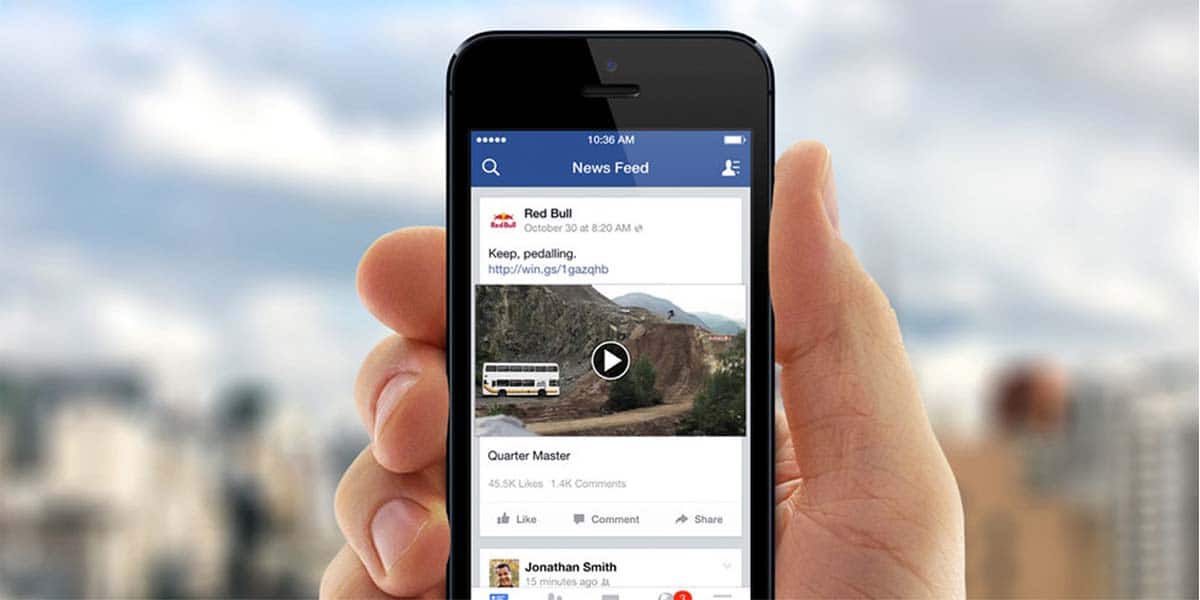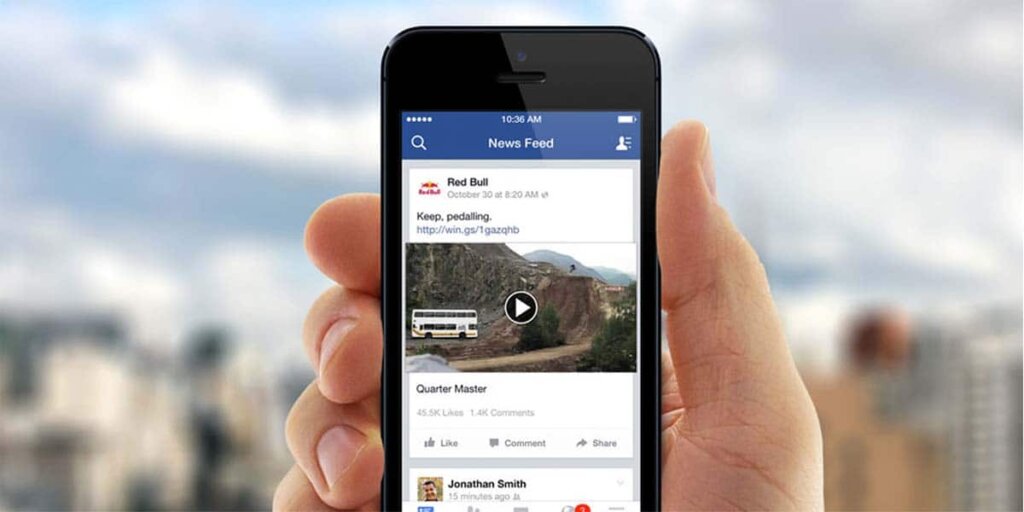 2. Start boosting your best posts
One of the simplest and most effective ways for an eCommerce store to get started with Facebook ads is to simply boost a post.
You don't have to worry about choosing new images and text. Instead, pick out a popular, much-liked post from your page and push it out to a new audience. This is great for two reasons:
The content's already been tried and tested with your current following so new users are likely to find it engaging too
When new audiences see a post with lots of past interactions, it provides social proof which builds trust and encourages conversions
3. Make sure you're using image carousels
Carousels are among the most popular styles of Facebook ads for eCommerce marketing. They allow sellers to present several products and links in a single ad. This scroll-able format is interactive, engaging and offers more opportunities for users to convert.
They can also be used to display a selection of images focusing on a single product, perhaps, to show how it is used, how it looks within a real-life setting or to tell a memorable story.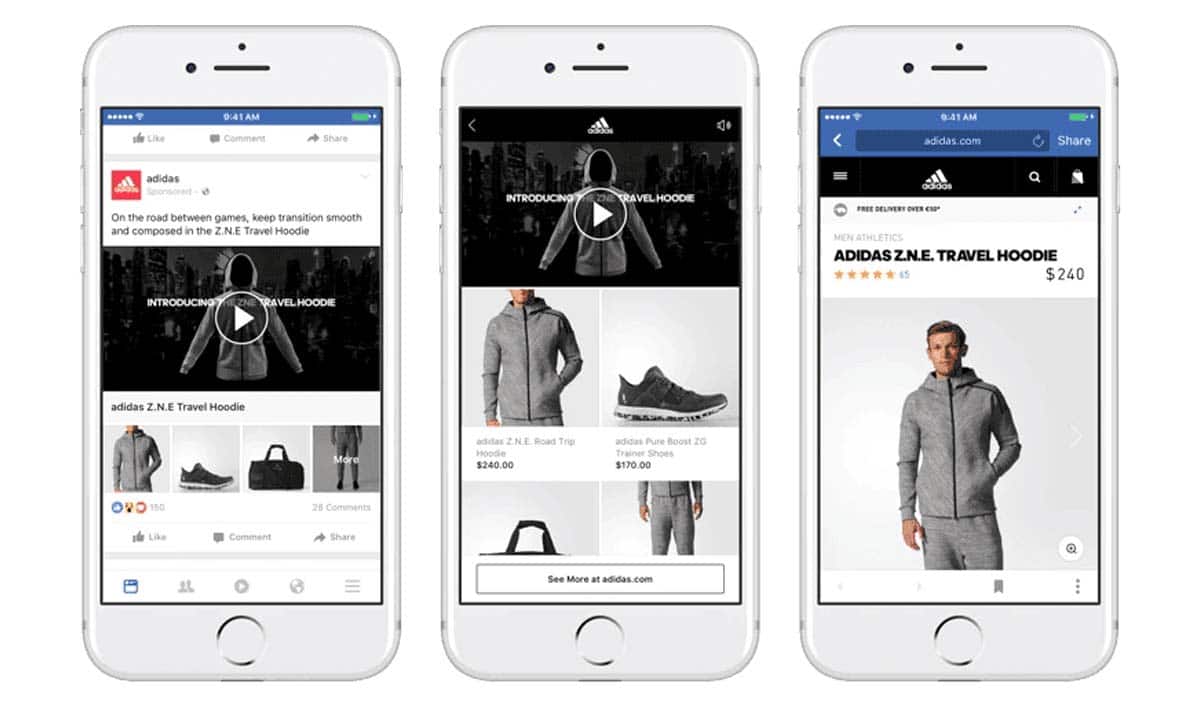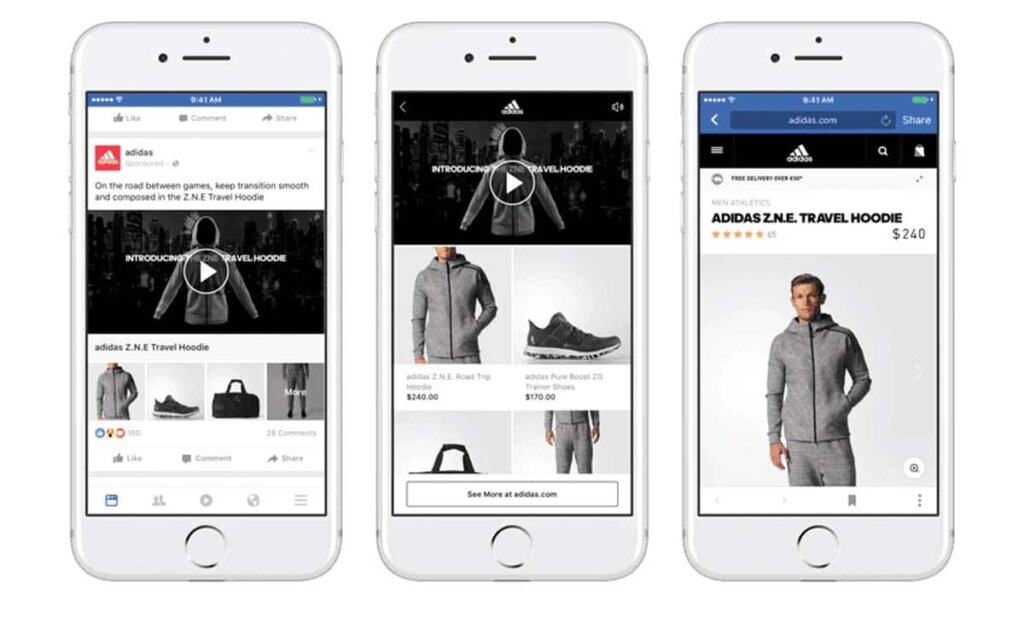 4. Try dynamic creative ads
This handy ad option is great for taking the guesswork out of your ad design. Just upload a selection of images, videos, titles, descriptions and CTAs, then Facebook automatically figures out which combinations work best.
Whatever performs best will then be pushed out to boost conversions and make your budget go further. You can also run dynamic creative ads to increase visitors, videos views, reach and brand awareness.
This approach is ideal for carousel ads and is one of the best Facebook ads for eCommerce sellers, whether they're targeting new prospects or re-targeting past visitors.
5. Start a re-targeting ad campaign
Online sellers work so hard to get people to their store, so when they leave without purchasing anything it can be frustrating. Even when someone clicks 'add to cart', the reality is that 70% of the time it ends with shopping cart abandonment.
However, with Facebook re-targeting, you upload a list of past customers you want to re-engage with. Alternatively, you can add Facebook's pixel to your web pages. This is a piece of code which allows you to target ads at people who've visited your website and entice them back with special offers. Add it to product pages and cart checkouts to recapture users who are close to conversion.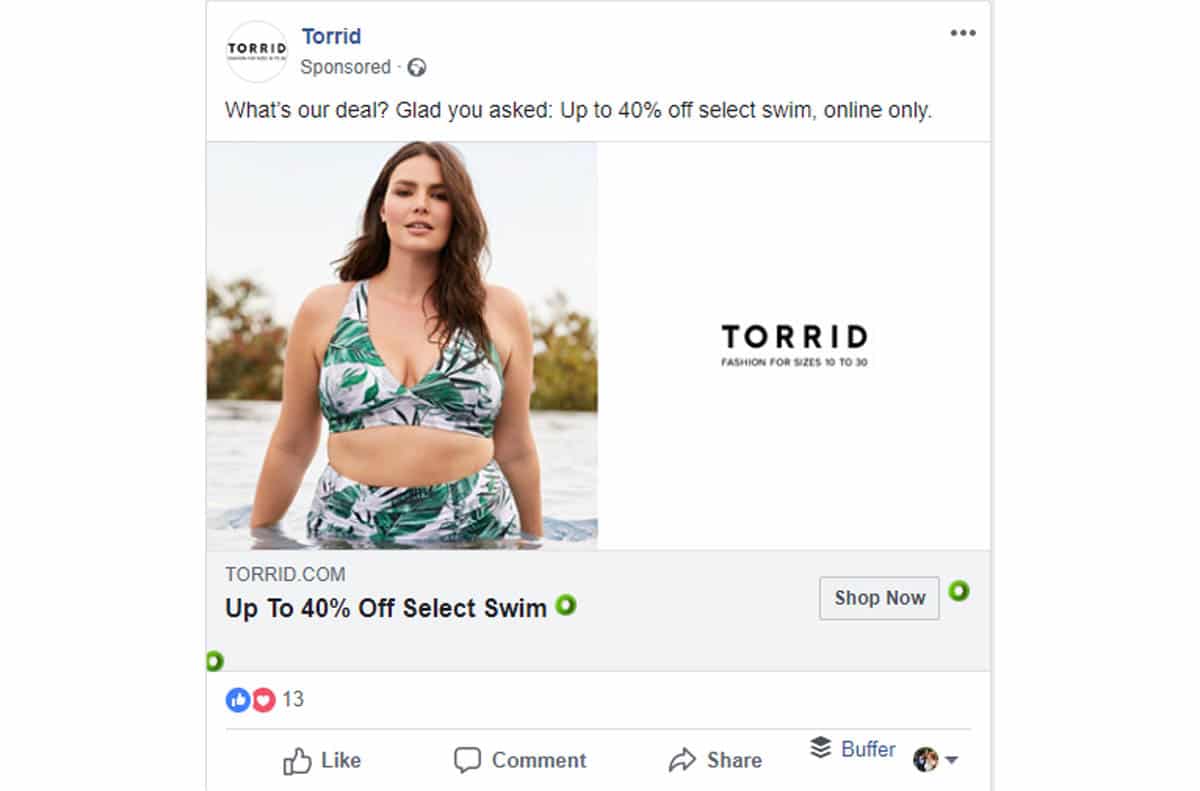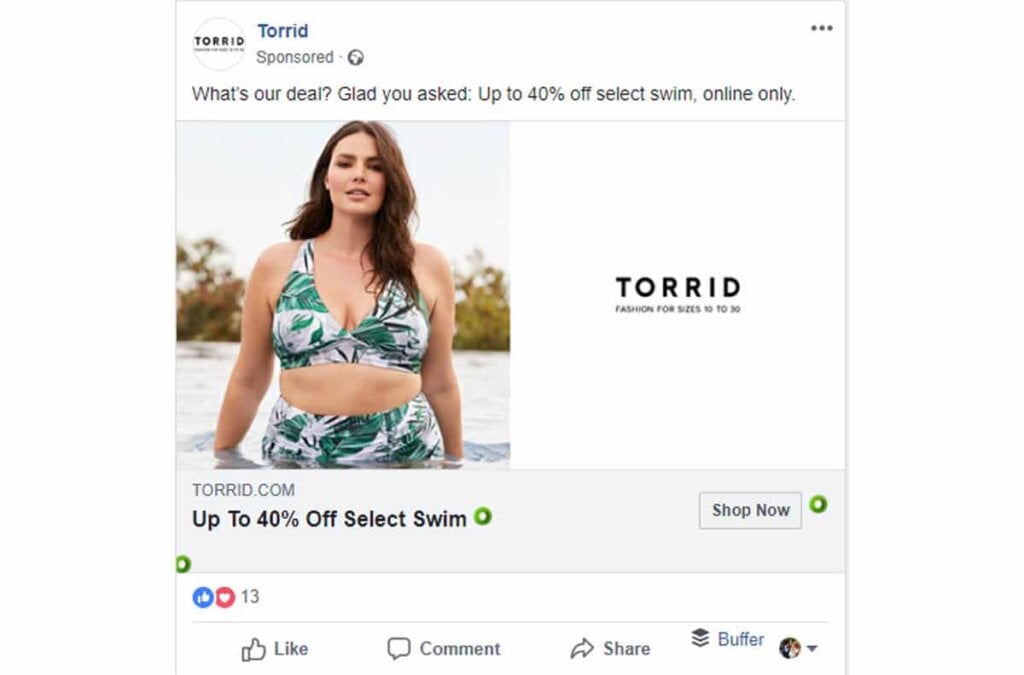 6. Create dynamic product ads
When re-targeting shoppers, eCommerce businesses can use Facebook's dynamic product ads to automatically present them with relevant products. Whether they viewed an item or added it to their cart, your ads can display this specific product.
Instead of creating an individual ad for every product in your inventory, you simply upload your product catalog to Facebook Business Manager and it creates dynamic products ads. Or, if your online store is hosted by shopping cart software like Shopify, Magento or BigCommerce, you just connect your account.
Set up a campaign template to suit your needs and then Facebook will do the rest. This is particularly useful for eCommerce businesses with hundreds of products, as well as those who update their pricing regularly.
7. Use lookalike audiences
As well as enabling re-targeting, the Facebook pixel empowers advertisers to track conversions and customer behavior too. Facebook then uses these eCommerce metrics to optimize your ad campaigns automatically. But advertisers can also use it to build lookalike audiences and target ads at brand new prospects.
While Facebook allows you to manually create custom audiences based on user locations, demographics and interests, lookalike audiences are based on Facebook's tracking data. This means you can automatically target people with similar characteristics to those who have bought one of your products in the past.
Whether you want to take the guesswork out of ad targeting or simply want to broaden your pool of prospects, this is a great way to use Facebook ads for eCommerce.
8. Run campaigns on Instagram too
Instagram is exploding in popularity, and the eCommerce potential of this channel is growing too.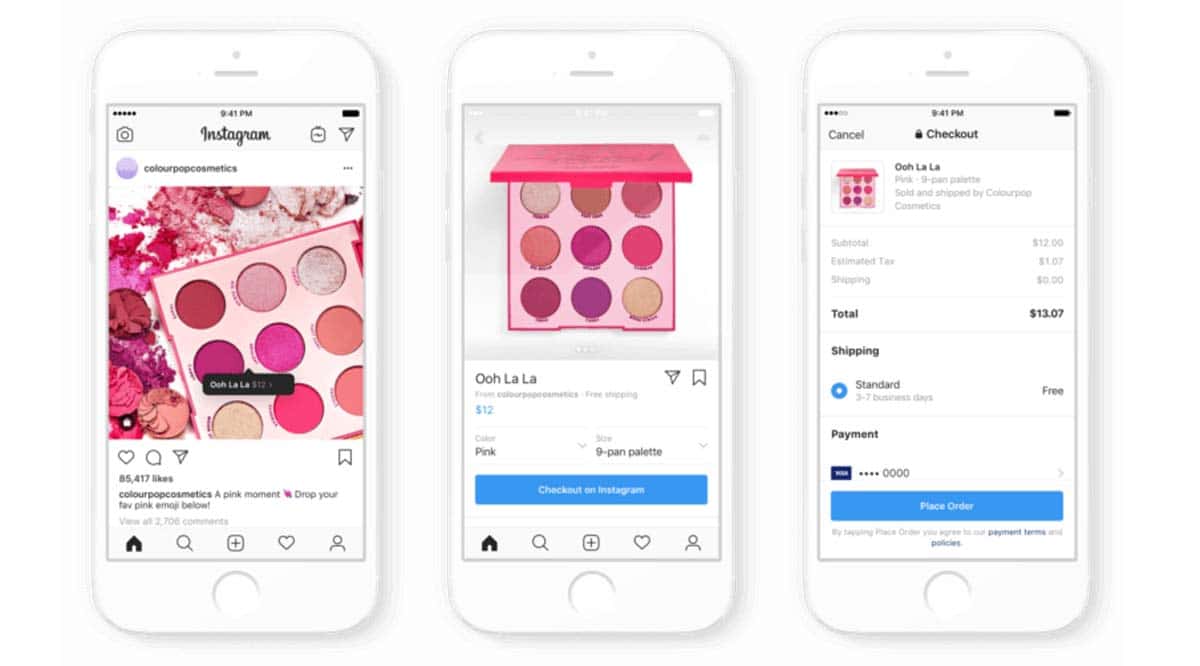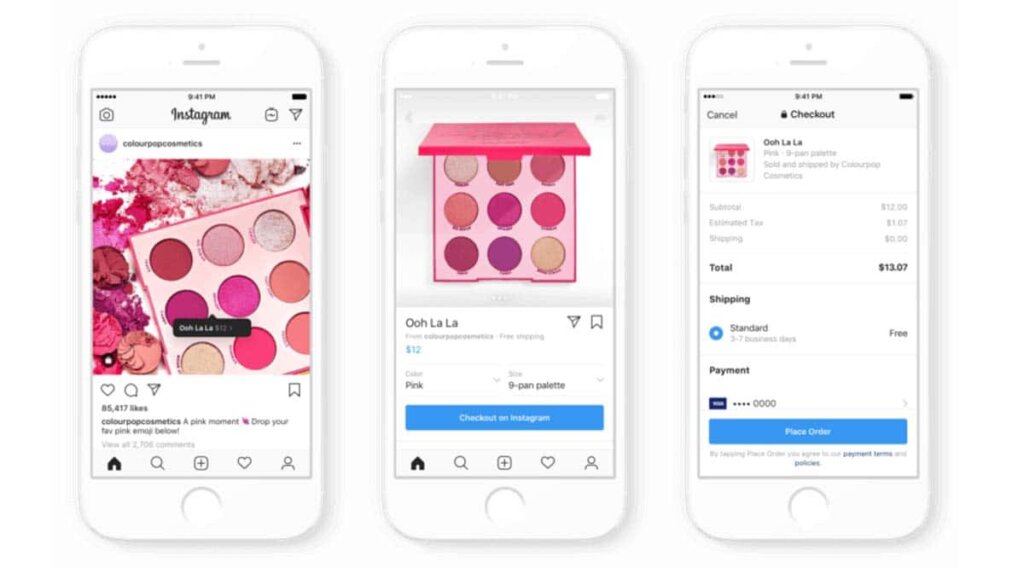 For any eCommerce business looking to sell more on Instagram, running ads is highly recommended. 55% of marketers surveyed last year planned to increase their Instagram ad budgets into 2020. Every eCommerce business currently advertising on Facebook should ensure they have ads on Instagram too – because it's easy!
Instagram ad campaigns are run through the Facebook ad manager, so it's straightforward to advertise on both platforms at the same time. Sellers just need to check the Instagram box under each ad's 'Placement' section to run it across both channels.
Try a better way to support your customers. Sign up for a 14-day trial today. No credit card needed.