This is a guest feature, written by one of our partners, Veeqo.
Maintaining a cost-effective operation is crucial for any business. But shipping costs can make this a massively challenging task for online retailers.
In fact, shipping can account for 25 percent of overall business costs. And many leading shipping carriers like Fedex and USPS have announced rate increases this year. On top of this, retail giants are setting almost unattainable standards for the rest of the e-commerce world. With companies like Amazon and Walmart offering fast and free shipping options, customers now expect the same regardless of who they're purchasing from.
Matching these retailers is simply not a feasible option for most small-mid level retailers. So in this post, we'll show you:
9 actionable ideas to reduce shipping and fulfillment costs

How improving efficiency can reduce business costs

How technology can help streamline your fulfillment process
1) Negotiate Shipping Rates
Whether you're shipping a low or high volume of packages, chances are you can reduce your shipping costs by negotiating your rates. If you're moving a high volume of products or have a long established relationship with your shipping provider, your business is valuable to the company. And it's likely that they're willing to provide some discounted pricing to keep you as a customer.
Even if you're shipping a lower volume of orders, you still hold some negotiating power.
Start shopping around and find out what other companies would charge to use similar services. If you're provided with a lesser quote you can take this to your current provider and ask them to match it, or change providers – an improvement either way.
For example, here's a quick look at the difference between shipping a 2kg parcel (next day) with a few different carriers.
| | | |
| --- | --- | --- |
| Carrier | Weight | Cost |
| Royal Mail | 2kg | £5.50 |
| DPD | 2kg | £8.99 |
| DHL | 2kg | £13.95 |
But bear in mind the quality and methods offered before doing so. The cheapest providers aren't always the best, and you don't want to damage any relationships by making demands.
2) Conduct an audit
To truly understand the costs of your current fulfillment process, the first thing you should do is conduct an audit to detect where you're spending the most money.
One of the most important parts of your audit should center on the fulfillment cost per order, to show how much every individual customer order costs to fulfill.
A good starting point to figure this out is working out the total monthly cost (total storage cost + total cost of pick and pack + total receiving cost) then divide by the total number of orders per month. This will give you the total cost of each order.
3) Offer multiple shipping options
Providing a limited amount of shipping options can cost you more money than you'd expect, from lost customers and abandoned shopping carts.
Shoppers today are accustomed to the fact that if they want their product fast, they're going to have to pay for it. So you can get away with charging a little more for the most demanding deliveries.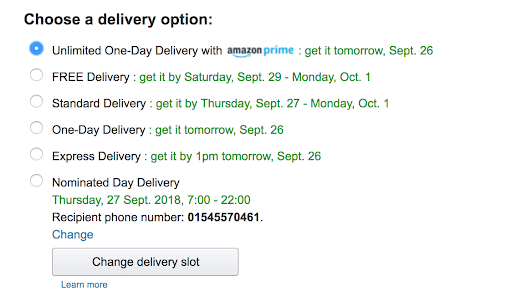 This means that you can not only prioritize orders and ensure they're shipped out on time, but also save money by using cheaper delivery methods for the customers who aren't in a rush to receive their product.
Providing a range of shipping options can mean that clearer expectations are set from the offset, and can lead to an increase in sales. In fact, a study from Temando demonstrated that 86% of retailers saw an increase in sales after added more shipping options at checkout.
4) Use quality software
All-in-one multichannel management software is a sound investment to ensure optimal ROI in your fulfillment and overall business.
Creating automations and increasing speed during the fulfillment process means you can make your workflows swifter and more cost-effective. And quality management software can help do this by:
Mapping the most optimal walking route for pickers.

Improving accuracy and speed during the entire picking and packing process.

Bulk printing shipping labels.

Forecasting smartly to ensure less capital is tied up in inventory.

Providing one place to manage orders and shipping from all sales channels.
All helping to save time, manpower and resources during the fulfillment stage – resulting in reduced labor costs and a more efficient workforce.
Just make sure you find software to fit your unique needs. Not all businesses are the same, and there's no one-size-fits-all solution.
5) Consider outsourcing fulfillment
Third party logistics companies (3PL) can offer services that include:
Inventory handling

Picking and packing

Shipping

Customer service
Ultimately, they're dedicated to one thing: order fulfillment. So there can be many benefits to outsourcing, especially If you're looking to cut costs.
Outsourcing to a 3PL can mean avoiding long term leasing costs, a smaller workforce and flexibility. And due to the sheer volume of orders that are being fulfilled, using a logistics company can mean that you're getting far better rates than you would alone.
This can save a lot of money, and ultimately time that you can focus elsewhere.
But, when you're handing over your entire fulfillment process to an external company you're also handing over the control you have over customer experience. Quality can be compromised to a degree and communication sometimes difficult – potentially damaging your reputation.
3PLs also won't always save you money, especially if you're a smaller business. So the cost of your current fulfillment process should be worked out before deciding to outsource.
| | |
| --- | --- |
| Advantages | Disadvantages |
| Avoid long-term leases | Quality can be compromised |
| Flexibility | Inventory can end up being stored far away |
| Lower shipping costs | Some businesses may not find it economical |
| You can focus on growth | Communication can be difficult |
6) Optimize cost of packaging
Packaging can communicate your company's values and massively affect customer experience. Nobody wants their order to arrive in a poor quality, damaged cardboard box.
Having to replace damaged products and pay for return and replacement shipping costs will also lead to higher costs in the long run.
So quality packaging is a necessary expense.
But that doesn't mean you need to waste money. Opting for the perfect packing material for your type of products is essential for finding that happy medium.
Here's the most common ones used: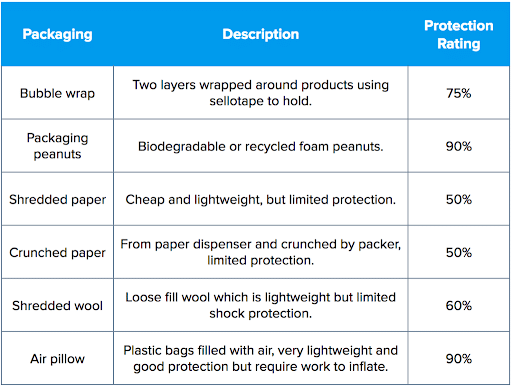 Reusing packaging or using recycled material can also help save costs – and can demonstrate a more eco-friendly brand image.
7) Minimize your box sizes
It's now common practice for shipping companies to incorporate package dimensions into their prices – not just weight alone:
This means using a larger box than needed could drive up your shipping costs unnecessarily.
So having a variety of box sizes will ensure orders can be shipped while wasting as little space as possible.
But this poses a dilemma:
Too many different box sizes can cause confusion and chaos for your packers. Definitely not something you want when shipping hundreds (or even thousands) of orders a day.

We've found having between 3-5 different box sizes to choose from strikes a perfect balance.
Of course, this is totally dependent on your business and the physical size variations of typical orders. But having the option to use a smaller box with certain orders could help steady cash flow in the long run.
8) Compare shipping rates
You may be shipping all your products through the same provider, but this is probably not the most cost effective way to ship your products.
Shipping providers base fees on a number of different factors, including dimension, weight, insurance, location and tracking. So it's best to assess your shipments before deciding which company to use.
After figuring out the size, weight and location of a product you can begin to do some research on the most cost effective way to ship each product.
Third-party tools that compare shipping costs across various carriers can help with this:

But a dedicated shipping software can be crucial for businesses shipping a large number of orders a day.
This should allow businesses to compare rates, bulk print labels and ship orders from one platform. And save a lot on fulfillment costs in the process.
9) Improve warehouse efficiency
Mistakes are going to be made in every warehouse, but making sure these are kept as minimal as possible could have a massive effect on cost savings.
Studies show that the average cost per error can be anywhere from $50 to $300 dollars – or an 11-13% cost on profitability.
Warehouse efficiency can be improved by:
Optimizing space and arrangement of your warehouse.

Labeling areas of your warehouse properly.

Mapping optimal walking routes for pickers.

Choosing the best

picking method

for your operation.
The technology used in your warehouse can also have a huge impact. Having quality systems and processes in place is essential – and technology is a critical part of this.
Conclusion
Multi-channel today is a double-edged sword. There's a huge opportunity to show up in more places and increase sales – yet fulfilling customer expectations can be costly.
So utilizing available technology and putting strategies and systems in place is a must to be able to minimize these costs. And the ideas discussed in this post is a great place to start.
ABOUT THE AUTHOR: 
Matt Warren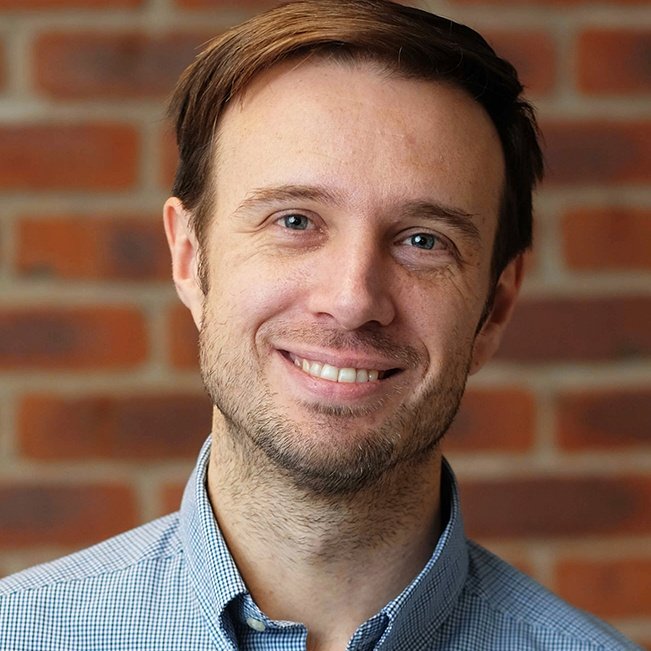 Matt Warren is the Founder and CEO of 
Veeqo
  – a complete management platform helping retail brands sell and ship products everywhere by automating all their processes. See first hand how Veeqo can help you master operations and rapidly grow your retail business by booking a product demo today.