A more efficient business is a more profitable business. That's especially true in eCommerce, where speed is one of its major competitive advantages over traditional retail.
But how do you make your eCommerce business more efficient? How can you speed up your order fulfillment, marketing, and operations?
Say hello to eCommerce automation.
What is eCommerce automation?
eCommerce automation is when you utilize software to automate various online retail processes.
For example, you may want to:
Send out order tracking emails once an order is placed
Follow up with customers a certain amount of days after their order was shipped to ask them to write a review
Identify loyal customers and target them with exclusive promotions
Monitor seasonality trends for your best-selling items, so they never go out of stock
Send visitors an abandoned cart offer 
All of these tasks can be executed ease with eCommerce automation software.
By automating these tasks, your team no longer has to spend their time on repetitive, administrative work that needs to be done, but stymies your ability to grow. 
Instead, you can spend more time sourcing new products, dreaming up brilliant eCommerce marketing campaigns, and analyzing your site's performance — all tasks that directly contribute to your bottom line.
In the following sections, we'll review how eCommerce automation tools can streamline your operations and raise your revenue.
eCommerce marketing automation
eCommerce marketing automation tools can automate various parts of your marketing workflow to help you save time.
But saving time isn't the only benefit of eCommerce automation. 77 percent of companies who use marketing automation also enjoy higher conversion rates.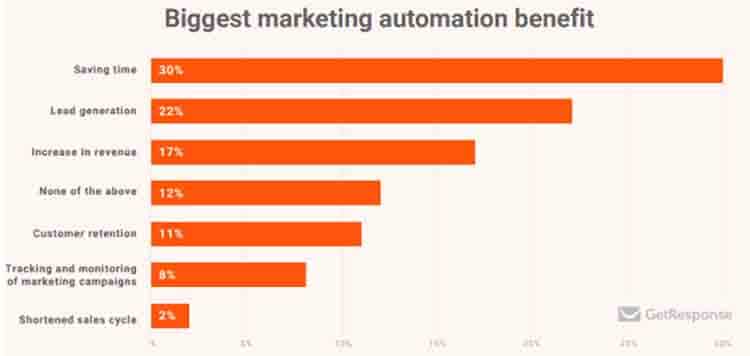 Below are several ways you can use marketing automation to your advantage in eCommerce.
Automate your eCommerce conversion funnel
As seasoned online sellers know, you're often unlikely to sell on the first visit to your website. Very often, especially if you're selling a high ticket items, you'll have to nurture your prospects through an eCommerce funnel before they're ready to buy.
You might need to attract their attention and bring them to your site with an interesting blog post, before re-targeting them with a Facebook ad and then showing them a product video, before they're convinced to get their credit card out and buy something.
eCommerce marketing automation software makes the process of pushing prospects down the eCommerce funnel much easier. It will enable you to easily track what the prospects in your database have seen and interacted with. It also makes segmentation based on their level of engagement easy and will allow you to send tailored content to prospects at different stages in the buying journey.


Grow your email list
Automatically add new purchasers to your email newsletter by syncing your email marketing software with your CRM system.
You can also define parameters to further personalize your email marketing. For instance, you can add all shoppers who buy a certain product, or add it to their wish list, to a segmented email list. Then, you can send them targeted emails with promotions for that product line and similar products.   
Identify and reward loyal customers
With marketing automation software, you can tag certain behaviors to help you identify your favorite kinds of customers.
You can set parameters for buying frequency, cart totals, and repeat purchases. The software will automatically email those customers with targeted promo codes to encourage them to spend even more.
Send personalized abandoned cart emails
Shopping cart abandonment hovers around 70 percent, according to the latest eCommerce statistics. By creating templated emails, dynamically filled in with the products a customer left in their cart, you can recover more abandoned carts and make more sales.
Remind customers of repeat purchases
From dog food to cosmetics, many eCommerce products need to be bought again, and again, and again.
You can use marketing automation software to estimate when a customer will run out of their product, and nudge them to stock back up before that happens.
Warn customers before their rewards points expire
Half of online shoppers agree that they spend more with a brand after joining their loyalty program.
By reminding customers when their loyalty points are about to expire, you can make sure they spend more with you.
Schedule social media posts in advance
Reduce the time you spend planning and posting to social media.
With automation tools like Buffer, you can schedule social media posts in advance, optimizing them to send at the times of day when your followers are most active, on each of the networks you're present on.
Thanks to social media automation software, you can plan your posts when it's convenient for you, instead of interrupting what you're doing every day to go post on Instagram. 
eCommerce fulfillment automation
With eCommerce fulfillment costs rising by 12 percent year on year, anything you can do to lower your costs is worth it.
Fortunately, eCommerce fulfillment automation can significantly reduce the time you spend fulfilling orders, ordering new inventory, and processing refunds and returns. For example, you can:
Maintain optimal inventory levels
As an eCommerce business grows, it becomes increasingly unmanageable to monitor current stock levels, predict future needs, and avoid being out of stock when customers are ready to purchase.
With fulfillment automation software, you can select minimum inventory thresholds, and automatically generate a new order with your suppliers whenever that threshold is met. 
Quickly calculate shipping and print labels
eCommerce shipping software can automatically select the most cost-efficient shipping option for an order, based on package weight, dimensions, and delivery address, and print the label.
This process happens nearly instantly, compared with the several minutes it takes a team member. Automation is also free of the typos and errors a human team member can make. Plus, this type of automation software usually includes order tracking, so your customers can log in anytime to see where their package is at — instead of emailing your customer service team.
Manage refunds and returns more easily
With eCommerce automation, you can also include refund shipping labels with each order, removing the need for customers to contact you to generate a label.
You can also use eCommerce automation software to process returns quicker, using parameters to determine whether the customer's purchase is eligible for a return, refund, or neither — and process the payment accordingly.
eCommerce process automation
eCommerce automation offers benefits beyond marketing and fulfillment. It can also facilitate many of the behind-the-scenes tasks that eat up time and profit. You're able to:
Effortlessly sync data between systems
Finance and reporting take a lot of time, but they're critical for maximize your profit margins. With eCommerce process automation software, you can sync the data between your systems, ensuring higher accuracy and faster reporting. 
Import new products faster
If you sell on multiple online marketplaces, you can use eCommerce automation software to automatically update your product feeds, including product images, descriptions, and pricing changes for both existing products and new ones.
Automate your pricing to win the Amazon Buy Box
You can use pricing automation software to dynamically update your prices on marketplaces like eBay or Amazon.
Pricing is especially important when selling on Amazon because it has a significant impact on your products' Buy Box performance.
The Amazon Buy Box (the little box that enables you to buy or add to your cart with a single click) is where over 80% of Amazon sales take place. Winning it is crucial to your performance on the marketplace.
With a pricing automation tool like repricer.com, your product pricing gets automatically updated whenever your competitors make a change to their listings. This gives your products the best possible chance of winning the Buy Box, at the optimal price.
eCommerce customer service automation
By automating elements of your eCommerce customer service you'll reduce the workload of your support staff and provide a better experience for customers.
A helpdesk designed specifically for eCommerce, such as eDesk, enables you to automate several elements of your customer service process. With the use of auto responders, you can avoid unanswered queries sitting in your inbox when there aren't agents around to deal with them.
With eDesk you can automatically route incoming tickets to the best suited agent. This means if you're selling on Allegro and are dealing with incoming tickets in Polish, you can route them to an agent that has the right language skills.
If you're selling on an international marketplace and don't have any agents with suitable language skills, you can use eDesk to handle the translation for you. eDesk can automatically translate incoming messages and then send your reply in the language it arrived in.
Automated feedback software
At 97 percent, virtually every online shopper relies on reviews as part of their buying decision. To get more sales, you need more reviews.
The best way online sellers can quickly improve the amount of feedback they receive is simply by asking for it! You might have a satisfied customer who had a great experience but it simply hasn't occurred to them to leave a review. Or perhaps they've forgotten.
This is where automated feedback software helps. With Feedback, you can automate the review request process, using templated emails like the one below.
When you send these out in bulk, on an automated basis, even a moderate success rate can result in a significant boost to your overall feedback score.
Final words
From marketing to fulfillment, automation has a lot to offer eCommerce businesses. Start investing in automation now, and get ready to watch your business grow.