There's nothing more frustrating than having a high cart abandonment rate and not knowing what the problem is, let alone how to fix it. The reality is that if your potential customers are abandoning their carts, you could be losing thousands of dollars per month.
Thankfully, it's easy enough to address the potential causes of shopping cart abandonment and make the most out of your leads. Here, we've shared the best ways to reduce cart abandonment with live chat prompts, up-front fees, a seamless checkout process, and more.
TL;DR
Cart abandonment is when online shoppers add items to their cart, but never make it past the checkout page.
Improving your customer retention and preventing cart abandonment is essential for getting the most value out of every lead and increasing your conversions without increasing your marketing spend.
You can reduce shopping cart abandonment by using live chat and email follow-ups to remind customers about their carts, letting customers know that you're trustworthy, and improving the speed and ease of the checkout process.
What is cart abandonment?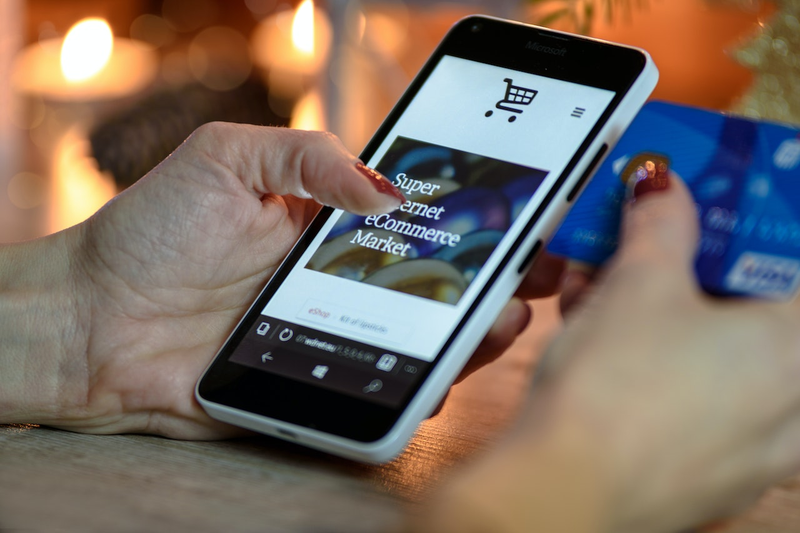 Cart abandonment is used to describe a customer who leaves an eCommerce website without completing the desired action (usually checkout).
Online shoppers may abandon their carts for a number of reasons, including a lack of trust in the seller, a clunky or glitchy checkout page, unexpected shipping costs, finding a cheaper product elsewhere, or forgetting to make a purchase.
Importance of reducing shopping cart abandonment
By the time customers have reached the final stage of their buyer's journey – adding items to their cart – your work should be done. Customers should have already prepared themselves to spend their money and become excited about your products. So if they're abandoning their carts at the last minute, it spells trouble.
Reducing shopping cart abandonment is essential if you want to seal the deal with customers who are already interested in what you have to offer. By minimizing your shopping cart abandonment rate, you:
Get more value from each of your leads
Increase your conversion rate (the percentage of visitors to your website that convert)
Lower your customer acquisition cost
Make more sales from doing – and spending – less
Best methods to reduce shopping cart abandonment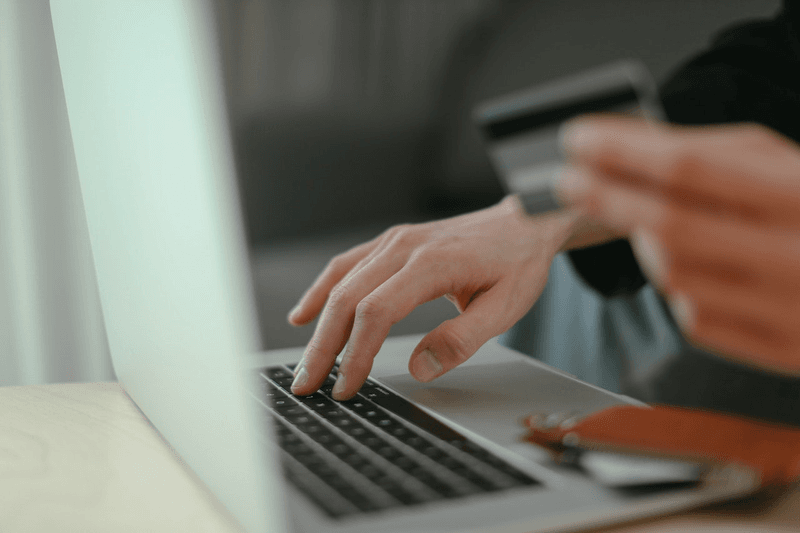 Use trust signals
Your customers might love the look of your products enough to add them to their carts – but if they don't know that they can trust you, you might lose them at the last hurdle.
Customers are discouraged by an untrustworthy site, especially when it comes to the payment process. Just under 20% of customers who dropped out of a purchase cited "payment security concerns" as their reason. That means you'll lose about one-fifth of your customers if you have a dodgy-looking checkout process.
There are a few ways to demonstrate your trustworthiness as an eCommerce store: use industry-standard security measures, show that you protect your customers' data, and include the following trust signals on your website:
SSL – preferably site-wide, at the very least at checkout.
Security badges, like TrustedSite, and GeoTrust. Obviously, you should only display these images if you use these security programs and your website truly is secure.
Images to show that you have customer-trusted payment options (such as various credit cards and payment options, like PayPal).
Trust can also be achieved through social proof. Encourage customers to leave product reviews on your online store with incentives such as discounts on their next purchase. The more positive reviews your visitors read about a product, the more validated they are that the product meets customer expectations for quality and is worth buying. Equally, work on preventing customer complaints to prevent bad reviews from clogging up your website.
Ultimately, eliminating the pre-purchasing uncertainty is one of the best ways to reduce shopping cart abandonment, and to do this, you need to evoke trust in your brand and products.
Simplify the checkout process & offer guest checkout
In today's fast-paced world of one-click purchases, a slow or clunky checkout process could be enough to trigger online shopping cart abandonment.
Most of us have been on the customer side of a checkout flow that needs improving. Perhaps you were redirected to your online banking app, only to return to the checkout page to find a "timed out" error notice. Or maybe once you reached the page of payment options, the webpage morphed into a clunky checkout page from websites of the early 2000s.
Don't rely on your customers to have the patience to make it through the checkout process. They might simply get bored and look elsewhere, or worry that a clunky checkout process somehow means you're not legitimate.
There are a few ways to simplify your checkout process and get customers from A to B faster:
Let customers pay with an integrated payment processing tool (like PayPal Express and Apple Pay) or choose their remembered card details to allow for one-click payments.
Let the user choose dates (such as their birthday) from an integrated calendar or dropdown, rather than typing in the numbers.
Encourage customers to complete the checkout process with a progress bar that shows them how much further they have to go.
For online stores, a seamless and frictionless shopping experience is essential to reduce abandoned carts.
Also, if you don't already, be sure to offer guest checkout options. Almost half (43%) of customers would rather check out as guests than bother to create an account and submit unnecessary data.
Don't force visitors to create accounts in the hope that it'll encourage them to become long-term customers – it might scare them off in the first place. Guest checkout doesn't disadvantage you, anyway, since guests provide their emails when they secure their order.
Offer multiple payment options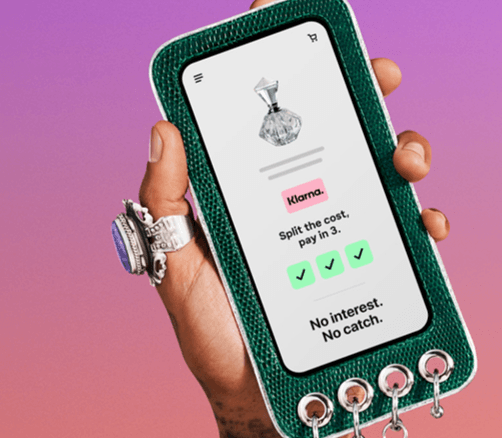 There might be plenty of ways to pay for what you can't afford nowadays, but here's the reality: customers are less likely to buy your products if they can't afford, or justify, them. And if a lot of your customers decide that your products are too much money – even if they love them – your online shopping cart abandonment rate will climb.
What's the difference between affording and justifying? When it comes to affording, a customer needs to physically have the money to buy something. As for justifying, the customer might have the money, but they think the price is too steep based on their own perceptions of how much that product should cost, or how much they're willing to spend on the item.
You can't magic money into your customers' pockets. What you can do, however, is enable customers to both afford and justify buying your products.
All the big online retailers allow customers to pay with multiple payment options, including credit cards. There are also tools like Klarna and Afterpay, which can be easily integrated into your checkout flow and allow customers to buy products and pay for them later.
These features solve the affordability issue, and they should also appeal to people who can't justify paying so much money upfront for your product.
What does this all come down to? If you want to avoid customers abandoning their carts at the last minute after deciding they can't afford (or justify) your product, you need to give them plenty of payment options.
Improve your website loading speed
Thanks to the rapidly evolving digital space, online users expect instant gratification. Almost 70% of internet users say that their willingness to buy from an online store is impacted by page loading speed – so a slow loading time may be contributing to your higher-than-usual cart abandonment rates.
Let's say that a potential customer has seen a product they really love on one of your banner ads. They click on the ad and are sent to your website – only to be met with a blank page and a loading icon.
They might stick around for a few minutes, perhaps long enough to read a couple of reviews and add the product to their cart. But then they click on their basket to check out again, and there it is again: the white page and the loading icon.
By this point, your customer has sensed a pattern. They assume that if it's taking so long to navigate to your website, and then to their basket, they'll have to wait to load at every other stage of the checkout flow (which is probably true).
Even if you simplify the checkout process with a guest checkout option, the average impatient customer won't want to waste their time waiting for pages to load. In their annoyance, they may decide they don't actually want your product so badly, and you know what comes next.
A fast website should allow your customers to move quickly through the checkout process, leaving no room for doubt. Plus, a more responsive website may encourage your customers to browse more broadly before checking out. So, not only will you reduce your shopping cart abandonment rate, but you might also get more orders per purchase.
Price your products competitively
Competitive pricing is one of the most basic eCommerce marketing tactics that people often forget about. It's worth assessing your prices at least once a month and checking that you're still competitive in your market.
If your products are priced higher than your competitors', a smart customer will simply add your item to their cart, open a new tab, and search for the same item on Google. If they can find it for cheaper, they'll abandon the shopping cart page on your website and buy the product from someone else.
Of course, it's not a race to the bottom. You don't need to sell your products for an unexpectedly cheap price – this could even cause your potential customers to become distrustful. Just make sure your marketing materials accurately convey the value of your products, so that customers understand exactly what they're paying for.
You can also look at ways to reduce your shipping costs, so you're getting the most back from every product you sell.
In short: don't undervalue your products, but make sure you stay competitive in your industry. This should help to reduce your shopping cart abandonment rate because customers won't find your products significantly cheaper elsewhere.
Struggling to market your products as worth the cost? Make sure you're brushed up on the 20 essential eCommerce marketing tactics for this year. With the right pricing and marketing to support your costs, you should validate your customers' online shopping experience and reduce shopping cart abandonment.
Remind customers about their shopping carts & offer last-minute deals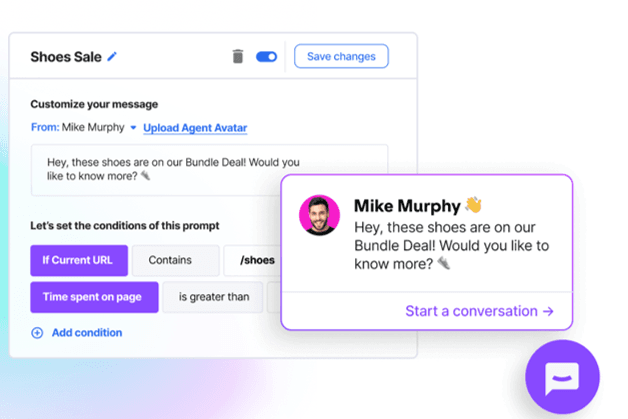 With so many online shopping options available today, it's surprisingly easy for customers to forget about items in their shopping carts.
This is especially the case around the holiday season, or during big days for online shopping, like Black Friday and Cyber Monday, when customers are likely to add multiple items to multiple baskets in a shopping frenzy, then get distracted by a better deal elsewhere and forget about half the tabs they have open.
Plus, a good chunk of customers know about their shopping carts but simply don't want to buy. In fact, over half (58.6%) said that the reason they abandoned their carts was because they were just browsing.
How can you encourage customers to spend before they forget or lose interest, therefore reducing shopping cart abandonment? You need clever ways to remind customers about their order.
One effective method is to use live chat prompts to send customers reminders about items in their order. That way, if customers still have your tab open but are browsing elsewhere, you can draw them back to your website with a notification sound or a blinking tab on the taskbar. You could even throw in a small limited-time discount to encourage hesitant customers to part with their cash.
For customers who have already left your website, you don't need to lose hope just yet. Hopefully, you're capturing your leads' email addresses and adding them to your email list, so you can send your customers a reminder email about their forgotten items.
It's a good idea to send two emails: one the day after the customer's cart abandonment, and one towards the end of the month, around payday, when the customer is more likely to be more fluid with their spending. You don't have to manually send these emails – save yourself the time and hassle and set up an automated system with a smart inbox.
In all, reminding customers about their order and providing limited-time discounts doesn't guarantee that you'll reduce shopping cart abandonment every time, but it should certainly help you to get those numbers down.
Be upfront about your fees
From a customer's perspective, there's nothing worse than getting your heart set on a product and navigating all the way through the checkout process, only to discover a surprise fee that puts the overall purchase into an unjustifiable price bracket.
Your website might need shipping fees and minimum spend fees to stay afloat, especially in the beginning days. But make sure these fees are obvious from the moment customers visit your website. You want customers to be prepared for all costs involved in their experience shopping online with you, so there are no off-putting fees come checkout.
Don't think that adding a surprise minimum spend fee to small orders will encourage customers to simply spend a certain amount to avoid that fee. Some customers might – but others might only be making a small order because that's all they can afford, or all they can justify spending. That minimum spend fee will probably just cause your customers to raise their eyebrows and close the tab – increasing your shopping cart abandonment rate.
At least if your minimum spend fee is outlined on your website homepage and product pages, customers begin shopping with the knowledge that they need to spend a certain amount to avoid an extra fee, so they won't waste their time if their budget is limited.
As for shipping costs, we don't think you need them at all. Ideally, price your products slightly higher and advertise the fact that you offer free shipping all over your website.
Almost three-quarters of all customers (66%) don't just prefer free shipping when shopping online – they expect it. When you offer free shipping, you avoid scaring customers off with unexpectedly high shipping costs and make them feel like they're saving money (even if they're just spending more on the product itself).
What about taxes? Add them straight to your initial product fees, again to avoid unwanted surprises at the end of the checkout process.
Essentially, it's best to try and avoid extra fees altogether, but if you have to use them, displaying these fees in obvious locations on your website should help you to keep shopping cart abandonment to a minimum.
Use exit-intent popups
We've talked a bit about how to encourage potential customers to return to your website to complete a purchase. But how can you prevent customers from leaving your website in the first place?
Try using exit-intent popups.
An exit-intent popup is a popup that appears on the screen when the customer moves their mouse to the "back" arrow or a new tab, or goes to cross off the page. Using exit-intend popups can "save" about 10 to 15% of prospective customers, or prevent them from leaving your site and abandoning their carts.
The best places to put exit-intent popups are on your product and checkout pages. That way, if a customer decides to change their mind at the last minute, you can hit them with an irresistible deal that encourages them to stick around.
What's a good discount to offer in an exit-intent popup? Anything between 5 and 15% should be enough to catch a user's attention. Yes, offering a last-minute discount loses you some revenue. But if it's between no customers and customers paying slightly less for your products, it's a no-brainer.
Offer Mobile-Friendly Shopping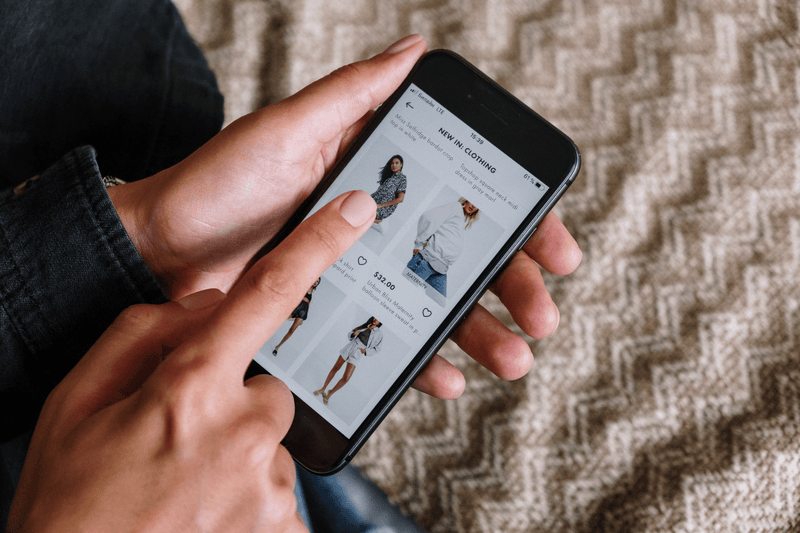 Just over half (55.4%) of internet users shop online with their mobile phones – so if your website isn't optimized for mobile use, it could explain why your shopping cart abandonment rate is higher than it should be.
Maybe your website navigation is just about manageable for shopping, but customers abandon their carts once they reach your checkout pages due to a near-impossible-to-navigate payment screen with tiny print and formatting all over the place. It would be a shame to lose shoppers this late in the customer journey, so don't file away your mobile compatibility as a low priority.
Mobile-friendly shopping won't just keep customers on your website; it'll encourage them to come back. If your website design is seamless for mobile users, customers may decide to check out your latest products while they're lounging in front of the TV, traveling on the bus, or walking on the treadmill.
It's much easier to pull out your phone and start browsing than to switch on a laptop or computer, hence the importance of not scaring your visitors away with a poorly-formatted website.
Do we think you should get an app for mobile shopping? It depends. If you're a huge store offering hundreds-to-thousands of items, then a mobile app could be beneficial to you. Online fashion stores and marketplaces tend to do best with a mobile app.
If you have a small-to-medium online business, it's best to focus on optimizing your website for mobile, rather than creating a separate app. Most customers don't want to bother downloading an app, so if you only offer an app for optimized shopping, you'll have customer acquisition problems on top of cart abandonment problems.
Having a website that's properly optimized for mobile will attract more customers to your website and get more customers successfully to your checkout pages, reducing shopping cart abandonment.
Offer Fast Shipping
We've already discussed the importance of free shipping, but what about shipping times? If your processing and shipping times are too long, this might be a reason why online shoppers abandon their carts on your website.
We can't all offer the same-day shipping perks of global marketplaces like Amazon, but having an efficient shipping process is a must.
The average customer's expected delivery window only continues to get shorter. Now, about 40% of customers say they'll wait up to two days for orders that promote fast shipping, while only 12% will wait between five and 14 days. So if your customers go to checkout and discover that your shipping times are over a week, they might abandon their carts in favor of a competitor that will offer faster shipping.
Make shipping and delivery one of your biggest priorities. Aim to dispatch your products within a working day after the customer's purchase – and send an automated dispatch email to let your customer know. From there, aim to have the order delivered within three to five days of dispatch – no less than a week.
Of course, delivery times are contingent on the customer's location, but customers will still have an expected timeframe in mind based on their experience ordering from online retailers in the past.
Look at the average delivery times in your industry, and visit your competitors' websites to see how quickly they're delivering their customers' orders. You don't have to do better than anyone else (although you'll get brownie points if you do). Your goal is to meet your customers' expectations. This should prevent potential buyers from dropping away because they don't want to wait so long for delivery.
Share clear return and refund policies
We know already that being upfront about your fees is essential, and the same goes for your return and refund policies.
Shopping online is riskier than shopping in brick-and-mortar stores because with online shopping, you pay for your items several days before you actually receive them. Having clear return and refund policies means you can reassure customers that they'll get their money back if they're not happy with their order.
Customers need proof that their investment – no matter how big or small – is protected. If a customer goes to check your returns policy before they spend their money, and they discover that your policy is confusing or non-existent, they may leave your website without going through with the purchase.
On the other hand, a clear, liberal refund policy or a long returns window inspires trust, reducing the likelihood of abandoned carts on your eCommerce store and increasing customer loyalty.
Build a better sales funnel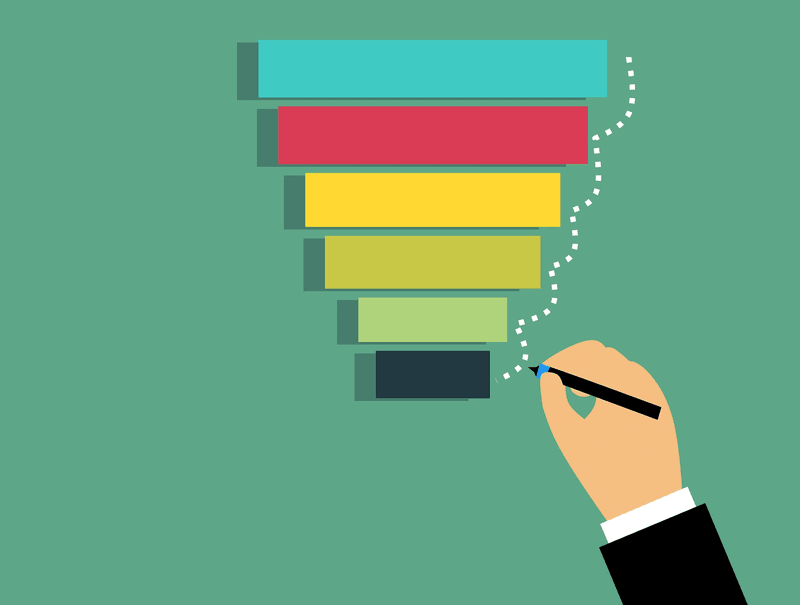 There's a lot that goes into an eCommerce sales funnel. There's no avoiding the fact that you need an excellent sales funnel to ensure your shopping cart abandonment rate stays low.
For a sales funnel to convert, it needs to successfully turn a lead into a customer. Each step of your stage funnel should be primed to appeal to online shoppers at different stages of the buyer's journey.
If your sales funnel is lacking important features, your customers may only get so far along the buyer's journey before they abandon ship.
Remember, there are four stages of the buyer's journey: awareness, interest, desire, and action.
Chances are, if your website visitors are abandoning their carts, they've reached the "interest" stage, but you're struggling to move them to the "desire" stage – the stage that convinces them to buy your product.
How do you convince customers to desire your product? By making it desirable, which you can achieve with some high-quality sales copy on your product pages. Now's your time to invest in a professional copywriter to write winning product titles and descriptions for your website. Find someone who knows how to write persuasively, and reinforce what you're saying about a product with customer reviews.
Creating product pages that convert will keep your customers keen and interested right until they reach your checkout pages. That's a makes-sense method of reducing shopping cart abandonment on your eCommerce website.
Conclusion
Figuring out the reason for shopping cart abandonment doesn't have to be difficult. Think about why you've abandoned your own shopping cart on various online stores in the past, then ask yourself whether your online business takes steps to prevent these off-putting problems.
By taking the steps to reduce shopping cart abandonment, you should successfully increase your conversion rate, lower your customer acquisition cost, and ultimately get more value from your customers without increasing your spend.