An eCommerce funnel is a great way to measure and optimize the process of finding new potential customers. closing sales and getting repeat business.
Whether you're familiar with the concept of eCommerce funnels or this is your first time hearing of it, don't worry. We'll explain everything you need to know to boost sales for your online store, with real-world examples of eCommerce funnels in action.
What is an eCommerce funnel?
Think about the last thing you bought online. Chances are, you didn't just hear about it from a Facebook ad and instantly click through to the website to purchase.
You may have first seen it in your Instagram feed. A day or so later, you saw an ad in your Facebook feed and clicked through to check it out. The landing page piqued your interest, but you didn't have time to purchase, so you left and went back to Facebook, making sure to "like" the page. Later that week, the brand shared a blog post on their Facebook page showing five key benefits of the product. After reading it, you decided to buy.
That, my friend, is an eCommerce funnel. And luckily for the eCommerce site, you successfully converted! Here's another way of looking at that process, using the stages of an eCommerce funnel:
Awareness: Instagram ad introduces you to the brand
Interest: Facebook ad leads to you clicking on the landing page and "liking" the brand on Facebook
Desire: Blog post convinces you to buy the product
Action: You purchase the product
The eCommerce funnel gets its name from the funnel shape you're familiar with from chemistry class. Lots of people enter at the top. These are all potential shoppers for your eCommerce site, but not all of them will eventually purchase. Just like how a funnel narrows towards the bottom, you'll lose less interested shoppers along the way.
Here's the eCommerce conversion funnel, visualized:

The stages of an eCommerce funnel
The stages of the eCommerce sales funnel include:
1. Awareness
This stage focuses on bringing awareness of your products and brand to consumers. The customer is learning about you or your product for the first time, whether that's through a blog post of yours they found through Google, a paid social media post that targeted them based on their interests, or a PPC ad.
For example, key finding gadget Tile bids on Google AdWords for keywords like "how to stop losing keys." This keyword indicates a person looking for information who may eventually decide to buy a product like theirs.


If the shopper clicks on Tile's PPC ad and doesn't convert, they are then re-targeted with a Facebook ad. This ad focuses again on driving product awareness, highlighting the beneficial features of the product: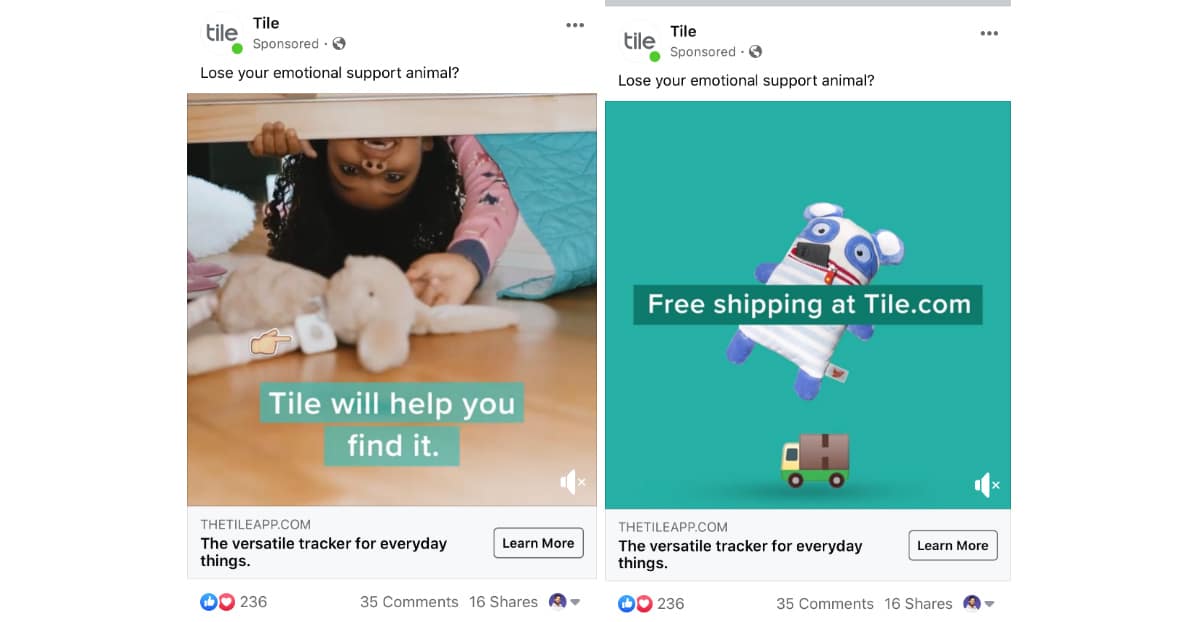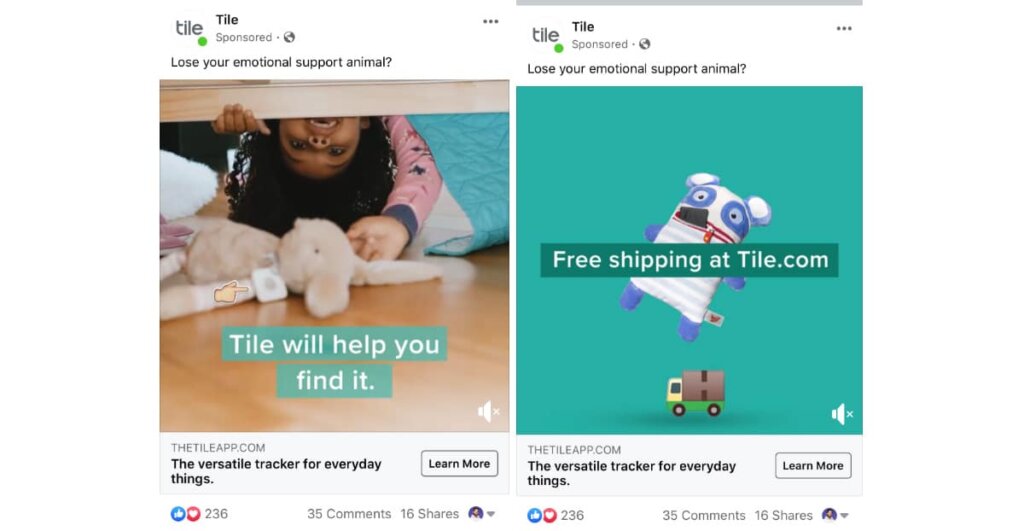 2. Interest
Just because a customer knows your brand name doesn't mean they're ready to convert. That's where stage two of the funnel — interest — comes in.
In this stage, your goal is to help the customer connect more deeply with your brand and consume the relevant content you're delivering . Invite them to watch your Instagram stories, read your blog, or subscribe to your newsletter.
Here's a sample sales funnel for eCommerce brand Smart Nora, which sells an anti-snoring device. A person searching for a home sleep apnea test arrives on their blog post covering the topic: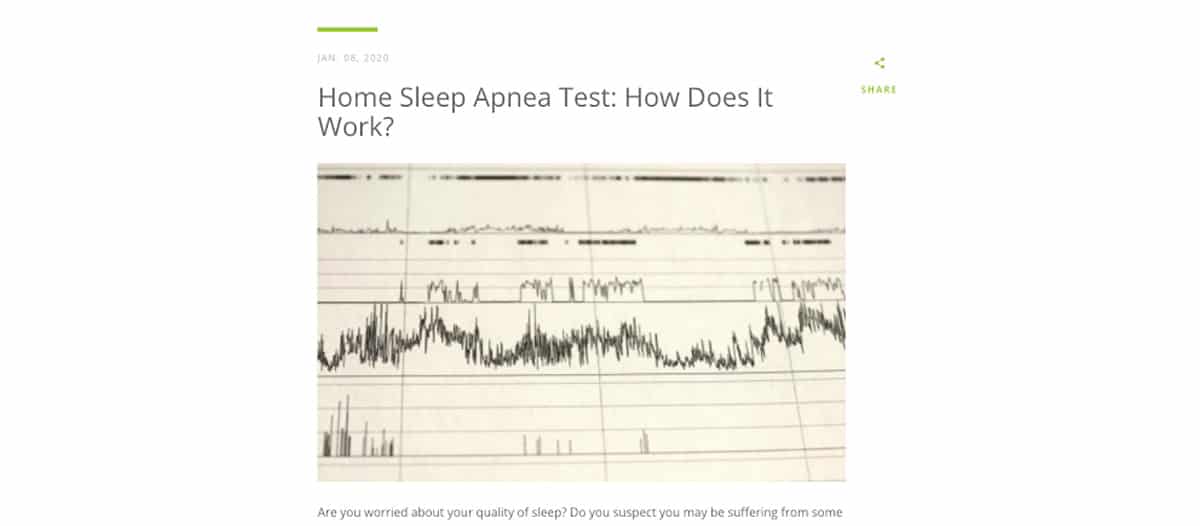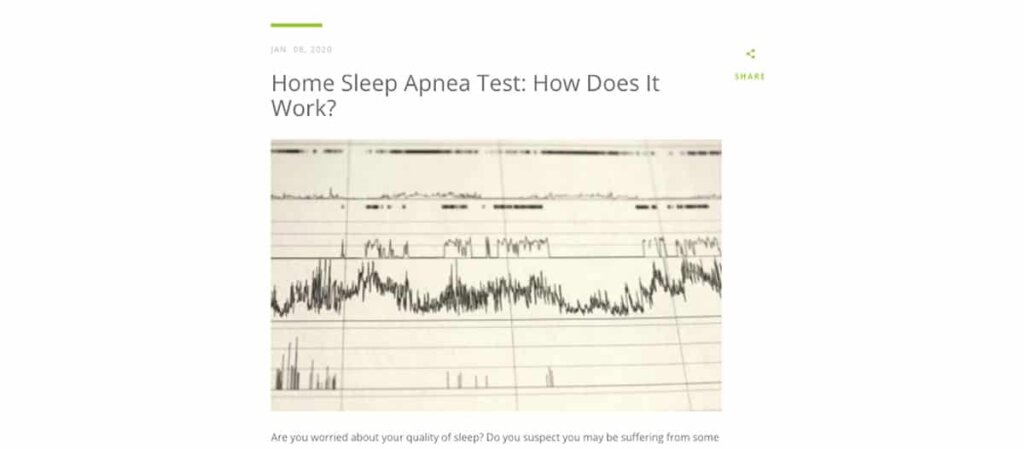 Once they arrive at the blog page, they've gained some awareness of the brand. The brand drives the reader towards the interest stage with a pop-up banner to sign up for their email newsletter:


If the person doesn't end up using the email coupon, Smart Nora re-markets to them with a Facebook ad speaking directly to their concerns. The brand dares the user to try it out for a $50 discount.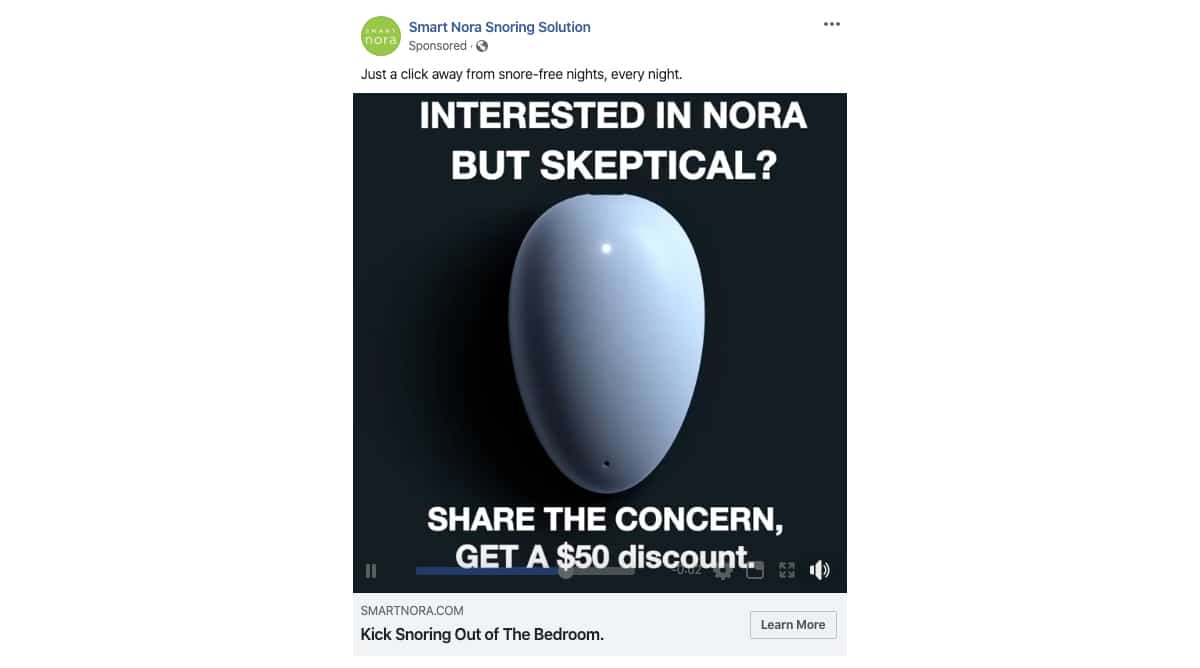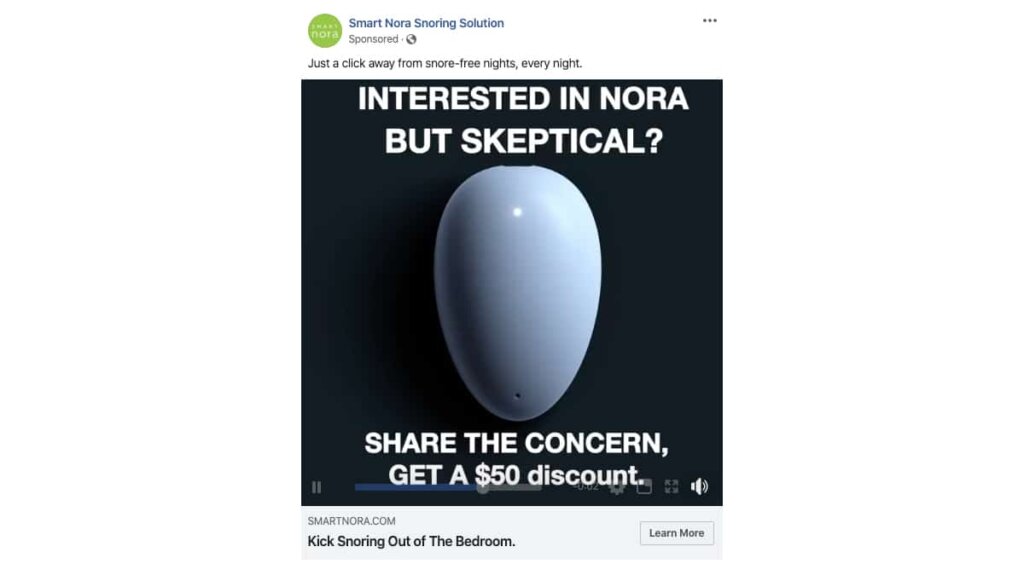 If they click on that Facebook re-marketing ad, they've reached the third stage of the eCommerce funnel: desire.
3. Desire
This stage moves a customer from interest to desire with an intent to purchase.
Your product pages play a major role at this stage of the eCommerce sales funnel, as they determine whether a person decides to add a product to their cart.
Boost their performance with top-notch product photography, interesting descriptions, and a video showing your product in action or on a model. Add customer reviews for social proof.
Supplemental content is also important for moving shoppers from browsers to shoppers, so ensure you have detailed shipping information, a clear return policy, and an FAQ page if necessary.
If shoppers leave your website, bring them back with an abandoned cart email campaign or display ads that follow them around the web with the products they nearly purchased.
In their abandoned cart email, Sephora puts everything on the table. They offer the shopper a 15% discount, remind them that their products are waiting at checkout, and even tug at their heartstrings with a "don't leave me" message on behalf of their products. The email ends by complimenting the shopper on their selections, and informing them of free shipping.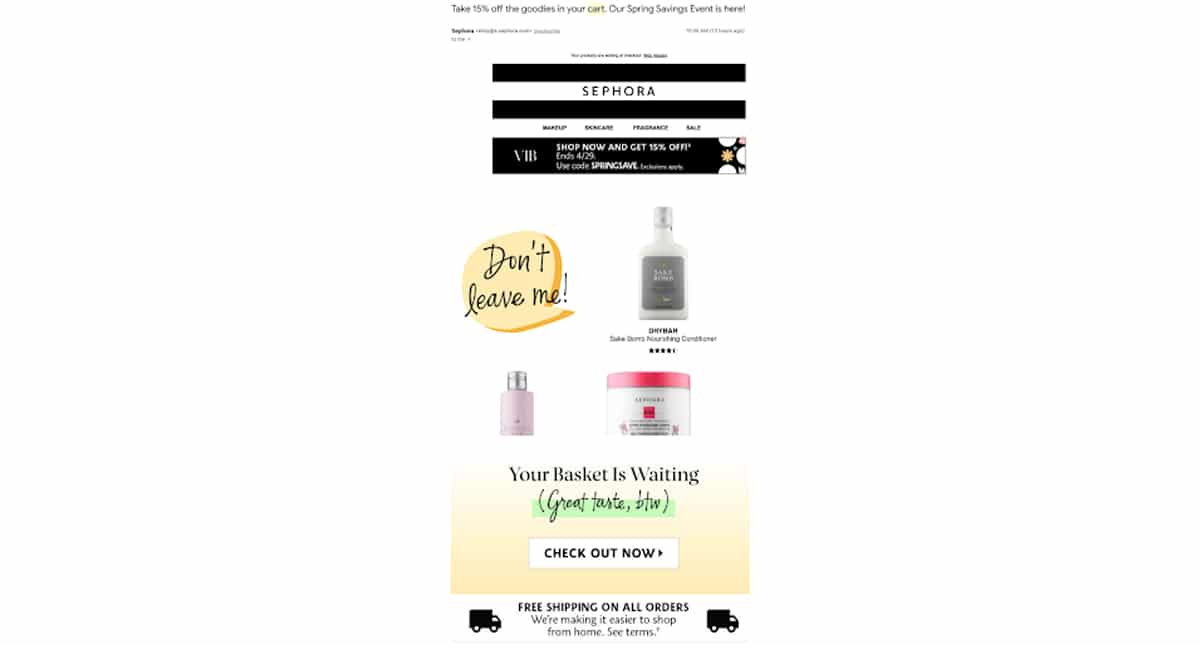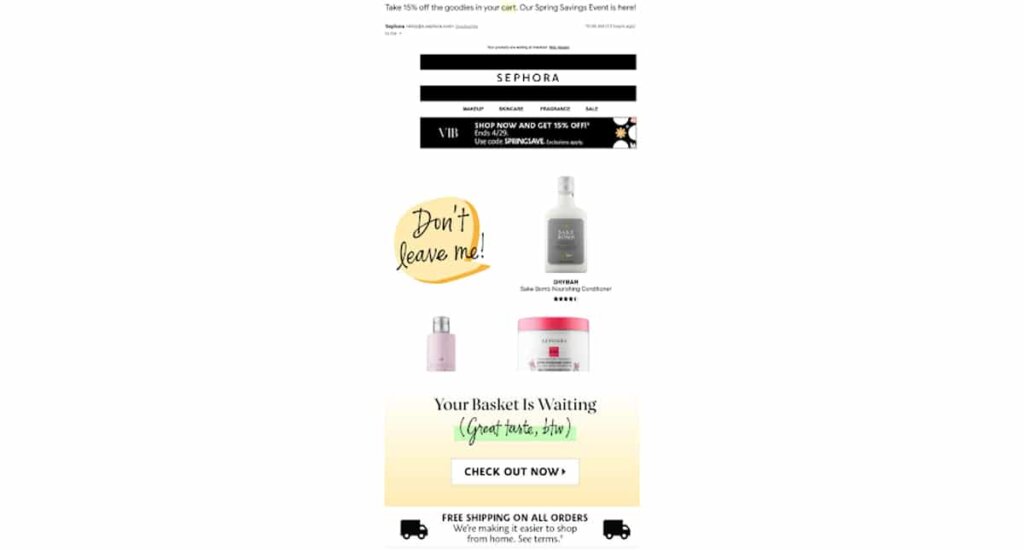 4. Action
At last, the shopper converts! This stage of the eCommerce funnel describes that final action of purchasing your product.
Optimizing your checkout page for an easy purchasing experience is critical for this stage of the eCommerce funnel.
CRO techniques like simplified forms, clear spaces for promo codes, and a progress bar can move the needle here. Consider updating your shopping cart software to one that's more user-friendly. This can have a big impact towards minimizing your shopping cart abandonment.
Here's an example of an eCommerce sales funnel in Facebook, from cooling mattress brand Chili. The company designed two separate ad experiences, one for brand awareness, and one for re-targeting those who had visited the website and/or added items to their cart, but had yet to convert: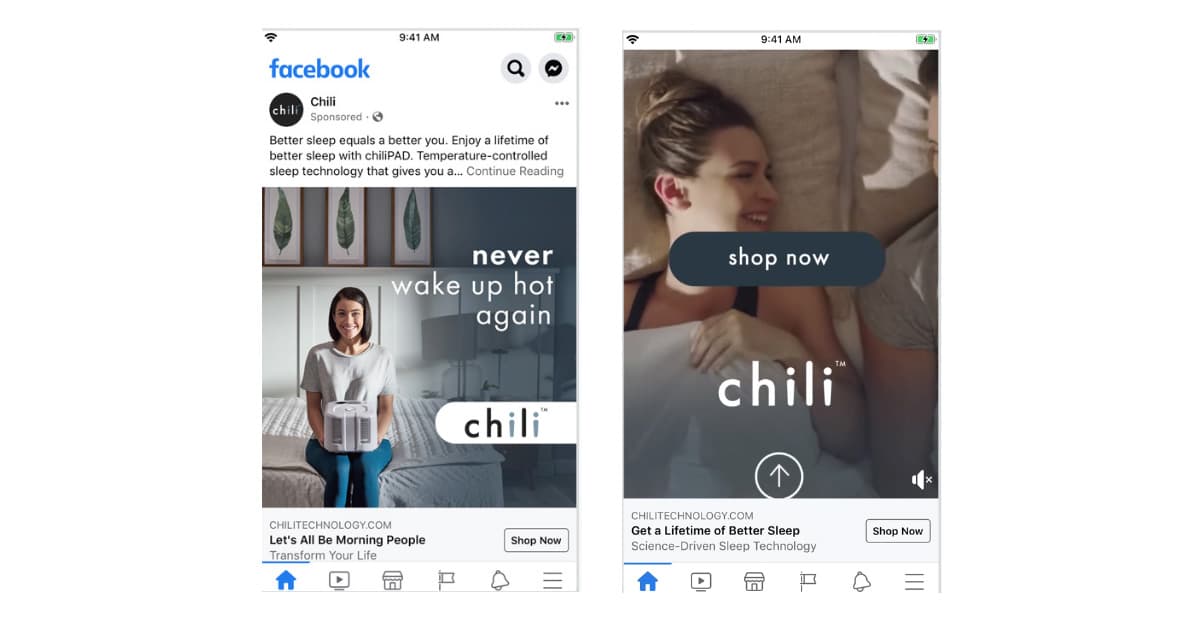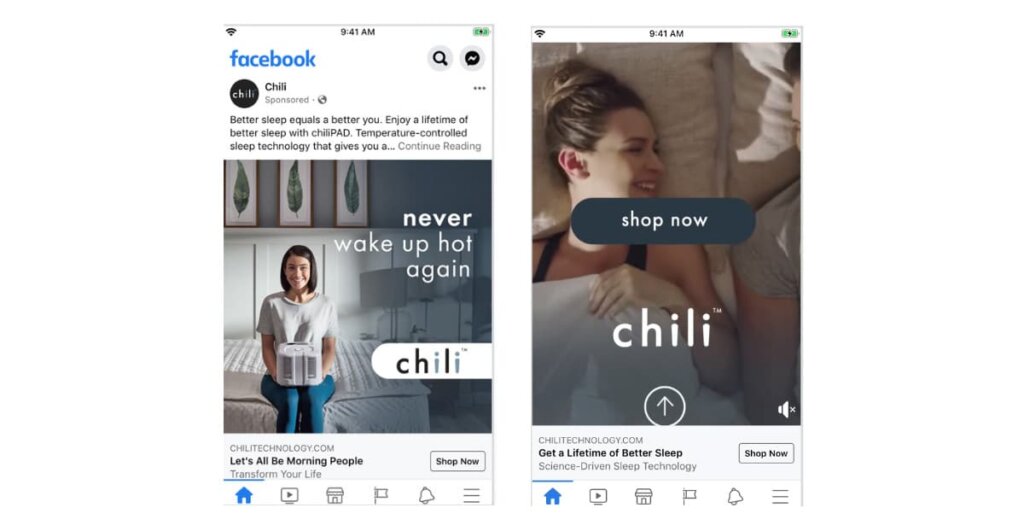 Unlike the other eCommerce Facebook sales funnel examples we've discussed above, for Tile and Smart Nora, this ad has a clear purchase intent. The ads feature a CTA of "Shop Now" vs. the educationally-driven "Learn More."
5. Loyalty
Once customers convert, it's time to put them back in at the top of the funnel. This "bonus" stage of the eCommerce funnel focuses on re-engaging one-time buyers and making them loyal customers.
Use email marketing to offer shoppers personalized product recommendations and create drip campaigns that promote sales and products they're likely to be interested in, based on their past engagement.
Solicit product reviews to bring them back to your site, and encourage them to share and follow on social media—where you can send them new exclusive promo codes.
Pro Tip: Keep customers coming back for more with the surprise and delight technique!
Setting up your eCommerce funnel
There's no one-size-fits-all when it comes to eCommerce sales funnels. Your eCommerce funnel will depend on your product, your personas, and the various paths your customers take to enter and travel through your eCommerce funnel.
Do customers that come from different ad campaigns or channels follow different journeys? How long does it take a customer to convert if they land on your home page vs. a product page? These are questions you'll want to answer.
Discovering your optimal eCommerce funnel takes time. You'll also want to measure your eCommerce metrics to determine which stages of the funnel are "leaking" the most. In other words, where are people dropping out of the funnel?
You can get started by tracking customer behavior at each stage of their journey, once they arrive on your site:
Visitor navigates to category or product page.
They add item to cart.
The shopper views their cart.
They enter checkout process.
Customer completes checkout and arrives on a thank you page
Set up these reports for your various marketing channels and landing pages, so you can determine which funnels are more effective. Keep a close eye on the following metrics: traffic, bounce rate, conversion rate, shopping cart abandonment rate, and sales and revenue.
Best practices for optimizing your eCommerce conversion funnel
To facilitate conversions once shoppers arrive on your site, implement the following best practices:
Keep your navigation clear and simple. Make it easy for shoppers to find product categories and get where they want to go. For landing pages, remove the navigation so all the customer has to focus on is the "Buy Now" button.
Use white space and avoid overwhelming the shopper with text. Use your copy to create persuasive headlines and give shoppers the key product details. Then, rely on white space and compelling visuals to take it from there.
Remove hesitation. Banners advertising your free shipping and returns can reduce hesitation to buy. Implement software that can answer pre-sales queries to serve as a personal concierge and answer questions. Display security and privacy trust badges along with real customer reviews.
Re-target everyone who bounces, and don't let them leave without an exit offer. Exit intent popups can save shoppers before you ever have to send an abandoned cart email.
Make it easy to buy. Offer multiple payment options, including PayPal and Apple Pay. Let people check out as guests. Shorten your checkout flow as much as possible. Shopify's checkout screen is a prime example: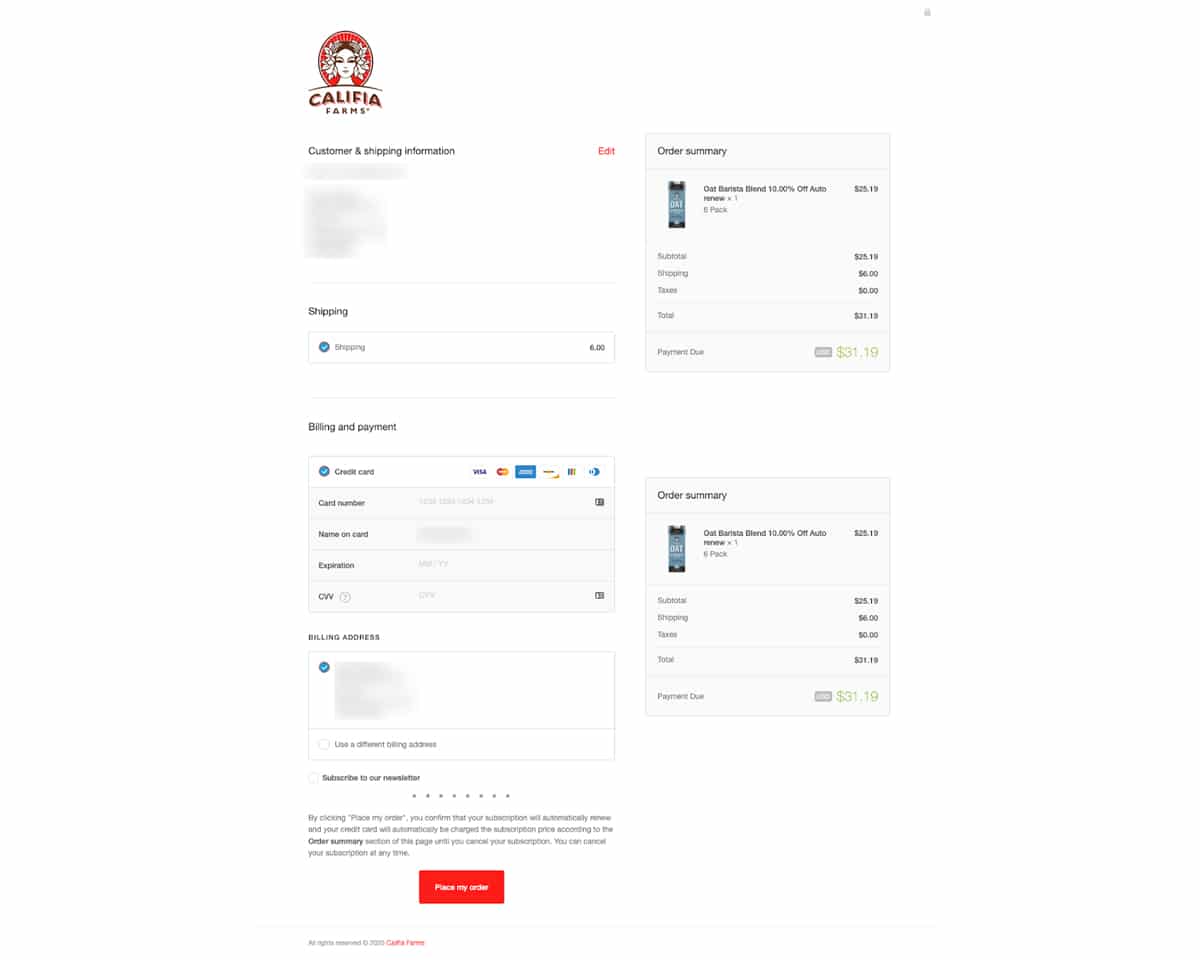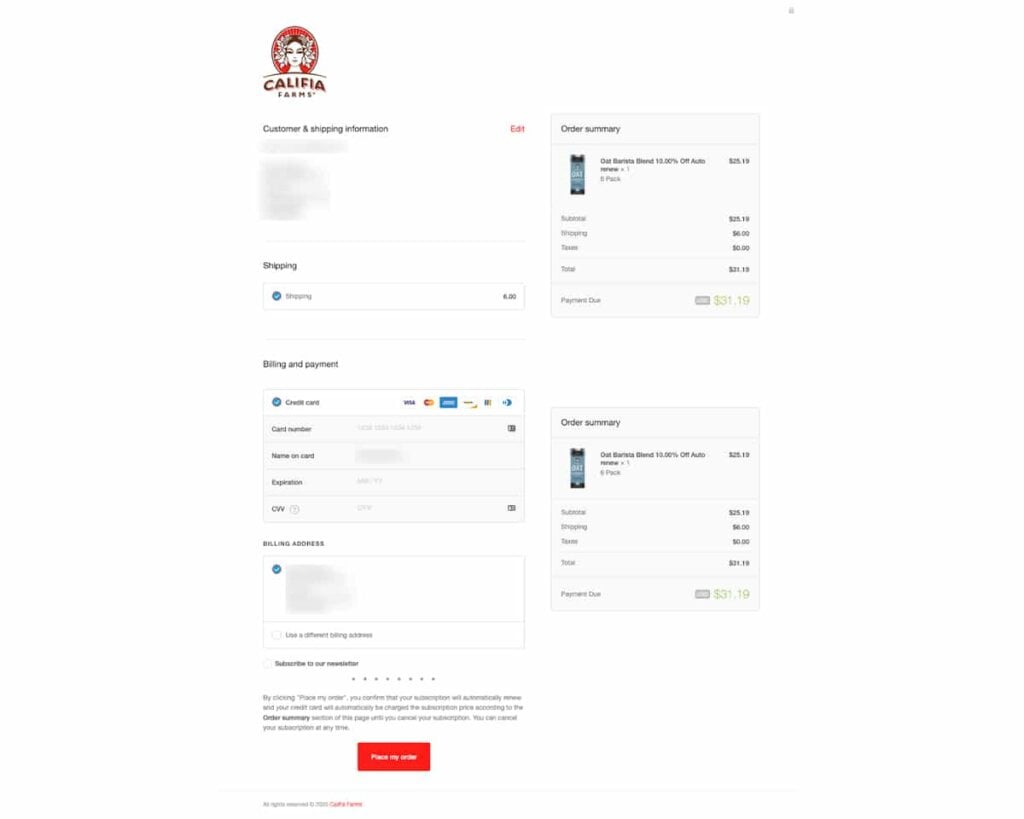 Whether you've been selling products for years, or you're getting ready to introduce a new product line to your eCommerce store, you can always optimize your eCommerce funnel for more sales. Use this as your guide to getting started!