Consider this: Increasing your customer retention by just 5% can lift your profits by 25%. What makes customer loyalty so profitable, exactly? Well, loyal customers are a special breed.
They're not just on the hunt for whatever product they can get the fastest, or for the lowest price (although those certainly don't hurt!). Rather, loyal customers are happy to keep buying from a brand, as long as they continue to enjoy the same level of product quality and brand experience. 
eCommerce brands have plenty of options to deepen loyalty among their customers. If you're looking to start a customer loyalty program or infuse new ideas into an existing one, read on. We share our best tips for building eCommerce customer loyalty. 
The Benefits of Customer Loyalty in eCommerce
Customer loyalty in eCommerce is just as powerful as it is in traditional retail. It's one of those eCommerce marketing tactics that grow exponentially once you put some investment into it. 
What benefits does customer loyalty offer eCommerce brands?
Loyal customers are cheaper. The cost of acquiring a new customer is five times higher than retaining existing ones.
Loyal customers are bigger spenders. Your loyal customers are 50% more likely to try out a new product than new customers, and they spend 31% more, too. 
Loyal customers are better brand advocates.  Loyal customers are like an unpaid marketing team for your eCommerce site. They're such believers in your brand that they'll refer you to everyone they can. 
7 Ways to Increase eCommerce Customer Loyalty
Try these ideas for boosting loyalty with your eCommerce customers. 
1. Offer a points-based loyalty program 
Shoppers want you to have a loyalty program. 84% of shoppers are more likely to buy from brands with loyalty programs. Plus, loyalty program members spend 12% to 18% more than non-members. 
The key to a successful eCommerce loyalty program is to keep it simple and to clearly explain how your shoppers can earn points and redeem them. eCommerce shoe brand TOMS breaks its program down into three simple steps: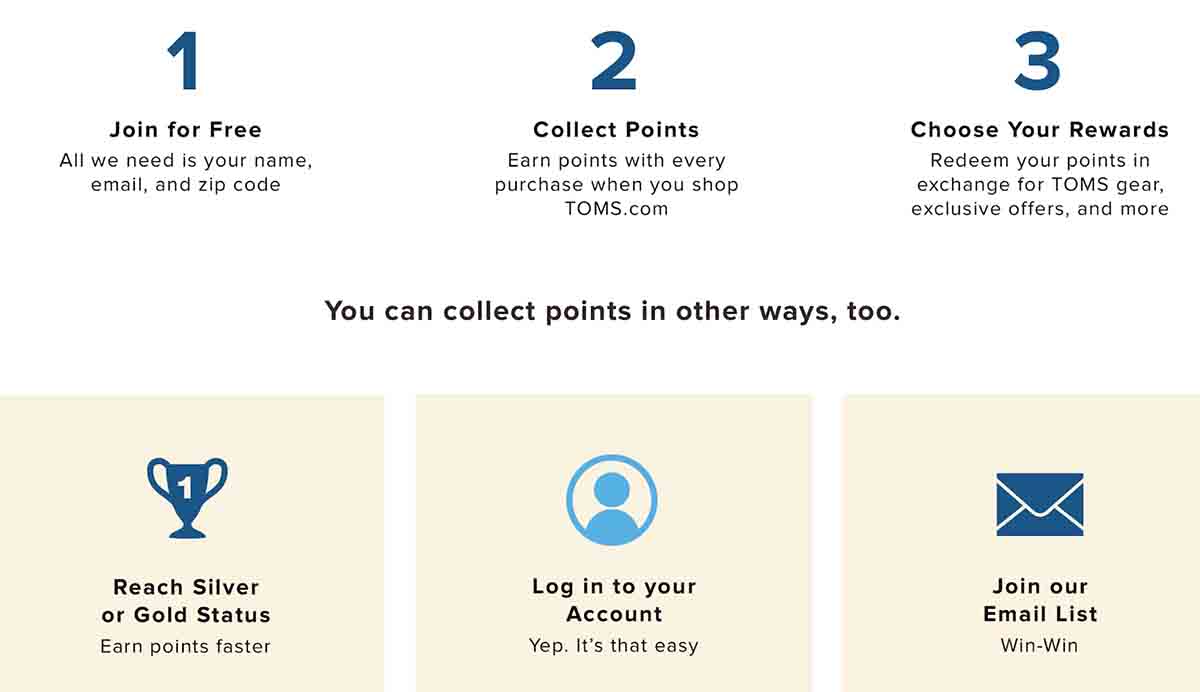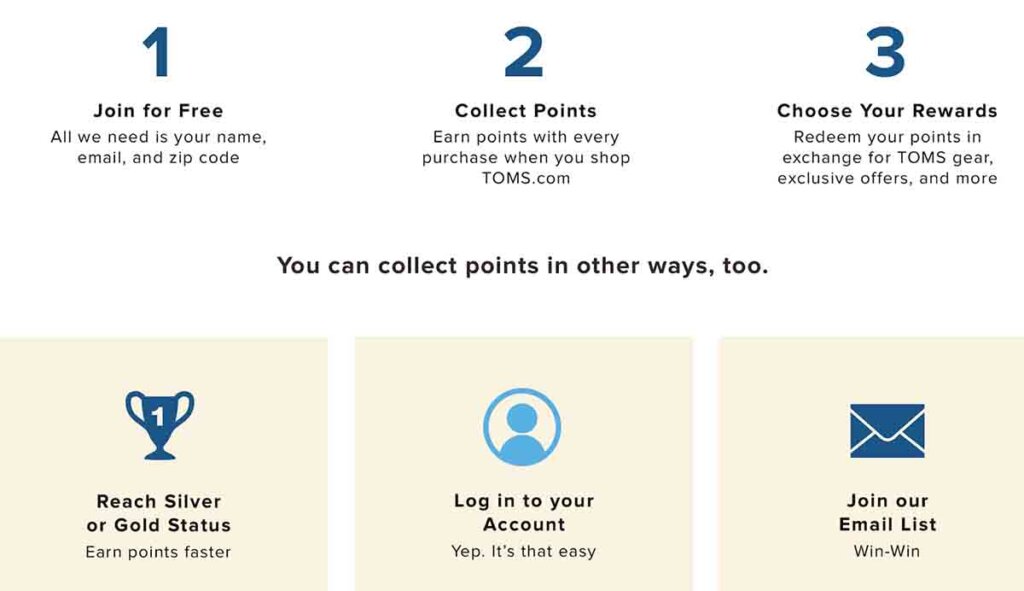 Consumers have a strong preference for variety from their loyalty programs, with 28% wanting rewards to be more interesting, 45% looking for gifts and swag, and nearly 30% wanting personalized offers.
TOMS satisfies these varying customer needs with a tiered rewards program. The more a customer shops with the brand, the more rewards they unlock.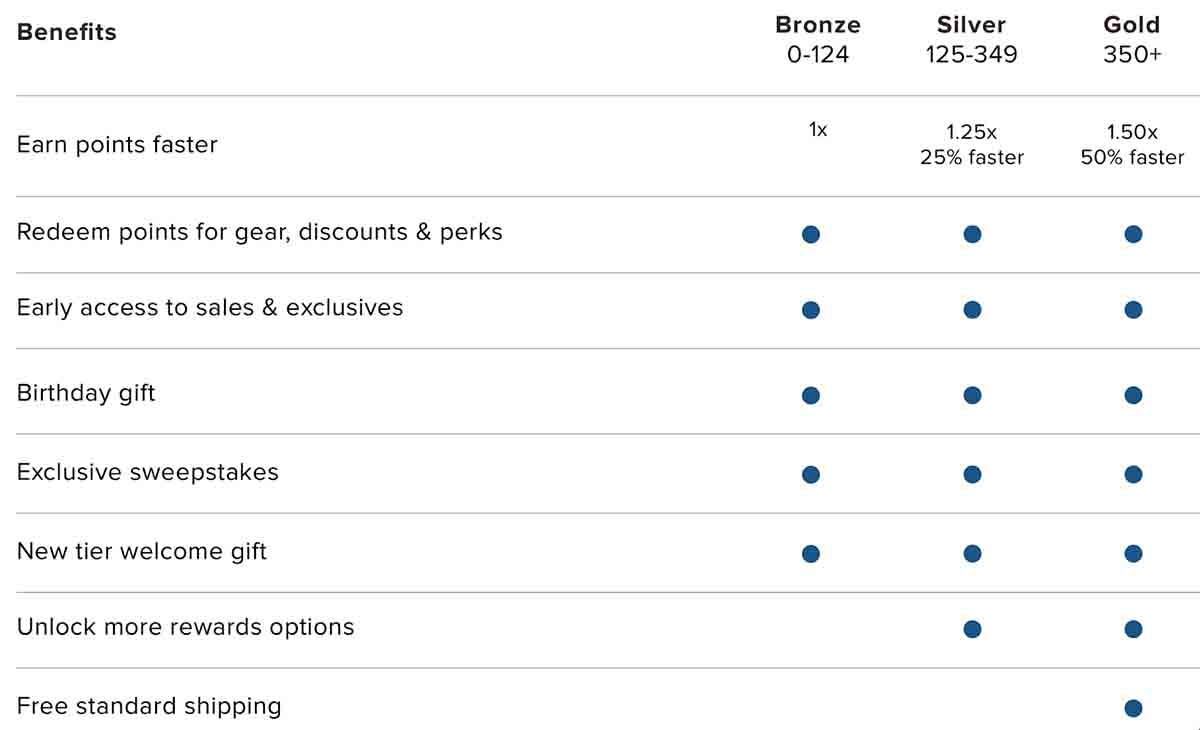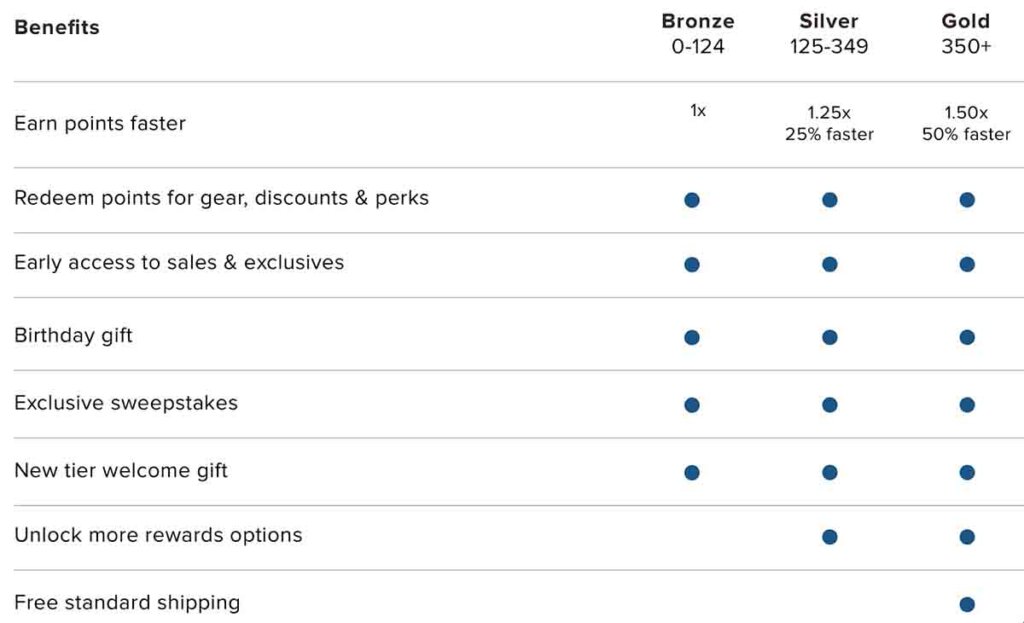 Plus, TOMS updates their rewards program regularly with new redemption options. Most recently, they offered shoppers a way to donate their points towards a COVID-19 Relief Fund.
2. Build trust with no-risk returns and "try before you buy"
Free shipping and returns have become increasingly common in eCommerce that they're essentially table stakes. They're no longer enough to set your brand apart.
That's why many eCommerce brands are now offering "try before you buy" programs. Free shipping and returns work because they build trust with first-time shoppers. They send a message that you are so confident in your products that you don't believe anyone will return them. With "shop now, buy later" programs, you take that confidence one step further.
H&M is known for their affordable fashion and customer perks. By joining their free loyalty program, shoppers enjoy yet another perk. They can have their items shipped for free, and only pay if they choose to keep them. 
This single feature is so appealing to customers that it's enough to get them to hand over their email address and join the eCommerce customer loyalty program — allowing H&M to target them further with personalized email offers.
3. Provide first-class customer service
Post-purchase questions from customers are a very common occurrence in eCommerce. Ranging from inquiries about delivery times to complaints about a defective product, there's no avoiding them. Whatever the situation, customer loyalty in eCommerce is significantly affected by how you deal with incoming queries.
An interaction that falls below customer expectations will inevitably break any bond of loyalty that you've tried to create with that customer. They might even leave a negative review, which has a detrimental impact on how you're perceived by new customers.
Something that will give you the best chance of handling customer queries with ease is eCommerce customer service software.
eDesk is designed specifically for eCommerce, so it comes with native integrations to all major online marketplaces as well as inventory management programs and social channels. You'll have a single location for all incoming queries along with every piece of information you require to resolve a question immediately to hand. This makes fast and effective customer service much easier to provide.
4. Build customer engagement with email
Email is a cheap, effective and often underused channel to help you build customer loyalty in eCommerce.
The welcome email offer is a very good "carrot" that gets visitors to become subscribers. Once they are subscribers, you can nurture the relationship and nudge them to buy with further personalized messaging.
For example, you can send subscribers a free birthday gift or discount. To capture as many emails as possible, many eCommerce brands only ask for email addresses with their newsletter pop-ups. If you want more information from your customers, try this clever approach from Haus Laboratories, Lady Gaga's cosmetics brand
You can also celebrate your customer's loyalty with customer appreciation emails. A thank you goes a long way towards reminding a customer of all the great experiences they've had with your products.
5. Encourage loyal customers to grow your ratings and reviews
The most successful relationships work both ways. Let your customer know how much their opinion means to you, and invite them to help your brand by writing a review of your products. 
With their review request emails, KitchenAid packs in a one-two-three punch. They celebrate the customer's anniversary, ask for a review, and offer a 10 percent discount on their next purchase: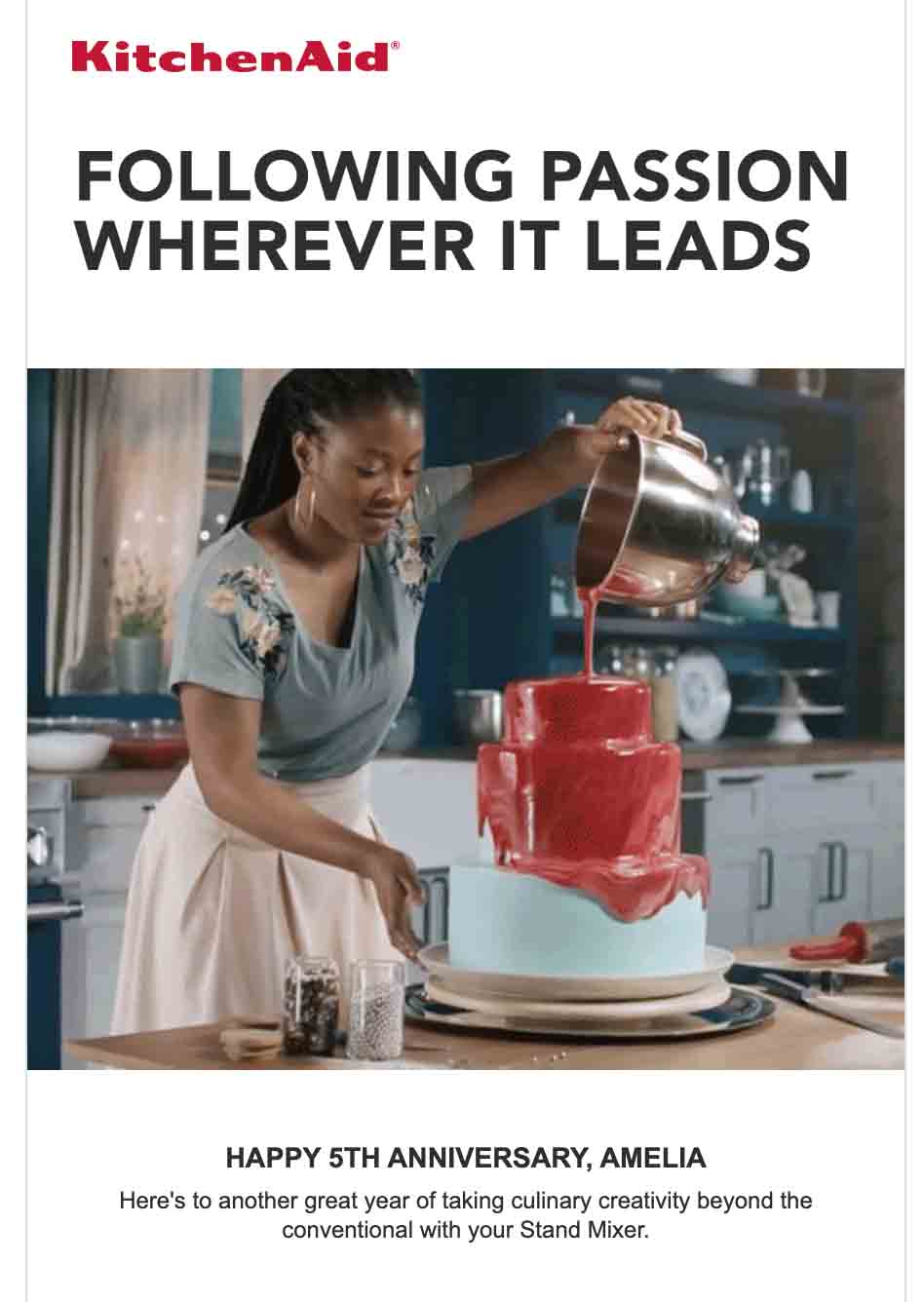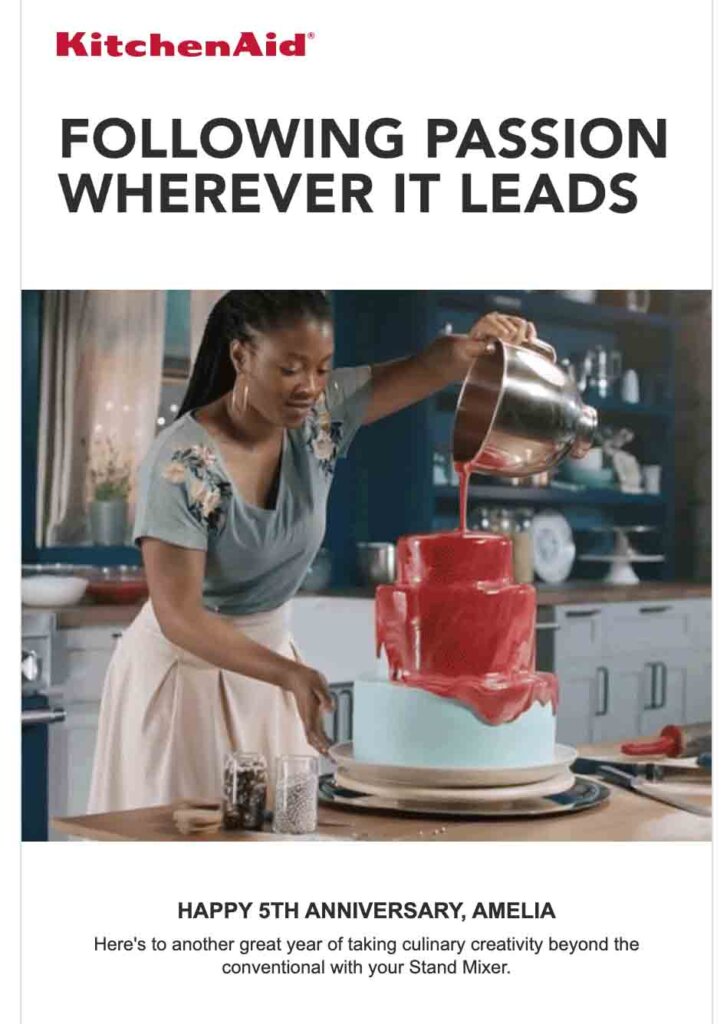 When customers engage with you by reading your emails, reviewing your products, or sharing your products on social media, they become more invested in their relationship with your brand. More engaged customers become more loyal customers. Plus, reviews help you build trust with new customers!
With eDesk Feedback you can automate the review request process and send thousands of carefully crafted emails with ease. Whether you want to grow your ratings and reputation on Trustpilot, Google, Amazon or eBay, eDesk Feedback helps you optimize the process.
6. Make customer loyalty easy with a subscription program
Why not put your customer loyalty on automatic? With a subscription program, you make it that much easier for customers to be loyal to your brand, while also providing them with a better experience. They don't have to visit your website to reorder every time they're about to run out of something — it just magically appears at their doorstep!
Subscription programs are ideal for eCommerce sites that sell products that need to be replenished regularly, like food, cosmetics, skincare, and household goods. The convenience alone may be enough to lure customers towards subscribing, but you can really wow them with additional perks like discounted pricing, random gifts, and free shipping like the eCommerce deodorant brand SmartyPits does.
You can also charge a membership fee for your eCommerce customer loyalty program. The most successful example of this type of this loyalty program is Amazon Prime.
Amazon Prime members spend $1,400 per year, compared with only $600 from the average non-Prime member. Did we mention that there are over 150 million Amazon Prime members worldwide? That's a lot of loyal customers!
The key to charging a fee for your VIP loyalty program is making sure that these customers truly feel important. They should receive additional perks not accessible to other non-VIP customers, like Amazon Prime's free two-day shipping, video and music streaming, and more.
7. Make the world a better place together
89% of shoppers are loyal to brands that share their values. This is particularly important to younger customers, with almost 70% of millennial shoppers evaluating a brand's values before deciding to purchase.
Taking a stand on social issues can help you acquire new customers, and deepen loyalty with your existing ones. Sephora and Target are two examples of brands getting this right. 
Sephora uses a portion of the profits from select products to support their Sephora Stands program, which provides mentorship to women entrepreneurs, offers confidence classes for job-seekers, and connects Sephora employees with local volunteer opportunities.
Target bakes corporate giving into their loyalty program, Target Circle. In addition to 1% cashback, a birthday reward, and member-only discounts on various products, shoppers can also earn "votes" to donate to nonprofit organizations they believe in. 
At the end of each voting period, Target tallies the votes and reveals who "won" and how the money was split. This act of transparency builds trust with their shoppers and helps them feel that they are making a difference together, with Target:
5 Tips for Choosing eCommerce Customer Loyalty Software
Building an eCommerce customer loyalty program is very doable. There are several eCommerce loyalty software options that make creating and managing customer loyalty easy. You'll be able to outline the terms of your loyalty program, such as what activities earn points, and how customers can redeem their points. 
Today's popular eCommerce loyalty software includes ReferralCandy, Smile.io, Yotpo Loyalty & Referrals (formerly Swell Rewards), and RewardCamp. 
When choosing an eCommerce loyalty software, keep the following in mind:
Double-check that it integrates with your current eCommerce platform. Most work with Shopify and BigCommerce, as well as WooCommerce and Magento. 
Pay special attention to the ease of setup and how you can customize your rewards options — from gift cards to discounts to free gifts.
Some also include affiliate marketing capabilities, which is a nice feature if you want to turn your loyal customers into your top-referring customers. 
Check out the analytics features. These help reveal which perks seem to be the most effective with your customers.
Finally, check that their support team is available when you are, with multiple ways for you to get in contact with them (email, live chat, phone).