On eBay, there's one thing that will increase your visibility more than anything else—positive feedback. It's one of its core ranking factors.
That means the more positive feedback you have, the better your placement in search results. It also plays a key role in achieving PowerSeller status, which requires maintaining a positive feedback score of at least 98% for 12 months or more.
In this guide we'll go through different ways to increase positive reviews on eBay, using the three-part framework we've determined to be essential in any eBay feedback strategy.
Here's what we'll cover:
Part 1: Proactively increasing positive reviews
Part 2: How to remove negative feedback on eBay
Part 3: Using negative feedback to your advantage
Part 1: Proactively increasing positive reviews
The most important part of any eBay feedback campaign involves taking a proactive approach to increasing reviews as part of an overall eBay marketing strategy.
1. Provide feedback for your buyers
Similar to Airbnb, eBay feedback goes both ways: to help ensure a great experience for everyone, both buyer and seller are asked to leave public reviews for each other after every transaction.
It's a good idea to take the initiative and leave feedback before the buyer does. If you leave feedback for someone who just purchased your product, you're opening a dialogue and paving the way for them to return the favor.
Sellers are advised to leave feedback when the payment clears, as the only real obligation that the buyer has is to make the transaction. The rest is up to you, so don't forget to thank your buyer and leave them some positive feedback.
2. Respond to negative eBay feedback
The issue with responding to negative feedback on eBay is that it has the potential to make matters worse.
Not only will your response to the comment make it stand out more, but the buyer is always entitled to one final follow-up comment, thus ensuring they always have the last word.
If you opt to ignore negative comments, however, it could lead potential buyers to assume that you don't care, which could severely damage your eBay business.
Here are four ways to make sure you respond appropriately:
Have empathy
This may be just one customer to you, but having paid for your product, it is currently an important issue for them. Expressing empathy by highlighting that you understand how frustrating this must be is a great way to reestablish the human connection.
Be brief
Avoid long argument threads or lengthy responses, Keep your communication concise and request the buyer to get in touch if you feel it should be discussed further.
Take responsibility
Many customers may not realize that some issues are out of the seller's control. Always explain why something happened and take responsibility even for logistics or weather issues with a simple "Unfortunately this was out of our control, but we will endeavour to prevent the inconvenience caused by issues like this in future."
Show professionalism
It's essential to respond to negative feedback politely and professionally. Don't get defensive, even if you feel that a buyer has been unreasonable or abusive. Prevent negative emotional responses by keeping in mind that your comments are there for the world to see.
3. Provide a unique customer service experience
A customer has just purchased an item from you, the payment has processed, you're all set to ship their product and make a profit. Case closed. Is that all there is to it? It shouldn't be.
If you're not getting in touch with your buyers as soon as they make a purchase, you're not doing much to retain business. A personalized message, even a short one, to thank them for their purchase and let them know the status of their order can work wonders for customer loyalty and satisfaction—and your ratings.
The last thing you want is for a customer to get in touch to ask about their order. Consistent customer communication has proven very successful for online action sportswear brand, FreeStyleXtreme, which manages to generate over 800 5-star reviews across all sales channels every month! Here's a snapshot of their eBay ratings to show just how effective their strategy is.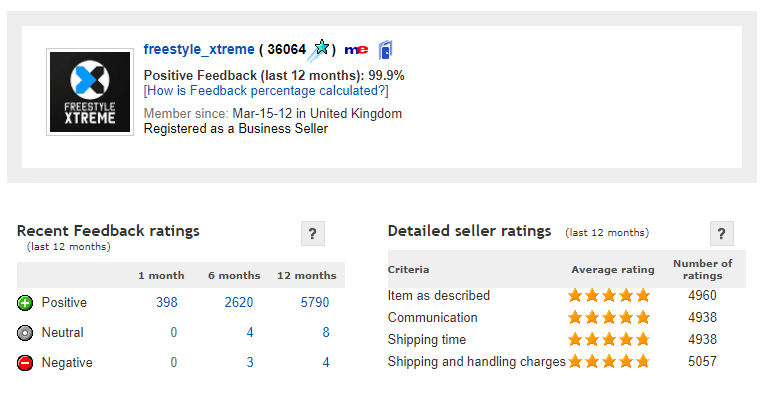 Bottom line? Treat every customer like they are your only customer and they'll keep coming back for more. That means reducing customer effort as much as possible and enhancing customer service by:
Shipping on time
Providing tracking numbers after purchase
Responding to complaints politely and promptly
4. Open a dialogue
If you're happy with the quality of your goods and services, the best way to get feedback is to ask for it.
The most effective way to do this is with an indirect request that doesn't put pressure on your customers.
Let them know how valuable it would be to know how you did so you can continue to improve your customer service. Timing and taking a personalized approach to the request can be the difference between success and failure here.
Here's an example of what a follow-up email could look like: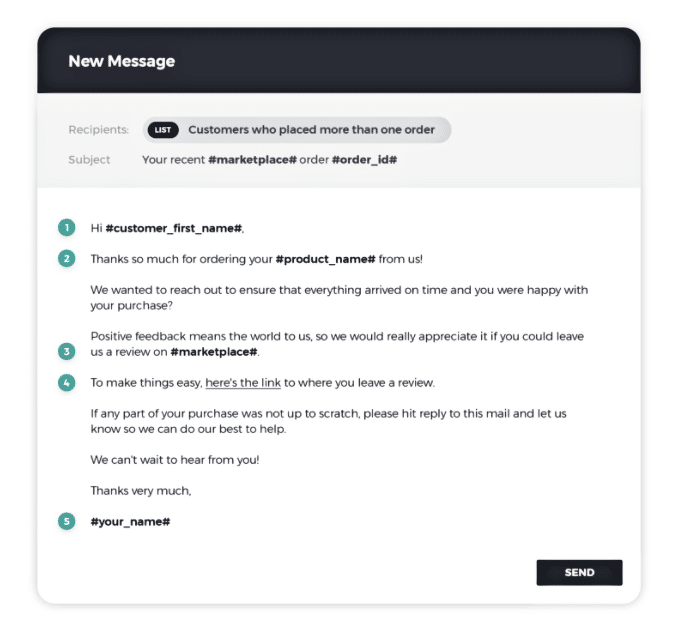 Personalize the message and subject line with the buyer's name, product and channel to create a relationship.
Ask if everything with the order process, delivery and product is satisfactory.
Without directly asking for feedback, you can use language that encourages a positive review.
Make it easy for the customer to leave feedback by including a link.
Avoid negative feedback by inviting the customer to resolve any issues directly with you.
5. Leverage returning customers
One of the best ways to increase customer engagement when sending automated feedback requests is to make repeat customers feel special.
These customers have bought from you before, and now they're coming back again—this is a prime opportunity to increase buyer retention rates and snag some positive reviews!
Creating email campaigns for returning customers and personalizing as much as you can to show that you're grateful for their loyalty encourages an emotional response, leaving customers more likely to leave you a positive review.

Larger eBay businesses could see significant ROI from using software to communicate with returning customers alone—especially considering it costs seven times more to acquire a new customer than to retain an existing one.
Part 2: How to remove negative feedback on eBay
Having some negative feedback is normal, but taking actionable steps to remove negative reviews where possible is always worth your time.
Here are some easy ways to make this a simple part of your strategy.
1. Request feedback revisions

First off, it's vital to note that you can only submit five feedback revision requests for every 1,000 feedback comments you received in the previous 12 months.
You can also request only one revision per transaction and only on feedback that's less than 30 days old. So, given the limited number of requests at your disposal, it's important to know if the customer will cooperate with you before sending one.
Here are some points to take into consideration when requesting feedback revision:
Remind the customer what you did to solve the problem or improve the service
Reiterate that feedback is essential to your business
Simplify the process by either explaining specifically how to revise the feedback or provide the link
Take a look at this example below: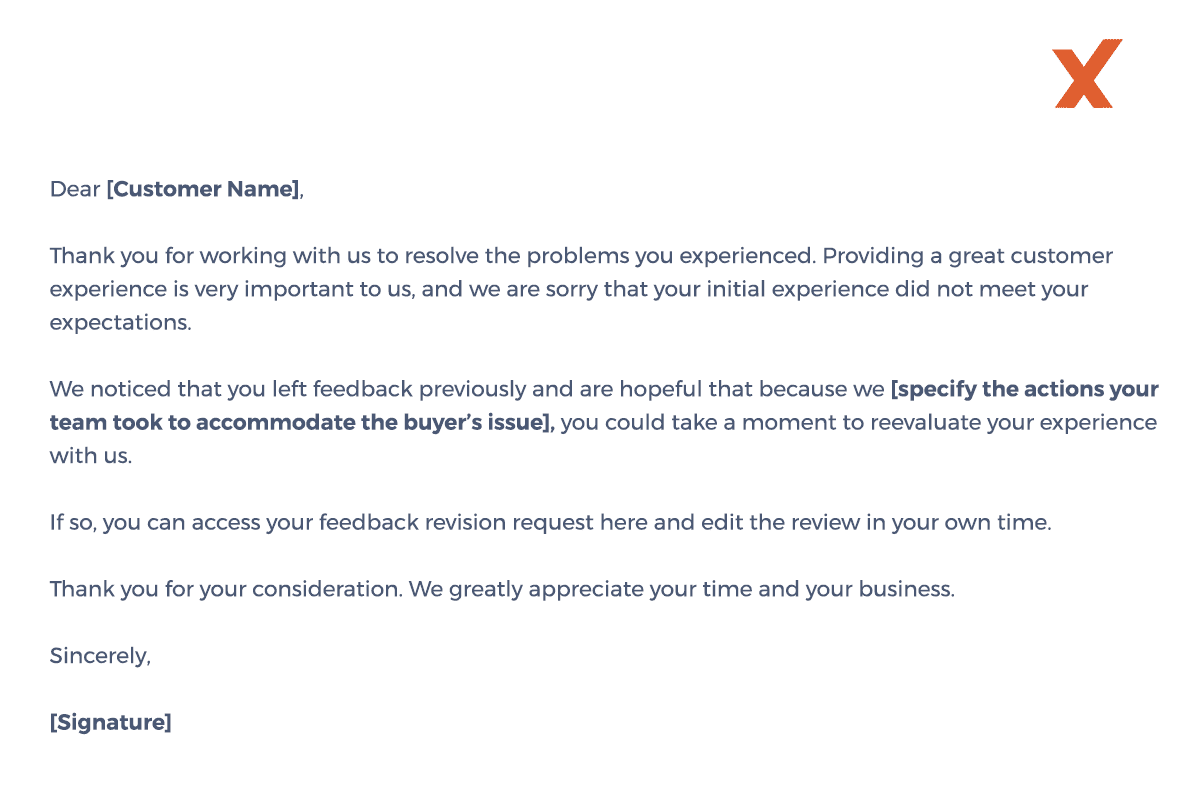 After you feel the issue with the customer has been solved, ask if they are willing to revise their negative feedback. If they agree, you can send them a feedback revision request through eBay, allowing them to change their original comment.
2. Leave comments
Revision requests aren't the only way to get negative feedback removed from eBay.
Another way to deal with negative feedback on eBay is to leave a follow-up comment, requesting that the buyer contact you directly to solve any issues. If the issue is fixed, there's always a chance that the buyer will go back and leave another comment, informing other customers that the problem has now been resolved.
3. Avoid receiving negative feedback in the first place
You can't please everyone, but there are steps you can take to reduce your chance of receiving negative feedback on eBay.
The reason eBay limits feedback revision requests is that sellers are always encouraged to focus on providing great customer service—and not to simply remove the comment that comes up after a problem arises.
Remember, most customers don't understand the intricacies of an e-commerce business, so keeping them in the loop will avoid the need to contact you while enhancing their experience dramatically.
Automated feedback software can also help to avoid negative feedback, as well as increase positive reviews. eDesk's feedback features help ensure you don't request reviews from customers who have raised a support ticket or whose order wasn't received on time.
Part 3: Using negative feedback to your advantage
Remember, the purpose of eBay feedback is to help your business do better and, believe it or not, negative feedback is a key factor in customers trusting an online business.
Here are some tips to help you see the upside of negative feedback.
1. Reply to every review
If somebody takes the time to write a negative review they're most likely quite aggravated. This is why online sellers should make a point of replying to every review, positive or negative.
Once you receive criticism, it doesn't mean that it's the end of your encounters with that customer. In fact, by making it your mission to respond to each review, you're increasing your chance of surprising them with your customer service.
Everyone wants their voice to be heard and you want to show that you haven't given up on them. If you prove them wrong, they may go back and post a positive comment or even remove initial remarks made about your website. The key goal here is to retain unhappy customers and prevent a damaged reputation.
With eDesk, you can monitor how many orders you receive versus the amount of feedback you have requested from customers. This gives your customer support team an idea about the amount of feedback they should expect to deal with.
2. Use it as a marketing strategy
An effective way to make an impact with unhappy customers is to say sorry well. For the biggest impact, this could involve using a personal approach offline which goes above and beyond their expectations, but it depends on the opportunity.
Have a look through your customer's message history: is there anything they told you that might spark an idea for a unique gift?
Our interview with FreestyleXtreme gives some great examples of how they use this strategy to turn negative feedback into positive while providing some social media-worthy user-generated content.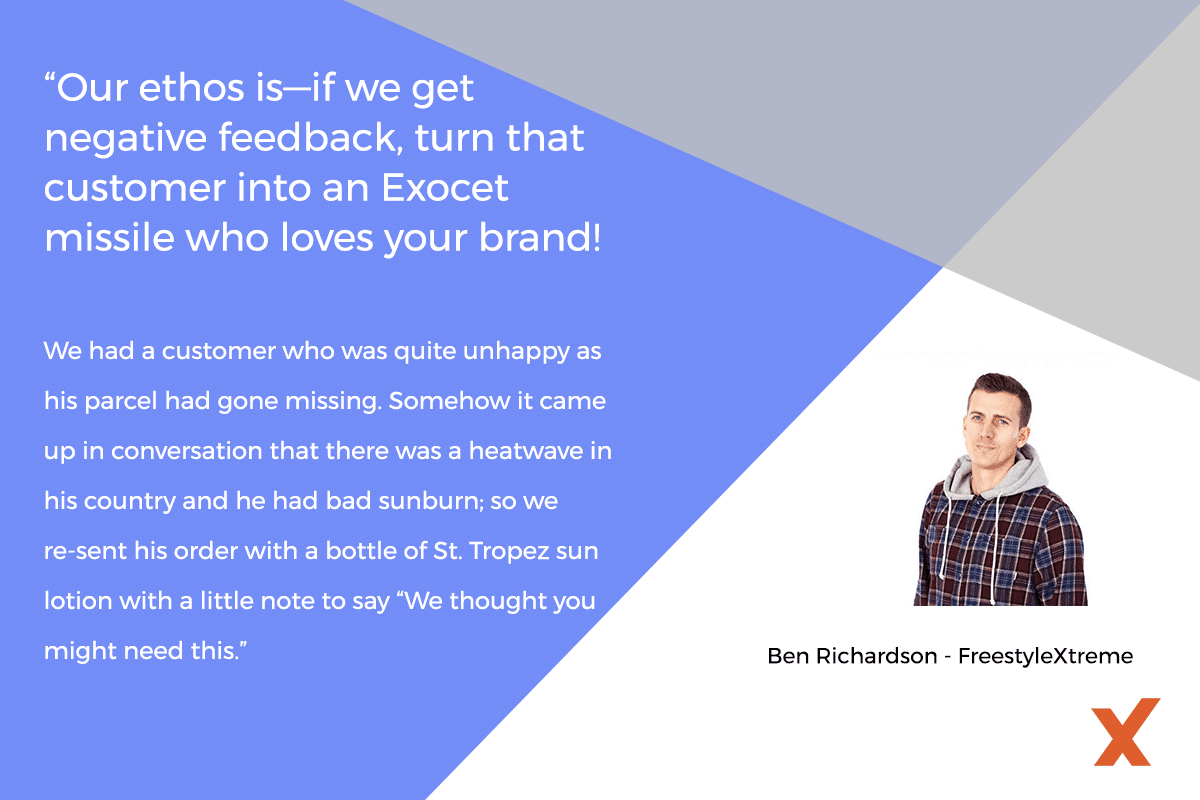 Rather than just sending out an order replacement or refund, try to do something unique that will not only give you the best chance of getting eBay feedback removed, but is also a great marketing strategy!
Why not assign a small amount of your marketing budget to your customer service team and allow them to spend it on whatever they feel will make a difference to a customer who has received a bad experience? This small investment could generate some serious ROI through social media.
3. Uncover new business opportunities
It's always best to view criticism as a priceless opportunity for your company to get better.
Instead of starting with a blank canvas to come up with innovative ideas for your business, you can use existing issues that cropped up with customers as a baseline. This is not only a useful way to think up ideas, but solving issues highlighted in negative feedback will have the biggest impact on your bottom line.
It's one thing responding and reacting appropriately to negative feedback, but adjusting your overall customer service strategy is more of a long-term goal to work with. It's a matter of spotting recurring customer issues and prioritizing those.
Walk away from negative feedback with the drive to improve your online business in every way possible.
As Robin Sharma once said:

4. Worst-case scenario
Finally, be confident in letting your customer understand a well-rounded view of your business.
The chance of there being 100-plus completely positive reviews is unlikely.
Negative feedback allows potential customers to understand the worst-case scenario and from then on it can only be a positive experience. Removing all negative reviews makes your business look inauthentic.
A customer is more likely to interact with and trust your website if there is a mix of negative and positive reviews. In fact, you'll convert 85% more often with negative reviews, because customers acknowledge that people have different tastes and expectations.
So there you have it, a three-part framework to help you build the kind of eBay feedback strategy that gets results!
It may take time at first, but once you get the ball rolling, investing in generating more positive reviews is the single most cost-effective way to increase your visibility and drive sales on eBay's crowded marketplace.
Final thoughts
eDesk is the leading helpdesk and feedback platform for online sellers, purpose-built to address the precise demands of ecommerce. Sign up for a no-hassle, 14-day free trial right now. No credit card needed.