Reviews are vital for Amazon sellers. They provide your potential customers with an assurance that you're a reputable seller and are a critical component of winning the Amazon Buy Box.
But for sellers launching a new product, this can pose a problem. You need sales to receive reviews and you need reviews to drive sales. It's a vicious cycle!
Amazon no longer allows sellers to offer rewards in exchange for reviews. You can take advantage of the Amazon Early Reviewer Program, however. If you're willing to pay for it!
Let's take a deep dive into the Amazon Early Reviewer Program and assess whether it's worth it!
What is the Amazon Early Reviewer Program?
The Amazon Early Reviewer Program is designed to help sellers gain feedback for new products on the marketplace. Amazon will email customers offering a small gift voucher in return for a review of your product.
First, let's rewind a bit to uncover how and why the program was launched.
In 2016, Amazon got some bad press because of all the fake reviews on its site. So the eCommerce giant responded decisively.
Amazon removed any fake or incentivized reviews it came across. It also introduced a strict new customer review policy banning sellers from offering discounts or any other incentives in exchange for positive feedback.
The new rules also banned reviews from family, friends or third-party services. Ignoring these policies puts a seller at risk of account suspension.
Since then, trust in Amazon reviews has skyrocketed with only 6.2% of US shoppers saying they don't trust the site's reviews at all.
However, without incentives, sellers were struggling to build up reviews for newly launched products. So in 2018, the Amazon Early Reviewer Program was set up to help them earn authentic, trustworthy reviews – for a fee.
Although sellers can no longer offer rewards in exchange for reviews, Amazon can do it for you.
How does the program work?
Signing up to the program will cost you $60 per SKU. Amazon then follows up with customers who bought this product asking them for an honest review of their experience.
They offer customers an Amazon gift card worth between $1 and $3 as a reward for their feedback – even if it's negative.
The program isn't intended to drive sales, so your customers won't be aware of the potential reward when making a purchase. Besides, Amazon doesn't send review requests to everyone. Only a random selection of customers are invited to take part. Any customer is eligible once they don't have a past record of posting dishonest or abusive reviews.
Feedback gathered through the program is marked with an orange label, as well as a 'verified purchase' tag. This tells other shoppers that the review is genuine and trustworthy.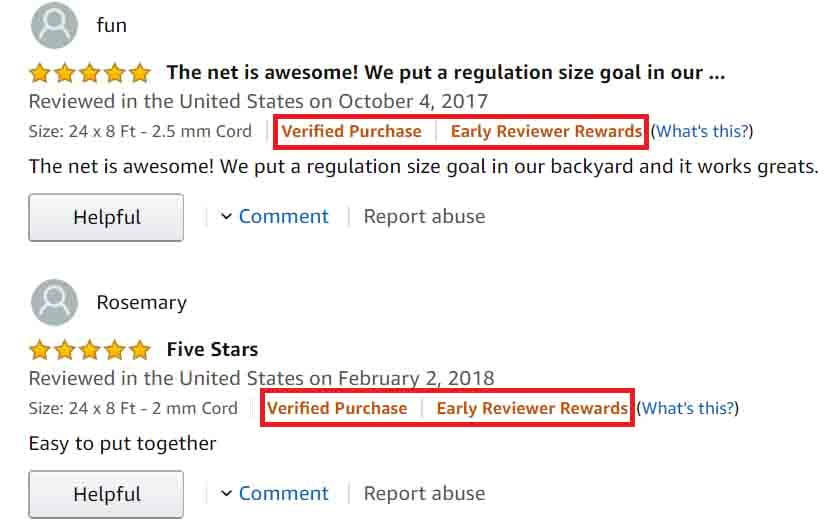 The program is designed as a launching pad for new products. For this reason, it's only available for items with very few reviews. Amazon will keep requesting feedback for your product over the course of a year or until you've received five reviews – whichever comes first.
Any reviews which aren't collected as part of the program won't count towards this figure.
Am I eligible for the Amazon Early Reviewer Program?
To register a product in the program, you need to be its brand owner. In other words, you need to own the trademark to the brand name which appears on the product or packaging.
If you are the brand owner, you'll need to sign up to the Amazon Brand Registry. Then to qualify for the early reviewer program, your products will also need to meet the following criteria:
The product must be on Amazon.com or Amazon.co.uk
The product needs to have less than five reviews to date
It must cost at least $15 – if the price falls below this figure while it's enrolled in the program, Amazon will stop requesting reviews
It should have a stand-alone or parent SKU – child SKUs are automatically enrolled with a parent SKU
How to register for the Amazon Early Reviewer Program
If you're eligible for the Amazon Early Reviewer Program and want to take part, you can sign up from within your Seller Central account.
Under the advertising tab, choose 'Early Review Program' to get started. From there, you can directly enter one product SKU at a time. Alternatively, you can bulk upload up to a hundred SKUs using a CSV file.
Amazon will automatically reject any products which don't meet the eligibility criteria.
Is the Amazon Early Reviewer Program worth it?
The early reviewer program can benefit buyers, sellers and Amazon itself. But is it worth the investment?
For $60 per SKU, you'll receive up to five reviews. The costs can add up if you have lots of new products going live on Amazon. However, the conversions can add up quickly too.
Research suggests that shoppers are most likely to buy a product ranked between 4.2 and 4.5 stars in online reviews.
So if you have plenty of stock to sell, you'll see the investment returned in no time. There's no doubt it can kick off feedback and, in turn, build momentum for your sales.
However, it's important to be aware of the pitfalls too. Many sellers say that reviews are quite slow to come through. And then there's always the chance you'll end up paying for negative feedback.
Sellers choose products for the program, but they can't influence which customers take part or what they say. Instead, it is up to you to make sure the product is great, its description is accurate and that great customer support is provided to all buyers.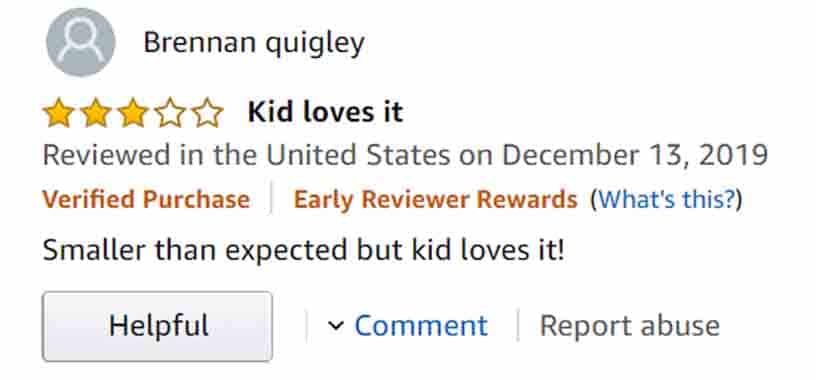 Amazon requests honest feedback so those taking part in the program can give you five stars – or one. Also, some customers might take part just to earn the reward. Sellers often find that reviews coming through the program are brief and not particularly enthusiastic – as you'll see in the example above.
Related: How to Get Reviews on Amazon in 2021 (5 Proven Ways)
What's next after the Amazon Early Reviewer Program?
The early reviewer program aims to help new products gain traction. But, even if they receive the maximum five reviews, most sellers will want to continue gathering feedback.
Remember, there's a very clear correlation between reviews and sales. So the more you have, the more comfortable people will feel buying from you.
Top-class customer service is key to nurturing great reviews, as is taking the time to create accurate and descriptive Amazon product listings. Generally, this should organically build up the kind of glowing comments you're looking for too.
Other options are limited since Amazon introduced its customer reviews policy. However, those who don't use Fulfillment By Amazon can add inserts to their packages requesting feedback. Though, to stay within the rules, these must be worded neutrally and only call for honest reviews.
All sellers can also take advantage of automated emails which follow up with customers. This method is great on two fronts. Firstly, it will help identify unhappy customers before they leave negative feedback. If you address whatever went wrong, it can stop a complaint before it even happens.
Secondly, you can use these follow-up emails to encourage happy customers to leave positive reviews. Just be sure to carefully follow the rules for Amazon feedback requests.