With the significant and continuous growth of eCommerce sales, the number of online sellers competing for customers has increased too. There are millions of eCommerce stores worldwide and last year alone over 1.2 million new sellers joined the Amazon marketplace.
To get ahead in this highly competitive market, sellers opening an online store or dropshipping business need to find a profitable eCommerce niche. Ideally one that has a growing number of potential customers but has been overlooked by other sellers. It's not easy, but we're here to help!
What is an eCommerce niche?
An ecommerce niche is a distinct market of shoppers. The more specific your target customers are, the more niche your market becomes.
Some big companies, like Walmart for example, sell a wide range of items to a broad audience. But this requires a well-known name and huge resources. For sellers starting out, it's better to focus on a niche. Yes, your audience will be smaller, but it will also be easier and more cost-effective to drive conversions.
Finding profitable eCommerce niches
If you already sell online and need a new angle, or you're new and don't know where to start, here's how to find an eCommerce niche in 2020.
1. Don't limit yourself to a single product
Starting off with an in-demand product can get your store off the ground, but it's better to choose a niche market rather than a single product. Then, if the popularity of that product declines, you can sell related ones to your target audience.
Fidget spinners wouldn't make for a sustainable business. Whereas, if you sold drones and sales began to fall, you could sell batteries, cameras, propeller guards and other accessories too.
2. Follow your passion
Random eCommerce niches are fine if they're profitable, but if you have a genuine interest in what you're selling, that's even better.
Marketing your products is easier and more effective when you're passionate and knowledgeable about them. It allows you to identify pain points and connect with customers. So if you have a niche interest or hobby, ask yourself what products you could sell to fellow enthusiasts.
3. Check what's trending
Use tools like Google Trends to investigate the level of interest there is in your niche. Search broad terms, as well as the specific products, to check the viability of your ideas.
For example, Google Trends shows that searches for 'zumba' have been declining for a few years.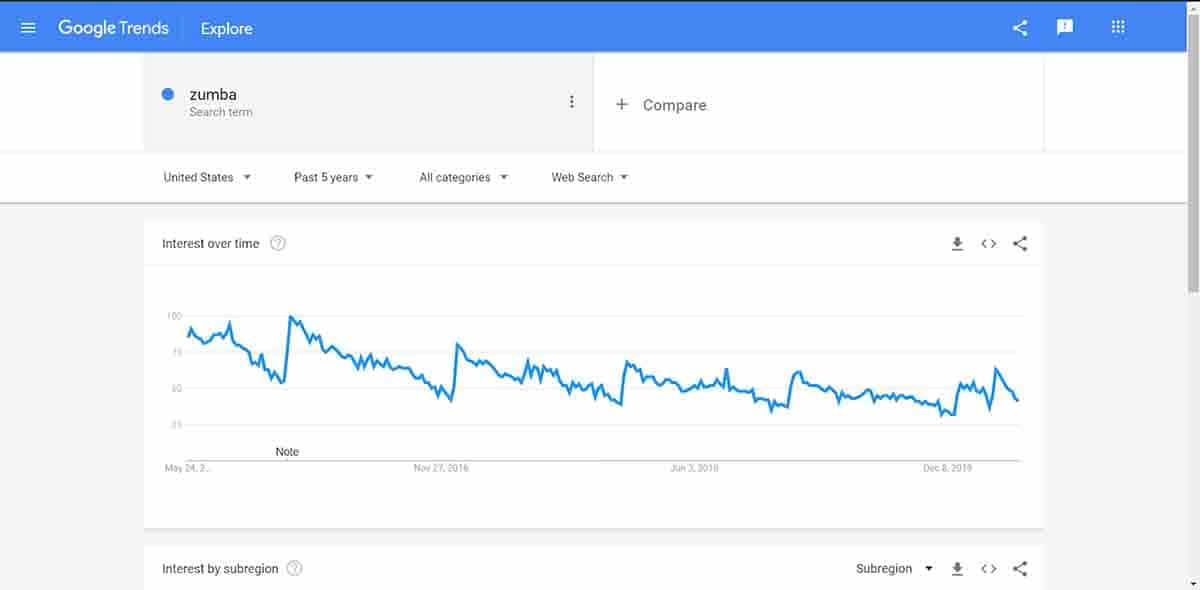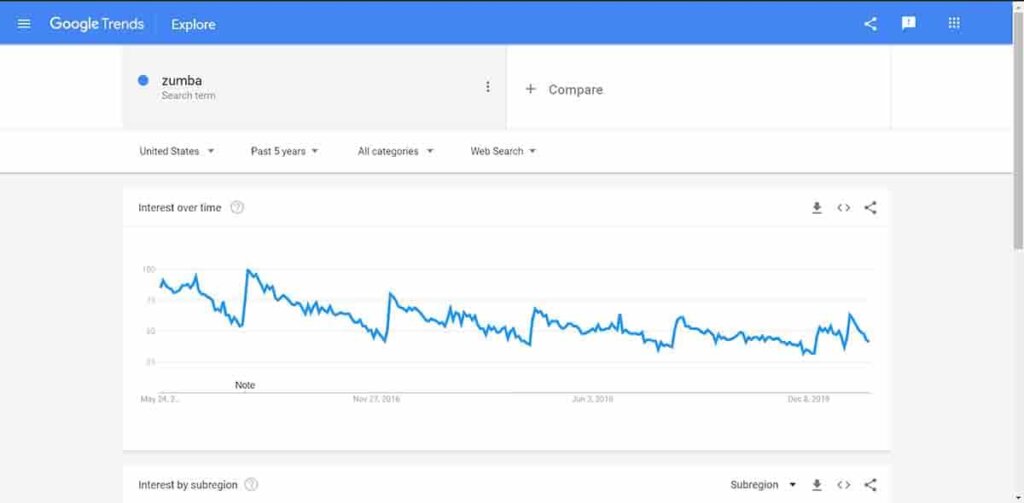 But 'pilates' receives consistent interest, so this may be a better niche market to get into.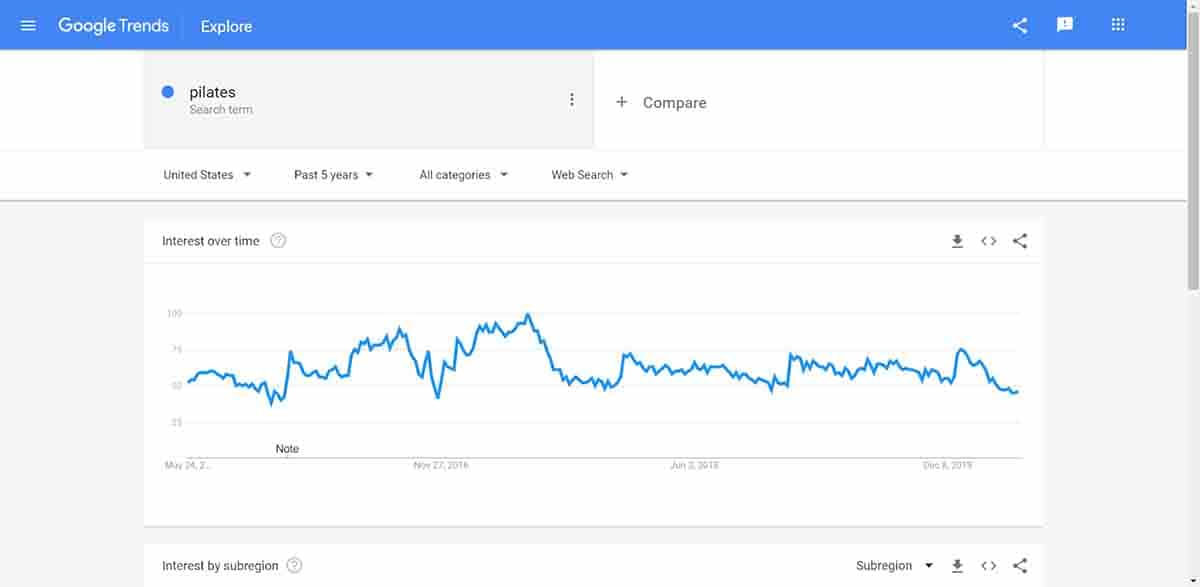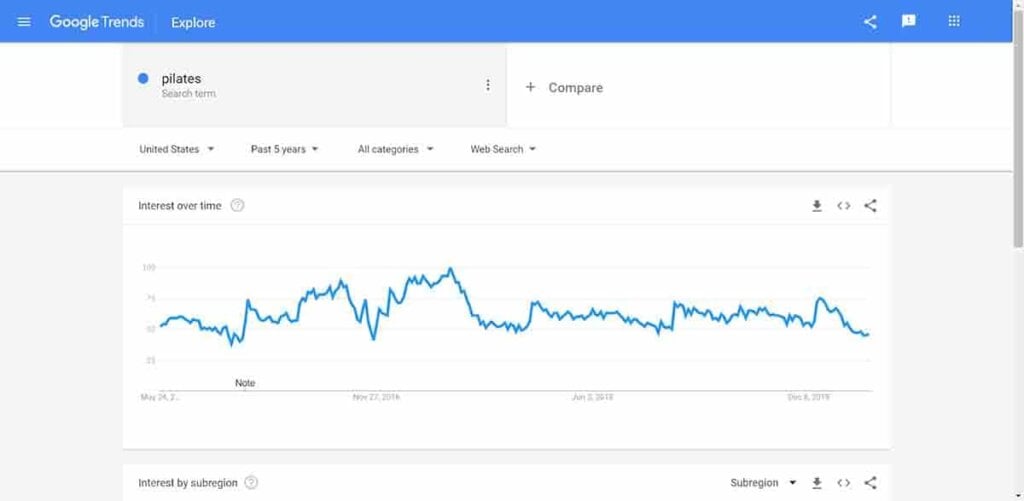 In Google Trends, make sure to set the relevant geographic location. You can then browse different timelines and geographic regions to see if international expansion would suit your business.
4. Conduct keyword research
Use Google's Keyword Planner or ahrefs to see exactly how many people are searching for a niche product.
If search volumes are low, it's unlikely to be one of the most profitable eCommerce niches out there. But if they're sizable, this indicates market demand. You can then look at the competitiveness of the keyword to ascertain how saturated this eCommerce niche is.
Below, 'pilates ring' has a good keyword volume. However, competition for paid advertising (PD) is high. This means there are lots of other online sellers out there paying for ads for this search term. This is going to make your Google and facebook ads more expensive.


5. Select products with high profit margins
Because of the limited target market, profitable eCommerce niches require products with a significant profit margin.
Low profit margins work great if you can move huge volumes of stock. But this won't work if you're just getting started. Smaller products can also lower shipping costs and storage fees. This is a particularly wise decision if you're using Fulfillment by Amazon for your orders.
6. Research, research, research
Before you pick a niche for eCommerce, you need to look at both your competitors and target audience.
Search Amazon and Google for other sellers. Are they offering the best products? Do they have a strong brand? Can you compete on price? What could you do differently to stand apart from them?
Then, look at your target market. Is this audience large enough to make a profit? What are their shopping habits? What are they saying on forums?
Consider demographics, like age and disposable income. Searches on Google for 'denture cleaner' have been growing. But this audience probably doesn't shop online much.
Finally, consider how distribution channels and fulfillment in relation to your product sourcing efforts. It's no good finding a great niche only to discover you won't be able to ship and deliver the items without making a profit.
Top eCommerce niches in 2020
The environment is affecting shopping habits, as is the Covid-19 pandemic. We've also identified other consistent trends likely to continue for the foreseeable future.
This list of eCommerce niches below is an example of some that are finding traction in 2020.
1. Natural skincare and cosmetics
The natural and organic beauty market now grows 10% year-on-year. In 2019, it was worth $36 billion dollars and is expected to reach $54 billion by 2027.
Though big brands dominate overall, it is possible to find profitable eCommerce niches within this category. There's increasing interest in natural toothpaste, vegan beauty and cruelty-free beauty, while interest in making soap at home is also up.
2. Environmentally friendly versions of everyday items
As people become more environmentally conscious, the popularity of items like natural cleaning products, reusable cleaning products, plastic free cleaning products, natural deodorant, bamboo toothbrushes and hand soap tablets is on the rise.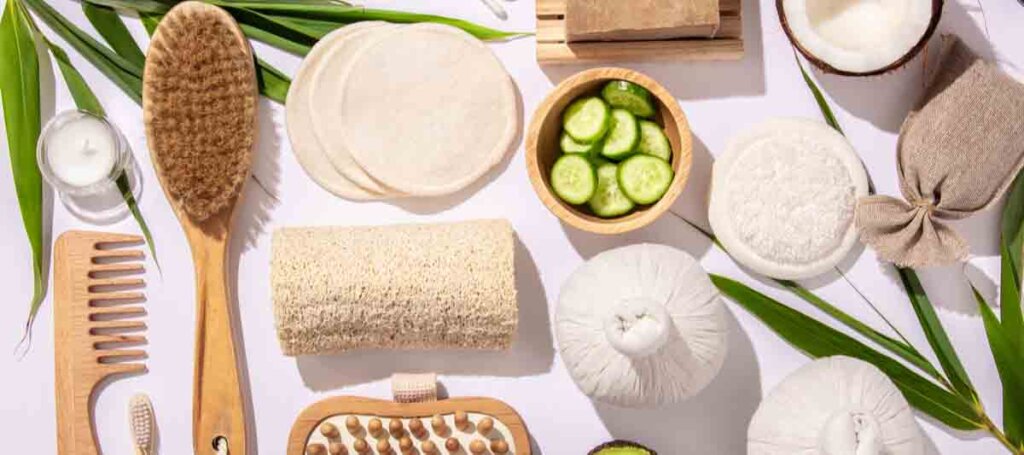 3. Pet products
Pet ownership is booming across the world and Americans are spending more than ever on their furry friends – over $72 billion annually..
Millennials are the largest pet-owning demographic and are happy to pay for quality products. They're big online shoppers too.
This sector offers sellers huge opportunities to find profitable eCommerce niches. Think pet subscription boxes, clothes, CBD products and pet cameras. There's also continuous interest in specialist pet food, including organic, vegan, natural and grain-free.
4. Eco-conscious baby products
The market for baby care products is growing too. Parents spend two-thirds more than their childless counterparts and, with more and more tech savvy millennials becoming busy parents, online sales are likely to grow.
So what kind of profitable eCommerce niches can be found in this market? Many young parents are environmentally conscious, so think along the lines of biodegradable diapers, reusable diapers and biodegradable baby wipes.
5. Niche fitness products
The US has the biggest market for gyms in the world – both in terms of revenue and memberships. However, the coronavirus pandemic saw a surge in online fitness sales – and this is likely to continue. Consider selling niche products like HIIT jump ropes, pilates rings or cycling shorts.
6. The latest diet trends
As well as working out, people are constantly doing new, niche diets. However, some come and go, so be sure to choose one with a dedicated audience.
Recently, online searches for keto snacks, vegan snacks and plant-based snacks have grown. The same can be said for organic and vegan protein powder. It also seems like anything matcha-related is gaining popularity.
Interest in flexitarian and mediterranean diets is gradually increasing, while searches for intermittent fasting just skyrocketed. What products would be helpful for people following these diets?
7. On demand t-shirts
Printing t-shirts on demand allows you to create products to suit any trend, community or niche without wasting inventory.
As this approach is less wasteful than traditional t-shirt printing, we envisage it will become more and more popular among online shoppers. Some eCommerce stores even print t-shirts locally to reduce shipping times, costs and emissions, while many Etsy sellers simply sell designs and leave the printing to customers.
8. Specialist drones
Drones have been around a while, but their range of uses is increasing as lawmakers legislate for them.
Online sellers can capitalize by focusing on niche areas, such as drones for crop monitoring, land surveying, security, delivery or photography. Alternatively, they can focus on specific accessories.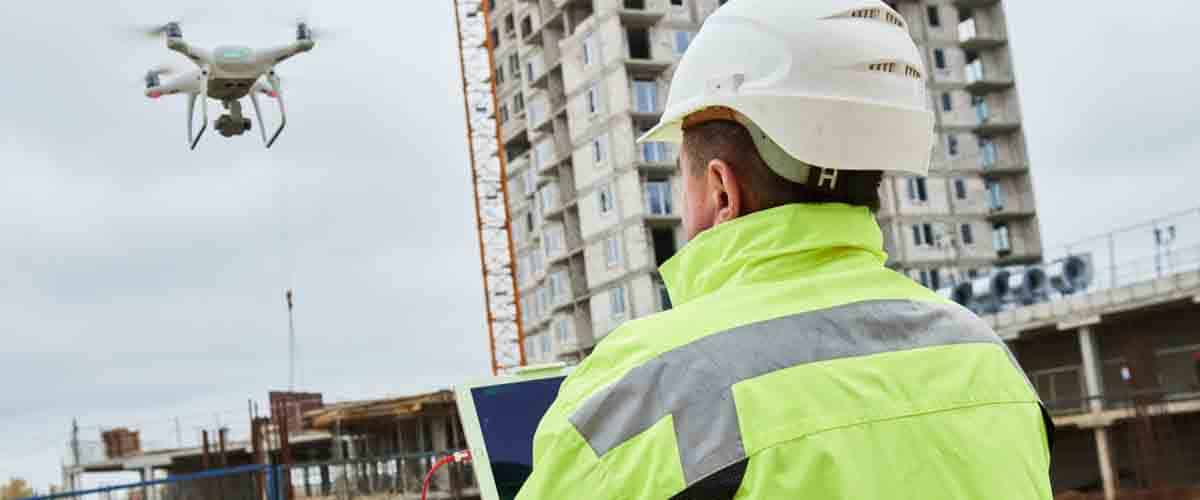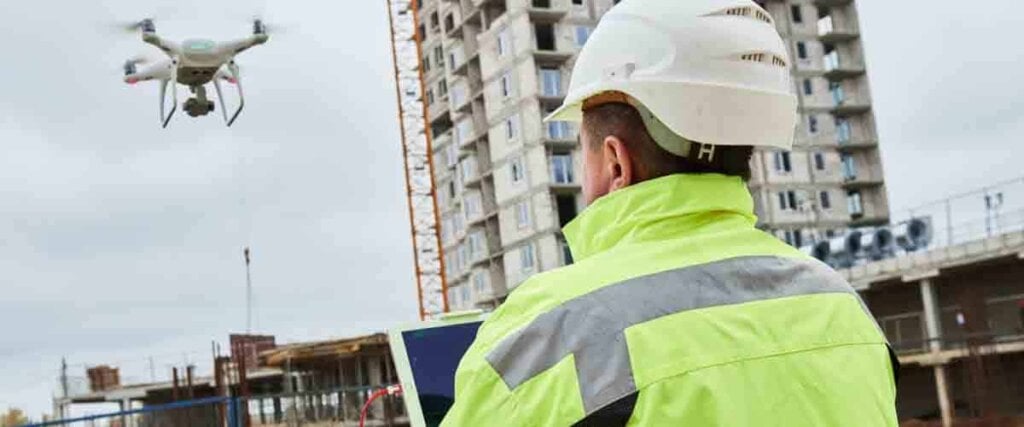 9. Minimalist jewelry
Interest in minimalist jewelry and watches has grown slowly, but surely, over the past few years.
With the likes of Marie Kondo and other prominent figures promoting minimalist lifestyles, eCommerce sellers can ride this bandwagon. Consumers are investing in minimalist fashion, jewelry and homeware that always looks good and lasts for years. They're also willing to pay top-dollar for it.
So instead of jumping on the latest trend, consider putting together an inventory of products that you can sell for years to come.
10. Vaporizers
Vapes and e-cigarettes have already hit peak popularity, but they continue to have a strong audience. As more people quit smoking tobacco and more states legalize marijuana, it may even grow.
Since they're relatively new, innovative products and accessories are likely to continue coming to market. This offers plenty of opportunities for a profitable eCommerce niche.
11. Air filters
Interest in air filters exploded when the Covid-19 pandemic began. Office blocks, airlines and hospitals are investing. It's likely that consumers and small businesses will follow too. One report states the market will grow 7.5% every year from 2020-2027.
12. Hobby supplies
If you're still wondering how to find an eCommerce niche for your business, think about your favorite hobbies. Like we said, a personal passion will make it easier to connect with customers. You'll also have a lot of subject matter at your disposal. This is valuable in uncovering different types of products and finding ways to reach your target market.
Niches like welding, action figures, ceramics, tattooing, caving and beekeeping have small, but consistent, audiences to take advantage of.