If you're considering customer support software for your business, there's a good chance you'll come across Zendesk (and of course, Zendesk alternatives). And that's not by accident—it's without a doubt, one of the best-known help desk softwares out there with features for almost any industry.
But while Zendesk aligns itself with being the right choice for practically any support team and business, that 'fit-all' approach creates feature bloat and complexity for many teams that simply don't need it.
Zendesk is complex and you may end up paying for a ton of features you don't need and will never use.
Zendesk can require third-party tools and help to get it working the way you need it to. As it caters for all industries, you may find yourself paying for add-ons to get it connecting to your systems. Additional help during setup may also be required, and this can take months to complete.
Zendesk support can be very slow. The company is huge and it surely has a lot of support to deal with at any one time. But when you need super responsive support and help, it can ironically fail to deliver.
*July 2023 Update – Zendesk have increased the price of all plans by 15%.
*July 2023 Update – Zendesk AI is now a paid add-on at $50 extra per agent.
The 11 best Zendesk alternatives
Below, we look at the eleven best Zendesk alternatives, outline their key features, and offer recommendations on which types of teams and businesses each alternative may be best suited for.
eDesk
Zoho Desk
Help Scout
Freshdesk
ServiceNow
Gorgias
HubSpot Service Hub
Kustomer
Front
HappyFox
Salesforce Service Cloud
Most of these Zendesk alternatives will share common features of a help desk. However, they all have their own approach to helping teams deliver customer service in ways that suit particular industries and verticals.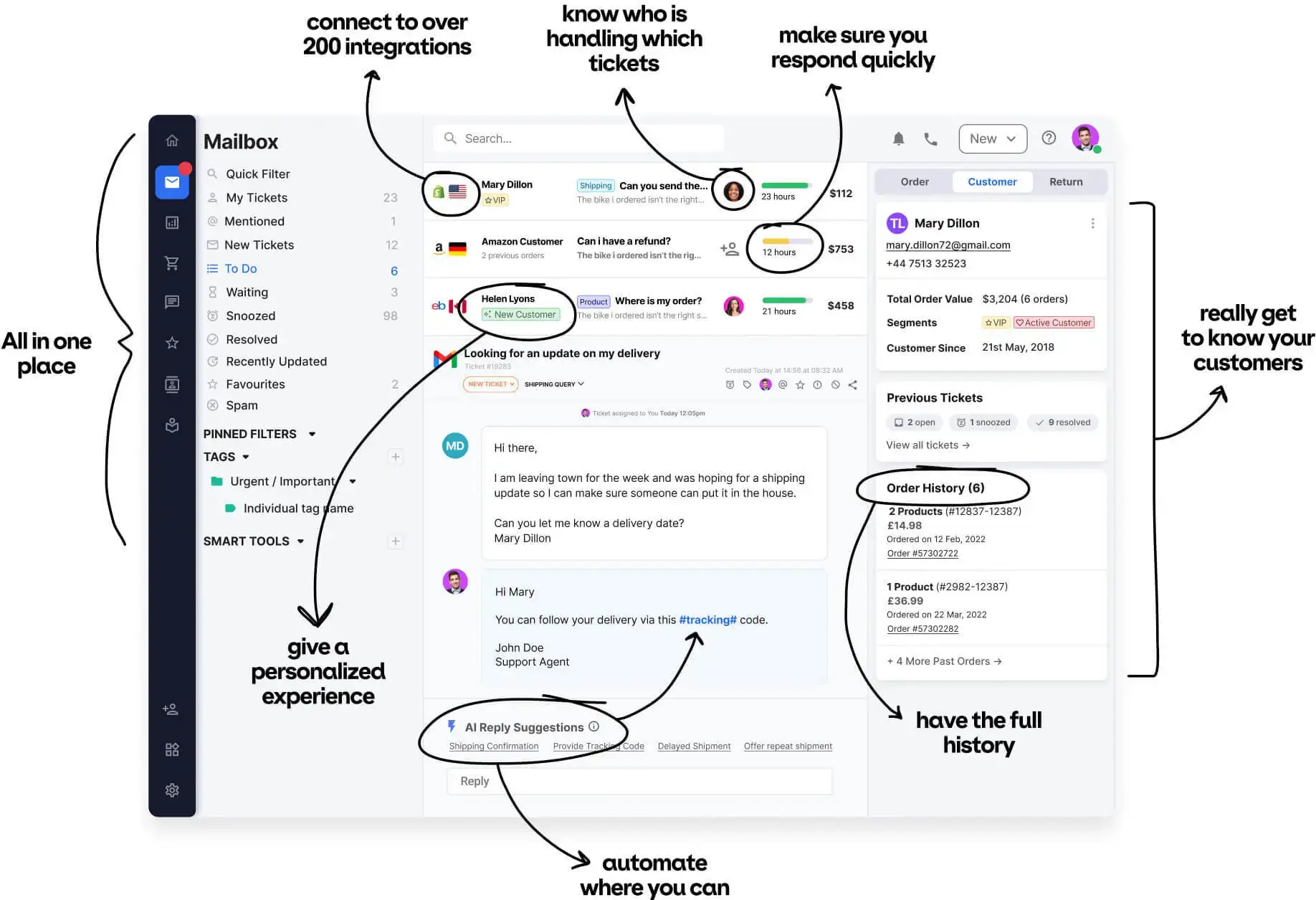 Best Zendesk alternative for eCommerce sellers on Shopify, BigCommerce, Amazon and eBay, plus 200 more platforms.
eDesk is a complete customer service helpdesk built exclusively for eCommerce sellers. It takes the pain out of trying to deliver consistent customer service across multiple channels by bringing all tickets, order/shipping data, customer data and metrics together in one place. Uniquely, eDesk can integrate with:
It even comes with live chat and review solicitation.
When you trial eDesk, you get access to an eCommerce-focused platform that combines AI, native eCommerce integrations, automations and metrics that help eCommerce support teams respond faster and increase sales.
Centralize all eCommerce support in one smart inbox
eDesk brings all your multichannel messages, order details and customer information together in one place.
Smart inbox automatically groups, prioritizes and assigns incoming tickets so your team doesn't have to. Features such as SLA management ensure you always respond according to internal targets or within marketplace SLAs. Real-time collision detection helps agents avoid working or responding to the same customer tickets at the same time.
AI responses make answering common queries an absolute cinch. Meanwhile, eCommerce-focused workflows powered by sentiment analysis, order, shipping and customer information, can assign conversations to the right team or agent at the right time.
Team collaboration features allow you to loop in a supplier or @mention a colleague for a second opinion. This helps ensure tickets are resolved quickly and accurately.
Live chat for higher sales conversions
With Live Chat, you can turn your website visitors into buyers by proactively engaging with them in real time. Chat prompts allow you to target visitors on specific pages or products, and deliver highly personalized messages or offers to increase website conversions. You'll even have analytics built-in to see what tactics are working and where you can make improvements.
A 360-degree customer view for highly personalized support
Every customer deserves exceptional customer service. With Customer View, your agents always have the full context of a shopper's order and conversation history, so they can deliver uniquely personal and accurate responses in a fraction of the time.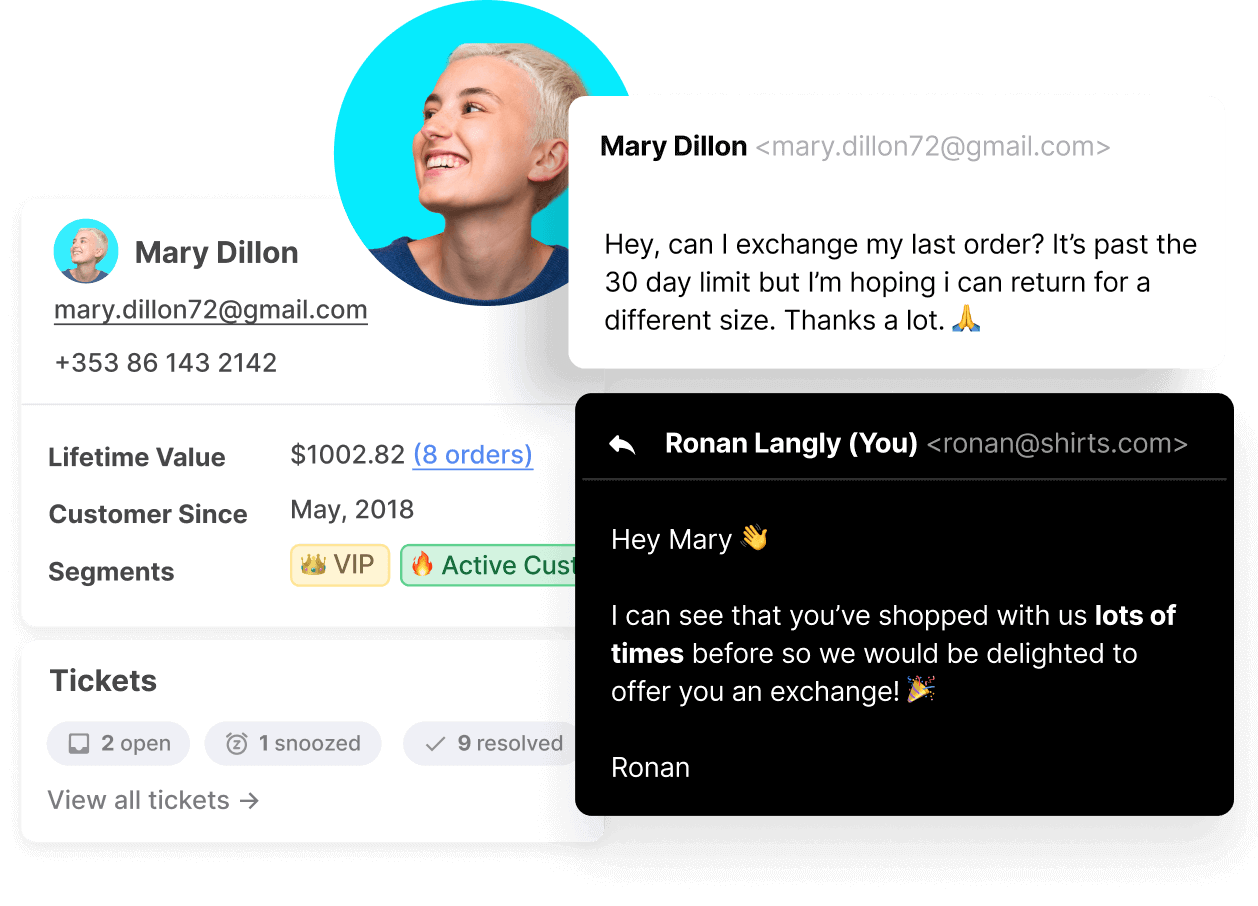 Segments are automatically created for VIP and first-time customers to help you prioritize customers and refine workflows, by identifying and grouping customers based on buyer behavior and your business criteria. You can even push this powerful information back into your CRM or other systems in your eCommerce stack.
Knowledge base for self-service support
Online shoppers are more than happy to find answers themselves—if it's easy! In fact, you can reduce customer queries by up to 30% by using Knowledge Base to publish help articles to your website so customers can self-serve everywhere you sell.
What's more, your knowledge base can become a single source of truth for support agents, so they can respond to customer inquiries faster and ensure that customers always receive consistent information. Knowledge Base is searchable so agents can easily add a link or insert article content into their customer responses.
Reports for improved support and productivity
eDesk is packed full of built-in dashboards so you can easily analyze, understand and share key eCommerce support metrics about your support team, your customers, products and sales.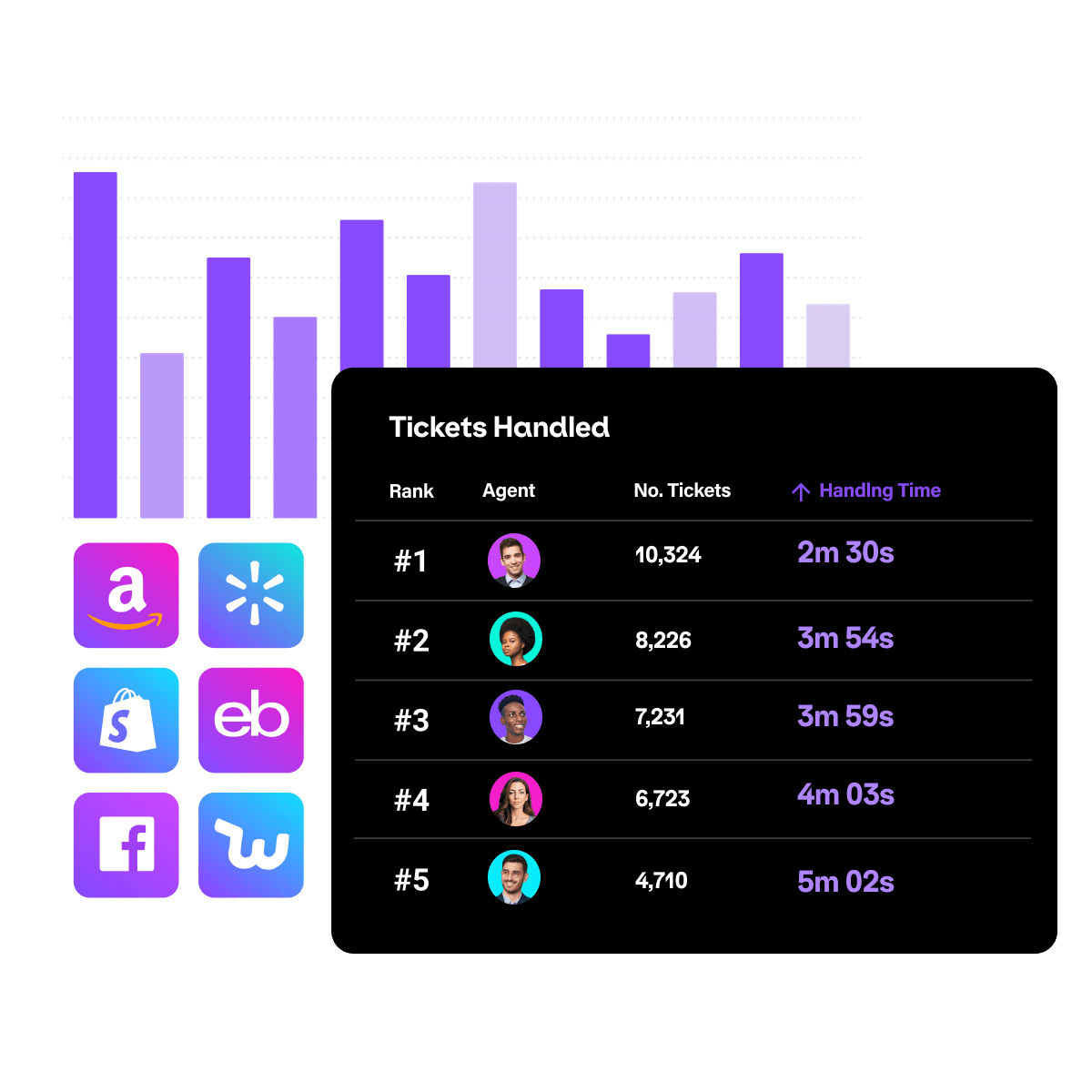 Easily see which products are generating the most support tickets, which agent is falling behind, and how often SLAs are not being met. In fact, since eDesk is actually built for eCommerce, its rich data covers:
Customer satisfaction
Product and review trends
SLAs and response times
Sales channels and enterprise reports
Agent performance
Ticket volumes
Live chat volume and performance
Generate reviews automatically
No matter where you sell, positive reviews increase conversions and generate more sales. eDesk Feedback makes it super simple to generate these using smart, selective feedback requests that resonate with your happy customers. All on auto-pilot.
Of course, not all feedback is positive in eCommerce, but Feedback can help dramatically turn negative experiences to your advantage. When negative sentiment is detected it will block the sending of a review request or allow agents to do so. If you receive negative feedback, Feedback will immediately notify the right agents directly, so you can reach out and resolve issues like any other support query.
Trial: 14 days.
Price: Starts with our Free forever plan that has unlimited agents & 30 tickets per month.
Learn more about eDesk:
Best Zendesk alternative for sales-focused teams.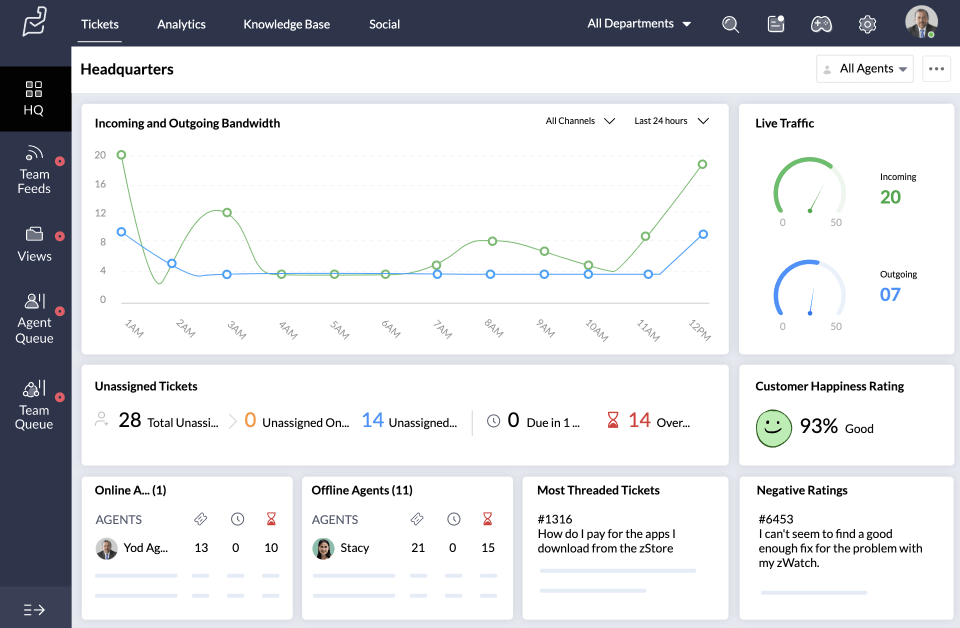 Zoho is better known for its CRM (customer relationship management) software, but provides a huge range of other solutions within its Suite, including a help desk called Soho Desk. This help desk offers a strong set of features such as a shared inbox, chat and phone integration, however, some useful features are often only available on its highest plan.
Zoho Desk's integrations make it an attractive alternative to Zendesk for teams that use multiple tools to manage customer support. It integrates with a wide range of third-party applications, including CRM, project management, and social media platforms—making it easy for teams to centralize customer interactions and streamline their support workflows.
Trial: 15 days.
Price: Free plan available. Express plan from $9/agent per month, and standard plans starting at $20/agent per month.
Best Zendesk alternative for customer-centric support teams.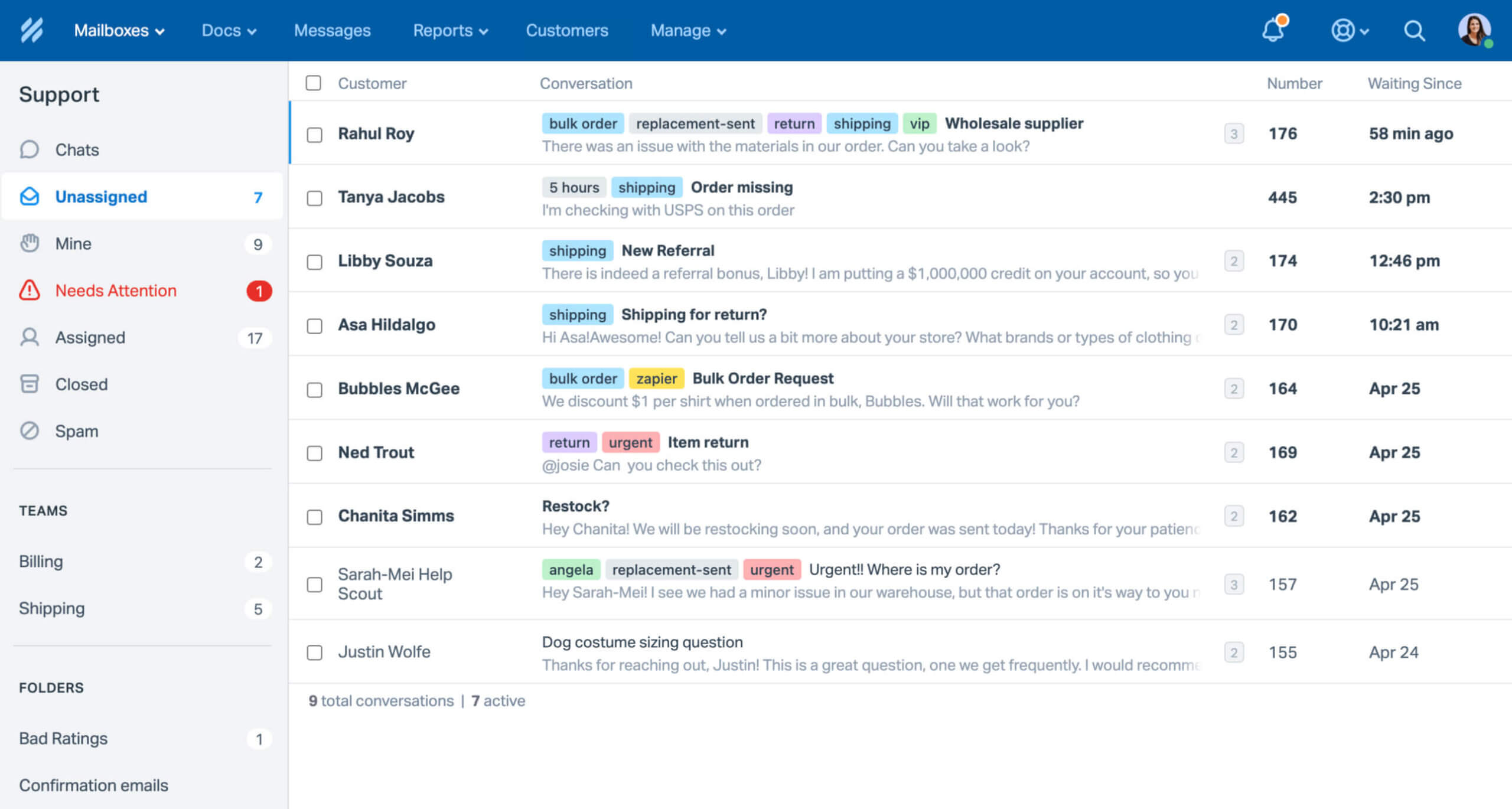 Help Scout is one of the better known Zendesk alternatives when simplicity, personalization, and collaboration are paramount. It offers a clean and intuitive interface that allows teams to manage conversations with ease and organize customer inquiries efficiently. Help Scout comes with live chat, shared inboxes, knowledge base and in-app messaging.
Help Scout focuses on customer conversations—not tickets. The software is big on team collaboration and on getting set up quickly, and whilst it has much clearer pricing than Zendesk, some features that midsize businesses will expect are only on the highest plan. Help Scout is a great general help desk that provides a simpler alternative to Zendesk.
Trial: 15 days.
Price: Starting at $25/agent per month.
Best Zendesk alternative for large support teams.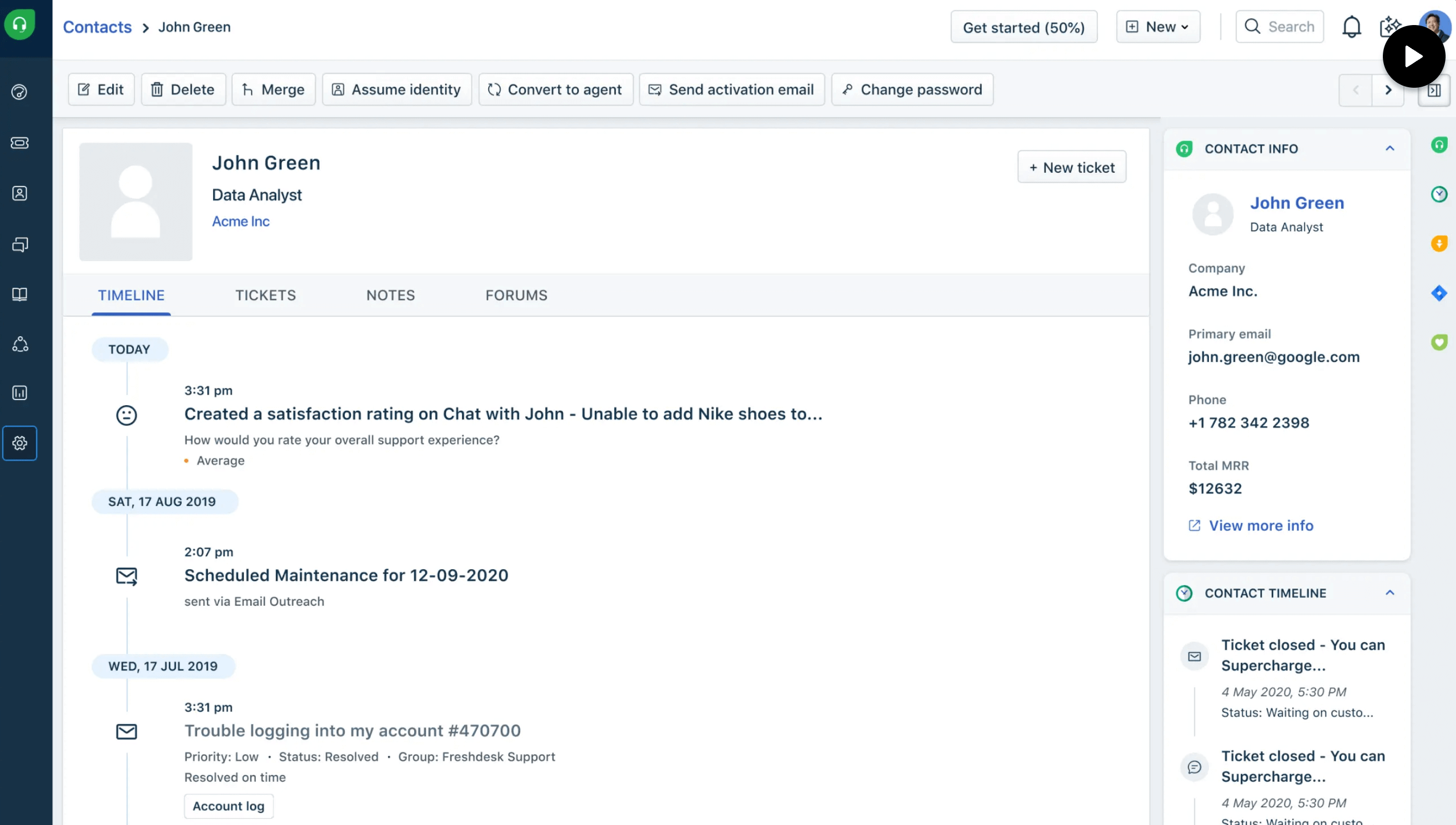 Who is Zendesk's main competitor?
Zendesk's main competitor and the help desk similar to Zendesk the most is often cited as Freshdesk. It is an excellent alternative to Zendesk for teams that prioritize omnichannel support, AI-powered automation, and scalability. Freshdesk allows teams to manage customer inquiries across multiple channels, including email, phone, chat, and social media. It also offers AI-powered automation, which can help teams reduce response times and improve efficiency.
Freshdesk's scalability makes it an attractive alternative to Zendesk for fast-growing businesses. It offers a range of plans that can accommodate businesses of any size, from small startups to large enterprises. Its customization options also allow teams to tailor the platform to their specific needs, with custom fields, workflows, and automations. Overall, Freshdesk is a powerful and scalable platform that is ideal for teams that value omnichannel support and AI-powered automation.
Trial: 21 days.
Price: Free plan available. Paid plans starting at $18/agent per month. Omnichannel plans starting at $35/agent per month.
Best Zendesk alternative for internal IT support teams.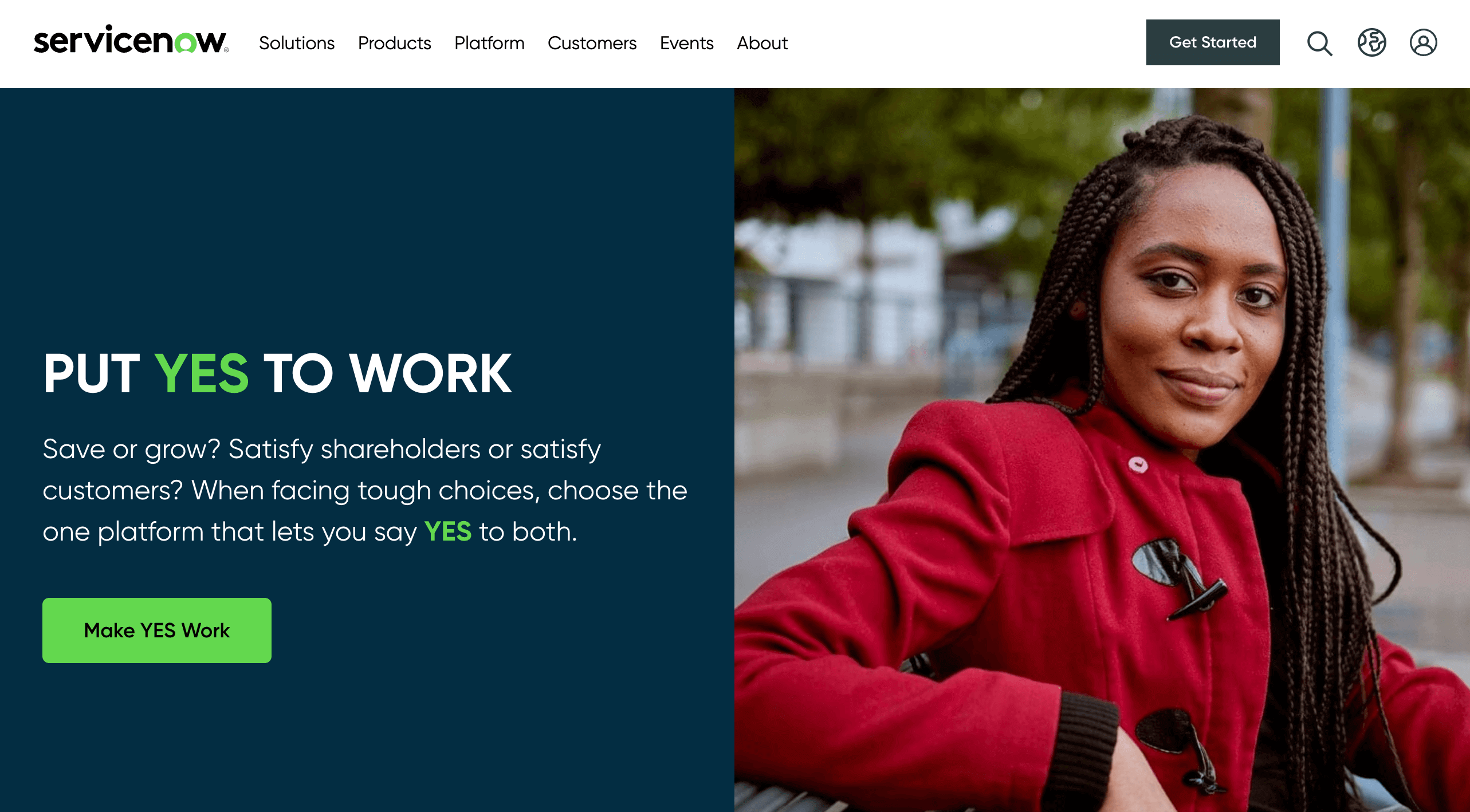 If you commonly deal with internal IT support requests, then Zendesk is more than capable of meeting your needs, however, ServiceNow is a more dedicated solution, and is what is known as an IT service management (ITSM) platform. For IT teams that prioritize ITIL compliance, automation, and self-service. ServiceNow will help you follow a set of best practices for IT service management.
ServiceNow's automation capabilities also make it an attractive alternative to Zendesk for IT teams. It offers a range of automation tools that can help teams reduce response times and improve efficiency. Its self-service portal enables end-users to submit and track their own requests, reducing the workload for IT teams. ServiceNow also offers a range of integrations with third-party applications, making it easy for IT teams to centralize their IT operations.
Price: Contact ServiceNow.
Best Zendesk alternative for small businesses using Shopify or Bigcommerce.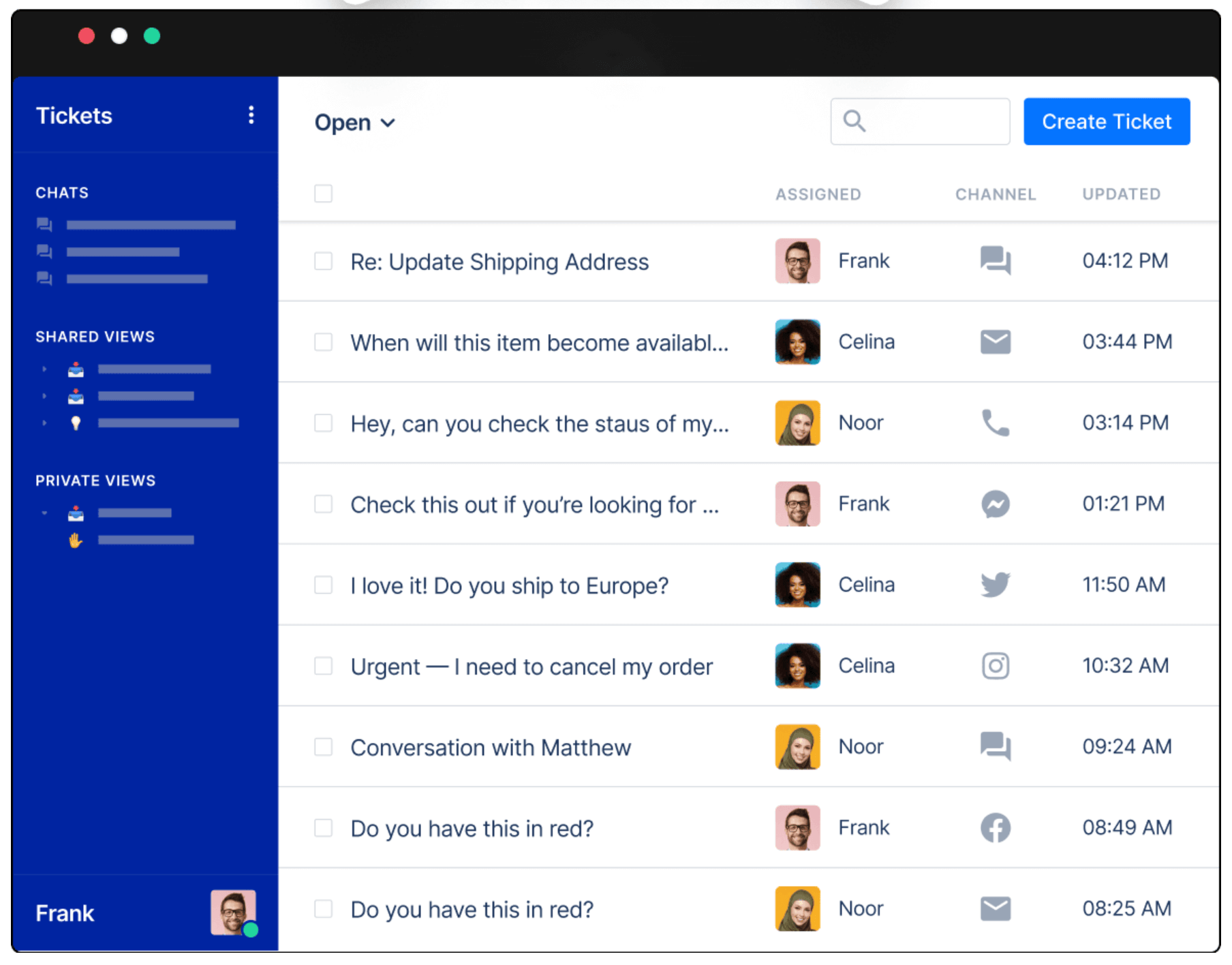 Gorgias is a help desk built specifically for eCommerce businesses that use Shopify, Bigcommerce or Magento as their website platform. When you connect one of those platforms, Gorgias will allow agents to see order details alongside tickets, which helps speed up responses. It is particularly strong with its Shopify integration, allowing agents to edit orders and handle refunds directly in the help desk.
Gorgias also has social media integrations with Facebook and Instagram so you can handle queries raised by customers via social directly in the unified inbox. A lot of the time-saving features of Gorgias—such as Automations—are only available via paid add-ons and higher plans, with ticket volume limits meaning that your monthly costs may vary from month to month.
As an eCommerce-specific help desk, Gorgias is a capable solution for smaller sellers, but larger brands that sell across various platforms and marketplaces such as Amazon and eBay will find it limiting, and may be better suited to eDesk.
Trial: 7 days.
Price: Starter plan is $10. Basic plan starts at $60 per month with multiple paid add-ons.
Best Zendesk alternative for support teams already using HubSpot.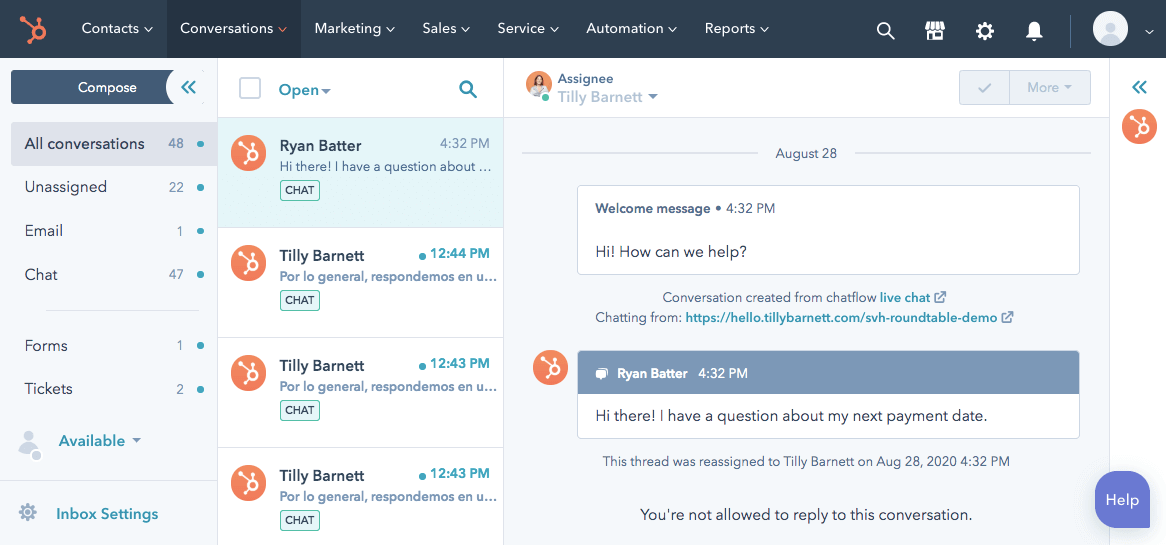 HubSpot is best known for its marketing and sales hubs but it does offer a customer service help desk solution called HubSpot Service Hub. As you would expect, it comes tightly integrated with other parts of HubSpot CRM, and offers features you would expect from a help desk, such as a shared inbox, automation, knowledge base, customer feedback and custom surveys, reporting, etc.
If your business is already a HubSpot user, then HubSpot Service Hub may be a much better Zendesk alternative for customer service, however, pricing can become quite complicated as your contact volume and feature use increases over time.
Trial: 15 days.
Price: Free plan available. Paid plans starting at $45/month.
Best Zendesk alternative for support teams requiring extensive CRM features.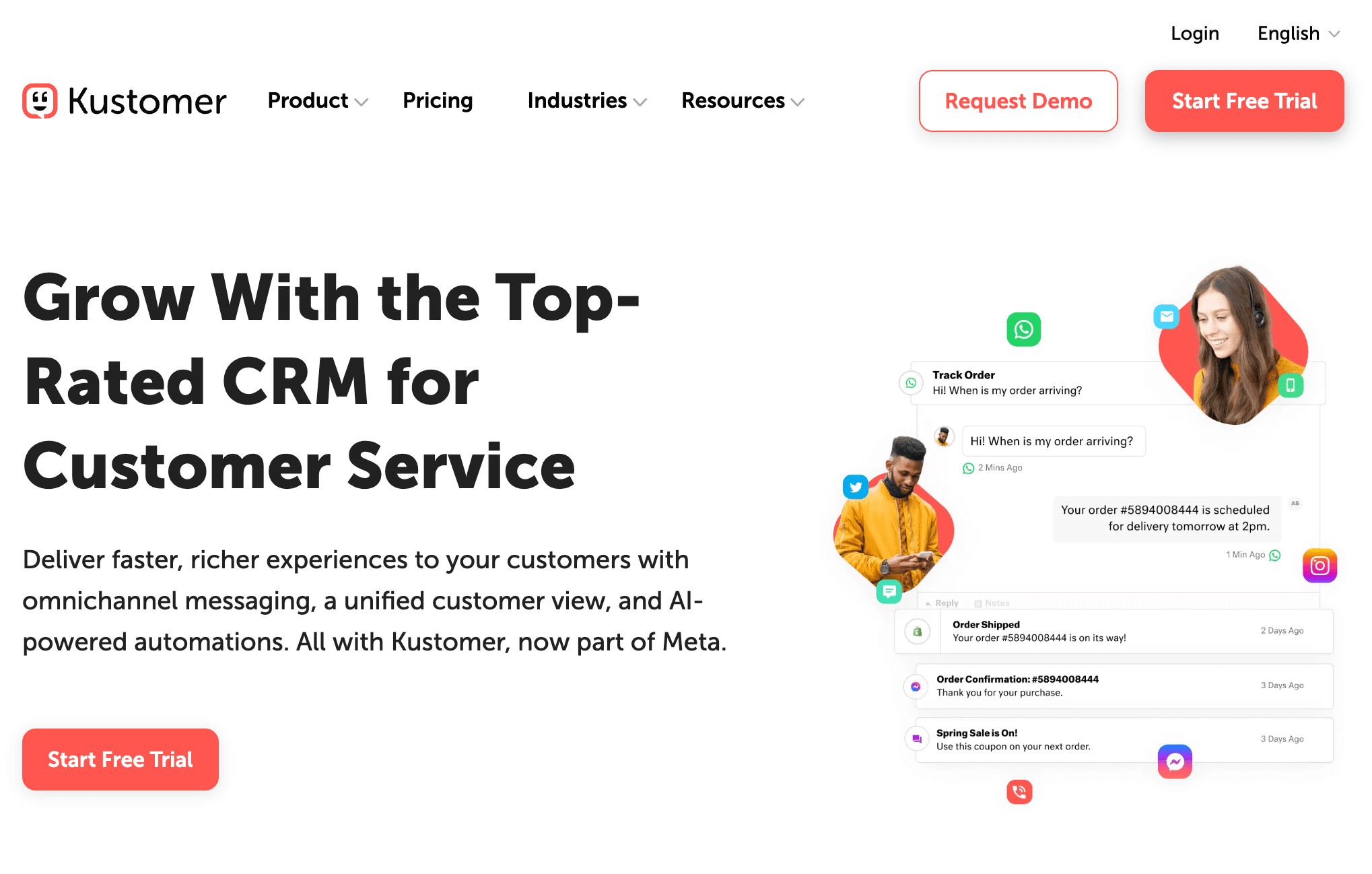 CRMs and help desk software have historically existed separately from each other, but Kustomer combined the two to create a unique type of solution. With Kustomer, you're able to see a complete picture of each customer and update multiple systems at once, saving time and energy.
Kustomer offers multi-channel support for email, chat, phone, and social accounts. No-code chatbots are also available for deflecting support requests to self-service options.
However, Kustomer is quite expensive and the pricing is somewhat confusing as there are a number of tools that are add-ons. Also, many of its features focus on deflecting requests, which may not be ideal for more customer-centric teams.
Trial: 14 days.
Price: Starting at $29/agent per month.
Best Zendesk alternative for companies where support is handled across many teams or departments.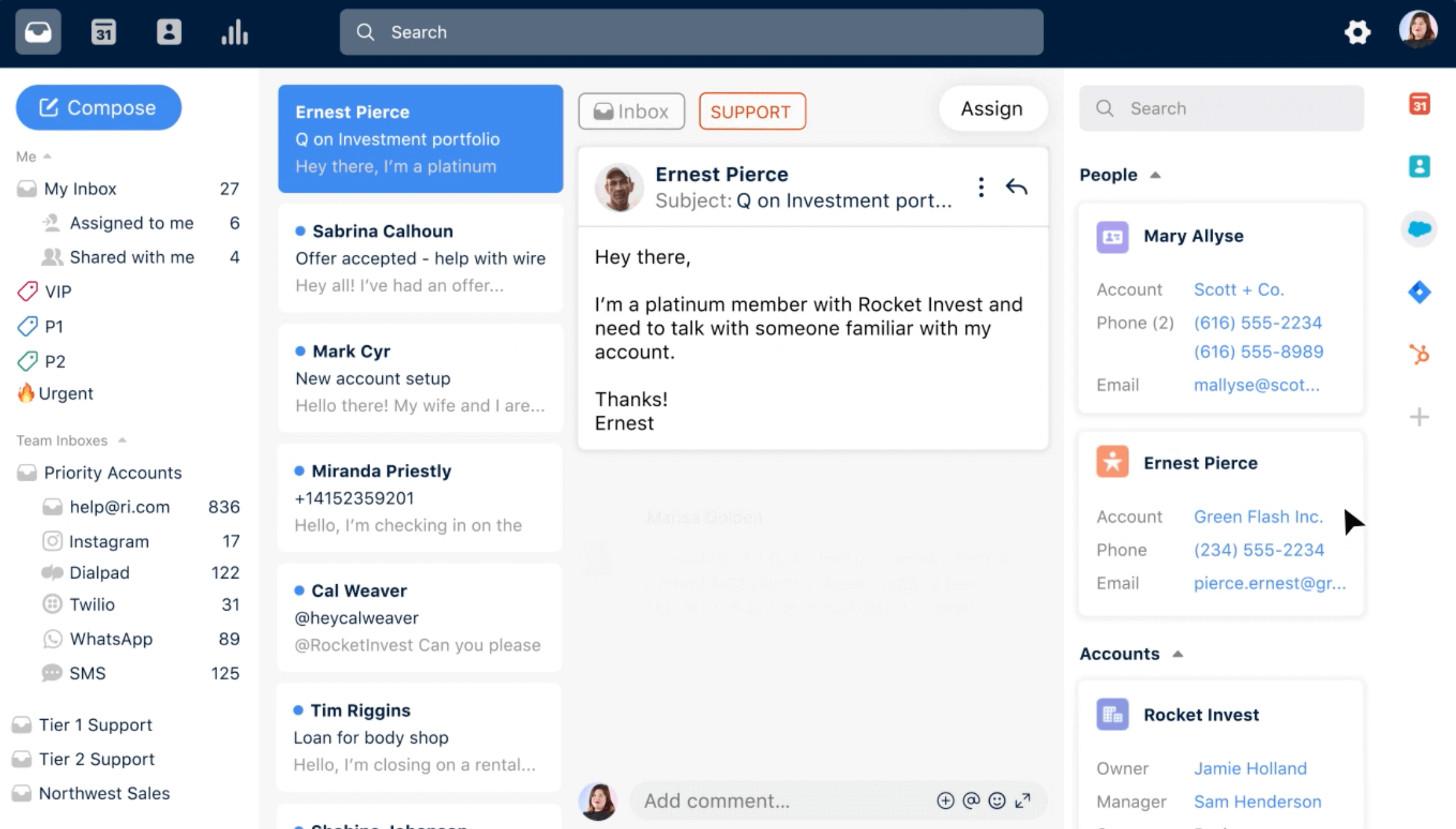 Front bills itself as a customer communication hub where customers are treated like humans instead of tickets. Its appeal centers around strong collaboration features and a shared inbox that 'feels like email', where both group emails and personal emails can be funnelled and assigned.
As with many of the Zendesk alternatives outlined here, a lot of the time-saving rules and automations are only found on the higher plans. Overall, Front is a collaborative and efficient platform that is ideal for teams that prioritize teamwork, collaboration, and streamlined communication.
Trial: 7 days.
Price: Starting at $49/agent per month.
Best Zendesk alternative for teams wanting additional task and project management features.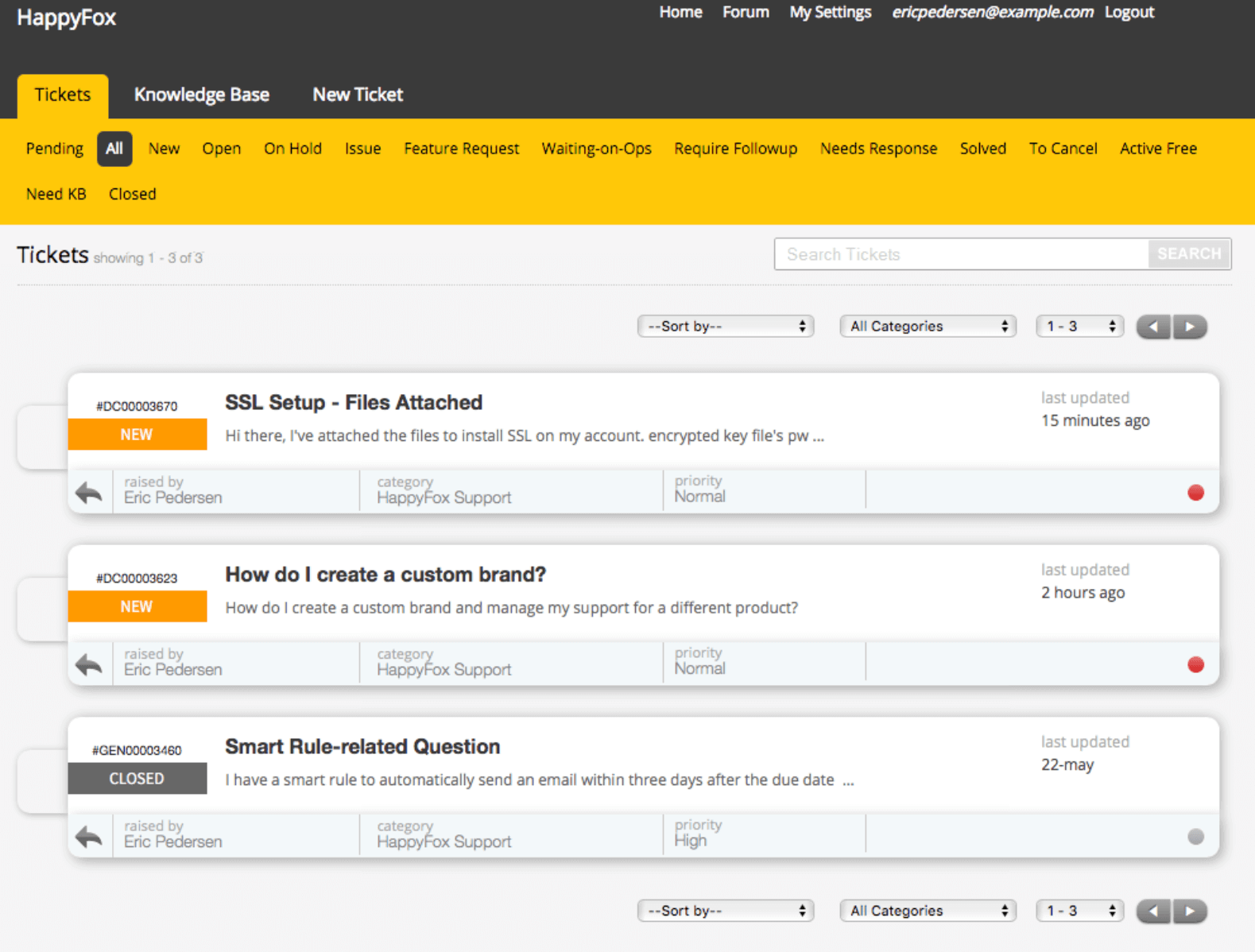 HappyFox is part help desk and part project manager that bills itself as a solution for customer support, for IT operations, and for HR & Marketing.  In addition to the expected features such as a ticketing, canned replies, automation and knowledge base, HappyFox boasts reports, satisfaction surveys and task management.
HappyFox now offers agent-based pricing (with unlimited tickets) and ticket-based pricing (with unlimited agents) so it will take some thought to see what plan structure is right for you business—both today and in the future if you plan on scaling. Other products in the HappyFox suite (with separate pricing) include live chat, chatbot, and workflow automation.
Trial: Demo required.
Price: Starting at $39/agent per month with a 5 agent minimum.
Best Zendesk alternative for teams already using Salesforce.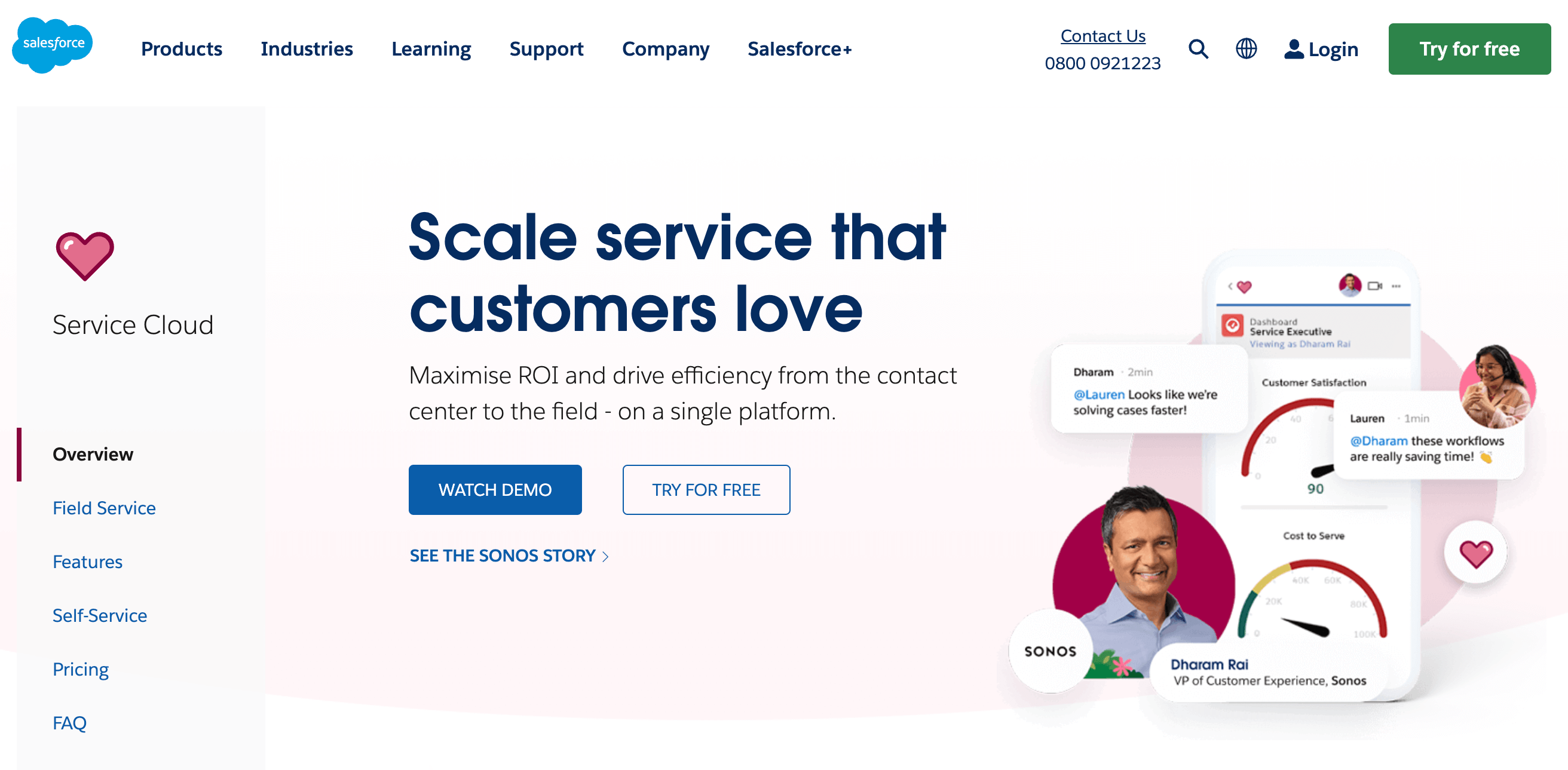 As with HubSpot, Salesforce is best known for its sales and CRM offerings but it does have a customer service help desk solution called Service Cloud. As you would expect, it is tightly integrated with other parts of its suite, and offers features such as case management, knowledge base, automation, omni-channel routing and analytics.
Service Cloud feels a lot less like a standalone help desk than most of the Zendesk alternatives featured here. If your business is already using Salesforce products, then it's perhaps the best choice for you but many of the features you might want to use are paid add-ons so pricing needs to be considered very carefully.
Trial: 14 days.
Price: Starting at $25/agent per month.
How do I choose the right help desk for my business?
Zendesk is a market leader for a reason—it offers an intuitive, cloud-based helpdesk that makes it easy for businesses of all kinds and sizes to manage customer support requests across multiple channels—including, email, chat, social media, phone, and more. It does general ticket management, automation and reporting really well and its feature set and flexible pricing caters to enterprise customers in particular.
With that said, Zendesk's complexity means that smaller companies or those in a particular sector such as eCommerce end up with lots of features that are not necessary or are a compromise in functionality compared to other solutions.
Help desk evaluation checklist
What's my budget?
Is a ticket-based plan (where all members of your company chip in on support) going to be a better option? Or is your business better suited for an agent-based plan (where dedicated support agents handle all support)? Be careful to consider all the add-on options that help desk solutions offer. As a general rule, the lower the entry point, the more likely you'll need a higher plan to get the features you really need.
What features do I need and why?
By understanding the features you need, you'll better understand the benefits and outcomes you're hoping for when switching to a new help desk. It's important that you and your team know what success looks like. That way, you can narrow down the choice of solutions that offer all the features you require.
Is support and training available?
Whether you're switching from Gmail or a helpdesk such as Zendesk, migrating existing workflows and integrations can feel like a daunting task, particularly when you need to keep support running at all times. Most help desk providers will offer dedicated teams to help with this but some can be costly and often take a long time to implement. Make sure you're away of your options here and understand how long a switch will take.
Are all my channels supported?
It's important to see how your prospective help desk connects with your existing channels and tech stack, particularly if you're wedded to existing technology, so as you whittle down your options and reach 2-3 potential solutions, ensure that you ask about integrations and available APIs which will often enable interoperability.
When you have that short list of possible solutions, it's time to not only test the software, but the company and its team. Get a demo, start a trial and put the sales team through its paces. Ask hard questions and see if they're prepared with answers and solutions. If a company isn't responsive when it's trying to win your business, it's unlikely going to be very helpful when you're a paying customer.
Remember to bring in different roles from your company to this process. A support agent will have a very different experience and wish list compared with someone integrating your help desk into backend systems. Allow the whole company to experience demos and trial periods as getting the right solution is something that will impact your company for a long time.
The best Zendesk alternative is the one that fits your needs
Take your time, ask questions, test the software and the company's sales and support staff. After all, what's the alternative? Zendesk! 😊