We're back with more product updates! Our team has been working tirelessly to take your eDesk experience to new heights, providing even more value for your eCommerce business. From a groundbreaking Etsy integration that will centralize your operations to a more streamlined connection between voice and ticket support, ensuring a smoother experience for both the agent and customer. Not to mention, our dedicated team has invested substantial effort into fine-tuning our current features as well as developing exciting new features to be released in the coming months.
In case you missed last month's product roundup, catch up on it here.
Hot off the Keyboard
Respond to post sales questions from your buyers on Etsy

Wave goodbye to constantly switching between eDesk and Etsy to manage your post-sales customer queries!
We are thrilled to launch our new and improved Etsy integration, allowing seamless management of post-sales customer queries by enabling direct response to Etsy queries within the eDesk platform. Users will now have access to Etsy order data in eDesk and can use message templates, smart snippets and AI automations. This empowers agents to provide contextual responses that resolve customer queries faster with increased personalisation for improved. customer satisfaction.
How it works: Once your Etsy store has been connected, eDesk will automatically import your Etsy data directly into your eDesk account. Now when a post-sale query from Etsy comes into eDesk, agents will see the relevant order data directly on the right-hand side of the ticket. So your agents can reply to your customers directly from eDesk, with all the relevant context at hand.
If a pre-sales query does convert to a sale, you can then attach an order number to the eDesk ticket so you can manage the conversation from within eDesk.
Learn more about our Etsy integration and how to connect your store
Elevate Your Customer Call Experience with Enhanced Voice ticket features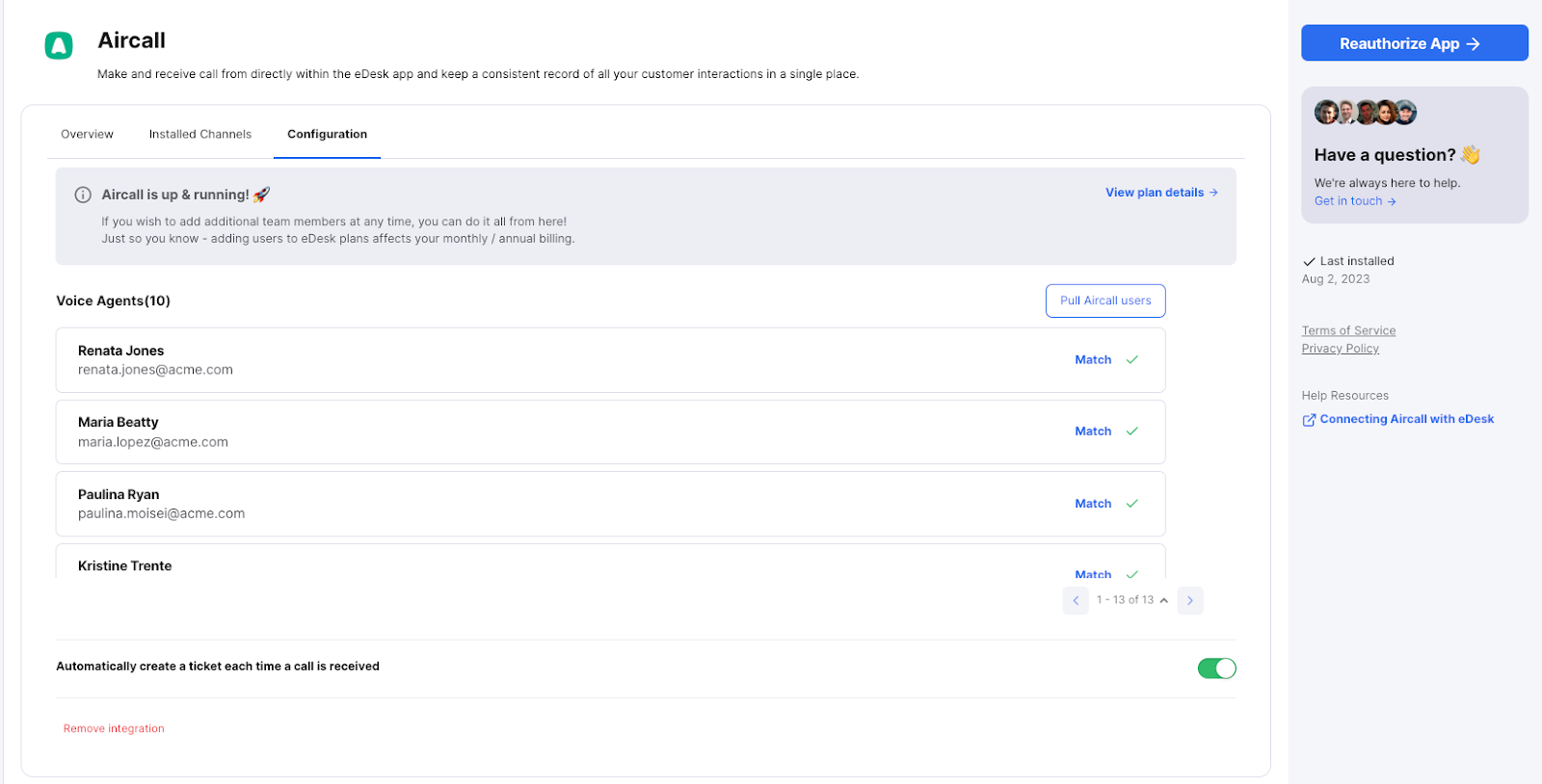 We are thrilled to add two impactful enhancements to eDesk's voice solutions – eDesk Talk and our Aircall Integration.
Now, when an incoming call is received, a support ticket can be auto generated in eDesk which will be automatically assigned to the agent that handled the call. The new feature is meticulously designed to supercharge your customer call interactions, ensuring efficient ticket creation, for prompt and personalized follow up communications. Ability to automatically assign to the original agent, empowers faster more knowledgeable responses and ensures a consistent and seamless experience for the customer.
How it works: Within the settings of your eDesk Talk or Aircall integration, navigate to the configuration tab. There, you will discover an option to 'Automatically create a ticket each time a call is received.' This feature can be easily toggled on or off according to your preference. When the feature is turned on, tickets created from voice interactions will auto-assign to the agent that handled the call.
Learn how to connect eDesk talk and our Aircall integration to your account.
Fine-Tuned Features
We highly value your feedback, and in direct response, we're delighted to unveil a series of enhancements integrated into eDesk throughout October. Our focus is on ensuring a smoother customer support experience for both you and your customers.
New "Tags" column added to the mailbox
Tags in eDesk can be used in a myriad of ways, from root cause selection to flagging escalations or brand segmentation to support level attribution. The eDesk Mailbox allows you to create custom layouts so that you can create the view you want. We've now added a new column, called Tags, which means you can, at a glance, see which tickets have which tags assigned to them.
To learn more about tags, check out our support article. To learn more about customizing your mailbox, here's our how-to guide.
We've improved AI ticket summaries for longer threads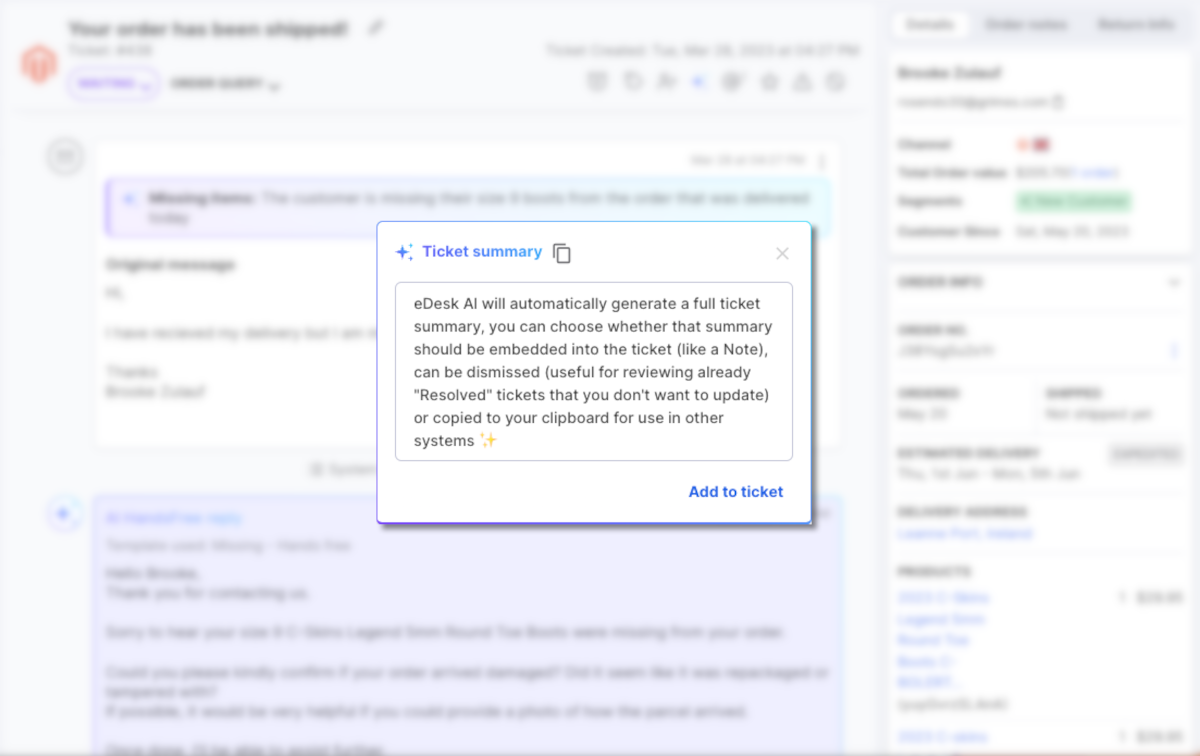 We're pleased to announce improvements in our ticket summaries functionality for customers with an active eDesk Performance+ plan or AI Add-on. Previously, longer threads might have triggered errors from time to time when generating the ticket summary, we've made significant improvements to ensure a smoother experience when generating summaries for longer threads. Whether embedding recaps into tickets, copying to your clipboard, or simply reading and dismissing, you can expect enhanced performance.
Learn more about eDesk AI and AI ticket summaries.
We've added 2 new customizable Role Permissions 

All of your eDesk teammates have a user role associated with their account, giving them access to different tools in eDesk. Users on eDesk's Professional and Enterprise plans have the ability to create custom roles with custom user permissions. We've recently added two new user permissions for custom roles giving you the flexibility to tailor agent workflows to perfectly align with your business needs. These new permissions will be active on your Admin account by default.
Archive tickets
Delete tickets
If you'd like to learn more about permissions and creating custom roles for your team then check out support guide here
We now show discounts and shipping prices on Magento orders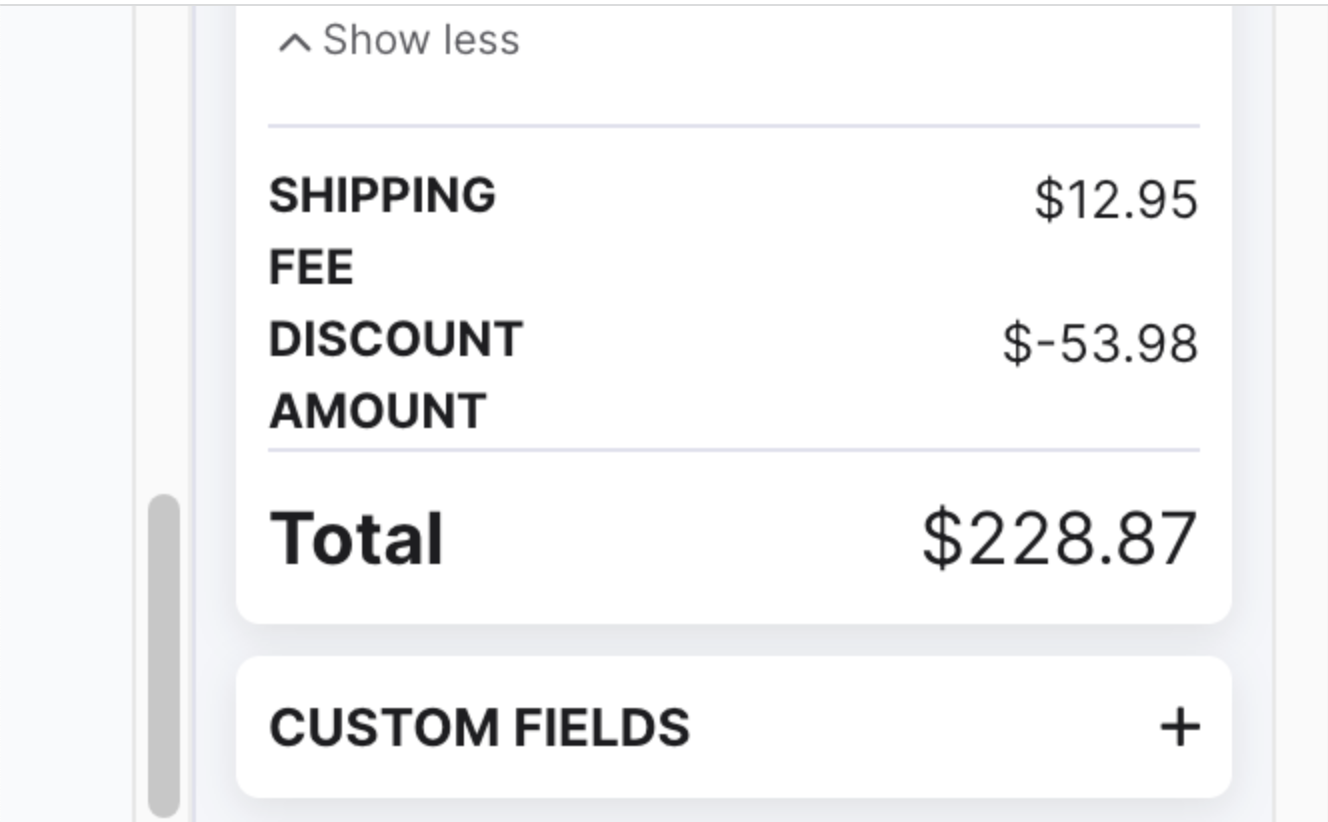 Thanks to our most recent update, when Magento orders seamlessly integrate with eDesk, we've elevated your experience by displaying shipping fees and discounts. This enhancement ensures you have a crystal-clear record of your customer's purchase details, empowering you to respond to their queries with even more precision and efficiency.
Learn more about our Magento integration and how to connect your store.
We've made enhancements to our API
Tired of hitting your API rate limit while adding sales orders data into eDesk? Our latest update brings you a seamless and efficient way to enrich your eDesk orders with external data via our API. Introducing eDesk API 'List Sales Order' filters, tailor-made to simplify the order targeting process. Now, with just a few clicks, you can effortlessly select the exact orders you wish to enrich with new data. By filtering your 'List Sales Orders ' API calls based on sales order ID, you gain the power to run scripts at regular intervals without unnecessary API calls, giving you a significant boost in speed and efficiency.
Six Features in Development
At eDesk, innovation is at the heart of everything we do. Take a sneak peak at some of the exciting projects we have in the works!
💬eDesk Chatbot Functionality Coming Very Soon!

Work continues on eDesks chatbot functionality! Soon you'll have the power to deflect common queries with our Chatbot which enables you to configure structured options for shoppers to choose from, these options can trigger multiple responses, answers, or links to additional content. This enables your customers to self-serve when it's most convenient for them, giving your agents more time to focus on more complex queries. Stay tuned for more details on the upcoming release date!"
🛒eDesk has its sights set on Bol.com as its next marketplace integration.
Work is underway to add Bol.com, the Netherlands and Belgium's largest online retailer, into eDesk's expansive collection of 200+ marketplace integrations.
✨Increased AI Classification coverage is on its way.
Our team continues to work hard behind the scenes to develop the AI classification coverage for eDesk tickets, increasing accuracy, and broadening the range of ticket classifications available. These improvements will provide you with more flexibility to align your support processes with your unique business needs.
🌎Enhance global support with Open AI- powered translation
We are improving our language capability with Open AI! Soon agents will be able to benefit from enhanced accuracy and context-awareness of their global customer support with advanced AI translation, providing a more superior understanding and response quality.

🚛 Add your own carrier tracking code links to orders in eDesk
We're streamlining the order tracking process by allowing you to customize carrier tracking links directly in eDesk, ensuring customers always have up-to-date shipping information. Enjoy enhanced flexibility and provide a seamless tracking experience for your valued customers
📦Create duplicate Shopify orders from within eDesk
Enhancements to our shopify integration continue! We're working on a way to boost efficiency and reduce errors by easily creating duplicate Shopify orders directly within eDesk, streamlining your order management process