If you're running a digital business, the chances are you've thought about, or at the very least have heard about, conversion rates. Conversion rates are one of the key performance indicators (KPIs) used to determine how well an eCommerce business is performing.
More specifically, conversion rates are an important metric because they provide insights into how well your eCommerce business is doing when it comes to your sales. Knowing your website's conversion rate can help you decide on the actions you need to take to optimize your site and ultimately increase revenue for your eCommerce business.
But what actually are conversion rates? It sounds scarily technical but simply put, conversion rates are a method by which you can measure how many times someone browsing your website completes a purchase. That sales transaction is the conversion from browsing your website to buying. In other words, conversion is the final part of your sales funnel.
Let's drill down to take a closer look at conversion rates, how they're calculated, and the various factors affecting them.
How to Calculate Conversion Rates
Calculating your conversion rate is pretty simple.
All you need to do is take the total number of transactions (or conversions) for any given period and divide it by the number of people who visited your website or landing page (i.e. number of interactions) during the same timeframe.
For example, imagine if for every 1,000 times someone interacts with your website, you have 50 conversions. In this scenario, that would put your conversion rate at 5%, because 50 ÷ 1,000 = 5%.
The truth is that for most eCommerce businesses, conversion rates can vary by industry, with different benchmarks for each, but it's very important to know your conversion rate because that knowledge will allow you to be able to strategically plan and implement ways to improve your business.
What is a Good Conversion Rate?
When we talk about a "good conversion rate," what we're actually talking about is benchmarking, or developing an industry standard for what is considered good, average, and poor when it comes to measuring conversion rates.
Unsurprisingly, this varies by retail sector. and different sectors will always perform and benchmark differently.
Variations can be due to a number of factors. High-priced items are likely to have lower conversion rates because these are big purchasing decisions for people, whereas decision making is more impulsive when it comes to purchasing low-priced items.
An overall average conversion rate for all eCommerce businesses across all sectors is around 1-2% across the board. Therefore, without adjusting for the sector, your business should aim to hit this benchmark at least, preferably closer to the high end. If it isn't, then you should understand why and consider what you can do to improve your conversion rate.
Factors to Consider When Looking at Conversion Rates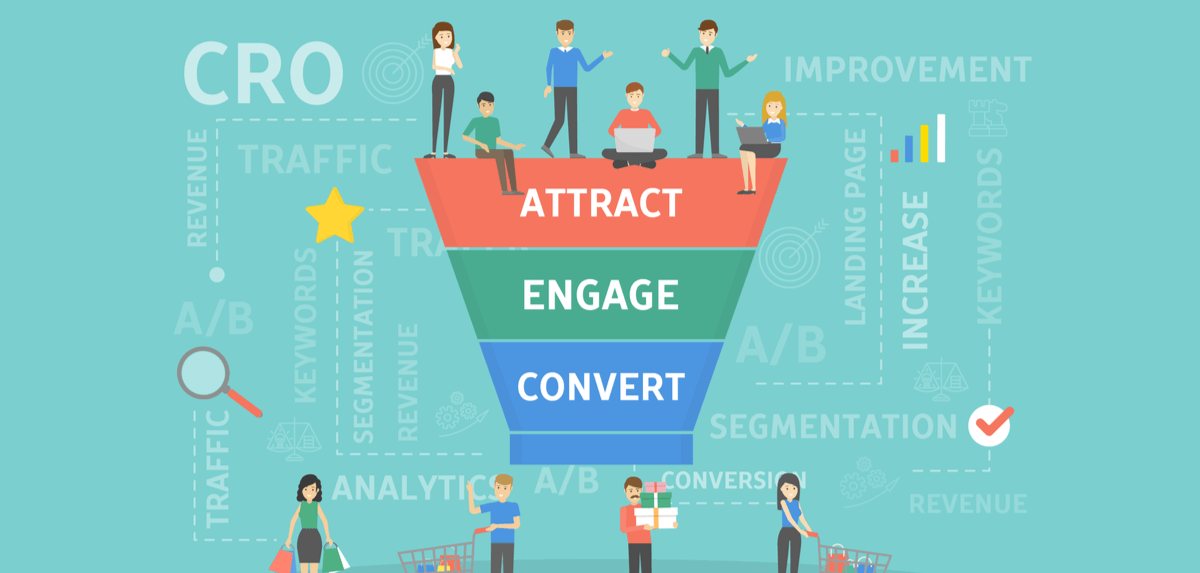 Conversion rates will also differ by the type of device customers use to find and engage with your business. Look at the numbers to see whether your conversion rate is higher from customers using mobile devices or desktop computers to make purchases.
Globally, according to the Monetate eCommerce Quarterly, the average order value via desktop is 55% higher than that on a mobile device. So, even if a large number of your conversions come from mobile, you should consider the value of those transactions compared to the value of transactions from other channels, such as desktop, in order to analyze where you should make improvements.
Similarly, your conversion rates will differ according to where your main traffic to your website comes from. You may get more conversions from email marketing, or organic search, from paid advertising, perhaps from referral networks or social media. These are all different ways a customer can arrive at your website, and when studying your conversion rates, you'll find that some routes yield higher conversion rates than others
It's important to understand where your traffic comes from and which converts the best so that you can make informed decisions in your business.
3 Tools to Help you Analyze Your Conversion Rates
Measuring and analyzing your conversion rates can seem rather overwhelming but there are many tools available that can help you understand and improve your current conversion rates.
These leading tools are worth looking at:
1. Hotjar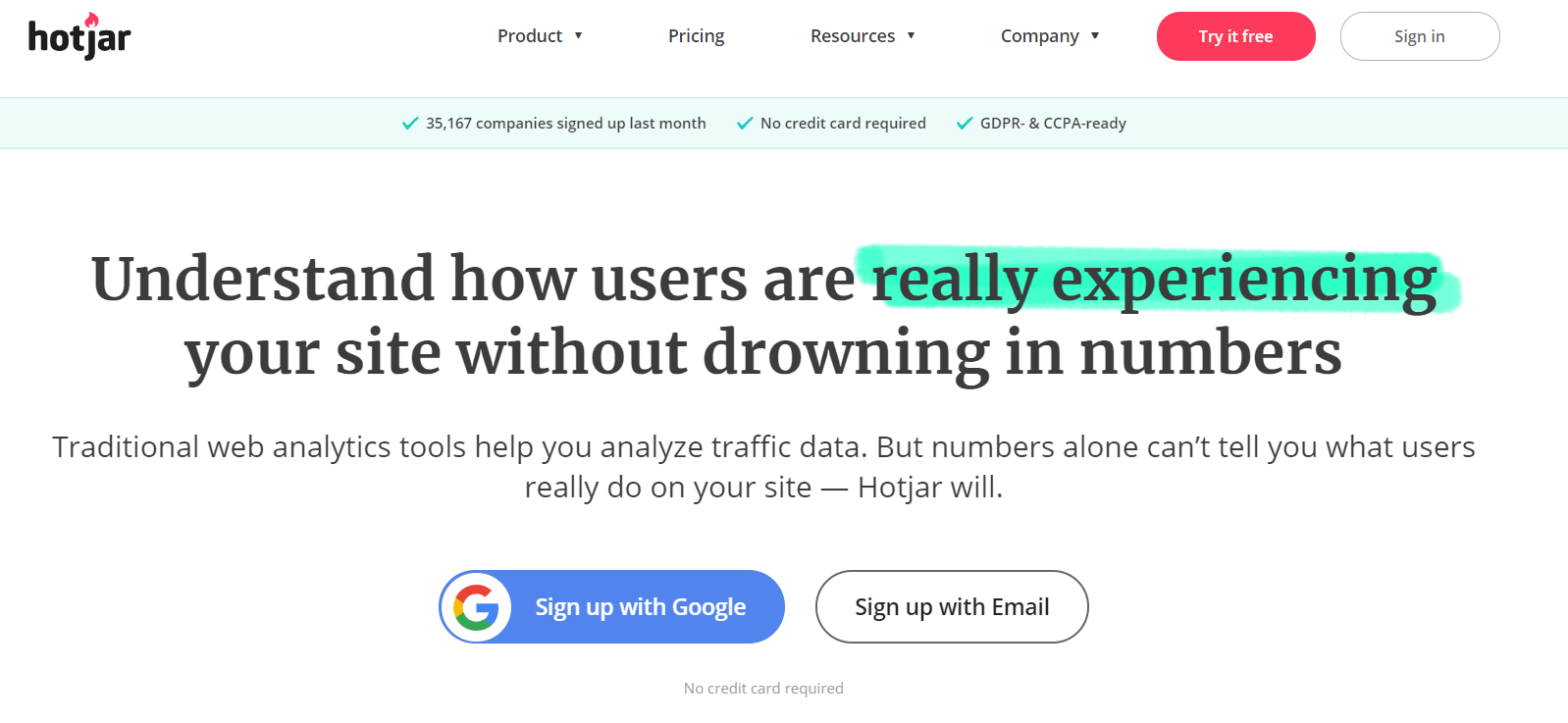 Hotjar is a behavior analytics company that analyzes website usage, providing feedback through tools such as heatmaps, session recordings, and surveys.
Hotjar goes beyond simply analyzing traffic data to provide insights into how visitors engage with your website. In doing so, you're able to minimize bounce rates.
Best of all, Hotjar works "out of the box" with many popular eCommerce platforms and is compatible with Shopify, Hubspot, Squarespace and Wix.
2. Quantcast Measure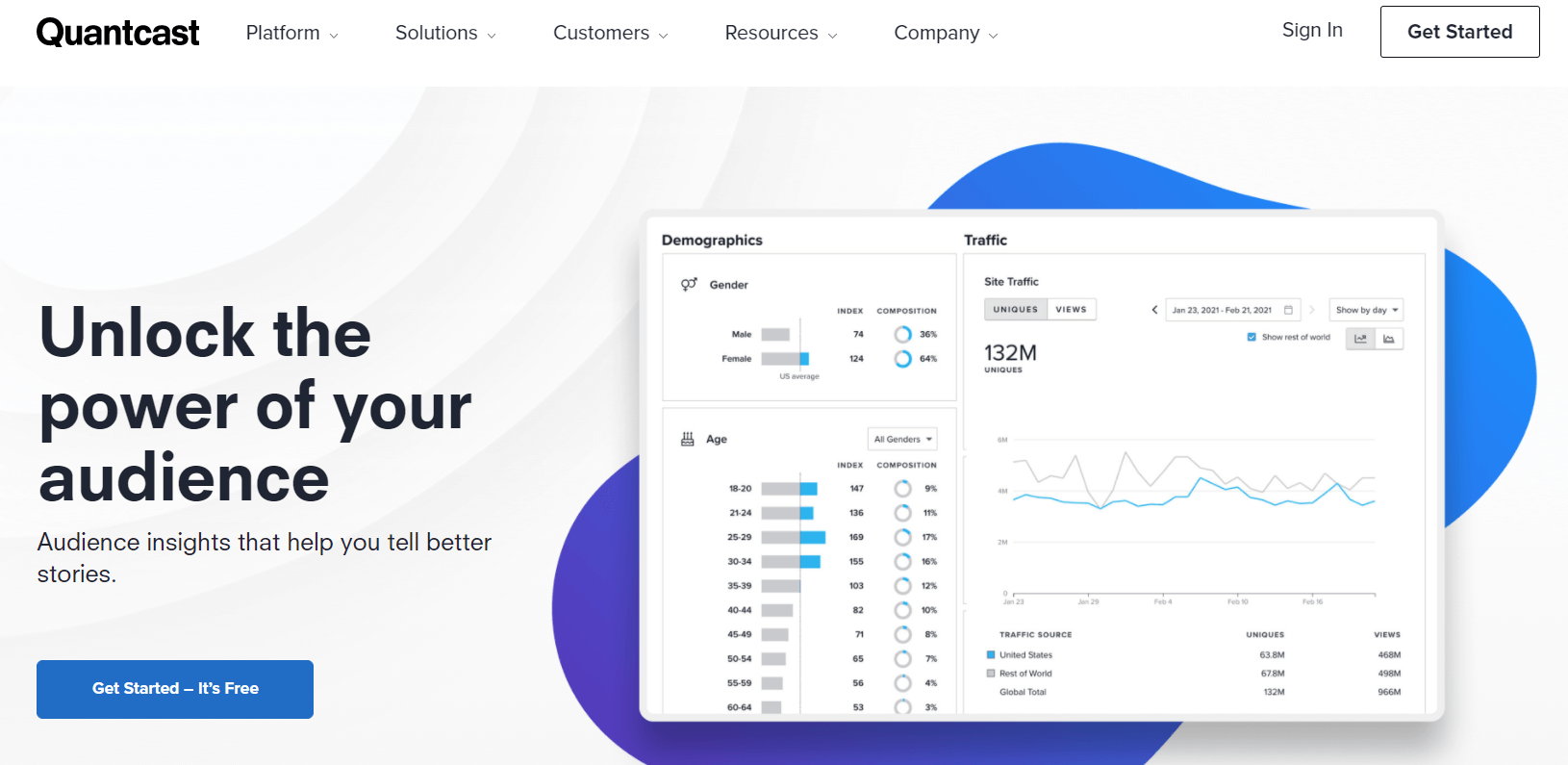 Quantcast Measure is an insight and analytics tool that provides real-time insights into who your audience is, what motivates them, and how they spend time on your website.
In fact, its audience insights go the extra mile so you know exactly what your audience buys, their preferred brands and even the content they consume outside your website.
With audience insights from Quantcast Measure, you are able to optimize your strategy around delivering more relevant messaging, advertising and content.
3. BigCommerce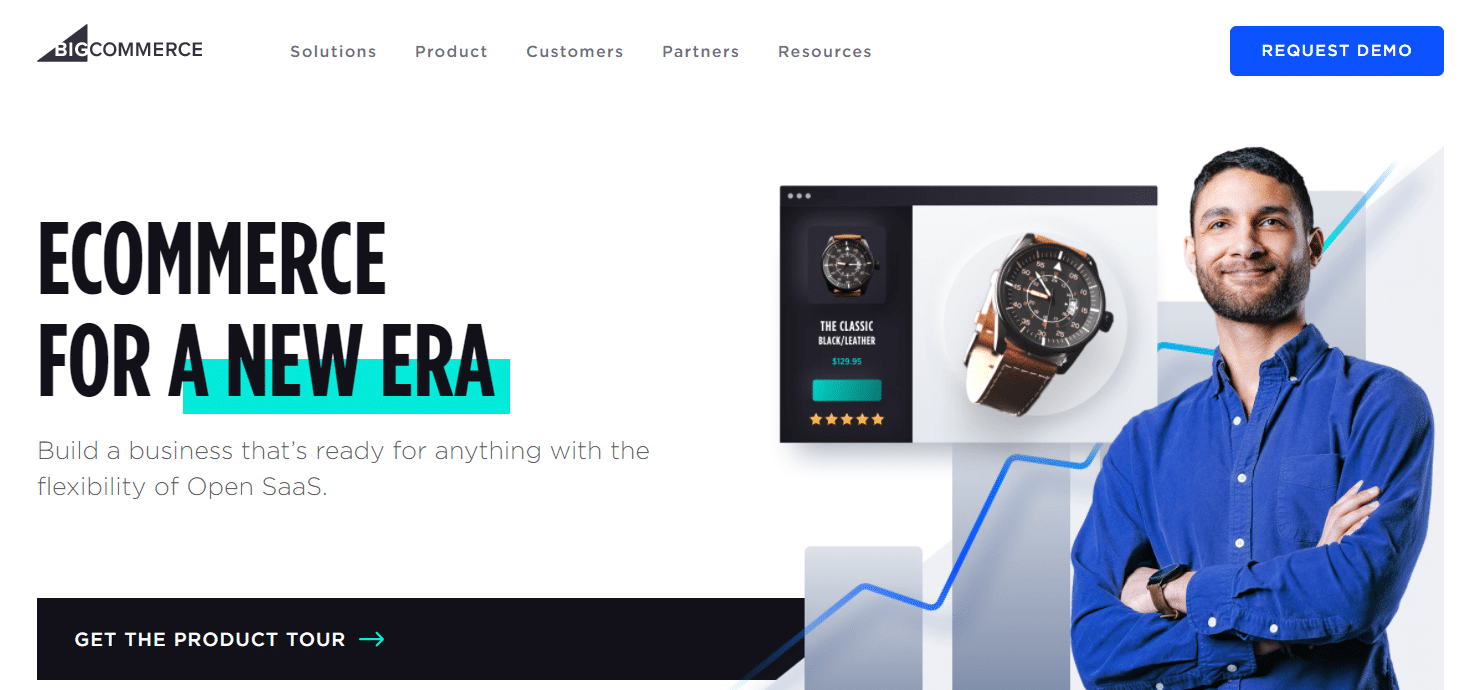 BigCommerce is an eCommerce platform that provides conversion rate analysis and insights.
It also offers an advanced marketing toolkit that includes SEO tools, over 70 promotions and discounts, single-page checkout, and abandoned cart saver.
All of these features will help you increase conversions.
20 Ways to Boost Your eCommerce Conversion Rates
Once you've analyzed your conversion rates against your competitors and identified the tools that you can use to optimize and improve your conversion rates, you might also want to go a step further and review the different ways that you can improve your digital business to increase conversion.
Some of these appear to be such tiny tweaks or obvious eCommerce actions, but you'd be surprised how many people overlook the small and seemingly insignificant optimization tweaks that can actually pay off!
1. Leverage High-Quality Images and Video
When it comes to showcasing your products on your website, using high-quality images and video will help bring products to life for potential customers. This has also been proven to increase conversions.
2. Create Detailed Product Descriptions
Providing detailed product descriptions, including video content, allows your customer to see exactly what they are buying and is more likely to lead to a sale. Doing this will also improve your SEO, so it's a win-win.
3. Invest in Your Website Content
Publishing the right content says a lot about your website. When you take the time to invest in your product and landing page content, as well as informative, educational and engaging blog content, you can win over customers and win brand loyalty too. Not to mention that premium content can help with your SEO optimization.
4. Offer Free Shipping
In today's eCommerce world, most customers are used to being offered free shipping by all the big brands. If you're still charging for shipping, you may be damaging your conversion rates.
By incorporating the cost of shipping into the price of your product and offering "free" shipping, this resonates subconsciously with potential customers and can make all the difference between making or losing the sale.
5. Add Time-Sensitive Coupon Codes
Offering coupon codes that expire on a specific date helps get potential customers over the line. When a coupon has a deadline, this drives urgency and customer decision making.
6. Check Your Pricing
Competitive pricing isn't about undercutting the competition. It's about knowing your position in the market and pricing accordingly.
Adjusting your marketing to highlight the quality of your products will allow you to compete at higher price points, without having to sacrifice your margins.
7. Optimize Your Website Setup
You don't want to overcomplicate your website or make it difficult for customers to find what they're looking for. The simpler you can make it for people to navigate and find a product, the more likely they are to complete their purchase.
Optimizing your eCommerce site to allow people to shop by top products or featured items makes their shopping experience easier and more likely to lead to a conversion.
8. Add Category Filters
This really relates to your site setup. Category filters on your website will help shoppers find exactly what they are looking for, whether that's an item in a specific color, size or price point. By offering filters, you'll speed up the customer journey by making it easier and more helpful for them to find what they are looking for.
The easier you make shopping on your website, the more likely you are to get a sale!
9. Optimize for Mobile
Mobile shopping has been steadily increasing in the past decade and mobile sales now make up nearly half of all eCommerce sales. With so many people shopping on mobile devices, it's more important than ever that your website is optimized for mobile.
Every step of the customer journey, from the home page all the way through to checkout, should be an easy user experience on mobile.
10. List a Visible Contact Number
Although in many ways, using the telephone for business seems "so last century," a phone number is actually a reassuring element for many shoppers. It gives them the confidence that they can call and get through to a real live person, should they experience any issues.
So, don't underestimate the importance of displaying your company phone number visibly on your website. This can contribute to conversions.
11. Use Shopping Cart Abandonment Software
Abandoned shopping carts can be really frustrating because they show a customer who has shown interest yet hasn't followed through with the conversion.
If you notice a lot of abandoned shopping carts, then abandoned cart software can be a useful implementation. These tools follow up with customers who have entered their email address but left items in their cart without completing their purchase.
The tools will follow up via email to offer the customer a coupon code to tempt them to complete the sale.
12. eCommerce Store Safety Verification
Shoppers want to be sure that they are entering their details with a legitimate site that won't misuse their personal data. In order to secure trust, you must make sure that you show you follow industry guidelines around safety and security regulations.
A few ways that you can accomplish this is are:
Installing SSL at checkout.
Displaying logos of major credit cards and Paypal, which indicate that you have legitimate payment gateways in place.
Displaying badges of the security software you use to protect your website.
All of these small things add up and customers will look for these elements. Having them in place will provide the peace of mind that your website cares about online security and is safe to transact with.
13. Use "Add to Cart" and "Checkout" Buttons
Don't make it difficult for customers to shop! By clearly including "add to cart" and "checkout" buttons where appropriate throughout the customer journey, you'll make it easy for customers to make purchases. Psychologically, call to action buttons that stand out from other text on your website can reduce the number of abandoned shopping carts.
14. Make the Contents of Shopping Carts Viewable
Making sure that a shopping cart can be viewed at any time, and that items within the cart are displayed visually are important to getting customers through the checkout process and overcoming hurdles.
15. Optimize Your Checkout Process
Optimizing your checkout process is a crucial step in the sales funnel. If your checkout process is overly complicated, shoppers will lose patience and abandon their purchase.
You can use personalization combined with your eCommerce platform's checkout optimization options to make sure you're not losing customers at the last crucial step to purchase.
16. Offer Guest Checkout Options
Forcing a shopper to register in order to checkout can often be annoying for the customer! Not everyone wants to create a profile – and that's okay.
By offering a "guest checkout" option, you simplify the shoppers' ability to checkout, removing the barrier to conversion. As the seller, you lose nothing, as you'll still have captured their name and email in the transaction.
17. Optimize Your Checkout Form
Your checkout form should be optimized to make checking out as easy as possible. Drop-down menus for expiry dates, credit card long number auto-formatting and CVV input formats should all be formatted to make payment painless and quick for your customers.
Implementing digital wallets such as Paypal or Apple Pay are also key to simplifying payment options and speeding up a sale.
18. Include Customer Reviews
Your customers can be your biggest advocates and so by including customer reviews, you can build credibility towards your products and brand, assuring prospective customers that your products are worth purchasing. You can incentivize customers to leave positive reviews by offering coupons or discounts if they do so.
19. Get Product Testimonials
In addition to reviews from customers, you can also offer your products to review websites, bloggers and influencers to test independently in exchange for a review on their own websites.
This will not only help your SEO but will also help the credibility of your product.
20.Offer a Return Policy
A reasonable return policy that is quick, easy and painless goes a long way towards building customer loyalty and trust for your brand. Offering a flexible, easy return policy may seem like a basic business practice, but it's also a factor that helps drive conversion.
Final Thoughts
As you can see, it's often the little things that add up. There are many factors that go into developing a successful conversion rate. Fortunately, today's analytics technology allows you to take a deep look into your web insights to learn about your audience and how they operate on your eCommerce site.
Knowledge is power and the insights you can gain will help you tweak and adjust these seemingly small things ultimately helping you to generate a stronger conversion rate.