Looking for Helpscout alternatives?
Help Scout has been a go-to solution for various growing businesses, but it's not uncommon for eCommerce companies to find themselves needing more robust features. If you've hit this plateau with your online store's customer service, fear not! We've compiled a list of Help Scout alternatives specifically designed to meet the advanced demands of eCommerce operations.
TLDR;
eDesk – Best for eCommerce companies
Zoho Desk – Best for companies that require integrated time tracking.
HappyFox – Best for companies looking for a more robust self – serve knowledge base
8 best Help Scout alternatives
Before we dive into the list, let's walk through our selection criteria. To highlight the best options and help you in your software purchasing decision, we looked at a multitude of important criteria, including:
Feature parity: Platforms that offer the core features you'll also find when using Help Scout.
Customer reviews: Pulling the best alternatives from sources like G2.
1. eDesk
eDesk is a complete customer service helpdesk built exclusively for eCommerce sellers. It takes the pain out of trying to deliver consistent customer service across multiple channels by bringing all tickets, order/shipping data, customer data and metrics together in one place. Uniquely, eDesk can integrate with:
Leading eCommerce platforms such as Shopify , Magento and BigCommerce and more.
Shipping and fulfillment platforms like Aftership, Shipstation and more
It even comes with live chat and feedback & review management
When you trial eDesk, you get access to an eCommerce-focused platform that combines AI, native eCommerce integrations, automations and metrics that help eCommerce support teams respond faster and increase sales.
Learn more about eDesk: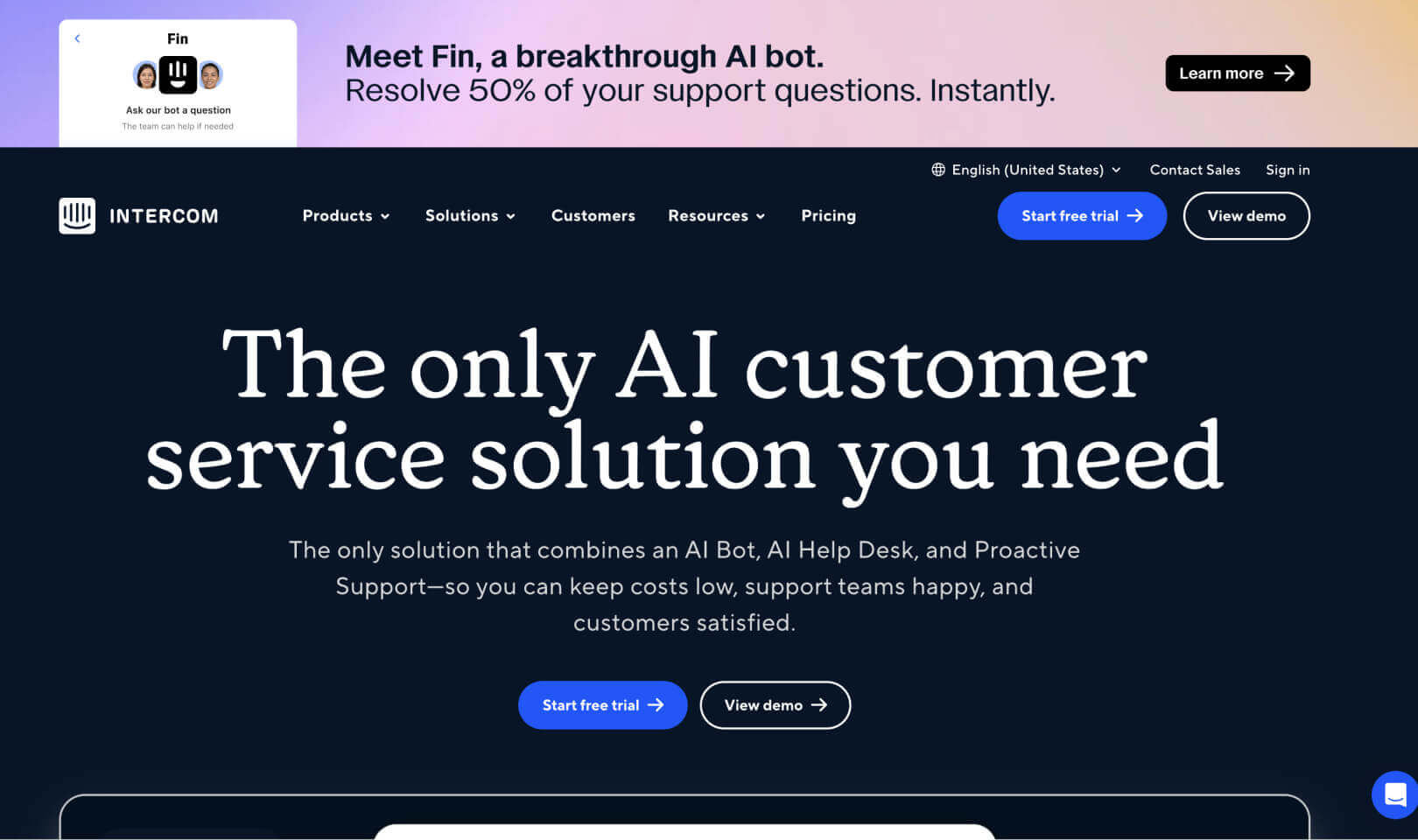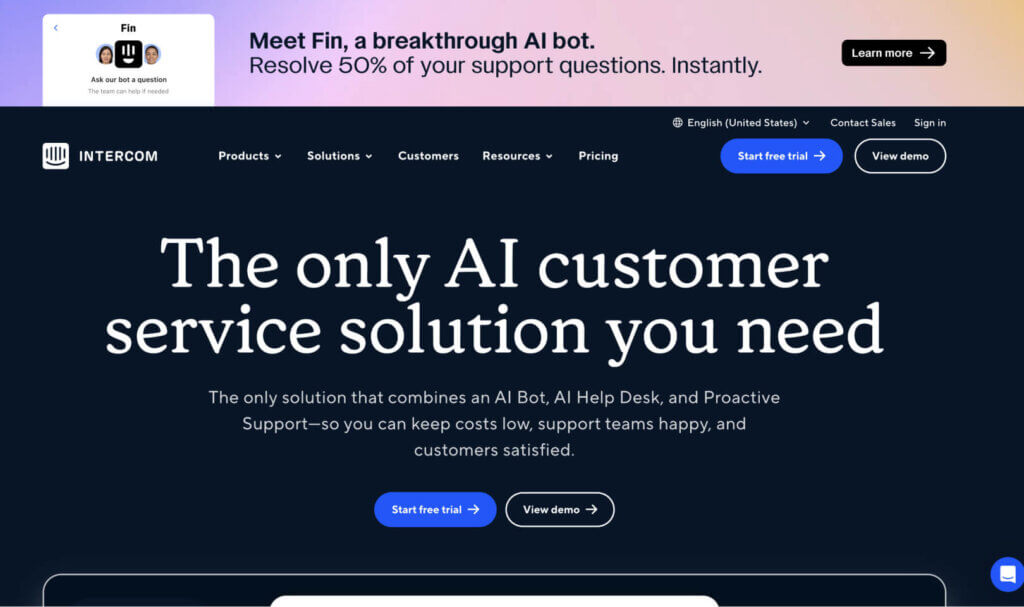 Intercom simplifies how to build better relationships through personalized,Intercom streamlines the way you forge meaningful connections by offering tailored, chat-centric touchpoints throughout the customer's journey. Designed to empower sales, marketing, and support squads, this unified communication platform is the choice of over 25,000 businesses eager to accelerate growth by elevating the customer experience.
Key features
When using Intercom, core features include:
Live chat
Support bots
Shared inbox
Product tours
Campaign builders
Automated answers
Key integrations
Intercom offers APIs that make it easy to integrate with your core tools. You can also explore Intercom integrations through their app store, including:
Google Analytics
Salesforce
SlackOutlook and Google Calendar
Jira Cloud
Marketo
Pricing
Intercom calculates its pricing by:
Seats, which give teammates access to different tools in Intercom
People reached, the number of unique people reached each month using outbound messaging.
This puts Intercom's starting pricing around $74/month (Billed annually)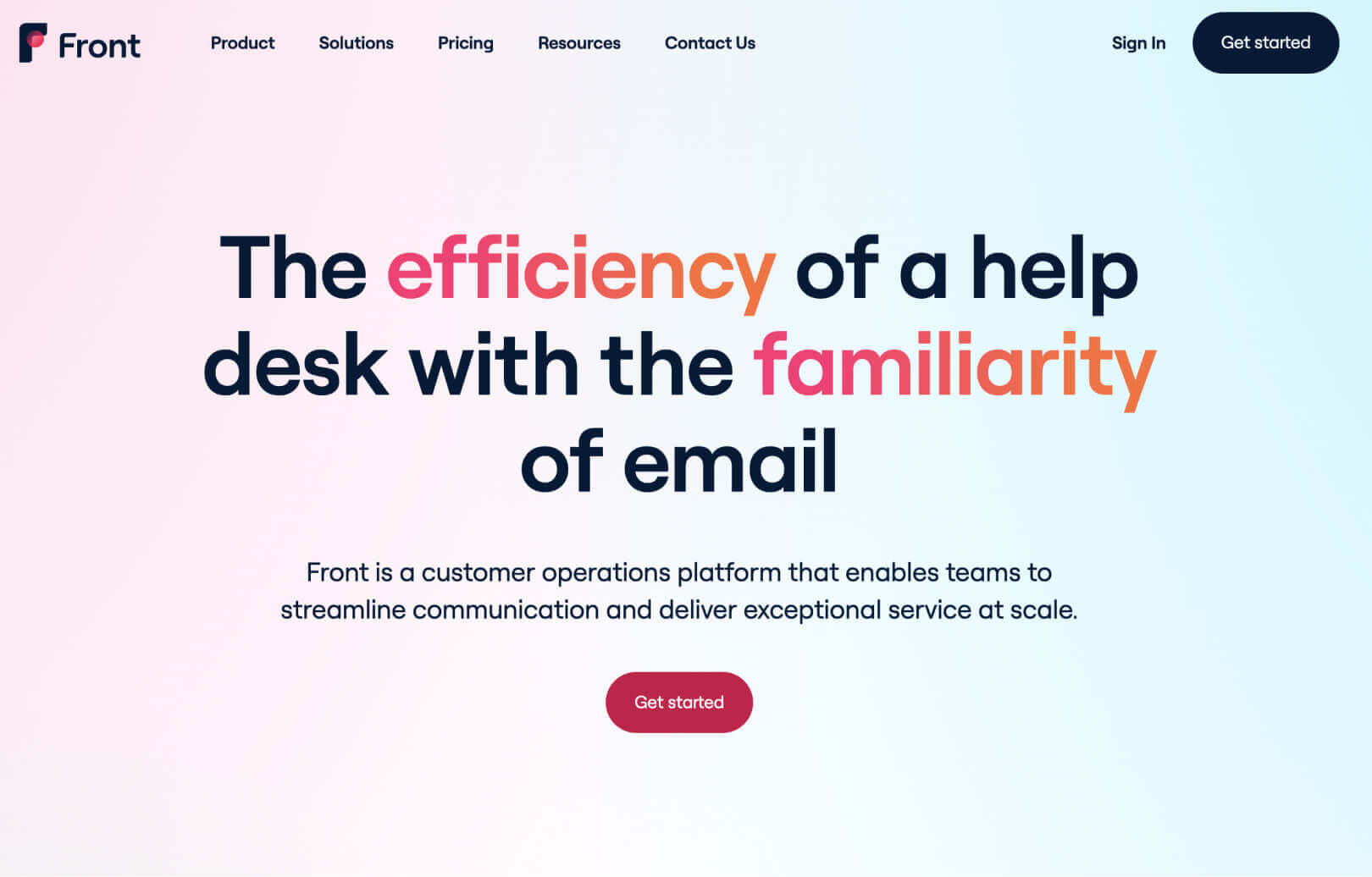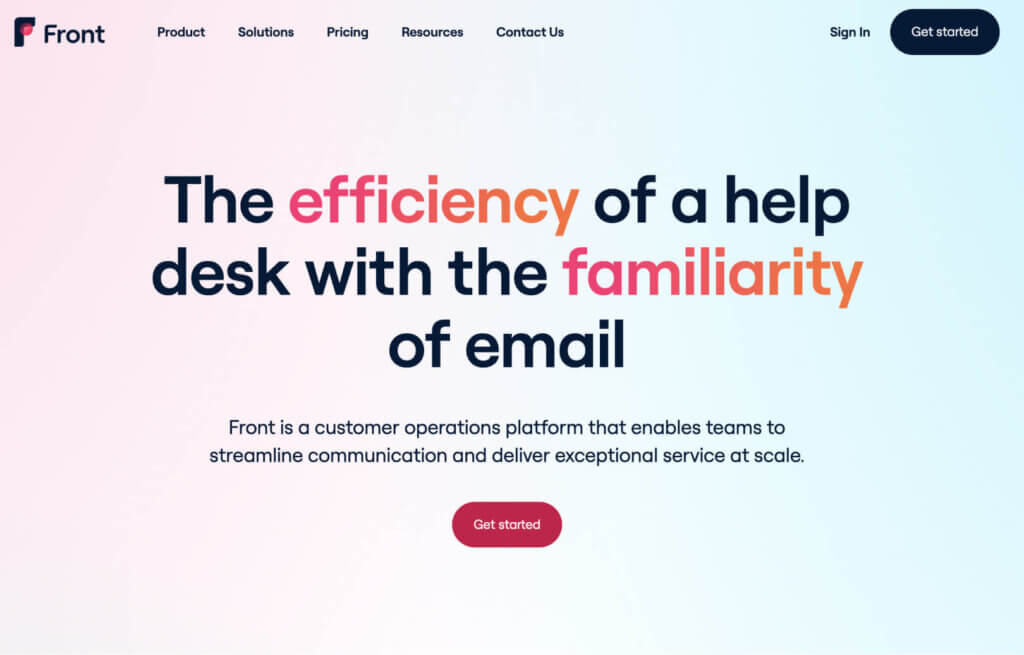 From its inception, Front aimed to streamline teamwork, cut down on tedious tasks, and ensure every customer felt valued. As a nexus for customer communication, people rely on Front to enhance team efficiency, nurture stronger customer bonds, and shave off valuable time in the process.
Key features
Some notable features Front users can expect include:
Analytics surrounding team performance, customer experience, tags, and more
Custom workflows that automatically route, triage, and escalate messages
Real-time collaboration with comments, shared drafts, and team inboxes
Industry-standard encryption, enterprise-grade compliance, and governance frameworks to protect customer data
Key integrations
Front offers users a long list of integrations. Some notable ones to take advantage of are:
Asana
Gmail
Drift
Guru
ClickUp
GitHub
Pricing
Pricing starts at $19/month/user and can go up to $99/month/user.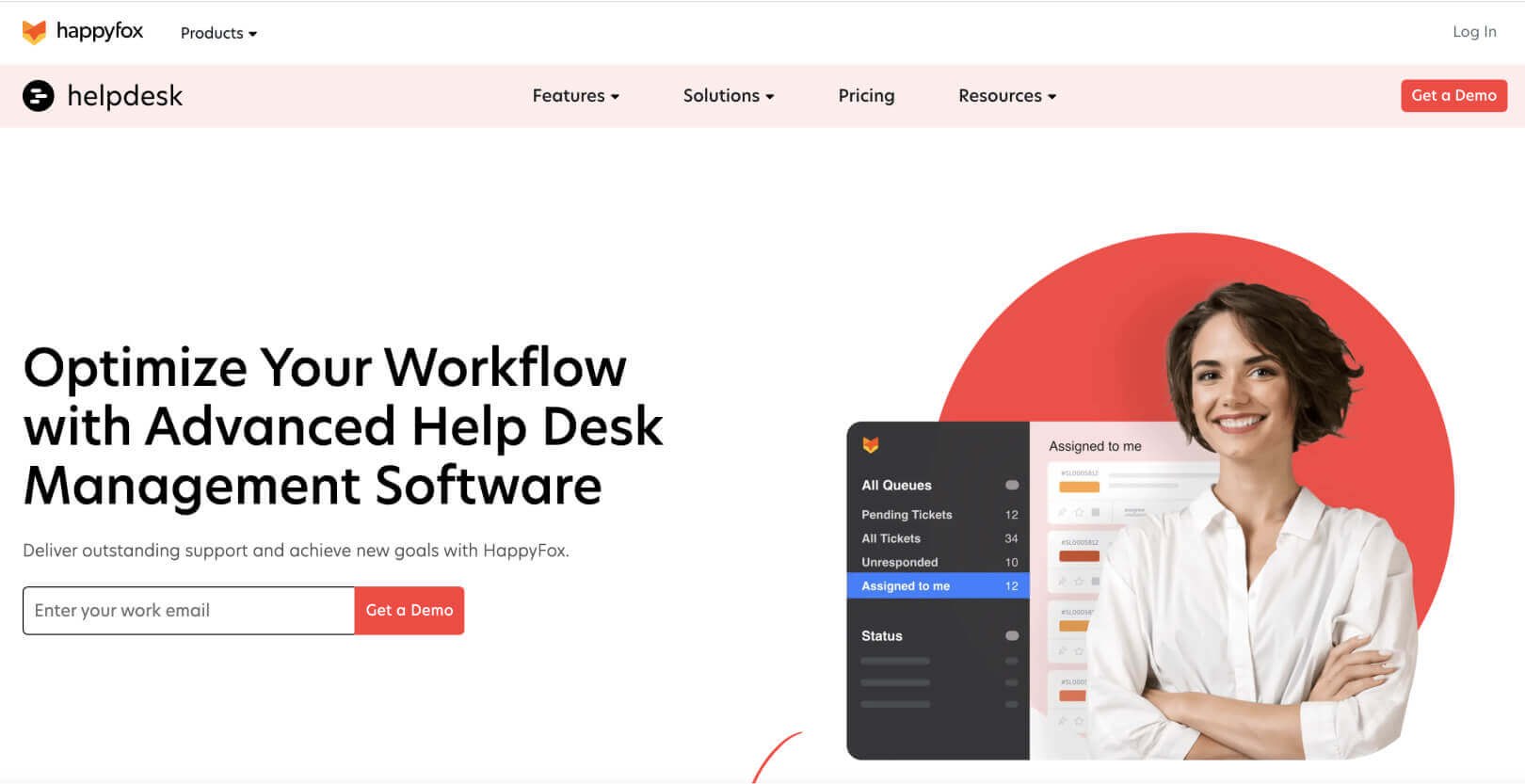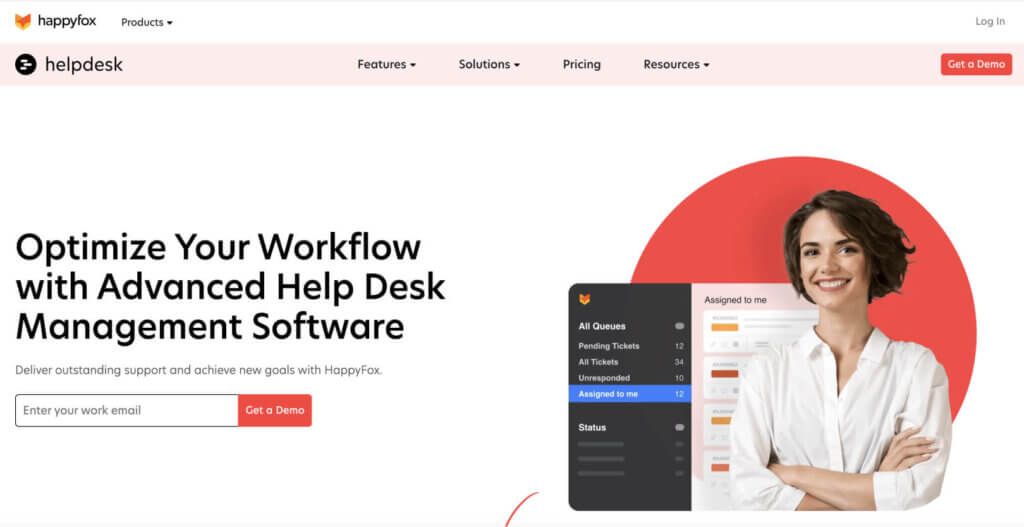 HappyFox is designed to enhance your support processes, featuring a robust ticketing system, a self-help knowledge base, and interactive community forums. With a rich set of features and seamless integrations, all backed by real-time data analytics for every chat, HappyFox enables teams to deliver customer service that's both personal and efficient.
Key features
Those using HappyFox have a variety of features at their fingertips, including:
Widget customizations
Canned responses
Analytics and reporting
Live chat translations
Chat routing and queuing
Key integrations
HappyFox boasts a long list of integrations users can take advantage of. Some notable ones are:
Shopify
Salesforce
Slack
MailChimp
Google Analytics
Okta
Pricing
Pricing starts at $26/month/user and can go up to $3,999/month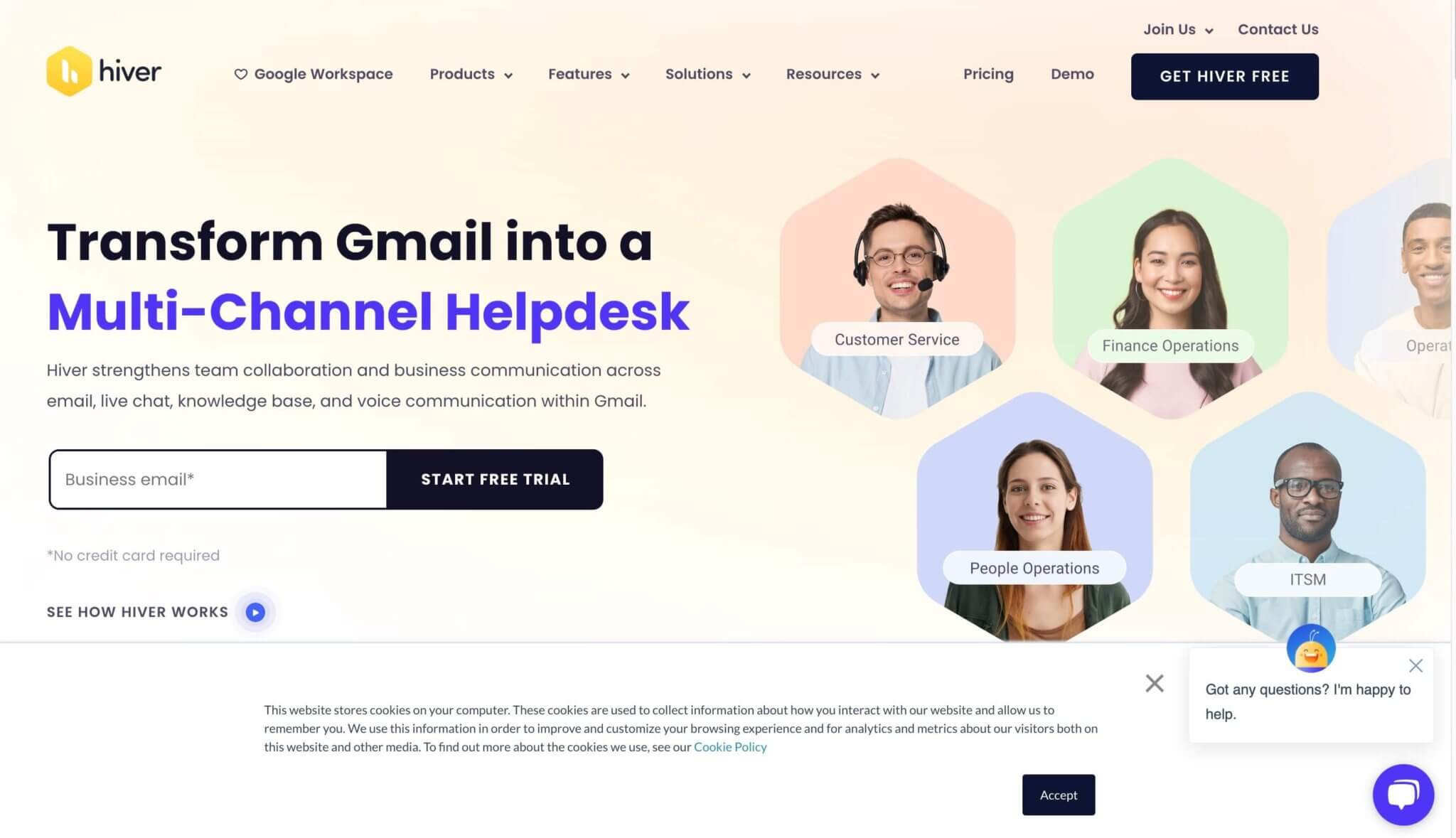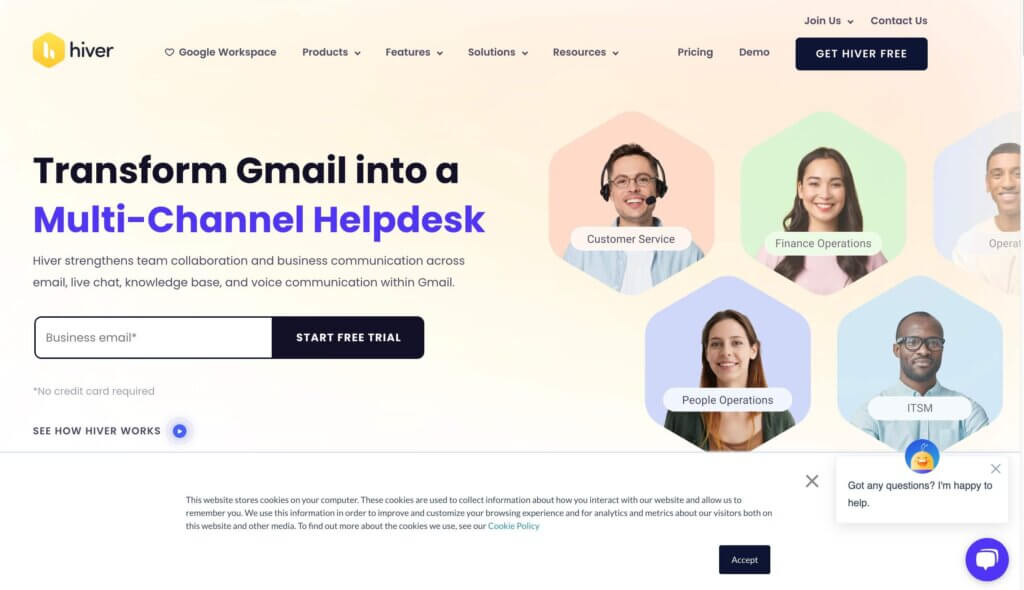 Hiver transforms Gmail into a full-fledged, multi-channel help desk designed specifically for the Google Workspace. Established just over eight years ago by Niraj Ranjan and Nitesh Nandy, Hiver's mission has been to revolutionize email interaction by making it more collaborative and less cluttered for teams—taking us past the limitations of traditional Forwards and Ccs for information sharing.
Key features
Those using Hiver can take advantage of features like:
Email delegation
Collision alerts
Apps for both Android and iOS
Email templates
Shared drafts
Customer surveys
Analytics
Key integrations
Hiver effortlessly integrates with a long list of tools and applications. Some honorable mentions are:
Google Sheets
Slack
Zapier
Trello
Monday
ClickUp
Pricing
Pricing starts at $15/user/month and can go up to 69/user/month.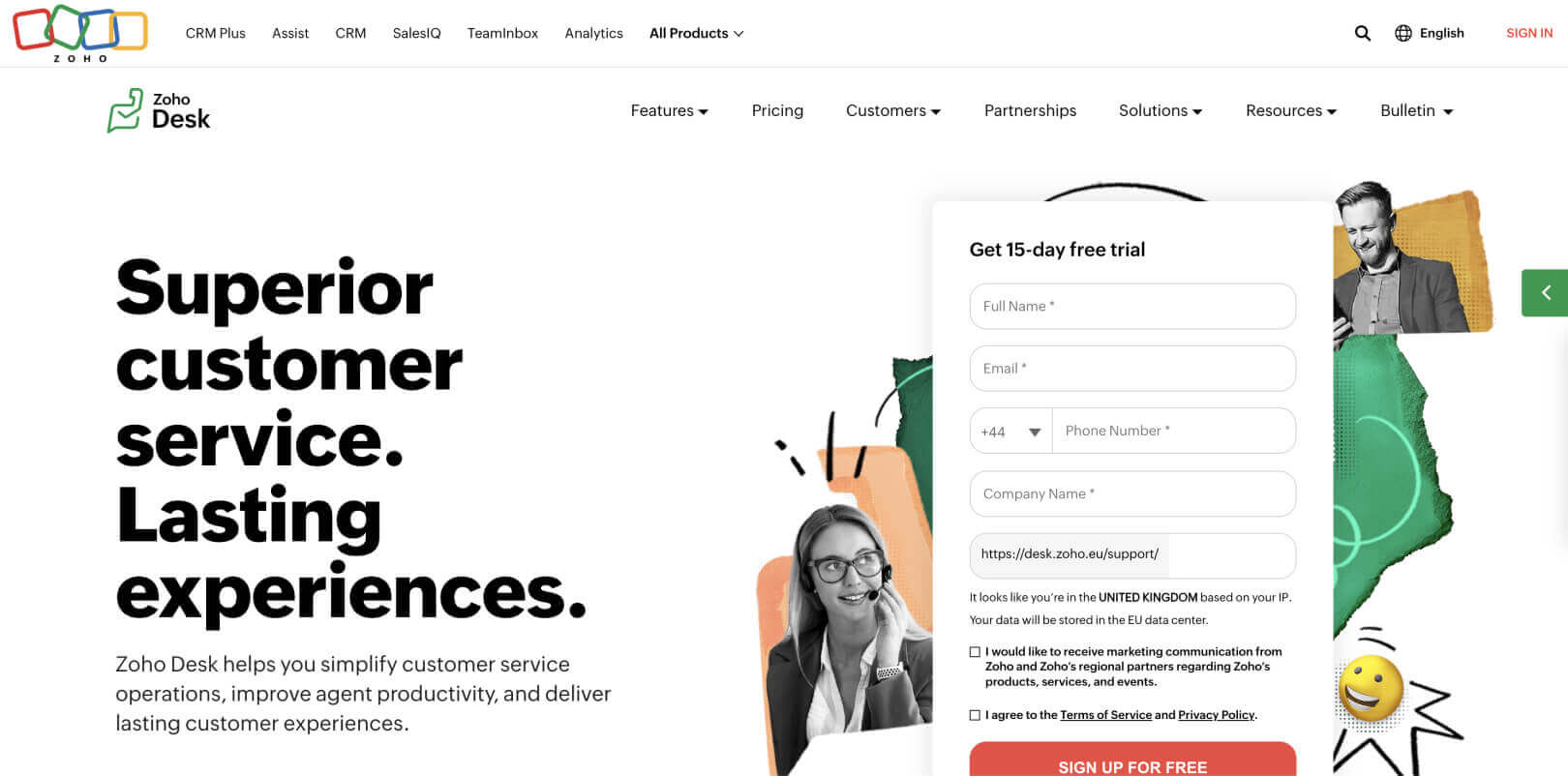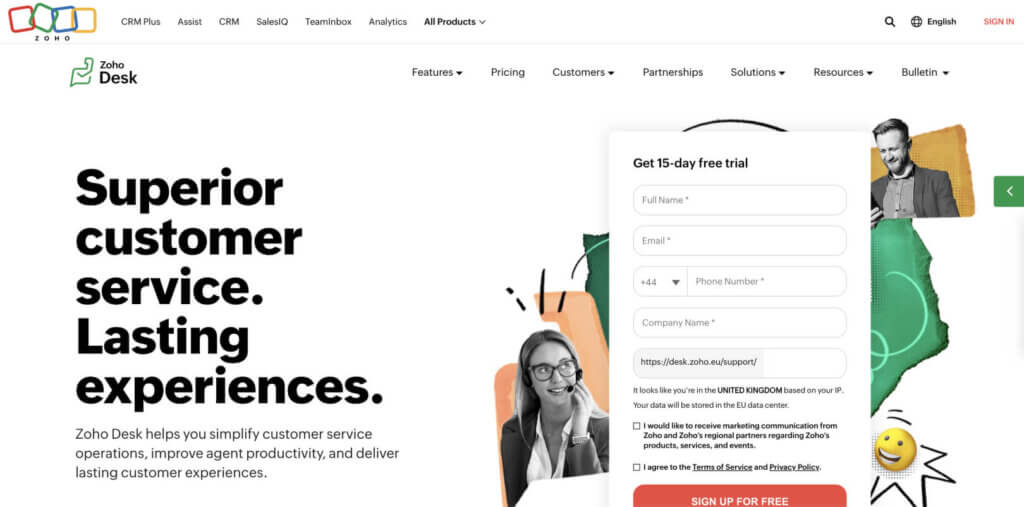 Zoho Desk offers a seamless way for businesses in diverse sectors to handle customer interactions across multiple channels—be it phone, live chat, email, social media, or SMS. The platform lets you allocate calls to specific agents based on their team or department, and it intelligently directs calls to the most suitable agent for each ticket. Customizable to fit your business needs, Zoho Desk is committed to ensuring your customers always walk away with a satisfying support experience.
Key features
Those using Zoho Desk can make the most of features like:
Multi-channel ticket management
Simple email communication
Live chat
Automated ticket assignments
Time tracking
Reports and dashboards
Key integrations
In addition to other Zoho apps, like Zoho CRM, Bug Tracker, and Sales IQ, Zoho Desk boasts integrations with:
G Suite
Jira
Salesforce
Slack
Trello
Asana
Pricing
Pricing starts at $14/agent/month billed annually and can go up to $40/agent/month billed annually.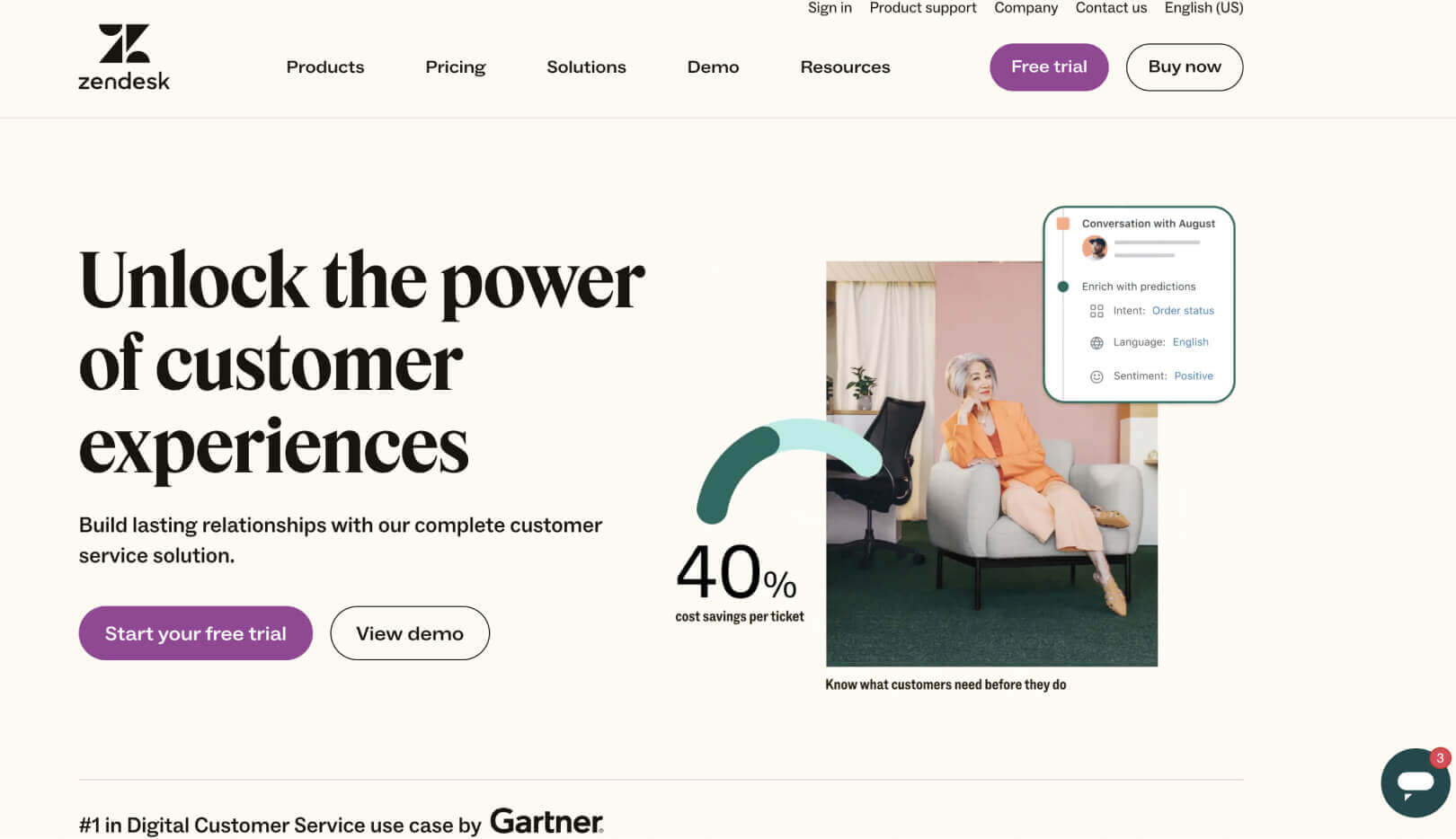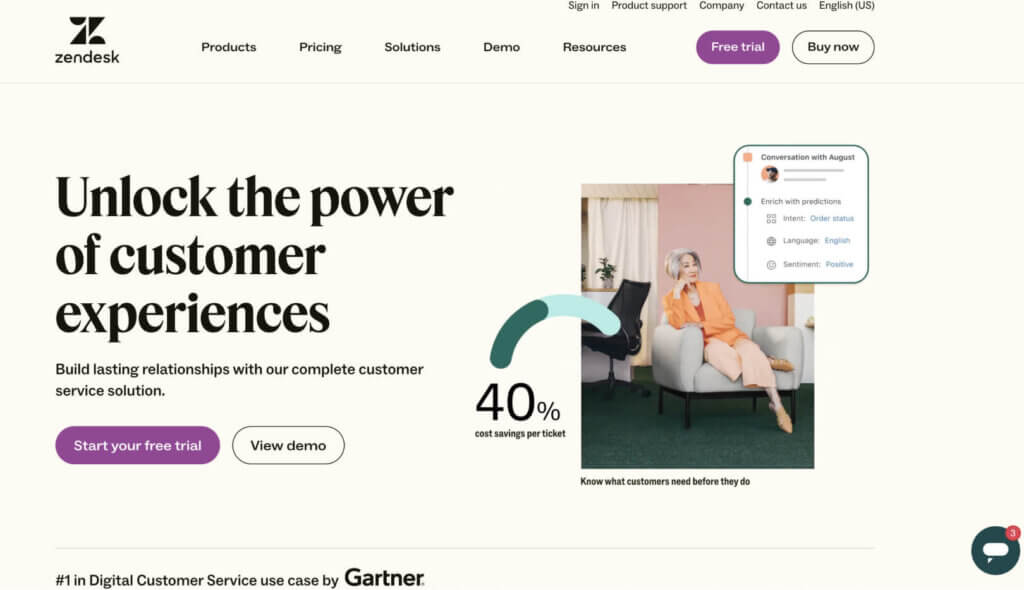 Crafted with the customer in mind, Zendesk enables agents to deliver multi-channel support with ease. Aiming to serve as an integrated agent workspace, Zendesk focuses on speeding up response times while adding a personal touch to each customer interaction. Its user-friendly interface allows businesses the flexibility to scale as they see fit
Key features
Zendesk offers a long list of features, including:
Integrated ticketing system acting as a central hub for customer questions, requests, and concerns
24/7 support with automation and AI
An intelligent knowledge base for enhanced self-service, created to empower agents
Data and analytics to measure and improve how teams provide an exceptional customer experience
Key integrations
Zendesk natively integrates with the tools and apps you already love using, including:
Zoom
Harvest
Microsoft Teams
Intercom
Monday.com
Zapier
Survey Monkey
Pricing
Pricing starts at $19//user/month billed annually and can go up to $115/user/month billed annually.
Related Reading: Best Zendesk Alternatives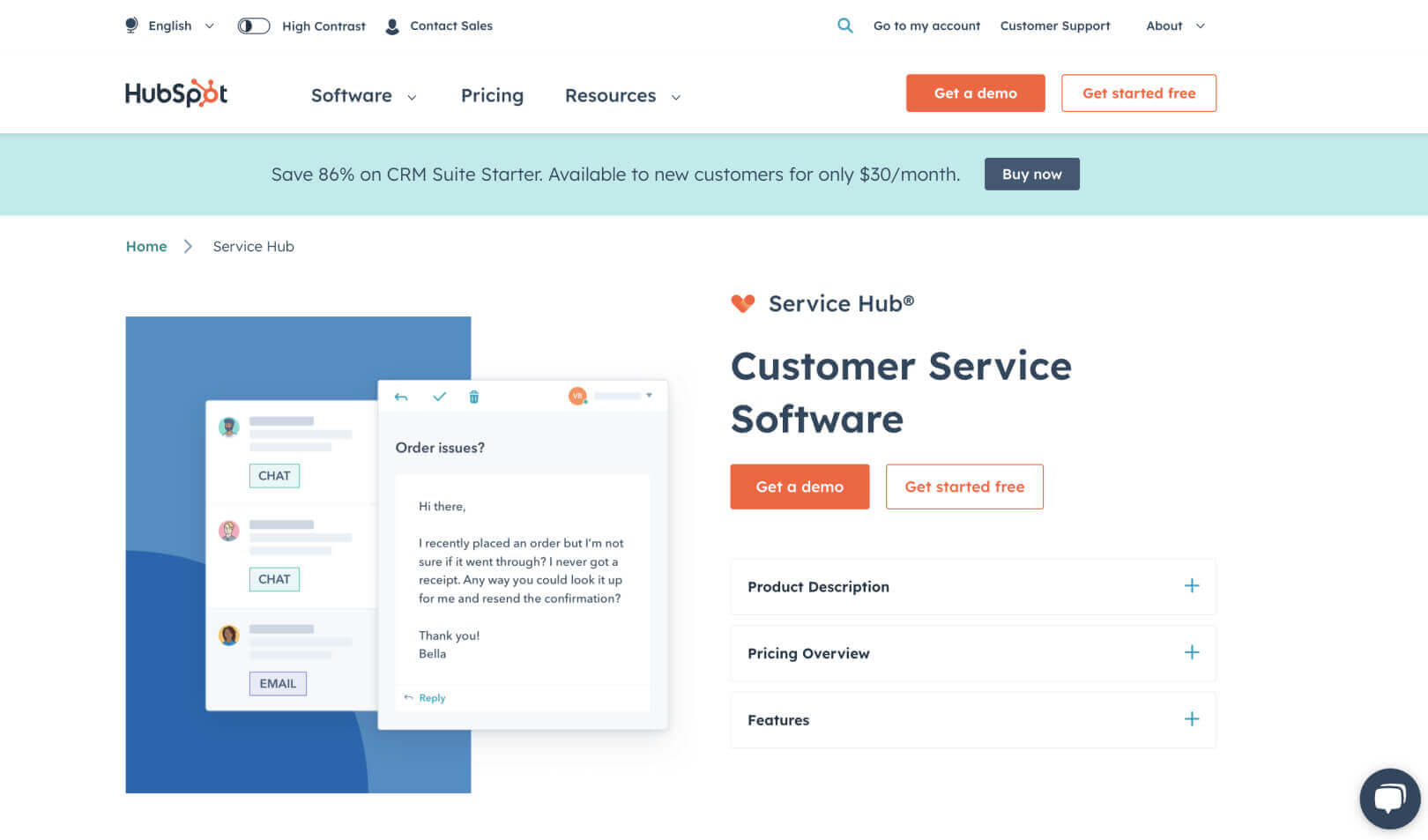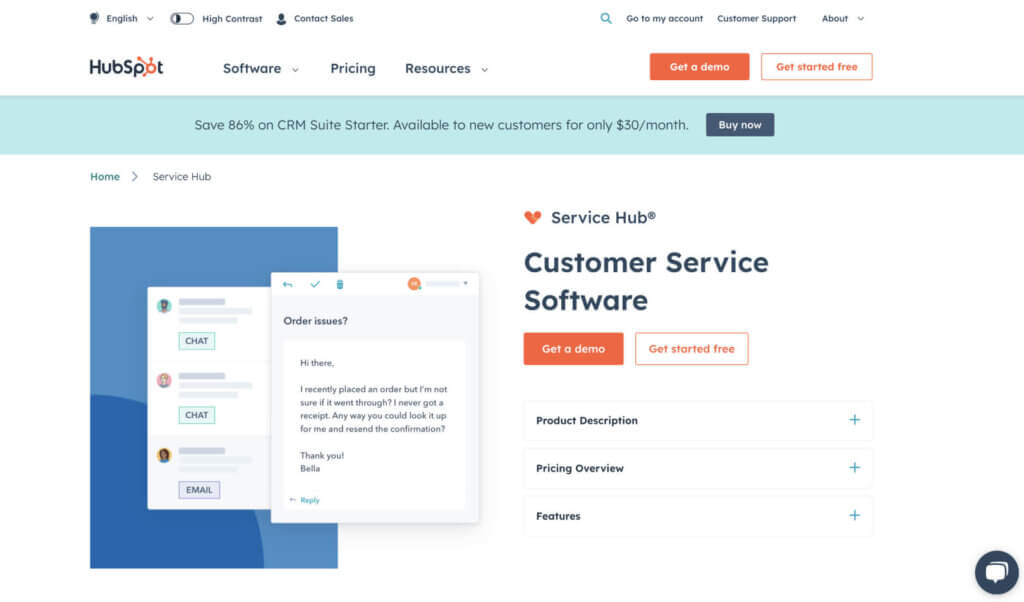 Meeting customer demands can often pose a challenge for service teams, and that's precisely where HubSpot Service Hub steps in. By consolidating all customer service data into a single hub, this tool enables your team to efficiently scale support using self-service options and automation features. If customer retention and growth are on your radar, HubSpot Service Hub offers the complete toolkit you need.
Key features
No matter how your team chooses to use HubSpot Service Hub, there will be a long list of features at their fingertips. Some include:
Customer portal
Omni-channel messaging
Knowledge base
Social media management
Email tracking
Built-in analytics, reports, and dashboards
Live chat
VoIP calling
Key integrations
The HubSpot Marketplace is full of noteworthy integrations with apps and tools that you'll likely find in your tech stack. Some include:
Zoom
Asana
Jira
Databox
Hootsuite
Pandadoc
Zapier
Pricing
The HubSpot Service Hub breaks its prices down by which department within your organization will be using it most. It also lets you customize your rate by contracts. For example, the Marketing package starts at $45/month, which is priced at 1,000 marketing contracts, paying annually. There are two other plans within the Marketing package.
There are also Sales, Customer Service, CMS, and Operations packages. The Sales and Customer Service packages pay by users of the tool, whereas CMS and Operations have flat-rate bundles.