Last year, Amazon experienced record levels of holiday sales as shoppers around the world ordered billions of products. But this holiday season will be even bigger for eCommerce, despite supply chain concerns.
With Black Friday, Cyber Monday, Thanksgiving, Hanukkah, Christmas and the New Year all coming up, online sellers have a lot to prepare for. Check out our eCommerce Q4 DOs and DON'Ts infographic then read on for more on what to avoid this holiday season.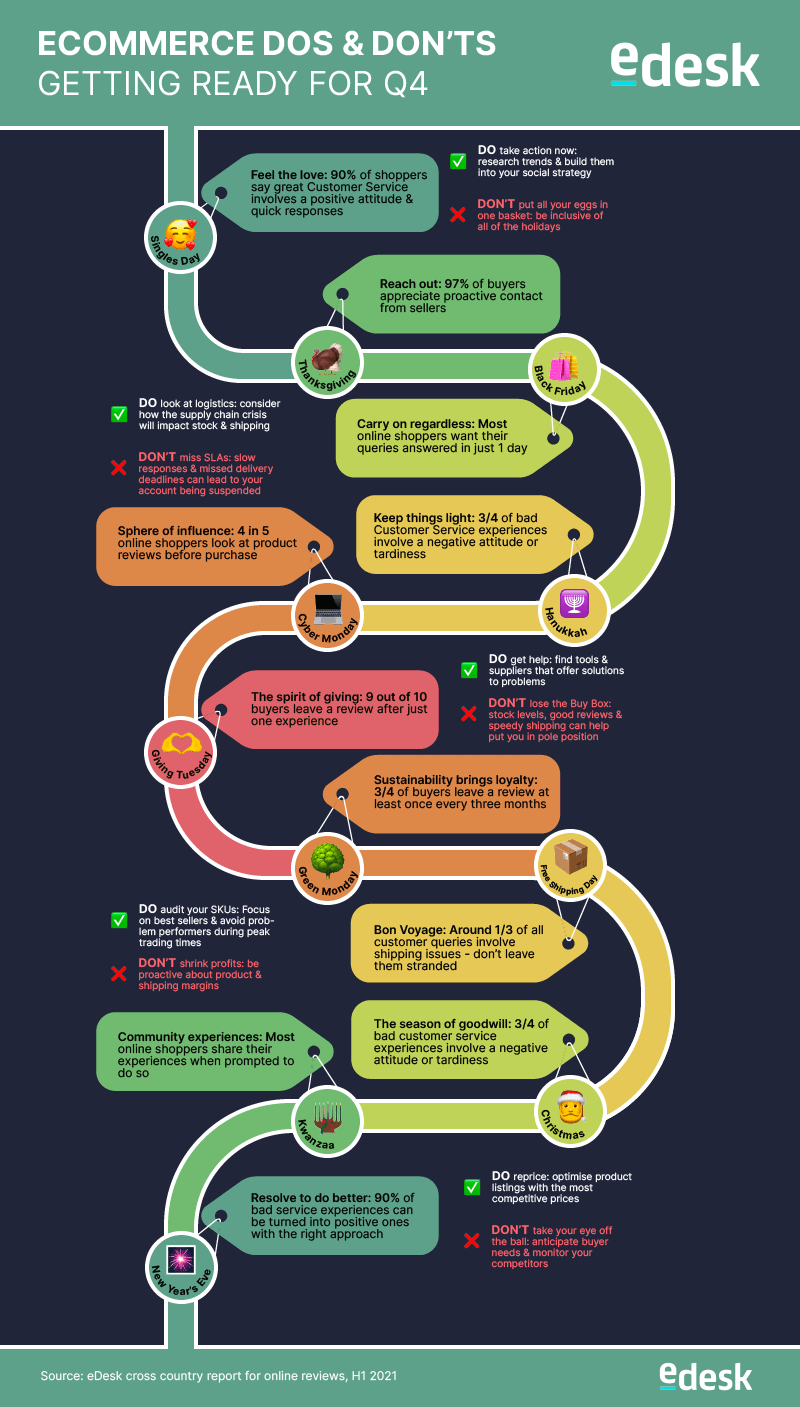 1. Getting overcome by customer messages
As your sales grow this holiday season, your customer support queries will increase too. According to our data, for every six sales you process, you'll receive a customer support message.
Be prepared for questions around holiday shipping times, returns policies, gift receipts and gift wrapping – as well as the usual questions you receive throughout the rest of the year. (If you're using Fulfillment by Amazon, it's worth noting that you can enable gift wrapping for free).
To avoid being overwhelmed, you should ensure you're using the best eCommerce help desk software. This will ensure that you have a single location for all your incoming queries, from every channel you're selling on. Answering queries in Seller Central and My eBay, as well on top of your email is a recipe for disaster and you'll soon find yourself flooded by messages.
With eDesk you can create a knowledge base to enable your customers to answer their own questions. This a great way to cut down on the volume of incoming messages without compromising your customer service.
You can also reduce the number of incoming messages by creating clear, accurate and comprehensive product listings. To do this, use lots of high quality Amazon images and craft informative product descriptions which cover common customer questions.
2. Missing SLAs
Despite the holidays, Amazon sellers still need to respond to all customer queries within 24 hours – even on Christmas day! It's part of Amazon's Service Level Agreement (SLA) and failure to comply can lead to your account being suspended.
But don't think of this as a burden. It's worth doing your best to respond to messages ASAP, as this also helps to reduce negative feedback.
If you've got the right help desk software, this shouldn't be a problem. eDesk has an SLA timer to show you the 24-hour deadline and features, such as AI templates, also enable you to significantly reduce your response times.
Providing on-time deliveries is also key to meeting Amazon's requirements, so make sure you allow enough time for handling your extra holiday orders. You should also stay up-to-date with your mail carrier's deadline for Christmas day delivery.
3. Receiving negative reviews
Negative reviews can be hugely damaging to your products' visibility on online marketplaces such as Amazon or eBay. They will also affect your conversion rate and should be avoided at all costs!
If you offer punctual delivery and great customer service, you're already on your way to preventing negative feedback. If you do receive bad reviews, respond quickly and politely. Even though it's an extremely busy time of year, you should always make time for this as it will affect your sales in the coming year.
If the review is negative:
Apologize where appropriate
Provide insight as to why the issue occurred
Ask the customer to contact you privately
Resolve the issue
Take action to stop the issue occurring again
After this, the customer might remove their negative review. If not, you could try to mitigate its effect by increasing positive reviews with a targeted feedback strategy.
4. Losing the Amazon Buy Box
Competition intensifies during the holidays, so it's hard for Amazon sellers to maintain the highly sought after Buy Box position.
Items which appear in Amazon's prominently displayed Buy Box attract more sales than other listings. This is simply because it's the quickest and most convenient way for shoppers to buy an item.
During the holiday period, as stressed out shoppers and last-minute gifters rush to make their purchases, winning the Buy Box becomes even more important for online sellers.
Competitive pricing, consistent inventory levels, positive feedback and short shipping times can all improve your chances of maintaining a lucrative Buy Box position. A high quality automated repricing tool will put you in pole position and helps you to make the sale at your target profit margin as well.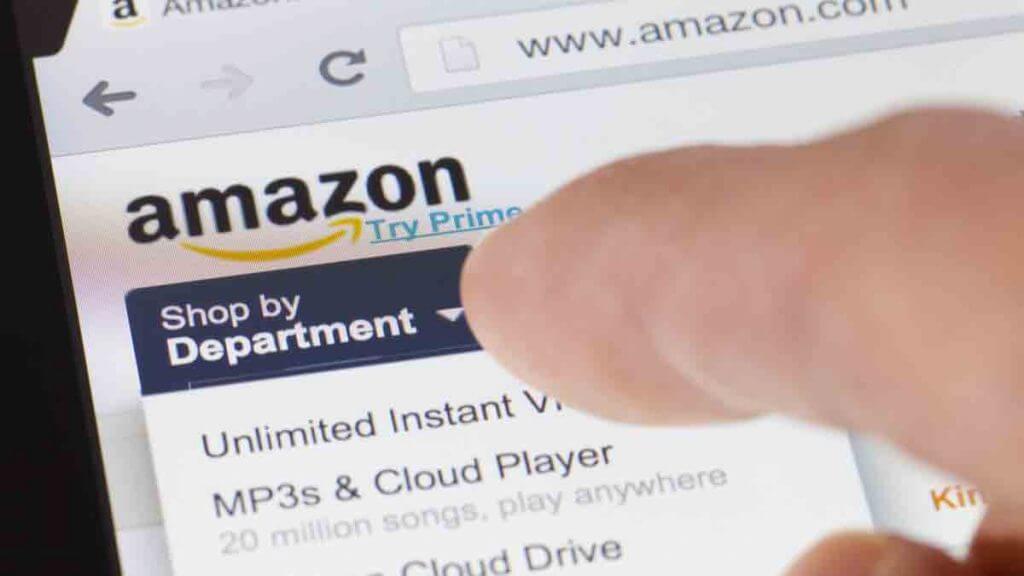 5. Winning the Amazon Buy Box – at the wrong price!
Winning the Buy Box is great for increasing sales. But this is only useful to your eCommerce business if each sale brings in a profit.
Yes, price is a big factor towards winning the Buy Box, but you also need to keep your base costs in mind and make sure you aren't losing money.
The lowest price tag doesn't always win the Buy Box. Like we said, other variables like feedback and delivery influence a product's position too. But if another seller does beat you by implementing cutthroat product pricing, they'll probably sell out quite quickly during the holiday season. So don't be tempted to sell too cheaply just to compete with them.
If you use repricing software to win the Buy Box, you can set minimum pricing to make sure you always break even. This ensures you're both competitive and profitable over the holidays.
6. Running out of stock
Running out of stock mid-holidays is disastrous! But investing in stock which you can't shift is pretty awful too.
With current trends, seasoned sellers can probably rest assured that they'll sell more than last year. But new sellers will find it hard to gauge how much inventory they need.
Last year, toys, fashion, home and beauty products were most popular on Amazon. They accounted for half a billion orders over the holiday period. So it's a good idea to order extra stock in these areas.
However, sellers should know that Amazon has some special holiday selling requirements for toys and games. Sellers who don't meet certain criteria aren't allowed to sell them during November and December. So make sure you meet these benchmarks before stocking up.
For FBA sellers, their products need to arrive at Amazon's warehouse weeks in advance. So they're particularly at risk of running out of stock.
Usually, Black Friday and Cyber Monday stock needs to arrive by the first week in November. While Christmas inventory needs to arrive by the first week in December. You can keep an eye out for deadlines here.
So make sure to closely monitor the progress of your sales up until this deadline. If you have automated replenishment alerts in place, you should lower the thresholds for the holiday season.
Alternatively, if you have easy access to stock, you could consider creating a backup self-fulfilled listing in case you run out of inventory at Amazon's warehouse.
7. Not having the right software
Investing in the right eCommerce software helps you to save time, increase sales and improve customer service this holiday season.
Software for automating feedback and managing your inventory can take a lot of time-consuming tasks off your plate, but a dedicated eCommerce help desk is where you'll really see the difference.
When choosing software for your eCommerce store, make sure you choose ones which integrate with one another and can work smoothly together. This will allow you to manage the peak holiday season without too much stress.
Or book a demo to learn more about how eDesk can help your eCommerce business deliver an excellent customer experience every time.