Want to supercharge your sales with BigCommerce marketing integrations? We've assembled the best in the business to increase your conversions, attract more customers, and keep your existing customers coming back again and again.
We'll also explore how having a BigCommerce helpdesk can be the key to your store's number one most important metric: happy customers.
But wait, let's roll back. What exactly is BigCommerce, and what's the benefit of investing in marketing integrations? We're glad you asked.
TL;DR
BigCommerce is a hosted eCommerce platform that allows you to set up an online store to sell products or services.
Although you have almost everything you need for store management in BigCommerce, adding marketing integrations will supercharge your growth.
From email marketing apps to customer service dashboards, there's a wealth of marketing integrations available on BigCommerce to suit every business model.
What is BigCommerce?
The eCommerce platform market is booming, and it's only set to get bigger with an estimated 12-24 million eCommerce stores currently in business. Anybody wanting to set up an online store needs to start with one key question: which platform will I use?
That's where BigCommerce comes in.
BigCommerce is one of the most popular hosted eCommerce solutions currently on the market. This well-known platform allows business owners to set up an online store, customize almost every aspect to their preference, and then sell products or services.
BigCommerce is SaaS (Software-as-a-Service), and it's cloud-based, so all you need to get started is an internet connection and a web browser. You don't have to download any specialist software locally onto your computer – welcome news for tech novices.
What are BigCommerce marketing integrations?
Integrations are apps and extensions you download that add extra features or functionality to an existing BigCommerce store. BigCommerce boasts a plug-and-play interface, so, in theory, you could just use the solution as it comes with no integrations.
Integrations, however, can save you a significant amount of team, increase efficiency, and -most importantly – boost your profits. Although there's typically a monthly cost associated with these integrations, they pay for themselves through increased revenue. You can find them in the BigCommerce app store, but we've put together a few of our favorites for your perusal.
Marketing integrations do what they say on the tin – they improve your marketing efforts. From increasing average order value to growing your business, marketing is one of the most important aspects of running a business to invest in.
How to add a BigCommerce marketing integration to your store
The exact process of adding a BigCommerce marketing integration to your store depends on the integration you plan to use.
The general steps for connecting your store to your BigCommerce integration are as follows:
Search for your chosen integration on the BigCommerce Apps & Integrations page.
Click on the integration, then click GET THIS APP. You'll be prompted to log into your existing BigCommerce store.
Once you're logged in, click INSTALL, then review and CONFIRM the integration.
BigCommerce will direct you to your chosen integration's website to sign up. Follow the instructions to create an account (if you don't already have one) or sign in.
Once complete, your BigCommerce store will be connected to your chosen integration.
Most BigCommerce integrations will walk you through what you need to do once you've installed the app and left the BigCommerce App Marketplace, so don't stress – this process is pretty easy.
Benefits of marketing integrations for BigCommerce
Attract more customers
eCommerce marketing tends to have one primary purpose: attracting new customers to buy your profits. By spreading the word about your store with the help of some savvy BigCommerce apps and extensions, you can ensure a steady stream of new customers visiting your site.
And what do more customers mean? Higher profits.
The more customers that visit your site, the more positive feedback and user-generated content your store or online profile will receive, leading to even more customers buying your products. It's a self-fulfilling marketing cycle.
Establish a brand identity
Think of big brands like Coca-Cola, Apple, and Amazon. What do all of these popular brands have in common? A strong, instantly-recognizable brand identity. By using a consistent tone of voice and graphics in your marketing efforts, you can establish a brand identity that's synonymous with your brand.
In fact, consistent representation of a brand has been shown to increase revenue by an impressive 33%.
Save time
As any store owner knows, time is of the essence when it comes to running your business. Integrations are only helpful if they don't take up extra hours of your day that could be spent growing your business.
The good news is, the majority of BigCommerce's marketing integrations will actually save you time. Apps that focus on marketing automation take care of the manual tasks for you, leaving you with more time to focus on providing excellent customer service and keeping your virtual storefront in tip-top condition.
The best BigCommerce marketing integrations for online store owners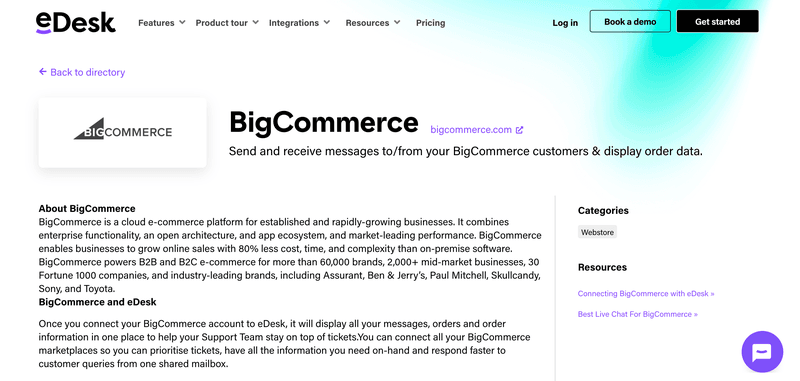 Part of any killer marketing strategy is maintaining your reputation through consistently excellent customer service.
Customer service can make or break your store, especially when it translates to poor customer feedback. While you can sometimes transform unhappy customers into happy ones, it's better not to cause problems in the first place. The easiest and most effective way to keep on top of your customer support is with a helpdesk for BigCommerce.
Increasing conversion rates is easy with a live chat function and a helpdesk that allows you to manage messages from various channels on one simple dashboard. With eDesk, not only will you save time (and staffing costs), but you'll also make your customers happy, so they'll be more likely to return for future purchases and recommend you to their friends, too.
Happy customers mean positive feedback, user-generated social proof and excellent reviews on your profile, encouraging more sales and an increased average order value. When you provide fantastic customer service, it creates a new kind of marketing strategy – one where your happy customers market your products or services for you.
Attracting a new customer to your web store is seven times more expensive than retaining a current customer – and repeat customers are nine times more likely to convert. Considering how much time, effort, and money goes into securing a new customer, you're missing out if you don't use the tools available to uncover your own buyer insights and build lasting profitable relationships while serving your customers.
With our unified customer profile, your support agents have access to customers' purchase history from your BigCommerce store, as well as your total order value for a given time period, and essential information about which customer segments a buyer falls into: a new customer, an active shopper, or even a VIP. This holistic view gives your support team the data they need to deliver fast, accurate, and personalized customer service. Plus, you'll unlock a host of growth opportunities for your business according to each customer segment.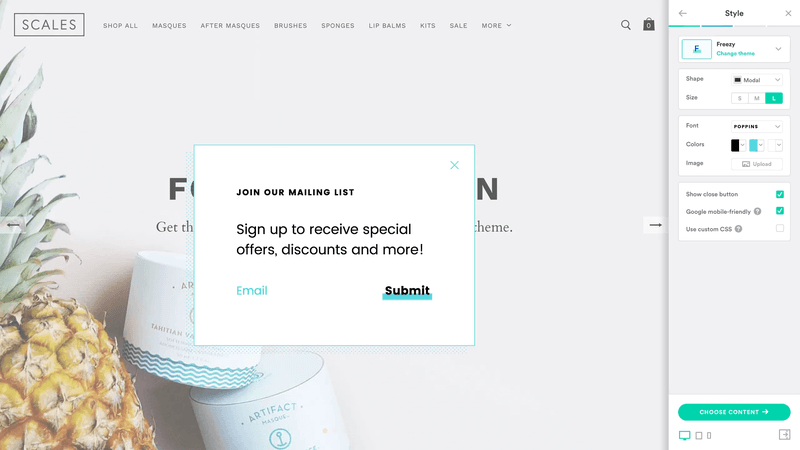 Picture the scene. You're scrolling through an online clothing store you love. You've got your eye on a new set of shoes, but you're unsure whether to buy them. After all, you've got that upcoming payment on your car, and the shoes come with a pretty hefty price tag.
Then, up pops a box on the screen, telling you to subscribe to a mailing list for 20% off. Decision: made. You sign up for the mailing list and buy the shoes of your dreams for 20% less than they'd usually cost.
Now imagine this is your online store. The power of the humble pop-up shouldn't be underestimated, and that's what BigCommerce integration Pixelpop is all about.
Whether you're in the market for a pop-up box to collect emails for email marketing or promote offers, Pixelpop has you covered. You can sync your email signup pop-up to MailChimp, Klaviyo, or Conversion for a seamless transition to an email platform of your choice. Pair the handy email marketing signups with foolproof templates, and you're good to go.
You can fine-tune your pop-ups to show specific information based on customer metrics, such as location, previous activity, and device. If a user tries to leave the page, keep them on-site with an exit intent pop-up offering an exclusive deal. Pricing starts at $0 (yes, really)!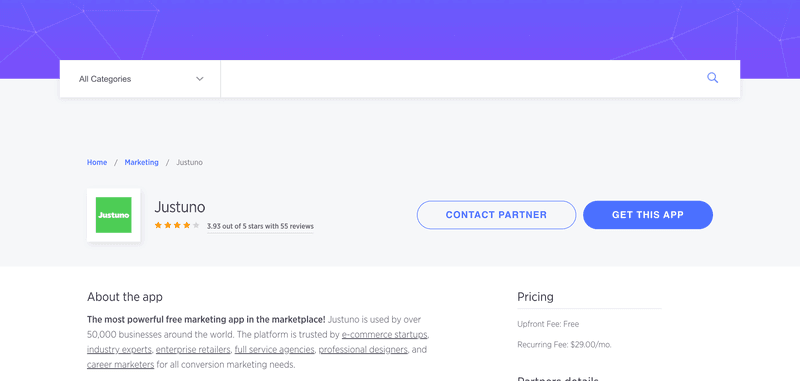 Justuno markets itself as a one-stop shop for all your marketing needs, thanks to its abundance of features primed for conversion.
Justuno combines the power of conversion marketing, marketing automation, and analytics to provide online store owners with tools to supercharge sales. From email capture pop-ups to checkout abandonment pop-ups, Justuno keeps the conversion rates high at every stage of your user journey.
Segment your audience and target them based on a range of demographics with Justuno. Justuno collects customer data you can analyze and market to your audience accordingly. You can A/B test marketing campaigns, too, to see which approaches are received best by your audience and inform your future marketing strategies.
There's no upfront cost involved, but the fees are $29 per month.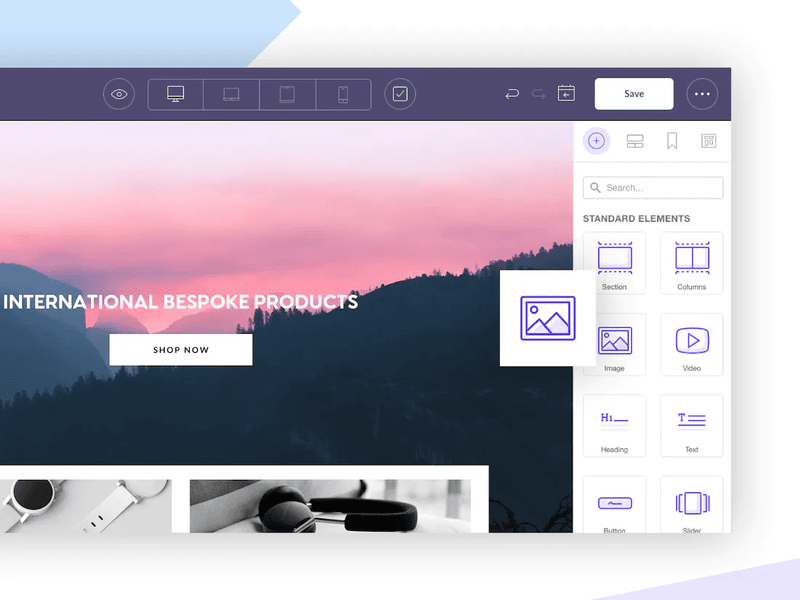 In a modern world, you're fighting with dozens of other tabs on a mobile device to get your online store seen by your target audience. This means your landing pages and product pages have to be on point.
When users click on your page, you only have a few seconds to convert them, and marketing apps like Shogun Page Builder help you do it.
You can customize pages with a simple drag-and-drop editor – no expert graphic design skills needed here! Shogun also offers a range of attractive templates for you to use and customize, while the analytics features allow you to measure any landing page's success using key metrics.
Want to test two different Calls to Action to see which is most effective? Simply adjust the ones on your landing page and take a look at the analytics to see which garners the most conversions.
If you're interested but don't want to commit, you can try Shogun for 7 days for free. After that, you'll pay a monthly fee of $39.00.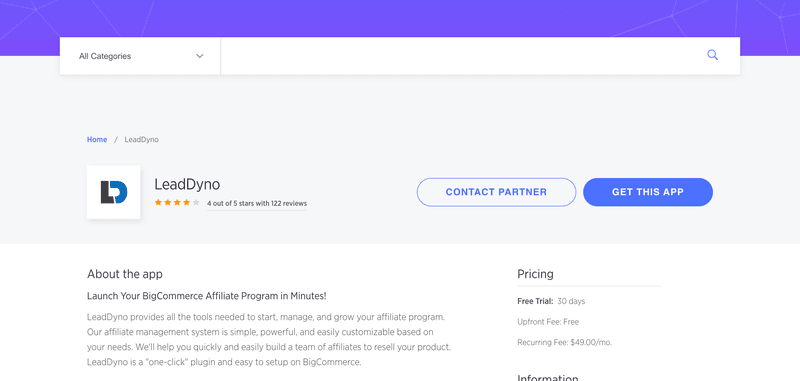 Want to add an additional revenue stream to your online business? Try affiliate marketing.
Affiliate marketing allows publishers to earn a commission by promoting a product or service made by another retailer. This is done using affiliate links, which, when clicked by site visitors, earn the publisher a commission.
If you want to level up your marketing game, try launching an affiliate program and allow publishers to post links to your products to increase your reach.
LeadDyno has everything you need to launch, manage, and grow an affiliate program. With LeadDyno, you can quickly build a team of affiliates to promote your products. You can bulk pay affiliates commissions using PayPal or other popular payment integrations.
The onboarding affiliate process is made simple with LeadDyno. Each of your affiliates gets access to their own dashboard, containing all the information they need to promote your store.
You can upload marketing deliverables such as banner ads, and help affiliates create custom links to increase your sales. Running an affiliate program has never been easier!
If you're new to affiliate marketing and want to give it a go, LeadDyno offers a handy 30-day free trial, so there's no risk involved if you change your mind. After the free trial, LeadDyno costs $49 per month, so it's worth making sure you'll get a hefty return on investment if you decide to proceed.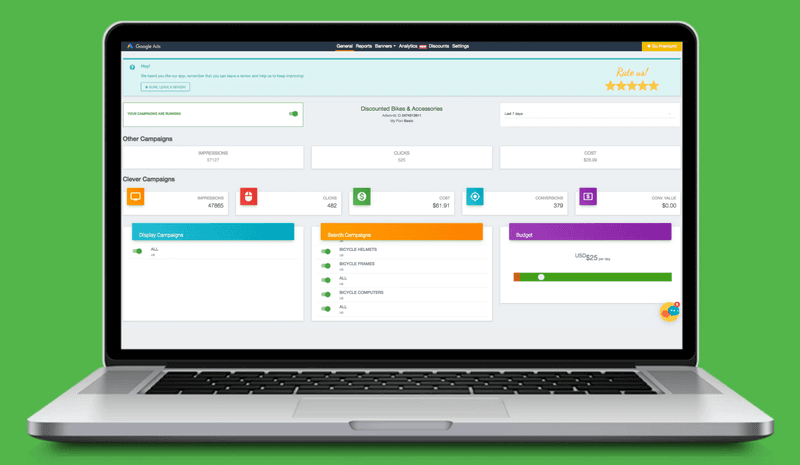 What's your search engine of choice when you need to search for something on the web? Like the rest of us, probably Google. There are a few ways to advertise your business on Google, with SEO being one of the most effective.
While SEO (that's search engine optimization for newbies) can have great results for companies wanting to reach the top of Google, it's not the speediest process. A quicker way to drive traffic from Google is to invest in Google Ads. That's where Clever Google Ads comes in.
Clever Google Ads automatically generates Google Ads for your store using information from all your collections and products. The Ads cover four levels: Search, Remarketing, Display, and Shopping Ads campaigns.
Once the ads are generated, they'll be reviewed by a Google Adwords expert. Clever Good Ads' machine learning algorithms also optimize your campaigns once they're posted. You can check your Adwords performance, optimize your targeting, and take full control of your campaigns from the Clever Google Ads dashboard.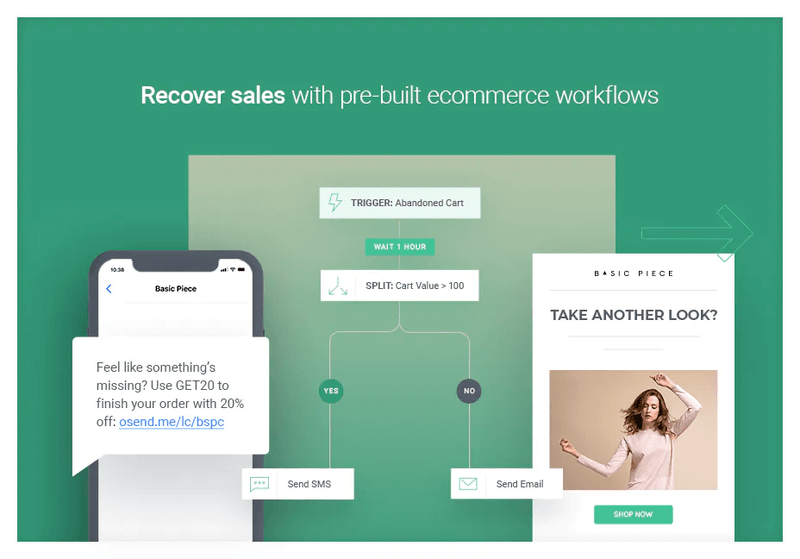 We've all been there. You add something to your basket, the doorbell rings, and it's your Friday night takeaway. You absent-mindedly close your laptop and forget all about the basket, until an email appears in your inbox.
The email reminds you of your expiring basket (and preferably offers you a cheeky discount to seal the deal), and you return to the site and buy that item you've had your eye on for ages. The difference between you purchasing that product and leaving it in your basket was that pivotal email. And that's the power of email marketing.
Omnisend is one of the best BigCommerce apps for email marketing. Designed to help teams increase revenue without increasing their workload, the app offers pre-built workflows and exclusive cart abandonment features.
Omnisend is proud to be the only email marketing platform that offers cross-device abandoned cart recovery, allowing users to reinstate abandoned carts across phones, laptops, and tablets. Where this integration truly shines is its automation workflows.
With Omnisend, you can target your audience at a granular level by their shopping activity, thanks to the segmentation features. Combine email with SMS and push notifications, for cart recovery and order and shipping confirmations.
Omnisend makes email marketing easier than ever before, with ready-to-use templates and a simple content editor that everyone can master – even newbies to email marketing.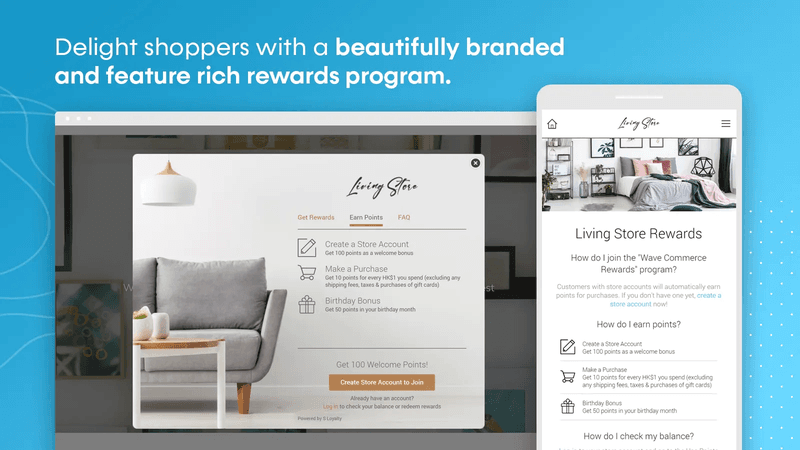 Too many businesses focus on attracting new customers and fail to reward their loyal customers. Rewarding customers who consistently invest in your store should be a crucial part of your customer service strategy, and S Loyalty is the best app to help you implement it.
S Loyalty allows you to add an attractive rewards program to your online store, making your regular customers feel appreciated. You can customize your designs for desktop and mobile – which is especially important given the sheer volume of shoppers who now scroll eCommerce sites on their phones.
Want to save time with automation? You're in luck. S Loyalty offers sophisticated features, including schedule expiration for unused rewards and automated personalized rewards for particular customer milestones and birthdays.
You can schedule event-based campaigns for special holidays, and support is available in various languages for your international customers.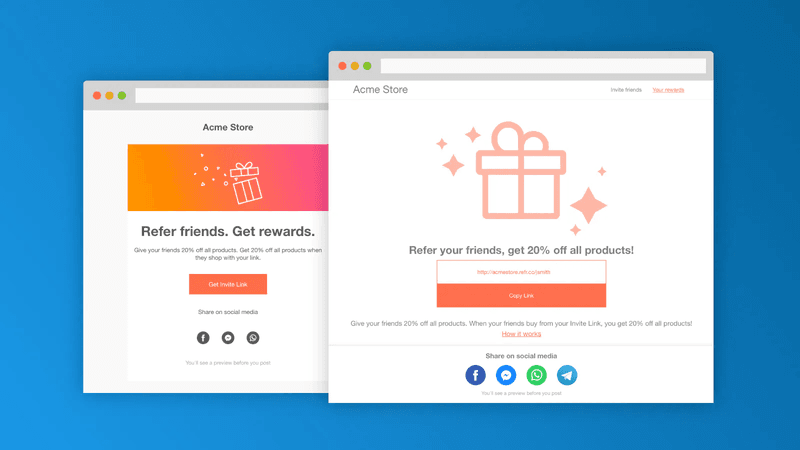 The best type of marketing is the type you don't have to do yourself. In fact, if you know how, you can get your loyal customers to do your marketing for you – all with the help of Referral Candy.
Referral Candy is the ultimate tool for word-of-mouth marketing. Instead of doing all the hard work with your marketing strategy, incentivize your customers to refer their friends. You can design your referral program any way you like it. The best part? You can add ReferralCandy to your eCommerce store without any coding skills.
If you want to try before you buy, there's a 30-day free trial, after which point the app costs $39 per month.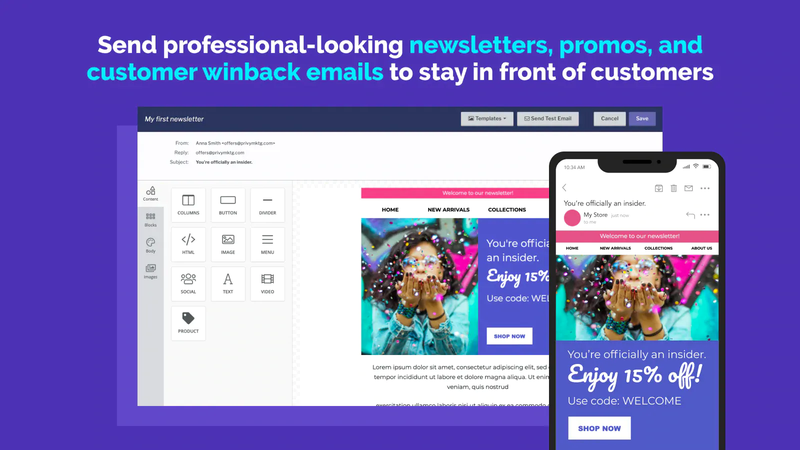 If you're looking for a free marketing platform with all the pop-up, email, and SMS tools you'll ever need, you'll love Privy. Want to grow your email list for some top-notch email marketing? Privy's pop-up subscriptions make it happen, by collecting the contact details of site visitors.
Choose from a library of pre-made pop-up templates, or design one that fits your brand from scratch. You can even add a spin-to-win wheel to your site to gamify deals and discounts.
Once you've grown your email and SMS lists, welcome new subscribers with a coupon code to increase sales and customer loyalty. Reduce the number of abandoned carts, send product newsletters, and alert your customers to the latest arrivals.
As with all marketing strategies, the best way to measure the success of your pop-ups and email marketing is with accurate data. With Privy, you can see which campaigns increase signups and revenue to inform your future marketing strategy.
A/B test variations of pop-ups to see which performs better and get insights on how your marketing emails perform, with metrics such as open rate and click-through rate.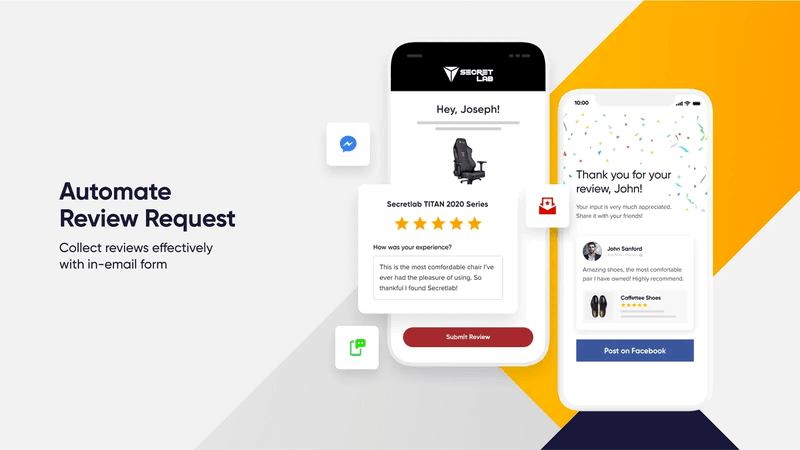 Have you ever been just on the cusp of making a purchase, when you spot a bad review or hear from a friend that their customer service leaves something to be desired? Buying from brands we can trust is important, and one of the key ways we decide if we can trust them is with social proof.
Social proof is more crucial for businesses than ever before, with 88% of consumers trusting user reviews just as much as personal recommendations. With that in mind, collating user-generated content is a non-negotiable, whether it's social media tagged posts or reviews and testimonials.
BigCommerce app, Stamped, helps you do just that. Featuring all the tools you need to collect and display user-generated content, Stamped helps you improve your brand awareness and customer engagement.
With Stamped, you can prompt users to leave reviews, and then push those product and site reviews far and wide across Google, Facebook, Instagram, and Twitter.
The bottom line
Having a killer marketing strategy with the help of a marketing automation platform is just one aspect of growing a successful eCommerce store – but it's a pretty big one.
While BigCommerce is an impressive platform by itself, it's worth investing in a range of integrations that will supercharge your store's sales by driving traffic of new customers and keeping existing customers coming back for more.
Start by deciding how you'll save time and generate more revenue – whether it's with a live chat function or automated email marketing – and look for corresponding apps. Your BigCommerce store sales will thank you for it.